New Study Shows Hinting That You Want To Get Engaged Is Normal AF
As the short work week winds down and spiked eggnog for breakfast takes over, there's one thing on the minds of not-yet-engaged gals: "Will this be the holiday season that I finally get a ring?" Even though the pandemic is putting weddings on the backburner, engagements are not slowing down just because we're stuck at home. If you're finding yourself getting more and more desperate with your not-so-subtle "I want to get engaged" hinting tactics, you're not alone. According to a recent study conducted by, well, us and WeddingWire, lots of people are giving their partner little nudges that they want that ring.
We teamed up with WeddingWire to conduct the #DropAHint Study to see if we were the only ones who've been hinting about being ready for a proposal since like, the first date. Over 500 women aged 18-29 from around the U.S. revealed how they've been letting their S.O.s know they're ready for the next step. "We've seen that many of our audience members aren't shy when it comes to letting their partners know exactly what type of rings they want and when they want to get engaged," said Aleen Kuperman-Dreksler, CEO and co-founder of Betches.
So, behold: Literal proof you're not insane for changing your S.O.'s screensaver to a picture of the engagement ring you want. Or at least, you're not like, more insane than the rest of us.
Hint Like Your Engagement Depends On It
Basically, the #DropAHint Study looked at how directly (or indirectly) couples share their proposal and/or engagement ring preferences with their partners, and it's eye-opening, to say the least. Of the couples surveyed who have already gotten engaged or married, 35% said they discussed the proposal in advance. From TikTok wish lists to Pinterest boards to casually mentioning ring preferences and even repeating the words "engagement rings" into their partner's phones for ads, these hint methods are getting majorly clever.
As for how often people are hinting, in a recent Betches Brides poll over 60% said they plan to drop hints weekly to monthly. In total, about 0ne-third expect to drop more than 15 hints before they're actually proposed to, which means gone are the days of silently suffering for years while your lazy S.O. takes his or her sweet-ass time.
Talking About The Proposal Is Normal

While hinting you want to get engaged is one thing, outright saying it is another. And according to our study, it's actually super common (not to mention mature. Healthy communication and coming to a mutual decision that you both want to get married? Yes, please). Out of the people who envision themselves getting engaged within the next few years, 72% said they've already discussed it with their partner and 39% have even chatted about what their future wedding might look like.
When it comes to the actual proposal, 14% say that know exactly how and where they want it to take place, so if you have every detail planned in your mind, don't feel absurd. Just make sure to talk to your partner and/or adjust your expectations so you're not disappointed if it doesn't go down exactly how you dreamed.
Talking About The Ring Is *Also* Normal
View this post on Instagram
Going hand in hand with an engagement is the ring, and the majority (over 70%) want some bling included in the proposal. Of those, 25% know exactly what they want their ring to look like and 20% have already hinted at their preferences (and 21% say they plan to hint before their S.O. gets down on one knee). And while there are a lot of components to an engagement ring, the most popular to hint at are style and setting (55%), cut (51%), size/carat (48%), and color (39%). Additionally, 38% have dropped hints about what they don't want. Taking it a step further, 25% have decided to have open, honest conversations about what they want in a ring and have outright told their S.O.s as well as shown them pictures.
The Holidays = Engagement Season

If you're trying to figure out when, exactly, you might get engaged (if you're not part of the group that already has it all planned out, that is), it looks like "engagement season" is shifting. In fact, according to the wedding pros, there's a chance you might find a ring wrapped under the tree or presented to you in celebration of the New Year.
"Although some may think spring or summer are the most popular times for engagements, according to the 2020 WeddingWire Newlywed Report, seven out of ten of the most popular days to propose are in December, with Christmas Day, Christmas Eve and New Year's Day ranked as the three most popular," Jeffra Trumpower, senior creative director at WeddingWire told Business Wire. Whether it's all the engagement ring ads that run during the holidays or just that fact that you've been stuck together for nine months and have been hinting endlessly, there will definitely be a proposal surge at the end of 2020 and the start of 2021.
TL;DR: Hinting Is Not A Bad Thing
The point is, waiting around for the person you're dating to decide whether or not you should get married is, frankly, absurd. This is 2020, and while the world is basically one giant dumpster fire, that doesn't mean your relationship has to be. If you think you're ready to get married, that's a decision you and your partner can make together. It's fair for you to talk to your S.O. about wanting to make things official. In fact, it's worked for at least 35% of responders. They talked about proposal preferences prior to getting engaged and now they're all happily in love with rings on their fingers.
When it comes to your relationship, your engagement, and your marriage, the only thing that matters is it works for you as a couple. Whether that means you quietly wait for a proposal, hint like your life depends on it, collaboratively talk about it, or bypass the whole engagement and elope on the spot, as long as it feels authentic to your relationship, it's the right move. Now, bring on the holiday proposals and filtered ring shots, because it's beginning to look a lot like engagement season.
Images: Zelle Duda / Unsplash; Giphy (3)
The Best Ways To Announce Your Engagement On Social Media, Ranked
When it comes to proposals, there's a lot that goes into the damn thing. The location (the ring). What he said (the ring). The outfit you were saving for this very moment but didn't get to wear because he told you that you were going to a business dinner and you actually BELIEVED him (the ring). One of the most important aspects of an engagement, however, (other than the ring and ensuring a photographer was hired and hiding in the bushes, of course) is how you tell the world you're officially and finally f*cking betrothed.
While, yes, you need to tell your family and top- and middle-tier friends first, the moment will come to tell the world, and when it does, you have to be very selective in your declaration. Will you go with funny? Sappy? Honest? Light-hearted? The choices are pretty much endless. So, in order to take one item off of the ever-growing to-do list that will quickly suck the life and soul out of your body once you're engaged, we've pulled together some of the best (and most basic) engagement announcements, so that when your time comes, you can stress a little less and enjoy basking in that just-engaged popularity boost like the wedding gods intended.

10. "I Said Yes"
The most classic way to say "thank f*cking God I can stop pretending that I haven't been planning our wedding for the past 3 years." This is the bread and butter of engagement announcements. Everyone knows you said yes and everyone knew you were going to say yes after he started a podcast with his old college roommates and you stayed with him. Still, what it lacks in originality, it makes up for in the fact that um? You're engaged? So who TF cares? Let the haters hate while you stare at your ring in awe for the next year.
Who Will Love It: Your parents who didn't think he was ever going to commit.
Who Will Hate It: Non-engaged friends who could have posted something so much better.
9. A Long-Winded Walk-Through Of Your Relationship
We get it. Your love story is totally unique and one for the ages. The ups and downs. The brief stint of long-distance. The time you thought he was sleeping with your sorority sister—it's all very romantic. Sure, you'll embellish the story a bit and you'll take out the part where you were casually banging for like, six months before he finally got his sh*t together and asked you out, but still. It's the fake romance of it that counts. While the majority of people's eyes will glaze over with this post, at least your relatives will be happy. Besides, how will he know you love him if you don't ignore him sitting next to you while typing a 2,000 word Facebook post that he won't even read and your creepy old Spanish teacher will like?
Who Will Love It: Moms.
Who Will Hate It: Anyone who actually knows the REAL story (which most likely involved more tequila and less clothes) and all of your bitter single friends.
8. Any Variation Of "Finally"
While it's not the most romantic, loving, or tasteful, it is FULL of truth and for that, you'll get total respect from almost every bride-to-be. Throughout your relationship, you have to find the balance between letting him know he needs to propose but not putting too much pressure on him. It's a dangerous game, but when you win? Holy sh*t, the relief is palpable. And your trophy? A 2-carat solitaire and a wedding to plan. So, yeah. After crawling through the relationship trenches, you f*cking deserve this and "finally" is just about as honest as it gets.
Who Will Love It: Bitches.
Who Will Hate It: Everyone else.
7. #TheWeddingHashtagYouDecidedOn2WeeksIntoYourRelationship

Just like "Finally" but taking it a step further, posting your wedding hashtag with your engagement announcement is the same as saying "if this didn't happen soon, I was absolutely going to dump his ass," but with a hint of pathetic thrown in. There's something about using your hashtag with your "omg I was so surprised, I only had to threaten him for about eight months before he finally proposed" post that just feels desperate. If it's a really good hashtag (like, really good), I could maybe let it slide, but honestly? Save the hashtag for every other post after the engagement announcement and keep this one about what matters: your ring.
Who Will Love It: Eh, no one?
Who Will Hate It: Everyone whose hashtag isn't as good as yours.
6. "Does This Ring Make Me Look Engaged?"
*Sigh.* Sure does. But also, is this caption as basic as they come? Sure is. While yes, being basic is all fun and games during the fall when we're all out there drinking PSLs and posing in pumpkin patches, do you really want basic-isms to be the backdrop of your engagement? For some, this is a kiss of death. For others, it's literally not a big deal. Decide which side you're on—if you can stomach the idea that the most important day of your life is just like everyone else's, then go forth and be unoriginal! At the end of it all, you're engaged and that's what truly matters. But don't expect a like from me with a post like this—just sayin'.
Who Will Love It: Basics, duh.
Who Will Hate It: Anyone who has ever spent a minute in the "engagement present" section of Amazon.
5. "I Said Maybe"
The sassy sister of "I said yes," the "I said maybe" post is the epitome of a boss bitch move. It says "I'm not desperate. I haven't been waiting for a ring since the day I turned 16. I didn't care if I never got engaged. This is no big deal." Which is, obviously, the vibe we all what to portray despite the fact that we've reeked of desperation since our very first friend said "I do." While, no, it doesn't tell the story of your love and yes, it kind of makes you seem like you're settling (which you're not, right?), it's clever, funny, and guaranteed to pull in likes, and honestly, isn't that the whole point of engagement announcements in the first place?
Who Will Love It: Your real friends and your dad.
Who Will Hate It: His mom.
4. Just A Ring Shot

There are literally two things the people came for: a ring shot and a breakdown of how the proposal went. At the end of the day, however, everyone on your feed wants the same thing: To look at the rock on your hand and judge it mercilessly with their friends. Cut out the fluff of your relationship story and your hashtag and just give the people what they want, dammit: a clear, unobscured, close-up of the ring on your freshly manicured finger.
Who Will Love It: Every female who follows you.
Who Will Hate It: Anyone with a naked ring finger.
3. A Play-By-Play Of The Proposal
"When did it happen? Where did it happen? What were you wearing? Was it a surprise? Were you suspecting it? Did you have your nails done? What did he say? Did you cry?" The second you land an engagement ring, the barrage of questions will start. We could say it's because people love you, but really, we're all just nosy assholes who hope your proposal isn't better than ours. The point is, you're going to need to tell this story a million and one times. Might as well get a jump on everyone and write it out to post-worthy perfection. That way, by the time you see most of your friends and family, you can skip the storytelling and get to the more important things, like where you're registered and what color KitchenAid mixer you've been eyeing.
Who Will Love It: Your estranged friends and relatives.
Who Will Hate It: Your jealous-ass frenemy.
2. "I Wonder How Many Group Texts This Will End Up In?"
Honest? Clever? The perfect amount of bitchiness? Check, check, and check. This is the type of raw truthfulness we're looking for in your engagement announcement post. Whether you post this with a proposal pic, a ring shot, or even a full album of relationship-y photos, you can literally do no wrong when you use this bomb-ass caption. While no, it doesn't ooze romance and no, you don't get to go on and on and on and on and ON about your relationship's ups and downs, you do get to secure more likes than your frenemy who had the audacity to get engaged before you. Besides, you have plenty of other posts to be sappy in—like the after-wedding post when you finally get to eat again and your hair is no longer falling out due to the planning stress. Save the romance for when you're actually out of the trenches. As any married bitch can tell you, the drama is just getting started.
Who Will Love It: Your top-tier friends.
Who Will Hate It: Your grandparents who have no idea what a group text is and will sign the comment off with "XOXO GRAMS."
1. "He Got Down On HIS Knees For A Change"

*record scratch*
Yeah, I went there, and I know, I know, I know. There's no way you can post this. Your family will see it. Your dad, who you expect to shell out a stupid amount of money for your flower-ridden ceremony, will see it. Still, every time I come across a new engagement on my feed, I hope more than anything that a post will surprise, dazzle, and startle me. If you are not afraid of rubbing more than a few people the wrong way and absolutely ruining a couple of relationships, please, I'm begging you, use this as your caption. While it's pretty much guaranteed to piss off a few (and by "a few" I mean a lot of) relatives, no one's ever been remembered for good behavior. Well, other than like, Mother Teresa. And Oprah. And Jennifer Aniston. So, scratch that, people have been remembered for good behavior. But let's be real—YOU'RE not going to be remembered for good behavior. I mean, isn't that why he's marrying you in the first place?
Who Will Love It: Anyone with a sense of humor and your quirky aunt, Jen.
Who Will Hate It: Your parents. HIS parents. All the grandparents. Your prudish aunt, Nancy. Anyone over the age of 35. Anyone under the age of 17. People who still regularly check Facebook. Actually, maybe just don't do this one…? Don't say I didn't warn you.
Images: Burst / Pexels; Giphy (4)
How Couples Are Getting Engaged In 2019, From The Ring To The Proposal
Did anyone else know that the months between November and February are engagement season? To me, it feels like every Sunday is engagement season, just based on the sheer amount of engagement posts I see on every social media channel. But just because I've been single and fabulous since 2014 doesn't mean I don't love to kick back at the end of a long day and read up on my bridal content—especially The Knot, which just released its annual Jewelry & Engagement Study. As you can guess from the title of the study, it's all about proposing and the jewelry that accompanies it. After reading and internalizing the study, I've deduced that proposals nowadays, especially for millennials, are all about personalization. People aren't just opening a ring box to reveal a diamond as they kneel for a few seconds anymore. Now, it's a whole big thing and, I mean, good? You're asking someone to spend the rest of their life with you, so making it as personal and thoughtful as possible seems like a step in the right direction here.
One important thing I noticed from The Knot study is that most people getting engaged today are between the ages of 25 (cool cool cool cool, just kill me now) and 34. If you're wondering what constitutes "most people," it's a whopping 67%. And if you're wondering how old the proposers are, 38% of them are 25–29 and 27% are 30–34 years old. Just judging off the ages of the people I know who are getting engaged, this is not that surprising, but still slightly depressing for me, a very single person.
But before we get into the way most proposals are going down, let's talk about the jewelry. According to the study, "More than 85% purchase new rings for the occasion, with 45% being custom designed." So I guess holding on to your great-grandma's family heirloom just isn't what most people are doing these days. I can imagine it feels great to wear a ring that symbolizes you and your partner's love for each other and to know that no one else has the same one. I remember that episode of Sex and the City when Charlotte proposed to herself (yikes) and then marched right on over to Tiffany to pick out her ring and claimed it was the most romantic experience of her life. I mean, I definitely wouldn't say no to a Tiffany diamond, but in my and other millennials' opinion, it's more romantic to say yes to a ring that your S.O. designed with you in mind. Speaking of, more than 7 in 10 proposees say they were "somewhat" involved in picking out or buying their ring, which I support. I'd rather have more input in the piece of jewelry I will be wearing every day for the rest of my life than be 100% surprised. 78% of proposees dropped hints about what they wanted their ring to look like (hopefully, not subtle hints, because we know men can be, shall we say, oblivious?), and more than 70% said it's important to see the ring in person before buying it.

When it comes to sourcing ideas for the perfect ring, the study found, "the majority (81%) of proposees turn to social media for engagement ring inspiration." This makes sense, given that just about every other aspect of a wedding is sourced through social media. How did people get ideas for weddings before Pinterest?? Serious question.
And since the first thing I wanted to know was how much these bespoke diamonds are costing people, the average cost of an engagement ring is $5,900—though it's dependent on region. If you're in the Mid-Atlantic, for example, couples spend on average $7,500. And, just as every aspect of living is cheaper in the Southeast, you can expect to spend less on the ring too, with the average cost being $5,400. But perhaps most surprisingly is that 94% of people who proposed paid for the ring on their own, a statistic I will direct every Boomer family member to whenever they try to call millennials spoiled.
Speaking of Instagram, it may seem like all couples today do is post those selfies with "I said yes / Can't wait to marry my best friend" captions, but a surprising amount of couples (51%) get engaged in private, and 40% get engaged in public, which is down from 45% last year. My Instagram would indicate otherwise, but ok, I'll take it. To quote the study, "This year, those proposing spend an average of three months planning hyper-personalized, intimate moments to ask their significant other to marry them. While more than half (51%) of proposals occur in private, nearly one in five (18%) take place in locations significant to the couple's past, like the couple's favorite date spot or the location they first met." Yes to all of this. Coming up with a way to ask someone you love to spend the rest of their valuable time on Earth with you should take a few months of planning! Even if it's a low-key proposal, it's worth putting some thought into.
To wrap it up with a classic summary of what have we learned: Instagram (shockingly) isn't reality, at least when it comes to wedding proposals. The majority of proposals occur in private, take three months to plan, and involve a custom ring to seal the deal. Of course, if some of these elements are not your vibe, that's completely okay. That doesn't mean you're doing it wrong or that your proposal or ring is less special than your friend's; it just means that you have different tastes.
Images: Gift Habeshaw / Unsplash; Giphy (2)
UPDATED: This Influencer Is Getting Engaged On Instagram In Real Time
In the era of Instagram, people have gotten more and more extra about their wedding events, because everything has to be a competition. Most people flood your feed for months with a proposal, a bachelorette party, a bridal shower, and an entire week of wedding festivities—but what if you did it all at once? That's what is probably happening right now with influencer (and Goop employee) Marissa Casey Fuchs, who has one hell of an Instagram story right now.
On Tuesday morning, Marissa's friends played her a prerecorded video from her boyfriend Gabe, talking about how they've always known they don't want a traditional engagement or wedding, that he posted on his own Instagram story. The video is sweet (maybe a little mushy for my icy cold heart, but whatever), and Marissa was losing her sh*t the whole time. From there, her friends took her on a scavenger hunt that has so far lasted over 24 hours.
The first stop on the mystery tour was Flywheel, where Marissa seemed wayyy too excited to take a cycling class. If I thought I was about to get engaged/married, the last thing I would want to do is sweat profusely for an hour, but to each their own. From there, they headed to the AIRE Ancient Baths for massages, and then back to her apartment, where she got her hair and makeup done by Glamsquad and was told to pack a bag.
This combination of frantic running + the bloodcurdling scream at Flywheel are all I've thought about in the last day.
The original plan was for Marissa & Co. to take a helicopter to the Hamptons (lol casual), but there was bad weather, so instead they had to take an Uber to Gurney's, in Montauk. Really slumming it! In case you're wondering, an Uber from Manhattan to Montauk is approximately $300, so no, it's not a viable transportation option for most people. While in the car, Marissa clarified that the two women with her on this whole journey are actually her long-time friends, not interns, as some people were guessing.
They got to Gurney's on Tuesday evening, and Marissa was still totally clueless about what was going on. During this entire fiasco, Gabe has been dropping hints via his Instagram story, but has still yet to appear. People have even started posting with the hashtag #WhereIsGabe, and we all really need to know. Honestly, if I was Marissa, I would be pretty pissed if my man was nowhere to be found during all of this, but clearly she's down to go with the flow.
This whole journey is beyond extra, and it's definitely not over. As of Wednesday morning, Marissa was checking out of Gurney's, and it looks like she's heading to Hewlett High School on Long Island, where she and Gabe first met. She only found two of the three jewels while she was in the Hamptons, and it looks like the third one is in Hewlett. I have a feeling Gabe might finally make an appearance there too, perhaps with an engagement ring.
Meanwhile, people have been obsessing over following along with her scavenger hunt, and she's gained over 25,000 followers on Instagram in the last day. I guess all I need to do to get Instagram famous is find a man to plan a viral engagement/wedding scavenger hunt for me—sounds easy enough!

6/19 UPDATE: So the high school thing was a total fake-out, and instead Marissa's car took her to JFK. She's currently on a flight to Miami, but she doesn't know who will meet her there. So far, Gabe still hasn't made an appearance, and I would be getting pretty impatient if I was Marissa.
6/20 UPDATE: Marissa woke up in Miami after a night of celebrating with her University of Florida friends at Prime 112. Gabe decided to f*ck with his future fiancée's fragile state even more by posting a video on his IG story for her to open the door of the dining room for his arrival. Spoiler alert: he never arrived and she was not thrilled, but semi-expected he wouldn't be there. She spent Thursday morning frantically shopping at Zara, The Webster, and Neiman Marcus because she "has no more clothes left" before she jet sets off to Paris (a problem I often have). Not to take the words out of everyone who is watching her stories' mouth but, WHERE THE F*CK IS GABE??? I'm low-key pissed for her that she's about to fly cross-country solo. Hopefully someone surprises her and at least escorts her to Paris. She still hasn't found a good dress to wear for whatever this stunt will culminate in, and her flight is tonight. Drama!!
6/21 UPDATE: Marissa finally settles on a dress from The Webster. After her shopping stunt she just collapses onto the hotel lobby floor because she is super overwhelmed from "the press and so much going on". Passerby's don't seem to think it's weird that she is sitting on the floor being video taped but that is neither here nor there. We then find Marissa on the beach with her Kim K crying face on because she called her mom and she heard the "European beeping noise" in the background…Ok. To me sirens are sirens but alas the waterworks continue. Marissa takes control of her phone to let her audience know that she is "really, really, eternally grateful for everything Gabe and her friends have done". I'm glad she reminded us because the shopping and ripping through gifts had us worried for a sec. She confesses that her dream was to run away to the Maldives (casual) with Gabe and just get married. Finally, Marissa is headed to Paris where she seems to be traveling SOLO, which to me is pretty emotionally taxing and just slightly f*cked up. She gets to her hotel room expecting to see her mom, her brothers, or Gabe's mom in the room but no one is there except for a man name Charles who has been sent to do her hair and makeup. She has a brief moment where she thinks she is going to leave her phone in the hotel room so she can be "present" in the moment. But that is a short lived feat since she realizes she has to go on a 30-40 minute car ride so she def needs her phone, which is good for us so we can continue to update all y'all. Will this end in a proposal? A marriage? Will she find Gabe? Stay tuned…
We know The Atlantic published a piece exposing the fact that a deck about Marissa's proposal was passed around to brands months before the actual proposal but was Marissa actually involved? Based on her reactions we are going to go with a 'NO'. I mean, who wants to cry like that on camera? Certainly not us. Marissa works at goop, so it's not outlandish to think her co-workers created this to help her future fiancé. Regardless, we are still following along for the ride, as you can see below:
But I digress because Gabe just went live to cover the entire proposal where Marissa can barely stand up on her own. Faking? Does not appear likely but who really knows? Gabe also just shot up a casual 3,000 Instagram followers from this stunt…just saying. Once the couple (really just Marissa) is finally able to collect herself, Gabe turns her around to show that their families are waiting for them. She lets out a screech heard around the world and unites with their families. On the way to meet them, Gabe drops a line about a wedding taking place later on today.
It is now 11:58am NY time and we're watching the wedding festivities unfold thanks to Marissa's two brother's Instagram stories. I don't know where Marissa pulled out this long sleeve cropped top + bridal skirt from but we are here for it.
Make sure to follow along with our streamlined coverage on @betchesbrides. Marissa's story is a lot to watch right now, but we're posting all the most important updates, along with some of our own thoughts from Betches HQ.
Images: fashionambitionist (4) / Instagram
Is Planning Your Wedding When You're Not Engaged Insane?
I'll truly never know why women are offended at the assumption that all little girls plan their future wedding. All that proves is that we are and have always been f*cking organized, which everyone already knew, so what's the big issue here? For those of you with no sense of humor who are about to explain it to me in the comments, I'm being facetious, so chill out. Moving on!
There's something to be said about planning for an event to which you haven't technically been invited yet. For example, I started painting my cooler for frat formal before I was technically asked and, you know what, I got to study for finals while all of my friends were slaving over their Yetis. On a scale of one to Lindsay Lohan's fake British accent, how obvious is it that I went to college in the South? So, while prematurely buying and decorating said cooler may have been a little much, pre-planning is actually pretty normal—and expected—when it comes to weddings. Look, I'm a firm believer in the surprise element of proposals, but I don't think the idea of getting married to the person you're dating should be a shock. When I think of that, I think of those painful YouTube videos of guys proposing to their girlfriends at basketball games on the big screen, and the poor girl just, like, does not know what to do, but she def isn't saying yes. The lesson? If you're dating someone for a certain amount of time, it's a good idea to have some kind of discussion about your future, if for no other reason than avoiding public humiliation at a Knicks game in front of thousands of people. But, like also so women can do what we do best and make a tackling a giant project (like planning a wedding) look easy. So, if you want to get ahead on wedding planning before getting engaged, read on for tips from Josh Spiegel, Creative Director at Birch Event Design.
Why Would Someone Start Wedding Planning Before Getting Engaged?
Look, the real question is why does anyone do anything before they have to? That, I'll never know, but what I can tell you is that planning a wedding has a lot of moving parts and getting on top of that sh*t is imperative if you want to spend the big day actually enjoying yourself. Of course, getting a jump start on likely the most stressful year of your life may not seem like something you're truly dying to do, but if you're one of those couples who must ruin wed over a long weekend like Memorial Day or Thanksgiving, you don't really have a choice but to start wedding planning before getting engaged, like, a good six months before you even see the ring. I exaggerate, but you do need to lock down the big vendors early—before you get engaged—if you want to have a wedding that doesn't take place in your living room. Spiegel says, "Planning in advance is smart for those looking to wed during major weekends. If you're looking to get married during a popular time of the year, you should book ahead of time so you can ensure you lock in the venue, band, florist, photographer, and other top vendors that you want." Exactamundo. The two real reasons to book these vendors early is because other eager couples may get there first, but also because these vendors are also people who may have holiday plans. Ideally, they'll blow off their families for a big-ass deposit, but they'll prob want plenty of time to convince their loved ones that money is more important than Christmas. So think of them and ask in advance!
What Elements Can We Tackle Before The Engagement?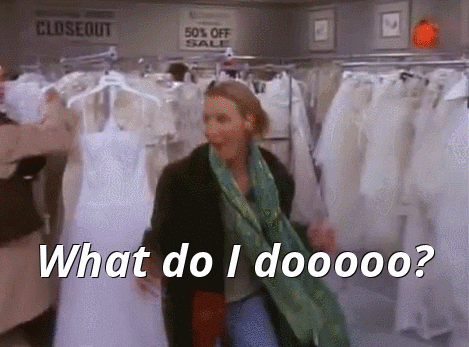 Obviously, you can't like, go dress shopping before you get engaged, because that's just weird and unnecessary. Generally, you go dress shopping with your friends/mom/sister/etc. and I imagine it would be an awkward invite asking them to go to the wedding suite at Nordstrom with no ring yet. So, if you are dying to get started on your lists and your spreadsheets, there are def some things you can plan pre-proposal. Spiegel says, "In general, we believe that people who plan their weddings before they're engaged are making a smart decision. Recently, more than not, we're working with clients who are booking their vendors in advance and locking their dates in." I respect these clients and I would like more people like them in my life, please. I can't tell you how quickly your local florist or cake baker will book up, but from sitting next to my engaged coworker who I'm pretty sure is ripping out one eyelash per venue that is booked for her date, I do know that venues book up eons in advance. The bottom line is that if you know you are getting engaged within the next few months, don't wait until you get the rock to break out your secret wedding Pinterest board. Unless, of course, you don't want to because the thought of planning anything except for dinner this weekend stresses you the f*ck out.
How Many People Start Planning Before The Engagement?
You know when you do something you think is weird, like, I don't know, not leaving your apartment for an entire weekend to binge Queer Eye or weeping harder than you've ever weeped at Queer Eye? Same. But there's nothing more reassuring than other people engaging in the same weird sh*t you do because that makes you feel less weird, right? Same, girl! Ok, so wedding planning before getting engaged is the same way because you are not alone here. I know that if I fully booked my venue before my engagement, I'd feel like both a badass boss and a complete psycho, but after hearing the cold, hard facts from Spiegel, I actually feel pretty ready to plan the entire wedding sans ring. He says, "Percentage wise, about 50 percent of couples are now booking their venues before engagements and about 20 percent of our clients come directly to us before they're engaged." Shut. The. Front. Door. 50 percent?! I know that's a small number if we are talking, like, chances of survival or exam grades, but for re: the amount of couples who plan the wedding before the engagement, that's a pretty astonishing number. But I do have to ask, if both parties of the couple are taking part in the pre-engagement planning, why wouldn't one of them propose already? Just a thought.
Are There Any Downsides To Planning Before The Engagement?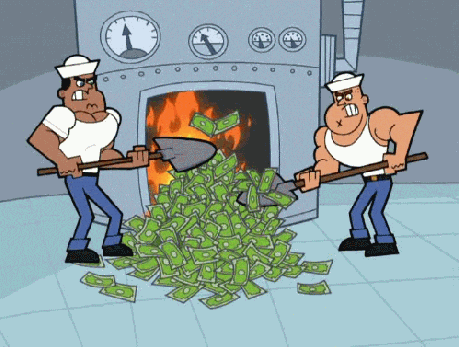 Like most things in life, yes. Spiegel says, "One downside of planning early can be locking into contracts with vendors when you haven't discussed details. This can lead to improper spending since you might not have budgeted correctly or may not have had to chance to do all of your research." As a 25-year-old with a skin care addiction, I am v familiar with the concept of improper spending and, let me just say, it sucks. For example, my sister just booked her $300 an hour makeup artist who uses only Chanel products (lol same) because she felt pressured to just make a decision, but look where that got her. That's $300 she could have spent on more cupcakes. Also, I just have to say, if you are a person who refuses to use non-Chanel products, who the f*ck are you and how do I get into your line of work? Anyway, the only reason we book these vendors so early is because we feel pressured, right? We need to figure out how to use that pressure for good instead of for making terrible decisions that will likely leave us in a sticky spot come the wedding. Not sure why I am including myself in this scenario, as I am lightyears away from an engagement, but hey, that doesn't mean I can't start planning now!! Is it too early to book the Boathouse in Central Park for my wedding in 17 years? LMK, thx!
Images: Giphy (2); Unsplash
John Stamos Got Engaged In The Most Annoying Way Imaginable
Sad news for you as a 13-year-old. Uncle Jesse is engaged. John Stamos proposed to actress Caitlin McHugh at Disneyland this past weekend, because stars are just like us: corny as hell.
McHugh and Stamos have been low-key dating for the past two years (seriously, I feel like I never heard of this relationship?), and apparently they like…really fucking love Disneyland. Oh, and if you think that proposal was just your run-of-the-mill guy-gets-down-on-one-knee-in-front-of-Sleeping-Beauty's-castle BS, then you don't know shit about John Stamos. This proposal apparently included a film of romantic moments from Disney/Pixar movies, ending on Sebastian from The Little Mermaid saying "Just ask the girl." And the award for Excellence in Extra-ness goes to…

McHugh said yes because like, duh. She's an actress who likes Disney that was just proposed to in the most Disney-fied way ever. TBH all this proposal needed were some singing animals and a jealous witch standing nearby and it could have been the next Frozen.
So yeah, I think it is safe to say these two grown-ass adults really fucking love Disneyland. I hope my future fiancé (if he exists) finds a way to incorporate my favorite things into his proposal. Though tequila and talking shit about people are slightly less romantic.