How To Increase Your Vagina Confidence From The Inside Out
Sponsored by Queen V
I'm sure I'm not alone when I say I've often thought life would be easier without a vagina. I know I'm supposed to embrace it and take pride in my womanhood and blah blah but come TF on. The only times I'm really paying attention down there are when it's busy ruining my favorite underwear with a surprise period or surprise infection, or busy ruining my sex life by suddenly being bone dry. It's not exactly the perfect recipe for a loving relationship with my platinum vagine. (I kid. I'd probably give it like a bronze.)
Luckily, sexy new company Queen V is here to solve all my problems. A group of like-minded women got together and decided they were sick of out-of-touch dudes manufacturing bogus vaginal products (same). Instead, they thought the women of today deserved cute, affordable, and genuinely effective vaginal products. (Groundbreaking, right? Sadly, it really is.) Here are the products you're about to be obsessed with. You and your "Queen V"—as founder Lauren Steinberg refers to it, a term I fully intend to steal—can thank me later.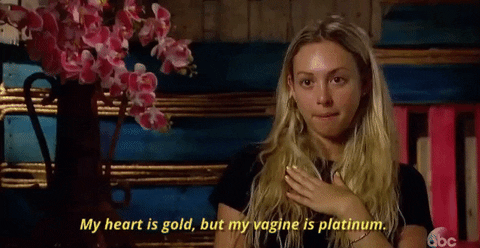 Make It Reign/V Bar
You know how gynecologists are always telling you not to douche up there? How your vagina is "self-cleaning" and body wash will just fuck up the pH? Well, while the pH stuff is spot on, I've never loved the alternative of "just throw a little water on it and hope for the best." Enter Queen V, with not one, but TWO cleansers I am allowed to use for my whole entire body! With V Bar or Make It Reign (moment of credit for the cute-ass names), you can actually clean yourself without worrying about accidentally giving yourself BV. And they say women's lib is a myth. As an added bonus, they're made with yummy ingredients like rosewater, aloe, green tea, mango, and chamomile. So you can still smell like you paid an extra $10 for a marked-up "women's soap"—when you could actually buy both for a total of $9. Score.

DD Probiotic
Honestly, if you're not taking some kind of probiotic right now, it's time to move into 2018. We already discussed how good they are to beat bloat—but did you know they can also help prevent yeast infections? Queen V's Daily Dose Probiotic has all the same digestive health properties, but is specially formulated to keep your yeast/bacteria levels where they should be. It also includes turmeric, which has amazing anti-inflammatory properties in addition to helping skin conditions like acne, eczema, or psoriasis. Basically, this shit will keep you 100 from head to toe. Buy ASAP.

The Eraser
Speaking of yeast infections—is there anything that makes you hate your vag more? Sure, there's the excruciating pain of UTIs. (And should that problem arise, Queen V's UTMI supplement is formulated with cranberry to promote urinary tract health.) But at least most UTIs can be treated with an antibiotic that's meant to work within 24 hours. With yeast, you're basically told to handle it on your own for the coming week, and shove a bunch of chemical goop up there whenever it gets unmanageably itchy. (So like, every second of every day until it's gone. Seriously, I don't know why I even buy cute underwear anymore.) Enter The Eraser: a boric acid suppository for soothing yeast symptoms. It's basically a less-scary and longer-lasting alternative to the creams that promise to remove all feeling from the area and wear off 20 minutes later. (Neither of which is an ideal outcome). With The Eraser, you get relief without the mess, and without the ingredients you can't pronounce.

P.S. I Lube You
Finally, we've arrived at my favorite of the bunch. As my local Rite Aid can attest from watching me crouch for 45 minutes in the "family planning" aisle, lube options often really, really suck. Also, as my local Rite Aid can hopefully NOT attest, lubes can often seriously fuck up your vagina. (Anyone think they'd test the ingredients more if lube went inside men? Yeah, me too.) Anyway, all the more reason to buy lube made BY women, FOR women. P.S. I Lube You (another adorable name, minus the images it conjures up of a sobbing Hilary Swank) is an aloe-based lubricant that does more than make sex better. (Though honestly, that's enough for me.) It actually protects and hydrates you down there—which, given my obsession with moisturizing, was incentive enough for me to double my order. Oh, and it's organic. Gwyneth would so approve.

If nothing in this list spoke to you, you should absolutely check out their full list of products here. Whether you're looking to #maintainyourv, #enjoyyourv (hint: this is the section with lube in it—also a nice bubble bath), or #healyourv, Queen V has you covered. Now that Queen V has pointed out that men really shouldn't be selling you vaginal products (and are in fact getting it wrong a lot of the time), I'm not sure I can ever go back. These products are available at Walmart across the country, affordable AF, and come in way cuter packaging than vaginal products have any right to—without the insulting "pink tax" connotations. It's basically the Glossier of vaginas, and I for one am obsessed.
Images: Giphy (1); Instagram (4)
7 Tricks Celebrities Do To Make Their Stomachs Look Flat
People say the camera adds 10 pounds, but like, I'm convinced that only applies to when you open your iPhone camera and it's accidentally on selfie mode. Celebrities are known to have perfect bodies, and despite a few bad paparazzi shots of a hungover Amanda Bynes, I fully agree. I mean, I know they spend a lot of money on personal trainers and nutritionists, but I think we deserve to know some of the tricks they use to get their stomachs to look perfectly flat and feel amazing despite all the flying and drinking they do. After doing some thorough research on the topic, I'm ready to share. Here are some celebrities' favorite tummy hacks.
Jessica Alba: Probiotics
Jessica Alba is a client of celebrity nutritionist Kelly Leveque, and her clientele also includes Chelsea Handler and Emmy Rossum. This woman knows how to make women look great, and her trick is probiotics. In fact, Jessica Alba doesn't even diet or watch her calories, because she's mainly focused on eating in order to improve her gut health. Apparently your gut health helps regulate your hormones and control your weight, so by improving the microbiome in your gut, you'll slim down and feel great.
Kourtney Kardashian: Green Tea
As much as we love our coffee, green tea is having its moment right now, and the Kardashians are totally funding it. Kourtney Kardashian can probably write a book about her list of health hacks (Kris Jenner, great opportunity here), and we've already tried a few of them. The flat tummy hack she swears by right now is her daily green tea latte. She drinks it with honey and almond milk, and she says it makes her stomach feel and look its best.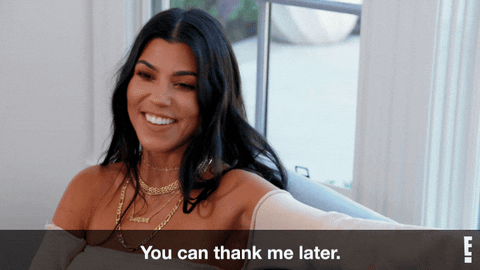 Meghan Markle: Water
An article recently came out about how Meghan Markle can take long flights all the time and still avoid bloating and puffiness. Important news right here. Anyway, it turns out she swears by her probiotic and drinking tons of water. She says this combo actually helps with jet lag and it prevents your body from bloating and even becoming constipated. Especially when flying at high altitudes, your stomach becomes filled with air, so loading up on water while traveling is a must. Start chugging.
Adriana Lima: Breakfast Smoothie
If you thought all Victoria's Secret models skip breakfast and eat three unsalted cashews for lunch, Adriana Lima says drinking a filling smoothie in the morning is actually what makes her look so good. Obviously aside from all the ab workouts she does, Lima says she looks her best in a crop top when she drinks a breakfast smoothie, usually with avocado, honey, or yogurt. She claims it boosts her energy and kick-starts her metabolism for the day. And I mean, it seems like it's working for her.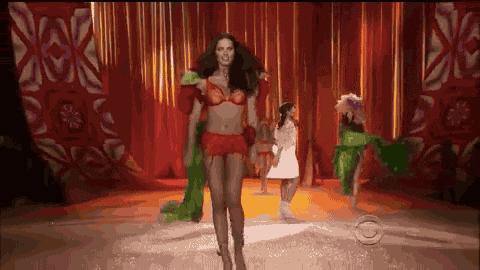 Khloé Kardashian: 5 Staple Foods
Khloé has obviously hired a team of health and fitness professionals to get her body to look its best, but she has her own tricks when she's not getting her ass kicked by Gunnar Peterson on national TV. Apparently Khloé sticks with five foods that give her that slim stomach look: avocado, ginger, watermelon, tomatoes, and oats. I assume she eats other foods aside from these five, but she likes incorporating these into her diet and says they helped her see results that complement her hard work in the gym, and they obviously work. I mean, there's a reason Revenge Body exists.
Emmy Rossum: No Fructose
I haven't heard the word fructose since freshman year biology, but apparently Emmy Rossum avoids fruit when she wants to de-bloat and feel her best in a tight dress. Fructose is the natural sugar in fruit, and although fruit is obviously good for you, having too much of it can make you bloated, and that's because the fructose feeds the gut bacteria that could make you look puffy and full. Honestly, if we're talking about giving up FRUIT, I'm scared to see what else she avoids, but like, it's her life.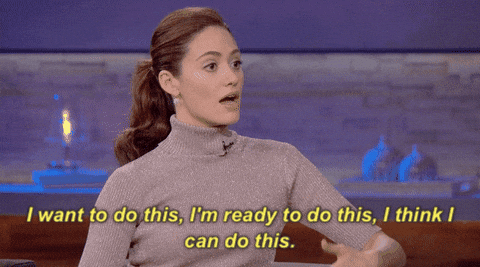 Miranda Kerr: Dandelion Tea & Goat Milk
Okay, this could be the weirdest hack of all, but Miranda Kerr is literally goals so let's talk about it. People always ask Miranda what she likes to eat, and she usually has normal answers, like toast and eggs and green juice. BUT Miranda also swears by this mixture of dandelion tea with goat milk. She says it has cleansing and detoxifying effects. I looked it up, and it turns out dandelion root actually has a ton of antioxidants and it can work to detoxify your body and reduce inflammation, so she's not crazy. She doesn't explain why she adds goat milk, but dairy from goats tends to be easier to digest than from a cow, so that's probably the reason. Personally I don't plan on trying this one right now, but if anyone does, please report back. I need to see what this girl's raving about.
Images: Giphy (3)
How To Get Abs Without Spending Hours At The Gym
The internet's obsession with having abs and how to get abs is kind of insane. I mean, I know obliques look good in a crop top and having a strong core is important, but I literally stumble upon some "How To Get Abs So Toned They Could Cut A Diamond" article at least once a day, and frankly it's getting old. Every fitness influencer on the 'gram will tell you to do endless crunches and leg lifts, but attaining visible ab definition is so much more than a 10-minute segment at the end of your workout. In fact, if you really want your abs to show, you may even have to adjust your diet (I know, it's like nails on a chalkboard). If you're not down to spend hours at the gym doing the 1000 sit-up challenge, here are some legitimate tips on how to get abs.
1. Have Amazing Genes
This reality is so depressing and I'm sorry to be such a downer, but it's true that genetics play a huge part in having abs. Think of your skinny friend that has had natural abs since seventh grade. I'm guessing she wasn't doing Russian twists or drinking hot lemon water back then. Some people are just born with the ability to have their abs show at all times, and there's really nothing else to say. You can def take steps to make your abs look better, but if your body just isn't made for abs, all you can really do is eat your salad and hate people who are genetically blessed.

2. Stop Eating When Satisfied
A lot of bullshit websites will tell you to count your calories or eat six mini-meals throughout the day, but the real key to slimming down may just listening to your body and not eating until you're literally too full to function. What does this have to do with how to get abs? Good question. This may surprise you, but everyone has abdominal muscles, and getting them to show is a combination of strengthening them and lowering your body fat. The less body fat you have on your stomach, the more your abs will show. It's as simple as that. Try to eat until you're like, 80 percent full and then stop. I know it's hard, but you'll feel so much better and may even see some ab definition over time.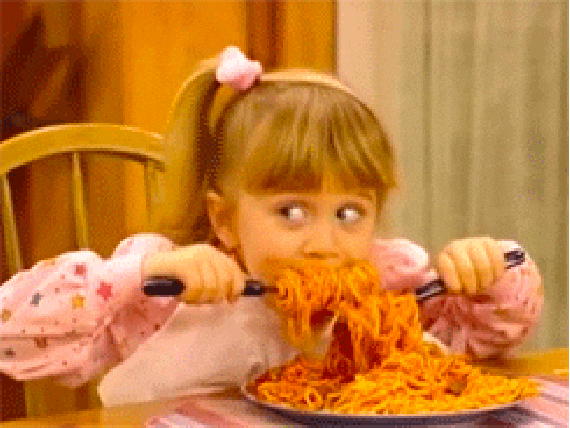 3. Add Probiotics To Your Diet
If you're eating healthy and working out, you should see your abs peek out eventually. BUT, if you have a stubborn digestive system and your body gets bloated or *fluffy* easily, probiotics are a game-changer, and you should get on board. You can buy a probiotic pill over the counter, but honestly some foods are packed with them, so give them a try before resorting to the capsule. (But if you want to just jump to the capsule, we're here for it.) Professionals recommend trying fermented foods, like yogurt, kefir, sauerkraut, and Kombucha. Probiotics won't give you abs overnight, but they will help heal your gut and reduce inflammation in your body, which tends to lead to improved digestion, a flatter stomach, and just overall feeling amazing.

4. Eliminate Artificial Sugars
This is another key when it comes to bloating. You may think that dumping three Splendas into your cold brew and sipping on a Diet Coke until lunch is actually making you skinny, but according to recent studies, you're wrong. In fact, fake sugars like aspartame, sucralose, and saccharin have actually been proven to make you bloated, which will obviously prevent you from seeing your abs. The takeaway here is to basically experiment with what works with your body and what doesn't. If you know a certain food or ingredient makes you look five times your actual size, you should prob avoid it.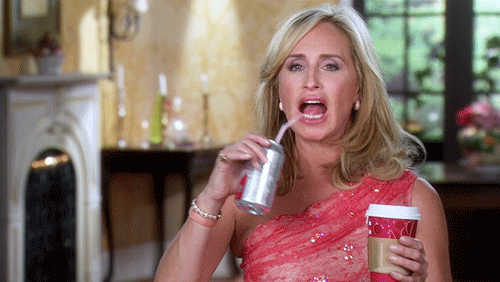 5. Static Holds Are Key
Now let's talk about ab exercises, because although diet is v important, so is the fitness part. A lot of people think the best ab routines include a million reps and a ton of volume, but sometimes the opposite is even more effective. Static holds include moves like forearm planks, boat pose, bear planks, V sits, and hollow holds. The idea is to engage your core in a challenging position and hold tight for as long as you can. Try to set a timer for 30 seconds, and then work your way up to a minute, then eventually two minutes. If it's getting easier over time, it's because your abs are getting stronger, so congrats.

6. Think Slow, Not Fast
It's weird to think that you should be going slow while working out, because everyone assumes faster equals a better workout. Like, imagine leisurely peddling your bike during a 45-minute spin class. You'd be the joke of SoulCycle. Your abs are different, because when you go fast, you're more likely to start using momentum and taking the tension away from your core. By doing your ab exercises in a slow and controlled manner, you're transferring all the tension on the muscles instead of using momentum from your entire body, aka cheating.

7. Non-Ab Exercises Work Too
If you really want to minimize your gym time, you actually don't have to do any isolated ab work at all. You just have to work on contracting your abs during other exercises. Any workout can be an ab workout if you're using your core muscles. The thing about strength training is that you have to engage your core during the moves, whether you're doing squats, lunges, or even dumbbell rows. To fully engage your core, think about bracing your muscles instead of sucking in your stomach, which is where most people screw up. You may need to tuck your pelvis inward a little bit and actually squeeze the muscles in your butt. Another cue is to think about drawing your belly button in while keeping your spine neutral. You may need to try a few different ways, but once you can actually engage your core during any exercise, you're toning your abs without doing specific ab work. It's a win for everybody.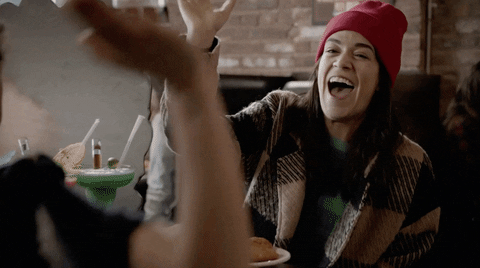 Images: PicJumbo / Pexels; Giphy (7)
We Tried The Health Trends Celebs Like Kourtney Kardashian & Jennifer Aniston Love
If you're anything like me, you spend most of your time on the internet browsing the ASOS sale section and reading about shit like what Bella Hadid does in the morning. People love finding out what healthy habits successful people swear by, and for those of us who aren't exactly "morning people," it's hard to relate. Like, waking up at 6am for hot yoga sounds like a terrible dare, not something I'd willingly set an alarm for. Regardless, I decided to try five morning routine trends healthy celebs love. People who swear by these habits include Jennifer Aniston, Jessica Alba, Kourtney Kardashian, Julianne Hough, and Gwyneth Paltrow—the literal beacon of health. If these women can preach about their amazing morning routine hacks, I thought I'd give them a try. Here's how they all went down.
1. The Apple Cider Vinegar Shot
Until recently I thought apple cider vinegar was just an ingredient for baking cookies or something. But then again, I don't bake or know anything about baking-related ingredients, so maybe that was just me. Anyway, it turns out people drink a shot of apple cider vinegar in the morning, and it's supposed to help with killing bad bacteria in our bodies and make us less hungry throughout the day. Some people mix it with water and some people take it straight, but after trying both ways I can guarantee it's just as gross in either capacity. I took a swig of the APV (that's what the celebs call it) before my breakfast in the morning, and I honestly didn't notice much of a difference throughout the day. Like, maybe I was less of a ravenous animal at around 3pm when the caffeine/ sugar crash usually kicks in, but that could be just a placebo effect. Either way, I don't think this is doing much for everyone.

2. The Glass Of Lemon Water
The glass of room-temperature lemon water is nothing new or trendy, but every successful woman in the world does this, so I thought I'd finally get on board. Considering I usually wake up and consume a dangerous amount of coffee before 9am, it was kinda nice to drink my lemon water first and pace myself. I drank 16 ounces of lukewarm water with lemon slices before I had my coffee, and I really think this made a difference in my day. People say the water and lemon combo is supposed to kickstart your digestion and keep you hydrated throughout the day, and I can confirm that I felt a lot better on the days I had my lemon water. I felt like my digestion was on track and I was super hydrated, and I got less tired once the coffee started wearing off. Once again, this could be a placebo effect, but I totally felt like a wellness blogger in the moment so that alone was worth it. Ugh, love my healthy lifestyle.
3. The Early Morning Workout
The only thing worse than the girl who describes herself as an "early bird" is the one who voluntarily sets an alarm to start sweating before the sun is up. The early morning workout is a painful and tragic morning routine, but literally every single successful person does it, so I couldn't pass on this one. Like, even Mark Cuban gets up early to work out six days a week. I literally thought his job was just sitting on a leather chair while listening to people trying to get his investment. Anyway, getting up early to work out is difficult and requires a lot of strategy. You have to lay out your clothes the night before, brush your teeth in 10 seconds, and basically pretend the snooze button doesn't exist. Honestly, it feels good to know you got your workout over with before work, but it's so painful to get there so IDK how many days a week most people can realistically do this without going insane.

4. The Probiotic
A lot of celebrities have been preaching about taking a probiotic every morning, so I had to look into this magical pill and see what's so special about it. I've never really been into diet pills or sketchy vitamins, but apparently probiotics are the real deal and our bodies actually need them. After doing some research, I found out that our bodies are filled with microbiome, and by taking probiotics, which are essentially "good bacteria" for our gut, we can balance our microbiome while improving our digestion and balancing our blood sugar. The probiotic definitely takes a few days to kick in, but once it does, you'll definitely notice a difference. By taking one pill in the morning before you eat, you'll feel less bloated and gross during the day, and you'll probably feel like your stomach is flatter, too. I'm not a doctor or a scientist, but like, it can't hurt—right?
5. The Mindful Meditation
Ever since morning meditation became the new Diet Coke with two Adderalls, everybody claims they love their moments of mindfulness in the morning. Like, these people literally take the limited time they have in the morning to sit in silence, or even worse, set their "intentions" for the day. While it was hard for me to take this habit seriously, I thought I'd give it a try. I downloaded a popular meditation app and followed a morning meditation that lasted like, 10 minutes, and it didn't do much for me. It was hard to sit still and focus on my breath, but then again, I may have gotten more out of it if I went in with a better attitude. I mean, maybe I'm just not the "mindful" type of person like all these LA-based celebrities with two hours to kill in the morning. I live in New York City and have to be on an overcrowded train before Jennifer Lawrence even opens her eyes in the morning, so excuse me if I don't feel like meditating at the crack of dawn. Can I live?