Jeffrey Epstein's Alleged Madam, Ghislaine Maxwell, Has Been Arrested
We all know 2020 has been a terrible year with respect to just about everything imaginable. But finally, some not-horrible news, as reports broke Thursday morning that Ghislaine Maxwell, former girlfriend and longtime associate of Jeffrey Epstein, has finally been arrested by the FBI. In an indictment, she is accused of having "assisted, facilitated, and contributed to Jeffrey Epstein's abuse of minor girls by, among other things, helping Epstein to recruit, groom, and ultimately abuse victims …" The indictment adds that the victims were as young as 14 years old and that Maxwell and Epstein knew very well they were under 18.
A 2018 Miami Herald report blew the Epstein case wide open, and accused him of running an underage sex trafficking ring that went all the way to the top. Epstein and former British socialite Maxwell dated from around 1994-1997, and during that time Maxwell allegedly helped Epstein recruit underage girls for his sex trafficking ring. They would hang out at local high schools, shopping malls, and other places adolescents like to congregate and recruit them to give "massages" to Epstein and his friends for a couple hundred dollars. Those "friends" allegedly included people like Prince Andrew, the then-Duke of York, Les Wexner, the owner of Victoria's Secret, and our very own Donald Trump.
Ghislaine and Jeffrey were partners in crime in the worst way, and now, she is being indicted on six charges, including transportation of a minor with intent to engage in criminal sexual activity, enticement of a minor to travel to engage in illegal sex acts, conspiracy counts related to those charges, and perjury.
Almost exactly a year ago today, on July 6, 2019, Jeffrey Epstein was arrested on federal charges for sex trafficking of minors in Florida and New York. He pleaded not guilty to both counts of sex trafficking of a minor and conspiracy to commit sex trafficking, and was denied bail. On August 10, he was found dead in his cell of an apparent suicide. Two correctional guards who were assigned to his cell the night he died were indicted on federal charges for multiple counts of falsifying records and conspiracy. So… uh… while I certainly hope that Ghislaine remains in prison and names names, I have a feeling those "Epstein didn't kill himself" memes are going to get a rebrand.
In November 2019, Prince Andrew stepped back from public duties after his association with Epstein came under public scrutiny again, and days after he gave a train wreck of an interview to the BBC (that no one really asked him for). In the interview, he claimed he didn't remember ever meeting Virginia Giuffre, one of Epstein's victims who alleged she was forced to have sex with Prince Andrew, even though there is a photo of them together. Giuffre previously claimed she met Prince Andrew at a nightclub and he was sweating all over her as they danced together, which Prince Andrew refuted based in part on the fact that he "didn't sweat at the time" due to a medical condition.
Below, a live look at Prince Andrew after hearing the news about Ghislaine Maxwell's arrest:

Prince Andrew is not mentioned by name in the indictment, and the charges pertain to Maxwell's dealings with Epstein between 1994 and 1997, before Giuffre's encounters with the Prince, which allegedly occurred in 2001. Still, Audrey Strauss, the acting U.S. attorney in Manhattan, said at a press conference Thursday afternoon that she'd "welcome Prince Andrew coming in to talk with us." I'm sure he'll get right on that.
After nearly a year of her whereabouts being largely unknown to the public, Maxwell was arrested in New Hampshire. She should probably sleep with one eye open.
Images: Joe Schildhorn/Patrick McMullan via Getty Images; Giphy
Prince Andrew's Interview About His Relationship With Jeffrey Epstein Could Not Have Gone Worse
Oof. Prince Andrew, Duke of York, decided to sit down for a TV interview with BBC, where he was questioned about his relationship with Jeffrey Epstein. And if he thought this was going to be something that would help him clear his name, things did not go as planned, let me tell ya. No, ma'am.
For those of us who may not know, Prince Andrew is the third child of Queen Elizabeth II and Prince Philip, making him Harry and William's uncle. He was also accused by Virginia Roberts Giuffre for having sex raping with her when she was 17 years old and offered to him by Epstein. Gross! Prince Andrew has denied these allegations, which is what he did during this interview, but he did not do it well.
Prince Andrew first tried to say he didn't recall ever meeting Giuffre, which didn't hold up once he was presented with a photo of himself with her with his hand around her bare waist. Yikes.

Giuffre has alleged that Prince Andrew sweat profusely while dancing with her at a club in London.
Prince Andrew's rebuttal to this was that this could not have been true because he had developed a condition that made it impossible for him to sweat due to an"overdose of adrenaline" during his combat tour in the Falklands War. *Googles "medical condition where you can't sweat, brought on by war????*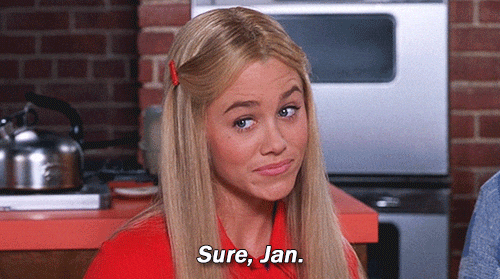 The Duke of York claimed that he has since regained the ability to sweat (lol), but this entire theory of his has already been deemed as unlikely by medics. There is a condition called anhidrosis or hyperhidrosis, which stops one from perspiring, but all of the things that cause it don't match up with Prince Andrew's story. So, yeah, adrenaline doesn't make you not sweat for years. The more you know…
Anyway, there were even more cringe-worthy parts of this interview, if you can believe. Prince Andrew appeared to be unwilling to come right out and say that he regretted his relationship with Epstein. Which like, c'mon, bud.
When asked outright if he did regret the friendship, he said, "Do I regret the fact that he has quite obviously conducted himself in a manner unbecoming? Yes."
Dude, you knew you were being interviewed about this and these were the best answers you prepared? Interviewer Emily Maitlis called him out on his use of the word 'unbecoming' to describe a literal sex trafficker, and Prince Andrew tried to say he was simply attempting to be polite, but the damage had been done.

Prince Andrew also tried to imply that the photograph of him with Giuffre might be photoshopped by saying that he never dresses casually in London (pretentious much?),– which he is in the photo — and that it appears to be taken upstairs of the London house, but he's never been upstairs. Soooo, he's never been upstairs but recognizes the upstairs from the photograph? K.
He was also confronted with the fact that he continued his relationship with Epstein after he was convicted as a sex offender, including a visit to Epstein's Manhattan mansion in 2010. Prince Andrew claimed this was out of convenience, and also tried to say that he didn't know Epstein that well.
So, he decided to go stay at a convicted sexual predator's house who he did not know very well. Smart!
Charlie Proctor, editor of Royal Central website, tweeted this after the interview, which I think sums everything up quite nicely:
I expected a train wreck.

That was a plane crashing into an oil tanker, causing a tsunami, triggering a nuclear explosion level bad.#Newsnight #PrinceAndrew

— Charlie Proctor (@MonarchyUK) November 16, 2019
Images: Gipgy (2), Twitter (1)
Jeffrey Epstein Dead Of Apparent Suicide In Jail
Wowwwowow. Sometimes Law & Order: SVU imitates life, and other times, life imitates Law & Order: SVU. I say that because on seasons 13 and 14 of SVU, the members of the elite squad known as the Special Victims Unit uncovered a prostitution ring (that trafficked underage girls) that went all the way to the top. I'm talking cops, District Attorneys, politicians—you name it, these high-up people were participants in this prostitution ring. Conveniently, I basically just described the crimes Jeffrey Epstein was accused of, give or take a few lavish parties, a pyramid scheme of sex trafficking, and a sketchy guy who makes his money from unknown sources. If you want more details of Epstein's alleged crimes, listen to The Sup podcast where we did a full breakdown or read this article where we covered it. But I warn you, you'll need a strong stomach. On Saturday morning, Jeffrey Epstein was found dead of an apparent suicide in his cell. Does that sound like a plot straight from Dick Wolf, or does that sound like a plot straight from Dick Wolf?
On Friday, a partial transcript from a September 2016 deposition in a lawsuit became public, in which Epstein repeatedly plead the fifth to questions such as whether Ghislaine Maxwell was "one of the main women" he used to procure underage girls for sexual activities, whether Maxwell met one of the females she recruited for massages at the Mar-a-Lago resort owned by President Donald Trump in West Palm Beach, and whether he was a member of Mar-a-Lago in 2000. Virginia Giuffre, one of Epstein's accusers, said in the deposition that she met Maxwell and Epstein at Mar-a-Lago (sound familiar? That's owned by Trump), and they coerced her into various sex acts.
The documents also named a number of prominent figures such as New Mexico Gov. Bill Richardson and former US Sen. George Mitchell, among others, who were allegedly involved in this sex trafficking ring, though they of course denied involvement.
Saturday morning, Epstein was found dead in his cell of an apparent suicide by hanging. He had apparently tried to commit suicide once before, and my Law & Order education would tell me that should have put him on suicide watch, but I guess the Metropolitan Correctional Center in Manhattan is not as diligent as the fictional portrayal of Rikers. Weird!
I'm not a conspiracy theorist (I don't think there's anything weird about Denver International Airport and we definitely landed on the moon), but I'm a conspiracy theorist when it comes to this kind of stuff. It is incredibly convenient (and sketchy!) that Epstein committed suicide the day after implicating a bunch of prominent private and public figures in an underage sex trafficking ring? And that he's attempted suicide before and nobody apparently was watching that closely??? Either or man saw the writing on the wall and ended his sh*t before all his high-powered friends could come for him…. or this was an inside job.
*Executive producer Dick Wolf*
Images: Getty Images