The Best Drugstore Dupes For Expensive Makeup
Makeup is fun, but it can also be irrationally expensive. Last week, I dragged my boyfriend to Ulta to grab a new tinted moisturizer and concealer, and it totaled $85 for the two. We both mumbled "what the f*ck", I paid, he cringed, and life went on. 
While I was playing myself by getting products recommended by my favorite MUA on Instagram, it dawned on me that I should do some research and find the best drugstore dupes for my favorite products. Why pay $45 for foundation when I can pay $13.99? Am I paying more for better ingredients? No, turns out most luxury brand ingredients have the same sh*t in them as the drugstore stuff, you're just paying for the name. Cringe. 
So if your New Year's Resolution is to save money, here are the best drugstore dupes for your favorite luxury products.
Primer

It's been said more times than once that primer is pointless, yet we still continue to use it. There's heavy buzz around Tatcha's Silk Canvas Protecting Primer, which retails for a whopping $52. I'm not knocking you if you've purchased this in the past, but I am here to introduce you to e.l.f.'s Poreless Putty Primer, which retails for a whopping… $8! At one-sixth of the price, with great reviews, and the seal of approval from Allure, I'm gonna go ahead and deem this the dream dupe.


Foundation
When it comes to foundation options, the limit does not exist. We've got matte finish, silky, luminous, full-coverage, tinted moisturizer, you name it. Following the "glowy" trend, made popular by Instagram-famous MUAs such as @nikki_makeup, I decided to find a dupe for the ever popular ARMANI BEAUTY Luminous Silk Foundation ($64). My choice drugstore dupe is L'Oréal Paris True Match Lumi Healthy Luminous Makeup ($12.99), which still gives the hydrating, luminous glow effect at an affordable price.

Setting Powder

Liquid foundation needs to be set with a powder (don't ask me why, I don't make the rules here) and any makeup lover will tell you that Charlotte Tilbury Airbrush Flawless Finish Setting Powder is THE holy grail. It's $45 of pure greatness, but, it's $45. So, who can match up to this flawless powder? None other than Maybelline Fit Me Matte + Poreless Powder Makeup ($7.79). This has been praised by beauty YouTubers and regular people alike, at a price I am deeming unbeatable.

Concealer

When it comes to concealer, there are a few staples in the beauty world, one being NARS Radiant Creamy Concealer. My friends have RAVED about this product for some time now, and I was always a Tarte Shape Tape cult user, but I finally tried NARS and have not been the same since. It has a more natural finish, but still covers my "I haven't slept in years" under-eye dark circles. This bad boy retails for $30, and its dupe, NYX Professional Makeup HD Concealer retails for $3.99. Yes, you read that correctly, $3.99. The reviews are as good as the price, so this may be the most valuable dupe yet.

Blush


My first non-drugstore blush purchase was none other than NARS Orgasm, much to my parents' dismay. It is the perfect blend of peach and pink, and gives your cheeks a flawless glow. The blush retails for $30 and has become a staple in the beauty world. So much so that there are multiple dupes in the drugstore world for this iconic shade. After some personal investigating and using my own skin as a test subject, I can say with confidence that Milani Baked Powder Blush in shade Luminoso 05 is the closest to the real (expensive) thing. It retails for $9.49 and is praised by all those who use it.

Bronzer


If you're like me, meaning you're so pale it scares people, it can often be difficult to find the perfect bronzer without looking Oopma Loompa orange (this should be a crayon name). The Marc Jacobs Beauty O!Mega Bronzer Coconut Perfect Tan is kind of amazing because they somehow managed to make only two shades that work with a wide range of skin tones. The bronzer retails for $49, which is a bit of a splurge in my book, so I often go with my favorite drugstore dupe, NYX Professional Makeup Matte Body Bronzer. This one retails for $9.59, has three shades, and gives a natural/healthy bronze. Given that you can buy five of these for the price of one Marc Jacobs, I would say this is a steal.

Highlighter

If you're extra like me, you know that no two highlighters are the same, and you must always proceed with caution prior to purchasing one. I think I have over 100 highlighters (literally, why?) and use maybe two of them religiously, one being BECCA Shimmering Skin Perfector® Pressed Highlighter. It retails for $38 and makes my skin look like glass. Worth it? Yes. Is there a dupe for it? Yes. Wet N Wild MegaGlo™ Highlighting Powder made waves this year and was on the radar of major beauty influencers, including Jeffree Star. At only $5.29 (!!!!!) this highlighter is everything and more. 

Brows

Brows were arguably one of the biggest/most important trends of 2019, and I hope they remain so in 2020. Thin brows are dead and gone (please never return) and fluffy, healthy brows are in. Due to the fact that I have five blonde hairs sticking out of my face claiming to be my "eyebrows", I'm always in search of the perfect brow products to give the illusion that I have them. My Anastasia Beverly Hills Brow Wiz pencil has always been a go-to, and at $23 it's definitely worth the price. Still, in the words of… me, there's a dupe for that! At less than half the price ($10.49) I give you L'Oreal Paris Brow Stylist Definer. It looks and operates the same way as Brow Wiz and has over 800 five-star reviews, confirming I am not the only one who thinks it's great.

Eyeshadow

Eyeshadow trends have come and gone, but the classic nudes and browns have always stayed in style. One of the most sought-after palettes in the industry is Natasha Denona's Biba All Neutral Eyeshadow Palette, but it retails for… $129. Yikes. TBH, I don't think any eyeshadow palette on this earth that could possibly be worth spending so much. Who buys this? World's youngest billionaire, Kylie Jenner? Idk. Anyway, there are a million and one dupes that are at a much better value, but I specifically enjoy Milani Most Loved Mattes Eye Shadow. This retails for $19.99, a mere $109 less than ND, and is just as pretty IMO.

Mascara
I have fake lashes because I happened to find the most amazing lash extension place in New York (Iconic Lash Lounge if you live in Westchester), BUT, I am still all too familiar with the quest to find the perfect mascara. Prior to my lash extensions, I was hooked on YSL Beauty's Mascara Volume Effet Faux Cils – The Curler, but $29 for mascara adds up quickly. If you are a living, breathing human, you've seen over one million Maybelline mascara commercials, and for good reason. Maybelline Lash Sensational Washable Mascara is an amazing dupe for almost any luxury mascara, and it seriously is volumizing. Again, as a pale blonde, I looked like a naked mole rat prior to mascara application, but this one always held me down.

Lipstick

Last but not least, lipstick. Lipstick can make or break your look, and I am all too familiar with a bad lipstick ruining my night (dramatic, but relatable). My favorite lipstick at the moment is none other than Pat McGrath Labs MatteTrance™. It comes in over thirty shades, my personal favorite being 'Christy'. The formula is hard to explain because it feels a bit dry when going on, but it looks SO GOOD on the lips and literally does not budge. I'm talking multiple-vodka-sodas-in-drunk-still-looking-flawless level good. So, if you have $40 to spare on a lip, this is your moment. However, its dupe is $6.99 with the same matte no-budge finish. I present you with yet another Milani product, Milani Bold Color Statement Matte Lipstick (Milani, sponsor me?). The 16 shades are all matches for Pat McGrath, and are also vodka soda proof.

If you've made it to this point, congratulations, and thank you for listening to my TED talk. Enjoy your beauty on a budget, and feel free to drop all dupe recommendations in the comments below!
Images: Unsplash
Betches may receive a portion of revenue if you click a link and purchase a product or service. The links are independently placed and do not influence editorial content.
What Is Toner, Why Do You Need It, & Which One Do You Need?
Let me start off by saying that I am not a skincare expert. I am just a 24-year-old human woman. One who discovered six months ago that my college skin care routine ("washing most nights, probably") was no longer going to cut it. I'm lucky enough not to deal with serious acne. But all the "minor" concerns (dullness, dryness, redness, inexplicable bumpiness)? You bet. SO, I did what all good shopaholics journalists do best: research. I went into a very deep, surprisingly Korean internet blackhole, and emerged with a four-step skincare routine. Cleanser, toner, serum, moisturizer. Duh. Of all these steps, toner was the one I resisted most—and the one I still find most confusing. Since I'm sure I'm not alone in this, I've written up my findings on this v important topic. What is toner, why do we all apparently need it, and which one is best? Please enjoy.
What Is Toner?
First and foremost, toner is very different than it used to be. The toner I remember from high school was glorified rubbing alcohol prescribed by particularly vindictive dermatologists. But today's toners are so much more. A good toner can help you even out texture and tone (duh), shrink the appearance of pores, and leave your skin super soft and glowing.  To get technical, one skin care specialist describes toner as a way to "complete the cleansing of your skin." Apparently, cleansers "can leave a film on your face" that toner strips off. Which really makes me question why I'm using cleanser in the first place, but k.
If you want a buzzier description of what toner does, Allure describes it as "a fast-penetrating liquid that delivers skin a quick hit of hydration and helps remove some dead cells off the surface of the skin." (Seriously, are cleansers removing anything?) And in case I have any toner nerds in the comments, I'll also mention toner's effects on pH level. Apparently, a good toner functions by resetting your skin's natural acidic pH. You can read more here, or just trust me that it means you'll look good and resist more bacteria. Two equally sexy goals, am I right?
Finally, what is toner actually made of? The general answer is water, plus some combination of acids, glycerin, essential oils, plant extracts, and more. Kewl. Some toners still contain alcohol, but it's not recommended unless oil is your main problem.
TL;DR: Toners are a water-based product will give you a more thorough cleanse, prep your skin to absorb your moisturizing products, and overall improve skin's appearance and texture over time.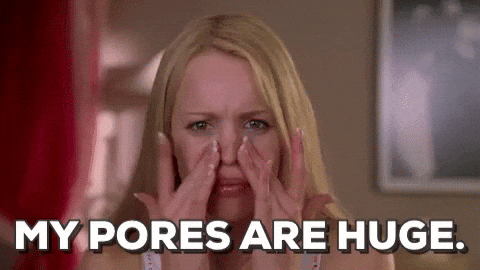 How Do I Use It?
You should think of toner as a chaser for your cleanser and a primer for your serum/moisturizer. If you're particularly anal, you should apply toner no more than 60 seconds after cleansing. Apparently, that's when your skin will absorb it best. After, you apply any serums/moisturizers/eye creams. My favorite explanation for how this works is given by Charlotte Cho, co-founder of Soko Glam. "Your skin is like a dried-up sponge," she says (adds up). "If you put thick cream on a brittle dry sponge, it won't accept it." If this doesn't make you spiral into self-doubt about every time you've put $70 moisturizer on your bone-dry face, congratulations. Can't say the same.
As for like, how do you literally put it on your face—you have two options. You can read the instructions on the bottle (some recommend cotton pads while others say to use your fingers).  Or you can really make a day of it and attempt to follow the K-beauty "7 Skin Method." I'd make a joke here about "who has the time for that," but I watched a full season of American's Next Top Model last weekend. I have the time for that.
Okay, What Kind Of Toner Should I Buy?
Now you're asking the important questions. The answer, of course, depends on your skin type. Generally speaking, Korean brands like Soko Glam will have great options, because their toner never went through the gross alcohol phase that American toners did. But beyond that, you should figure out your skin's needs (or see a dermatologist to find out) and pick ingredients based off that.
For sensitive skin, chamomile, aloe vera, and amino acids all help calm/soothe. Some good picks include Mizon Intensive Skin Barrier Emulsion and Exuviance Soothing Toning Lotion. For oily skin, alcohol will help kill oil and shine, but so does witch hazel—and the latter is less drying. Belif Witch Hazel Herbal Extract Toner is my personal fave, and Pixi by Petra Glow Tonic is another beloved one on the market. For dry skin, glycerin, essential oils, and rosewater are all key hydrating ingredients. Try the Klairs Supple Preparation Facial Toner or Caudalie Beauty Elixir. For dull, uneven skin, try Son & Park Beauty Water, which has both exfoliating and hydrating properties.
Oh, and whatever you do, stop buying Neutrogena toner. I usually love Neutrogena, but their crazy-drying alcoholic toners (yes, even and especially the "Alcohol-Free" toner) are the reason it took me so long to come around to real toner. I used that shit for two weeks and I may as well have been washing my face in Svedka. If you need any further convincing, take a look at their spokesperson. I rest my case.

That's all the wisdom I have today! But my recent skincare tear is showing no signs of stopping, so stay tuned for upcoming reviews of dermarolling, Hanacure, and how to file for bankruptcy when you've spent all your money on Korean beauty products.
Images: Giphy (2); sarah_glow / Instagram
Betches may receive a portion of revenue if you click a link in this article and buy a product or service. The links are independently placed and do not influence editorial content.
Hide Your Hangover At Work With This One Beauty Product
Don't you just hate when you wake up on a Friday morning after ten three vodka sodas the night before, looking like the crypt keeper and having 20 minutes to get your shit together and get to work? This is my daily struggle. Tbh there are very few things in this world that I appreciate more than products that are designed to help me drink/make me look good while I'm drinking/cover up the fact that I have been drinking. But Too Faced is about to have a seat at The Plastics' table because they're set to release a beauty product that helps hide your hangovers. Not all heroes wear capes, people. The Hangover 3-in-1 Primer and Setting Spray (Jesus, that's a mouth full) will be included in Too Faced's fall beauty collection launching this June.

The fall collection will also feature, what else, more new additions to the Unicorn Tears franchise because apparently that trend will never die.

The goal of the Hangover spray is to revive your skin, leaving you fresh-faced and glowing. The ultra-fine mist is infused with hydrating coconut water and probiotics to keep your skin moisturized throughout all the shit you put it through. At its core the product is a priming mist that you can use before applying makeup, to set your finished look, or to just spritz it on if you want your face to spell like a piña colada. Because bonus: it smells like my spring break trip to Cabo minus the body shots and tequila.

I'm torn because on the one hand, Too Faced is supporting the unicorn trend enough so that they're trying to make this still a thing come fall, which on principle I cannot stand by. But on the other hand, they're actually saving lives with this hangover primer and setting spray. Who am I kidding, come June I'll be in line with the rest of the basics because I'd rather buy a beauty product than, say, fix my drinking social habits.