5 Things To Consider Before Posting Your Baby On Social Media
I get it. You have just performed The Miracle of Life and you have run out of wedding pictures to post you want to let the world know. I don't blame you for wanting to post a picture (or two, or 35) of your adorable little baby who's definitely not only cute to you and your husband. But because all of us are oversaturated with endless content, just how much should you be sharing? If you want to be a cool mom and not a regular mom (or dad), here are some guidelines to posting pictures of your baby on social media.
Think About How Often You're Sharing
I'm going to start with a hard truth: beyond the obligatory birth announcement and occasional posts marking milestones, the vast majority of your Instagram and Facebook (ew) followers are not all that fascinated by the daily goings-on of your spawn. Your mini-me is alert? Glad to hear it. Your little one just rolled over? Cool. So did my dog, like five times today, but I didn't feel compelled to broadcast it on social media. (I cannot confirm or deny whether I saved the video and watched it a dozen times that week, however.)
But seriously, as much as the world loves a cute baby, anything in excess tends to become irritating. It's like that couple that never misses an opportunity to post about how in love they are. It's kind of sweet at the beginning, and you genuinely feel happy that these two people found each other. But when they continue to post week after week about #bae, #mcm and work up to weekly countdowns to the day that they "get to marry my best friend!" the novelty has worn off. The same goes for posting pictures of your baby, no matter how adorable. Your mom and dad may want daily updates, but I can assure you that your larger circle and the random drunk girls you bonded with in a club bathroom six years ago do not. Anything more often than biweekly is too much, IMO.
Think About The Way You're Sharing
One of my biggest frustrations with platforms like Instagram is how in-your-face the feeds can be. I'll open the app with the intention of stalking someone searching for a specific meme or post, and I immediately forget why the hell I logged on because I am visually assaulted with pictures of the kids of people I went to high school with who I barely even speak to anymore. Is this really necessary? No, because the Instagram gods have blessed us with the story function. If you really can't help yourself and feel pathologically inclined to take to social media every time your baby passes gas, you now have an outlet that is easy to find and 100% less obnoxious. The people that are baby-obsessed can check it whenever they like and everyone else people like me can kindly skip over it when we prefer to focus on the food porn and cyber creeping we came for. Everybody wins!

Think About Why You're Sharing
Let's be real. We aren't posting things like selfies or luxurious vacation pictures because we feel it is our sworn duty to keep our followers informed. We all want validation; it's only human. But when this desire for approval turns into a daily or weekly spamming of your circle with posts, pictures, texts, and snaps of your baby, fatigue naturally ensues, and the compliments start sounding as enthusiastic as Kourtney Kardashian when she says anything. I try not to pay compliments just for the sake of doing so, but not everyone is as cold-hearted conservative as I am. When faced with an unsolicited baby pic, it's hard not to immediately rattle off some praise because the alternative silence just feels rude. If you're economical with what you do share, it will be more impactful, and you can be sure that any positive feedback you get is from the heart.

And if you're finding you constantly need the validation that comes from social media, it might be time to reassess and take a step back. Too often, we become so obsessed with capturing every little moment that we forget to actually experience the experience. At the risk of sounding like a yoga instructor coming off an ayurvedic cleanse, try putting the phone down the first time your baby smiles and take some space to let the feelings of joy fully wash over you for a change. OK, back to your regularly scheduled snark.
Think About What You Are Sharing
One of the worst things about social media is that users get to curate what they share with the world. Not only does projecting the image of a perfect life make those around you depressed, it's also inherently false. None of us are perfect, yet so many of us have portrayed our lives that way at times, me included. Yet one of my favorite people to follow on social media is someone who posts the various ways her toddler terrorizes her—tantrums, drawing on the walls of the house, cutting her hair without permission, etc. I enjoy these posts not just because they are hilarious, but also because they are relatable. They're also a lot more original than the token serene-baby-as-flower pics. Sorry, Anne Geddes. It's also important to keep in mind that as your baby gets older, he or she may not appreciate the fact that you stuck angel wings on their butt-naked self and shared it with hundreds, if not thousands, of your nearest and dearest. Thanks, mom and dad.
Parenting a newborn:
30% feeding
50% changing diapers
20% worrying
80% becoming so sleep deprived that you forget how to do basic math

— Lurkin' Mom (@LurkAtHomeMom) June 24, 2015
Think About Who You're Sharing It With
While posting pictures of your baby on social media might make you feel happy, the same can't always be said for your peers receiving it. Just like a barrage of Valentine's Day posts makes your single friends feel down, too-frequent baby posts can have a similar effect. For the acquaintance who just lost a baby to a miscarriage, or friend who is struggling to get pregnant, viewing a seemingly never-ending feed of other people's children can be at best, bittersweet and at worst, downright agonizing. We are all entitled to share our bliss, but it's important to be sensitive and respectful with our sharing, too. If you're public and allow the literal world to see what you post, it's also important to exercise caution. I definitely may have watched too many episodes of Law & Order: SVU, but it's hard to deny that we live in a world with a lot of sick people. It is worth considering that before you go live or tag your location with your little one.  
To be clear, it's not that I don't like looking at cute baby pictures—I have several friends with children who post frequently, and I like their posts sometimes every time. But I do believe a little mindfulness and moderation go a long way, and that social media would be a better place if we all adopted a sharing philosophy that's less Kim Kardashian and more Fran Fine: 

Images: Dakota Corbin / Unsplash; dizzle_saint_james / Instagram; LurkAtHomeMom / Twitter; Giphy(3)
Bekah M. From 'The Bachelor' Is Pregnant
If you thought we'd finally stop writing about Bachelor gossip until at least January when Colton loses his virginity the new season of The Bachelor airs, think again, people, because this just in: Bekah M. is pregnant. It's been a wild week in Bachelor news. First we discovered that Jenna and Jordan's relationship might be fake, then Amanda Stanton was arrested in Las Vegas, and now our favorite baby prostitute is having a baby. They say the devil works hard, but, damnit, Mike Fleiss works harder.
Bekah confirmed the pregnancy (and also that I'm a goddamn psychic) on her Instagram story earlier this morning. If you'll recall, I had predicted way back in July that Bekah might be pregnant when she dropped out of Bachelor in Paradise at the last minute because she suddenly found "love." Lol as if that's a viable reason not to ruin your life on national television for our personal enjoyment. Please. And, look, I'm not saying I can see into the future or anything but I'm not not saying that you should let me read your palms for 20 bucks a pop. DM me for inquiries!

In an interview with PureWow, Bekah confirmed that she's expecting her first child with a man who looks suspiciously like Arie's double her boyfriend Grayson Leonard. Casual reminder that Bekah has only been dating said boyfriend for seven months. SEVEN MONTHS. I've literally had unanswered messages in my Hinge inbox for a longer period of time, but okay.
Apparently the couple found out they were going to be parents after only three months of dating, but Bekah knew it was right because it was "legitimately a dream come true." It's funny because my dreams at 23 were more about extending a blackout from 11am brunch to 1am at the club, but to each her own.
In the interview she also admits that the pregnancy played a part in her turning down Paradise (surprise, surprise!) because apparently motherhood is only sexy when the kid is only mentioned off-offhandedly on-screen. Got it. 
Bekah is due in January of 2019, which I'm sure is purely coincidental and not at all planned according to a Bachelor schedule. Seriously, don't expect her to schedule a c-section for the day after Colton's season airs, because that's just crazy and she would never do something like that!!
In all seriousness, we're v v happy for Bekah. I mean, it was only one year ago that this same girl was reported missing because she got too high and forgot to text her mom back. But, I mean, Mazel Tov! Ever happiness to you both!
IMAGES: Giphy (1); @purewow /Instagram (1)
Whitney Port Is Pregnant: A Look Back At Her Most Profound Quotes On 'The Hills'
Think all the way back to January 1st. We were all hungover, we thought things couldn't get worse after 2016, and Lauren Conrad announced to the world that she's pregnant for the first time. Now fast forward to last week, when Whitney Port announced she's also pregnant. If you're a fan of The Hills, you know that Whitney was the nicest, most drama-free character on the show.  We realize that makes her sound like a boring nicegirl, but for some reason we all still wanted to be her (and Lauren, but that goes without saying). If her behavior on the "reality" show is any indication of how she'll be as a mother, we have high hopes for her.  In honor of her pregnancy, we've compiled a list of her most profound quotes from the show.
"We're all just trying to find out who our true friends are. It sucks sometimes, but what can you do about it?"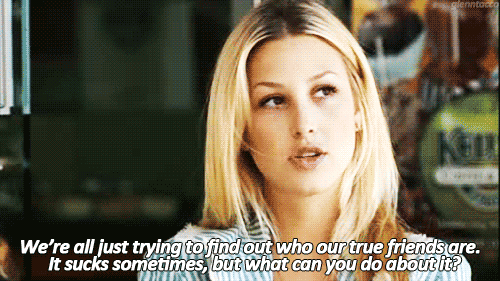 True, but in this case does it really suck that they're not friends with Heidi anymore?
"First dates are exciting but first dates can also be really uncomfortable."

This straddles the line between incredibly profound and incredibly obvious. It could also be Bumble's new tagline. Nice job, Whit.
"Jeans can be really addicting. There's, like, always new ones."

Yeah… I hope her baby is a girl so she can use her mother's own quote against her when they're shopping at the mall together.
"People just waste so much time being angry at people."

Is this a nicegirl's way of saying people should just not give a fuck about anything?
"Honestly, I have no expectations whatsoever in guys"

Really not bad advice for finding a guy these days. Is that how you met your baby daddy?  
"I don't wanna be attached to anyone. I just wanna like, enjoy myself."

If only she could see herself now…
Anyway, congratulations to Whitney. She really was a refreshing character on the show and we hope she passes that down to her child. Luckily when the kid is old enough to watch The Hills, Whitney won't have too much to be embarrassed about besides the fact that she was on the show in the first place.  Now that Lauren, Audrina, and Whitney are all going to be moms, we're fully expecting Heidi to announce her own pregnancy any day now—though we seriously pray she and Spencer never reproduce. They should just stick with their adopted actor neighbor/son, Enzo.
Beyoncé's Pregnancy Announcement Is The Most Popular Instagram Of All Time
As the world continues to crumble around us, it's important for us to take solace in what few reminders of happiness remain: Beyoncé, a fertile woman, is with child(ren). She communicated as much in an Instagram post that wouldn't look out of place with your mom's senior pictures from the 80s. If that sounds like a weird way to announce a pregnancy, get the fuck off the internet, mom, and go back to playing backgammon with strangers on Yahoo! Games.
Also fertile? The Beyhive. To date, they've blessed her with 8.3 million likes—a currency more valuable than gold and a gift more precious than life itself. This would, technically, make it the most-liked Instagram post of all time. The previous record, held by Selena Gomez, was a fucking sponsored post featuring her trying mightily (and failing) to pretend that someone who looks like her has ever actually consumed full-calorie soda.
Is Beyoncé's vague nod to Mary, mother of Jesus, a sign that she's giving birth to the second coming of Christ (and also, a second child that will have a HUGE chip on its shoulder)? Is she giving birth to a pair of Antichrists after Obama failed to fulfill his destiny? Is she going to single-handedly rebuild Destiny's Child in all its glory with her own children?
No way to tell. All I know is that I, you, we, the population of a small nation—we all like it.