5 Telltale Signs You're A Stoner
Happy Holi-blaze, betches! Tis the season for getting baked out of your mind and eating approximately ten thousand bags of potato chips. On 420, everybody is an honorary stoner, but how big of a stoner you are IRL will probably dictate how into the holiday you are. If you're not much of a smoker, you may partake in an after work smoke sesh with your more stoner-y friends, or just like their Instagrams and not actually participate yourself because weed gives you anxiety. If you are a stoner, though, you probably started celebrating yesterday for 420 Eve ("In my family, we always smoke our blunts at midnight!") and have been coasting along, high AF all day. Maybe you even called out of work to ensure that you don't have to deal with your narc co worker's questions about why your eyes are so red or what "smells like a skunk." True stoners have no limits on how they celebrate 420, no matter what actual commitments they may be expected to fulfill on a Thursday. You're not going to let a little thing like a doctor's appointment or a final exam get in the way of you getting completely baked on this, the holiest of High Holidays. So how do you know if you're one of these dedicated marijuana enthusiasts? Check out our video and we'll help you figure it out.
What type of stoner are you? Read our stoner horoscopes to find out here!
What Type Of Stoner Are You Based On Your Zodiac?
The stars have once again returned to their 420 alignment, meaning that today is the perfect day for each member of the zodiac to partake in some herbal refreshment. Now, there is no one stoner sign. Marijuana is for everyone (except like, babies), but the way you enjoy marijuana, like most things, is 100% dictated by the arbitrary placement of the stars and planets as they align with the date and time of your birth. So as you're making your 420 plans, please keep the Stoner Zodiac in mind so that every member of your friend group, whether she be a Gemini, Leo, or dare I say, Scorpio, can get high AF without any of the munchies, anxiety, or getting paranoid the cops have been called.
(TBH tho, if the weed is dank, you'll probably still experience all three…)
Aries, "The Group Dealer"
So, we're not saying you're a literal dealer here (though you may be, in which case please send your contact info to [email protected]) but that you're the person in the group who is always good. You're a natural born leader, and there's no better way to take charge of a smoke circle than to have it be your product the circle is smoking. Anytime someone suggest it's time to blaze, you're right there with your own little baggie, dictating exactly the best method by which you should smoke it, and ensuring that you get greens because Stone Etiquette clearly dictates that the weed owner always gets to smoke first, unless it's like, somebody's birthday or something.
Taurus, "The Productive Stoner"
Given your work ethic and stellar resume, most people would be surprised to learn that you've been high since roughly the year 2005. You're the type of person who is somehow able to both live a productive life and smoke weed every day. You're basically like a stoner unicorn. Budicorn, if you will. Just make sure you're careful with your non-Taurus friends today. Sure, you can wake, bake, and give a killer presentation at work an hour later, but most people do not have this superpower. So when your friend tells you that they absolutely cannot smoke this bong and still be okay to meet their boyfriend's parents in an hour, believe them. Laugh at them in private, but believe them.

Gemini, "The Weed Innovator"
Geminis are always looking for the next best thing, meaning that you are the person in your friend group who is always on top of the latest and greatest in weed trends. You're the person who rolls up to the party with some kind of crazy-ass mega-vape, or actually said "yes" when your bestie's weird cousin pulled out some giant rube-goldberg dabbing contraption and asked who wanted to smoke it. And sure, sometimes you get so high off these newfangled devices that you blackout and wake up on a marijuana farm in Mexico, but that's all part of the fun, right? ….Right??
Cancer, "The Active Stoner"
As far as weed smoking goes, just zoning out to a Netflix and zoning back in 17 episodes later with no clue what the main character's name is is just not your vibe. You much prefer getting high and doing something, even if that something is just folding socks for two hours or finally painting that one wall in your room (both of which you will have to completely do over BTW). The point is, you need to keep yourself busy while high to avoid going deep into your brain and remembering every single embarrassing thing you've done, starting with the time you peed during reading circle in Kindergarten, and ending 20-something years later with the anxiety attack you are about to have right now. Before packing up to go to your 420 celebration, make sure to pack some kind of crafty thing or snack recipe to keep you busy when the weed hits. Knitting and cookies are always a good option.

Leo, "The Insta Stoner"
Leo is "The Performer" of the zodiac, meaning that you really don't really see a point in smoking unless people know you're smoking, nah mean? So either because you have those privacy settings on lock, or because you DGAF, your Insta story is nugs on nugs on clouds of smoke. And on 420, your extra-ness is about to get a whole lot more extra, thanks to all of the weed related clothing items you've stocked up on all year just for the occasion. You're no stranger to an amazing photo op, so be sure to head out into the best possible lighting to display your new "420 BLAZE IT" shirt across social media, where your friends will appreciate the subtle addition of not one, but two, lit blunts. Just make sure to double-check that you blocked your boss on everything.
Virgo, "The Woodland Stoner"
Virgos love nature, and what better way to really get in touch with nature than by smoking tree all day? Sometimes, you miss the good old days of sneaking out into the woods behind your parents' house, crouching behind a bush, and smoking shitty dirt weed out of an apple. Now that all your friends have their own residences, it's all nice-ass bongs and sitting comfortably on a couch. Lame. If you really want to honor your Virgo spirit this 420, roll yourself up a fat J (with those herbal, sustainable papers of course) and head for the trees. If you can't find any friends who want to join you (allergy season, etc…) just take a couple of puffs of the dank shit and try talking to a nearby squirrel. You two will be besties in no time.

Libra, "The Social Stoner"
As far as weed goes, it's something you prefer to do in the company of friends, meaning 420 is the perfect day for you to get really into it. While sitting around alone in your underwear stoned out of your mind seems pretty fucking boring to you, sitting around in your underwear stoned out of your mind with your friends sounds amazing. Maybe you're not smoking weed on the daily, but you do maintain a small stash so that you can be ready whenever the opportunity for a smoke circle presents itself, and you'll never say no to something that is being passed around a group. Basically, your ideal smoke situation is every episode of That 70s Show, Ashton Kutcher and all.
Scorpio, "The Philosopher Stoner"
Scorpios are intense. This you already know from having to be yourself. As a stoner, Scorpios are the people who want to get high and think about shit. Lots of shit. Like how the Earth is just like…hanging there…in space. They're the ones who take one bong rip, look to their left and ask, "How do we know that the blue I'm seeing is the same as the blue you're seeing?" You're also not opposed to just sitting back and watching Planet Earth for five hours. The Earth is fucking crazy, man.
Sagittarius, "The Classic Stoner"
Sags are notorious for their great senses of humor without the aid of a drug that is literally known for making everything hilarious. Get a few puffs in you, and you can't help but turn into the classic image of a stoner, rolling on the floor laughing your ass off at something that you can't really explain to everybody else. Sags are also intensely curious, so weed will open you up to all the classic stoner dilemmas like "If someone could tell you the exact date and time of your death, would you want to know?" and "Do I hate you because you're fat, or are you fat because I hate you?" Also, you're going to want to keep some eyedrops with you. Your eyes look fucking terrible.

Capricorn, "The Cannabis Connoisseur"
As a Capricorn, you like to know everything about everything. So once you get into weed, you like really get into weed. You're the type of person who can look at a nug and tell you its entire life story. You know every strain so well that when your dealer tries to sell you some bullshit called "Blueberry Kush Dog" you'll take one look at it and say "If this was really Blueberry Kush Dog, it would have defined nugs, visible crystales, and a defined, fruity odor. This strand you have here has an earthy aroma, strands of red, and is sticky AF which leads me to believe it's Girl Scout Cookies. I'll take an ounce and don't ever come around here without knowing your shit again."
Aquarius, "The Marijuana Activist"
Legalize it! Aquarians are known for their social activism and liberal agenda (how you holding up these days, BTW?) making you the type of stoner who get like, legitimately heated when talking about marijuana legalization. You'll sign any Change.Org petition that rolls your way regarding legal weed, and one of the surest ways to get your vote is to put medical marijuana on the ballot. You've probably been to Colorado like 20 times, and had no problem telling your horrified grandmother over Thanksgiving Dinner about how Denver made so much money on legal weed taxes they were able to invest more money into public schools (that's true). And don't even get you started on the way marijuana was used to help bolster the prison industrial system—seriously, don't get started. Just relax enjoy the holiday for once, Aquarius. It'll give you the energy you need to make the giant pot leaf protest banner you've always dreamed of.

Pisces, "The Festival Stoner"
Pisces are the artists of the zodiac, so you're basically a natural weed lover. It like, gets you in the zone and shit. Pisces are also music lovers, meaning that once you toke you want nothing more than to put on your fav album and just like, chill. And what place combines rampant marijuana use, artistic expression in the form of body paint and glitter, and basically non-stop access to your favorite musical acts? Festivals, duh! Pisces are perfect for the festival scene. In fact, they thrive. Coachella? You're there. Both weekends. Bonnaroo? Fuck it you can hang with the hipsters for a weekend. Wait, also, wasn't that you toking next to Malia Obama at Lollapalooza? I'm pretty sure it was…
10 Healthy Munchies To Reach For When You're High AF
It's 4/20: high schooler stoner holiday galore. But before you get ready to puff, puff, pass, make sure you're stocked up on snacks that won't result in next day regrets (i.e. cheese balls and a pack of bologna… I speak from experience). Having healthy grabs around will keep you from inhaling a box of Cheese-Its or polishing off a block of cheddar when the munchies hit. If you don't have any of this shit on hand, it's time to make a high trip to Whole Foods—nothing you haven't done before, we're sure.
1. Hummus
A vital part of the betch food pyramid, hummus is a dippable and delicious (AND nutritious) snack perfect for dipping carrots or pita chips in when you're seeing sounds. Or you can eat it with a spoon and we won't judge. Not only is that shit super high in nutrients, but it'll also help curb the "I'm hungry" feelings.
2. Tortilla Chips And Salsa
No one knows where the blind loyalty to chips and salsa came from, but for betches, this is a bitchin snack when we're sober, drunk, high, waiting for our burritos, etc. Salsa literally has like, no calories, and lots of tortilla chips—like On The Border brands—are organic, baked, use sea salt, and are generally healthier than other alternatives.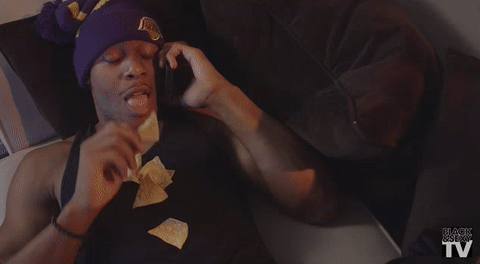 3. Kale Chips
You're dying for some Lays or Cape Cod chips, but kale chips will make you feel one with the Earth AND you won't gain 10 lbs. eating them. Either make them yourself by tossing kale with olive oil, salt, and parmesan and baking at 350F for about 15 minutes (get your hippie friend to make them—she absolutely has a recipe) or buy at—YOU GUESSED IT—Whole Foods.
4. Sweet Potato Fries
Fries are fucking amazing when you're drunk, high, or whatever. Sweet potato fries are better for you, bring that whole sweet and salty thing, and you can eat a shit ton of them (which probs isn't the best but whatever, it's a holiday). Try 'em baked (LOL) which will be less calories and fat than having them fried.

5. Roasted Chickpeas
Totally poppable, full of protein, and not terrible for you, you can make roasted chickpeas yourself or buy them premade in the extra healthy aisle at Whole Foods (Trader Joe's if you're poor). The best part is, these can be made to taste like allllll your fav chips—salt and vinegar, classic, barbecue, pickle—WTF ever.
6. Instant Oatmeal
Cereal somehow becomes extremely appealing and crave-able when you're hitting the jazz cabbage, and instant oatmeal is a perfect comfort food. So, heat that shit up with a little maple syrup, toasted almonds, and brown sugar and bam—not totally horrible snack to nom on. It only really requires a microwave and a few cups of water or milk, so no matter how high you are, you really can't fuck this up.
7. Beef Jerky
So much protein! You'll be reaching for salty goodness, so reach for something that'll help curb the munchies and taste amazing. With the plethora of flavors out there now (chili lime, spicy, classic, bbq, teriyaki), jerky is a great high protein snack that's totally okay to indulge in. Plus they tell them at 7-11 so you can kill two birds with one stone when your bf just needs to get his slushie and questionable pizza fix.

8. Toasted Pumpkin Seeds
You could inhale 1 cup of these and it'd still be better than most of the shit you reach for whilst chasing rainbows. You can buy them pre-toasted or do it yourself by tossing cleaned raw seeds with butter, salt, and pepper and baking in a 300F oven for 40 minutes. Shit, you can even go sweet and do butter, cinnamon, and sugar. The possibilities are endless. Honestly, though, if you're high out of your mind (as you should be on 4/20) we do NOT recommend carving out the inside of a pumpkin with a knife or any other sharp objects.
9. Apples With Peanut Butter
A little grammar school, yes, but these won't result in regret or water retention. Peanut butter is a go-to stoner snack and adding apples will help you slow your roll while you're dipping into it. But like, don't eat too much peanut butter because then it kinda negates the whole "healthy" aspect.
10. Hemp-Infused Shit
You could also always head to the store and grab hemp-infused treats like Activated SuperFood Cereal; LARABAR Organic Bar with Hazelnut, Hemp, and Cacao; or even Organic Hemp Hearts to sprinkle on literally everything. None of that shit will get you high (bummer), but it is super healthy and, like, it has hemp so whatever. It's festive.
The International Church Of Cannabis Opens On 420, So I Guess We're Religious Now
"Gather 'round children, and hear the Good Word. It is time to worship at the Church of Weed. Grab your budbles and turn to page 420 for a reading from the book of Highsaiah. We'll be passing around a donation bowl, please feel free to fill it with anything you can spare. Every nugget helps. Now, please stand for a word from Bishop Grand Daddy Purp who will begin our service by lighting the sacred incense and putting a towel under the door."
As you probably know by now based on your stoner friend's frequent Instas there, Colorado has long been a refuge for potheads everywhere, but now they're really figuring out how to take this shit to the next level. Starting this Thursday (which, reminder is 4/20, so be sure to make any purchases you need now), there will be a new church in Denver that's completely devoted to getting stoned out of your mind.
It's called the International Church of Cannabis, and it sounds super legit. The people running it refer to themselves as "elevationists," which is pretty brilliant because it sounds like something some old Pope dude would have come up with in the 1700s, but it also just means they're blazed all the time. They believe that an "individual's spiritual journey, and search for meaning, is one of self-discovery that can be accelerated and deepened with ritual cannabis use." Sounds good to us. Also, I guess I'm like, pretty far along on my spiritual journey of self-discovery. I must be a shaman by now or some shit. This mission statement also leaves a lot of room for people with diverse interests to join. Like, maybe you're not quite sure you need a journey of self-discovery (that's what my therapist is for, thanks), but are absolutely in favor of ritual cannabis use. There's something for everyone.

Their website refers to pot as "the sacred flower," and is considered a sacrement, which is basically the same shit Catholics pulled back in the day so that they could have a little wine mid-mass. "No no, Jesus wants us to have some. It's uh…his blood. Anyway, somebody got a wine key or should I go to the store during the homily?" But unlike Catholic Churches, The International Curch of Cannabis has foregone the whole "stained glass windows and guilt" aesthetic and painted their entire church like a rainbow kaleidoscope to help you really get in that…um…spiritual mood. They also have membership cards, which is probably the most badass souvenir you could get on your trip to Colorado, and you can actually bring it back home on the plane.

In a classic move, the founder of the church says they're not just total stoners, and that they really want to help out the community, which is exactly what my dealer says whenever he offers me a deal on edibles. And sure, maybe this guy is some kind of spiritual guru, but he's also clearly a total fucking stoner. It's cool man, no judgment here. Just give us time to find our vape pen and we'll be on the next flight to Denver to worship right along side you.
Weed Might Be Making People Better Drivers, According To A Recent Study
You know that one friend who swears on her fucking grandma's grave that she's a better driver when she's high?
Well, she may not be wrong.
A study by Columbia University has found that the rate of traffic fatalities has actually decreased in seven states where medical marijuana is now legal. And in general, states where medical marijuana is legal now have lower rates of traffic fatalities than the states where medical marijuana is still illegal. This is not a drill.
It may seem fucking crazy, but it's backed by 20 years of research and nearly 1.2 million accidents dating from 1985-2014. The biggest drop-off in accidents comes in the age bracket of drivers aged 15-24, and then closely followed by the 25-44 age bracket.
So how the fuck is this happening? The esteemed researchers of Columbia University have a few ideas:
People are getting high AF on their couches and not driving around.
Stoners are more responsible than blackout drunks.
More weed = more paranoia of cops, so again, people are getting high AF on their couches and not driving around.
So is smoking making you a better driver, and should you light up before driving on a road trip so you don't get arrested? Probs not exactly in those terms and definintely not, respectively, but still. What a time to be alive.
American Heroes To Give Out Free Weed On Inauguration Day
LOL at the fact that Donald Trump is going to be sworn into office as the president of the fucking country in two short weeks. And since this news is honestly so depressing, thank god the good samaritans of the DC Cannabis Coalition are passing out thousands of free joints to numb the pain.
Contrary to my personal and very popular belief, this is not an anti-Trump movement. It's not even a giant rally to encourage everyone to get lit AF and pretend the world isn't ending. Rather, our friends at the DC Cannabis Coalition are trying to draw attention to an incredibly important initiative: the federal legalization of marijuana.
"The main message is it's time to legalize cannabis at the federal level," said Adam Eidinger, stoner extraordinaire and chief marijuana officer of the group.
And the event is (mostly) legal. The group will be passing out 4,200 joints west of Dupont Circle, where recreational marijuana is legal, and then marching to the National Mall to observe Trump's inauguration speech. After 4 minutes and 20 seconds (really going heavy on the 420 motif here) of Trump's probs cringeworthy speech, the group is encouraged to light up. And that part is definitely not legal.
The homie Adam says this part is merely "civil disobedience," but recipients of this token of good grace are not required to smoke it at that moment. BRB, googling flights to DC ASAP.