Is It Weird To Be A Twentysomething Who's Never Been In A Relationship?
Must. Find. Boyfriend. As soon as I graduated from college, it seemed like every girl whose sole priorities were once partying and getting hungover bagels with her friends suddenly had one totally different priority, and one priority only: finding a boyfriend. Girls all around me (and some guys, but mostly girls in my experience) were running around demanding answers and screaming "WHERE IS HE?!?!?" with the passion of Teresa Guidice as she flipped the table on Danielle Staub. It's like everyone in my life was one bad date away from a Tinsley Mortimer circus breakdown (fast-forward to 3:50), since we're already talking about the Housewives.
Anyway. The more emphasis those girls placed on finding a boyfriend, the more girls who didn't and hadn't had serious relationships got down on themselves. I felt like many of my friends were questioning WTF was wrong with them for not having had a serious relationship yet. I was always the hype woman behind them exclaiming, "You're only 25, you just haven't met the right guy yet!". But soon enough, even I—who has had countless three-month flings in my twenties but nothing super serious—started to get down on myself. Was I the problem? My narcissism was wearing off, and in its place seeped realistic, down-to-earth thoughts about potentially maybe starting to think about… looking inward. 

So, Is It Weird?
My first step in cracking the super obvious solution of not dating f*ckboys anymore was speaking with Lindsey Metselaar, host of the millennial dating podcast We Met At Acme, to get her opinion. Her first thought on the general topic of not having had a serious boyfriend by your mid-twenties was, "it's less that it's weird and more that it's a reflection on your choices and overall maturity." Totally fair. Like, ohhh, I should STOP going for the guys that still text "thx" instead of the grueling "thanks"? That might be a start. 
This post isn't about me, though. We want to help you pinpoint if not having a serious relationship yet should be of concern to you. So, if the following situations/behaviors sound familiar, then yes, perhaps it is weird and perhaps you are the problem. Read up, buttercup. Yes, it is weird if:
No One Tries To Set You Up
If there's a deafening silence every time you hint at being set up with your friends' hot (or maybe even mediocre-looking, since you're desperate) brother? Then yeah, people are clear on the fact that you repel love interests. 
You're Constantly Getting Broken Up With For The Same Reason

If more than once you've heard that you're too needy, or that you're too high-maintenance, or that you're too more than once—maybe it's time to change that! "It will never hurt to do some introspective work," shares Lindsey. "You can always learn something about yourself." So even if you are totally perfect, as most betches think they are, take that time to look inward, and see how you feel!
You're Sloppy
"Drinking too much, smoking too much weed—it's excessive, and can definitely do damage," says Lindsey. If you're still that f*cked up girl that needs babysitting, then the only guys you'll attract are either super controlling guys à la Joe Goldberg from 'You', or sociopathic frat boys. How charming! 
You Have A 'Type'
"It's helpful to notice your patterns in relationships, especially while in therapy," explains Lindsey. "Recognize those negative patterns, stop having a type, and be more open-minded to people you weren't open to in the past." Is going for clearly emotionally unavailable guys a negative pattern? Asking for a friend. 
"Accept the love you deserve," says Lindsey, while also remarking that she knows it's corny. It's so true though! "If you are someone who continues to date the same person and keeps making the same mistakes, you can't trust yourself," she explains. Makes sense. 
You Have Bad Habits
"People don't want to face that their bad habits can affect their personal relationships," explains Lindsey. Quite frankly, we all have bad habits, so I think it's more about meeting the person that you're willing to change those habits for. Like, we're all addicted to our phones, so it's about caring enough to put the damn thing down. Though I wonder how much practice that takes. 
Tips For Moving Forward
Okay, so you've looked inward. As have I! Luckily, Lindsey also shared some reassuring tips on how to approach relationships moving forward, even if you've already pushed absolutely everyone away! I kid, but we can all benefit from a little advice. 
"Go into dating with no expectations," says Lindsey.
Me: Yeah, I'm not really putting too much thought into this date, whatever happens, happens, no expectations, just totally chill.
Also me: I will pass away if this date does not go well. 
"Every time you meet someone that you think could be special, be sure to protect yourself. Don't make assumptions that it'll turn into anything, or else you'll have all of your eggs in one basket which can lead to getting hurt," explains Lindsey. "I've seen so many people try to force things with someone who's not ready to sacrifice for them and, you know, wants to sleep at their own apartment every night." 
As someone who has a thorough 10-step skincare routine, sleeping out is never particularly exciting for me. This really made me realize, you have to do things you might not want to do to be in a relationship, even if it means enlarged pores! *Crying but also growing up* 

"If you're ready for a relationship, you'll be willing to compromise," explains Lindsey. With that, I end this investigation!
Image: @pablomerchanm /Unsplash, Giphy (3); uuppod / Instagram
What Your Major Says About You
Whether you're a bright-eyed freshman, have switched your major three times so far this semester, or you're a junior and somehow still not quite sure what you want to study, let me assure you that the major you pick will impact your entire life in a pretty big way. Freshmen especially, listen up: your major also plays a big part in who your friends will be, what your college experience will feel like, and how other students perceive you. Will it matter after you graduate in terms of getting jobs? Not one bit. But it will affect your social life, which is the most important part of college, obviously.
Your major is also extremely important because if you're gonna be hungover in your 8am, you might as well enjoy the other 200 people in the lecture and have some interest in the class material you're so desperately trying to retain. For those of us not sitting in that lecture hall (we stop making that mistake after one semester), and eager freshmen alike, here's what your major says about you. 
Accounting And/Or Finance 
I hooked up with a guy with this major who freaked out at me when I asked what made his major so hard. Apparently asking him how entering numbers into a spreadsheet qualified as a legitimate course of study wasn't the most supportive thing to do in that moment, but whatever. 
If you're majoring in Accounting or Finance, you're probably super ambitious and a douchebag on the side. Honestly, I don't doubt you're better at money management than me, so please hit me up if you want to teach me how to save money or if you know what the f*ck a 401(k) is. 
Looking into the future, you're probably super pumped for the Wall Street summer internship your sister's boyfriend promised to score for you, but spoiler alert: you're really doing coffee runs and won't see any daylight, so have fun with that, sweetheart! You're likely planning on being the betchy version of Jordan Belfort (you know, without all those legal issues and hopefully no quaaludes) but in reality, you're looking at a sh*t ton of time spent networking with your dad's friends. 
Basically, if you're delving into a business school major, be prepared to both work and schmooze your ass off each year to get ahead of the rest of your class. Unless of course, you quit after freshman year to become a comm major. No shade.
Economics 
View this post on Instagram
It's bizarre to me that econ majors and business majors have beef. Guess what? You're all smart, you're all annoying as hell, and you're all equally as likely to either fail miserably or become the next Bill Gates!! You watch Bloomberg and read The Wall Street Journal while scrolling through that weird stock app I can't delete from my iPhone. Obviously, you can also recite the entirety of The Big Short from memory. 
I wouldn't call myself an econ expert, so I'm not really positive how people actually apply their economics degree post-grad. You're probably planning on going to even more school and becoming a professor or one of those try-hard ~cool~ high school econ teachers or something. 
Political Science 
Due to the interesting state of America today, these students are multiplying overnight. Poli-sci students tend to fall on opposite ends of the ideological spectrum. Whether sporting MAGA hats with no shame or constantly skipping classes to protest whatever dumb sh*t came out of the White House this week, poli-sci wins as the most entertaining spectator sport. 
If you have absolutely zero chill, did Speech and Debate in high school, and enjoy starting sh*t with your friends, this is the perfect major for you! You get a thrill from causing fights after four vodka sodas, especially when the bartender tries charging you $9 for the fifth. Just remember, "God Brad, don't you realize you're contributing to capitalist oppression!?" isn't as good of an argument as you think when you're slurring your words… especially when the bartender's name is actually Ryan. 
If this is your major, you're probably planning on going to law school and becoming the next Liz Warren or RBG (good luck). Just remember, we can't all be Elle Woods, but it doesn't hurt to try. 
Communication
Comm classes are the 21st century version of Noah's f*cking Ark. Seriously, where else can you find a clueless fifth-year senior, a hungover VSCO girl, and a future Pulitzer Prize winner learning the same thing? 
If you're a comm major, you're either constantly asking your friend which filter matches your Insta feed aesthetic or talking about the depressing state of journalism today. Comm majors are constantly posting on social media, remain the go-to friend for caption ideas, and daydream of comparisons to Walter Cronkite as you host your own MSNBC (or Fox News) show. 
In any case, your parents are paying a sh*t-ton for you to spend four years lazily plagiarizing Wikipedia articles about famous journalists to graduate with a fairly limited amount of hard skills. Congrats.  
Philosophy
View this post on Instagram
If you're uptight, a stoner, and have a bit of a superiority complex, philosophy is the perfect major for you. 
When you come home for the holidays and your family asks about school, some of them shake their heads in disappointment, some of them have no further questions, and there's a good chance your uncle will start an argument with you about Descartes' theory of the self. 
I'm minoring in philosophy and TBH I'm not even really sure what else there is to do with a philosophy degree aside from becoming a professor or marrying rich. 
Theatre 
literally no one:

musical theater kids: https://t.co/PwPukUbzt5

— sadie (@sadieoleary) November 27, 2018
These are the students you hear belting everything from Phantom of the Opera to Wicked to Mean Girls in the communal bathroom. Theatre kids are basically real-life versions of the cast of Glee (during those awkward seasons that followed them to college). 
If you're overdramatic, kind of narcissistic, and not completely tone-deaf, a theatre major will feel like home. You probably continued taking dance classes and doing community theatre loooong after your friends outgrew their second-grade tutus. 
When you aren't loudly singing in your dorm during midterms (please quiet the f*ck down, practice rooms exist for a reason), you're inviting your entire Facebook friends list to the event for your upcoming class performance of Guys and Dolls. You'll most likely move to New York or LA after graduation and spend the foreseeable future in endless auditions. Good luck with that—the whole world's your stage, betch! 
Engineering/Architecture
I know, I know, these majors are actually really different, but they both, like, do math and build a lot of stuff so they're grouped together in my mind.
The only real interaction I've had with an architecture student is the time I wasn't watching where I was walking and almost knocked their model building over. Architecture and engineering both seem really challenging, and since I've never met either type of student, I can only assume they spend even more time studying than pre-med students. 
If you're studying one of these subjects, you probably played with Legos until you were 17 and did really well in subjects like geometry and physics. Since so much of your time is spent studying and building stuff, you'd better hope you can at least tolerate your classmates. From what I've heard, engineering and architecture students "like, basically live in lab/studio," so you have to be cool with becoming a hermit. 
Everything I know about architecture is based on Ted Mosby (so I wouldn't exactly call myself the most credible source on this one), but maybe you're aspiring to design a skyscraper in NYC one day! We love #betchesinSTEM.  
Pre-Med 
While this isn't technically an actual major, it might as well be. I'm not quite sure what pre-med students even learn about or how they do it, but anyone who has enough motivation to make it through a semester (or two) of organic chem is a better person than me. 
You probably picked your major after binging Grey's Anatomy for the first time. If you're in pre-med, you have to be very patient (lol). You can expect to spend countless hours in labs and in the library. When you finally surface from the black hole of studying to go out, you'll get stuck with whoever ends up puking, because "med school." Your friends will probably treat you like f*cking WebMD any time they have a weird sneezing fit and tell you vivid details of alllll of their symptoms when they think they have a UTI. 
Pre-med students should look forward to pretty much spending the rest of their young lives in school and residencies before finally starting to make enough money to pull themselves out of student debt. 
Nursing 
If you're just as smart as your pre-med friends (but with more people skills) and aren't into the idea of a decade of school and a ton of student debt, you should consider nursing! You get to take a bunch of science classes, learn all about medicines and the minor difference between them, and in my experience, nurses are a hell of a lot more fun to be around and they get cooler scrubs. Then when you graduate, you get to do a bunch of the same stuff doctors do, only you get way less credit, are paid less, and treated worse! Exciting!
Psychology 
Spoiler Alert: Getting a 5 on your AP psych class does NOT mean you'll automatically be good at college psych, trust me. 
If you're majoring in psychology, you're probably not into letting your friend use Mercury in Retrograde as a reason to justify hooking up with their ex. It's more likely that you'll end up psychoanalyzing how their repressed experiences cause low self-esteem (which is such a buzzkill). 
While some people who graduate with a psych major end up doing something totally unrelated, a lot of psych majors are truly doing the Lord's work and making bank for it. Who else is willing to listen to the problems of bougie millennials and suburban moms whose kids have left for college? 
Education 
What's good, future Ms. Frizzle? Education majors often get a bad rap, but we all know that teaching is literally one of the most important professions ever. 
Education programs are home to washed-up camp counselors, patient saints, and future trophy wives alike. If you can tolerate anyone from children to pretentious sorority girls, like coloring, and basically own stock in Michael's and OfficeMax for all the money you spend on school supplies, this is the field for you. 
Who knows, you might go on to be a kick-ass teacher and change some lives, Dead Poets Society style. If so, try reeeeally hard not to be one of those assholes who takes a full school year to grade papers because if it's not abundantly clear by the 15 emails you've gotten asking for an update, students hate that sh*t. 
There are literally hundreds of majors (and minors) you can choose to study, and this list just scratches the surface. If you've somehow gone through the whole course catalog and still don't vibe with any of the options, your next steps will probably be to either create an individualized major or re-evaluate if college is actually right for you. 
No matter what you decide to do with the next four-plus years of your youth, be prepared to spend at least half of that time pushing your body to its absolute limits in every way: hygiene (yes bitch, you do smell after spending three straight nights in the library), coffee intake ("is six espresso shots too many? I have a final tomorrow"), and stress levels, because you're in for a wild ride. Good luck.
Images: kaboompics/Pixabay; off campus / Instagram (2); sadieoleary / Twitter
Organizational Products You Need To Channel Your Inner Marie Kondo
Like the rest of the world, I am really, really obsessed with Marie Kondo right now. Like, I need her to follow me around and give me life advice all the time. She could tell me which of my dates are trash and don't bring me joy. She's like Xanax in person form with her little calming voice. There is nothing that woman can't handle, and she'll make it pretty and decluttered in the process. If you want to live as peacefully as Marie, you def can't be throwing all your sh*t around all the time because living in clutter stresses everyone out. I bought a TON of organizational products after moving to smaller apartment last year and even more after watching her show, but here's a list of my favorite have-to-have organizational products if you want to live the Marie Kondo way. It's like I'm Oprah, here are my FAVORITE THINGS:

This rack is the best. Not only is it super cheap, but I was also able to build it in about 7 minutes. I'm no Rob Parks-Valletta, but if you ask Scheana that's pretty impressive. I used to have a way bigger closet and I kept my shoes in clear plastic boxes (which is totally the way to go if you have the space) but in my new tiny af walk-in, this saves soooo much space. I have it against the wall where there isn't hanging space and it fits exactly 30 shoes—booties and heels included. They also have a hanging version for the back of your closet door (I have both for max storage) . Pro tip: Put your heavy shoes on the bottom, which I originally didn't do and eventually my tower started to sag. The tower is also attractive enough that it can be on display in your room without being totally heinous.

I started meal prepping because I never have time to cook, which caused me to eat out all the time, which caused me to gain weight. I've been using old takeout containers for ages to portion out my meals, but they're ugly, they crack, they take up a lot of space in my cabinets, and they come in so many different shapes and sizes and I can never find the f*cking matching lids. I finally decided to buy nice glass containers, and it changed my life. They are easier to clean, look nicer, have locking lids so they don't spill, and are oven/dishwasher/microwave/freezer safe. I have this set of 5 instead of 30 cheap broken ones, and I feel like so much more of an adult.

This is for that "paper" section that makes people cry on Tidying Up With Marie Kondo. Why? Why are you saving old receipts from 2009 anyway? Once you go through all of your paper, photos, etc., save what you absolutely must keep in this adorable organizer. It also folds up in case you don't have an office and don't want it as wall art.

You have no idea how ashamed I am of myself. There is nothing, nothing that excited me more than the day I first used my Joseph Joseph Kitchen Drawer Organizers. This is because I have the World's Tiniest Kitchen™ and I have no drawer space. These trays are so genius. I was able to use both the cutlery one and knife one in one standard kitchen drawer with room to spare. Cutlery used to take a whole drawer by itself and then I had all my kitchen knives haphazardly thrown about in it and risked violent death every time I needed one. Okay, at least a light stabbing. NOT ANYMORE. I have these right next to each other and then in the additional space leftover, I have odd kitchen items like wine openers, chopsticks, pho spoons, rubber wine corks, etc. This is how I know I'm old, cutlery organization brings me SO MUCH joy.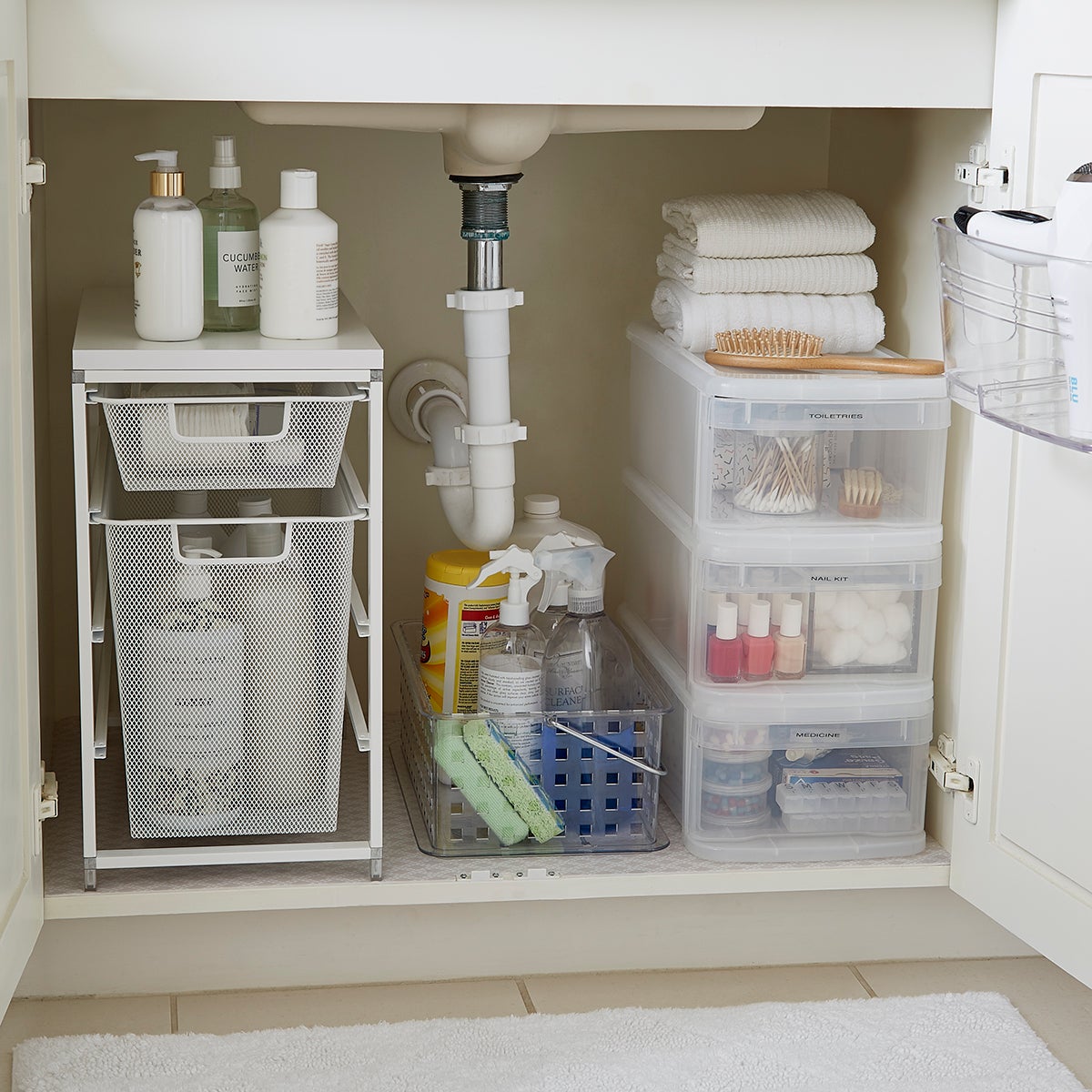 I saw this on Instagram and my mind exploded. Let me ask you, is it weird to be sexually attracted to a bathroom storage set? I mean. Just look at the picture. My bathroom under sink area was full of baskets that were stacked on each other and I had to move each one to get things out of them. This is so much better. However, definitely measure your under sink before you just buy all the stuff. I learned the hard way that my sink pipe is not so neat and narrow as the picture and instead juts out sideways to take up a ton of unnecessary space. I was only able to fit two stacking drawers instead of three, and there was no room for the little caddy in the middle. But I just kept those items and put them under my kitchen sink. I still regret nothing and I can find things so much easier now.

This is one of those weird organizational products that I never knew how much I needed. Since I like to procrastinate doing laundry for as long as possible, I go through a lot of clothes and all my hangers end up all over the place. Usually on the floor of my very tiny closet. Which then I accidentally step on them as I'm trying to get to my clothes. And then they break. And then I cry, because they're those slim-fit velvet hangers, which btw, save so much space and are a total must-have if you somehow missed the boat when they started being trendy 10 years ago. But I saw this hanger stacker recently and was like, "actually that could fit in my tiny closet next to my shoe rack" (see above). So I decided to give it a try and it is so convenient. I just neatly toss all my hangers on it as I use my clothes. It's also way nicer when you need to hang things back up, since they're all in one place, you don't have to go hunting for them. We've had no hanger casualties or closet clutter since!
Images: Amazon (5); The Container Store; Netflix
Betches may receive a portion of revenue if you click a link and purchase a product or service. The links are independently placed and do not influence editorial content.
3 Ways Dating In College Is The Total Opposite Of Dating In Your 20s
Let's get something clear from the start: one of these is not actually dating. I don't care if the guy you took to five consecutive formals also made you a picnic that one time or whatever else people do between fucking asked you to hang out before 9pm: college is the best four years of your life oh my god I'm so old a complete joke. Whatever versions of adult life you attempt in that time, they can only be expected to bear a baseline resemblance to the real thing. So, here are a few ways you can expect your dating life to change once your parents take back their credit card you earn your degree.
You Will Have New Priorities
In college, that guy with piercing blue eyes who shit on your taste in music and had a surprisingly skinny dick slightly washed man bun was considered a catch. Now, any guy who self-describes as an "intellectual" is automatically vetoed: you are a busy and important woman who does not have time to hear whatever theories on the universe four bong rips yielded this time. You need a man with enough follow-through and determination to give you an orgasm hold down a job, and the ability to meaningfully listen to your inane work rants legitimate professional woes without interjecting about how closely this relates to his latest screenplay. TL;DR: If his Bumble profile lists actor/writer/musician/artist etc., save yourself the HPV and just swipe left.

"Busy" Actually Means Something
In college, "sorry, I'm busy" loosely translated to "you threw up in my bed and there's broken glass everywhere, please stop texting." To be less personal, it meant "we're not fucking right now." The point is, there's basically nothing in college that you really "can't miss," so this is an obvious excuse. So next time a college guy tries this on you, just text his mom all his dick pics get some reasonable revenge and move the fuck on. In your 20s, it's actually a pretty big red flag If he's never busy—he's either lying about his job, or so obsessed with you that he's willing to risk getting fired so he never misses a chance to hang. Either way, pass.

Your "Best Self" Will Change
I truly say this like once a day never thought I'd say this, but I miss the days when the "chill girl" was all guys wanted from you: wearing tiny denim shorts and pretending not to know half your ass was out, drinking way too much beer, and generally suppressing screams at the amount of dirt in your immediate surroundings. Now that guys are no longer in the land of no consequences college, they're just as freaked out about real-life shit as you are—so, they start caring more about qualities like emotional stability, or the potential that you will one day solve all their mommy issues cook them a meal. Obviously, you don't ever have to actually do this: just lend the impression your first few dates that you are a completely different person will actively improve their life, not feel like a second job.

Basic points: while your life will get worse in every way drastically change after you graduate, you do get slightly better taste, guys get more creative with their lying, and you'll be forced to act a tiny bit more your age. While you're in college, just wear a condom enjoy your freedom (because even if you think you're dating someone, you're really, really probably not).
The 7 Places To Travel After You Graduate, Before The Real World Kills Your Soul
In spite of showing up to class hungover after dollar beer nights almost every week, you still made it to graduation. Congratulations betch, you're about to leave the best time of your life and just be in… the rest of your life. Before you join the real world and have to make small talk with Annie from sales every Monday morning in the office kitchen, you need to enjoy your summer after graduation by some much needed traveling. So after you throw that cap up and attend approximately sixty graduation parties, go explore (aka get drunk in) these cities and celebrate never having to write another paper again.
1. Thailand
If only you could get free miles for every time you order pad thai, you could get a free trip to Thailand. Chances are this isn't a place you studied abroad in, so it's the perfect candidate for a post-grad trip. The Full Moon Party is an all-night party on an island that every visiting foreigner is going to be at. It's like the Coachella of Thailand, but with more neon and less cultural appropriation. Well, actually we can't promise the last part, because there will be Aussies there and they're unpredictable.
2. Road Trip Across The U.S.
This is perfect if you're already moving to a new city, because you're going to have to move your shit somewhere anyway. Road tripping across the U.S. is something you thought about since you saw Britney in Crossroads and honestly it's worth doing. Just make sure you get a good enough group together so you have someone to switch off driving with you. Plus the more rural you get the cheaper alcohol is. Bring a polaroid camera to get some IRL Instagram photos. Wait, are those just called photos? *stares off into space for 20 minutes* Also, you'll be surprised how fun thrifting is in small towns, and you'll be able to pick up some dope clothes and finally get rid of your Forever 21 shit from college.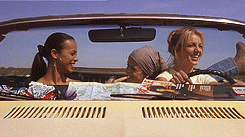 3. Berlin
Berlin is like the nice guy we friendzoned in freshman year and then got super hot when he started working out. Like, we imagine it's a chill city but now it's one of the best places to be as a young adult. Everyone speaks English so you can get by without doing much work, and people are friendly to Americans. People love getting naked in clubs, but not in the creepy way. Plus people judge you for having your phone out at bars, which means you can actually have a good time off-line and be present in the moment or whatever my mom is constantly yelling at me to do.
4. Australia
Before you have to think about the answer to the "what's next" question, get on a plane and get as far away from your anxiety about the future as you possibly can. Australia has hot people, beaches, and adorable koalas. Everyone in Australia is constantly traveling outside of Australia, so you might as well return the favor. Plus even if you don't land the jobs you want, getting bad news while learning to surf from an instructor named Monty isn't such a bad thing.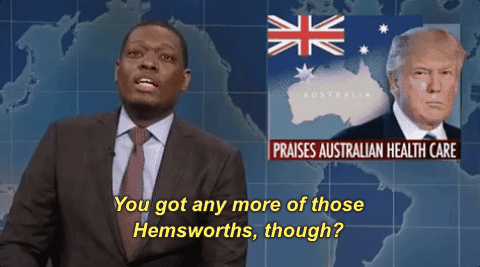 5. Iceland
If you don't want to spend money before you actually start working full-time, we got you. Iceland is between Europe and the U.S. and it's always cheap to fly there. You probably know it from every Instagram model's page ever, but you can swim in the Blue Lagoon and who knows, maybe you'll get a new Linkedin headshot out of it. Sure, you'll be dressed completely inappropriately but at least everyone will know you're adventurous. Iceland is a beautiful place and cheap to visit, which is perfect for your uncertainty about your future.
6. New Orleans
Take a graduation trip to New Orleans, trust us. If we had to describe New Orleans we'd say it's the back tattoo of the South, but like in a good way. NOLA knows how to party. It's a great place if you want to celebrate but still feel like an adult. Like, you've graduated from making out with randos in Mexico on Spring Break, and now you're meeting strangers while surrounded by a ton of culture and great music. Plus the next time you come back it will probably be for your bachelorette party and that's not going to be the same. Also Beyoncé filmed all of Lemonade there so you can hit up all the spots and pretend to be Bey even more than you normally do.

7. Amsterdam
Amsterdam is like the Vegas of Europe with less wedding chapels. Everything looks like it's taken straight out of a Snow White storybook, so when you get high on the (legal) brownies, you can actually feel like you're a princess from a fairytale. Unfortunately if you've got drug tests for your jobs you might want to skip the coffee shops here, but also you could just pass your drug test and then take a quick vacation before starting work. Plus you can bike everywhere here, which means you can work off whatever remaining Freshman 15 you still have on you.