Ava Max Is Sweet, Psycho, & Ready For Pop Domination
Ava Max is cool. Almost too cool and chill to be the same 26-year-old who has a global smash hit already under her belt and a highly anticipated debut album, Heaven & Hell, out now on Atlantic Records. In a pop music climate that is currently filled with whispers over beats, Max brings a flare of the classic pop music you know and love from B.T. (before TikTok) with a modern twist. Her premiere album, Heaven & Hell, feels like the perfect introduction to who Ava is both as a person and an artist: fun and feisty, with zero plans of slowing down any time soon. 
There have been multiple times where a debut single skyrockets its singer to an unexpected level of instant success—like Instant Ramen, but Instant Record Deals. These overnight sensations seem to just happen by sheer luck, but what you don't usually hear about is the hard work that predates it: "It's weird because I've been trying to make it for a very long time, and at the end of the day, I'm just grateful people actually care about my music and relate to my music and I just want to inspire people." Another thing that oftentimes is missing from these stories? A follow-up release to continue their momentum. Here, Max can sleep easily with "Kings & Queens" making its way up the charts and raking in over 244 million streams on Spotify.  
"Once 'Sweet But Psycho' came out I didn't really have time to work on an album because I went straight to tour," Max says. While many artists recently, like Ellie Goulding and Katy Perry, talk openly about the inevitable fatigue that comes from the ride of celebrity, it seems that Ava is already taking the steps to make sure she doesn't burn out: "It's all about taking it easy and not forcing yourself to do something at that moment. I really believe in manifesting and if you're not feeling it at the moment, let it go."

Letting go may be easy when it comes to putting the proverbial pen and paper away for the day and taking a break from work, but a tad bit harder when it comes to getting over that person you can't just seem to get over, a topic that we all definitely face, and one that Max faces head-on in her art. She revealed that one of her new songs, "Rumors", "was a last-minute addition—it's a fun song on the hell side, about how I hear so many rumors about this person but I'm still ending up in his room ." Who can't relate? She also gave some slight hints that if, after this album, you're already begging for more Ava, not to worry—a deluxe version will definitely be on its way soon. 
Avatars (the name her fans lovingly gave themselves, although I'd love to pitch them Maxxinistas), may find themselves falling head over heels for Ava Max's music because of how instantly they relate the lyrics in her songs—something that Ava says is one of the most important parts of music to her.
"Lyrics are all that matters. You have to relate to people. Literally, I don't know how to explain it but lyrics have made a difference in my life." Her love of lyrics predates her musical career and goes all the way back to when she was growing up listening to the divas of the early 2000s. I mean, who hasn't belted "Stronger (What Doesn't Kill You)" in a shower, or car ride, or karaoke bar? While I didn't ask Ava if that tune was in her karaoke rotation, she said it was definitely one of the songs in the past that she wished she wrote because "it's just too good." Touching on her own lyrics, Max said that the track "Naked" on the album will give fans a glimpse of a different side of her—one they haven't seen before. 
As with any conversation in 2020, the topic of quarantine had to inevitably come up. "The best thing I learned about myself in quarantine is patience." She also said that she realized she "likes to eat more than most people I know," and at that moment, I've never related to a pop star more. While she is practicing patience during this time of lockdown, she's skipped the sourdough starter kits and went on to not only record a new song for the album ("Heaven", the opener, was done in lockdown) but also record some new music videos that will accompany the album, a process she said was really fun but of course, extra stressful in these times when your glam preparation also involves a COVID test. 

When asked to pair this album with a cocktail—because this year we could all use a drink—the singer quickly answered with a jalapeño mojito, because "it's kinda spicy, psycho, crazy." But of course, it has a little sweetness. I'll drink to that. And I'm sure Ava may want a cocktail in hand after the release of her album, both to celebrate "the project being out in the world and no longer mine, but the fans'" but also because with her debut album, she admits, "I'm nervous and I wonder how it's gonna come across so I have all these thoughts in my head. It's a rollercoaster of emotion." After listening to the album, I feel she has nothing to worry about.  
Without jinxing anything, I did slightly mention what she would do if she was nominated for a Grammy this year: "I would vomit. I would feel nauseous, sick to my stomach, and not know what to say. I would feel so grateful—I'd still feel grateful even if I don't get anything like that." My advice to Ava is to get the Pepto Bismol ready because if the Recording Academy has any sense, we'll be seeing her on that stage soon, most likely thanking her childhood chihuahua that she says she loved and her family. 
Heaven & Hell by Ava Max is out now on all platforms. 
Images: Charlotte Rutherford
Charli XCX And Lizzo Just Released A Summer Anthem
If you read any of my music columns in the past (it's okay, nobody did), then you'd know that, typically, most new singles get released on Fridays. I don't know why; my friend who works in music PR told me it used to be Tuesdays and then for some reason they changed it to Fridays. That is way more annoying for me, but the plus side is that we get to go into the weekend every weekend with new bangers. Anyway, it doesn't matter, because today (Wednesday) we are getting a new single from Charli XCX featuring Lizzo. It's called "Blame It On Your Love", and it is an anthem. Praise be. Friday has come early this week.
Charli XCX's new single, "Blame It On Your Love," features Lizzo, who—if you don't know—is a flute player, body positive icon, and overall badass. We stan them both. Charli is basically synonymous with "catchy af pop music" at this point, and this new hit is no exception. If you listen to Charli already, you might notice that this new single is the main sample in "Track 10", from her most recent Pop 2 mixtape. But now it's been infused with some upbeat percussion and a new melody, twisted with new verses, and of course, a feature by Lizzo. The result is an infectious summer song that's going to be stuck in your head all the time, if the past 15 minutes of me listening to it on repeat are any indication. I guarantee you will be playing this song when you meet a cute new person this summer at a rooftop or whatever and want to send them memes, but you're not sure if you're at that stage of your relationship yet—or whatever your summer love scenario ends up. being. *Hits play again*
Listen to "Blame It On Your Love" below, and catch Charli XCX at Governors Ball on June 2nd, and Lizzo on her Cuz I Love You tour.
Image: Ace Amir
10 Things We're Sure To See From Taylor Swift On 'Reputation'
Welp. Here we are. The day before Taylor Swift's over hyped new album will drop. Here's what we know already: The album will be 15 tracks, with the first track being "…Ready For It?" and the sixth track being "LWYMMD", presumably because 6 is the devil's number. (I don't actually know that is why it is the first track. That is just conjecture. Please do not sue me, Taylor. I know you're reading this.) The Target edition of the album (lol) also comes with two 72 page magazines full of "poetry, watercolors, paintings, handwritten lyrics, and fashion photography." So basically, a very sad handwritten book.
So that's what we know, but there are still many questions. What fresh hell will this new album bring? Who will be roasted? (Everyone.) And who will be spared? (Taylor.) Only time will tell. But knowing Taylor—well, the old Taylor who is kinda also the new Taylor—there are definitely a few things we know we can expect from the #1 album to ever be featured on the side of a UPS truck.
1. There Will Be Snake References
Well, this one is obvious. Taylor is pretty clearly still pissed about the whole "people calling her a snake" thing and has spent all year trying to "take back" the snake. Question: How long does a person have to try to take something back, before it turns around and takes back her take back? Taylor appears to be trapped in a ouroboros (look it up) of snake-related take backs, with no end in sight, so obviously there will be more snake references. TBH, I wouldn't be surprised if one of the tracks was called "Hiss Hiss", and was literally just audio of her hissing for 15 minutes. I also wouldn't be surprised if it hit #1 on the Billboard charts for 10 weeks in a row. It's still Taylor Swift, after all.

2. Songs About Hiddleston, Calvin Harris, And Joe Alwyn
Again, this is fairly obvious. Swift's last masterpiece, 1989, came out before any of these relationships occurred, meaning that they are all due for a thorough roasting. Considering how dramatic the Calvin Harris breakup was, and considering his penchant for talking shit about her in the media, I think it's fair to say that he'll be one of the main targets of New Taylor's wrath. Many are already speculating that "Gorgeous" is about her fake relationship with Hiddleston, whereas Joe may or may not make the cut, depending on how long they've been together, when she actually finished the album, and how much she secretly hates him.

3. The Old Taylor Is Actually Still Very Much Alive
Maybe this makes me a conspiracy theorist, but something about the New Taylor's behavior seems suspiciously similar to the Old Taylor. Personally, I believe that the Old Taylor is really alive, living on an island with Tupac and Aaliyah, waiting for the right time to return to the U.S. as a hologram. Think about it. What I'm trying to say is, Taylor Swift is absolutely back on her bullshit, and this album will probably just be all the same shit we've seen from her in the past, with a slightly darker beat and a fuckton of eyeliner.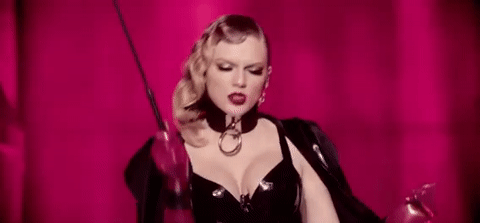 4. She Will Rap In Some Capacity
Taylor Swift has been badly dancing around the idea of actually rapping for years. She's done what all white pop stars who want to rap do and talk-sung her way through several tracks in the past ("Shake It Off", "We Are Never Getting Back Together", etc…) but she has never fully attempted rapping. I'm sorry to say, that I think this album will be the album where that happens, at which point a portal to hell will open up in the middle of TriBeca, and we will all surely be damned.

5. Maybe A Drake Collab?
Around this time last year, everybody was talking about how the fuck Donald Trump became president the fact that Taylor Swift and Drake were hanging out. Were they dating? Were they friends? Were they PROFESSIONAL COLLABORATORS? Many Swifties (also known as "the criminally insane") are predicting the Swift-Drake collab that only nightmares dreams are made of.

6. More Obvious References To Kim And Kanye
Say it loud for the people in the back: Taylor is still very pissed about the Kim/Kanye thing. And what does a pissed off Taylor Swift do? Write songs. That's songs plural, meaning that the references to the feud in "LWYMMD" are only the tip of the iceberg. We'll know when she's talking about them because it'll be the first time in history she's ever mentioned brown eyes in a song.

7. Feminism??
As we all know, Taylor Swift likes to dabble in some white light feminism, when the mood suits her. And by "feminism" we of course mean, "having friends who are models and also Lena Dunham," because that's usually as far as Taylor likes do go down the feminist rabbit hole. Move over, Gloria Steinem, there's a new skank icon in town. Now obviously, Taylor isn't going to release a feminist ballad or anything like that—she has to appeal to her base, who may or may not be white supremacists—but maybe she'll like, release her own brand of Diva Cups or something?

8. Trump-Style Digs At The Media
If I said to name a very famous person who hates the media and should have better things to do, but instead spends their days responding to petty grievances on Twitter with legal threats, who would come to mind? If you said Donald Trump, you would be correct. If you said Taylor Swift, you would also be correct. See the connection? Considering the fact that this entire album is built around media slander (the album cover is literally clips of the media roasting her and I feel personally victimized that none of my articles made the cut), I feel like we know of at least one very powerful person who will be listening to it on the reg. And no, I'm not talking about Selena Gomez.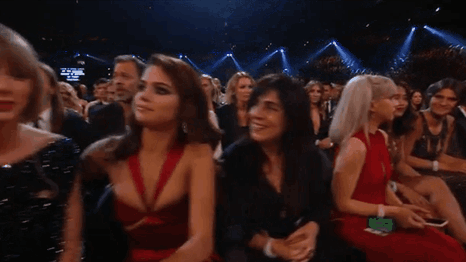 9. It Will Go Platinum
I mean, it's Taylor Swift. She could release literally anything and it would go platinum. Also—and to pause my intense hating for a sec—Taylor Swift is like, good at music. The girl has yet to put out an album sans jams, so I highly doubt this one won't have at least three tunes that will get stuck your head for all of time. I mean, even "LWYMMD" was catchy. And "Gorgeous" is a certified bop. If there's one thing to be said about Taylor, it's that she's not fucking around.

10. She'll Take The Opportunity To Apologize For Her Bullshit
Lol JK. If lawsuits her fans are Taylor's first love, not taking responsibility for actions is definitely her second.