Ava Max Is Sweet, Psycho, & Ready For Pop Domination
Ava Max is cool. Almost too cool and chill to be the same 26-year-old who has a global smash hit already under her belt and a highly anticipated debut album, Heaven & Hell, out now on Atlantic Records. In a pop music climate that is currently filled with whispers over beats, Max brings a flare of the classic pop music you know and love from B.T. (before TikTok) with a modern twist. Her premiere album, Heaven & Hell, feels like the perfect introduction to who Ava is both as a person and an artist: fun and feisty, with zero plans of slowing down any time soon. 
There have been multiple times where a debut single skyrockets its singer to an unexpected level of instant success—like Instant Ramen, but Instant Record Deals. These overnight sensations seem to just happen by sheer luck, but what you don't usually hear about is the hard work that predates it: "It's weird because I've been trying to make it for a very long time, and at the end of the day, I'm just grateful people actually care about my music and relate to my music and I just want to inspire people." Another thing that oftentimes is missing from these stories? A follow-up release to continue their momentum. Here, Max can sleep easily with "Kings & Queens" making its way up the charts and raking in over 244 million streams on Spotify.  
"Once 'Sweet But Psycho' came out I didn't really have time to work on an album because I went straight to tour," Max says. While many artists recently, like Ellie Goulding and Katy Perry, talk openly about the inevitable fatigue that comes from the ride of celebrity, it seems that Ava is already taking the steps to make sure she doesn't burn out: "It's all about taking it easy and not forcing yourself to do something at that moment. I really believe in manifesting and if you're not feeling it at the moment, let it go."

Letting go may be easy when it comes to putting the proverbial pen and paper away for the day and taking a break from work, but a tad bit harder when it comes to getting over that person you can't just seem to get over, a topic that we all definitely face, and one that Max faces head-on in her art. She revealed that one of her new songs, "Rumors", "was a last-minute addition—it's a fun song on the hell side, about how I hear so many rumors about this person but I'm still ending up in his room ." Who can't relate? She also gave some slight hints that if, after this album, you're already begging for more Ava, not to worry—a deluxe version will definitely be on its way soon. 
Avatars (the name her fans lovingly gave themselves, although I'd love to pitch them Maxxinistas), may find themselves falling head over heels for Ava Max's music because of how instantly they relate the lyrics in her songs—something that Ava says is one of the most important parts of music to her.
"Lyrics are all that matters. You have to relate to people. Literally, I don't know how to explain it but lyrics have made a difference in my life." Her love of lyrics predates her musical career and goes all the way back to when she was growing up listening to the divas of the early 2000s. I mean, who hasn't belted "Stronger (What Doesn't Kill You)" in a shower, or car ride, or karaoke bar? While I didn't ask Ava if that tune was in her karaoke rotation, she said it was definitely one of the songs in the past that she wished she wrote because "it's just too good." Touching on her own lyrics, Max said that the track "Naked" on the album will give fans a glimpse of a different side of her—one they haven't seen before. 
As with any conversation in 2020, the topic of quarantine had to inevitably come up. "The best thing I learned about myself in quarantine is patience." She also said that she realized she "likes to eat more than most people I know," and at that moment, I've never related to a pop star more. While she is practicing patience during this time of lockdown, she's skipped the sourdough starter kits and went on to not only record a new song for the album ("Heaven", the opener, was done in lockdown) but also record some new music videos that will accompany the album, a process she said was really fun but of course, extra stressful in these times when your glam preparation also involves a COVID test. 

When asked to pair this album with a cocktail—because this year we could all use a drink—the singer quickly answered with a jalapeño mojito, because "it's kinda spicy, psycho, crazy." But of course, it has a little sweetness. I'll drink to that. And I'm sure Ava may want a cocktail in hand after the release of her album, both to celebrate "the project being out in the world and no longer mine, but the fans'" but also because with her debut album, she admits, "I'm nervous and I wonder how it's gonna come across so I have all these thoughts in my head. It's a rollercoaster of emotion." After listening to the album, I feel she has nothing to worry about.  
Without jinxing anything, I did slightly mention what she would do if she was nominated for a Grammy this year: "I would vomit. I would feel nauseous, sick to my stomach, and not know what to say. I would feel so grateful—I'd still feel grateful even if I don't get anything like that." My advice to Ava is to get the Pepto Bismol ready because if the Recording Academy has any sense, we'll be seeing her on that stage soon, most likely thanking her childhood chihuahua that she says she loved and her family. 
Heaven & Hell by Ava Max is out now on all platforms. 
Images: Charlotte Rutherford
Why Is Ariana Grande Celebrated For Doing What Taylor Swift Is Mocked For?
Like most sentient Americans, I've spent the past few weeks in a world where Ariana Grande's "thank u, next" is the only soundtrack. It's passed well beyond the point of "great song!" and into the realm of "if I don't get my daily fix, I will probably die." I am certain I'm not alone in this, given that "thank u, next" has shattered multiple records in the streaming world. More importantly to me, the song and its accompanying video have secured Ariana Grande's transition from pop star to icon, from whom every social media nugget and on-screen appearance are nothing short of gospel.
As I've watched (and wholeheartedly approved of) the reaction to "thank u, next," one question continued to bug me. When Taylor Swift sings about her exes, she causes a similar flurry—but one filled with sneering, eye rolling, and the suggestion that she can't be taken seriously as an artist for choosing such diary-like content. Then Grande releases a track in which each of her exes are called out by name, and she's hailed as the ultimate badass for it. As someone who both genuinely loves Taylor Swift's music and feels that 90-95% of songs should be about one's exes, I couldn't help but wonder: why is Grande celebrated for the very thing Swift is mocked for? I've outlined my theories below.
Ariana Grande Is Cool & Confident
Let's be honest—a huge part of the appeal of "thank u, next" is the fact that, given the option, we would all present ourselves like Grande did after a breakup. "Thank u, next" is perhaps the coolest emotion one can evoke when facing an ex—even more so if done with genuine gratitude and while looking insanely flawless. "Thank u, next" is a song we can all caption our pictures with while drunkenly "accidentally" tagging exes, and the worst thing that happens is you've been overly polite to someone who wasted a year of your life. You tag an ex in a pic captioned "got a long list of ex-lovers / they'll tell you I'm insane," and you're not coming back from that so quickly. This brings me to my next point.
Taylor Swift Is Earnest & Emotional
Taylor Swift, almost determinedly, does not put up a "cool girl" façade when she sings about her exes. She painfully scrutinizes where it went wrong, often down to the minute of their breakup. She lingers on their ultimate incompatibility, mourns for the good times, and explicitly details the extent to which both she and her ex will suffer for this loss. Swift is, in my opinion, a far more realistic version of what you look like after a breakup. Contrary to what Grande's rom-com mash-up video would have you believe, most people do not soar from broken engagements feeling validated in all of their choices and loving themselves like never before. They come out feeling lost, broken, and all too likely to dwell on all the most unhelpful and unattractive things.
In other words, they look like this: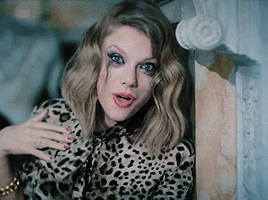 Not this: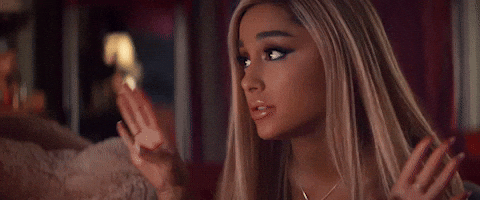 So, if Swift is ultimately more relatable, shouldn't that mean more critical success? F*ck no! Please. Name the last time someone wanted an honest reflection of themselves, particularly if it's unflattering. From the bathroom scale to the pop soundtrack of your life, you want to be fed beautiful lies. People yell at Swift for being vulnerable about her exes the same way you yell into the mirror the morning after drunk-dialing your own ex 12 times the night before. Swift isn't critiqued in spite of being relatable; she's attacked precisely because of it.
Ariana Grande Is Gracious & Direct
First and foremost, we have to acknowledge that Grande takes the high road with "thank u, next." She betrays not one scrap of vitriol toward her exes, talks no sh*t about them or the relationship. She simply thanks them for their time, and reaffirms her commitment to herself. So, that alone is easier to get behind than one of Swift's "remember those three minutes in 2004 when you said we would die together" tirades.
On top of that, there's the fact that Grande seems to have no fear of confrontation (can't relate). She names each of her exes plainly, and even gave many of them a heads-up before the song's release. So, if her exes themselves don't have an issue with the song, it's a little harder for the general public to decry it.
Taylor Swift Is Petty & Secretive
Swift, on the other hand, does everything short of attaching a treasure map to each album with hints to which lyric refers to which ex-boyfriend. Yes, the national obsession with tracking those connections, and stalking her love life in general, has gotten totally out of hand. But when she describes the relationship down to the month ("Back to December"), memorable holiday (4th of July), eye color (too many to count) and so on—it's a little hard not to engage. Add to that the fact that she decidedly doesn't take her exes' feelings into consideration on this—and given the contentious nature of many of her songs, it's not hard to see why.
To clarify, I'm not in any way saying that artists should have to poll their exes before releasing a breakup track. The world would be a much sadder place if that were the case. I'm just saying that Swift's refusal to do so—and Grande's respective decorum toward exes—makes Swift the much easier target to criticize. Basically, Grande is doing all the things you're supposed to do after a breakup; Swift is doing all the things you hope people never find out about after a breakup. And one of those girls will get dragged a lot harder than the other—it's just a fact of life.
Moral of the story here? We should all try to be more like Ariana Grande. JK—you guys knew that coming in. But honestly, that is the hidden message behind the song's unequivocal success. When Swift sings about her exes, she does it emotionally, vindictively, and evasively. She speaks about her exes with all the bitterness of someone still deeply invested in the relationship, or at least actively wounded by it. When Grande sings about her exes, she's singing from the point of view of someone who's moved on—and ultimately, just singing about herself. So yeah, do be more like Ariana Grande. Move on from relationships that didn't work, stop emotionally investing, and celebrate yourself. Apparently, the world has a much harder time tearing that down.
Images: Giphy (2)
Is Katy Perry Morphing Into Miley Cyrus? An Investigation
Katy Perry debuted her new, ultra-short platinum blonde "I just broke up with Orland Bloom" haircut on Instagram this week, and for those of us with a keen eye and nothing better to do in life, it was hard not to think of another post-breakup betch who debuted a very similar haircut on social media way back in 2012. I'm talking, of course, about Miley Cyrus. After a bit of digging, this similarity in styles makes perfect sense, considering celeb stylist Chris McMillan is responsible for both, which begs the question—is the platinum pixie the new official "post-breakup" hairstyle? And isn't it kind of weird for Katy Perry to be stealing styling tips from a girl a full eight years younger than her? Amber, was that you going through my laundry?
And that's not to say that Miley owns the platinum bob. That'd be like saying she owns wearing a jewel encrusted marijuana themed onesie. She doesn't. Marijuana onesies belong to everyone. But it would be kind of weird if Katy Perry started rocking one. And you have to admit, the cuts are very similar, even down to their rollout on social media:
— Miley Ray Cyrus (@MileyCyrus) August 13, 2012
It just seems odd for two people with literally the same job and the same hairstylist to now have the same post-breakup haircut. It'd be like if your coworker wore army pants and flip flops, so the next day you wore army pants and flip flops. People are just gonna notice. And the similarities between Perry and Cyrus don't even end with hair. Let's break down all the ways that these two women are low-key becoming the same person:
1. They're Both Really Political
It's no secret that Katy Perry was basically Hillary Clinton's on-staff pop star for all of the 2016 campaign. If only she'd come out with "Chained to The Rhythm" then instead of letting Hill play "Fight Song" to death. Maybe we wouldn't be in this situation. But Miley is no stranger to political issues, and not just surrounding legal weed. After Trump's win, Miley literally cried on Snapchat, and even before that she'd gone door to door for Hillary. Literally. She showed up at people's dorm rooms and told them to go vote. Do I smell an anti-Trump "get out the vote" midterm election collaboration song in the future? Could either be great, or terrible.
2. They Both Have Virginal Backgrounds
Though it's hard to remember given her newfound love of twerking naked in a pile of molly dust, Miley Cyrus did start out as a Disney star. What you may not know is that before she was showing cleavage on on Sesame Street or getting married to Russell Brand, Katy Perry was a Christian rock singer, mostly to make her pastor dad happy. Funny, that's the exact same reason Miley did Hannah Montana. Coincidence, or conspiracy? You decide.

3. They've Both Had Very Public Beefs With Other Celebs.
As we all know, literal lunatic Taylor Swift wrote "Bad Blood" about Katy Perry after KP stole John Mayer her backup dancer. And who could forget the "Miley What's good?" incident of 2015? Both stars also opted to respond by half-responding and pretending to be the better person, which is only fun if you're someone who cares about how they are perceived by the general public.
4. Their Live Shows Are Fucking Crazy.
I mean, do I need to go into this one? Left shark. The Robin Thicke incident. And twerking. So, so much twerking. I honestly wouldn't be surprised if tickets to see either of these women perform come along with a seizure warning. Their performances are basically the experience of being on both molly and acid come to life, and honestly, don't hate it.

5. They're Both Kind Of Funny.
Given that a lot of pop stars take themselves way, wayyyy too seriously, Katy and Miley are both low-key kind of funny and don't mind being the butt of a few jokes. Unlike someone like, say, Taylor Swift, who once said Tina Fey and Amy Poehler were going to hell for making fun of her. Katy Perry, on the other hand, has a cat named Kitty Purry and once posted the following throwback on Insta:
While Miley went on SNL and said this:


So what's going on here? Are Katy Perry and Miley merging into one giant technicolor popstar with huge boobs and a weed addiction? Are we perhaps dealing with some kind of Freaky Friday situation? Either way, I can't wait to get into a relationship again so that it can end and I can finally get the bleach blonde pixie cut of my dreams. I mean, I guess I could do it without the breakup but then what's the point of racking up all those likes? Just seems wasteful.
Why Meghan Trainor Is Our Idol In Every Way
Hey guys. I've got something I need to get off my chest. I've said some mean shit about Meghan Trainor in the past (here, here, and basically every day in casual conversation). I've called her "fucking obnoxious" and repeatedly trashed her outfits, her music, and her personality. And I was wrong.
First of all, Meghan can fucking sing. Her voice kind of sounds like a mix of Adele and Beyoncé but better, you know what I mean? She definitely doesn't sound like a nasally goat—wherever would you get that idea? Meghan says her music is inspired by everyone from Frank Sinatra to T-Pain, and boy does it show. Her music is also amazing to dance to, with sick beats AND catchy lyrics. But more than that, Meghan's songs are soooo empowering. Seriously, when will your fave have lyrics like this: "My life's a movie, Tom Cruise / So bless me baby, achoo." So inspirational. Like, she just rhymed Tom Cruise with the sound of a fake sneeze, that's some Kanye level shit. Or here's an even better one: "My name is no, my sign is no, my number is no." One central theme of her songs is repeating herself over and over again, which is great because you really get the inspirational message that way.

Queen Meghan's music is #onfleek, but so is her fashion. Before, we gave her shit for wearing a brown dress to the Grammys, but now we love it. Brown is actually the most flattering color, who knew! Her two favorite red carpet looks are head-to-toe glitter and lace, which we especially love when paired together. Our fashion advice is always more is more! Our favorite look of hers was this gorgeous mummy looking gown that combined both brown and glitter!
Meghan Trainor at Marie Claire's Image Maker Awards 2016 https://t.co/k9UwJFqbkH pic.twitter.com/lxYcmRpp11

— FirstLook App (@FirstLookLive) January 13, 2016
So chic we could die!
But easily the most important part of Meghan is her tireless feminism. She solidified her status as an icon in the fight for equality early on, with her hit song "Dear Future Husband," which sadly did not receive the many Grammys it deserved. The song is a testament to the values of a modern woman, like pining for a husband and thinking about how awesome it'll be to have a husband and not caring about much else besides finding a husband. Here at Betches we think women with careers are okay, but we have much more respect for a girl who just wants to find a man and then sit on her ass for the next 30 years. It's 2017, you've earned it! So move over Emma Watson, there's a new feminist icon in town, and she has an ass, which she constantly reminds us about.
So thank you, Meghan, for all you've done for us, and keep up the good work. Sorry you couldn't hang onto Charlie Puth, but you'll probably hook up with a decently cute ex-boy band member soon. Best of luck in 2017, I'm always rooting for you!