Ava Max Is Sweet, Psycho, & Ready For Pop Domination
Ava Max is cool. Almost too cool and chill to be the same 26-year-old who has a global smash hit already under her belt and a highly anticipated debut album, Heaven & Hell, out now on Atlantic Records. In a pop music climate that is currently filled with whispers over beats, Max brings a flare of the classic pop music you know and love from B.T. (before TikTok) with a modern twist. Her premiere album, Heaven & Hell, feels like the perfect introduction to who Ava is both as a person and an artist: fun and feisty, with zero plans of slowing down any time soon. 
There have been multiple times where a debut single skyrockets its singer to an unexpected level of instant success—like Instant Ramen, but Instant Record Deals. These overnight sensations seem to just happen by sheer luck, but what you don't usually hear about is the hard work that predates it: "It's weird because I've been trying to make it for a very long time, and at the end of the day, I'm just grateful people actually care about my music and relate to my music and I just want to inspire people." Another thing that oftentimes is missing from these stories? A follow-up release to continue their momentum. Here, Max can sleep easily with "Kings & Queens" making its way up the charts and raking in over 244 million streams on Spotify.  
"Once 'Sweet But Psycho' came out I didn't really have time to work on an album because I went straight to tour," Max says. While many artists recently, like Ellie Goulding and Katy Perry, talk openly about the inevitable fatigue that comes from the ride of celebrity, it seems that Ava is already taking the steps to make sure she doesn't burn out: "It's all about taking it easy and not forcing yourself to do something at that moment. I really believe in manifesting and if you're not feeling it at the moment, let it go."

Letting go may be easy when it comes to putting the proverbial pen and paper away for the day and taking a break from work, but a tad bit harder when it comes to getting over that person you can't just seem to get over, a topic that we all definitely face, and one that Max faces head-on in her art. She revealed that one of her new songs, "Rumors", "was a last-minute addition—it's a fun song on the hell side, about how I hear so many rumors about this person but I'm still ending up in his room ." Who can't relate? She also gave some slight hints that if, after this album, you're already begging for more Ava, not to worry—a deluxe version will definitely be on its way soon. 
Avatars (the name her fans lovingly gave themselves, although I'd love to pitch them Maxxinistas), may find themselves falling head over heels for Ava Max's music because of how instantly they relate the lyrics in her songs—something that Ava says is one of the most important parts of music to her.
"Lyrics are all that matters. You have to relate to people. Literally, I don't know how to explain it but lyrics have made a difference in my life." Her love of lyrics predates her musical career and goes all the way back to when she was growing up listening to the divas of the early 2000s. I mean, who hasn't belted "Stronger (What Doesn't Kill You)" in a shower, or car ride, or karaoke bar? While I didn't ask Ava if that tune was in her karaoke rotation, she said it was definitely one of the songs in the past that she wished she wrote because "it's just too good." Touching on her own lyrics, Max said that the track "Naked" on the album will give fans a glimpse of a different side of her—one they haven't seen before. 
As with any conversation in 2020, the topic of quarantine had to inevitably come up. "The best thing I learned about myself in quarantine is patience." She also said that she realized she "likes to eat more than most people I know," and at that moment, I've never related to a pop star more. While she is practicing patience during this time of lockdown, she's skipped the sourdough starter kits and went on to not only record a new song for the album ("Heaven", the opener, was done in lockdown) but also record some new music videos that will accompany the album, a process she said was really fun but of course, extra stressful in these times when your glam preparation also involves a COVID test. 

When asked to pair this album with a cocktail—because this year we could all use a drink—the singer quickly answered with a jalapeño mojito, because "it's kinda spicy, psycho, crazy." But of course, it has a little sweetness. I'll drink to that. And I'm sure Ava may want a cocktail in hand after the release of her album, both to celebrate "the project being out in the world and no longer mine, but the fans'" but also because with her debut album, she admits, "I'm nervous and I wonder how it's gonna come across so I have all these thoughts in my head. It's a rollercoaster of emotion." After listening to the album, I feel she has nothing to worry about.  
Without jinxing anything, I did slightly mention what she would do if she was nominated for a Grammy this year: "I would vomit. I would feel nauseous, sick to my stomach, and not know what to say. I would feel so grateful—I'd still feel grateful even if I don't get anything like that." My advice to Ava is to get the Pepto Bismol ready because if the Recording Academy has any sense, we'll be seeing her on that stage soon, most likely thanking her childhood chihuahua that she says she loved and her family. 
Heaven & Hell by Ava Max is out now on all platforms. 
Images: Charlotte Rutherford
Charli XCX And Lizzo Just Released A Summer Anthem
If you read any of my music columns in the past (it's okay, nobody did), then you'd know that, typically, most new singles get released on Fridays. I don't know why; my friend who works in music PR told me it used to be Tuesdays and then for some reason they changed it to Fridays. That is way more annoying for me, but the plus side is that we get to go into the weekend every weekend with new bangers. Anyway, it doesn't matter, because today (Wednesday) we are getting a new single from Charli XCX featuring Lizzo. It's called "Blame It On Your Love", and it is an anthem. Praise be. Friday has come early this week.
Charli XCX's new single, "Blame It On Your Love," features Lizzo, who—if you don't know—is a flute player, body positive icon, and overall badass. We stan them both. Charli is basically synonymous with "catchy af pop music" at this point, and this new hit is no exception. If you listen to Charli already, you might notice that this new single is the main sample in "Track 10", from her most recent Pop 2 mixtape. But now it's been infused with some upbeat percussion and a new melody, twisted with new verses, and of course, a feature by Lizzo. The result is an infectious summer song that's going to be stuck in your head all the time, if the past 15 minutes of me listening to it on repeat are any indication. I guarantee you will be playing this song when you meet a cute new person this summer at a rooftop or whatever and want to send them memes, but you're not sure if you're at that stage of your relationship yet—or whatever your summer love scenario ends up. being. *Hits play again*
Listen to "Blame It On Your Love" below, and catch Charli XCX at Governors Ball on June 2nd, and Lizzo on her Cuz I Love You tour.
Image: Ace Amir
All The Hidden Clues You Missed In Taylor Swift's 'ME!' Video
Last night, Taylor Swift ended the long wait for new music, and her song "ME!" has been polarizing across the internet (and in the Betches office, lmao). While I've already gone into detail on my feelings about the song, there's no doubt that there's a lot to unpack here. In particular, the music video is a four-minute explosion of colors and images, and there are no coincidences in the world of Taylor Swift. Whether you like her or not, you can't deny that she is meticulous about the clues and Easter eggs she hides within her videos.
Taylor Swift's intense army of fans have already combed through the video and found a lot of hidden things, but I know that you, a non-superfan who is probably at work right now, does not have time for that. So I've decided to break everything down here. What does Taylor have up her sleeve next? Let's walk through some of the biggest theories and questions about "ME!"
The Secret
On the YouTube livestream for the video premiere, Taylor Swift revealed that there is a secret hidden somewhere in the video. V mysterious. Fans obviously lost their minds when she said this, and they won't rest until they figure it out. Right now, the prevailing guess is that Taylor secretly got engaged to Joe Alwyn, as evidenced by Brendon Urie's proposal to her in the video. This definitely isn't verified, but it could be true.
Taylor and Joe are engaged???? Is that the secret she's keeping for months? @taylorswift13 @taylornation13 pic.twitter.com/iDwqeC4B2v

— ????????? (@candiceXtayswft) April 26, 2019
While an engagement would be exciting, there's another theory about the secret that's honestly pretty lame…
The Cat
After the proposal in the video, Brendon gives Taylor a kitten. This, plus the fact that the mural in Nashville has three cats, made everyone think that Taylor now has a third cat. This has now officially been confirmed, because Taylor posted a selfie with her new cat this morning. So, we know that the third cat is real, but we still don't actually know whether this is what the secret is about. If Taylor doesn't reveal an engagement pretty soon, then it's probably about the cat. Boo.
The Dixie Chicks
One video Easter egg that actually has me really excited is the possible reveal of a collaboration with The Dixie Chicks. In the apartment at the beginning of the video, there's a portrait of The Dixie Chicks hanging on the wall, and rumors of a collab between them and Taylor were already starting to spread before the video. Additionally, look at this tweet that they sent after the video premiered:
— Dixie Chicks (@dixiechicks) April 26, 2019
It's all happening.
The Chrysalis
She wants to break fucking free ????? !!!! pic.twitter.com/g93umGBs2n

— Mayi (@9march2) April 26, 2019
I needed a second to wrap my mind around this one. Throughout Taylor Swift's onslaught of Insta teasing, butterflies have been one of the main themes. What do they mean?? The butterflies were first referenced in the video when the snake exploded at the beginning, but there might be a larger metaphor at play here. Based on how the sky looks in the video, it seems like the whole thing might take place inside of a giant chrysalis (aka the shell where a butterfly turns into a butterfly). "ME!" represents the beginning of a metamorphosis into a new era, and this is a way of visualizing it. If this is the beginning, then it makes sense that after this, Taylor Swift will break out of the chrysalis as a beautiful butterfly. I believe it.
The Queer Message?
I'm going out on a limb for this one, and I have no idea if it's true. Leading up to the video, there were rumors that Taylor Swift was going to come out as bisexual or queer. This obviously wasn't directly addressed in the song or the video, but there's a possibility that there are still some queer symbols present. First of all, there are rainbows everywhere. Of course, rainbows occur in nature, but no one in 2019 is unaware of the rainbow's significance to the LGBTQ community. Taylor had to know that this would cause conversation, and she still went ahead with it.
Going a little deeper, there's a lyric where Taylor says that she's "Like a rainbow with all of the colors." This could just be referring to her vibrant personality, but the repeated use of the rainbow theme definitely makes you wonder. Like I said, it's likely that nothing in this video/song is a coincidence. Whether Taylor is trying to say anything about her personal sexuality, the rainbow theme is a nice tribute to the LGBTQ community.
The Upcoming Music
Obviously, there are going to be more songs and an album after this, and it appears that Taylor might already be dropping some hints about what's coming next. First, people are fixating on the appearance of the word "Lover" in the video. Many are saying that this could be the next song from the album, and possibly even the Dixie Chicks collaboration. We'll see.
is the next track going to be called "Lover"? #TaylorSwiftTONIGHT pic.twitter.com/XuCYA7rjoV

— nikkie is ME! (@delicatenik) April 26, 2019
People also think that Taylor might have included a clue to when her album is going to be released. In the video, we see a clock that's set to 8:30, and for this reason, people are saying the album could be released on August 30th. I'm less than convinced about this one, mostly because that seems like a really long time to wait, but I've been wrong before.
We've got a long way to go in terms of Taylor Swift speculation, so I'll leave it at that for now. I'm sure there are hundreds more symbols buried deep in the music video, but I really have other things to get done. Let me know which ones you spotted!
Images: Shutterstock; @candicextayswft, @dixiechicks, @9march2, @delicatenik / Twitter; @taylorswift / Instagram
Are We Supposed To Like Taylor Swift's New Song?
Over the past decade, I've had a fraught relationship with Taylor Swift. While I was openly critical of Taylor during her last album/era, I haven't always had issues with her. Back in 2013, I was thrilled to attend Taylor's Red Tour, and I have no problem admitting that I think most of her music is great. So when Taylor Swift started teasing her big new project, I was honestly excited. I wasn't a fan of the Reputation era, but I was ready to start fresh with 2019 Taylor. 
Oops. 
At midnight on Thursday, Taylor Swift released her new single and video, "ME!", featuring Brendon Urie of Panic at the Disco. Brendon was a perfect choice, because he's very talented, very hot, and most importantly, very fun. From what we know so far, that's what new-new-Taylor (or new-old-Taylor, I can't tell) is all about: FUN! The video for "ME!" begins with a snake exploding into a cloud of butterflies, signaling that the angst of Reputation is officially gone. 
But other than convincing us that she's ready to be bubbly again, I'm not sure I get what she's going for with this song. Lyrically, it's a pretty straightforward declaration about how great she is, with the most memorable lyric being "You can't spell awesome without ME!" In the past, Taylor has written some really beautiful, moving lyrics, and these feel like elementary school poems in comparison. 
"I'm the only one of me / baby that's the fun of me."
While the song is definitely catchy, it feels like it was meant to play during the credits of an animated kids movie. The video, which was released at the same time as the song, only helps to drive this family-friendly vibe home. Taylor Swift and Brendon Urie are a couple arguing in French (why?), but then they go outside and everything turns into some kind of rainbow fantasy world, complete with hundreds of extras in penis-colored marching band outfits. The visuals really drive home the idea that old-new-Taylor is FUN!, and it is! The video is fun! Seeing Taylor Swift and Brendon Urie do their best Hairspray imitation is fun! Flying on umbrellas over the rooftops of Paris is fun! But that doesn't take away the fact that this song is…baffling.
Like I said, it's catchy, but then the whole thing gets derailed for the bridge, which starts with Taylor shouting "Hey kids, spelling is fun!" I'm sorry, but I am a grown-ass adult, and I don't want a song on my Spotify playlist in which I'm being lectured about the joy of spelling. I left that sh*t behind in 4th grade, and I have no desire to go back.
Of course, "ME!" will most likely be a major hit, if only because Taylor Swift has some of the most dedicated fans in the world. The entire rollout strategy of this new era, from the months of clues on Instagram, to the YouTube livestream, feel designed to appeal mainly to the Taylor Swift diehards. In fact, she commented in the YouTube stream that the video contains a secret that she's been keeping for months, which of course the fans are having a field day with. Right now, the top theory seems to be that she's engaged to Joe Alwyn, because in the video, she turns down an engagement ring from Brendon Urie.
Taylor and Joe are engaged???? Is that the secret she's keeping for months? @taylorswift13 @taylornation13 pic.twitter.com/iDwqeC4B2v

— ????????? (@candiceXtayswft) April 26, 2019
Other theories include that the clock in the video is a hint about the album release (8/30, if you're too lazy to look it up), that Taylor now has a third cat, and that there will be a Dixie Chicks collab on her new album. I'm super here for that third one, by the way.
So this means @dixiechicks is confirmed. Right? @taylornation13 @taylorswift13 #eastereggs ??‍♀️ pic.twitter.com/JKZ8WaxoYL

— ??? (@FrecklesSwiftie) April 26, 2019
I'm really hoping that this is another "Shake It Off" situation, where the first single from the album is kind of just a fun throwaway, but right now I don't get what Taylor Swift is going for with this vibe. From this song/video, all I'm really getting is that she's into rainbows and butterflies, but then the actual song is still just about how great she is. It's a nicegirl anthem, with just the right amount of narcissism (she probably thinks of it as "self-love"). Maybe this has always been Taylor Swift's brand, but it'd be nice to see a little more growth by now.
If you're reading this and you love the song, that's great. I don't think it's awful, I just don't get what we're supposed to do with it. I'm really not here to bash Taylor Swift, I just want her to explore her full potential (and give us iconic bops). Maybe her next song or the album will be more of a step forward, but for now, I guess we'll just practice our spelling.
Images: Universal Records; @taylorswift / Instagram; @candicextayswft, @frecklesswiftie / Twitter; Taylor Swift Vevo / YouTube
What Is Taylor Swift Teasing On Instagram?
In case you deleted Instagram and threw your phone out a window a few weeks ago, I've got some news: Taylor Swift has been teasing something big. Over the past several weeks, she's completely overhauled her Instagram aesthetic, and now she's counting down to April 26th, which is this Friday. Taylor has kept things very mysterious about what's coming, but now we're only a couple days from finding out. In the past, I've been outspoken about my issues with Taylor Swift, but I'll admit that I'm more than a little curious about what she's up to this time.
Obviously, it seems extremely likely that this is all leading up to new music. Taylor Swift can be a shady bitch, but I don't think she's petty enough to tease her fans for two months just to drop a new perfume or something. That would really be brutal. Based on all of Taylor's past album eras, it's most likely that this Friday, she'll be releasing the first single from her new album. Taylor has never been into the whole Beyoncé surprise album thing, so the chances are slim that we'll be getting more than one song this week. According to the Taylor Swift stans on Reddit (doing the lord's work), the best guess for an album release date is sometime in July, based on the schedule Taylor has followed in the past.
So, assuming we're getting a new Taylor Swift song this week, let's go through her Instagram, and talk about what to expect from Taylor's impending seventh era (which would be her Neoproterozoic Era, if we were talking about geology).
Despite turning 30 later this year, it looks like Taylor has gone back to an aesthetic that would also work for decorating an 11-year-old girl's bedroom. I'm not mad about it, I'm just kind of surprised, after the Reputation era was all about seeming as hardcore as possible. This time around, Taylor is all about rainbows, butterflies, and bright colors. At least the snakes are gone.
One of the first big moments of this new Taylor Swift era was the iHeartRadio Awards on March 14th, when Taylor wore a holographic romper covered in paillettes, and butterfly shoes. Taylor honestly looks amazing, and this outfit was just the beginning of new Taylor (which honestly just harks back to the old Taylor, who we thought was dead).
After the iHeart Awards, Taylor took almost a month off from posting on Instagram, but then she came back with a vengeance on April 13th. That's when she first started teasing the April 26th mystery, and she's been pretty relentless since then. Based on the types of photos she's been posting, I would imagine that her new music is in more of a pure pop direction, which I'm excited about. Her outfits and current hairstyle have drawn a lot of comparisons to Carly Rae Jepsen's last album E∙MO∙TION, which is basically a perfect pop album, so I hope Taylor is going down this path.
On Tuesday night, Taylor Swift took a break from posting cryptic Instagrams and made an appearance at the TIME 100 Gala. As one of this year's honorees, Taylor made a speech at the event, and even performed a few songs. Sadly though, she only performed past hits, without so much as a snippet of new music. While we all would have appreciated a sneak peek, obviously Taylor has planned this all too perfectly to let loose a minute too soon.
Her dress at the Gala, totally draped in pink and yellow silk, was perfectly in line with her 2019 aesthetic. While the dress is a little prom-but-make-it-fashion for my taste, Taylor really does look amazing.
At this point, we're only about 36 hours away from new Taylor Swift music, and I'm ready to give her another chance to impress me this time around. I'm hoping for a glittering pop anthem that will lead us into summer on a high note, but will try to keep an open mind no matter what she releases. Are you excited for new Taylor Swift music? What do you think she has up her sleeve? Let me know in the comments!
Images: Shutterstock; @taylorswift (3), @carlyraejepsen / Instagram
Why Is Ariana Grande Celebrated For Doing What Taylor Swift Is Mocked For?
Like most sentient Americans, I've spent the past few weeks in a world where Ariana Grande's "thank u, next" is the only soundtrack. It's passed well beyond the point of "great song!" and into the realm of "if I don't get my daily fix, I will probably die." I am certain I'm not alone in this, given that "thank u, next" has shattered multiple records in the streaming world. More importantly to me, the song and its accompanying video have secured Ariana Grande's transition from pop star to icon, from whom every social media nugget and on-screen appearance are nothing short of gospel.
As I've watched (and wholeheartedly approved of) the reaction to "thank u, next," one question continued to bug me. When Taylor Swift sings about her exes, she causes a similar flurry—but one filled with sneering, eye rolling, and the suggestion that she can't be taken seriously as an artist for choosing such diary-like content. Then Grande releases a track in which each of her exes are called out by name, and she's hailed as the ultimate badass for it. As someone who both genuinely loves Taylor Swift's music and feels that 90-95% of songs should be about one's exes, I couldn't help but wonder: why is Grande celebrated for the very thing Swift is mocked for? I've outlined my theories below.
Ariana Grande Is Cool & Confident
Let's be honest—a huge part of the appeal of "thank u, next" is the fact that, given the option, we would all present ourselves like Grande did after a breakup. "Thank u, next" is perhaps the coolest emotion one can evoke when facing an ex—even more so if done with genuine gratitude and while looking insanely flawless. "Thank u, next" is a song we can all caption our pictures with while drunkenly "accidentally" tagging exes, and the worst thing that happens is you've been overly polite to someone who wasted a year of your life. You tag an ex in a pic captioned "got a long list of ex-lovers / they'll tell you I'm insane," and you're not coming back from that so quickly. This brings me to my next point.
Taylor Swift Is Earnest & Emotional
Taylor Swift, almost determinedly, does not put up a "cool girl" façade when she sings about her exes. She painfully scrutinizes where it went wrong, often down to the minute of their breakup. She lingers on their ultimate incompatibility, mourns for the good times, and explicitly details the extent to which both she and her ex will suffer for this loss. Swift is, in my opinion, a far more realistic version of what you look like after a breakup. Contrary to what Grande's rom-com mash-up video would have you believe, most people do not soar from broken engagements feeling validated in all of their choices and loving themselves like never before. They come out feeling lost, broken, and all too likely to dwell on all the most unhelpful and unattractive things.
In other words, they look like this: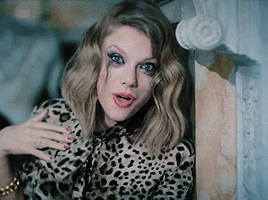 Not this: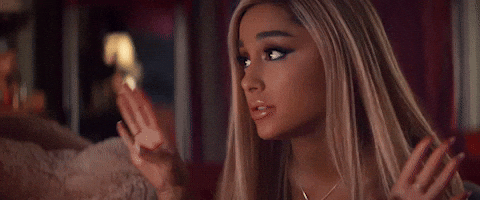 So, if Swift is ultimately more relatable, shouldn't that mean more critical success? F*ck no! Please. Name the last time someone wanted an honest reflection of themselves, particularly if it's unflattering. From the bathroom scale to the pop soundtrack of your life, you want to be fed beautiful lies. People yell at Swift for being vulnerable about her exes the same way you yell into the mirror the morning after drunk-dialing your own ex 12 times the night before. Swift isn't critiqued in spite of being relatable; she's attacked precisely because of it.
Ariana Grande Is Gracious & Direct
First and foremost, we have to acknowledge that Grande takes the high road with "thank u, next." She betrays not one scrap of vitriol toward her exes, talks no sh*t about them or the relationship. She simply thanks them for their time, and reaffirms her commitment to herself. So, that alone is easier to get behind than one of Swift's "remember those three minutes in 2004 when you said we would die together" tirades.
On top of that, there's the fact that Grande seems to have no fear of confrontation (can't relate). She names each of her exes plainly, and even gave many of them a heads-up before the song's release. So, if her exes themselves don't have an issue with the song, it's a little harder for the general public to decry it.
Taylor Swift Is Petty & Secretive
Swift, on the other hand, does everything short of attaching a treasure map to each album with hints to which lyric refers to which ex-boyfriend. Yes, the national obsession with tracking those connections, and stalking her love life in general, has gotten totally out of hand. But when she describes the relationship down to the month ("Back to December"), memorable holiday (4th of July), eye color (too many to count) and so on—it's a little hard not to engage. Add to that the fact that she decidedly doesn't take her exes' feelings into consideration on this—and given the contentious nature of many of her songs, it's not hard to see why.
To clarify, I'm not in any way saying that artists should have to poll their exes before releasing a breakup track. The world would be a much sadder place if that were the case. I'm just saying that Swift's refusal to do so—and Grande's respective decorum toward exes—makes Swift the much easier target to criticize. Basically, Grande is doing all the things you're supposed to do after a breakup; Swift is doing all the things you hope people never find out about after a breakup. And one of those girls will get dragged a lot harder than the other—it's just a fact of life.
Moral of the story here? We should all try to be more like Ariana Grande. JK—you guys knew that coming in. But honestly, that is the hidden message behind the song's unequivocal success. When Swift sings about her exes, she does it emotionally, vindictively, and evasively. She speaks about her exes with all the bitterness of someone still deeply invested in the relationship, or at least actively wounded by it. When Grande sings about her exes, she's singing from the point of view of someone who's moved on—and ultimately, just singing about herself. So yeah, do be more like Ariana Grande. Move on from relationships that didn't work, stop emotionally investing, and celebrate yourself. Apparently, the world has a much harder time tearing that down.
Images: Giphy (2)
Everything We Know About The 'Thank U, Next' Video Proves It Will Be Iconic
It's been a couple weeks since Ariana Grande dropped "thank u, next," and I'm still not really over it. The whole concept of the song is a huge power move, and it doesn't hurt that it's catchy AF. Since its number-one debut, the song has continued to dominate the charts, and I have a feeling it's not done yet. After confirming the other day that there will be a music video for the song, Ariana has been dropping some teasers about the thank u, next video that have me incredibly excited. Actually, I haven't cared this much about a music video since I was a horny teenager watching Justin Bieber dance around shirtless. I'm not proud.
Anyway, judging by the hints Ariana Grande has dropped, mostly in her Instagram stories and on Twitter, the thank u, next video is going to have four different themes, based on four iconic movies about female friendship. This makes sense, after her Ellen performance of the song was First Wives Club themed. Each day, Ari has been teasing a different movie theme on her story, and we're getting closer to having the full picture. Here's what we know so far.
nah u got it ????

— Ariana Grande (@ArianaGrande) November 20, 2018
The first movie Ariana started referencing was Mean Girls. Actually, all of the promo for "thank u, next," looks a lot like the burn book, so this theme really makes sense. She posted some stills from the movie that made it pretty obvious, and then she posted a bunch of pictures with her best friends Alexia Luria and Courtney Chipolone, who are presumable the Plastics in the video. Honestly, this was only 25% of the tea but I was already 100% excited.
meet the plastics ???? pic.twitter.com/G7UL2gZqDT

— Ariana Grande (@ArianaGrande) November 19, 2018
After Mean Girls came Legally Blonde. Ugh. Another classic movie that fits in perfectly with the theme of females teaming up to screw over some douchey men. Ariana, you're doing amazing sweetie!! Ariana posted some more screenshots, along with a couple photos from the video shoot that are already iconic. In one, she's on an elliptical with the famous orange MacBook from the early 2000s, and in the other she's posing with Jennifer Coolidge, who played Paulette in the movie. You guys, I'm so excited.
'whoever said orange was the new pink was seriously disturbed' pic.twitter.com/KUgl6vwHIn

— Ariana Grande (@ArianaGrande) November 20, 2018
Today is day three of teasing the movies, and someone correctly guessed that the third one is 13 Going On 30. Wow, perfect. I stand firmly by my opinion that 13 Going On 30 is one of the best romantic comedies ever made, so I'm obviously very happy about this. I guess the most important question is, was the short hair photo we saw a few days ago real, or was it just for the video? I won't be able to sleep until I know the answer!

So keep your eyes peeled to Ariana's social media on Wednesday for the last 25% of the thank u, next video tea, because it's sure to be amazing. Also, no, it's not going to be Clueless, because Ariana already debunked that theory on her Twitter. Somewhere, Iggy Azalea is breathing a sigh of relief that Ariana isn't stealing the last shred of cultural relevance she still has.
There's no word yet on when the thank u, next video will be released, but it looks like it was just shot a few days ago, so it might take a couple weeks. Or maybe it'll be out by the time you read this, because honestly who knows. Either way, I'm very excited, because this is going to be the video of the year.
Images: @ArianaGrande / Twitter (3)
Ariana Grande Is Our Betch Of The Year
Any way you look at it, 2018 has been a huge year for Ariana Grande. She's gone through some major turmoil in her personal life, dealt with it like a champ, and has come out on top with a hit album and the biggest songs of her career. There's no question about it: Ariana Grande is the Betch of the Year.
Before this spring, the last time most people had thought of Ariana Grande was last spring, when a tragic bombing killed 23 people at her concert in Manchester. After finishing her tour, Ariana took some much-needed time off. Coming into 2018, everyone was interested to see how she would get back into the game, and what her new music would sound like. In April, she released "no tears left to cry," an anthem about recovering from loss and finding hope in dark times. The song debuted at #3, signaling that Ariana was officially back.
Just after she dropped the new song, she suddenly became one of the world's most talked about people for more personal reasons. Her breakup with Mac Miller was surprising, but everyone was even more shocked when she immediately started dating Pete Davidson, who was henceforth basically just a random SNL millennial caricature. As you know, their whirlwind relationship (and even more whirlwind engagement) was pretty much the biggest story of the summer, full of matching tattoos, chaotic Instagram posts, and lots of iconic paparazzi pictures.
During this time, Ariana released her fourth album, Sweetener, which is full of bops, and was a big success. Her single "God is a woman" is a feminist anthem, and it combines sex and spirituality in a way that would definitely make my childhood pastor uncomfortable. Love to see it! Basically, Ariana had the best summer ever, and we were all living for it.
Then, on September 7th, Mac Miller tragically died from a drug overdose. Ariana and Mac had known each other for years, and dated starting in 2016. We were all sad about Mac's death, but it obviously had a huge effect on Ariana. Things already seemed bad enough, but then Ariana and Pete ended their relationship in October. I'm not gonna lie, the breakup with Pete surprised me more than it should have. Like, logically we all knew they weren't going to be together forever, but they seemed so in love!
We were all wondering what Ariana's next move would be, and whether she would disappear for a while to get through these tumultuous times. Instead, Ari came back just a couple weeks later with "thank u, next," an instantly iconic song dedicated to her past relationships, and what she learned from her exes. The song became Ariana's first-ever number-one song, and remained l at the top of the charts six weeks later. On top of that, the music video basically broke the internet, with its perfect references to our favorite 2000s movies, and cameos from plenty of celebs and close friends.
While accepting the Billboard Woman of the Year award a couple weeks ago, Ariana said something that really resonated:
"I find it interesting that this has been one of the best years of my career and the worst of my life. A lot of people would look at someone in my position right now as an artist that could be at her peak and think, 'She's really got her shit together, she's really on it. She's got it all.' And I do, but as far as my personal life goes, I really have no idea what the f*ck I'm doing."
That's about as betchy as it gets. Ariana has given us a lot to talk about this year, both personally and professionally, and no one has been more consistently fascinating in 2018. She might still be figuring it all out, but we're all along for the ride with her.
Images: Shutterstock; @arianagrande / Instagram (2)