3 Exercises You're Probably Doing Wrong, And How To Fix It
While I totally support not giving a sh*t about how you look at the gym, I mean don't worry about sweating and wearing that old sorority date party tank. You still need to care about what your form looks like. If you're not performing an exercise right, at best you're wasting your time, and at worst you're going to injure yourself. This is not limited to the weight machines, either—some of the most common bodyweight exercises you've probably been doing for years are the ones that people mess up the most often. Read on for the exercises most frequently done incorrectly, according to Los Angeles based trainer and founder of KICHGO, Kit Rich, and how to fix your form.
Bicycle Crunches

If you've ever taken a workout class and done crunches, you've probably been told to keep your elbows down and away from cupping your ears. That's not just for aesthetics: scrunching up puts pressure on your neck, causing tension and stiffness. Another common mistake: rocking your hips back and forth too much, because it looks stupid and hurts your back. Basically, if you're feeling strain or moving a lot in any area that is not your abs, you're not doing it right. Also, that's never going to get you that ab crack.
DO IT RIGHT: Unless you're trying to get a thicc neck (you do you), don't pull or twist from the neck and shoulders. Keep your elbows pulled down and think about keeping your back flat and lifting through the shoulder blades, which is the opposite of hunching over. In your bicycle crunch, keep your hips stable by extending your legs forward from the hip, keeping them low and parallel to the ground. Think of it more like a lengthening motion than pedaling motion—this is what's going to target your lower abs and obliques.
Planks

Planks are awesome. Not only do they strengthen every muscle in your core at once, but you don't even have to move while doing the exercise (my favorite kind). However, because you're holding the position for a while, it can be easy to slip out of good form once you start getting tired. Sticking your butt up or arching your back will take the work out of your abs and will give you back pain, and that's not what we want.
DO IT RIGHT: Because planks are hard in general, you may not be able to tell by feeling whether your hips are too high or low, but a quick peek in a mirror will make it obvious. It's called a plank because your back and shoulders should be as flat as a board, so try to visualize that line from your shoulders to your heels the whole time you're holding the position. Hold your gaze a few inches in front of you instead of directly under you to keep your neck neutral. Finally, squeeze your butt and thighs as well as your arms and abs to help keep the straight line. Start off with a 30-second plank to make sure you've got it down before moving on to longer holds.
Wide Arm Push-Ups

Push-ups are hard, but don't sleep on them—they're great for working out your arms without using additional weights. You've probably f*cked this up before, so you already know what it looks and feels like: tucking the chin and looking down, moving your shoulders up and down one inch and calling it a push-up. You're going to hurt your neck and shoulders that way and not get any benefit to your arms. Remember, a push-up is really just moving your plank up and down, so if you're teetering out of your alignment, it's wrong, wrong, wrong.
DO IT RIGHT: Don't try to act cool. If you can't do a full push-up right now, start by doing modified push-ups on your knees. In the modified push-up, be sure to keep your body in line from the back of your head to the back of your knees instead of bending at the waist when you push down. Extend your arms out wide (slightly past your shoulders) and ground your hands into the floor to firmly support the rest of your body. Bring your chest all the way down to tap the floor and back up. Do this with straight arms and with your core engaged the whole time. When you feel something in your abs as well as your arms, you'll know you're doing it right.
THE TAKEAWAY: If it looks weird or feels weird, it probably is hurting more than helping. Slow down, modify, or do fewer reps at first and then work your way up.
Images: Jacob Lund / Shutterstock.com; Giphy (3)
4 Exercises To Improve Your Balance And Flexibility
Do you struggle with balance and flexibility? If you do, first off, you should seek care from a medical professional, since there are many potential causes of balance and flexibility issues other than just "I can't touch my toes and I'm clumsy". There could be an actual medical issue, so you want to speak to your doctor to make sure you identify the cause of your balance issues in order to receive proper treatment. That said, you can also improve your balance and flexibility by performing certain exercises. Your doctor may even recommend you look to direct access physical therapy. Working with an expert will ensure you're working safely and within your abilities.
If you're struggling to improve your balance and flexibility, give the following moves a try.
Alternating Arm Plank

A plank simply involves modifying a typical push-up position so your elbows rest on the floor. When looked at from the side, your arms should appear to form as close to a 90-degree angle as possible.
For this exercise, you may need to rest on your palms (like a typical push-up) when you first attempt it, as it can be difficult to maintain balance otherwise. That's because this version of a plank requires you to balance on just one arm for a few seconds, before switching to the other arm. As you get more comfortable with the exercise, you can try balancing on your forearms or extending your opposite leg.
BOSU Ball Split Squats

A BOSU ball is a piece of equipment you may have seen people using at your gym. It essentially looks like half of a stability ball. Instead of being a complete sphere, it has a flat base running through what would otherwise be the middle of the sphere.
Using a BOSU ball when performing split squats can be a very effective way to improve your balance and flexibility. For this exercise, step forward with one leg far enough so you have to raise the heel of your back foot. The toes of your back foot should rest against the BOSU ball. With your torso straight, bend your front knee so your back leg almost rests against the ball, before returning to a standing position. Alternate sides for the best results.
Pistol Squats

Pistol squats are useful when BOSU ball squats start to feel too easy. For this exercise, stand on one leg and bend the knee of that leg until its thigh is almost parallel with the floor. Try to extend your other leg in front of you as you do so. The straighter you can keep it, the better.
Return to a standing position and repeat to your comfort before switching to the next leg. This is a difficult move to perform, but it can be very helpful if you struggle with balance issues.
Standing Crunch With Clap

This is another exercise you may need to work up to. However, it is a very effective way to improve your balance and flexibility.
To perform it, stand up straight on one leg, with your other knee bent to form a 90-degree angle. Keep your hands raised above your head. Your raised leg's thigh should be parallel with the floor.
Next, bring your stomach forward to your raised leg as if performing a crunch from a standing position. While doing so, bring your arms below the leg and clap your hands together, then raise your arms back up as you return to your original position. Repeat to your comfort, then switch to the next leg.
Again, it's important to see your physician if you have balance and/or flexibility problems. An underlying medical condition may be the culprit. However, it's also helpful to perform these exercises. They'll provide you with the strength you need to stay balanced and comfortable throughout life.
Rae is a graduate of Tufts University with a combined International Relations and Chinese degree. After spending time living and working abroad in China, she returned to NYC to pursue her career and continue curating quality content. Rae is passionate about travel, food, and writing, of course.
Images: Shutterstock (3); Giphy; Unsplash
4 Pilates Moves To Tone Your Butt & Legs
All these exercises strengthen butts and legs at the same, but most importantly, without a strong core (which, in pilates, we refer to as The Powerhouse), your shoulder and hips will tighten as a result of bearing the brunt weight of your body.
These exercises are typically performed in a systematic order of the classical pilates to be more effective. Before taking on any of these exercises, make sure you've already exercised. For example, jogging, bicycling, Soulcycle, etc. would all work. This is to ensure that your muscles and joints are supple, to sustain and keep the form of these exercises with consistency.
Single Legs Kicks

Setup: Lie flat on your stomach, nose to the mat, and place your palms in line with your ears. Engage your abs, press the floor away with your palms into straight arms, lift your chest up and stretch it forward, bending the elbows just under your shoulders, with each hand in a fist to anchor you, and your head in line with your spine, eyes leveled.
Movement:  Kick the heel of your foot to your bottom in a dynamic motion like "kick kick" and switch, "kick kick" and switch. As you kick your heels, keep your hips and butt stable by pressing the hip flexors to that mat, zip the inner thighs, and keep the knees together. Engage your glutes, and kick for 3 sets. Do not let your booty pop up, hence why you press the hips to the mat. Be mindful not to let your lower back collapse either, which is why your abs must be engaged with a pull in and up.
Modifications: Lower your abs down to the mat with your chest up and forward, with your elbows slightly forward, and your hands in a fist in line with your elbows, and kick your heels to your bottom.
Double Leg Kick

The double leg kick is the next progression after double kicks.
Setup: Remain flat on your abs after the single leg kicks, with your chest down, on the right side of the face on the mat. Keep your neck long, and stack the palms on top of each other in the small of your back, ideally in the mid back close to the shoulder blades.
Movement: Kick the heels of your feet to your butt, 1-2-3. Lift the chest forward, then stretch and reach the arms behind you, over your butt and hands folded, to further open your chest. Then, turn your head to the left side of the face, lift and reach arms again, and repeat. Abs must be engaged, and legs stretched long when straight. Repeat 3 sets.
Modifications: If your shoulders or arms are tight, and it's too difficult to stack them on top of your lower back, rest the back of your hands on top of your butt or on the mat when kicking your heels to the bottom, and lift your arms up in line with your hips when you lift your chest up and forward.
Leg Pull down

Setup: In a plank position, put your elbows and wrist right under your shoulders, with your legs straightened out, and the heels of your feet together, toes apart, navel to spine.
Movement: Pull navel to spine. Flex toes to rock back in a straight line, and point your toes to lengthen your whole frame forward. Keep pulling your navel to the spine, and resist the gravity of your back collapsing down into the joints by lifting back up to the sky. After 3 sets of repetitions, lift the right leg and rock back and forth and repeat on the left side.
Modifications: If balancing your upper body on your palms is too much pressure on the joints, bend the elbows and rock back and forth on elbows with hands in a fist. Just remember to resist the gravity of the body upwards. Imagine you're balancing a tray with glass on it on your back, and don't let it slip off while moving. You have to balance it by keeping your back straight and level.
Leg Pull Up

The leg pull up is the next profession from leg pull down.
Setup: Start by sitting on the mat, knees bent, feet flat on the mat, arms stretched behind in line with shoulders, and palms on the mat. Lift your hips up in line with your knees and straighten the legs in front in two steps, heels together and toes apart.
Movement: Engage your abs and lift your right leg up, pointing the toes. Do not scrunch your feet, reach them like you're trying touch something in front of you, and maintain the height on of your hips as you lower the leg down the mat. Flexing, lift the left leg, reaching the toes, and repeat the same motion.  Repeat for 3 sets.
Modifications: To modify this exercise, keep your hips up, bend your knees with your feet flat on the floor and your feet and knees together. Keeping your knees in line with your ankles, progress to extend the right leg straight up from and in line with the hips, and with both knees leveled in even height, lower the right leg straight down to the mat to the height of the left ankle. Lift it back up to the knee's height, bend the knee, and switch to the left. Repeat the same exercise as the right leg. Repeat this in 3-5 sets.
Caution: This exercise is very challenging on the hips and shoulders, as you can stiffen up when locking your joints. The key to sustaining this exercise is to keep the heaviest parts of the trunk (i.e. chest and hips) up.
Images: Michele Paniz Photography
6 Pilates Exercises That Will Tone Your Butt And Abs
I love spending $34 on a workout class as much as the next financially careless millennial, but honestly, you can get just as good of a workout by yourself in the gym or at home if you want to. Pilates classes are amazing because you have the help of a certified instructor, but if you know some of the basic moves, you can do them on your own without a room full of toned women in matching Outdoor Voices leggings. These six Pilates exercises are simple enough to do on your own, and you don't need any fancy equipment to get a good workout. Add these moves into your regular workout routine to switch it up, or do all six together as a total Pilates circuit. Here are the moves for the Pilates bod you've always wanted.
1. Plank Rocks
Plank rocks are exactly what they sound like, but for some reason, they're so much harder than holding a regular plank. The idea here is to start in a high plank position with your shoulders stacked over your wrists and your core engaged. Then, using the tiniest motion from your toes to your shoulders, rock your body back and forth, feeling the burn in your abs the whole time. This is a small, controlled movement, so your body should only be moving a couple inches toward your hands, and then a couple inches back toward your heels. Think about drawing your belly button in toward your spine and keeping your butt low the whole time. Don't cheat yourself.

2. Glute Bridges
This is one of those Pilates exercises that you probably didn't even know was from Pilates. The glute bride is a simple move, but if you're doing it right, you'll feel the burn in your butt and hamstrings pretty quickly. Start lying on your back with your legs hip-width apart, your knees bent, and your feet flat on the floor. You can keep your hands on the floor next to you, or raise them toward the sky to make it harder. Then, keeping your feet on the ground, lift your pelvis off the floor and squeeze your butt at the top, holding for a second before lowering down to the ground. If you're advanced, you can also do this with one leg off the floor to really target each part of your butt separately.

3. The Hundred
This looks like a standard boat pose, but it's actually so much harder because the idea is to pulse your hands, literally, a hundred times. Hence the name. This move is a Pilates staple because it works your abs and tests your stability and endurance at the same time. The Hundred refers to the 100 beats you hold the pose for, but if you're a beginner, start with 50 and we won't tell on you. Start in a boat pose with your tail bone and lower back on the floor and your legs and upper body elevated. Then, keep your arms out toward your sides and pulse up and down, feeling it in your core. FYI: be careful with your head placement on this one. You want to keep your chin slightly tucked, as if you're holding a tennis ball on your chest. Don't start looking up and taking the pressure off of your core.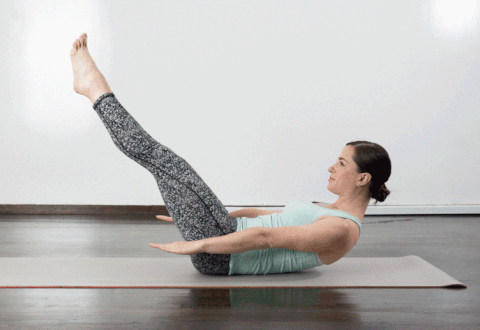 4. Kneeling Leg Lifts
This exercise is literally the reason Pilates instructors have the perkiest butts ever. Well, maybe also genetics and years of experience, but you get the point. It works. Kneeling leg lifts are one of the only lower body moves that are just as effective without any weights, so the key is to think about activating your glutes and squeezing on each rep instead of just kicking around by using momentum. Keeping your weight on your forearms and knees, lift one leg straight up behind you in a 90-degree angle so your heel is facing towards the ceiling. Squeeze your butt cheek at the top each time, and then switch to the other leg after 10 reps. You can also hold for a few seconds at the end or add a pulse.

5. Kneeling Side Leg Twists
The kneeling side leg twist sounds complicated, but you're basically working three muscle groups in one movement: abs, arms, and legs. AKA, it's a winner. Kneel on the right leg with your left leg extended out to the side, and keep your right arm supporting you with your palm on the floor under your right shoulder. Lift your leg and your left arm up to the sky, and then, as you lower your leg back to the mat, thread your left arm under your waist to twist toward the floor. You want to make sure that when you twist your torso, you're essentially crunching your oblique with the help of your arm. After 30 seconds to a minute, switch to the other side.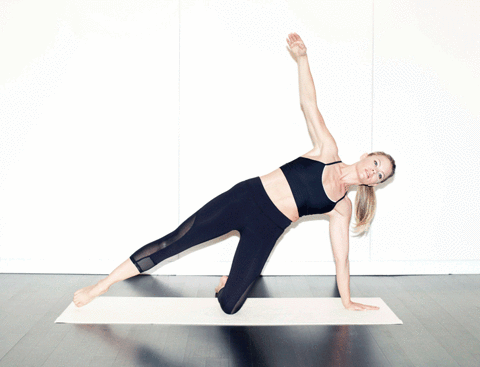 6. The Teaser
IDK why this is called the teaser, but Pilates teachers love it, and it's because it literally annihilates your core. Doesn't sound like a tease to me. Start by lying on the ground with your knees bent and your feet on the floor. Then, reach out your arms and lift your legs off the floor in a 90-degree angle. Lift your upper body off of the floor using your abs, and then straighten out your legs at the top. Think about lifting your head and shoulders up in one movement, trying to create a V-shape with your torso and legs. Then, roll back onto your back and bend your knees again. Aim for 15 reps.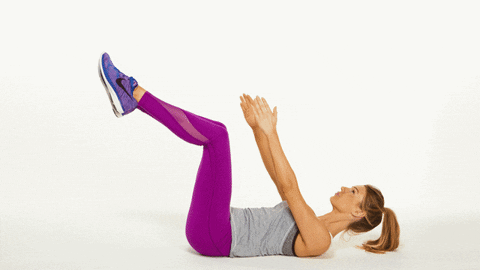 Images: Form, Unsplash (1), Giphy (5), Pinterest (1)
6 Lower Ab Exercises That Will Make You Look Amazing In A Crop Top
You may have gotten away with hiding under winter coats and Bachelor episodes for the past few months, but soon it'll be time to step outside in minimal layers, and your bod is nowhere close to being ready. I mean, I don't blame you. The only people who consistently eat salads and go to the gym all winter are like, psychopaths people who bet too much money on their 2018 resolutions. When it's time to put on your new ASOS crop top, you'll want your abs to look amazing, and the lower ab region of your core can be the hardest to target. If you want to define that area and lose your love handles, you'll have to start putting in the work, starting with these lower ab exercises.
1. Leg Lifts
Lying on the floor, place your legs straight out in front of you and your hands on the ground or under your lower back if you're prone to lower back pain. Lift your legs up, keeping them as straight as possible with your knees slightly bent until they make a 90-degree angle with the floor. Hold the contraction at the top for the second, then SLOWLY lower your legs down to the floor in front of you. If you have lower back problems or need a modification, try doing the move with your hands under your tailbone. It sounds ineffective, but it actually makes it so much easier.

2. Flutter Kicks
Flutter kicks are another one of the lower ab exercises that are done lying on your back, but this time you actually need to lift your head and shoulders off of the mat to fully target the lower region of your core. Once again, put your hands under your tailbone if you feel any pain in your lower back. Then, lift your legs up in front of you (they can be slightly bent), and literally kick your feet out in front of you in a little flutter motion. You should feel your lower abs working as you kick, and the movement should be small and controlled. Note that these aren't scissor kicks, so if you feel like you're kicking around like a Rockette, you're doing it wrong.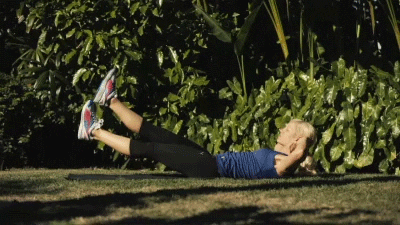 3. TRX Pikes
These can also be done on a rowing machine or gliders if you don't have a TRX in your gym, and if you're doing it at home, you can even use a hand towel on a wooden floor. If you're using the TRX, put your feet into the straps and then turn over, coming into a plank position with your hands on the floor and your feet hanging in the straps. Then, think about pushing your hands into the ground and pulling your legs toward your chest with your hips, keeping your legs as straight as possible. Try to focus on lifting with your abs while preventing your ankles from pointing. Once your head is looking in between your arms, slowly lower your hips back into your starting plank position. These are hard AF, so if you need to just do a couple reps and then hold a plank, go for it.

4. Dead Bugs
IDK who came up with the name for this move, but it'll demolish your entire core so we're gonna go with it. Lie on your back with your arms extended, but bend your knees so that they're creating a 90 degree angle above your hips. Engage your core and press your lower back into the floor as you slowly extend one leg toward the floor, almost hitting your foot to the ground. Then, bring it back to its bent position and do the same on the other side. Keep alternating sides, and if it feels easy, you can even get your arms involved by extending the opposite arm toward your leg each time you bend.

5. Raised Leg Circles
This exercise requires a lot of physical space, so if you're like, two feet away from someone else's mat, you may need to move to a more spacious area of the gym. This is another one of those lower ab exercises where you're lying on your back but raising your neck and shoulders off the floor. To start, extend your legs out in front of you and lift them a couple inches off the ground. The higher you raise them, the easier it'll be. Then, keep your feet and legs together as you literally circle them around you, keeping your hips on the ground as much as you can. Try to aim for six to eight circles in each direction. Make sure your feet don't touch the ground the entire time and that you're using your core instead of using momentum to swing them around.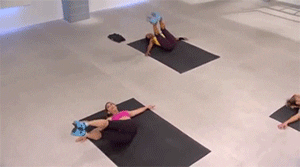 6. Hollow Body Hold
This move is a LOT harder than it looks, so try holding it for 25 seconds, and then slowly work your way up to 35, 45, and eventually a full minute. If you thought time moved slowly when planking, wait until you try this. The hollow body hold is exactly what is sounds like, so you'll be starting lying on the ground. Then, raise your feet off the ground and your arms at the same time, keeping your arms straight behind your head. So basically, only your lower back/ tailbone should be touching the ground, and your abs should be super tight the whole time. If you want to make it easier, put your arms out in front of you or to your sides. If you want to make it harder, hold a weight in your arms and hold it overhead. Just please don't blame me if it hurts to laugh tomorrow.

Images: Matthew Kane / Unsplash; Bionic Body (1); Giphy (5)
How To Get Abs Without Spending Hours At The Gym
The internet's obsession with having abs and how to get abs is kind of insane. I mean, I know obliques look good in a crop top and having a strong core is important, but I literally stumble upon some "How To Get Abs So Toned They Could Cut A Diamond" article at least once a day, and frankly it's getting old. Every fitness influencer on the 'gram will tell you to do endless crunches and leg lifts, but attaining visible ab definition is so much more than a 10-minute segment at the end of your workout. In fact, if you really want your abs to show, you may even have to adjust your diet (I know, it's like nails on a chalkboard). If you're not down to spend hours at the gym doing the 1000 sit-up challenge, here are some legitimate tips on how to get abs.
1. Have Amazing Genes
This reality is so depressing and I'm sorry to be such a downer, but it's true that genetics play a huge part in having abs. Think of your skinny friend that has had natural abs since seventh grade. I'm guessing she wasn't doing Russian twists or drinking hot lemon water back then. Some people are just born with the ability to have their abs show at all times, and there's really nothing else to say. You can def take steps to make your abs look better, but if your body just isn't made for abs, all you can really do is eat your salad and hate people who are genetically blessed.

2. Stop Eating When Satisfied
A lot of bullshit websites will tell you to count your calories or eat six mini-meals throughout the day, but the real key to slimming down may just listening to your body and not eating until you're literally too full to function. What does this have to do with how to get abs? Good question. This may surprise you, but everyone has abdominal muscles, and getting them to show is a combination of strengthening them and lowering your body fat. The less body fat you have on your stomach, the more your abs will show. It's as simple as that. Try to eat until you're like, 80 percent full and then stop. I know it's hard, but you'll feel so much better and may even see some ab definition over time.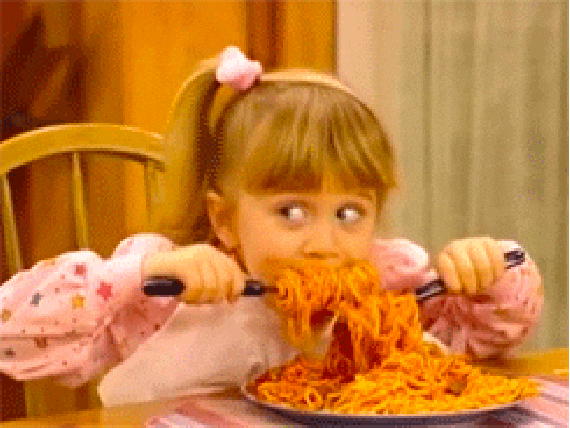 3. Add Probiotics To Your Diet
If you're eating healthy and working out, you should see your abs peek out eventually. BUT, if you have a stubborn digestive system and your body gets bloated or *fluffy* easily, probiotics are a game-changer, and you should get on board. You can buy a probiotic pill over the counter, but honestly some foods are packed with them, so give them a try before resorting to the capsule. (But if you want to just jump to the capsule, we're here for it.) Professionals recommend trying fermented foods, like yogurt, kefir, sauerkraut, and Kombucha. Probiotics won't give you abs overnight, but they will help heal your gut and reduce inflammation in your body, which tends to lead to improved digestion, a flatter stomach, and just overall feeling amazing.

4. Eliminate Artificial Sugars
This is another key when it comes to bloating. You may think that dumping three Splendas into your cold brew and sipping on a Diet Coke until lunch is actually making you skinny, but according to recent studies, you're wrong. In fact, fake sugars like aspartame, sucralose, and saccharin have actually been proven to make you bloated, which will obviously prevent you from seeing your abs. The takeaway here is to basically experiment with what works with your body and what doesn't. If you know a certain food or ingredient makes you look five times your actual size, you should prob avoid it.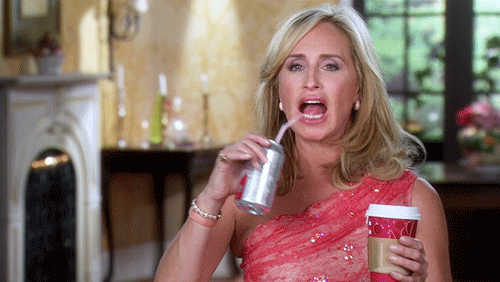 5. Static Holds Are Key
Now let's talk about ab exercises, because although diet is v important, so is the fitness part. A lot of people think the best ab routines include a million reps and a ton of volume, but sometimes the opposite is even more effective. Static holds include moves like forearm planks, boat pose, bear planks, V sits, and hollow holds. The idea is to engage your core in a challenging position and hold tight for as long as you can. Try to set a timer for 30 seconds, and then work your way up to a minute, then eventually two minutes. If it's getting easier over time, it's because your abs are getting stronger, so congrats.

6. Think Slow, Not Fast
It's weird to think that you should be going slow while working out, because everyone assumes faster equals a better workout. Like, imagine leisurely peddling your bike during a 45-minute spin class. You'd be the joke of SoulCycle. Your abs are different, because when you go fast, you're more likely to start using momentum and taking the tension away from your core. By doing your ab exercises in a slow and controlled manner, you're transferring all the tension on the muscles instead of using momentum from your entire body, aka cheating.

7. Non-Ab Exercises Work Too
If you really want to minimize your gym time, you actually don't have to do any isolated ab work at all. You just have to work on contracting your abs during other exercises. Any workout can be an ab workout if you're using your core muscles. The thing about strength training is that you have to engage your core during the moves, whether you're doing squats, lunges, or even dumbbell rows. To fully engage your core, think about bracing your muscles instead of sucking in your stomach, which is where most people screw up. You may need to tuck your pelvis inward a little bit and actually squeeze the muscles in your butt. Another cue is to think about drawing your belly button in while keeping your spine neutral. You may need to try a few different ways, but once you can actually engage your core during any exercise, you're toning your abs without doing specific ab work. It's a win for everybody.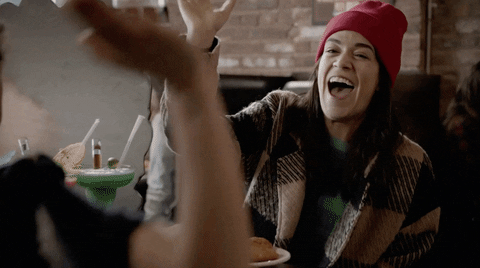 Images: PicJumbo / Pexels; Giphy (7)
5 Moves For A Full Body Workout Without Stepping Foot In A Gym
Even though spring is technically here, it's still cold AF and the thought of going outside to get to the gym is painful enough to put any human in bed for the night with two bottles of wine and enough takeout to feed a large family.
As much as you don't want to work out right now, warm weather will show up when you're least expecting it and you'll be completely unprepared. Like, you never know when the universe may call upon you to wear shorts again. Maybe today, and maybe the day after it will blizzard. Are you prepared? Luckily, we've compiled five moves that will work your whole body without any gym equipment required, meaning you can do them all while standing next to the heater in your room, and all your wine will be nearby for an immediate post-workout reward. Do each move for 45 seconds each with a 15 second break in between each one, then repeat the whole circuit 3-5 times in total. Stop making excuses and get to work.
1. Push-Up To Mountain Climber
Push-ups are mainly meant to build upper-body strength, but adding in a mountain climber will give you a cardio boost while getting your legs and core involved too. Start by doing one push-up. In a plank position, (or on your knees for newbies), place your hands under your shoulders and lower your body until your chest is about to touch the floor, and push back up. Then, run your knees into your chest for 6 reps, keeping your hands still over your shoulders. Keep this pattern going until time is up.

2. Star Jumps
Star jumps sound relatively easy, but you'll feel the burn within seconds if you're doing them right. The idea is to get your heart rate up while working your hip abductors, which is a fancy way of referring to your inner thighs. You'll also work your arms by making a star shape with your body as you jump. Start in a narrow squat with your feet together and hands in front of you. Then, explode up into a high star-shaped jump, separating your legs and arms in the air and then bringing them back together as you land in that same narrow squat. Keep jumping until your downstairs neighbors complain.

3. Plank Shoulder Taps
After all those jumps, you probably hate us, so let's channel that energy into getting super toned shoulders and a six-pack. The plank shoulder tap is exactly what it sounds like, and it's a great move to work your core and your shoulders at the same time. Start in a high plank with your hands on the floor underneath your shoulders. Make sure your core is tight and you're not channeling too much weight into your legs or feet (tip: squeeze your butt.) Pick up your right hand and tap your left shoulder, then repeat on the other side. Alternate for the full 45 seconds. If you find yourself swaying your hips or wobbling from side to side, separate your feet for more stability.

4. Lunge Squat Lunge
This move is all about the lower body, so the goal is to burn out your legs and butt. You should feel this tomorrow. You'll be alternating between lunges and squats, so you'll start by lunging toward your right side, then squatting facing frontwards, then lunging toward your left side. The key to an effective lunge is to keep your upper body straight with your shoulders back and relaxed. Step forward with your leg and lower your hips until both knees are bent. The goal is to touch your knee to the floor, or get it about an inch above. Then, squat down, keeping your butt behind your knees, like you're sitting down on a chair. If you're feeling energized and you know the movements well, you can add a hop in between in each one to make it harder. 

5. Burpees
If you've ever done a high-intensity cardio class or read any one of our fucking exercise articles, you've probably done burpees, and you know the struggle. Burpees are so torturous because they work your entire body and burn more calories than any cardio machine out there, so let's get 'em done. Start by standing with your feet shoulder-width apart and your arms at your sides. Then, lower your body into a squat and place your hands on the floor in front of you, jumping your feet back so that you're in a plank position. Once your body is in a straight line, lower your chest to the floor and then bring it back up as quickly as you can. Then, jump your feet forward, outside of your hands, and jump up with your arms in the air. You'll def feel these tomorrow, but keep it up and you'll look unreal by the time it's actually nice enough to be that girl who shows up to the gym in a sports bra.