F*ck Your Diet: I Used To Be A Food Addict, Here's How I Healed Part 4
Annnnnd we're back for the fourth and final installment of F*ck Your Diet. This series is for you if you identify as a food addict, a binge eater, someone who feels stress over what you eat, or if you're constantly trying to lose weight and going from diet to diet. Here is my disclaimer: if you feel happy and content with your relationship to food and weight, you have my full blessing to keep doing whatever you're doing. I'm not trying to napalm the part of your life that makes you feel good. If you like your diet, simply don't f*ck your diet. That's my general rule of thumb: If you're happy, I'm not trying to get you to do anything. But! If you feel like something is off in the way you relate to food, this is definitely for you.
I spent the first three installments explaining how food deprivation and restriction actually cause and/or perpetuate food fixation and many experiences of food addiction. I also explain how I went from a food-obsessed childhood binge-eater, to teenage chronic yo-yo dieter, to a weight-obsessed faux-intuitive eater. Dieting was my religion and sugar was the devil I was trying to purify myself from. And strangely, it all became a self-fulfilling prophecy, because the more I restricted food and sugar, the more and more out of control and "addicted to it" I felt when I inevitably "slipped up" and drove to CVS at 11pm in my parents' car to buy sugar-free protein bars that I pretended were candy bars. But still, if you haven't read the first three installments, I recommend you go ahead and do that, because you may not understand what the hell I'm talking about in this installment if you don't. Part 1. Part 2. And, Part 3.
It was almost eight years ago now that I woke up from my decade-long diet hell. Which means I've been eating whatever I want for eight years. And even though in the beginning I was very hungry and spent a few months eating a lot and making up for lost time, I didn't actually end up spinning into years of chaos like we all worry we will if we stop dieting. The chaos is temporary. The extreme hunger is temporary. I didn't eat the whole world. And today, even though I have zero (ZERO!) rules around food, I do not eat a steady diet of donuts and McDonald's and Snickers, because… I don't want to (anymore). In fact, at this point, I probably eat "better" than I ever did on a diet, because I can actually hear what the hell my body is asking for, and the drama around food is gone.
 So, what I'd like to do in this last piece in this series, is address some common fears that come up when people consider "F*cking Their Diet" or "Being on The F*ck It Diet" (which is actually what my site, Instagram, and book are named) or are even just flirting with the idea of not dieting.
"Anytime I try to stop dieting, I eat way more than anyone should."
You are not alone! In fact, this is one of the big reasons that most people are convinced they can't give up dieting. But, eating a lot of food is actually a really normal response to dieting or restricting food. We think it's our bodies proving to us they're broken or food addicted, but really it's just survival. It's just the body trying to make up for a famine scare. 
We also tend to think that we should be eating way less food than we actually need. Did you know that in the 1940s, there was an experiment where men were put on a semi-starvation diet of 1,600-1,800 calories a day for six months, and it made them extremely emaciated and obsessed with food, and it made lots of them anxious and depressed, and normal amounts of food didn't help them to recover at all? Instead it took them 5,000-11,000 calories a day for months to rehabilitate their bodies and their minds? Yeah. That happened.
So if that's any indication, 1,600-1,800 calories is something lots of people think they should be striving for. Also, 1,200-1,400 calories is how much they recommend you feed your 2-year-old, so, you need a lot more, ok? No wonder we all feel so out of control with food. Most of us don't even realize we are constantly trying to under-eat, and then we beat ourselves up for eating more than our too-low daily calorie amounts, and then we force ourselves to repent the next day by eating even less. What do you think that's doing to our bodies and relationship with food?! We just need to f*cking eat consistently, and stop putting ourselves on cleanses, ok??!
"I honestly can't trust my body or cravings, all I want to eat is cake and cookies and pizza. I'm positive that is all I would eat"
Craving only high-calorie dessert and "junk food" is also a really normal response to dieting. (And I promise it is just a phase before your cravings diversify and calm down.) If your body has been getting intermittent access to calories (like going back and forth dieting and binging and dieting again), or you've been trying to eat less food than your body wants for a few months (or a few years), you're going to crave the densest food that you can find, because that will counteract the state you're in the fastest. That's why we crave cake and cookies and pizza and candy and grilled cheese and everything we think we shouldn't have. Your body just wants dense and easy-to-assimilate calories for a while, because that is what will get your body out of a low-metabolic state the fastest, and back to a normal and more easy relationship with food, with more normal cravings.
The other thing is that when we make any food off-limits, that food is going to have wayyyy more allure psychologically than if you were allowed to eat it. (I used to misinterpret this and think: Ok, if I allow brownies then I won't WANT brownies. And then I'd be mad at myself that I still wanted brownies. But you can't play that paradox! You have to actually allow yourself to eat the brownies!)
View this post on Instagram
"I have to diet! I'm an emotional eater!"
Dieting and restriction can actually make emotional eating worse. I know, what? First of all, many of us actually use dieting as a way to try and distract from our emotions, too. Not only does it bring the promise of beauty, glowing health, and praise, but it also gives us a high on stress hormones. But at the same time, the more we diet, the more chemically rewarding food and eating becomes, and the more food can give us a "high". So, not only is dieting its own version of avoiding our emotions, but in a way, it actually makes eating a more effective "drug". And often, people go back and forth between the two "addictions" in a never-ending yo-yo. In order to make food a less effective drug, we need to stop dieting and restricting. Another paradox, I know. 
Having other coping mechanisms and emotional support is definitely an important piece of the emotional eating puzzle. I'm not saying that ice cream should be your therapist. But, just beware that going on a diet to heal emotional eating is like trying to put out a brush fire by blowing on it. 
"I have to diet! When I don't diet, I gain weight!"
Ahhhh, yes. Weight gain and cultural fatphobia. This is no small subject. It's actually at the heart of this whole thing. It's a core reason why we are all dieting in the first place. And it's also a subject that makes the villagers take up arms like they're in their very own mob led by Gaston, and they storm into the comments to rage about the obesity epidemic. Because people feel very, very strongly about weight gain and health, and want to concern troll allll over the health of people they don't know. 
First of all, gaining weight after dieting is also another normal phenomenon. That's what the body does. It loses some weight at the beginning of dieting, and then it insists you put it back on. It will literally slow down your metabolism and raise your hunger hormones in order to force you to gain back weight. It's normal. It's also survival. And we assume it's the worst thing that could ever happen to us, but our bodies are doing it on purpose. We evolved this way, and it's actually protective against withering away. Because, no matter what our culture tells us, becoming a nation of teeny tiny little string bean people isn't actually what makes our bodies feel safest. Having a super low body fat percentage isn't good for us and can wreak havoc on our hormones.
But we live in a very thin-obsessed and fatphobic society. We just do. And the thing that makes it so hard to even begin to have a conversation about not dieting is that there is a lot of moralizing over health that helps to justify people's judgement over weight and the way people eat. People feel very strongly about weight and weight loss. Just go to the comments of these articles, you'll see. But what that means is that being afraid to gain weight, even a little, even weight that your body definitely needs and wants to gain, is understandable. We constantly see how much better people are treated when they are smaller or fitter or leaner, and how much judgment (and concern) comes along with gaining weight. We are praised nonstop when we lose weight. We assume that weight loss is always healthy and impressive, when, hey, lots of people are losing weight because of eating disorders, illness, anxiety, etc. Weight loss is not always healthy, and on the flip side, weight gain is not always unhealthy. But we live in a society where obsessing over food and weight, and developing disordered eating habits, are praised, and even encouraged, and that makes it really hard to tell if what we are doing is healthy or if it's going too far. 
"So you're saying that I just have to accept my body as it is?! What are you? A monster trying to destroy the American people from the inside out?? HOW is that healthy?!?!"
One of the things that really shook me and woke me up out of my diet and weight loss obsession was learning that what I believed about weight and health was based on misinformation and cultural bias. Because I cared about health. I still do, actually! Believe it or not!
We think we can fully blame people for their weight, and assume that they just aren't trying hard enough. But, I mean, you've heard, right? Dieting backfires. This has been relatively mainstream public health info since 1992. But… we have a hard time hearing it. There is a cognitive dissonance. I used to hear that "diets don't work" and think, "No no no noo, those scientists clearly aren't studying the right diet." But really, weight loss diets backfire long-term. It's not because we are lazy, it's in our biological blueprint. Initial weight loss on a diet happens all the time, but our bodies will eventually adjust to try and get our weight back into a range where it feels safe. And the idea that we just need to keep eating less and less and less to try and keep up with our body fighting back is not healthy. That's not health! That's focusing on weight at the expense of health. 
Get this: a two-year study was done with two different groups of women categorized with an obese BMI, and the group that didn't diet or focus on weight loss, but instead made subtle healthy lifestyle changes—joyful movement that they actually liked doing, eating in an intuitive, nourishing way that wasn't focused on weight loss, stress reduction and shame reduction, and being kinder to themselves and their bodies. And at the end of two years, they ended up with improved overall health (blood pressure, blood lipids, mental health symptoms), even though that group didn't end up losing weight. And the group of women who focused on standard weight loss protocol (good old fashioned monitored, guided diet and exercise, prescribed by a diet) lost weight initially, but gained it all back and then some, and ended up with worse physical and mental health markers that they started with by the end of two years, even when lots of them were still sticking to the doctor-prescribed diet. So what that means is that joy and self-compassion was good for their health, and earnest and doctor-monitored weight loss backfired big time. 
I know! I know! Nobody wants to hear this! But in the very least, it's important information if we want to understand what the HELL is going on when we put ourselves on a diet. And it also matters if what we really care about is our overall health. 
So, back to the question: am I trying to ruin the health of our nation? No, I'm just trying to explain that obsessing over our weight and food and exercise isn't good for our health. A hyper-focus on weight and weight loss and perfect eating actually ends up being a distraction from truly taking care of ourselves. The truth is, when people stop dieting, some people eventually lose weight, but some people need to gain weight, and some people stay the same. Either way, forcing it tends to backfire in more than one way.
 I definitely understand why it scares people. It sounds extremely irresponsible, because people still assume that not dieting means eating donuts for breakfast and lunch and then eating mac n' cheese and Burger King for dinner every night. And then eating an entire cake in bed. Which is actually the kind of thing I was more likely to do when I was constantly forcing myself to diet.
These days, food isn't the drama that it used to be. I eat a varied diet and I eat until I am full. I crave healthy foods, I crave dense foods, I crave vegetables and fruit. I crave pizza. I'll eat one (or, y'know, sometimes even two!) pieces of cake instead of finishing off the cake at 1am while standing in front of the refrigerator. I eat dessert. I eat pancakes. I eat the bread on the table at restaurants. I eat grains and meat and eggs and lots and lots of cheese. Sometimes people ask me what I like to eat, and I usually can't even remember because that is how little I think about food now. It's food. I like it! I like it a lot! I want to feel good, I want to feel fed, I want to feel alive, and I want to go live my life and pet my dog and go get happy hour.
In conclusion: I think sweet potatoes and green juice are healthy, and I like them, and I eat/drink them! But being afraid of nachos was ultimately very bad for me. Maybe that applies to you, too?
It's been so great to get to share my story and experience with Betches readers. I know some of you hate me now, but that's just the name of the game when you talk about diets. People get cagey. People are very devoted to their diets, and in some ways, diets are the new religion of the 21st century. If you read this series and you're like, "this is… interesting to me, but I'm not convinced," my book The F*ck It Diet goes wayyyy more in depth. You can also start researching weight stigma and Health at Every Size, and start reading all of the things that helped open up my eyes to the dark side of dieting. You can also follow me on Instagram at @thefuckitdiet. (I post a lot of instagram stories of my bernedoodle if you're into that sort of thing.)
And remember, if you're having a great time dieting, or doing whatever you're doing, I really don't care if you diet or not. I promise. Everybody should do what works for them. Don't F*ck Your Diet on my account. BUT, if you're stressed out over food and weight and have been in a dysfunctional cycle with dieting, I invite you to come join us over here on the other side of diet culture. There are snacks! There are cheese boards with dried fruit and sourdough bread! You can take naps! You're allowed to buy clothes that actually fit you! Nobody will ever force you to wake up at 4:30am to go to the gym! And there are no diets.
Images: @dietstartstomorrow/Instagram; @thefuckitdiet/Instagram
A Museum Of Pizza Is Coming To New York
What does a betch love more than her iPhone or a bottle glass of wine? Pizza. For centuries, drunk betches have scarfed down thousands of slices around the world. Pizza is the solution to just about every issue: broke? Get a 99-cent slice. Breakup? Eat your way through a whole box. Kavanaugh? Inhale an entire pizza place. Lacking on your Instagram game? Museum of Pizza.
That's right. If you thought The Ice Cream Museum was the most extra thing to hit the 'Gram, get ready for two weeks of pizza-filled posts. The Nameless Network, an entertainment company, has created The Museum of Pizza, opening in Williamsburg from October 13-28. This Instagram thirst trap museum is full of pizza themed art and immersive pizza rooms. From the "pizza vortex" to the "cheesy cave," you can bask in the glories of what heaven looks like while getting some fire Instas. The captions will be endless.
#MoPi (the succinct but somewhat unfortunate nickname for the museum) also recently released a promo video that's legit soft-core pizza porn. And it's kind of amazing. People seductively eat pizza in next to no clothing, moaning and have tomato sauce dumped on their heads. It's basically what everyone thinks they look like eating pizza, but obvs, they don't.

The Museum of Pizza website writes, "Pizza does not judge; it is always for the people, by the people—and that's why we love it." Pizza doesn't care if you fall asleep with it smeared against your face when you're blacked out. It also doesn't care when you throw it up the next morning. Pizza is America, and it does not say RSVP on the Statue of Liberty or any pizza boxes I've ever seen.
In case you're wondering, there is some real art being displayed. Works like Andrew W.K.'s "Pizza Guitar" and Hein Koh's "Mystic Pizza" can be found in the museum as well. But don't pretend you're going for the art, we know you just want the selfies in the "pizza beach" room. That's like going to The Museum of Sex and saying you're there to learn about the history of coitus. No b*tch, we know you just want to jump into the boob castle. This is pizza, so please, don't get all high and mighty and ruin it for all of us. Xo.

The Museum of Pizza also donates a portion of the tickets to provide meals for a family in need, so you're basically a philanthropist if you go to this. It like, totally counteracts your 400 selfies (that you'll one hundred percent hate all of because Becky can't get the f*cking lighting right). So bring your best photographers friends to experience another food-themed Instagram paradise.
Check out the Museum of Pizza website for tickets and more info.
Images: Hein Koh, Sarah Bahbah / Museum of Pizza; Giphy
The Super Bowl Party Foods To Avoid At All Costs & What You Should Eat Instead
As Americans who proudly DGAF about sports but still want to partake in a national tradition we'll never understand, we really have no other choice than to eat an endless amount of calories during the Super Bowl. Super Bowl parties are known to include every American high-fat culinary embarrassment from mac and cheese to spicy wings, and unless you intend on getting through the game by drinking a room-temp Corona Light and pretending to understand what's going on, you'll be eating. Making healthy choices during the Super Bowl is almost impossible, but if you're looking to host or attend a Super Bowl party without eating a month's worth of calories in one day, here are the foods to avoid and some healthier alternatives to consider:
1. Fully Loaded Nachos
Super bowl nachos are basically a death sentence, but they're also tragically amazing. Like, whoever invented these was definitely stoned and had definitely been working too many hours at Taco Bell. If  you really insist on having some, try grabbing from the corners of the bowl, where the chips aren't completely drenched in cheese and sour cream. If you're hosting your own party, bake your own zucchini chips or kale chips and season the shit out of them. They're obviously not hardcore nachos, but they're way less calories and still taste good, so don't knock it.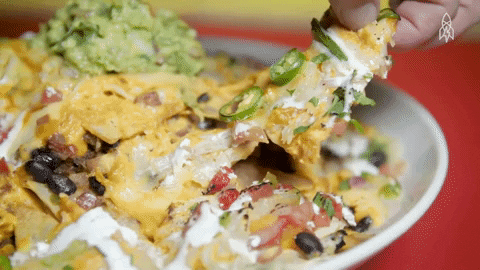 2. Buffalo Wings
Apparently Americans eat 1.33 billion chicken wings during the Super Bowl every year, and they all regret it the next morning. Wings are always a bad call if you're trying to stay somewhat healthy. Don't try to convince yourself that you need protein, because it just doesn't count. If you're making your own, try a basic recipe with no added sugars, using just tomato sauce, garlic, onion, honey, apple cider vinegar, paprika, and salt and pepper. Always bake instead of fry. If you're eating them out of a red KFC bucket, they're probably a lot worse for you than you'd think. Put down the wings.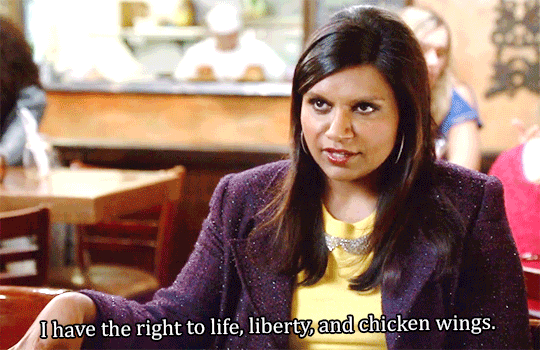 3. Pigs In A Blanket
Okay, YUM. If you didn't spend your adolescent years heating up frozen pigs in a blanket and french fries after school, I'm so sorry for you. These are addictive, but honestly unless you have the self control of a Victoria's Secret model, don't get started with these. You'd think they're so small and harmless, but eating only four of these equates to over 20 grams of fat, so be careful. You tell yourself you'll only have a few, and then suddenly you're Guy Fieri going ham at a random diner in the midwest. If you need something to snack on while refreshing Instagram watching the game, I'd stick with pita chips and hummus as a safer option.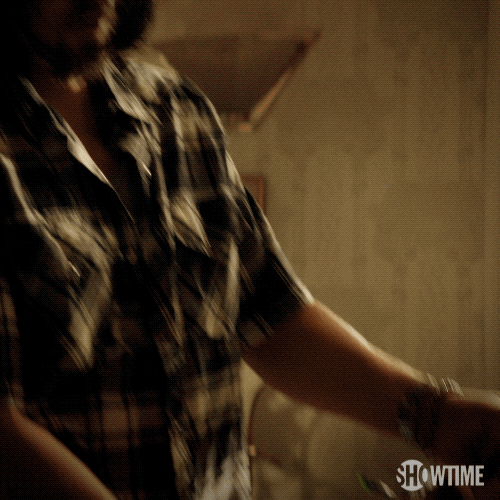 4. Queso Dip
We already spoke about cheesy nachos, but let's take a moment to discuss queso, the dip that is essentially glorified melted cheese. With some butter and milk. Maybe a sprinkle of garlic and cayenne pepper, but we all know the cheese is the real star here. This dip is a heart attack in a bowl, and honestly it's really not worth the calories if you're *basically* sober at 5pm on a Sunday. If there's guac around, go for that instead, and if you're making your own dip, find a spinach artichoke dip recipe made with Greek yogurt and light mayo. It's a fraction of the calories, it's delish, and if it means avoiding 400 grams of fat, we're here for it.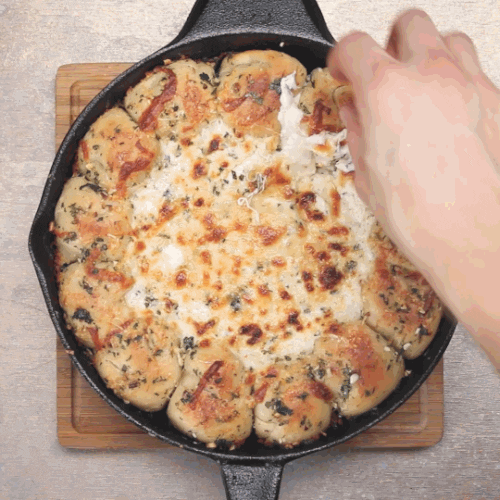 5. Chili
Chili is made in different ways so we can't say all of them are horrible for you, but usually, if you're consuming a dish made from ground beef, beer, and sour cream, we're gonna suggest you stay away. Chili is also one of those dishes where no one really has any perception of a serving size, so you just end up eating it like you're a bottomless pit who just finished a Yom Kippur fast. Instead, go for the salmon burger, the grilled chicken, or even the meatballs would be a better option. At least in that case you can count how many you've had.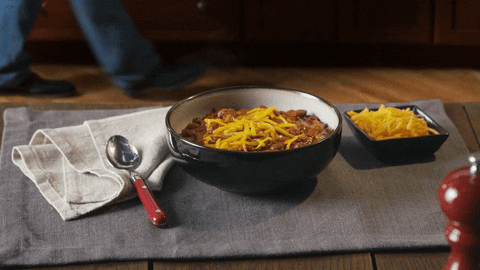 6. Soda
We've already accepted the fact that you'll be blackout by the halftime show, so let's disregard alcohol calories for a second. If you're mixing your drinks with soda, or even worse, just sipping on a Regular Sprite because you're not in the mood for water, put the cup down. You're eating enough calories at this party to feed a small village. You really don't need to drink your (non-alcoholic) calories, too. Keep your alcohol choices simple and avoid all regular sodas and sugary syrups. If you're making a mixed drink, stick with zero-calorie options like La Croix or Diet Coke instead. Straight vodka works too. It's a long game.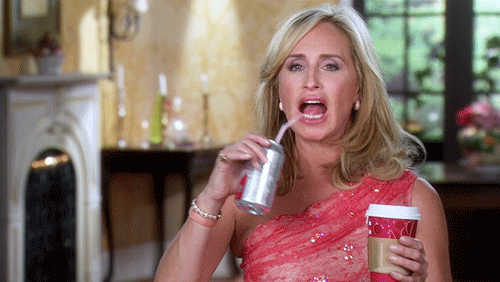 Images: Niklas Rhose / Unsplash. Giphy. 
We Found The Best Gift Ever For Your Lame Pregnant Friend
IDK about you, but I often dream about the food I'll eat with reckless abandon once I get accidentally pregnant. Now Domino's is making that even easier, by launching their very own baby registry. That's right: Pregnant woman can now start a registry to let people know what kind of pizza they'd like. I'm starting to rethink motherhood.
The baby registry is actually not a new idea. Earlier this year they launched a wedding registry, so that friends and family can help newlywed couples begin the process of letting themselves go without the financial burden.

The baby registry also includes other shit like pizza themed onesies, shoes, and mugs because, TBH, why not give your baby a theme? The best part, of course, is that parents (aka moms and *maybe* the dad if she lets him have some of the crust or something) can receive actual pizza from people. The pizza comes in package with phrases like "Sleeping Through The Night," "Hormonal and Hangry," "The Gender Reveal," and other shit that makes me never want to be pregnant ever.

You can sign up for your own registry at dominosbabyregistry.com and like, TBH, I don't see any reason a non-pregnant person can't sign up. Like, it's a free country. Make an account and then send it as a link to fuckboys that try to slide in your DMs. I bet at lease one will buy you pizza.
A Couple Served Pizza "Cake" At Their Wedding And They're Officially The Worst People Alive
Dear Pizza-Loving Lovers,
Weddings are a trade-off. You get to rub your supposed marital joy directly in the faces of your family and friends (and Facebook feed) for an entire day, and we pretend to be happy for you. In return for our cooperation, you owe it to your guests to deliver on certain traditions: an open bar, hot groomsmen to keep us entertained, and the excuse to binge on wedding cake until our Spanx threaten to split open. Unless you're some romantic idiot, free alcohol and cake are literally the only reason to sit through the torture of a wedding ceremony, but you had the nerve—the audacity—to serve a pizza "cake" at your wedding. I ask you: What the fuck?

Obviously, betches love pizza. Fucking everyone loves pizza. That's why there's a pizza place on every corner of every street in America. It's so cheap that you can get a slice for a single dollar, which is like half the reason pizza is the perfect drunk-binge food. Waking up hungover and surrounded by pizza boxes means you're out, like, $30 at most for the food (and $90 for the vodka, but whatever). But pizza at a wedding is an abomination.
Yes, weddings are expensive, but really? You're so broke you had to order a bunch of delivery pizza like it's your 11th birthday party and you couldn't convince your mom to take you to Chuck E. Cheese? I barely understand the meaning of the word "budget," but even I know that if you're that strapped for cash, you can just fire the DJ and make a Spotify playlist for the reception.
Instead, you served pizza. As I already pointed out, drunk pizza binges are practically an American tradition, so I guarantee 95 percent of your single guests had eaten it in their hotel rooms the night before, when they were drinking away their fear of dying alone. You think they were excited when they saw you bring out four fucking pizzas stacked on top of each other instead of a wedding cake?
This couple had pizza cake instead of a wedding cake because not all heroes wear capes: https://t.co/cEP4qbTB7B pic.twitter.com/BmSwD5kqKG

— BRIDES (@brides) March 30, 2017
The answer is clearly no, they were not. I don't care if it was "what pizza dreams are made of"—everyone was expecting cake, and you reneged on that promise. And how did that work, BTW? Did you bring the "cake" out after everyone had already eaten dinner like a couple of monsters? Have some fucking respect for the people who are currently showering you with wedding gifts you clearly don't deserve. 
By the way, despite what you may believe, a gelato option—which they served—doesn't make up for the lack of wedding cake. Sure, it tastes good, but the two foods are in no way equivalent. Bingeing on cake at the reception is an integral part of eating your feelings before you progress to drinking away your feelings and banging the semi-hot bartender in your car when the maid of honor calls dibs on the one hot groomsman. Bingeing on gelato just gives you a brain freeze. Do you see how these two activities are not equivalent?
Honestly, I'm not sure why there wasn't a revolt immediately after the "cake" was brought out. Are your friends that polite? Was everyone so wasted they had already reached the pizza bingeing point of the night? Either way, please spend your honeymoon considering how to word your apology letters, and repeat after me: Pizza will never count as cake.
XOXO,
Dr. Frankenbetch
One Cheat Meal Could Ruin Your Metabolism, Study Finds, So Put Down The Pizza
Everyone knows that just because you're juicing on the reg and going to SoulCycle religiously doesn't mean you can't have a cheat meal here and there, right? Actually, according to a new study, cheat meals can ruin your metabolism. Yes, even one.
Some researchers in Germany got together to ruin all our fun yet again look at how even one dose of saturated fat can fuck up your life. They took a bunch of "healthy, slim men" and gave them one drink of palm oil (compared to the control group, who got a glass of water—boring). "Yeah ok but like, my drunk slice of pizza is healthier than a straight-up glass of oil, right?" you're probably thinking to yourself. To which I say, HA! Those "palm oil drinks" had roughly the same amount of saturated fat as two fucking bacon cheeseburgers and a large order of fries. Or one salami pizza, though the experiment did not analyse what psychos are ordering salami on their pizza. But yeah, so basically even that ONE "cheat meal" (/drink) started fucking up these guys' metabolisms by reducing insulin action and increasing the fat content in their livers. And that, presumably, will happen to you too.

So the takeaway of this study is just because you've been good all week doesn't mean you should drunkenly order the chili fries Saturday night. Yes, even one drunk slice of pizza is going to make your metabolism take an L—and you're not Big Sean so you're not gonna bounce back. Sorry. I'll allow a moment of silence to mourn all that delicious fatty food you won't be eating guilt-free this weekend. Or like, ever again. 
But like, go ahead and get that burger if you want. I'm not here to tell you how to live your life. Just don't be surprised when sweatpants are all that fits you right now. Or just avoid palm oil, I guess. IDK, we're all screwed. Good luck out there.
Domino's Made A Wedding Registry For Everyone Whose Real Bae Is Pizza
If you know anyone who's gotten married (so like, everyone reading this rn) you've probably bought some stupid shit the couple registered for as a gift. I mean, I love a gorgeous china pattern and some Baccarat crystal as much as the next betch, but like, I eat takeout five nights a week and when I don't I'm eating cereal out of a Solo cup. It's not like the day you get married you turn into Martha Stewart and start baking muffins and hosting dinner parties for the governor and shit. No one needs this stuff. And per usual, the gods at Domino's just get it, so they've created a registry that gives married people something they'll actually enjoy: a pizza registry.
The registry is filled with a handful of different pizza-filled occasions like the "Thank-You-Card-a-thon" so writing hundreds of thank you notes to your parents' friends isn't as miserable, or a "Post-Honeymoon Adjustment to Real Life" because the only thing that can make coming home from a trip to Bora Bora or Europe not so terrible is cheesy, delicious pizza.

The only thing that's kinda lame is that it's really not a registry at all, just a glorified gift card that can be used on the Domino's website. Fuck you, Domino's and your marketing team. You just created a separate landing page for a concept that has existed for YEARS. Like, I would disown someone who got me a Domino's giftcard for my birthday, but I'm expected to ask for that for my fucking wedding, the only occasion where I can ask my closest family and friends to buy me expensive shit I can't afford without it being considered panhandling? Hard pass.
However, if some entrepreneur decided to take it upon himor herself to come up with a registry for any of the following items, let's just say I wouldn't be mad.
1. Vodka Of The Month
This very well might exist, but honestly, I'm lazy and don't want to type it into Google. Regardless, any relative who gave me a monthly vodka subscription would be at the top of my thank you note list. Marriage is apparently work, so I'm going to need a lot of fermented potatoes to make it through.

2. A Drug Dealer Concierge
See previous note about marriage being work. Why do "work" when I can register for enough Xanax to kill a large mammal to be delivered to me at some later, unspecified date?

3. A One-Way Ticket To Canada And A Valid Visa
Just saying, I might need this later on with the way things have been going lately.

4. A Lifetime Netflix Subscription
Anybody who puts a $50 Domino's giftcard on my fucking wedding registry is a cheap asshole. But someone who charges my lifetime supply of Netflix to their tab? That shit's going to add up real quick. Though, given my current alcohol consumption and exercise regimen, my doctor would disagree. But fuck you, Dr. Bernstein. I don't need your negativity.

5. HBO Go
NO IT IS NOT THE SAME AS A NETFLIX SUBSCRIPTION. Do you actually know anybody with HBO? I mean somebody who's actually your age—their parents don't count. No? That's what I thought. That's because HBO is expensive af/for real adults who can afford cable packages, which is something I will never be if my current spending habits are any indication.

But I mean if someone wanted to do all these things and buy me a ton of pizza, I wouldn't exactly complain either.
Groundbreaking Writer Declares Pizza "Overrated"
Head Pro's favorite things are pizza, dreaming about sex with Shay Mitchell, and when you email him at [email protected].
The problem with self-proclaimed "unpopular opinions" is that they're not unpopular because, as their writers smugly believe, they're HARSH TRUTHS that no one has the balls to admit. Instead, they're unpopular for a very simple reason: they're usually dumb and bad.
Take, for instance, this bone-headed take on pizza penned by Late Late Show writer Eliza Skinner in Refinery29, a publication that's the literary equivalent of a high school sophomore trying to have a legitimate discussion with adults about global economic policies. She (wait for it)… DOESN'T LIKE PIZZA!! Which is fine, though it doesn't warrant an entirely too-long screed that I'm not convinced is satirical, but I'm also not convinced isn't. See if you can see what I mean.
"Yeah, that's right — I don't like pizza. I don't like kids either. Dogs I like, but at this point I assume you've already clicked away from this article, muttering; "What an asshole. Pizza is the most overrated food since sliced bread."
So edgy! "I have some incredibly conventional opinions held by many people my age, but let me hit you with a HARSH TRUTH: Pizza—not that good!" How do you accurately "rate" a food, anyway, especially against other foods that are not it? Good pizza is good. Duck confit is also good. Were I starving in a desert, dog food would probably be pretty swell too. Saying any one food is "overrated" is nonsense.
"Essentially, it is just melted cheese on bread with some tomato sauce in-between."
This is an argument for, not against, pizza. This is why it's the perfect junk food, it's combination of salt and fat and carbs flip all the switches in our lizard brains. I know I shouldn't eat it all the time, but that doesn't mean I wouldn't if I could.
"Nothing wrong with that. But everywhere you look someone is LOSING THEIR SHIT about pizza—pizza clothes, pizza tattoos, pizza home decor! Pizza has become an identity. I've seen more than one online dating profile that listed "pizza" under personality."
Alright, this is a legitimate discussion I've had with Sgt. Olivia Betchson (god, that is so much dumber when I type it out). The meme-ification of pizza is annoying. Every other Instagram post is some iteration of "tfw your friends want you to go out but pizza is bae."
This has 6 more likes than it should, and I apologize.
But the problem is, pizza is a useful tool in these dumb memes because of what it represents: as opposed to the other 50% of instagram, which is people deliberately people showing off how hawt and sexxxy they are, it's the opposite. People use it to poke fun at themselves by saying "hey, I'm not working out, I'm in my pajamas watching SVU marathons and eating food that someone brought to my door!" It's annoying, but your problem is not with pizza. Your problem is with the assholes who turned it into a symbol of frivolous, intentionally-delayed adulthood.
"How much do you know about the APC? The American Pizza Community? It's the pizza lobby… The APC has done a lot of strategizing to help make pizza popular and easily accessible. They lobbied to get pizza counted as a vegetable in school lunches… Mitt Romney received $110,807 from the APC. Mitch McConnell got $20,350. PIZZA IS REPUBLICAN."
Inserting politics into places where they otherwise don't make sense is a great way to accumulate friends, and I recommend doing it often. But I have news for you: anything that can be commodified and profited from is going to "be republican," because they tend to favor business-friendly economic policies. Again, your problem is not with pizza, a foodstuff. Your problem is with BIG PIZZA. Buy local, or make your own (it's stupefyingly easy) if you don't like that.
"I sound like a hateful old gluten- and lactose-intolerant bitch! And you know what? I am."
Wait, why the fuck are we here, then? The slim odds of her being both of those things aside, why are you complaining at length about a food you evidently can't eat? That's like me saying sex with Shay Mitchell is "overrated."
Now, strap in to get fucked up…
"I work in TV, which means I'm often on sets full of hardworking people who need to be fed quickly and cheaply, and pizza is always the easy answer… What bothers me is the actresses. The same job that asks actresses to give in to unreasonable societal beauty standards also regularly asks them to smile and say thank you for pizza… But having a problem with pizza might make an actress seem difficult. Don't be difficult! You should be fun! Pizza is fun!"

​
KABOOOOOOOOMMMM PIZZA IS UNFEMINIST!!!!! Like, I kind of get this? No one enjoys being the person in the office who, on pizza day, skulks away to go heat up their Lean Cuisine—you will get a comment or two from people who take your mindful choices as an unspoken commentary on their own, poor choices.
But also, I'm an adult who, should I elect to not partake in the free pizza, can afford to make the choice to bring something other than not pizza. So is, presumably, a working actress. You wanna insert some intersectional feminism in there? Fine, have at it. But again, if you're blaming an innocuous foodstuff for so many of your woes, you don't need internet column space. You need a therapist.
Head Pro's favorite things are pizza, dreaming about sex with Shay Mitchell, and when you email him at [email protected].