What Your Favorite Wine Says About You
If there's anything betches love more than wine, science has yet to invent or discover it. Not that I've ever been known to refuse alcohol of any kind, but vino will always hold a special place in my heart/liver. If I were to have a superpower I'm pretty sure it would be the ability to sense a bottle of Chardonnay being opened from miles away. Not only is wine fucking delicious, but it has a higher alcohol content than beer and lets you get drunk while kinda-sorta maintaining an air of sophistication. You might be passed out on the couch, but as long as you're unconsciously clutching a wine glass, you're passed out in, like, a classy way.
Basically, it's a law of the universe that at any given moment, some betch somewhere is downing some variety of wine—you're probably doing it right now. You can tell a lot about a person based on how they consume their alcohol, so here's what your fave wine says about you.
Bubbly
If your favorite wine is a sparkling one, you probably don't really like wine all that much and would rather be drinking a vodka soda (wouldn't we all?). Irregardless, you're a laid back person who doesn't care that much about semantics and refers to all sparkling wines as Champagne—or at least, you better be for the purpose of this list, or else you're just fucking obnoxious. Someone who only drinks wine with carbonation is the type who pretends they're classy even when their life is an obvious train wreck—like when you throw up in the back of your Uber but it's totally fine because you only got it on you and not any of the passengers or the driver's back seat. You may post "poppin' bottles" Insta stories, but we all know you were popping André. "Sophisticated with a hint of slutty" is your favorite Leslie Knope quote, as well as how most people would describe you.

Riesling
Summer is your favorite season, and you're either a novice drinker or have the kind of sweet tooth that's led to way too many drunken Oreo binges. Either way, you have yet to figure out your limits, so you're always the one to get way too drunk too fast and get carried out of the bar by your friends who can actually handle their alcohol. But whatever— you're the life of the party before then, so people don't hate you all that much for now. Just don't expect the goodwill to last forever.

You always talk about getting out and seeing the world, but you never actually do because you're a bit of a homebody. Maybe when you graduate you'll get around to it.
Pinot Grigio
You don't like to make waves, and while you're not shy, you can usually be found getting drunk with your BFF in the corner at parties. You love fitness almost as much as you love wine and judging people, which is partly why you've stuck with pinot g. for so long—it's a totally acceptable day drink, so you can sleep before your half-marathon in the AM. (Ugh.) Honestly, you can be a little insufferable, but your six-pack is super impressive.

Chardonnay
Subtlety isn't a Chardonnay drinker's strong point. You know what you like, and you stick to it. Among your friends, you're known for having a dry sense of humor. Sometimes, people say it's a little too dry, but whatever, you're confident enough to know anyone who can't take teasing isn't worth your time. Besides, you'd think people would want to know when they're having a bad hair day. You work in, like, finance or something, and you fully expect to own a house in the Hamptons one day.

Rosé
If your favorite wine is pink, you walk the line between nicegirl and betch with care. Every Saturday night, you can be found making regrettable decisions in a series of shitty bars, and every Sunday morning, you're arranging brunch, rain or shine, because you believe day drinking is the best cure for a hangover. (Duh.) You watch The Bachelor religiously and pretend not to be as invested as you are. You like to think you're unpredictable, but really, you just hate making decisions—even between red and white wine. Good thing we're entering rosé season, when it's socially acceptable to be tipsy at all times. Just try not to let the cumulative hangover kill you in September.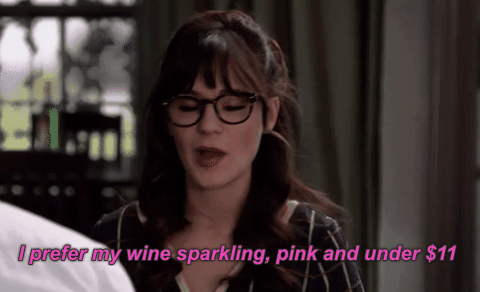 Pinot Noir
You started drinking red wine because whether you like to admit it or not, you judge the shit out of white wine drinkers. The only problem is you can't bring yourself to buy the dry, bitter stuff, so when you discovered you like pinot noir, you stuck to it. You're a secret romantic with an account on every dating app, and you're always complaining about the dating scene in whatever city you live in. A word of advice: Stop doing that.
You like to tell people you're low-key, but you're less responsible than you let on. (TG, because responsibility is boring.) After you've drunk an entire bottle of the pinot you brought to the pregame, you're the one doing shots and rallying the troops. Then you decide you're never drinking again and spend the next weekend going on disappointing Tinder dates and watching Netflix until you stop feeling sorry for yourself.

Tempranillo
You're one of those people others describe as headstrong. You kept a bottle of hot sauce in your bag before Beyoncé made it cool, and you're down to try pretty much whatever. Admit it: You've thought "YOLO" unironically before doing something stupid like drinking the vodka some dude offered you in a parking lot.
You list "world traveler" on your Instagram bio, and you love meeting new people you can force to listen to your many stories. People tend to like you at first, but you've also been told to STFU about your exotic vacation because it's all you talk about. You'll settle down when you feel like it and not a moment before.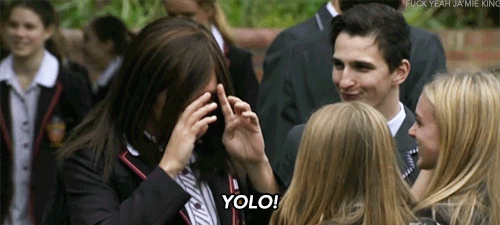 Cabernet Sauvignon
You come from money—you've been knocking back wine since your mom started turning a blind eye at fancy family parties, so a cab's dry bitterness doesn't bother you. You like to take charge and go for what you want; if life were a reality show, you'd be the one who isn't there to make friends. (You also tend to speak in clichés.) TBH you're pretty judgmental, but you're not terrible to be around once you decide to like someone. Even when blackout, you're more likely to carry a Riesling drinker out of the bar than be carried out yourself. After all, you have appearances to maintain.

Is it too meta to propose a toast to wine using a glass of wine? Whatever, I'll drink to it anyway.
Drinking Pinot Noir Makes You More Attractive, So I'm Practically Adriana Lima
I'm not even going to go into all the ways this year has sucked because you already fucking know. Unless you're a Trump supporter and didn't think Beyoncé deserved album of the year, and if that's the case, I just can't even with you rn. The one thing that has been on our side, however, is science. Pasta and cheese are good for us now, we have doctors to back us up when we tell our gin-drinking besties they're actually insane, and a bunch of other shit. Well now there's a study that says drinking pinot noir makes you more attractive. So are you telling me I transform into a VS model every weekend? I fucking knew it.

Here's what went down: A group of scientists walked into a bar, and… no, JK. That sounds like the beginning to a joke my dad might tell. OK so, here's what happened (*Adrian monk voice*): some researchers in the good ol' U.S. of A got together to study pheromones, because it's not like there are more pressing issues affecting our country right now. These guys decided to study pheromones aka the chemicals released by your body to attract a mate. Well IDK how exactly they discovered this, but after a bunch of analysis they figured out that the pheromones given off by pinot noir are very similar to the ones given off by men. I missed the lesson on pheromones during freshman year biology because I was too busy making out with Shane Oman in the projection room above the auditorium, so I'm a little fuzzy on whether this means that drinking pinot would make you more attractive to straight men or women. Like, are dudes gonna be attracted to someone who smells like them? If so, should I switch my deodorant to Old Spice?

Super unclear, so let's just go with: Drinking pinot noir makes you irresistible. Lucky for me, this is literally all I drink. But for you white wine only drinkers or fancy af betches who prefer a rich cab, you need to to switch up your vino preferences stat or else you're probs going to die alone. Science fucking says so.

The Best Wine & Cheese Pairings For 'Bachelor' Night
The age-old question of what cheese to pair with our wine rears its head just about every Monday, Tuesday, and Wednesday evening. With The Bachelor finale coming up—THANK GOD—we need to prepare ourselves for the cheese and wine fest about to ensue. But like, let's be classy.
Here are our fav ten cheese and wine pairings that you need to know or else risk looking like a plebian. 
1. Zinfandel And Jalapeño Cheddar
Find a spicy cheddar in the poor cheese aisle and grab a Zinfandel. The dry red wine works super well with spicy shit since the wine itself is fruity and kinda spicy thanks to hints of black pepper. Shit, go crazy and grab some of the pre-sliced habanero cheese if you're feeling wild. 

2. Port And Blue Cheese
If you're an 80-year-old man, you love Port! So, grab one of those old bottles you have lying around the house and pair it with the cheese that smells most like old people—in this case, blue cheese. The rich, sweet Port balances nicely with the bold (to say the least) flavor of blue cheeses like stilton and gorgonzola. 

3. Pinot Noir And Goat Cheese
Yeah, you could be basic and throw some triple crème brie out with your Pinot Noir, but better yet, pair it with a goat cheese like chèvre. The creamy factor works to bring out the flavor of the wine, and you'll feel fancy nomming on this combo.

4. Pinot Grigio And Feta 
Did you make a Greek salad and buy too much feta? Never fear—pair that shit with some Pinot Grigio and treat yo'self. The fruit background in the wine works with the salty yet mild taste of the feta. Look at you, bein' culinary.

5. Merlot And Monterey Jack
Are you too poor to buy cheese from the nice section of the store? That's okay. Grab a box of the finest Merlot and pair it with your favorite poor people cheese, monterey jack. Because the cheese is on the less-intense-flavor side (see: bland), it pairs well with an easy drinking Merlot. Now you too, can enjoy a fine wine and cheese night, regardless of how in debt you are!

6. Malbec And Aged Cheddar
So, as opposed to the shitty cheddar you can buy in block form near the tubs of cream cheese and sugar-yogurt, head to the fancy cheese section and pick up an aged English or farmhouse cheddar to nom with your Malbec. The smooooooooth jazz sounds flavor of the wine cuts through that super hostile aggressive attitude put forth by the cheddar. We can relate.

7. Prosecco And Parmesan
If you're craving bubbles but are too poor for Champagne, grab some Prosecco and pair it with a rind (or a bowl of shredded) parmesan. The bubbly happiness cuts some of the supernsalty taste of the parmesan, so you'll be able to eat and drink without feeling like your mouth is a salty desert. Unlike your DM's.

8. Chardonnay And Mild Cheddar
If you're a middle-aged soccer mom, you have at least six bottles of Chardonnay in the house at any given time. Pair it with the mild cheddar you use in your kids' sandwiches, because you didn't get a chance to go to the store for fancy shit this week. It's okay, you can still have "me time" with these meager (but delicious) rations.

9. Cabernet Sauvignon And Aged Gouda
According to VinePair, this pair works because the gouda is super, extra nutty and the Cab Sav is a pretty bold, full-bodied wine. Now, given, you could also use this salty, nutty cheese with a sweet wine—but since we aren't in fucking high school, let's try to drink like adults.

10. Reisling And Mozzarella
If you dig on sweet wines like Reisling, Gewürztraminer, Moscato, and Chenin Blanc, grab a fresh, soft cheese like ricotta, mozzarella, or burrata. According to Serious Eats, the sweet and soft combo works because, like, why wouldn't it? You don't have some big bold wine showing up your delicate mozzarella—and you wouldn't make that fucking rookie mistake anyway. Plus, tannins will fuck your flavors up, so stay away if you're looking to sit, alone, with a tub of ricotta and a bottle of Moscato. Cute.