The AMAs Fashion That Should Have Been Stopped & The Looks We're Living For
Mondays always suck, unless it's the day after literally any award show. There's truly nothing better than sitting at your desk, pretending to work as you scroll through Instagram and judge the shit out of all the red carpet looks. As you've probably seen if you follow any celebrities on any form of social media, last night was the American Music Awards. Let's give compliments like a drunk girl in a bathroom then talk shit about the worst dressed, shall we?
Best
Demi Lovato
Okay, all extra celebrities, please take notice. Demi's look is like, the perfect example of the perfect music award show red carpet look. The dress is super flattering, the hair and makeup is incred, and overall it kind of has an edgy vibe but is still a classic look. Well done, Lovato.

Selena Gomez
Honestly, Selena has kinda been on my nerves recently for literally no reason whatsoever, so this is difficult for me to say, but I'm obsessed with this look. Usually a drastic post-breakup hair change is a bad move, but when you're rich AF and can get back into a relationship with Justin Bieber like, a week later, the rules don't apply. I love this new (old?) Selena.

Lady Gaga
Gaga wasn't even technically at the red carpet at the AMAs—she was at the Washington D.C. stop of her tour—and she still looked better than everyone else. She rocked an Alaïa to honor the recently passed designer (RIP) and channeled some major Madonna vibes. Into it.

Ciara
Pretty sure Ciara's sole purpose in life is to just be hotter than the rest of the human population. This dress is so dope. Plus, her hair and makeup is perfect but still looks natural.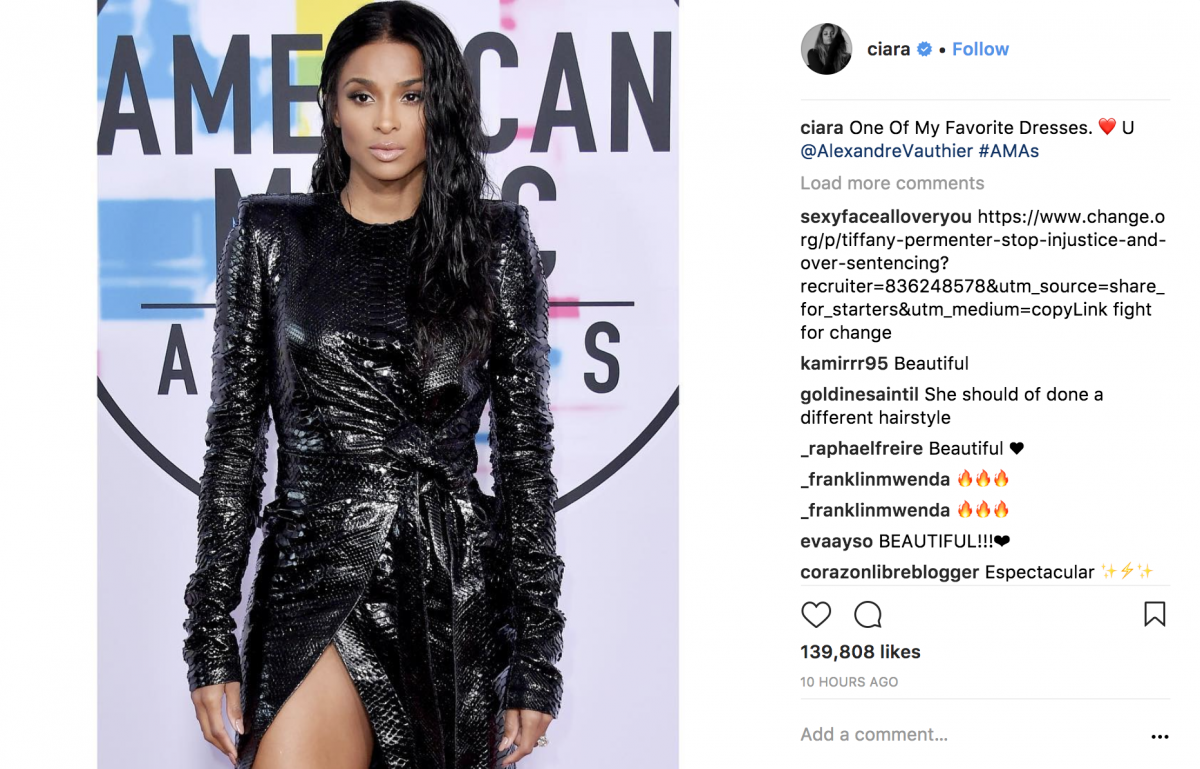 Kehlani
TBH, Kehlani's dress is kind of eh, but I'm considering her one of the best simply because she can pull off a low ponytail without looking like a founding father.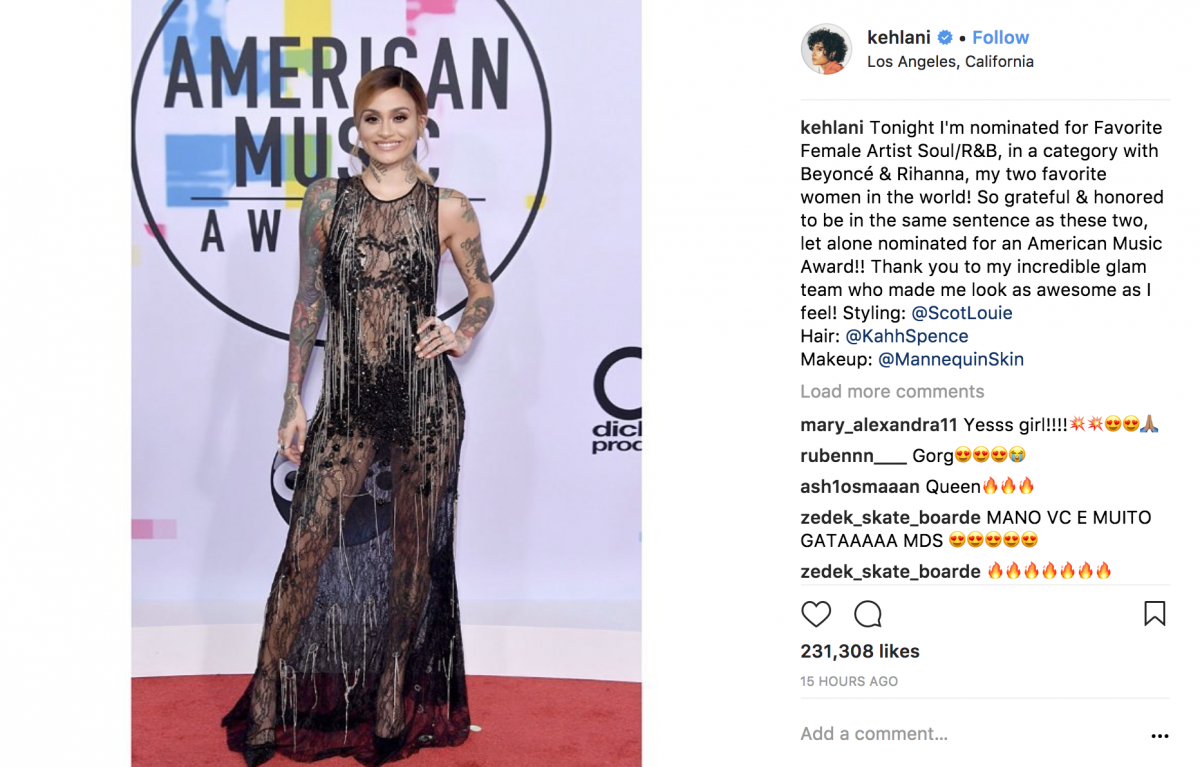 Worst
Sabrina Carpenter
I have no idea who you are, but I hate your dress. Sorry. It's very Miranda Hobbes and the boots kind of look like a serial killer made them out of human skin à la Silence of the Lambs.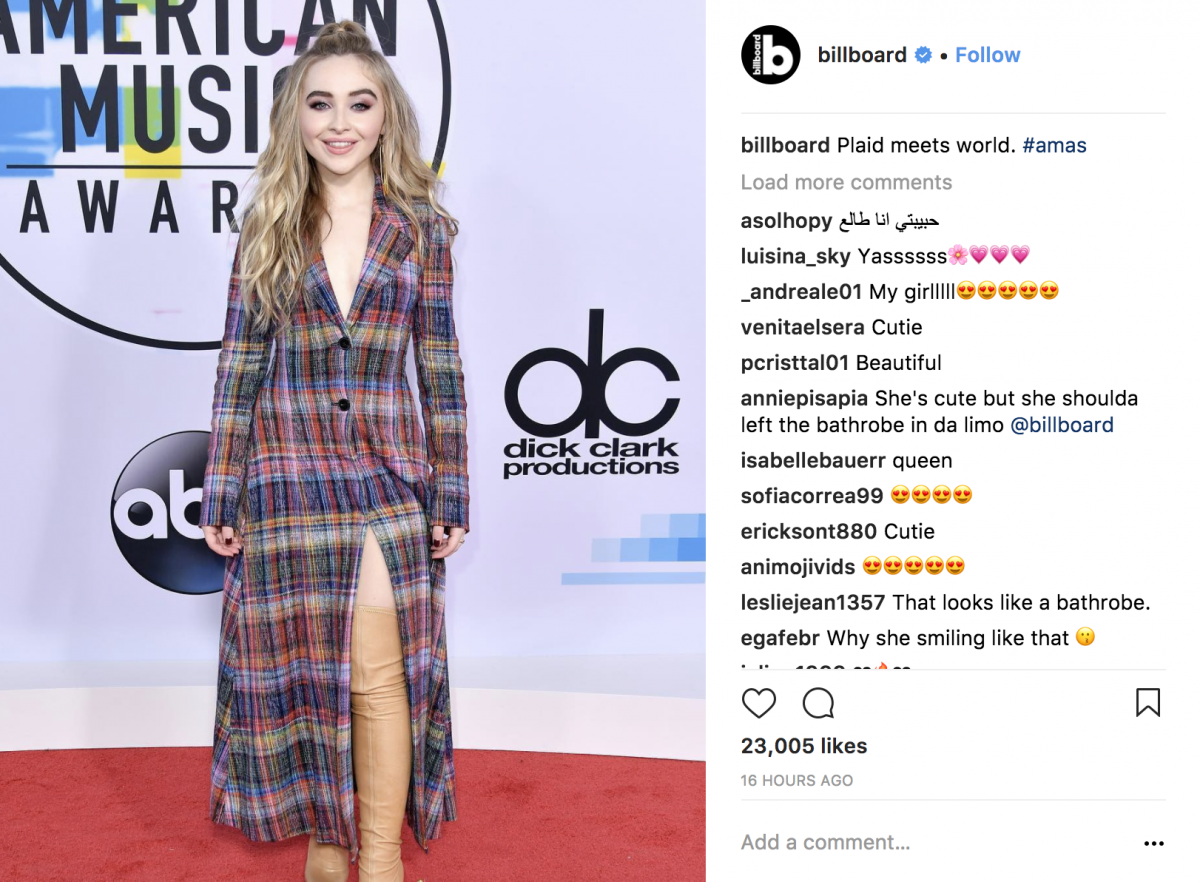 Demi Lovato
I'm putting Demi down for best dressed and worst dressed, because not even the most flawless styling could balance out this dress. She looks like a walking lava lamp. This is potentially one of my least favorite dresses in history.

P!nk
Even P!nk looks pissed to be wearing this dress. It kind of looks like a fancy loofah that came with the Bath and Body Works gift set your dad's new girlfriend bought you for Christmas after your parents' divorce.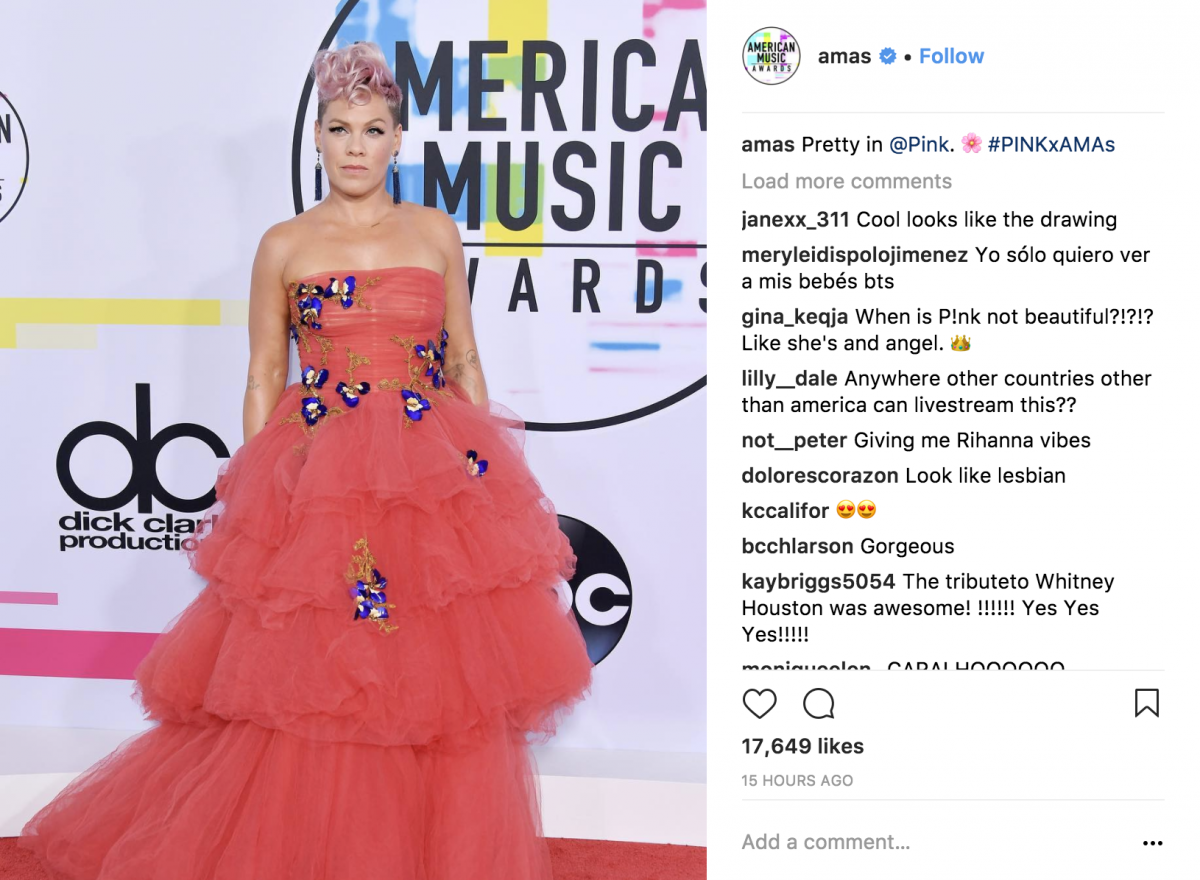 Bebe Rexha
I'm confused as to what is happening here. This dress probably had good intentions (even if it's made out of a fabric I would have worn to a friend's bat mitzvah in 2004), but then it decided to allow Bebe's boobs to try to run away from each other. Also, just looking at the cut of the dress paired with the shoes stresses me out, because I keep picturing Bebe falling over and having to do the worm instead of walk.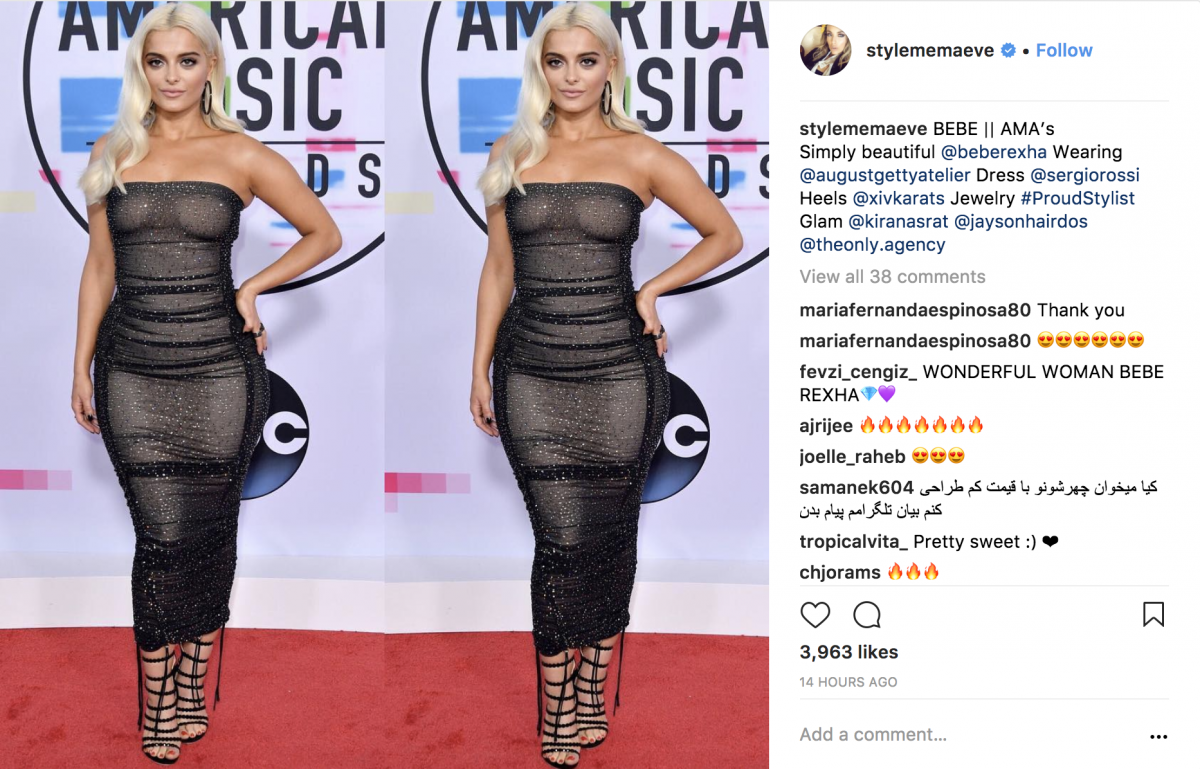 Julia Michaels
I mean, if the end goal here was to channel Lydia Deetz from Beetlejuice, then this look is killer. But like, I'm assuming that wasn't the point. This year, Comme des Garçons has kinda scammed everyone into thinking that it's fashionable to wear heaps of fluffy red fabric, but this look obviously isn't working.

The 8 Millennial Pink Pieces You Need To Buy For Summer
If you pay any attention to fashion (or just to the internet), you've probably heard of a new shade of pink floating around. What is this "millennial pink" you may ask, and how are we still coming up with new shades when there are 67 million Crayola colors? Well, I don't fucking know how to explain it, tbh. Millennial pink is a variety of blush pink shades, apparently—because we live in a country where no one likes to agree on anything. Not even a goddamn color. It's probably the shade of your fave nail polish color or most used Kylie lip kit. You probably know it best as the color of Amy Poehler's Regina George's mom Juicy Couture tracksuit, though.
See:

Now that you went "ohhhh" and understand exactly what I'm talking about, you'd agree that there probably hasn't been anything you haven't seen in this color yet. From modern home décor to your new crossbody bag, this is your go-to color for anything, ever. It goes with the depressing beloved black, white, and gray in your closet since it shows everyone you might be ~*feminine*~, slutty flirty, and cute. Orange is the new black? More like pink is the new black this summer. To contribute to your obsession, here are clothing and accessory pieces you just need to buy in the iconic millennial pink.


Um, what's not to love about this dress? With flowy off-the-shoulder sleeves and a scandalous lace-up front, this perfect summer dress will literally get you so many likes compliments. Your friends will probs be begging to borrow it for your next night on the town or weekly brunch date.

I mean, anyone who is anyone obviously has this shoe in black already. In a gorg rose quartz (like, how boujee does that sound), you'll have shoes for all your summer weddings to comfortably dance all night long in. Even if you go solo (which is 90% of the time), you might find someone who appreciates your shoe game at the very least.

I think the real question for this is, when don't you need a new crossbody? Because if you're like me, you definitely always leave it anywhere your drunk mind sees fit. For your 100th bag, opt for one in this season's hottest color. This bag's sturdy leather won't rip so easily when you try to stuff in your biggest flask. But since this one is too expensive cute, you can't throw up in it during your morning commute from a night of too many vodka sodas.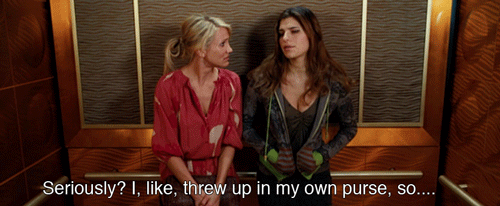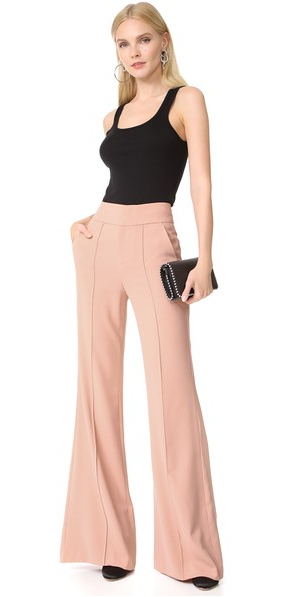 IDK about you, but, my business casual wardrobe is pretty limited in the sense that it's all black. When I hear business casual, I think black = boss lady. Also, who the fuck actually likes working (unless you're Steph Shep aka assistant to the regional manager Kim K)? So, why wouldn't you wear the color that fits your current always mood? Instead, switch things up and get these suited pants for a (fake) cheerful office look. Pair with an ivory blouse or blazer for high-key summer vibes.


I know, like, you have so many pairs of rose gold sunglasses already. These pink mirrored lenses are just must-haves because they have the bitchiest cat-eye frames I've ever seen.

If you haven't jumped on the one piece train yet, better late than never. Especially since summer has already officially begun. Bare it all in this pale pink, risqué one piece that shows off all the right places, leaving little to nothing to the imagination—an essential factor before buying anything, duh.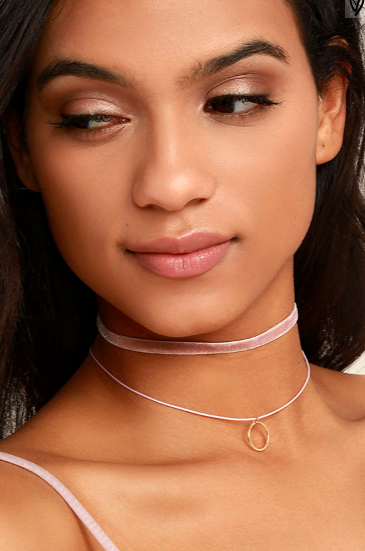 I said no more black velvet chokers for the summer, but I'll allow a pink version. Layer your look with a delicate gold pendant because you're like, such a minimalist.

In addition to your blue denim jacket, buy one in this chic color for an effortlessly casual and sassy touch. Pair with trendy pants or over a bodycon dress when you're trying to fool all the guys into thinking that you are like, totally chill and not at all psychotic. LOL