How To Increase Your Vagina Confidence From The Inside Out
Sponsored by Queen V
I'm sure I'm not alone when I say I've often thought life would be easier without a vagina. I know I'm supposed to embrace it and take pride in my womanhood and blah blah but come TF on. The only times I'm really paying attention down there are when it's busy ruining my favorite underwear with a surprise period or surprise infection, or busy ruining my sex life by suddenly being bone dry. It's not exactly the perfect recipe for a loving relationship with my platinum vagine. (I kid. I'd probably give it like a bronze.)
Luckily, sexy new company Queen V is here to solve all my problems. A group of like-minded women got together and decided they were sick of out-of-touch dudes manufacturing bogus vaginal products (same). Instead, they thought the women of today deserved cute, affordable, and genuinely effective vaginal products. (Groundbreaking, right? Sadly, it really is.) Here are the products you're about to be obsessed with. You and your "Queen V"—as founder Lauren Steinberg refers to it, a term I fully intend to steal—can thank me later.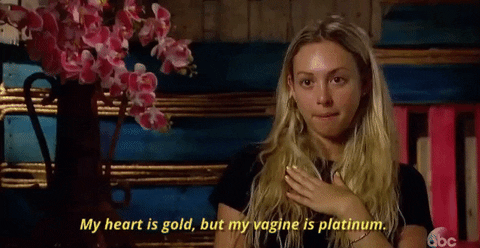 Make It Reign/V Bar
You know how gynecologists are always telling you not to douche up there? How your vagina is "self-cleaning" and body wash will just fuck up the pH? Well, while the pH stuff is spot on, I've never loved the alternative of "just throw a little water on it and hope for the best." Enter Queen V, with not one, but TWO cleansers I am allowed to use for my whole entire body! With V Bar or Make It Reign (moment of credit for the cute-ass names), you can actually clean yourself without worrying about accidentally giving yourself BV. And they say women's lib is a myth. As an added bonus, they're made with yummy ingredients like rosewater, aloe, green tea, mango, and chamomile. So you can still smell like you paid an extra $10 for a marked-up "women's soap"—when you could actually buy both for a total of $9. Score.

DD Probiotic
Honestly, if you're not taking some kind of probiotic right now, it's time to move into 2018. We already discussed how good they are to beat bloat—but did you know they can also help prevent yeast infections? Queen V's Daily Dose Probiotic has all the same digestive health properties, but is specially formulated to keep your yeast/bacteria levels where they should be. It also includes turmeric, which has amazing anti-inflammatory properties in addition to helping skin conditions like acne, eczema, or psoriasis. Basically, this shit will keep you 100 from head to toe. Buy ASAP.

The Eraser
Speaking of yeast infections—is there anything that makes you hate your vag more? Sure, there's the excruciating pain of UTIs. (And should that problem arise, Queen V's UTMI supplement is formulated with cranberry to promote urinary tract health.) But at least most UTIs can be treated with an antibiotic that's meant to work within 24 hours. With yeast, you're basically told to handle it on your own for the coming week, and shove a bunch of chemical goop up there whenever it gets unmanageably itchy. (So like, every second of every day until it's gone. Seriously, I don't know why I even buy cute underwear anymore.) Enter The Eraser: a boric acid suppository for soothing yeast symptoms. It's basically a less-scary and longer-lasting alternative to the creams that promise to remove all feeling from the area and wear off 20 minutes later. (Neither of which is an ideal outcome). With The Eraser, you get relief without the mess, and without the ingredients you can't pronounce.

P.S. I Lube You
Finally, we've arrived at my favorite of the bunch. As my local Rite Aid can attest from watching me crouch for 45 minutes in the "family planning" aisle, lube options often really, really suck. Also, as my local Rite Aid can hopefully NOT attest, lubes can often seriously fuck up your vagina. (Anyone think they'd test the ingredients more if lube went inside men? Yeah, me too.) Anyway, all the more reason to buy lube made BY women, FOR women. P.S. I Lube You (another adorable name, minus the images it conjures up of a sobbing Hilary Swank) is an aloe-based lubricant that does more than make sex better. (Though honestly, that's enough for me.) It actually protects and hydrates you down there—which, given my obsession with moisturizing, was incentive enough for me to double my order. Oh, and it's organic. Gwyneth would so approve.

If nothing in this list spoke to you, you should absolutely check out their full list of products here. Whether you're looking to #maintainyourv, #enjoyyourv (hint: this is the section with lube in it—also a nice bubble bath), or #healyourv, Queen V has you covered. Now that Queen V has pointed out that men really shouldn't be selling you vaginal products (and are in fact getting it wrong a lot of the time), I'm not sure I can ever go back. These products are available at Walmart across the country, affordable AF, and come in way cuter packaging than vaginal products have any right to—without the insulting "pink tax" connotations. It's basically the Glossier of vaginas, and I for one am obsessed.
Images: Giphy (1); Instagram (4)
The Top 5 Things You're Overpaying For, So You Can Save More Money For Alcohol
It's not chic to talk about money if you have money, but it's also very unbetchy to get ripped off. You're so lucky you have us, because we did the research on things you're overpaying for. I know, we're such a good friend. Like, did you know that when you buy tampons you have to pay a luxury tax on top of regular sales tax? As in, using a tampon is like a luxury. Yes, we know we're so blessed to not be pregnant every month, but calling tampons a luxury is a stretch. Not to mention, at like $8 a box for the non-shitty cardboard kind, tampons are already priced as a luxury so what gives? Anyway, here's the top five ways the fuckboys of big businesses are ripping you off. Just because you hate doing work doesn't mean you don't deserve to keep all the money you didn't work (that hard) for, so hang on to your cash and stop overpaying for shit.
5. Razors

Remember when Venus first came out and we were all singing the catchy song from the commercial? Those bright pink and blue razors were so pretty we didn't even notice that we were being charged more for razors than men that literally do the same shit. Literally we are paying for pretty colors. Like the nickname for it is "the pink tax". Female razor costs a few dollars more than men's almost always, and the only difference is the way it's marketed. LITERALLY. Don't let that "soap strip" or whatever the fuck fool you—your sparkly pink razor is not getting you a better shave. In fact, most men's razors work better, because they're designed to get rid of bros' hair and bros just have thicker hair. So even though it might feel like you're showering at a frat house, you should buy a man's razor and stop paying more for a shitty pink one. And honestly, any fuckboy who sees a men's razor in your shower is bound to get jealous thinking you've got another guy in your life, and this will make him try harder. So it's a win for you, your wallet, and your legs. I see no downside here.
4. Handbags

This one kills us too. Saving up for your first Kelly Bag was a rite of passage, like getting your period or dating your first older bro. But the truth is, even with the nicest leather and hand-stitching or whatever, you're still paying way too much for handbags. Just the idea of having dozens of bags because you can't wear the same one everyday is something that bros don't even have to worry about. They literally put their shit in pockets, which we could do if we weren't so skinny that pockets don't work for us. But even though our figures are too tight for storing keys, wallet, phone, we could potentially still own considerably less purses than we do. According to this bro blog, a genuine leather bag on the high end costs $100-$150. Which we laugh at because that wouldn't even buy a clutch at an accessible brand like… ugh, Coach. Anyway, you're paying too much for bags. Like you could own several cars if you stopped buying bags. But you're not going to, obvs, and we totally understand.
3. Dry Cleaners
Your dry cleaner charges more for betches than bros. Like if you bring the exact same shirt to a dry cleaners but one is a female version and one is a male, the female one will cost twice or even three times more. Dry cleaning companies claim that it's because the female shirts don't fit in their machines, but the truth is women will pay the higher price for clothing care and men won't. And everyone is sexist and the world is a terrible place, bye. It goes even deeper than cleaning clothes, though. Men's clothes are priced lower than women's in general. Plus we shop way more than men so we're buying at least twice as much shit on a regular basis. Ugh, we feel used. At least female models make way more than male models, so we get a win there. Maybe try having your boyfriend drop off your dry cleaning and see if they charge you less. IDK.
2. Travel

If you're a betch that procrastinates as most of us do, you probably end up paying more for your airline tickets because you book them closer to when you need them. If you really want to get a good deal on airline tickets, you need to set flight deal alerts on websites that do that, so someone tells you when the flight you want to your destination is lowest. Like, you can get round trip tickets from LA to New York for under $300 but you have to know when to look for them. Some websites say the best time to buy a plane ticket is 57 days out from your trip, which seems a little close but I'll trust it. And forget everything you heard about the best day of the week to buy plane tickets being Tuesday—it's actually Sunday, so you can quit trolling Kayak at work. Or you can just try booking your flight through United—if you're down with being assaulted we bet you could probably get a really good deal right now.

Whole Foods is basically a day club if you think about it. There might not be a doorman letting people in, but if you're not wearing the right clothes (aka like you just came from yoga or SoulCylce), you'll still feel out of place. Bananas at Whole Foods cost an average of 99 cents a pound, while they cost 70-80 cents everywhere else. Essentially, you're paying way too fucking much for everything at Whole Foods. Like, a lot of the shit they have there is the same supplier as other grocery stores in the neighborhood, so you're literally just paying more to be able to tell people you're bougie af with your groceries. If you want fresh fruit and vegetables without spending half your alcohol budget paycheck, go to the farmer's market or literally anywhere else.