Stop Blaming Your Relationship Problems On Astrology
"Why do all you girls put your sign in your dating profile?" I was on a date (yes, success!) and we veered into the category of "other people on the apps." I made fun of all the pictures of dudes with fish, and the number of men seeking "ethically" non-monogamous relationships. My date wanted to know why the women he saw on the apps cared so much about his astrological sign. He thinks it's full B.S., even less meaningful than a Meyers-Briggs or Enneagram delineation. 
Ok, Does Anyone *Really* Date Based On Astrology?
It might seem like nobody is actually dating based on their zodiac sign and it's all for the memes—Teen Vogue ran an article saying astrology doesn't matter—and yet, next down on the Google search, was a piece from the same outlet on who one should date based on astrological signs. Still need more proof to know you're not the only one filtering out Scorpios? Bumble says their star sign filter is their most used qualifier. MTV says one third of the young people (Gen Z) use astrology to determine their compatibility with a date.  
I took to the internet to ask who believes the fault is in our stars when it comes to love. I got a wide range of responses. Maud Waterman, a Los Angeles based filmmaker, instead of bread baking or TikTok content creation, used her free time during the pandemic to study astrology. She says, "I'm definitely a believer! If you had asked about a year and a half ago I would have been a skeptic, but I did an unfathomable amount of studying (yeah, I've got textbooks) over quarantine and I now use astrology in my daily life." I heard from several astrologers who operate in person, on the internet, or even on TV. I heard from an aura photographer (which I guess is a thing), crystal specialists, and psychics. What color is your aura, do you think? I hope mine's purple.
I heard from skeptics who think, like my date, that it's all a bunch of hocus pocus, and people like Michelle Davies—a life coach and editor of The Best Ever Guide to Life—who used to believe in astrology until it started negatively affecting her relationship. She says, "It's because I was looking at our relationship dynamics through the lens of astrology, disregarding that certain things can be worked at through free will and effort." Now she can think of astrology as a suggestion, but not a mandate. 
I won't name names, but some people have been dumped for their obsession with astrology, and there are people who swear by it anyway and would rather die (or stay single) than date an Aries. I interviewed two experts for further information on the psychology behind astrology and how it relates to the psychology of love: Clarissa Silva, Behavioral Scientist/Relationship Coach, who can be called a skeptic; and Maria Shaw, psychic astrologer and reality star, who has done readings on the eighth season of 90 Day Fiancé. 
Ask The Experts
Even if you're the most diehard horoscope checker, Silva says, "Astrological signs are labels, not dating deal breakers." She adds, "Determining actual compatibility is far more complex." I agree that it makes sense that one little piece of the personality puzzle is not enough to seal your fate, even if they are a Scorpio. 
Shaw agrees. She says that, even if a reading shows that two people are not meant to be together, she would never tell someone what to do in their relationship. She also believes that you can't simply look at someone's sun sign to know compatibility. You need to do their full "star chart," which entails using accurate info about the time, place, and day you were born. This gives a full picture of one's past lives, present personality, and future path. 
But What If You're Dating A Skeptic… Or A Sagittarius?
Can you still use astrology to inform your decisions about the relationship if the other person thinks it's woo-woo nonsense? Shaw says, "Use the astrology as a tool for yourself. Don't push your opinions to get them to believe." That said, you can still arm yourself with all the information, should you so choose: "Knowledge is power," she says. If you simply can't go on a second date without the full astrological picture, Shaw advises, "Get their birth information, find out about them, and decide if you want to go forward on this. You want to know where this thing is gonna lead."  She does emphasize getting consent from the person before charting their stars, but says it's okay to use the information to inform yourself on whether or not you want to stay in a relationship—much like any other information you might find out in your routine pre-date social media stalking.
Silva, on the other hand, warns that this kind of judgment "can result in meaningless or erroneous predictions on compatibility." She elaborates, "Astrology provides a layer of the complexity of personality but can't make predictions on compatibility and long term happiness." She says you can use astrology "as an entertainment source or a source of providing hope or direction for those that seek out this as guidance," but that astrology is quite literally fake news: "a pseudoscience because it hasn't passed the rigor of scientific inquiry to qualify as evidence-based." Believers are going to say that something as intuitive as astrology cannot be studied by science, but many skeptics are going to insist on peer-reviewed evidence before committing to a life led by the stars. 
Shaw has patience with the idea of skeptics. She says people who are getting wrong information are either not looking at the full picture or are getting information from a suboptimal source. Some websites copy info from other sources or from looking at only the sun sign instead of the sun, rising, and moon signs, not to mention the planetary alignment at the time of your birth. Still, when I summed this up on my next date with the skeptic, his eyes rolled so hard they got stuck that way and he had to go to the doctor (not fact). 
Does Astrology Matter?
So, here's why people use star charts to guide them in their relationships: either they truly believe in it, or they find it fun. None of us knows what we're doing, so any guidance that gives us the answers we seek is going to be welcome. Just like I really shouldn't be dating Slytherins anymore, someone might take a personality profile of a Taurus and use it as a reason to say, "Thank you, next." Conversely, maybe a Ravenclaw with a Hufflepuff rising like myself can read an Aquarius' profile and swoon, while knowing his sign won't guarantee he isn't a dick whistle. 
As for me, I'm an astrology agnostic. I can't know whether or not my tendency to multitask and chat is due to my being a Gemini or some other mix of nature and nurture. But isn't it fun to dream? As we ended our call, Shaw said that, according to the planets, "We're coming into a romantic period. We're going to see people getting back to being romantic and wooing people. People want to fall in love and be in love." Aw.
A skeptic might say that we're getting into a romantic period because we've been locked in our houses in our sweatpants all winter. But either way, isn't it nice to imagine that, as the plague recedes, there are people out there, maybe a soul mate or, as Shaw put it, "a past life connection," ready to "walk your path?" Whether it is written in the stars or not, as we head into a potentially disease-free summer, full of starry nights and warm breezes, I wish you love, or, at least, some fun with a handsome Pisces. 
Image: Lucas Ottone / Stocksy.com
What Your Favorite 'Baby-Sitters Club' Character Says About You
Over the weekend, whether you were too afraid to rejoin society after lockdown or you were forced back into lockdown because people went HAM and your city saw a resurgence of Covid cases, chances are you might've come across the new Baby-Sitters Club series on Netflix Family. Though the series was originally intended for a children's audience, millennials and xennials on my Twitter and IG feeds have also found themselves binging the show. This wholesome content is exactly the nostalgia we've all been longing for in a difficult year, and if you haven't watched it yet, do yourself a favor and head to Netflix.
So what better way to continue that comforting break from reality than to celebrate the iconic series and its characters by asking yourself the simple question of "What does your favorite Baby-Sitters Club character say about you?" None.
Kristy

Did somebody order a control freak? Kristys (Kristies?) are currently stewing over the fact that their 2020 planner has barely seen any action and spend their days in quarantine crafting the perfect itinerary for working from home. You're not the best with change, but that's mostly because things don't sit well with you if you're not able to run the show and be in complete control. That being said, you are a natural leader and you do your best to lead with love. Your friends are your people and you always show up for them. Like the Mom of the group, you're reliable and when people need something done you're the one they have on speed dial.
Claudia

Claudias are the fiercest, most artistic of the bunch. Never afraid to speak your mind, people naturally flock to your confident attitude and effortless style. You will definitely be voted mostly likely to have a future as an #influencer with a roster of Pinterest-worthy DIYs and sustainable capsule collections. Family means everything to you, though it can be frustrating when your family isn't as open to your free spirit as your friends and fans. You're a considerate friend who always has a purse full of snacks, encourages others to explore their creativity, and your attention to detail in your art and for the people you care about never goes unnoticed.
Stacey

Ahhh boy-crazy Stacey. On the outside, you give off the vibes of a Real Housewife in the making, when deep down you're still just trying to figure yourself out (admittedly, most of the Housewives are too). While you worry a ton about what others may think, you try your best to not let your insecurities get the best of you. In reality, all you're trying to do is find genuine connections in this world, and that goes for friends, romance, and family. You sometimes struggle with living up to your parents' ridiculous expectations, but you know that at the end of the day they've got your back. So keep reminding yourself of that and surrounding yourself with friends and boos who do too.
Mary Anne

Mary Annes are either a future therapist's dream or have a successful future as a therapist. Never one to rock the boat, you're always listening and taking in everyone else's energy. By nature you're a people pleaser, though one should never mistake your kindness for weakness. You're still learning to find your voice and develop independence from who you think you should be for everyone else and who you actually want to be. And while you're still evolving your personality and style, you never discount the value of a solid pair of overalls and you can always be counted on to be there for your friends with an ear to listen and a shoulder to cry on.
Dawn

A spiritual goddess, Dawns are optimistic and always look at the glass as half-full—even when the cards they've been dealt haven't always been the best hand. You might have been forced to grow up quickly and play the role of caregiver or authority in your family. And instead of feeling sorry for yourself, you lean into those skills and excel with purpose. Whether it's educating yourself and taking your efforts beyond performative allyship or leading a guided meditation to calm everyone's nerves, you are not only happy to be a part of the group but truly want everyone to see just how wonderful and badass they can be in their own right too.
Karen

An honorable mention for Kristy's soon-to-be step-sister Karen because let's face it, it's been a tough year for Karens. Whether we admit it or not, every single friend group has a Karen. Karens can be dramatic and have a tendency to overreact when really all they are is starved for attention. They genuinely believe they mean well, though it often comes out in problematic and extreme ways, like idk, running away at camp or fearmongering over conspiracy theories. And while Karens still admittedly have room to grow and mature, one thing is for sure—if they like you they'll defend you to the extreme and you'll always get that impossible restaurant reservation even if you're just walking in.
Images: Jesse Austin (5), Kailey Schwerman/Netflix; Giphy 
What Your Favorite Wine Says About You
If there's anything betches love more than wine, science has yet to invent or discover it. Not that I've ever been known to refuse alcohol of any kind, but vino will always hold a special place in my heart/liver. If I were to have a superpower I'm pretty sure it would be the ability to sense a bottle of Chardonnay being opened from miles away. Not only is wine fucking delicious, but it has a higher alcohol content than beer and lets you get drunk while kinda-sorta maintaining an air of sophistication. You might be passed out on the couch, but as long as you're unconsciously clutching a wine glass, you're passed out in, like, a classy way.
Basically, it's a law of the universe that at any given moment, some betch somewhere is downing some variety of wine—you're probably doing it right now. You can tell a lot about a person based on how they consume their alcohol, so here's what your fave wine says about you.
Bubbly
If your favorite wine is a sparkling one, you probably don't really like wine all that much and would rather be drinking a vodka soda (wouldn't we all?). Irregardless, you're a laid back person who doesn't care that much about semantics and refers to all sparkling wines as Champagne—or at least, you better be for the purpose of this list, or else you're just fucking obnoxious. Someone who only drinks wine with carbonation is the type who pretends they're classy even when their life is an obvious train wreck—like when you throw up in the back of your Uber but it's totally fine because you only got it on you and not any of the passengers or the driver's back seat. You may post "poppin' bottles" Insta stories, but we all know you were popping André. "Sophisticated with a hint of slutty" is your favorite Leslie Knope quote, as well as how most people would describe you.

Riesling
Summer is your favorite season, and you're either a novice drinker or have the kind of sweet tooth that's led to way too many drunken Oreo binges. Either way, you have yet to figure out your limits, so you're always the one to get way too drunk too fast and get carried out of the bar by your friends who can actually handle their alcohol. But whatever— you're the life of the party before then, so people don't hate you all that much for now. Just don't expect the goodwill to last forever.

You always talk about getting out and seeing the world, but you never actually do because you're a bit of a homebody. Maybe when you graduate you'll get around to it.
Pinot Grigio
You don't like to make waves, and while you're not shy, you can usually be found getting drunk with your BFF in the corner at parties. You love fitness almost as much as you love wine and judging people, which is partly why you've stuck with pinot g. for so long—it's a totally acceptable day drink, so you can sleep before your half-marathon in the AM. (Ugh.) Honestly, you can be a little insufferable, but your six-pack is super impressive.

Chardonnay
Subtlety isn't a Chardonnay drinker's strong point. You know what you like, and you stick to it. Among your friends, you're known for having a dry sense of humor. Sometimes, people say it's a little too dry, but whatever, you're confident enough to know anyone who can't take teasing isn't worth your time. Besides, you'd think people would want to know when they're having a bad hair day. You work in, like, finance or something, and you fully expect to own a house in the Hamptons one day.

Rosé
If your favorite wine is pink, you walk the line between nicegirl and betch with care. Every Saturday night, you can be found making regrettable decisions in a series of shitty bars, and every Sunday morning, you're arranging brunch, rain or shine, because you believe day drinking is the best cure for a hangover. (Duh.) You watch The Bachelor religiously and pretend not to be as invested as you are. You like to think you're unpredictable, but really, you just hate making decisions—even between red and white wine. Good thing we're entering rosé season, when it's socially acceptable to be tipsy at all times. Just try not to let the cumulative hangover kill you in September.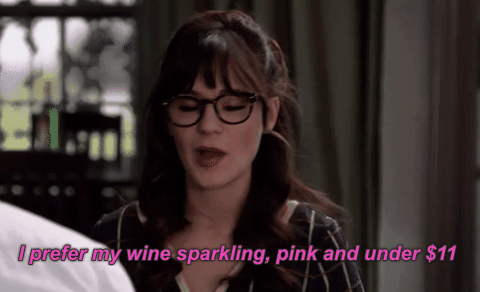 Pinot Noir
You started drinking red wine because whether you like to admit it or not, you judge the shit out of white wine drinkers. The only problem is you can't bring yourself to buy the dry, bitter stuff, so when you discovered you like pinot noir, you stuck to it. You're a secret romantic with an account on every dating app, and you're always complaining about the dating scene in whatever city you live in. A word of advice: Stop doing that.
You like to tell people you're low-key, but you're less responsible than you let on. (TG, because responsibility is boring.) After you've drunk an entire bottle of the pinot you brought to the pregame, you're the one doing shots and rallying the troops. Then you decide you're never drinking again and spend the next weekend going on disappointing Tinder dates and watching Netflix until you stop feeling sorry for yourself.

Tempranillo
You're one of those people others describe as headstrong. You kept a bottle of hot sauce in your bag before Beyoncé made it cool, and you're down to try pretty much whatever. Admit it: You've thought "YOLO" unironically before doing something stupid like drinking the vodka some dude offered you in a parking lot.
You list "world traveler" on your Instagram bio, and you love meeting new people you can force to listen to your many stories. People tend to like you at first, but you've also been told to STFU about your exotic vacation because it's all you talk about. You'll settle down when you feel like it and not a moment before.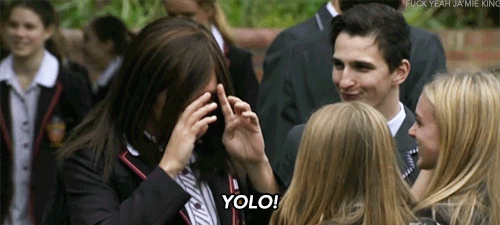 Cabernet Sauvignon
You come from money—you've been knocking back wine since your mom started turning a blind eye at fancy family parties, so a cab's dry bitterness doesn't bother you. You like to take charge and go for what you want; if life were a reality show, you'd be the one who isn't there to make friends. (You also tend to speak in clichés.) TBH you're pretty judgmental, but you're not terrible to be around once you decide to like someone. Even when blackout, you're more likely to carry a Riesling drinker out of the bar than be carried out yourself. After all, you have appearances to maintain.

Is it too meta to propose a toast to wine using a glass of wine? Whatever, I'll drink to it anyway.