7 Questions To Stop Asking Newly Engaged Couples
'Tis the season to get engaged, amiright? Just about two weeks ago, my fiancé (still feels weird typing that) proposed to me and I've been over the moon ever since. I've had more people reach out to me in this short time period than I have in my entire life combined, and while most of the interactions are super fun and positive, there are some repeated questions popping up that are simply getting on my nerves. While most of these questions are asked innocently, they've gotten old quickly, so here's the 101 on questions to *please* stop asking newly engaged couples.
1. When And Where Is The Wedding?

Don't get me wrong, I am excited about the wedding too. I've been dreaming about this sh*t since I was a little girl. That being said, it's almost mind-boggling how many people have asked me WHEN the wedding is. Ma'am, I got engaged one week ago. If you think in seven days' time I toured multiple venues, picked the venue and booked it, you're buggin. What's even more fun is when I say "I'm not sure yet" and it's followed up with a, "well you should really get on that because weddings are likeeee booking into 2022". Thank you, I know. Your added stress is not necessary, especially when you're just stating the painfully obvious. Sorry if this sounds cold, but on behalf of all the newly engaged people out there, it had to be said.
2. Are You Stressed About COVID-19 Impacting Your Wedding?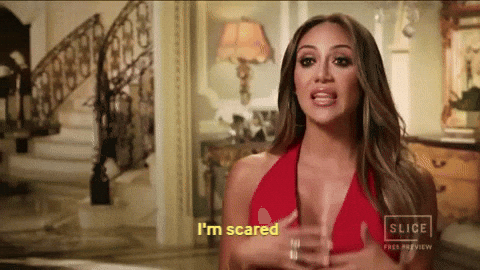 Short answer, DUH. Given the uncertainty of the virus, I'm absolutely nervous about COVID-19 impacting my wedding. That being said, I find this question oddly irritating. As someone who had the virus myself, there are so many more important things to worry about being impacted by COVID-19 than a giant party. I'm nervous for my family, my friends, my loved ones, our world as a whole. While I'm less worried about the virus impacting my wedding day and more overwhelmed that it will result in me getting married two to three years from now, it feels like a slightly obnoxious inquiry. If COVID-19 doesn't make you stressed, you scare me.
3. Who Is in Your Bridal Party?


There are two parts to this question. It typically starts with, "So, who's going to be your Maid of Honor???" followed by, "Actually, who is in your bridal party in general?" When my family asks me this question, I'm cool with it. They've watched me grow up, they know my friends well, and they are genuinely curious. The problem is when *others* ask. If I haven't asked my bridesmaids yet, why would I tell YOU who they're going to be? Half the people asking are subtly hoping to be in the bridal party and the other half are asking just to be nosy and get the scoop. This question makes me super uncomfortable because I'd never want someone to feel left out, but at the end of the day, it's my business and my business only.
4. Are You Going on a Diet? Are You Getting a Personal Trainer?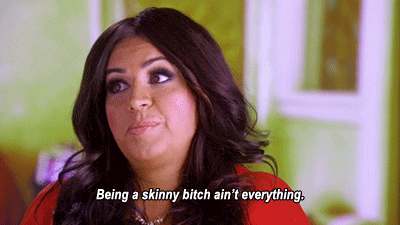 This is perhaps my LEAST favorite question of all because it's just genuinely rude. I've been a bit taken aback by the amount of people who have asked me this, because I just can't wrap my head around thinking it's appropriate. To be honest, I don't know the answer. If I decide that I want to tone my arms for my dream dress, maybe I will. If I decide I want to change the way I eat for health and wellness purposes, maybe I will. That being said, it will most certainly not be influenced by anyone else trying to pressure me to do so. This question is tacky and unnecessary and I know my fellow fiancé(e)s out there will agree.
5. So Like, How Much Was Your Ring?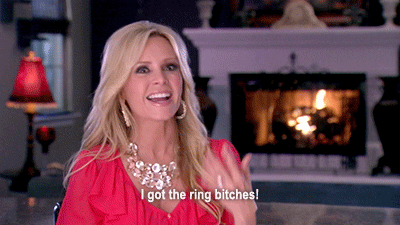 On the theme of tacky… this question is just beyond me. There is a zero percent chance someone has good intent when asking this question. You're either asking because you think it looks expensive and you want the tea, or because you think it looks cheap and… you want the tea. If you hit me with the "DiD hE sPeNd ThReE mOnThS sAlArY" please go away. I'm in love with my ring and that is the only thing that matters to me. That being said, if you've complimented my ring without asking about the cost, I appreciate you. I'd be lying if I said I wasn't basking in glory from any/all positive feedback so… KEEP IT COMING!!!!! (Put that under the category under things you should say to a newly engaged person. Accolades are always allowed.)
6. Am I Invited?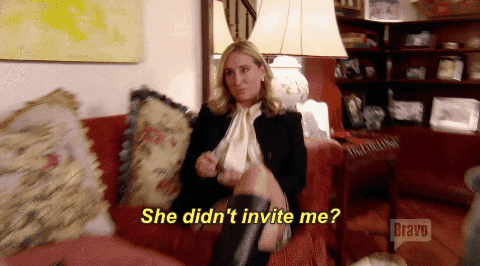 If you have to ask, it's probably a no. Weddings are expensive. Like… really expensive. Would you treat me to a $200 dinner? No? Then I probably won't do the same for you. Half kidding, but I personally am not trying to recreate My Big Fat Greek Wedding, so chances are my list will be narrowed down to the real ones. This question falls under the category of super uncomfortable because I hate leaving anyone out and, despite my evil sarcastic tone throughout this article, I actually love to make people feel warm and welcome, so by default I'll feel guilty about those who don't make the cut. Long story long, please don't ask me this question, because it WILL keep me up at night.
7. Can I Give You Some Advice?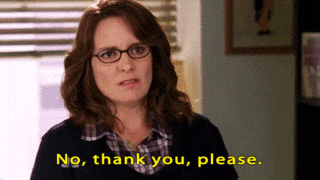 This question is super circumstantial, because some people offer fantastic advice and it's extremely appreciated. Advice about how to conquer visiting multiple venues and what to look out for? Yes please. Advice about how to budget and what is and isn't worth splurging on? I'm all ears. The problem is, people typically offer advice that is opinion-based rather than fact-based, and that's where it gets hairy. I don't want your advice on things personal to me, because it's my wedding. When it's your special day, you call the shots. When it's mine, let me enjoy. (LMK if this is giving bridezilla vibes so I can stop before I start.)
Bonus: Questions I Enjoy

In order to redeem myself for all the spiciness above, I want to include some questions that I enjoy getting. Those exist too, I swear. I'm happy to answer questions about the engagement because quite honestly, I still get butterflies. How did he ask? Easy, I have a response saved in my notes that I can send along to anyone and everyone who wants to know. Were you surprised? Excited? Nervous? Yes, all of the above. What kind of style is your ring? More than happy to answer this (mine is emerald) and I'm also happy to answer personal questions about the ring if they are productive and helpful for my fellow future brides (or friends looking to get engaged soon). What is your dream dress? Oh, I'm glad you asked… let me show you my Pinterest board. You get the point.
If you take away one thing from this piece, it's to be respectful of others privacy and to know what questions are appropriate vs. uncomfortable. Pre-engagement I likely asked half of the above questions myself, so we're all learning here. The more you know!
Images: Scott Broome / Unsplash; Giphy (9)
4 Ways To Get Over A Weight Loss Plateau
A weight loss plateau is beyond frustrating, and the worst part is it's not even really about what you're doing right or wrong. A plateau is the result of our bodies' evolution and a survival mechanism that has helped our species thrive. (Caroline Dooner talks a lot about how our bodies' survival mechanisms are meant to thwart weight loss efforts in her F*ck Your Diet series.) A weight loss plateau is the outcome of our bodies needing less energy to function, and our metabolism slowing, when we lose weight. Our biology isn't that happy with our weight loss. It triggers a signal that we're about to go through some trying times. It thinks we're about to run out of food. So when we lose weight, our bodies start to tell us to hang onto the nutrients in the things we eat, and slows down our metabolism.
Here's the science behind a weight loss plateau (get ready for some math):
Metabolism (Total Daily Energy Expenditure) = Basal Metabolic Rate (the bare minimum number of calories you need to survive at complete rest) + Exercise (calories burned during exercise)  + Non-Exercise Expenditure (calories burned through other activities other than exercise) + Thermal Effect Of Food (energy used to digest the food we eat)
So, generally speaking, if your intake is greater than your metabolism, it will lead to weight gain, and if your intake is less than your metabolism, it will lead to weight loss.

Simple enough, right? We've heard of different variations of this same equation before (we've all heard "calories in vs. calories out" at one point or another), but our bodies are so clever that once we lose weight, the calories used at rest will also decrease. Therefore, if every other aspect of your energy expenditure stays the same (exercise, non-exercise expenditure, and thermal effect) then your overall metabolism will be lower. So what gives? Am I telling you that now you have to spend another 30 extra minutes in the gym to compensate? No, not unless you feel like it. Here are four other ways to get over a weight loss plateau.
Sneak In More Non-Exercise Physical Activity
A lot of people have the mindset that you need to be in a gym to get in physical activity, which kind of limits their ability to see the opportunities we have to be active in daily life. Take the stairs instead of the escalator or the elevator when you can, walk or bike instead of driving, and stand instead of sitting. Go for a walk with your dog, or go for a hike with a friend instead of going to get drinks (or hike to get the drinks). You can even just stretch while watching TV. Little things add up. A study was published that claims fidgeting and working to maintain correct posture burns up to 800 more calories than sitting still. So just get moving in some way.
Don't Work Out Longer, Work Out Smarter
You can still limit your workouts to an hour and increase the efficiency if you maximize your time. Working smarter in the gym means less rest, more resistance, and more sets/reps. Just make sure you're not doing the same workout at the same intensity as the day you started months ago, because your body needs you to step your game up. Another way I like to add intensity to my workouts is to add more combined movements, so instead of just doing squats, I'll add in a shoulder press at the standing part of the movement. More muscles worked means more calories burned in the same amount of time.
Don't Neglect The Weights
By now, you should know that weights don't make you bulky. If you have more muscle cells, you'll be burning more energy at rest than if you had more fat cells in your body. This will help you to maintain that same metabolic rate pre-weight loss.
If you've found your weight loss plateaued and your exercise routine consists of mostly cardio, it's time to incorporate weights in a more significant way. Cardio is fantastic, and those who are starting on their fitness journey can find great results with it. However, because cardio does very little in terms of muscle building, cardio-focused individuals will hit a plateau early on because they lose the weight and then their metabolism slows. My recommendation is to cut the cardio portion of your workout routine in half and use the other half of the time to complete a few resistance training circuits. So if you're used to doing an hour of cardio, do 30 minutes and use the other 30 to do three to four sets of five to six resistance training moves.
Choose Protein
So, here's a wild concept: your body actually burns calories when digesting. The dietary-induced thermal effect—sorry, more science—is the energy needed after we eat a certain food to digest and absorb the nutrients in our body. So if you're trying to get over a weight loss plateau, it might be time to eat a little smarter. And by that I mean, eat more foods that take more energy to burn. This is called the food's thermogenic rate. Fat, for example, uses 0 to 100 calories to digest for every 100 calories consumed (or, it has a thermogenic rate of 11-18% for non-obese individuals). Protein, on the other hand, has the greatest thermal effect of about 20-30%. This means your body uses the most energy to digest protein which means more calories burned! According to the same study, protein also helps you stay full the longest. By making protein the spotlight of your meals, you can increase your metabolism rate.
A weight loss plateau is something that is probably going to happen to you at some point. The good news is that we can mitigate the effects of it by controlling other aspects of our energy expenditure. A plateau could also mean that it's time to take a step back and appreciate your journey so far, because you didn't get to this plateau without having first put in the work! It is also a sign that you're ready to step your workouts to the next level if you've been stuck in a pattern or routine for a while. So while plateaus can feel discouraging, it's a sign that you're physically ready to advance to the next level. Your body is ready to take the stairs instead of elevators, to do faster sprints and that extra set of bicep curls. Instead of being down, pat yourself on the back and go do those sprints!
5 Tips To Make Working Out In The Morning Easier
Morning workouts are rougher mentally than anything. Half the struggle is about getting yourself out of the bed and into the gym. Once you've done that, the rest is easy. Well, easier. There's no way of making this process enjoyable—I myself have been there done that and hit the snooze button one too many times. Unfortunately, if you're looking to make yourself into a morning gym rat, you kinda just have to suck it up and do it. That being said, there are some tricks to make that a little easier if you don't naturally wake up with the energy to run three miles. Here are some tips to make it easier to get out of bed and hit the gym.
Let The Lights In
Sleep with the curtains open, and this way you'll let in natural light either to gently wake you up or the sunlight will greet you when you get back from your workout. Either way, blackout curtains are not our friends right now. Save those for a weekend when you're recovering from a nasty hangover and want to stay in all day.
Set An Enjoyable Alarm
Nothing raises my blood pressure more than iPhone default alarms. They sound like sirens. Even the other day, I came across someone who has set that sound AS THEIR RINGTONE. A serial killer, I'm sure. Once I heard it, my heart started racing. I have mild PTSD, I think. So, will that infernal sound get you up? Yes, because it will JOLT you out of bed, but that doesn't set a good tone for the wake-up. Set an alarm that is a little more gentle on the ears, so you can wake up peacefully and in a good mood.
Set Your Gym Clothes Out Ahead Of Time
The less you have to think about at 6am, or whenever you get up, the better. So set out your clothes ahead of time, and this way you can just get up and go. It also helps if you have cute workout clothes to look forward to putting on, if any of you need another reason to go shopping. If you take pre-workout, get that ready too so you're not fumbling around in the kitchen while your roommates are still asleep.
Plan Your Workout Routine The Night Before
When I first wake up, I don't have the brain power yet to plan an effective workout routine, so I end up improvising. Efficient program planning requires time and strategy, and it's something I don't really want to mess with in the morning. If you're not working with a trainer, plan your routine the night before. You're already waking up at 6am for this sh*t, so let's at least make it effective.
Warm Up
When you first wake up, your body is cool from little movement and lowered body temperature while you're in sleep mode. Warm up for 5 to 10 minutes to avoid injuries and also help your mind and body transition into a workout mindset.

I am not a morning person. I've learned to accept that about myself, so waking up early to work out is not my favorite thing to do in the world. It will always be a pain in my ass to roll out of bed. It's sad, but the harsh truth is sometimes you just have to deal with it, the same way you deal with that asshole boss every day or put up with your mother-in-law every Thanksgiving. It gets easier the more you do it, so just know that you're really developing a healthy habit, and honestly, you're going to feel so much better for it. That extra hour of half-sleep (let's face it, you're not getting quality sleep after the alarm goes off) won't do as much for you as a workout will. And if you really can't get up no matter how hard you try, as long as you're getting in a workout at some point during the day, I can't be mad at it.
Images: Kendal James / Unsplash; girlsonclasspass, Betches / Instagram; Giphy
Is It Better To Work Out In The Morning Or At Night?
So much of fitness is divided into teams. We have Team Yoga vs. Team Bootcamp, Team Gyms vs. Team Outdoor, Team Workout Solo vs. Team Workout Class. Now, we have Team Early Risers vs. Team Night Owls. Some people will work out early in the morning, while others find they put their best effort in later in the day or even late at night. Today, I'm going to break down the pros and cons of working out in the morning and at night that I have found in science and from personal experience. As always, I'll let you decide what is best for your routine.
Team Early Riser
There was a time where I would wake up at 4:45am for a 5am workout. That was because I would have to leave the house by 7am to drop my dog off at daycare then head to an 8:30am class at school, go train morning clients, come back to school for a 3pm class, go train afternoon clients, then come back to school again for lab at 7pm. I would then pick up my dog at 9:30pm from daycare, then get home around 10:30pm. This schedule, or different but equally long variants of it, comprised my entire work week. Talk about a schedule from HELL. The only reason I did 5am workouts was because I had no other choice. I applaud people who do this voluntarily, truly. And it seems like they might be onto something.
Studies have shown that those who exercise early in the morning make better food choices throughout the day by lowering neural response to food, and another study shows that exercise during a fasted state results in improved muscular adaptations. I will say, though, that if you're not used to working out while in a fasted state, you will not feel as strong as you normally do when you're adjusting to this new routine. Be careful of feeling dizzy or nauseous, and take it a little lighter for the first few early morning sessions. You might feel extra tired, even though you're doing less work.
For me, the first couple of weeks, waking up seemed impossible, but over time, I adjusted. It felt great to get it out of the way and not have to worry about cramming it in somehow. As a trainer, I also worked better when I knew I had already done my work. From personal experience, my most committed and consistent clients were the ones who exercised earlier in the day as opposed to my afternoon or evening clients. They were the rockstars. When you think about it, it makes sense—you're working out before anyone has a chance to throw your day off track, so whatever happens, at least you got that workout in.
Morning workouts get points for easing up the rest of your day's schedule and setting the right tone for the rest of your day. It may also help you get to your fitness goals faster by better utilizing fat stores in a fasted state, although there are contradicting studies, so the jury is still out on this.
Team Night Owl
I work out best, weight-lifting wise, in the afternoon or evening. Let me have some food in me, let me get some other work done for a bit, run some errands—or, in L.A., just be in the car long enough to build up some angst and anger—and I unwind at the gym.
Studies have shown that you're naturally stronger and mentally more prepared for exercise later in the day, which could really help you in lifting heavier and longer or sprinting faster. Your body is actually more capable of increased endurance training during this time as well, so these benefits aren't only limited to resistance training. I find this to be true in practice—I am able to really work during these afternoon workouts because my body is already up and ready to go. There's no getting eye boogers out, no hitting the snooze button. Because of this, I am usually more sore after an evening all-out effort workout than morning sessions where I'm still tired, lifting too heavy makes me dizzy, and I'm wishing I was back in bed.
While I am an afternoon/evening exerciser nowadays (those 5am days are long gone—the earliest I'll do is 7am when I first wake up), I will say the temptation to skip a workout in the afternoon or evening is greater. The day goes on and maybe things come up that leave you too drained to even imagine setting foot in a gym, or Netflix just ends up sounding like a wayyy better idea.
Evening workouts are great if you're really looking for an extra oomph to put into your workouts. Your body (and let's face it, mind and mood) are more prepared to really put the pedal to the medal a little later on in the day. It can also help you ease off a particularly stressful day at work.
Bottom Line
View this post on Instagram
Here's the thing: the end of a workout feels like a relief no matter what time you're done with it. Do what works for your schedule and choose whatever time makes exercise less of a chore for you. The end goal here is that you can stick to doing this for a long time. So whether that's crossing exercise off the to-do list first thing in the morning, or giving yourself some time to ease yourself into the mindset, everyone has their preference. I will say if you're more likely to dip on a workout, then just get it out of the way in the morning, but if you're really looking to put in that work or let off some steam, then wait until your body is already fueled and warmed up from the day. Sometimes, you gotta just get it in where you can fit it in, honey, so you might be all over the board, and if that's the case, give yourself a round of applause for not letting anything get in the way of you and your workout. All that matters is creating a routine that works for you, whether that's morning, evening, or a mix of both.
Please note: If you're training for something particular, such as a marathon, you should train the same time as that event. You want to keep your body's routine the same and amplify that routine (optimize the body's circadian rhythm), so don't mix it up with training in the evening if your marathon is set to start at 8am. You want your body to be used to and basically, totally trained, at running at 8am.
I would love to hear what time of day you prefer to exercise and why. Sound off below!
Images: Unsplash; @dietstartstomorrow (3)/ Instagram
What To Eat Before & After Your Workout To Maximize Benefits
Fueling your body before and after a workout is a key component in maximizing the effects of said workout. After all, who wants to work hard and see subpar results? Nobody. That's like, the whole opposite of the entire point. You already bought your cute workout clothes and dragged your ass to the gym, and (hopefully) actually like, tried to put in ~werk~ and didn't just half-ass it. But what you do at the gym isn't the only thing that factors into your weight loss or other fitness goals—what you eat before and after your workout can kind of make or break your efforts as well. What should you eat before your workout? Should you eat at all? And after your workout, what should you eat so your muscles can recover, but you don't undo all the progress you just made? These are the types of questions I get from my clients a lot. I'm going to help you break down what to eat before and after your workout so you can get the most benefits and not completely sabotage your efforts.
Pre-Workout Nutrition
Okay, so I generally fall into two camps here for pre-workout nutrition. If it is early in the morning, like a 5am-6am workout, I understand not eating pre-workout. What's more, if the workout consists of a morning jog or mainly endurance cardio (the treadmill, elliptical, Stair Master, etc.) it is totally fine to not eat before.
HOWEVER. If you're about to go lift weights or do HIIT training, a completely empty stomach could potentially make you dizzy and interfere with your ability to do as much as you want to in the gym (and also be dangerous). The reason for this is when you're running on completely empty, the body has already depleted its glycogen store (which is used for quick energy—it's a reason athletes carb-load prior to a game). This is where I am an advocate of waking up earlier (yeah, I know, I know) so you can actually try to eat something before.
Now, if you're an afternoon/evening gym rat, then I'm sincerely hoping you're not working out still fasted from the night before. A mix of protein and carbohydrates will give you the proper nutrition you need to work out. Stay away from anything with a lot of fat content, because fat takes longer to digest than carbohydrates and protein, so it'll kinda just sit there for a while and cause cramps while you work out. A good example of a pre-workout snack is a bowl of berries, a piece of toast, and two eggs. That's a pretty optimal meal anyway, but it's not too big to mess with you during the workout if you have to go right to the gym after eating.
What I find works best for me is having a proper meal about two hours before I workout. I'm a PM-er, so I workout later in the day after lunch. My lunch could be anything from lentil pasta arrabbiata and chicken breast to ground turkey salad. I give myself time to digest after, then I find I'm able to really go hard in the gym.
Also, it's pretty common sense, but fuel more for a more strenuous workout. So you're definitely going to want to eat more before a leg workout (larger muscle groups = more sweaty, more tiring—I have an article coming on this later) than for an arms/abs workout (smaller muscle groups).
Post-Workout Nutrition
The reason post-workout nutrition, to me, is more important than pre-workout nutrition is because the body requires replenishment after being depleted of energy. Now, amino acids (or protein) play a super key role here because you want the proteins to help your muscle fibers heal and kickstart your recovery process.
You don't really NEED to rush to get in your protein and carbs within 30 minutes after your workout, like many fitness gurus will tell you (this is what they call the "anabolic window"). You're definitely going to want to eat after, but honestly…I live in LA, that drive home from the gym could already take up the whole 30 minutes, honey. Trust me when I say those 30 minutes are not the end-all and be-all. You just want to make sure you're getting enough protein throughout the day; rushing to get it in right after a work out won't make much of a difference.
The best kind of post-workout nutrition should really be a full meal if you have the time for it. Anything with a complete protein source (chicken breast, fish, etc.) and complex carbohydrates (brown rice, pasta, beans are all good options) will help your body recover from the workout. If you're kind of in a time crunch, then a protein shake will do. Depending on how filling your shake is, you might need proper fuel as well.
Images: @dietstartstomorrow (2)/Instagram
The Top 5 Mistakes People Make When Trying To Get In Shape For Summer
I know summer is approaching. Some of you might be a little concerned that you're not looking in the best shape this pool party season, and that is totally understandable. As far as we've come in terms of body positivity and acceptance, many of us still feel insecure about the way we look.  A lot of concerns I hear from new clients this season deals with time constraints. They have a high school reunion coming up, they have a huge event like a wedding coming up, they have to sh*t on their ex at this July 4th party…all of that. I understand the time crunch factor can push people to do illogical things, and I'm here to talk you out of making some crucial mistakes when you're trying to get your summer body right.
1. Buying Detox Tea
Quick fixes are not your friend, as tempting as their Facetuned promotion pictures may be. You're going to end up messing with your gut health and digestive system in the long run by resorting to these methods, and that is SO not worth it. Instead, I suggest making sure you're getting in enough water throughout the day. I would LOVE if you could work your way up to a gallon a day, but slowly increase your water intake day by day or you'll risk diluting the sodium in your blood. By increasing your water intake, you're naturally suppressing your appetite (thirst often manifests itself as hunger) and providing your body with the resource it needs to naturally "detox" your body.
2. Working Out Too Hard
If you are not already consistently in the gym, do not start going every damn day and working yourself to the bone. Not only does that not translate to quicker results, but you're also risking injuring yourself. I would rather you be able to work out efficiently for three days a week for next four months (ideally for years to come, but one step at a time) than work out six days a week for the next two weeks then you're out of commission because you hurt yourself. For workout ideas, check out this circuit you can do right at home or my Instagram's Fit Friday posts.
3. Going On A Fast Or Extreme Diet
Instead of using this time to further reinforce yourself in a cycle of restrictive fad diets that don't work, why don't we try something new? Let's try something a little more achievable so that this will be the last time you have to feel this kind of pressure during the summer. Start making little changes every week, whether that's swapping soda for unsweetened tea or water, or replacing the buns on your burgers with lettuce, and see how these little changes positively contribute to your physical and mental health.
4. Consuming Artificial Sh*t
View this post on Instagram
So let's say you've already got the workout and diet part on lock and want to give it a little nudge because we're prepping for some parties. Starting right now (unless you're a week away from your event date), start to increase your intake of fiber and prebiotics. The reason I have you starting now is that sometimes the side effect of increasing fiber intake is bloating, which can last up to a week. But after the bloating, the fiber helps your stomach stay on flat-flat. So double that intake of vegetables and keep it that way all through the summer. Trust me. A week out from the event, I suggest decreasing your sodium intake and limiting sugar in your diet to fruits only. And don't try to cheat with Splenda or Sweet-n-Low. Stop putting fake, artificial sh*t in your body.
5. Expecting Dramatic Results
View this post on Instagram
At the four-week mark, if you've been working out consistently and eating cleaner, you could expect slight weight loss and increased overall tone. You'll definitely fit in your clothes better, and I'm hoping, you'll gain a whole lot of confidence. If you're hoping for a Princess Diaries-style transformation in four weeks, it's probably not going to safely happen. Here's the deal: if you're unhappy with your body, chances are it didn't take four weeks to get you to that point, so don't expect four weeks of good behavior to completely transform you. A lot of people you see with bangin' bodies have put years of work and consistency into their diet and fitness routines, so stop comparing yourself to someone who's already completed three laps when you just got in the race. That's unfair to yourself. You're you and that's enough. You're trying to be a better version of you, and I commend you for that. Let's look long-term, and schedule your transformation for next summer, instead of aiming for a one-month transformation, because desperation never leads to anything good.
Images: @overheardla(3) @dietstartstomorrow(2)/Instagram; Charlotte Karlsen / Unsplash
Do This 5-Minute Workout To Tone Your Arms Without Any Equipment
Summer is on the way, and if you've spent the past few months avoiding the gym or any kind of strenuous work (I feel this), then you might be not feeling in the right kind of shape to stunt on your ex this pool party season. But it's not too late to get fit (for summer, or in general). A lot of my clients come in wanting to work on their arms, so I'm here to show you an absolute KILLER arm workout circuit you can do right at home, with NO equipment necessary. Not even weights. Trust me, you won't need 'em. And, even better? All you need is FIVE minutes. If you're an overachiever, maybe like 15 minutes if you want to do this set a few times through. Set a timer on your phone, and just get to it. Like, you literally can't ask for an easier workout, so there are really no excuses.
Disclaimer: I've created this workout for use on myself and my clients under my supervision. Do not do these moves if you feel excessive strain or pain anywhere in your body.
Bend And Stretch (1 Minute)

Stand with your feet shoulder-width apart, arms out by your side, slightly bent at the elbows, with palms facing the ceiling.
Flip your arms so your palms now face the floor. Focus on LENGTHENING through your lats, shoulders, biceps, and triceps.
Return to starting position.
Shoulder Press To Lat Pull (1 Minute)

With your feet shoulder-width apart, stand with your palms facing out in front of you, bent at the elbows. Your elbows should be slightly behind your back.
Straighten your arms up above your head.
Return to starting position.
Straight Arm Chest Fly (1 Minute)

Standing with feet shoulder-width apart, stand with your arms in a T position with palms facing front. Slowly bring your palms together to touch in front of your chest, keeping arms extended.
Return to starting position.
Chest Fly (1 Minute)

Standing with your feet shoulder-width apart, hold your arms out like a goalpost (football, not soccer) by your head.
Bring the palms and inside of your elbows together, make sure you don't create a tent shape with your arms. You want to get the inner elbows close, not JUST the palms.
Return to starting position.
Deltoid Raise And Lengthen (1 Minute)

Standing with your feet shoulder-width apart, create a 90-degree angle with your arm with your palms facing each other (like you're about to do the robot).
Swing your arms up to shoulder height so the palms now face the floor.
Keeping the elevation, slide your arms out in front of you so they're straight.
Pull back in, return to starting position.
Try to do all 5 of these without resting, then take a minute to shake it off/stretch—and then repeat! Aim for 3 rounds. 
Images: Nicole Nam; Shutterstock
Breaking Down The Different Types Of Cardio & Which Is Right For You
Fitness is so subjective. It's a personal journey that looks different for everybody. As a professional, all I can do is put out the best information I can that is scientifically backed. If it's anecdotal then I will tell you straight-up that I haven't been able to find scientific evidence supporting or negating a theory or claim. Not all information I put out will always support everybody's fitness regimen. So many of my articles (including the most recent one on running) have a poppin-ass comments section because everyone has their own way of working out. I will always write the truth about what works for me from MY own experiences and also as a professional, from being a part of other people's journeys. What works for me and my clients will not always work for everyone. I think the discussions being had are fantastic, and this is the biggest sign that people are finding what works for them and staying true to their own path. If my writing gets you considering ways to be healthier or sparking health-related conversations then I have achieved my purpose. However, if this article, and any of my other articles do not resonate with you, it doesn't mean I am saying what you're doing is wrong. Follow what your body tells you, first and foremost and forever.
With that said, let's talk about cardio. There are two sides to every story, just like the story of your Tinder date's last relationship's demise (if he said "she was crazy" she probably wasn't, FYI, she probably just caught him cheating and left). When it comes to cardio, some people love it, some people hate it. I'll let you figure it out for yourself.
Cardio is any activity that elevates your heart rate. So anything from pacing anxiously after sending a bold text to running after your Uber after the club closes technically counts as cardio. But let's break it down further into different TYPES of cardio.
Low Intensity Steady State Cardio
If you guys go on a cardio machine such as the treadmill or the elliptical or whatever else, you might see this chart that correlates your age with your current heart rate and that determines what kind of zone you're in (there's "fat burn" and "cardiovascular" zone). For a long, long time, people thought that to burn fat and lose weight you have to your ass in the fat burn zone for hours. The fat burn zone is not tiring for the average population (if you're healthy and don't have any disorders). That's like a chill walk around the neighborhood. Boredom and stalker-ish tendencies aside, you can do that for hours, right? You're not going to be out of breath or anything. Low intensity steady state cardio is basically the kind of cardio that you can do without too much effort, for a long time. And yeah you're in the "fat burn" zone because most of the calories is coming from fat metabolism, but you're only burning like, 200 calories in an hour. When new information came out the inaccuracies about the "fat burn" zone and about the benefits of HIIT or high intensity interval training, everyone jumped the LISS ship and now it seems like the only people every chill walking on a treadmill in the gym are somebody's grandparents.

So is LISS a complete waste of time?
Not exactly, not even for fitness experts that train constantly. LISS is so damn chill that you don't need any time to recover from it after. You can actually use it TO recover after a day of lifting heavy or strenuous work. It will still increase your circulation and get you feeling active, but not completely drain your energy reserves. LISS is perfect for beginners. The main goal for anyone starting their fitness journey is to GET MOVING in any way, shape or form. It is also great for anyone easing their way back from an injury or illness. Personally, I use LISS as a way to wake my body up on certain days. I usually work out pretty much right after I wake up, and sometimes your girl is not trying to jump into anything crazy right away. I'm still trying to get my life together. So I'll jump on a treadmill first, and start walking. I'll check my emails, check IG and Twitter, ignore any "wyd?" texts I got while I was asleep and then put on Schitt's Creek on Netflix on my phone. I'll progressively pull up the incline (remember, I'm not a beginner, so if adding incline makes this no longer something you can do for a full hour, it's no longer LISS) throughout the cardio session. Afterwards, I'm awake, my blood is flowing, I'll be ready to move on with my workout or with my day, depending on the schedule. Now, not every day will be LISS, and it doesn't have to be. If you're someone that does HIIT a lot and love it, you don't have to ditch it completely. LISS is just another tool you can use on days where you need or want a more gentle approach. It's effective in a different way and you're certainly not going to be huffing and puffing, so you might not FEEL dead but it's effective all the same. You don't always have to feel dead after a workout to for it to be effective. 
High Intensity Interval Training
This baby came in hot. Barry's Bootcamp, SoulCycle, Rise Nation, etc. are all designed around HIIT training, it's a very lucrative cardio approach.
While LISS you can do the whole time with no breaks, with HIIT breaks are a crucial part of the whole training because otherwise you might die the body requires oxygen. When you're sprinting on a treadmill or a bike, your body is quickly running out of oxygen, turning the state of your cells acidic (all that carbon dioxide, honey!) which is why you're out of breath. The work phase of HIIT shouldn't last more than 90 seconds, mainly because you shouldn't be physically able to. While LISS uses fat as its primary means of energy, HIIT is considered to be so high intensity that we're working with depleting your carbohydrate stores because carbohydrates provide quicker energy. Now, this doesn't mean you won't lose fat with HIIT. In fact, you're working so hard you're probably burning equal the number amounts of an hour long LISS session in half the time with HIIT. There is also something called EPOC or excess post-exercise oxygen consumption. When trainers tell you to do HIIT because you're burning calories for hours after you're done training, this is what they're talking about. It's the body's way of restoring the oxygen levels back to normal, and it requires calories to do so. EPOC is only activated during intense exercise—the duration of exercise doesn't matter so this isn't something that can ever be achieved with LISS.

Do You Ever NEED To Do Cardio?
It's the 21st century, you don't ever NEED to do anything. But you probably should. If you're lifting weights and doing circuit/HIIT training, LISS could be a good recovery tool for you. It's also a good jumping off point for beginners, so if you're trying to get a friend or family member started on working out you can have them join you on your LISS day. It's also such a great multi-tasking tool. You can do so much sh*t in the time you're walking on the treadmill, guys—reply to emails, call your girls or your mom and catch up, read the news. You can't multi-task while doing HIIT unless you're open to seriously injuring yourself. HIIT is so killer, it's great for amping and switching up your workout routine so you can continue to progress. It can be incorporated into your resistance training routine so you can do a little two-in-one situation. In fact, many people do cardio and don't even realize they're doing cardio with HIIT (but more on that a little later).
I've found the best way for me to do cardio is to combine LISS and HIIT. I'll do LISS (which is pretty much the traditional cardio… walking on the treadmill, using the elliptical, etc.) then add some HIIT fundamentals into the weights portion. According to science (and my experiences), the best results in exercise come from a combination of cardio and resistance training. I mentioned before in an article that without cardio I looked "puffy" so I make it a point now to do cardio. Some people will say this is super misleading and weights don't make you puffy.

Hear me out.
At that time, I was lifting heavy and slow for muscle growth. When your muscles grow, it is holding onto more glycogen stores (because it knows it needs it for the work, our bodies are incredibly smart) which holds onto water (should I write about this little phenomenon? Lmk in the comments!). That's why I got that "puffy" look. I also wasn't losing fat at the same rate I was building muscle, so it was double the puff. If all you do is lift heavy weights and never do "cardio" in your whole life, and you're not "puffy", I'm willing to bet that you're doing some sort of HIIT in your workouts. You're doing 3 sets of 30 seconds of jump squats? Are you doing battle rope intervals? You're doing cardio, baby. Welcome to the club, so happy to have you. 
Images: Clem Onojeghuo / Unsplash; Giphy (3)