And Just Like That… I Might Finally Need A Peloton Bike
Let me make one thing very clear: I fucking love to hop on a bandwagon. I spent 2020 making banana bread and posting purposely grainy-filtered photos of it. I rub Glossier products all over my face even though I know the difference of no-makeup makeup is undetectable to the naked eye. Vodka is my nemesis and I have a stomach as weak as Notes App apology, but I will order an espresso martini anytime there is one on the menu. But, there's one trend I've successfully steered clear of, and that's blowing a minimum of $1,500 on a Peloton bike. 
It hasn't been easy. At any given moment, there is Peloton propaganda clouding my peripherals. Although I'm almost certain I've never intentionally liked a meme that would joke about being "torn between looking like a snack or eating one," Peloton memes sneak their way onto my explore tab at least once every 72 hours. My friends' shaky clips depicting the motivational things Peloton instructors shout at them over Spice Girls music have officially knocked concert video Instagram Stories off of their throne. I don't remember the last time I visited a friend's apartment and didn't see a Peloton bike lurking in the shadows like the ghost of a small Victorian child haunting a hotel in a horror movie. Peer pressure has not marketed anything so successfully since Apple rolled out blue bubbles for iMessages and green ones for texts, but still, I remain a Peloton-less individual. 
For a brief moment last week, it appeared that the Peloton bubble had finally burst. (Warning: I'm about to drop a serious And Just Like That… spoiler, but I'm sure you've already seen it because as we've discussed, the Peloton girlies simply cannot keep quiet on social media.) In the first episode of the latest iteration of Sex and the City, Carrie Bradshaw lost her dear husband Mr. Big after he suffered a fatal heart attack following a ride on a Peloton bike. Had Big perished at the hands of a more inconspicuous fitness regimen, such as the P.Volve P.3 Trainer or the Mirror Home Workout System, the internet would be much more focused on the true issue at hand: trying to figure out why the hell Carrie didn't call 911 as soon as she realized Big was dying. Instead, HBO Max handed Peloton users yet another reason to talk about their bikes. 
Luckily, Peloton has a genius marketing and PR team who have been training for this kind of a crisis ever since their Criminal Minds episode of a 2019 holiday commercial. According to a statement a Peloton spokesperson made to the Los Angeles Times, it took the company only 48 hours to pull together a clapback commercial featuring Chris Noth (the actor who plays Big), Jess King (the Peloton instructor who made a cameo in the show), and Ryan Reynolds (who famously roasted Peloton for their festive snafu two years ago). The video features Jess and a shockingly-still-alive Big chilling by the fire with a disclaimer that no, riding a Peloton will not kill you (might want to get a pulse check on your bank account and your living room's feng shui, though). 
View this post on Instagram
At the time of publication of this article, Peloton's video has been up for two days and already has 2.5 million views. The internet went absolutely bonkers over it. Like, I have truly not seen people harmoniously agree on something so quickly and so passionately since we all ripped Gal Gadot a new asshole for getting her famous friends to sing "Imagine" a mere seven days after the World Health Organization declared Covid-19 a global pandemic. There's no denying that Peloton's response was impeccable, but the whole ordeal has me feeling a little cynical. On one hand, it smells like a cult when hundreds of thousands of people are sharing an advertisement to their personal social media accounts (for legal reasons, that's a joke), but on the other hand… there's never been a lonelier time to be a girl without a Peloton. I haven't felt this left out since all my friends were getting sleek little Motorola Razrs and I had to stick with a clunky off-brand Sidekick because I had Virgin Mobile. As I clicked through at least a dozen Stories of people reposting the video with "genius" and "well played" captions, I couldn't help but wonder: if life really is about the journey and not the destination… would I be happier if I spent all day riding a little bike to nowhere in my own living room? 
Images: HBO Max; onepeloton / Instagram
8 Paid Virtual Workouts That Are Worth The Money
I guess it took a global pandemic for me to finally realize that working out does indeed help your mood, energy level and overall mental well-being like those fitness influencers are always preaching. My stress and anxiety levels of late can only be compared to that of Harry Jowsey on Too Hot To Handle when he discovered he couldn't bone Francesca on his own timeline, and really the only thing that's helped me calm down (aside from vegging out to Netflix) has been working out. And no, I was not paid to say that. And yes, I'm aware of how insufferable I must seem now.
Fitness coaches and influencers can smell that we as a society have finally cracked and are ready to cash out on premium workouts from our own home. As a result, there's more fitness content out there than ever before—which is making it hard to sniff out the workouts that are actually worth my time when I could otherwise be drinking, or cooking, or drinking. So, we've rounded out the top paid virtual workouts that are actually worth your money so we can all come out of this perhaps not with a newer, tighter ass; but definitely having tried our damndest to boost our serotonin levels and not get depressed. 
$15/class
View this post on Instagram
Solidcore "at home" is a live 20-person group class taken with an instructor via Zoom. Using sliders and weights (or whatever at-home substitution you prefer), the workout is intense but low impact, like Pilates or Barre. They offer 50-minute full-body classes or shorter, 30-minute "muscle-specific" classes.
$13/class
HOUSEWORK was developed by Syd Miller as a full-body sculpting and conditioning class that combines Pilates and cardio circuits, and is set to upbeat music—so it's basically just, like, a healthier alternative to LIV Miami, right? She's teaching daily HOUSEWORK classes on Zoom.
$6 – $10/class
Per my Instagram feed, it's clear JABS by Gina has a cult following that has expanded far beyond NYC since quarantine began. With many different formats, JABS combines HIIT training, kickboxing, and muscle isolation workouts. She's teaching daily Zoom classes that run from 45-minutes to 1 hour each with some classes reaching a 250 and 1,000-person capacity.
$15/class
Is it even a millennial-focused workout article if I don't mention Rumble? Rumble is a boxing/cardio workout, though their live workouts are only "Rumble-inspired", so you won't be experiencing the same exact setup, naturally. They are offering a mix of virtual classes that range from strength-training to cardio and boxing, as well as offer you the option for a weighted workout or to use your "bodyweight." 
$27/month
Obé Fitness offers a wide range of online fitness videos under the four categories of Define (strength based classes), Sweat (cardio based classes), Flow (yoga and stretch classes), as well as pre- and postnatal classes, with each class being only 28 minutes. You can stream the workouts on your phone, computer, TV, or tablet. I also simply cannot help but be influenced by the extremely cute and bubbly-looking people on the Obé website, to whom I relate in no way at all. Maybe one day!
$20/class
Barry's Bootcamp is (normally) a guided workout spent partly on the treadmill running intervals, and partly on the center floor doing strength training workouts. Now, Barry's is offering virtual, 35-minute classes in the following four categories: Bodyweight, Bands, Weights, and a few traditional Barry's Treadmill & Weights classes. Knowing Barry's, if the classes are only 35 minutes, then the workout is likely very intense. Stay safe out there, folks! 
$1,495/Mirror (or $42/month)
Yes, $1,495 is a sharp increase from the $10 classes I've been listing, but rich people like to work out too. 'The Mirror', as they call it, is literally just that; but once you turn it on, up pops your own personal trainer! (I feel like that's the beginning scene of a twisted Disney movie?). There are tens of thousands of workouts to choose from, plus The Mirror is extremely chic looking and I've heard rich people like that, too. 
$2,245/bike (or $58/month)
The Peloton bike is another investment piece. It comes with a touchscreen tablet that offers guided workouts from an instructor, with workout options for on and off the bike. People who own Peloton bikes seem to post about them FREQUENTLY, so unless they're only trying to justify spending so much money on a bike that doesn't move, Peloton seems to be worth the hype. You can also virtually compete with other participants who own bikes (it's almost like this company knew something before we did???). 
Images: mr lee / Unsplash; solidcore, doyourumble, obe_fitness, getthemirror / Instagram
A Look Back At The Biggest & Weirdest 2019 Wellness Trends
It's almost 2020, and you know what that means… time for literally everyone to say "where the HELL did the time go???" But for real. It seems like it was just yesterday when we published our predictions on what food and health trends were going to take over 2019 back in December 2018, and here we are now, reviewing those predictions to see if we were actually right or not. Want to know just how far we'll go to prove we're always right? We consulted health, food, and trends experts to double-check those receipts. You're welcome. Now let's reflect.
We predicted these 2019 health trends would be big in the new year:
Shorter workouts 

Fitness streaming services 

Vibration therapy/percussion guns 

More sleep 

Personal training

Treadmill classes 
And the verdict is… ALL OF OUR HEALTH TREND PREDICTIONS WERE ACCURATE AF. Christine Lusita, TV health expert and author of The Right Fit Formula, confirms that every single thing on this list was actually trendy in 2019. "We're in a crucial time right now where we're celebrating our individuality and building community," she says, which is why short classes, apps, and gadgets gained popularity and helped us live our best lives this year. Wanna know just how sleepy we all were in 2019? MINDBODY's senior director of research and product marketing, Amaya Weddle, Ph.D., adds that "60% of Americans say they're frequently exhausted at work. Nearly 22% say they regularly nap in their cars during the week." Vibes. Hence the need for more rest and self-therapy.
Speaking of self-care, I know I'm not the only one who watched slow-mo videos on Instagram of fitness influencers using percussion guns on their thighs and ass in the name of engagement "post-workout therapy" (hello? Am I actually the only one?). The only trend Lusita thinks might be slightly off (BUT STILL RIGHT) is personal training, because that was "more popular with Gen X and boomers" (lol, ok boomers) than with millennials. But all of our other trends were, and I quote, "SPOT ON" and "great predictions by yourself and Betches." Ugh, we're like sooo smart. 

We also predicted these weird af 2019 food trends:
Fake meat snacks

Fats

Avocado ice cream

Kimchi

Seaweed
Drum roll, please… Lisa Richards, nutritionist, author, and the creator of The Candida Diet, confirms we were *basically* ALSO TOTALLY RIGHT! "Fake meats have certainly become more popular as we close out 2019. While they're not necessarily snack based, there are many restaurants and food manufacturers turning to plant-based proteins for burgers and other fake meat products," says Richards. And if you need further evidence, just look at every single burger chain scrambling to get a version of The Impossible Burger up on their menu rn. Fats were a thing, too, but mainly for people who follow a Keto diet. "A focus on preventing inflammation and improving heart health has contributed to this focus on healthy fats as well." She notes that seaweed had a "steady presence that wasn't so large it would be considered a fad, but not too small that it wasn't noticed." Avocado ice cream was also prob at the bottom of the 2019 food trend list, but it was popular nonetheless. "The overall category of ice cream with non-dairy bases has certainly risen in popularity. Especially people with lactose issues can now find plant-based frozen desserts made of coconut, almond, oat, cashew bases," adds Joy Wang, RDN with Sun Basket. Raise your hand if you've ever been personally victimized by lactose. *raises hand*
Anyway. See??? Right. Always. Can't wait to show this to the next person who doubts me. Maybe I should quit my day job and become a fortune teller. 

2020 Health & Food Trend Predictions
We're too tired from being right all the time, so we're not doing a full-length 2020 trend predictions list this year. BUT, because we're also really nice, here's a preview of some health and food trends to come after the ball drops. 
Weddle claims that fitness streaming services like Peloton (despite that tragic holiday commercial) and more sleep will continue to reign supreme in the new year, including an emphasis on… wait for it… NAPS. "We're seeing the demand for nap bars and nap pods is growing. In fact, 54% of us want to try nap bars for some midday Zs." SIGN ME TF UP FOR A NAP BAR. (Sorry for yelling, I'm just very enthusiastic about this trend.) In addition to fermented foods like kimchi, Uber predicts (based on what people were ordering off Uber Eats this year) that starfruit, cold brew, udon, bone broth, oat milk, and Impossible burgers are going to spike in popularity in 2020. I mean, I just Uber Eats things like bagels and Gatorade when I'm hungover, but to each their own, I guess.
Finally, according to Lusita, "we're going to see an increase in more 'fun' related workouts that build community, spirit, and all the feels," as well as an increase in a more individualized approach toward food and fitness. Think wellness and nutrition coaching, mindful exercise, intuitive eating, and at-home workouts with MIRROR and Hydrow. Health and wealth, here we come!
Here for it. Maybe 2020 is the year I'll finally eat right and pick up a dumbbell or two. Prob not tho. Who needs to workout when you can predict the future? Not us! 
Images: Brenda Godinez / Unsplash, GIPHY (2)
Peloton Is Getting Trolled For Their Tragic Holiday Commercial
Guys, who is working in Peloton's marketing department? Because they just put out one of the most confusing and awful Christmas ads of all time. And I'm not just saying it's bad because I ate pie for breakfast for the past four days and I'm feeling personally attacked right now. Even all the sane people on Twitter agree. They've been roasting it for days. Are you wondering what I'm talking about? Here's the ad, in all its glory, so watch it and then we'll chat.
Okay. So. Before we even get to the content of the ad, let me point out that Peloton has turned off the comments on the ad, most likely because they were getting majorly trolled. This commercial isn't outright offensive like Kendall Jenner's Pepsi fiasco (good memories!), but it's never a good sign when you have to disable the comments.
So, let's start from the beginning. Sir, maybe your beautiful and skinny wife wants a Peloton bike. Great! Exercise is important! Exercise as a Christmas gift from YOU, however, kind of implies you think she needs to exercise. Which means you think she needs to lose weight. Which is rude. Last year at my office white elephant party, one of the men chose a smart scale because he said his wife "really wanted one." I have not seen him since. So, gentlemen, the moral of the story is that you should stick with jewelry for Christmas! And then maybe get the Peloton as a fun family gift in January. 
Nothing says "maybe you should lose a few pounds" like gifting your already rail thin life partner a Peloton pic.twitter.com/E2M9gFdD5A

— Siraj Hashmi (@SirajAHashmi) December 2, 2019
Before her first ride, our heroine says that she's "a little nervous." Bitch, why? You're a fit woman riding a stationary bike in the comfort of your own home. This isn't a SoulCycle class where the instructor is going to yell at you if you need to take a 30-second break. You're not like, riding a bike on the side of the highway. There is nothing to be nervous about, sweetie! Let's also talk about how she asks if he's surprised she's worked out five days in a row, because she sure is! Like, what? Woman, have you looked at yourself? Of course you worked out five days in a row! I'm sure you worked out five days in a row before you got this bike. If you didn't, you most certainly sold your soul to the devil, and I'd like a map to where I can find him please. (Seriously, DM me).
Our Peloton rider also mentions that she didn't realize how much she would be changed by this. Changed how? There is no further explanation. She looks exactly the same. Well, she actually looks slightly sadder because she has spent an entire year biking and biking and biking and she has traveled nowhere but her living room. Can you imagine anything more depressing? Also, she has been recording herself on the bike all year, and I can't figure out why. Is it like the rule that you aren't allowed to run a marathon if you don't constantly post about running that marathon? Oh, that's not a rule? Can one of you alert my Facebook friends from high school, please? At the end of the commercial, she makes her husband sit down and watch a year's worth of those videos. Ohhhh, so this was a punishment. Seems fair. 
The face you make when your day requires videoing your workout, keeping floor to ceiling windows spotless, and hoping your kid doesn't spill anything on the white furniture #peloton pic.twitter.com/4xe2YvcMUF

— Katie Kohler (@kkohler1129) December 3, 2019
So what is this ad supposed to accomplish? Is it supposed to make me want a Peloton? Because I think it fails to do that. Having someone shout out my name and location to strangers is my actual nightmare. However, the commercial does make me want a new phone, because I threw mine into a wall after watching this. So maybe it's secretly an Apple ad? If they wanted to get people talking, they certainly accomplished that. There are so many thoughts about this on Twitter, but I think I found the one that really captures the truth of the matter:
When is Peloton going to make an honest commercial and demonstrate how much laundry it can hold?

— Todd0x1 (@todd0x1) December 2, 2019
Or as my former roommate and I like to call it, a chairdrobe. Patent pending.
Did this commercial make you more likely to buy a Peloton? Or maybe just more likely to roll your eyes so hard that they get stuck? Well, welcome to Christmas ad season, folks! December has just begun, and this is surely the first of many holiday commercials that will be getting roasted along with the chestnuts. 
Images: Shutterstock; Peloton / YouTube; Fake_KDKA, sirajahashmi, samuelmoen, kkohler1129, todd0x1/ Twitter
The Full-Body Workout You Can Do In A Corner Of The Gym
If you go to the gym right before 9am or right after 6pm, you know how annoying it can be to get around the place during workout rush hour. As much as we'd all love to work out in an empty gym with the whole place to ourselves, it's v unrealistic unless you're like, a psychotic morning person or like, super rich. Luckily for you, we've put together a workout can literally be done with one mat in a tiny corner of the gym, so you don't have to bother waiting for a machine to become available or for people to step away from the dumbbell racks. Here's a quick workout that will tone your whole body and burn a ton of calories while staying in one space the whole time.  
1. Walkout Push-Ups
The walkout push-up is a great warm-up move because it gets your lower and upper body working without diving right into a cardio or strength move. The idea here is to first warm up your hamstrings by starting in a standing position and folding your arms and head forward, and then get your upper body warmed up by crawling your hands out to a plank position. Once you're in your plank, perform one push-up (drop to your knees if you have to) and then crawl your hands back to your ankles to stand back up, engaging your core at the top each time. Start off slow, and then try to speed up on your last few reps. Do 10 of these in total.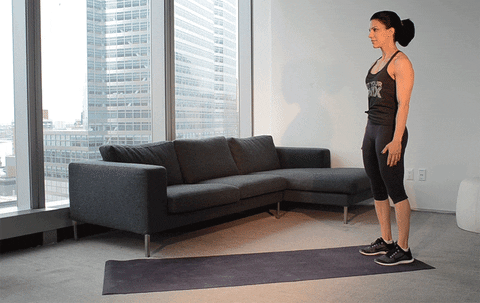 2. Glute Bridge To Oblique Reach
This is another lower and upper body movement, but this time you're working your butt and your obliques, aka your side abs and love handle region. Start by lying on your back with your knees bent and your feet on the ground. Then, extend one leg straight out and lift your hips into a bridge, squeezing your glutes and specifically feeling the burn on that same side. After the bridge, lower your hips back to the ground and reach your arms toward the straight leg while extending the leg upwards. Remember that you're crunching with your abs, so don't just use your arms to swing your body up. This combo is slightly complicated since it's technically two moves in one, so you can take your time on these until you get the hang of it. Do eight reps on each side.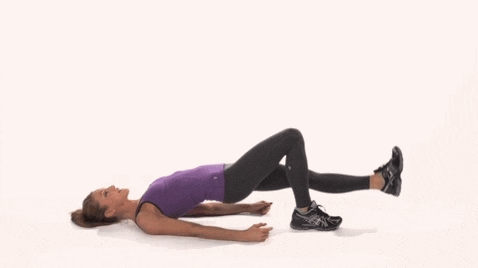 3. Tricep Extensions
You'll need a weight for tricep extensions, but it shouldn't be too hard to find because you can literally use whatever you want—a dumbbell, a weighted medicine ball, or a kettlebell. If you have a kettlebell available to you, you're gonna hold it by its horns (AKA the non-bell part) and lift it up over your head, keeping your elbows straight forward and your arms tight. Then, extend the bell toward the back of your neck, using your triceps to bring the weight up and down each time. If you feel like your elbows are widening out to the side, take a break and reposition yourself. The tricep muscles are really what give your arm that toned, sculpted look, so go heavy on these and take your time. Aim for 10-12 reps.

4. Deadlift To High Pull
The good news with this move is that you can use the same weight you were just using. Again, this is a combo move, so you're totally killing two birds with one stone by working your legs and your arms in one exercise. Place your kettlebell on the ground in front of you, and make sure it's between your legs, but like an inch or two forward. Then, bending your knees slightly, you're going to hinge your hips backward and lift the kettlebell keeping your arms straight, bringing it to your waist as you hinge the hips forward. That's the deadlift part. Then, you're gonna pull the kettlebell up to your chin, using your shoulders to row upright, with your elbows wide towards the sides. Once you complete one rep, bring the kettlebell down to the ground and do five more.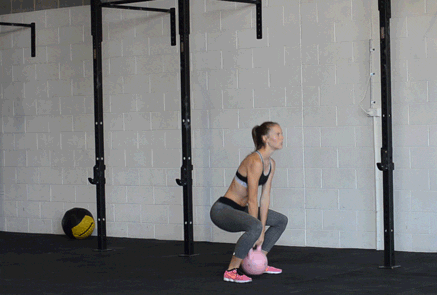 5. Squat Jumps
Now that we've done a bunch of strength work, it's time for some cardio. Your legs burn the most calories out of all the muscles in your body, so doing jumping exercises while combining squats or lunges is super effective. It's also really hard, so pace yourself. Start in a squat position, making sure your knees are behind your feet so you don't hurt yourself. Get super low, and then jump up explosively while straightening out your legs and arms. Aim for 20 reps here, but you might want to die by the time you get to 15. Try to fight through it.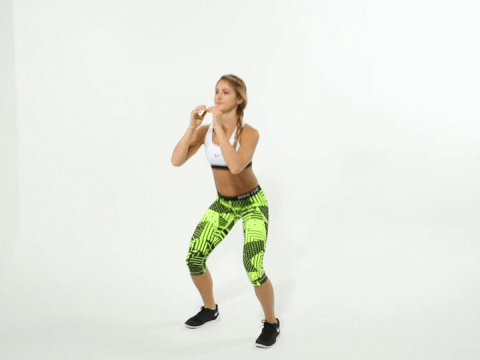 6. Burpees
Burpees are annoying and difficult, but there's a reason you see them in every fitness magazine and at every workout class—they WORK. Start by standing with your feet shoulder-width apart and your arms at your sides. Then, lower your body into a squat and place your hands on the floor in front of you, jumping your feet back so that you're in a plank position. Once your body is in a straight line, lower your chest to the floor and then bring it back up as quickly as you can. Then, jump your feet forward, outside of your hands, and jump up with your arms in the air. Do 8-10 of these, depending on your energy at this point in the workout. Also, keep in mind this is a full-body move, so make sure you follow the motions without just slamming your body down to the ground in the sloppiest way possible.

Images: Trust Tru Katsande; Unsplash, Giphy (5), Pinterest (1)