Pauly D And Vinny's New Dating Show Looks Like A Beautiful Mess
For the past couple of years, pop culture has been riding a major nostalgia wave, for better or for worse. Certain reboots have made us cringe, but we've also been gifted with some instant classics. Case in point: Jersey Shore Family Vacation. I had my doubts when MTV originally announced they were bringing the Jersey crew back together after nearly a decade, but our favorite BFFs like Snooki and J Woww or Pauly D and Vinny are still the perfect amount of crazy for reality TV.
While many of the Jersey Shore favs are married and/or raising kids, my sweet angels Pauly D and Vinny haven't settled down yet. Thankfully, the MTV producers gods heard my prayers, and are blessing us with a dating show starring the world's best DJ and the Keto Guido. A Double Shot At Love is coming back, and I already know it's going to be better than ever. Today, MTV released a teaser promo for A Double Shot At Love, along with all 20 0f the contestants on the show. Watch the video first, and then we 100% need to talk about some of the women competing, because they seem like characters.
If you don't feel like watching the video, it's basically 30 seconds of Pauly D and Vinny playing with baby chicks, and joking about being done with chicks and wanting real love. It's a dumb video concept, but it's so cheesy and cute that I really can't complain. I would've preferred some actual footage from the show, but I'll live. Honestly, I really should be ashamed of how much I love these two. I've met Vinny IRL and he is just as sweet and charming as he comes across here. Why did I not apply to be on this show? Probably because I'm a gay man, but I'm still a little bitter.
So where do I even begin with these 20 lovely ladies competing for Pauly and Vinny's love? Let's start with some basics.
– Eight of the women are from New Jersey or New York, which seems fitting.
– There's a "Brittani" and a "Brittnay," so I can't wait to see those two argue over which misspelling of "Britney/Brittany" is more correct.
– All of the women are between 22 and 33, except for Deseree, who is 37. Sorry Deseree, but you're going home on the first night. That's just how this works.
– Apparently for their photoshoot, each woman was given a $30 Fashion Nova gift card and told to choose her favorite bodycon dress. Once you take a look at the cast photos, you'll see what I mean!
I have neither the time nor the energy to go through and roast all 20 of these brilliant casting finds, but I'll pick a selected few to make some comments. Let's start with Brittani, whose nickname is "B-lashes" according to the press release. I'm proud of Britt for ignoring the bodycon trend, and instead showing up in her best Lisa Vanderpump cosplay. Great work. This is what J-Woww would look like if she got a job selling insurance.

Next, let's talk about Cate, who is from Staten Island, but that should be obvious from literally everything about her photo. I'm all for a good leopard print moment, but this dress really should've been left in 2004. The slicked-back sides look is probably my least favorite hairstyle ever (all the Real Housewives love it, and I simply do not understand), and I'm pretty sure she's wearing a Bump-it. At least Cate toned things done with natural-looking amounts of eye makeup and bronzer. LOL.

This was truly a tough choice, but I think my favorite look out of the bunch is Alli, who seemingly forgot that you're supposed to wear a dress over your Spanx and not just wear your shapewear out. She looks great in that dress, but the dress itself looks like a condom. I'm placing my bets now that Vinny and Pauly will both be all over Alli, because she seems to exude the right mix of confidence and willingness to take shots at a moment's notice.

A Double Shot At Love premieres on April 11 on MTV, and I can't wait to see how much more ridiculous this bunch of women get once they start to speak. Considering that the ladies on The Bachelor can barely form intelligent sentences, I might have to watch this show on mute. Regardless, Pauly D and Vinny, please feel free to slide into my DMs any time.
Images: MTV / YouTube; MTV (3)
'Jersey Shore Family Vacation' Recap: WTF Is A Chooch?
So, Jersey Shore Family Vacation is literally just my life now and I have no idea what's even going on anymore. I feel like I'm back in high school in SAT class. Deena comments that she loves the house so far, citing things like she "got a good night's sleep" and "has her space". I'm sorry, I wasn't aware I was watching a show about church camp, BUT GOOD FOR YOU. Maybe they'll go swimming and exchange friendship bracelets.
Deena then corners Vinny and asks about the penis touching incident and told Vin it seems like he and Ang are a couple. #burn.
Then Snooki says she is throwing a 7-year-old style birthday party at the house which is both weird and f*cking annoying. Jenni is thrilled because she "throws these parties all the time". Sounds super sick, guys. This is so much worse than friendship bracelets.
Pauly D: An adult themed party sounds like a porno party. Sometimes on my tour bus, we have adult parties.
F*cking ew. Can we work on getting some kind of STD testing sponsorship for Pauly's DJ sets?
They are literally jumping at a bounce house. I'm half expecting Corinne Olympios, queen of naps and cheese pasta, to show up and try to molest someone in it.

Angelina shows us all how to use a giant hamster ball, as she is the dirty hamster expert here. Mike almost dies trying to use said hamster ball because he has obviously not been doing his cardio.
Burger King is catering this entire thing. I'm sorry, what the f*ck am I watching? I make up all kinds of excuses to avoid my friends' kids' birthday parties, and yet now I'm somehow being held hostage to watch sad grown adults have a kids party because they are trying to make "drama" for their show.
Vin completely lies about his diet and pretends this is the first time he's had carbs. But hi Vin, those keto strips don't lie. Then Mike lies too, claiming he hasn't had BK in years. We literally have FOOTAGE of him and Jenni at Burger King post-rehab speech. Mike, we have the receipts.
Vinny is making up some game or "challenge" amongst himself where the losing option is to kiss Angelina's feet. Yeah Vin, seems like you really don't want to do that. He acts like he can't lose because he's so grossed out by Angelina. But again, he's the one who came up with the feet kissing.
Vin: Hey, Angelina should kiss my feet, or I should kiss Angelina's feet, but I hope that doesn't happen because Angelina is gross. Haha. But like, can we still do the feet kissing?
Oh my God, I just noticed Vinny is wearing a shirt with the Instagram logo that says "Introverted". I'm sorry, that is f*cking obnoxious. Get with the program, we all stopped bragging about being introverts in like, 2014 when Thought Catalog stopped being cool. Vinny wins and Angelina now has to kiss his feet, which I'm sure he's thrilled about. This isn't Ang's worst Tuesday. She's used to being disgusting. Vinny is so excited that Ang kissed his foot that he hugs her in gratitude. All of it is disturbing.
The girls and guys decide to separate for the night. Ang decides it's going to be a classy night which means no swearing, napkins on laps, proper posture because she has scoliosis, and no bodily functions. Okay, let's just replace her with someone who isn't trash. The guys are going to the club and I'm way more excited for their drama. We finally get to see Single Ronnie at work. There is no talk about Single Jenni, and that's a total bore. The girls go to a classy bistro for cheese and wine, and Angelina calls Jenni "a disgust" because she's burping and whining that she's fat. K.
The guys go to Jeni's and Ronnie is like, "oh I haven't been Single Ronnie in 15 years," and it's like, Ron, your best Single Ronnie was always when you had a girlfriend. The guys are horrified to find it's country music night. The scene is lame so they eat ice cream cones in the corner. This is literally me at every bar. Then some sad sack comes up near their table and is pathetically dancing to himself and miming fake sobs. Oh my God, is doing The Ronnie? Is this a dance move now?
Vinny: Don't lock eyes with him, OMG he's seducing me, OMG I'm in love, JUST KIDDING.
I don't believe any "just kidding" of Vin's anymore, I guarantee he will sleep with this man. This guy is just staring at them dancing with a chair. Mike is overall pleased with boy's night, as he's had a chance to gorge himself. Single Ronnie is completely lame when he's not cheating on anyone. Really takes the fun out of it.
The girls are drunk and Snooki literally pours the rest of their bottle of wine into an empty Gatorade bottle in her purse. If that doesn't say class, I don't know what does. Jenni comments that they are all really polished tonight, like a "polished turd." I almost completely stopped listening but then as they are leaving, some old-ass man calls Deena FAT. Deena is f*cking pregnant, not okay dude. But the plot thickens. Apparently, as the crew walked by, what he actually said was, "every girl is fat." Holyyy shit. Do you not remember what happened the last time some rando called a Jersey Shore lady fat? Here, I'll remind you:
remember when Jwoww punched a girl in the face for calling Snooki fat pic.twitter.com/LANutF7a1e

— realitytvshow (@bgcslave) August 15, 2018

I've seen Jenni IRL and let me tell you, aside from her boobs that are larger than my head, she is tiny. Jenni and Snooks stalk back into the bar. Jenni is all, "Did you call a PREGNANT girl fat?!" And calls him a b*tch. And points in his face and is like "THIS IS WHAT'S WRONG WITH AMERICA!" Then the guy calls Jenni a b*tch.
BUT THEN. They walk away. I'm soooo disappointed. In the good old days, Jenni would have legit punched him in the face (see above). Quit this maturity thing, I like to watch trash TV for the possibility of assault charges! What is this sh*t?
Okay, the guys are still sitting at the table with their little dancer man. He finally asks for a picture with them. He danced for three hours for a photo. Then he walks away. Vin feels abused by the fact that he only wanted a picture.
The guys leave to get funnel cake. The girls go to bed. I don't want to old-shame, but like, guys, it may be time for you to move on from Jersey Shore. These are not the guidos I know and love. Like, you guys got ice cream and went to bed. I don't need to waste my life watching TV about this; it's what I do regularly.
Since carbs found Vinny, he is now going HAM and cannot stop himself. Pauly calls him a cheater and makes him wear an iPad on a gold chain with a photo of himself eating carbs. They just have these things at their disposal just in case.
A whole day goes by with nothing eventful to show (shocking) and the gang all goes to dinner together. Vinny so ~randomly~ runs into his cousins at the restaurant. But guess what? Turns out, the cousin's friend is THAT MOTHERF*CKER that called the girls fat last night at the same restaurant! I'm sorry, are there only like three restaurants in all of Jersey??? How did this happen? Vinny, are you seriously related to these POSes?
Ronnie: I'm going to play with my foot up his ass.
Weird flex, but okay.
Okay, so they're showing this guy's face which means he had to sign a release for filming, right? Seems like this is fake but oh well. Then the Fat-Shamer himself walks by Mike, and is like, "oh Mike? We have a mutual friend!" And Mike f*cking shakes his hand.
The girls are like, "why the f*ck are you shaking his hand?" And Pauly goes, "Get out of my table chooch!" (Wtf is a chooch?)
According to Urban Dictionary: chooch
The term is derived from the Italian word "ciuccio" and means jackass, dummy, idiot, or moron. A chooch is a person, who against better judgment, acts inappropriately.

The Fat-Shamer denies the fat-shaming. I'm sorry, HI, this is all FILMED. Ronnie is just sitting, eating and ignoring. Vin calls him a "doo-da-doo" which is apparently a loser. Why do all of their insults sound like they are from a fifth-grade playground? The guy retreats and Angelina realizes she knows one of the girls he's with. Of course she does. The girl is a stripper and hates Ang. I also hate Ang so I can't blame her there. They all go upstairs to the lounge club area and Jenni is wearing a cardigan and glasses like, why does she want to fight me?
The Fat-Shamer goes up to them and gives them the finger. Pauly jumps up and gets in his face, the first man to step up and defend the women, THANK YOU Pauly! It's a lot of "WHAT'S UP MY GUY" before his security intervenes. Pauly's "GUY" gets removed by security and the crowd chants Pauly's name. It's like every bullied kid in middle school's dream. Also, it's probably pretty easy to stand up to people when you're surrounded by private security, just saying.
Ronnie misses everything because he's once again destroying a toilet and runs into THE GUY outside the bathroom. The Guy compliments his man jewelry and tells him he has more money than him. They start bickering. C'mon, Ron, handle this. Make me hate you slightly less.
The Guy is like "I only call fat chicks fat", which is OFFENSIVE, RON, but then he starts calling Ron "baby", and this took a weird turn. And then Ron is all, "I'm not your baby". And The Guy touches Ron's chain. Ron is like, "OKAY LET'S GO!"
Ron: He's wearing fake ass GIVE-INCH-EEE.
Referring to The Guy's Givenchy shirt. Which is pronounced jee-von-shee, BTW. If you're going to make fun of someone's designer shirt, you have to know how to correctly say it.
The Guy: Come to my yacht parties and I'll show you who gets paid. But like, will you come to my yacht parties???
???? Is this an insult or an invite? Jesus, fix it. Ronnie goes on a Ronpage and grabs all his security to go meet the guy for fighting purposes. Then the trashy stripper girl starts hounding Angelina. Classic Ang is all "f*ck you bitch, stripper bitch, ugly titties". The guy never comes back—he literally let his GF fight for him? Then the stripper JUMPS the fence and security carries her out.
Unfortunately, this is also when MTV decides to cut the episode. Okay, finally I want to watch something about this show and it just ends?? Whatever, until next week.
Images: Giphy (2); MTV (1)
'Jersey Shore Family Vacation' Recap: Bromitment, Thotchella, Four Guidos & a Baby
I honestly can't even remember what happened last week on Jersey Shore Family Vacation, was it that uneventful? I vaguely remember the girls leaving while Pauly tried to commandeer a secret guy's weekend that Mike almost ruined. Because he ruins everything. And J-Woww left early because she's still mad about the f*cking Mother's Day video. Anyway, we pick back up on Jersey Shore Family Vacation episode 7 in a not very surprising spot: Mike is stuffing his face and looking at himself in the mirror.
Mike: Thick is the new thin.
I mean true, but like, Mike, if I have to pretend to like kale and go to the gym, so do you. We all want to lie around and eat funfetti cake all the time but we don't. It's called being an adult. It sucks. You know what? Nevermind, f*ck this, let's all get fat together and eat funfetti cake all the time.
Literally all I've wanted to do for my entire life:

Ronnie is ruining brunch as per usual by listing all the things he has to buy for his baby now that he and Jen are separating. Ron, just order this sh*t on Amazon Prime and shut the f*ck up. It's taking longer for you to bore us to death by announcing every item than it would for one-click shipping.
Vin: We are having four guidos and a baby day. We want to go to Ron's house and set everything up for the baby.
…Why are they trying to fight me? What did I do to deserve this kind of boredom? You guys used to be fun.
Ron makes a fat-shaming joke about Mike being pregnant (not cool Ron, it's 2018), and Mike is all, "Whatever, it takes a real man to rock a dad bod." Who's going to tell him that his abs were his only redeeming quality?
Pauly: Since Donald Trump is president, any reality star can be president, so like, I should be president.
TBH, I would totally take President DJ Pauly D over Trump any day. What does that say about our country?
Ron fills in Pauly about Jenni leaving. Then we see Snooki driving to Jenni's in Jersey. Oh, I swear to God, Jenni, if you f*cking mention that video again, I will cut you. Nicole is wearing MASSIVE fake eyelashes, which seem like a bit much for a fighting-with-a-friend-at-her-home kind of event.
Jenni: I left because I wasn't into it and then you invited Angelina and then THE VIDEO…

Snooki: Why didn't you call me and say it hurt your feelings that I wasn't in the video?
Solid point, Snooki.
Jenni: But like how's your new best friend?
So I guess hanging out with no one but children makes you a f*cking child yourself.
The guidos are shopping in the baby store. It's all weird and sad.
Pauly to cashier: Do you have anything for when the dad cries more than the baby?
Scared cashier: Um. No.
Pauly then gets in trouble with her by putting a sticker of his own face over a baby's face on a product. She makes him remove it so he sticks it on her back. It's kind of funny.
So Jenni and Snooki are having a little b*tch fight where Jenni is saying she almost left without even telling her (not helping her case TBH), and Jenni is still complaining about Angelina. They just eventually give up and decide to let it go.
Jenni: It's all about Namaste and hug that sh*t out and move on.
Okay Jenni, so let's not EVER TALK ABOUT THE PASTA VIDEO AGAIN.
Jenni with this f*cking video:

So the guys go back to Ronnie's house, where Jen has already moved out. Side note: Love how they keep dividing these scenes back and forth between the girls and guys because they are both sooo dull to sit through all at once. They walk in to find Ronnie's huge TV smashed on the ground. Ron says he wasn't even there for that rampage. They all go upstairs.
Pauly: Are we gonna do a reenactment?
Then they walk up what they refer to as the "famous staircase". It's the staircase where Jen was Instagram Live filming one of their fights.
Pauly: Ronnie's hair looked terrible during that fight. I must have watched it four million times.
Mike: I actually don't get starstruck by Ronnie's stairs… you know what I'm saying?
They go upstairs and Jen has destroyed another TV. Like… why always the TVs? What did they ever do to you? The guys help Ron remove the damaged TVs. Naturally, the next step is to put the Baby Bjorn on Mike. He puts his bag of chips inside of it. He's dancing with his chips. Oh my God, am I Mike? Is Mike me? I feel personally attacked.
They clean everything out and then they're like, oh let's eat.
Mike: Now you're speaking my languages.
Mike, you can barely speak one language. Just stop.
The guys get ready to go out and I swear someone better cheat on their significant other because I am so over this baby stuff. Mike arrives wearing a yellow sweater.
Vin to Mike: Waddup, Curious George.
Why does Mike always wear pastel sweaters now? Is he auditioning to be a Chanel? Is this part of his "I Don't Belong In Prison" scheme?

Ronnie pats himself on the back for keeping his temper the whole trip and everyone is like… is he… is he serious? He literally tried to fight some rando in the bathroom at the pool.
Pauly then announces that he and Vinny are having a bromitment ceremony. Where is Barney Stinson? We are really reaching for drama on this show. They legit pull up to a wedding chapel. They're making Mike be the flower girl because he's already dressed like one.

Wedding chapel person: Do you want to hear about our packages?
Pauly: I'm getting married because of his package if you know what I mean.
What is happening?
What am I watching?
What is happening to my life?
Pauly to Mike: Don't eat the cake.
Mike helps Vin get ready and Ron helps Pauly.
Vin puts on a tiara and veil.
Vin: I look like a beekeeper.
Ron: This marriage is perfect, he's white, you're tan.
I have so many questions.
Vin to Mike: Don't eat the cake.
Huh, maybe Vin and Pauly are meant to be.
Ron: This is the closest I've ever been to a wedding chapel in Vegas. It smells like regret.
Mike flower-girls down the aisle by throwing the flowers over his head. Vinny walks down the aisle.
Oh, they're getting married by Elvis.
Pauly: I never pictured my bride to have a beard.
They show a montage of their friendship. Oh God, they have vows.
Pauly: Vinny. Ever since the moment you walked into that shore house. The second we worked together at the T-shirt shop. Before you had a beard. And I met your family in Staten Island. And I realized Staten Island was an actual island. I knew that it was gonna be you.
Vin: Pauly. We don't look like we belong together. You're orange, I'm pale. You have muscles, and I don't. But at the end of the day, you're the ying to my yang, and I want to do T-Shirt Time together for the rest of my life.
They do the rings.
Vin (in his interview): Don't tell him I said this, but it's a little gold ring, and the guy is covered with ice, like, get me some diamonds, bro.
They totally f*ck up the kiss and do a bro-y hug, complete with back pats so it's not gay. (Seriously, why do men do this?) What did I just watch though?
Now Snooki is meeting up with Jenni and Angelina to work through their issues. Why don't we just agree to stop inviting Angelina places? Problem solved. I'm getting another glass of wine to get through this. Snooki is giving Angelina advice on how to look classy while her hair looks like an insane Pomeranian.
Snooki: Remember how I invited you to Vegas so you could make up with Jenni?
Also Snooki: I don't want to be in the middle of this.
Pauly is now molesting Vinny in bed while attempting to wake him up. Mike harasses Ron into being the first ones at the buffet. The woman working at the buffet says he's been there so often, he's like family. Mike and Ron are walking through the lines of the buffet and Mike is telling him every single dish.
Ron: How long have you worked here?
I assumed they were getting breakfast because they just woke up, but Mike is eating pasta, steak, mac and cheese, fried rice, and ice cream???
Since Mike and Ron are the only ones here and we already talked about food, obviously the only subject we can now discuss is Ron's baby and baby mama. He says he hasn't talked to Jen at all and it's left to the lawyers now. Probs a good idea, considering she ran you over with her car for much less than this. Now that that topic is covered, we again go back to food.
Mike: I have to eat everything now because when I get home it's back to the diet.
Ron: Will Lauren even recognize you?
Mike: She knows I hold my weight well.
Ugh, I wish I did. I look like Jack Skellington with a pot belly when I gain weight. Those PSLs are my true Nightmare Before Christmas.

Snooki calls Jenni and basically holds her to lunch with Angelina at gunpoint.
The boys are all looking at themselves and Mike is like, "damn boy you thicc", to himself but like, he's so thicc that Vinny can't fit in the frame. They all go out to Drais, which Pauly claims is his "favorite" but I'm pretty sure it's where his residency is, so it's more like "pays his bills".
They have a cabana with a hot tub and there are tons of girls in bikinis. Serious question: who wears a bikini to a nightclub? Like they obviously planned on going in the hot tub? It's so weird.
Mike: What is this, a THOT tub?
Me:

Mike claims that all the girls are hitting on him. Somehow I doubt it, but sometimes people act weird and sad in order to get on TV, so it may be true.
Vin: They say it's the thot that counts, but right now, I'm counting thots.
They're bringing tons of girls home although the only people trying to hook up are Pauly and Vin. Why isn't Ron? It's like I don't even know him now.
Pauly: We have a stripper pole in our shower.
Thot: Ooooh show me.
WTF, where do people like this exist?
ALSO, this girl walks through the whole hotel in nothing but her bikini. Like, you didn't wear a cover-up over it at all? Don't you have a purse? Or like… shoes? This floor is f*cking dirty!
Pauly leads the girl to the shower where she immediately takes her top off and starts dancing like a stripper. I'm beginning to suspect these women were paid.
Mike is horrified. He's closing his eyes.
Mike: Asses are everywhere. Not today, Satan.
The thottiest thot walks up to Mike and says, verbatim, "wanna play?" confirming these girls were definitely paid. It's like these guys are now so undesirable, the producers paid for strippers to make it seem like they could still smush like the good old days. Tragic.
The girls are twerking on everything and everyone. Again. Paiiiiid. Probs paid well. Mike orders burgers and fries that definitely look like they're from In N Out. Except one girl has chicken nuggets??? They don't sell those at In N Out.
One of the girls goes in and interrupts the smushing to give them burgers. Mike tries to go to sleep and some girl starts crawling all over Ronnie. (cough cough PAID.)
Pauly:  This was the best trip ever, we had the Bromitment ceremony, Thotchella, and Four Guidos and a Baby.
That was like the last episode. Before that, nothing even happened except Jenni whined a lot and Jen tried to murder Ron.

I guess we'll see next week when everyone is somehow back at The Shore??? Why is this happening?
Images: Giphy (7); MTV
'Jersey Shore Family Vacation' Recap: Don't Impregnate Crazy Women
After a boring summer without enough GTL, Jersey Shore Family Vacation is back! We're excitedly waiting to see if Ronnie finally got the balls to stay single, if Mike's going to prison, if Angelina is going to be a regular (God, please, no), if J-Woww found her personality, and what a preggo meatball Deena will be like. The season preview was literally just them screaming at each other.
We open up to Ronnie and Baby Mama Jen having a baby shower. Ronnie, you f*cking moron. If your woman is throwing you out of a moving car, if you're trying to cheat every two seconds, just break tf up. Why must I tell you this? Ronnie is such a good dad, he went to London when Jen was about-to-burst pregnant and landed when she went into labor. And he literally complains that he had to fly back for the birth of his child. A dream parent, really. We're 30 seconds in and I'm already mad at you, Ron.
Ugh, God, I hate babies. I mean, ooooh looook little guido baby. Cuuuuute. Let's get on with the show, people.
Oh, here's generic blonde Lauren and Mike, talking about their dream wedding abroad, ruined by Mike's impending prison sentence. It's so annoying when your crimes prevent you from your special day plans, amirite? Love that none of this is a red flag to Lauren, but hey, she let Mike break up with her several times to f*ck other women, and took him back again and again.
Now Pauly and Ronnie are playing with his tiny meatball baby. By "playing", I of course mean "staring at it" because that thing is barely alive at this age. Oh my God, here we go with a hilarious montage of Ronnie and Jen's totally abusive and nasty messages to each other with Ronnie screaming over it. Yikes. They're really glossing over how problematic this is.

And now we're somehow cutting to lunch with Snooks and Angelina being fake polite to each other. Oh good, Snooki bought her adult diapers. Oh good, they got their boobs done together. I have no interest in this.
Vinny is talking to his mom about how much happier he is without the Instagram Model in his life. Now he can save all the strippers he wants! Oooooh, I totally forgot this season is going to be in Vegas. Funny how for Jersey Shore there is no Jersey Shore in sight. Guess they're still not allowed back then? TBH, I didn't even know what the Jersey Shore was before this show, so maybe they should be thanking MTV.
J-Woww is all, "Oh everyone thinks babies are so easy!", like no b*tch, babies look like life-ruining nightmares, but okay. Her baby is two and doesn't speak yet and has to go to therapy. I don't know at what age babies usually speak at, but I'm assuming this is bad? While I do feel bad she's worried about her kid, quiet kids seem way easier, soo…
The girls meet for drinks (food?) and apparently Angelina called Jenni a Jersey Whore which she finds really offensive. I'm disappointed in you, J-Woww, you used to be proud of being a Jersey whore. Deena announces that she's not coming to Vegas due to her pregnancy, which like, good. Sorry D, you spent all last season falling on the ground and crying about your husband. I'm imagining pregnancy hormones are worse than alcohol, yes? I could do without it.
The guys arrive in a ridiculous suite at Planet Hollywood. It has a stripper pole in the shower.
Vinny: Ronnie's gonna be single by like dinner.
He's still with Jen after the violence and the weird little Instagram montage? Oh, Ron. Also Vin, Ron does not have to be single to f*ck strippers, which we've learned many times over. I remember when they had a little tiny (but really gigantic) beach shack above the T-shirt shop. Ah, memories. Pauly calls Ron out for posting two days prior on social media that he is single; now he's saying he and Jen are good.
Mike: Ron's acting like Puerto Rican Jesus. He says he's working things out but how long will that last.
Mike, I think we remember the Bible differently.

Ronnie doesn't want to go to a strip club. Also, can we discuss Mike's shirt? Like, it's not a bad shirt, but it just doesn't look like him. He doesn't look right next to the other guys.
Ronnie: I don't want to go anywhere with Mike in that shirt.
Oh f*ck, if I'm agreeing with Ronnie, I need to rethink my entire life.
The girls arrive in Vegas!
Oh wait. I forgot. Sammi's dead, Deena's pregnant (which may as well be dead), and Angelina thankfully wasn't invited yet because the producers are obviously going to surprise throw her on us later in the season. So the "girls" is literally just Snooks and J-Woww. And J-Woww still looks like a librarian, so she really doesn't count. Snooki better step it up this season, that's all I have to say.
We're almost done with this episode and literally nothing has happened.
Snooks: Mom's are here!
See? Having children makes everyone boring. Snooki has an updated pouf, where it's like as big as her old pouf, but it's segregated in three pieces like a spiked crown. Is she going to party or rule the seven seas?

F*CKING SNOOKI, she just announced that she invited Angelina to replace Deena on the trip. Why are you doing this to us? Angelina left the first season, 10 years ago. She is cancelled. Snooki has failed me so far. J-Woww is pissed but you can't tell because her face does not move.
Out of nowhere, Mike announces that he and the "Missus" are "experimenting in the bedroom." File that under things I don't need to picture, thanks. Ronnie is bringing the baby and Jen to show everyone (why do people always insist on showing you their babies? They all look like shriveled potatoes for the first six months). J-Woww super sketchily cuts to her interview where she announces: I have a secret.
Apparently, she reached out to Jen after #SocialMediaGate. Now she's worried Jen has told Ron that she once again inserted herself in the middle of his relationship. Like, why would she even talk to Jen? She doesn't know her. Jen brings the shriveled potato up to their room. Snooks and J-Woww cry and say she looks just like Ron. They say this like it's positive. Can you imagine Ron as a woman? That is going to be a hideous child if she doesn't grow out of this. Don't put that on her, guys. Vinny's ovaries explode at seeing the baby. Oh my God, Snooki tries to smile at the baby and her face is so puffy and frozen it ends up like grimace. That is so scary and also so hilarious. Why do people do this to their face? Who is allowing her to have this much botox?
Mike to Jen: I don't know what you did to this man, he's a different person now.
Mike, Ronnie said no to the strip club. Once. One time. Two days ago he was announcing over social media that he was single. A little before that, he was engaging in totally abusive and violent arguing with Jen. But yeah, he's a changed man. Mike is basically every woman ever.
J-Woww pulls Jen aside to talk and Jen says didn't tell Ron anything about their conversations.
Jen: I told Ron I trust him 100%, and also if he f*cks up, I'll find out.
Also Jen:

First of all, you should not trust him, he has given you a million reasons not to. Secondly, what is there to find out if you trust him? Run, Jen, run. Collect that child support and go. I cannot believe there is a woman in this world that wants to be with someone like Ronnie so badly that she's willing to put up with this kind of garbage.
We end Jersey Shore Family Vacation season 2 episode 1 with Ron sending Jen off. Let the sh*tshow begin, friends.
Oh wait, there are two episodes back to back.
Okay, I guess I have to do this all over again now. I mean, fine, but something actually interesting better happen.
The group is talking about Ron and Jen behind their backs. What else is new? I am sooooooo embarrassed for Jen. This man drove you to getting into a physical altercation in the car with your baby, throwing him out of the car in front of said baby, and then running him over with it. But yeah, I'm sure it'll work out now, guys. Or you could just break up.

Oh sweet Jesus, Mike is getting tanner by the second. He looks like OG Snookie. As if on cue, Vin starts singing the Oompa Loompa song. Ronnie says he's glad everyone got to meet the baby before Jen goes to Oklahoma. Why is she going to Oklahoma? Is she moving away or like, on vacation? Who vacations in Oklahoma?
Now we have a whole sequence of the boys playing with the sequins on pillows. Can you people be fun again, please?
WHAT is with Jenni's severe bun in her interviews? She looks like one of the men from Mulan.

Jenni is crying because she wanted some kind of Mother's Day video but her friends were supposed to be in it (?) and now she's mad at them (?). Unclear. Also, I have trouble understanding people who talk without moving their mouths. This is why I have so many friends in LA. I just smile and nod because I don't know what their Botox faces are saying. It makes me appear agreeable.
They all go to dinner.
Vinny: All I want is for someone to look at me the way Mike looks at a food menu.
Seriously, me too, dude. Mike orders half of the menu. Why is he insisting on being fat? He's like "oh, whatever, it won't matter because I'll get ripped when I for sure go to prison"? Does anyone really do that? I've seen every episode of OITNB, and that was Piper's goal too, but so far she's lost some teeth and caused a lot of problems, but is def not ripped.
Jenni is now announcing that she's mad at Snooki about the Mother's Day video. I don't get this? Why would any of these people be in her Mother's Day video? These aren't your kids. Even though you supervise Vinny's haircuts. It's weird and creepy. Jenni, you used to have real problems, like b*tches looking at you wrong at the club. Fun things. Then Jenni decides she really wants to cause problems over this stupid f*cking video, because although she made sure Baby Mama Jen didn't tell Ron anything, she now announces that she's been conspiring with her at the table to everyone. Why? Then she comes for Vin.
Jenni: If only you had cheated on Alicia (Insta model) like you cheated on your diet, you guys would still be together.
It took me a second to understand what the f*ck she meant, but I get it. Vin never cheats on his miserable and insane keto diet, but did cheat on his miserable and insane gf. Way harsh, Jenni.
Vin: I loved Jenni in The Mask, it was amazing.

Jenni: My face will go down in a day or two, but your ego and cheating ways will stay forever.
I mean. These statements are all true. But good to know that Jenni's face is freshly shot up, maybe she'll even make an expression by next week?
So Vinny and Pauly are both single but Ronnie isn't, which means nothing to Ronnie, so basically they're all single. Pauly is besties with everyone because they're going to Drais, where he is the resident DJ. Pauly is so happy the "Smash Squad" is back. Didn't they used to call it smushing?
Jenni is asleep in the club in the corner and she's all giant scary lips. The guys say she looks like a mannequin and they are not wrong. Jenni, who are you? I don't know this woman.
Ronnie is sitting in the corner. Like, you guys can still be fun even if you're not cheating? Why are these the only options?
Jenni took Snooki with her in the cab. She is such a bore, I can't take it.
Snooki: Did Bill Cosby drug you?
This. This is why we keep Snooki around. But also, too soon?
Back at the club, Vinny is educating us that all Canadian women are DTF because they're basically men. Oooookay. Mike and his puffy orange face and indoor sunglasses pouts against the wall. Pauly and Vinny bring the slutty Canadians back and immediately put them in their beds. Like, fully dressed and with shoes on. What is this. Now there is a montage of Canada. Which is mostly hockey. I mean, this is definitely what I think all of Canada is, so fair. Pauly and Vinny send the girls away once they're done with him. Just like old times!
Boring J-Woww wakes up at 8:30am, and all I want to know is how anyone can sleep in this severe bun. Does your head not hurt? She calls Roger to continue b*tching about Mother's Day. Let it go, woman. This is like her entire personality, this Mother's Day video. Everyone but Vin goes to breakfast. Mike orders chicken and waffles and french fries.
Mike: I do the keto diet with one cheat day. One cheat day, 3-5 times a week.
Weird, me too.
Ron calls Jen and apparently her flight was changed so she wants to come visit Ron. He's like, f*ck no. And he basically explains that she's really pure evil and he doesn't want her around. Seems like this is going well.
They all go to a pool party and Pauly DJs. Mike is jealous he's not getting enough attention, so he puts on this totally revolting giant panda head and dances around. So I guess Jen won, because Ron is spending the whole day moping that she's coming out with them. Ron starts getting 400 texts from Jen yelling at him. Like, Ron, what did you do now? You haven't even been here for 24 hours. Ron goes to the bathroom and gets in a little fight with some guy. Then security has to intervene. Like, can't you just pee without causing a problem? He's even doing aggressive clapping at the guy, which I didn't know was still a thing. They are all forced to leave the party. Ron, you have a child, get your sh*t together!
Jenni: So since Jen is visiting, she likes tequila right?
Ron: I don't know, I don't care, I'm over it.
Jenni's shocked face:

He's literally throwing a tantrum that Jen is coming out with them. Like wtf? Just break up, you psycho. Being single is way more fun. Now Ronnie is crying because he doesn't want to hang out with Jen. I'm exhausted from their relationship.
Mike: Relationships are tough, life is tough, it doesn't get easier.
Mike, when you cheat on people and commit crimes that will send you to prison, you're right. You're not really the person to ask for advice here.
Ron is calling Jen repeatedly and muttering, "Where's my daughter?" and crying. Unclear what's going on here.
Ronnie admits to the group that Jen is basically holding the baby hostage from him based on his behavior. I mean, if you behave like a drunken psycho, I wouldn't want you around my kid either. And my kid is a dog.
Jenni: Uh if you're so scared of her taking your kid from you, why are you posting crazy sh*t all over Instagram and baiting her?
Seriously. She then tells Ron to leave Jen and get court-ordered custody so Jen can't withhold the baby when she feels like it. He freaks the f*ck out and says it's too hard. Like, he hates Jen anyway, what's the problem here? Ron continues to play the victim and Jenni is like, "this is your fault for getting a crazy woman pregnant." SERIOUSLY. Use protection, you idiot.
Oh I guess that's it for this week. Let's hope Single Ronnie comes out next week. And by Single Ronnie I mean Probably Still In A Relationship But Gives No F*cks Ronnie.
Images: Giphy (8)
The 'Jersey Shore' Reunion Left Out The Best Person From The Show
Last night was an array of emotions for me. First, I was watching the intellectually stimulating Game of Thrones, then I was watching 5 leather beanpoles stroll the pier of the Jersey Shore again. Get you a girl who can do both.
We start out the show with lifelong train wreck, Mike "The Situation", introducing us to the reunion special. The Situation needs to situate himself in the gym, for real.
He talks about how it's been 5 years since Jersey Shore—the show about unemployable Italian people getting lost on a beach that's a mile long—aka his peak.
He's like "the last five years have not been cool, I've had to face the consequences of all my decisions and that's just not what I signed up for." Sounds like post-grad life.
He says he still lives the GTL life but his chubby cheeks say that he really lives the BLT life.
He introduces us to his girlfriend and they start making out at the barbershop.
The Barber as The Situation sucks face with his gf in the chair:

Mike has basically lost touch with all the cast because he took that pill addiction we all had in college way too far and ended up in rehab. Twice. The Situation says he's nervous they won't want to talk to him and his girlfriend reassures him that all his friends love him still, which is a really weird way of saying "they're going to be making money from this, they wouldn't miss it."
He goes to pick up Snooki, a living legend. Snooks is like "I was a mess, but I'm so changed and mature now" as she downs Pinot Grigio while holding a baby at 11am.
Her husband must be really outdoorsy because Snooki's lips are like small mountains. He's gotta put on some hiking gear just to make out with her, damn.
Mike doesn't even get out of the car to reunite with his old friend. He just honks the horn outside of her house like Karen, the lady who used to drive the carpool to soccer practice.
Within three seconds of getting in the car, Snooki forgets what day it is, doubles up on birth control pills and asks Mike how many women he's fucked. I don't call them "living legends" for nothing.
Snooki: Mike, are you going to jail
?
Mike:

They go to get Pauly D, who is living his best life as a bottom-tier DJ at shitty nightclubs in Miami.
Pauly is apparently still into GTL too and could damn near audition for the part of Tracy Turnblad with the amount of hairspray he uses. No one light a match within 100 feet of this dude.
Pauly's girlfriend is Aubrey O'Day from Famously Single/that band Diddy made one time and they talk about how she is super hot and dislikes how Pauly D probably cheats on her. The usual relationship woes.
They start talking about Ronnie and how he is a huge piece of shit now that the Kardashians made Malika dump him. Because the Kardashians have an iron grip on E! Network's balls, Ronnie will not be attending this reunion. Sorry Ronnie, you can try Sears.
JWoww is next to be picked up by this shitty bus. She explains about how she is a "girl boss" running a blog and it's like, hmmm take a number.
They are all in the car and I wonder how fucking badly it smells in there of spray tans, gaudy perfume and axe body spray.
They all are excited to go back to Seaside, but Mike lets them know that they were legitimately banned from the whole town. Seaside has taken a stronger stance against guidos then Trump did against Nazis. What a time to be alive.
They go to the one restaurant on the shore that will allow them back and Sammi Sweetheart meets up with them. She's like "hopefully this is a great reunion and we all make out." Yup, that'll really be a productive way to catch up.
Sammi is a not a regular podcaster, she's a cool podcaster who is totally not crazy and fucking obsessed with the new guy she's dating.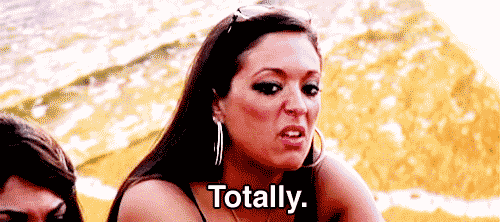 They ask Sammi about Ronnie and she's like "STAAAHPPP" and says she doesn't wanna talk about him. Well, okay this was fun.
Discussions ensue about threesomes, foursomes, and gross things they did on the shore, and I consider calling my parents up and asking why they allowed me to watch this shit as a youth.
In the surprise twist no one saw coming, we find out that all of them have gotten botox and all the girls have gotten boob jobs. This is episode is actually going to be on Botched too, if you missed it.
SAMMI: I got a boob job

EVERYONE:

After ogling each other's balloon sized tits and faces made of rubber, they start reminiscing on the time Mike knocked himself out on a concrete wall. He's like "that was a dark time for me". And he means that literally because he gave himself a fucking concussion from fighting a wall and had to sit in a dark room for a number of days.
The girls also reveal that MTV, the usually morally upstanding television network, used to make them watch old episodes and get riled up so they could fight each other. I see you, MTV.
They talk about Mike possibly going to jail and he's really scared because he'll only get the "G" and the "L"—where's the T going to come from, dammit?
MIKE INTERNALLY: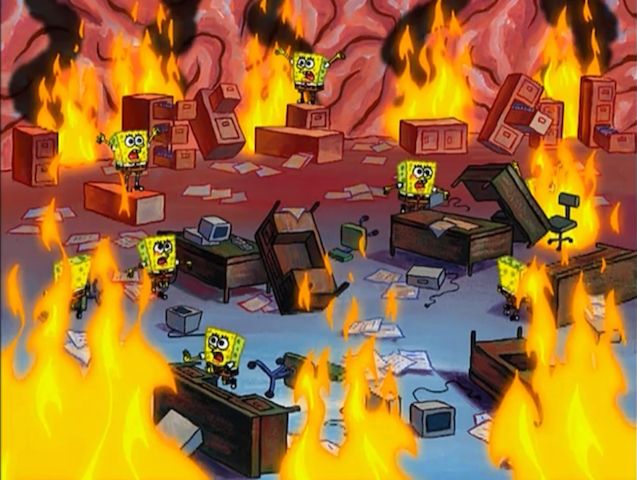 The group decides to be supportive of Mike's sobriety and take a nice big shot in his honor. Nailed it.
They go walk around the shore, basking in their D-list glory, expertly avoiding any conversation about Vinny, Deena or Angelina. And then, they leave? The fuck kind of road trip is this? This is more of a field trip! And I've had way more dramatic field trips before. This is not what I signed up for when my daddy started paying for my cable.