These Red, White, And Blue Jell-O Shots Will Impress Everyone At Your July 4th Party
I know the drill. You've got a bunch of 4th of July BBQs to attend, and you want to bring something that will really wow people because you want to distract everyone from your lack of a summer body/want to impress Brad/I don't really care why tbh. Well, I've got something that will be sure to impress (and get you wasted): red, white, and blue Jell-O shots. It's what our founding fathers would have wanted.
Brace yourselves: this post is long. Mostly because I don't have faith in anybody to not fuck this up.
Ingredients
3 boxes of Jell-O: 1 blue raspberry, 1 of any red flavor (cherry, strawberry, raspberry, IDGAF), and 1 clear* (more boxes if you want to make more than, like, 30 shots in total. Warning you now: one box of Jell-O doesn't get you very far. If this is a big party you may want to double the recipe).
1 handle of vodka—If you buy the shitty vodka that comes in a plastic bottle, PEOPLE CAN TELL. No need to ball out, though—stick with Smirnoff and you'll be fine.
3 juices that correspond to each different color of Jell-O that you bought, i.e., blue V8 for the blue, red fruit punch for the red, and just like, Sprite or some shit for the clear. IDK, something clear and somewhat flavorful. The clear ones are going to come out rough—deal with it. Note: DO NOT USE HAWAIIAN PUNCH. That shit is disgusting. It will botch your Jell-O shots. I would know; I've done it before.
2 pots *said in the 2Chainz voice* …actually I lied you only really need 1 pot; I just wanted to make that joke.
Those little Dixie cups kids use to brush their teeth with OR those paper ketchup cups OR disposable shot glasses OR whatever you can find. Basically you just need a small plastic cup-like structure that's not too rigid or else no one will be able to squeeze the shots into their mouth. Be creative. I've used mini cupcake molds in a dire situation. It really doesn't fucking matter.
*clear Jell-O is hard to find but I promise it exists.
Finding all this shit may be hard, but the good news is making Jell-O is so easy, even a caveman you can do it. I'm prefacing this by saying that these aren't regular Jell-O shots; they're good Jell-O shots. I know this because I am honestly kind of famous for these things. I'm sort of an urban legend. But anyway, I can't believe I'm about to do this, but I'll tell you my secret.
So when you make regular, non-alcoholic Jell-O, you mix 1 cup of hot water with 1 cup of cold water and then the mix. Easy. Now, most idiots making Jell-O shots just sub out the cold water for their liquor of choice and call it a day. WRONG. That is how your Jell-O shots come out tasting like rubbing alcohol and regret. SO LISTEN TO ME CAREFULLY. For Jell-O shots that will taste delicious and still get you fucked up, you still replace the cold water with the alcohol, but you also REPLACE THE CUP OF HOT WATER WITH ONE CUP OF JUICE.

This is why you can't be choosing flavors all willy-nilly. You have to put some thought into it. Maybe buy more packets of Jell-O than you need in case you fuck up the flavor profiles. Can you tell I take this way too seriously?
And now I will no longer be invited to parties since I gave away my long sought-after recipe. JK, I'll still get invited because I'm a fucking good time. But anyway, for those of you who lack the powers of deductive reasoning, here's your step-by-step guide to making these patriotic Jell-O shots. Please note, these are not for the layered Jell-O shots pictured above, but for red and white and blue ones. As in, separate colors, separate cups. I'll get to the fancy shit in a sec.
1. Get your pot. Measure 1 cup of juice. Pour into pot. Put it on the stove on low heat, and when that shit starts to boil, stir in your Jell-O mix until it's dissolved. This should take like, 2 minutes (btw this is all on the box in case you forget).
2. Once it's dissolved, remove the pot from heat. Measure your 1 cup of vodka and pour it in the Jell-O/juice mix. Stir.
3. Pour that shit into your cups. Put it all in the fridge. Wait like, 5 hours.
4. Rinse and repeat (like literally rinse the pot) 2 more times.
TA-DA!

If you want to get really fancy, you can do three-layered Jell-O shots, like so:
It's the same as above, only when you pour the first layer of mix into the cups, only fill it like 1/3 of the way, fucking duh. Then—and this is the important part—you need to wait for each individual layer to solidify a little before you pour the next layer on top of it, which—double important part—NEEDS TO BE COOL. NOT HOT. Basically, if you try to pour hot Jell-O over not-gelled-Jell-O, instead of a nice layering effect, everything will all melt and mix together and you'll have a gross brown (or purple?) mixture. Ew.
I can feel that I just overcomplicated things. Know what? Let's leave the layering to the professionals. Aka, me.
How To Wear Red, White & Blue Without Looking Like A Basic B*tch
Memorial Day Weekend is one hell of an underrated holiday. It kicks off the start of summer, you can eat all the hot dogs you want (which should be zero), and you're daging until whenever it is you finally pass out, because day drinking is really fucking exhausting. Basically, it sets the standards for what this summer will bring. Will you throw up over the side of the boat? Or will you hook up with that guy you've had your eye on since college? It really can go either way and what you fucking wear is like, so important. Whether your plans involve partying on a motherfucking boat or reuniting with friends and family you haven't seen in forever, your outfit needs to make one hell of an impression. Don't show up to the BBQ wearing the same denim shorts and white crop top as the girl next you. You need to show everyone you are only getting hotter with each day and you are not a basic bitch (we both know you are but, just pretend, okay?). This is like, the pregame to Fourth of July but that doesn't mean you need to wear a sparkly headband or face paint the fucking flag on your face to fake it. What are you, like, 5?
Wear these trendy AF things this weekend (yes, MDW is this weekend—plan accordingly with your shipping choices) so you can look somewhat patriotic and hot when you're drunkenly chanting "U-S-A" and pretending to give a shit about 'Murica.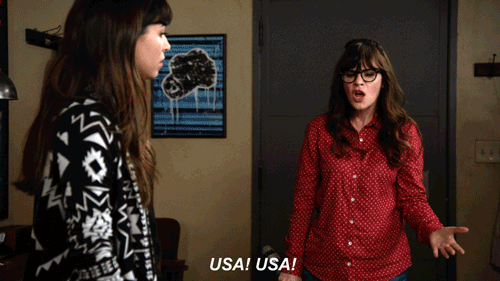 Instead of your typical short summer dress, go for one with a little length. The flowy dress is a lot of fun and makes for a perfect Boomerang on Insta. Pair with small wedges and an all white denim jacket if it gets chilly out. The back comes together with two small adjustable bows, and anything with bows is a winner in my book.

Bring boho vibes with a crochet top and a pop of yellow in between some red, white, and blue. Keep it low-key with distressed high waisted denim shorts, white flip flops, or your comfiest sneakers. Wear fun earrings to add some attitude, a chic choker, and you'll be shotgunning a beer with the guys in style—just please don't say you're "one of the guys" or that "girls are too much drama".

Make it sexual and flirty with a crisp, white off the shoulder romper. Bring in other colors by pairing with a red clutch, red earrings, and blue heels. Just keep in mind that rompers are all fun and games until you have to pee and next thing you know, you're naked on the toilet. If you drink enough, you won't care eventually.

Hide your shish kebab bloat with a plunging color-blocked one piece. Wear a patriotic swimsuit you can get away with wearing during anytime in the summer. Add a floppy hat, strappy sandals, and funky sunglasses for a complete 'Murica look.

Wear this frayed denim jacket over an American graphic tee for a casual, street style look. Pair them with white or red shorts, low-heel sandals and a striped crossbody. America, fuck yeah.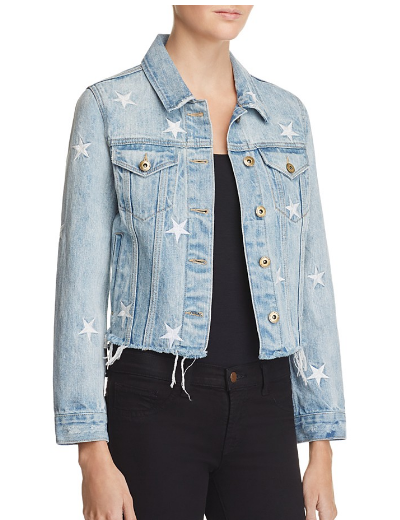 This is for the girls who think it's cute to wear an American flag like cape. Um, hello? This isn't Halloween. You're not Captain America—leave that to your drunk persona. Opt for a kimono or poncho that does the same thing but looks cuter and won't have your uncle accusing you of disrespecting the flag when you post a pic of your outfit on Facebook. Throw over a distressed denim mini skirt or your bathing suit. Before the night is over, grab a sparkler and take a picture for the 'gram. This is really Insta-worthy.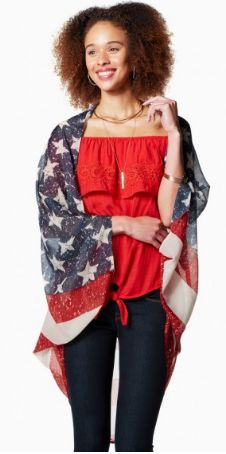 Instead of an obnoxious headband with like, fireworks falling out of it, find a red, white, and blue patterned wrap that has multiple uses. Wear it as a bracelet, scarf or a fucking bandeau if you want. This boho hair wrap is going to be the next scrunchie, just watch. I'm going to say I fucking told you so.

Lastly, after you figure out wtf you're wearing, dress your beer in a cute drink sleeve because even your drink has to look good too. Score major brownie points by bringing cute drink floaties to share. Now, everyone will be able to play swimming flip cup in the pool, thanks to me you. #MakeAmericaDrunkAgain.