Barbiecore Is The Perfect Way To Brighten Up Your All-Black Closet
Betches may receive a portion of revenue if you click a link and purchase a product or service. The links are independently placed and do not influence editorial content.
It's no secret that wearing pink on Wednesdays has been a thing for like, ever. But, from the moment I found out that there was a new Barbie movie coming out, all bets were off. I've been needing an excuse to wear exclusively pink without people looking at me as if I were a Toddlers in Tiaras prodigy, and now I finally have one. 
Barbiecore is in full swing and sans the plastic (because, climate-change, duh) it's fantastic. I chatted with our very own Maddy Paul, senior fashion and lifestyle content manager, to talk shop. And by shop, I mean how I could incorporate fuchsia bell-bottoms into my wardrobe on a weekly basis. 
"Barbiecore has been around for a while, originally popularized by Valentino's FW22 collection and subsequent slew of celebs in hot pink on the red carpet," she says. I mean who could forget the chokehold Anne Hataway had on us collectively last year when she donned an entirely hot pink ensemble that quite literally catapulted us all into a coma? And if I learned anything from Miranda Priestly, I know that this color isn't going away anytime soon. 
While the color is obviously the main character of the Barbiecore trend, Maddy reminded me that it's also the epitome of nostalgia for a lot of us. Bringing back childlike whimsy and references to different decades like 60's suiting, 70's bell bottoms, and even 80's workout gear. And, TBH, if the Barbie movie performs half as well as the memes, it'll breathe new life into the trend in a way that goes beyond just the hot pink color Pierpaolo Piccioli created with Pantone.
Back to the reason you're here, the clothes. Maddy gave me a cheatsheet on exactly how to rock this trend without being cheesy, which knowing me, I would probably take it too far. And, because I'm just so kind, I'm sharing some of my faves.
Workout Barbie
Literally just add roller skates and you're set.

Shop it: Court Dress, $108, Outdoor Voices
Corporate Barbie
Maddy would personally would pair this with slouchy trousers to make it more modern, but I would totally go full-blown Barbie with a pink slip skirt.

Shop it: Endless Rose Scoop Neck Tweed Jacket, $140, Nordstrom
Blackout Barbie
You just know Barbie has an arsenal of going out tops.

Shop it: Emmy Silk Top, $128, Reformation
Date Night Barbie
The rosette trend definitely overlaps with Barbiecore, especially in this more over-the-top rendering.

Shop it: Large Rose Appliquéd Top, $139, & Other Stories
Road Trip Barbie
You honestly can't tell me this doesn't look just like Barbie's western outfit from the trailer.

Shop it: Jacksonville Cropped Jumpsuit, $218, Show Me Your Mumu
Wedding Guest Barbie
It is wedding season after all. This slightly '80s inspired take on cocktail attire screams Barbie.

Shop it: Rhode Pia Mini Dress, $395, Saks Fifth Ave
Hungover Barbie
I'm 98% sure this sweatshirt would heal my inner child and, ultimately, my hangover.

Shop it: Urban Renewal Remade Heart Tie-Dye Crew Neck Sweatshirt, $59, Urban Outfitters
Vacation Barbie
Bonus points if you pair this set with a black and white striped swimsuit inspired by Barbie's OG outfit.

Shop it: River Island Plus wide leg set in bright print stripe, $75, ASOS
Brunch Barbie
Another throwback to the 80's, but totally keeping it modern and wearable for today. Who doesn't love denim?

Shop it: Women's Sleeveless Denim Corset Top, $32, Target
Feature image credit: Warner Bros. Pictures
The 8 Millennial Pink Pieces You Need To Buy For Summer
If you pay any attention to fashion (or just to the internet), you've probably heard of a new shade of pink floating around. What is this "millennial pink" you may ask, and how are we still coming up with new shades when there are 67 million Crayola colors? Well, I don't fucking know how to explain it, tbh. Millennial pink is a variety of blush pink shades, apparently—because we live in a country where no one likes to agree on anything. Not even a goddamn color. It's probably the shade of your fave nail polish color or most used Kylie lip kit. You probably know it best as the color of Amy Poehler's Regina George's mom Juicy Couture tracksuit, though.
See:

Now that you went "ohhhh" and understand exactly what I'm talking about, you'd agree that there probably hasn't been anything you haven't seen in this color yet. From modern home décor to your new crossbody bag, this is your go-to color for anything, ever. It goes with the depressing beloved black, white, and gray in your closet since it shows everyone you might be ~*feminine*~, slutty flirty, and cute. Orange is the new black? More like pink is the new black this summer. To contribute to your obsession, here are clothing and accessory pieces you just need to buy in the iconic millennial pink.


Um, what's not to love about this dress? With flowy off-the-shoulder sleeves and a scandalous lace-up front, this perfect summer dress will literally get you so many likes compliments. Your friends will probs be begging to borrow it for your next night on the town or weekly brunch date.

I mean, anyone who is anyone obviously has this shoe in black already. In a gorg rose quartz (like, how boujee does that sound), you'll have shoes for all your summer weddings to comfortably dance all night long in. Even if you go solo (which is 90% of the time), you might find someone who appreciates your shoe game at the very least.

I think the real question for this is, when don't you need a new crossbody? Because if you're like me, you definitely always leave it anywhere your drunk mind sees fit. For your 100th bag, opt for one in this season's hottest color. This bag's sturdy leather won't rip so easily when you try to stuff in your biggest flask. But since this one is too expensive cute, you can't throw up in it during your morning commute from a night of too many vodka sodas.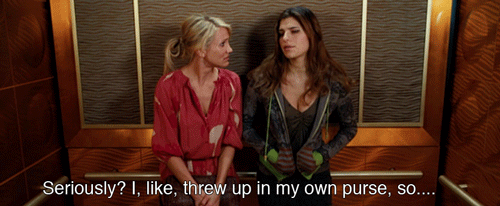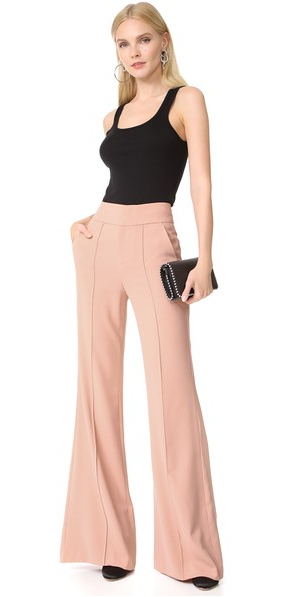 IDK about you, but, my business casual wardrobe is pretty limited in the sense that it's all black. When I hear business casual, I think black = boss lady. Also, who the fuck actually likes working (unless you're Steph Shep aka assistant to the regional manager Kim K)? So, why wouldn't you wear the color that fits your current always mood? Instead, switch things up and get these suited pants for a (fake) cheerful office look. Pair with an ivory blouse or blazer for high-key summer vibes.


I know, like, you have so many pairs of rose gold sunglasses already. These pink mirrored lenses are just must-haves because they have the bitchiest cat-eye frames I've ever seen.

If you haven't jumped on the one piece train yet, better late than never. Especially since summer has already officially begun. Bare it all in this pale pink, risqué one piece that shows off all the right places, leaving little to nothing to the imagination—an essential factor before buying anything, duh.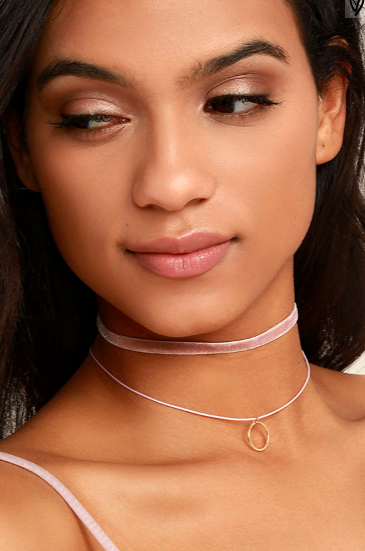 I said no more black velvet chokers for the summer, but I'll allow a pink version. Layer your look with a delicate gold pendant because you're like, such a minimalist.

In addition to your blue denim jacket, buy one in this chic color for an effortlessly casual and sassy touch. Pair with trendy pants or over a bodycon dress when you're trying to fool all the guys into thinking that you are like, totally chill and not at all psychotic. LOL