Everyone Knows I'm The Posh Spice Of The Group & Other Woes Of Planning A Group Costume
Ashley: So……………………what's our group costume going to be for this retro party?
Britney: Group? I was going to go super retro as my namesake 👑 Britney Spears 👑 
Ashley: we could do retro pop singers
Emily: Do you know any others besides Britney Spears?
Jessica: Christina Aguilera was a judge on The Voice
Jessica: That's all I know
Denise: Do the 90s count as retro?
Jessica: yeah, millennials are old/cringey af
Britney: So then why are we emulating them again?
Ashley: It's the theme.
Britney: true
Emily: what was it even like back then? Wasn't everyone homophobic? ugh
Ashley: I watched VH1 I Love the '90s
Ashley: so I'm like an expert
Denise: 🙄
Denise: Ok, Ashley. 
Ashley: And I've seen a few episodes of The Office
Emily: wtf?
Jessica: WHY?
Jessica: cringe 4 cringe? CHEUGY
Ashley: 😫
Emily: Oh duh. Just googled: Spice Girls. 5 of them
Jessica: That does work!
Britney: do we have an inspiration pic??
Ashley:

Jessica: Is that silly string?
Denise: I choose to believe it is
Ashley: and it's so easy for us to pick since it's so obvious who we all are
Emily: Is it?
Ashley: Yeah, just look at Denise. 
Britney: 👀
Emily: 👀
Ashley: Ginger is ginger.
Denise: 🙄
Jessica: Ok, following that logic I'm automatically Scary 🙄
Ashley: good!
Britney: Uh……casual racism aside…….who am I?
Jessica: How existential.
Britney: 🤪
Denise: Baby (blonde)
Emily: baby
Jessica: Yeah, Baby
Ashley: and I'll be Posh, obviously
Britney: 👀
Jessica: 👀
Denise: 👀
Emily: "obviously" 🙃
Ashley: they're both basically Sporty now anyway since Posh is married to that soccer guy
Emily: David Beckham
Ashley: See!!! you are sporty ⚽️ 🏈 ⚾️ 🥎 🎾 🏐 🏉 🎱
Emily: Fine, whatever. It's just for a stupid party I'm going to blackout for anyway, joke's on you bitches bc I'll be the most comfortable
Emily: I will NOT be switching shoes with anyone, so don't ask 
Denise: shit wait
Emily: too late 🤪
Denise: fine … we should prob incorporate masks right?
Britney: 😷
Ashley: I don't think Posh would do that
Jessica: good thing we're just dressing up and you aren't really Posh Spice jfc 
Britney: 🙃
Ashley: ok, send pics of your costume when you have it
Denise: I……actually think we just need to get dressed and crimp our hair and we're good
Britney: yep
Jessica: Yep.
Emily: Yep.
Ashley: whatever, I'll see you in 3 weeks
Britney: right, cheerio!! 🧐💂‍♀️
Denise: NO FAKE ACCENTS
Britney: 🥺😔
Ashley: I'm doin one
Denise: oh god
Image: Mosuno / Stocksy.com
5 Adult Birthday Celebration Ideas That Don't Suck
January is my birthday month, so to fellow Capricorns, hello, you are the best. But really, we're like the only sign whose "flaws" are actually compliments, ie too focused, too ambitious, too pretty, etc. Geminis are like, oh you're two-faced and you're also batsh*t crazy. Anyway. Being in my birthday month means I have to figure out something to do for my birthday that does not suck. I didn't even bother last year because I was so over it. First of all, you never have any idea how many people are coming. All my friends are coupled off like Noah's f*cking Ark. If you invite your friends, you also have to invite their significant others–even the ones you don't like. And then everyone brings random friends, roommates, etc. It's like, I'm going to have 5 people or 40, not sure which. Instead of having a horrible dinner where you can't get seated because your "entire party isn't here" (even though I explained that my friends are flakes to the hostess no less than 11 times) and people lying about their part of the check, or a house party where you're cramming 5-40 people in your studio apartment, here are some way better ideas so you can actually enjoy your birthday.

Dive Bar
Find a cool, laid-back bar that has food, a ton of space, and cheap drinks. You don't have to reserve a table and you can just hang out all night. Tell your friends, hey, I'll be here from 8PM, show up whenever. If they want to eat, they can get it themselves ordering at the bar and put it on their own tab. No one will kick you out, you don't have to worry about everyone sitting down, and all of your friends can get in even if they arrive late because there isn't ever a line at the door. They may even have live music. It's the closest to having a party in your own house, except you get to leave whenever you want, and someone else has to clean up afterwards.
Wine Tasting Tour
I wanted to do a tour at a winery in Malibu for my birthday, but then it kind of burnt down (awkward). A wine tour is fun because if people don't show up on time, you just leave them, so it's really not your problem. It's also usually kind of expensive, so you'll weed out those people that you felt obligated to invite but don't actually want to hang out with. There are so many different options, like the one in Malibu is actually a safari with animals (who thankfully are all okay post-fire, btw) AND drinking. It's the dream! Think of it as a more exciting way to do a drunk brunch and also, everyone prepays so the check is not your problem at the end of the day.
Beach/Pool
I'm a huge fan of "I'll be here, come if you want" types of events, mostly because I hate waiting for people. Having a party at the beach or a pool is soooo easy and casual, just bring some food and alcohol and tell your guests to BYOB as well. You can spend the day laying out, talking sh*t, drinking excessively, and swimming with no cares about reservations or your house being destroyed. As a January baby, I rarely ever even get this as an option (I mean, I live in LA, so sometimes it's warm enough), but hey, with global warming it's probably something to look forward to.
Venue/Private Room
If you really want to call the shots, consider renting out a private room in a bar or even an entire venue for your birthday. You can pick the music, the drinks, how many people come, and no one can complain about late arrivals. You just stand around looking amazing having the best time, and your friends can come and go as they please. The only true downside is this is expensive. Consider teaming up with a friend whose birthday is near yours and doing a joint party to cut down costs, a la Stassi and Ariana. This is really the best way to do a birthday party IMO, but I cannot f*cking afford it. If only I "worked" at Sur.
Trip
Another way to weed out those people you don't really want to see is to plan a birthday trip. Susan you sit next to at work won't be offended you didn't invite her to a trip with your besties to Vegas because, duh, she has 11 kids and could not possibly swing that. It's the perfect way to cut down up your party list. Even better, book your hotel room with your boyfriend or bestie, and then just tell everyone else, hey, here's where we're staying, book your own room if you want to come. Don't try to split a house unless you want it to be like the dinner check scenario but times a million. But hopefully it's just your closest friends who you know will pay up ASAP, and aren't terrible anyway.

Tell me in the comments some of your favorite past birthday ideas!
Images: Giphy (2)
10 Ways To Cut Costs On Your Wedding Without Looking Cheap
We honestly hate helping in any form, but the wedding industry has gotten so out of control that it demands our expertise. Between shows telling us that you have to spend upwards of $100k on one goddamn day and brides pitching actual crying fits because mommy won't buy them the $30k dress of their dreams, we needed to bring everyone back down to Earth.
You can have a super amazing day, dress, and overall wedding without blowing your savings and parents' retirement fund. Here are our top 10 tips for cutting costs at your wedding without making you seem tacky and cheap.
1. Get Married December-March
Winter weddings are daring in general (here's hoping it doesn't blizzard), but if you take the risk, you may be rewarded with more money for drinks on the honeymoon. Choosing "off" months between December and March can mean as much as a 40% less cost at some venues, depending where you are.
2. Get Married On A Friday Night Or Sunday Morning
I make a lot of fun of brunch weddings (cause I don't want to get drunk in front of family members before noon), but if you wanna save a buck or two, picking an off time is the way to go. Saturday nights are in high demand, so choose a Friday evening for your super special day or a Sunday morning brunch. Bonus points if you choose a Sunday night before a Monday holiday like Memorial Day when everyone is off anyway.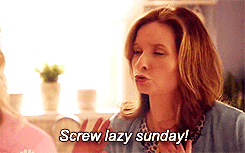 3. Chill On The Invitations
I know you want Minted's handmade, laser-cut, imprinted, glitter, foil, rare edition, unicorn tear invitations, but unless you want to spend more than $800 on 200 invites, you need to chill. People aren't going to spend more than five minutes examining your invite, so the idea of spending a ton of money is preposterous. Go pretty, go classic, and pick one—MAYBE two—special touches like a foil or letter press.
4. Be Besties With Your Florist
If you've been dyyyyying for hydrangeas but they're out of season and are going to cost you $24 per stem (real talk), let your florist lead the way. These are goddamned flower experts, and if you tell them to substitute with cheaper but similar looking colors and flowers, they will. I told my florist to use my color scheme and go nuts—keeping it around a specific price. She delivered, and the flowers looked amazing.

5. Do Choose An Actual Venue
You may think having a backyard barbecue at your friend's parents' Hamptons house is going to be cheaper than an actual venue, but you could be wrong. Once you start factoring in catering, tents, utensils, linens, the band, the restrooms, etc., your bill is likely to be just as much as a venue (if not more). PLUS, it's a lot more fucking work.
6. You Don't Need A Giant Fucking Cake
I've said it time and again—no one gives a shit about your 12 layer platform vanilla-on-vanilla wedding cake. Save some goddamn green, and get a small cute tea cake to cut with your S.O. that you won't even have to share with anyone. Everyone else can fuck themselves eat cookies.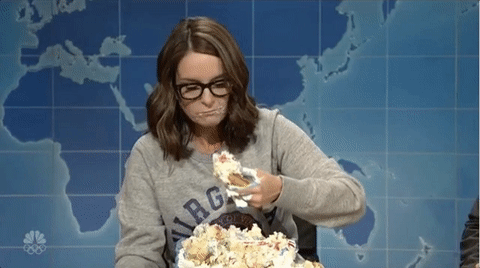 7. Buy, Don't Rent
If you're at a venue that's charging you for every fork, napkin, and plate, see if you can use or buy your own items. Seriously, it's often cheaper to use your own linens and utensils, if the venue will allow it. So start stealing knives, forks, and napkins, fam.
8. Stick To Your Goddamn Dress Budget
This is a big one. Nothing pisses me off more than the bitches on Say Yes to the Dress who have a budget of $3k and end up spending nearly double. STICK TO YOUR DRESS BUDGET. DON'T EVEN LOOK AT DRESSES OUTSIDE THAT BUDGET. Remember that even if you pick a dress at your $2k budget, you're still going to shell out for alterations. So going above on that means you're going to lose something else or pay way more than you want in the end. CHILL. IT'S ONE DAY.

9. Make Your Guests Do Work
I mean, you're paying for a five or six hour party—the least your guests can do is help out. Whether you make them set tables for the reception, make your desserts (guilty and it was AMAZING), or bring all the liquor to stock the bar, making your guests pitch in is totally a great way to cut costs.
10. Visit The Tacky Bridal Shows
I KNOW they're literally the worst, but the best thing about those bridal shows and expos is that florists, DJs, bands, planners, and venues hang out there to snag brides with a good deal. Honestly, I know a betch who got like 40% off her DJ because she hired him from the bridal show. So, yes, it kind of sucks to go to a room full of what feels like used car salesmen, but you'll thank yourself when you see the bill later on.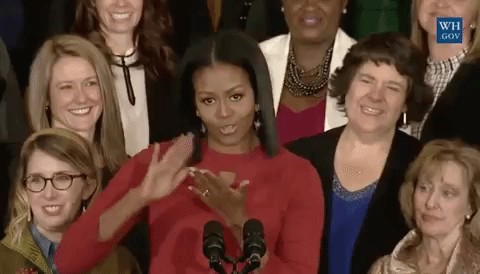 5 Games To Play At Your Next Party So It Doesn't Suck
Dear Betch,
I follow this site religiously, and while I know party planning is not a commonly discussed topic, I know the Betches are always the life of the party so I decided to ask for advice anyway. I am planning a classy luncheon at a cute, Pinterest-worthy bakery for my birthday. I've booked the venue for two hours, and the only food served will be tea sandwiches and the cake. I'm worried within the two hours my guests will run out of things to talk about, so i've been trying to find little games or activities to include but so far i've come up with nothing. I did decide to buy little disposable Polaroid cameras for the guests to use, but that will only last so long. What I'm asking is, what are some fun but not cheesy activities you would recommend for an afternoon luncheon?
Sincerely,
Hostess with The Mostess
Dear Hostess,
Jazz snaps all around for planning your own birthday party—I'll assume you're turning either 23 or 36. Although most of us would've been fine with taking shots over stuffing our faces with cake (i.e. CARBS) I'm sure your Pinterest tea party will be adorable.
I'm also assuming you aren't serving alcohol, otherwise there'd be literally no way your guests (who I assume are betchy) would run out of things to talk about. SO, my task has become: How to keep boring sober betches entertained for 2 hours without them turning to eating cake and gaining three pounds. You girls keep me young.
Here are some fun activities to keep you all busy at the tea party you're too old for:
1. Bring Cards Against Humanity Or A Similar Game
It's literally always hilarious and may go nicely at a tea party. You could get kicked out of your Insta-worthy bakery, but at least you'll remember hilarious responses forever. "What is George W. Bush thinking about right now?" "A really cool hat" will stick with me until I die.

2. A La Jenga, Bring A Box Of Sugar Cubes
Let guests stack them. It's adorable and the fattest girl can eat all the sugar at the end.
3. Tea Taste Game
Purchase a few different brews of tea like black, Darjeeling, Earl Grey, etc. and put them in different pots. Have everyone taste and write their guesses as to what kind it could be. Winner gets to either take home the rest of the birthday cake or wins a cup of tea and a box of macarons on you.
4. Mad Libs Printables
You can print these from literally anywhere and I suggest getting a few and scattering them on tables. While they sip their tea, guests can jot in hilar responses and IT'LL BE SO DROLL.
5. Charades
Yah, it's lame, but they used to play it at literal Victorian tea parties so, at least it's an accurate depiction of the 1900's shindig.