5 Pieces Of Clothing That Will Make You Look 5 Pounds Lighter
It's only December, and I can already feel my winter weight creeping up on me. I'm sure it doesn't help that my job's cafeteria hosts Taco Tuesdays, either. I'd like to say I'm being proactive by running to SoulCycle or eating healthier, but by 1am, I find myself digging through a package of Oreos because salads are fucking disgusting. I can't even think about the calorie-loaded holiday dinner with the fam and how much my grandma will try to "fatten me up." I have a tight-ass dress to squeeze into shortly after for NYE. As much as I'd like to give my right arm to be skinny overnight, I'm left with no immediate option other than the dreaded but adored shapewear. It's such a buzzkill to wear sometimes, but desperate times call for desperate measures. Since it's literally never to cute to have your shapewear show underneath your dress or have visible thong lines under your leggings, here is cute af shapewear to make you look three pounds thinner.
Jewel Toned is only a few years old, but the life-changing shapewear and lingerie brand is slowly becoming a game-changer, and more people need to know about it, tbh. From mesh going-out mini skirts to this LBD we can never have too many of, the brand offers a ton of apparel pieces that can basically be worn as your next outfit. Wear this dress alone next time you're itching for vodka sodas and you won't have to worry about bloat, awkward panty lines, or feeling like you can't breathe after 30 minutes. You'll def have your next Insta flooded with, "OMG, you look sooo good." I can personally vouch for this as I've worn it after eating my weight in pasta and no one suspected a thing.

Since we're all too familiar with the struggle of having to constantly buy high-quality black leggings, these leggings are like your favorite ones, but a million times better. Not only do you not—and I repeat, *not*—have to suck in while wearing, but the purposely structured design makes your butt and legs look as though you've done squats for weeks.

Obviously, we all own a bodysuit by now, regardless of how long it took for us to give into the trend and purchase it. However, more often than not, they usually show our muffin tops and other flaws we desperately try to hide. With this contouring and all-over shaping bodysuit, you'll look v skinny with perf cleavage and can even pair it with high-waisted jeans and heels for a chic last-minute outfit.

At the end of the day, we all need camis. I mean, we can't just rely on bralettes from Victoria's Secret if we have like, professional and adult-like activities to tend to. Whether you're saving it for the summer or need an extra layer under that revealing sweater your HR passive-aggressively gave you shit for, Maidenform's style is super comfy, breathable, and specifically targets the stomach for a flatter fit. Bless.

Because we're only human, sometimes we need an extra confidence boost before jumping into bed with our next fling. With this basic-yet-totally-hot underwear, you can hide even the smallest of bloats and also make your butt look phenom and contoured. He literally won't even know it's "shapewear" (I doubt he knows what that is anyway) and will still find you sexy af.

The Best Lingerie For Your Body Type
Lingerie is low-key one of the best inventions of all time. It's like, these fun little pieces of underwear you can wear under your regular, everyday clothes without anyone knowing that you're actually living out your goddess/stripper/girl from a rap music video/whatever you want to call your personal sex fantasy goals while just walking around in society. Or, you can wear it without anything over it to seduce someone. OR you can even just wear it while you watch The Office alone in your living room with a tub of cookie dough while your roommates aren't home. That's the beauty of lingerie. You can do whatever the fuck you want with it. Here are a few ways to step up your lingerie game depending on your body type.
If You're Really Busty…
Strappy little bralettes definitely aren't going anywhere anytime soon, which kind of sucks if your boobs weigh more than a rice cake. It can be really difficult to find interesting bras for big boobs, but ASOS Curve has a few expertly engineered styles, so you can rock that trend without slicing your shoulder in half.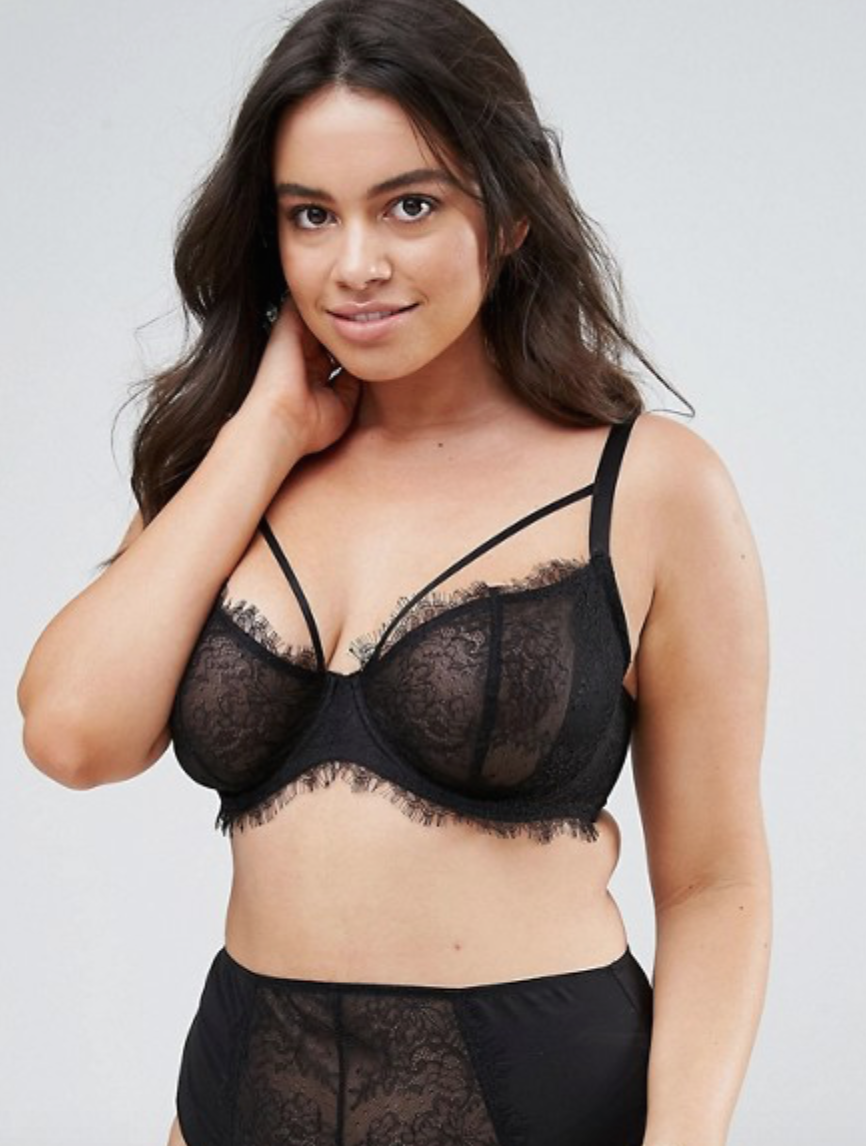 ASOS Curve Eyelash Underwire Bra
If You Want To Look A Little Slimmer…
When bodysuits and one pieces first became popular again, we were all like, "Holy shit, yes, this means we can go back to eating bread!" Then, we actually started trying that shit on and realized they have the potential to be as unflattering as your middle school field hockey warm-ups. Look for bodysuits that create subtle optical illusions, like this one that will make you look slimmer because the lace panel stretches around to the front, creating a false silhouette that is smaller than your natural waist.

If You Actually Kind Of Hate Lingerie In General…
Lingerie doesn't necessarily have to be little lacey pieces of string, so if that doesn't sound like something you want to spend your money on, there are tons of other options. Just seek out styles that are typically flattering on everyone, but in new materials. For example, literally everyone in the world looks good in a sports bra. It's just like, a thing. This grey velvet bralette is basically the sports bra you try to sneak under all of your clothes, when you know nobody's going to see it, except you'll actually want to show it off because it's really cute.

Out From Under Catalina Velvet Bralette
If You're A Proud Member Of The Itty Titty Committee…
Like I already said, strappy, delicate bralettes are literally everywhere these days, and chicks with small boobs are lucky AF, because they look good in all of them. However, if you want to pull some tricky shit to make your boobs look a little bigger, you might want to get creative. Skip heavily padded pushups with a ton of underwire, because they're super uncomfortable and the scam will be totally obvious once you take it off. Instead, opt for a high neck bralette contraption thing that has so much going on that it's just like, "Yeah, there are definitely some boobs in that mix, right?"

If You Have A Little Booty…
If I could live in a different decade, I would pick literally any era where little butts were a thing that people got excited about. Since I don't have a time machine or butt implants, I've settled for buying underwear that makes it look like I have a butt. These are my favorite things ever, because they have a wide waistband to make your stomach look flatter and ruching on the back to make your butt look fatter. They're literally amazing and I swear by them forever.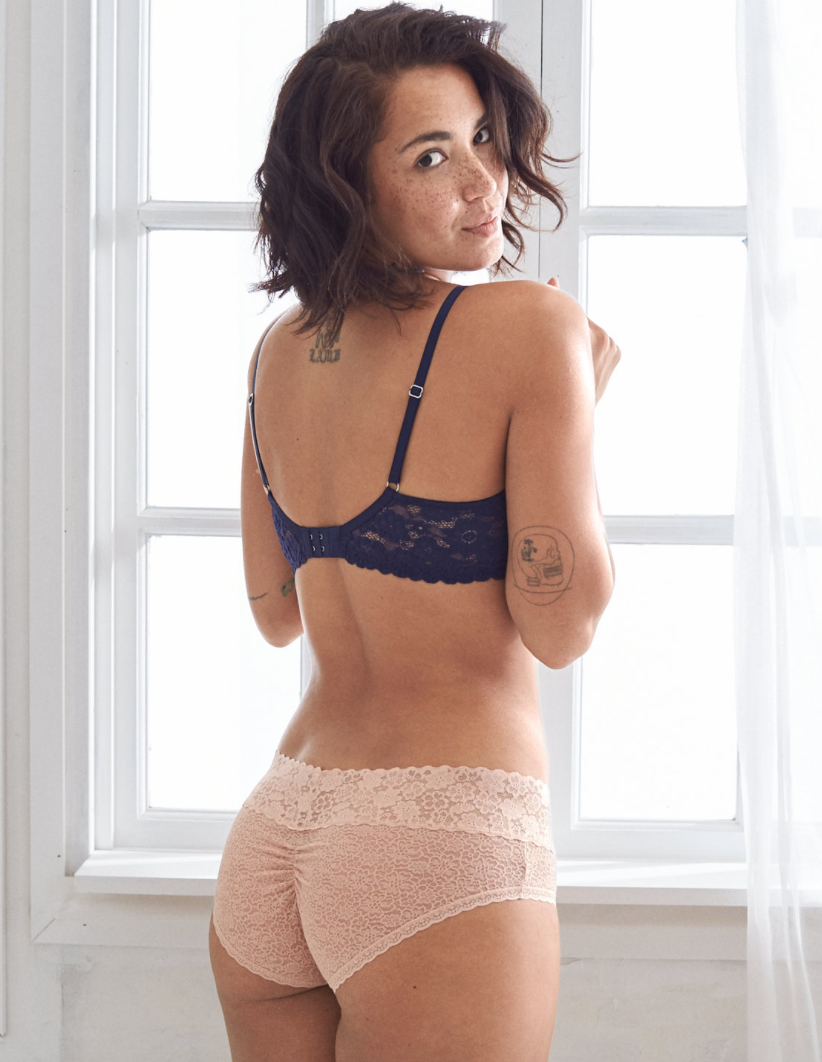 How To Wear Lingerie Without Looking Like You're Trying Too Hard
Wearing lingerie without looking like you're trying too hard is extremely difficult to achieve, mainly because lingerie at its core is one of the most extra inventions in history. Like, somehow, someone created an industry of getting women to pay a shit ton of money for complicated strands of lace that they wear for a couple of minutes before stripping naked. Whoever realized that they could get people to spend hundreds of dollars on tiny see-through dresses and underwear with the crotch cut out is both a psycho and a genius (funny how those two things often go together). Honestly, I'm not even convinced that lingerie turns men on, because most guys will probably tell you that trying to figure out the clasp on a regular bra is too much to handle, let alone trying to figure out how to release all the straps on a garter belt. I think the point of lingerie is probably to make you feel like Candice Swanepoel for a quick sec and make it so you begin the boning process with a heightened level of confidence. The right lingerie can make you feel yourself so hard that you'll do all sorts of wild shit in bed, like start in reverse cowgirl or actually complete a full blowjob. However, if you mess up and get the wrong lingerie, you're going to look like you rooted through J Woww's closet from the first season of Jersey Shore. The more understated, the better, so here are a few suggestions.
If Lauren Conrad offered a lingerie section on her website, I kind of feel like this would be included. It definitely falls into that whole "less is more" category by being sexy without revealing too much more than a trashy bodysuit from Charlotte Russe would show. Plus, it has a racerback, which is basically a magical design that is super comfortable but also makes your boobs look amazing.

2. Calvin Klein Black Lace Bralette
Calvin Klein's been making the best underwear essentials for like, ever, so obviously they know how to handle lingerie without being a total fucking hardo. This black lace set is basically a hotter version of the bralettes your normally wear because of its romantic lace and mesh details and discretely padded cups. You can save this one for the bedroom if you want, but honestly this piece is so cute there's no reason you couldn't also wear it under a sheer top, making it one of the only lingerie pieces that you'll absolutely wear on the reg.

3. Out From Under Exploded Fishnets
Wearing lingerie as regular clothing is definitely a trend right now because apparently we're all really extra and needed to make fishnets and slip dresses a thing again. This is pretty much made with the purpose of having some fishnets stick out over your clothes. I'm still really conflicted on this trend, but I'll prob end up wearing it in like a week anyway.

Nothing says "I'm not trying too hard" like ordering your lingerie from ASOS instead of having to get off your ass to go buy it in a store. ASOS has its own brand of Risky Business lingerie and it's all pretty low-key and not going to cost you $100 for two scraps of lace that they're calling a bra unlike SOME people (*looks at Agent Provocateur*). Plus, this bodysuit has a high-cut leg, which is soo in right now.

This is the perfect casual kind of lingerie to own, because if your sex life starts going downhill you can always repurpose it as a Halloween costume like Karen from Mean Girls. You might be single AF but you're also a mouse… duh.

What does your wedding dress style say about you? Find out here!