The Best & Worst Influencer Beauty Collabs Of 2019
Influencer
/ˈinflo͝oənsər/  
noun
noun: influencer; plural noun: influencers
a person or thing that influences another.
Influencer Collaboration: an influencer and brand teaming up to scheme you into buying their *must-have* products. 
Influencer collaborations are a dime a dozen nowadays, and only the strong survive. With a million and one launches being not-so-subtly shoved in our faces every time we open any form of social media, it's important to narrow down which collaborations are actually worth the purchase, and which are a major skip. 
The Successes
Jeffree Star, punk singer-turned-YouTube beauty influencer-turned-mega millionaire business owner, recently launched his cosmetics line collaboration with YouTuber Shane Dawson. A simple Instagram campaign was not enough, so the two partnered for a YEAR to put together a seven-piece docuseries about the ~BTS~ of working on a makeup line. There were smiles, there were tears, there were meltdowns… which sounds like a typical Monday in my book. 
The seven-hour long series averaged 18.7 million views per video (casual) and resulted in the duo "breaking the internet" come collection launch time. And I don't mean "break the internet" in the way Paper magazine throws it around every month now—I mean, Shopify was down for almost three full hours, with 2+ million unique users attempting to make purchases on the website at once, which was documented in full in the series finale. In the docuseries, Star calculated that Dawson himself could walk away with 10 million dollars in collection revenue. Given that the collection did in fact sell out in its entirely across all retailers, we'll assume that the duo met their goal. 

When categorizing the year's top influencer collaborations, I'll put this one as the number-one hit of 2019, given its great success, positive reviews, and sincere demand for restock. 
While on the topic of men dominating the beauty industry, we'll talk James Charles, and his collaboration with Morphe. Charles, who had a tumultuous 2019 with his involvement in "Dramageddon 2" (I can't believe I am actually referring to this term), launched "The James Charles Palette" in November of 2018, and sold out twice before hitting the 2019 mark. 
I'll divert for a moment to explain what Dramageddon is/was (judging myself, again) just because I feel like it's necessary. 
Fellow YouTuber/beauty guru, Tati Westbrook, came out with a (since-deleted) video in May titled "Bye Sister", consisting of Tati sitting down for 40+ minutes and ripping her former BFF James to shreds. The video left the internet in a frenzy, giving gossip channels content for YEARS, and allowed other beauty gurus (i.e. Jeffree Star) to weigh in and cancel James Charles. Followers/gossipers/14-year-olds who live for this sh*t called it "Dramageddon".  

Anyway, James' palette, which launched long before this weird internet moment, sold out multiple times as mentioned, and makes it to my must-have influencer collaboration list. The shadows themselves work well, it's affordable, and it covers just about every single look you'd ever have an interest in creating. If I had to take one eyeshadow palette to a deserted island (unlikely), it would be this one. 
Sidenote: James Charles x Morphe launched a "second phase" of this palette—mini sized—and I am pretty sure nobody cared. Spend the extra $13 and get the OG.
Kim and her beloved makeup artist, Mario Dedivanovic, joined forces for a mini collection including an eyeshadow palette, lipstick, lip gloss, lip liner, and blush. The palette was the star of the collection, and major influencers including Tati Westbrook and Jeffree Star (both of whom typically hate everything) had nothing but positive things to say about the duo's first collection. 
Kylie has teamed up with a majority of her fam to make mini collections, and while some were a serious fail (the internet, influencers and fans alike, happily killed the Kris Jenner collection—more details to come), Khloé found success. The collection is universal, high-quality, and pretty, to put it simply, and the reviews are convincing. 

An overall win for the industry in 2019 was the celebration of drag makeup. Drag queens are obviously pioneers in the beauty community, but don't always take the spotlight when it comes to new beauty launches. This year we had major collaborations from major brands and major queens, including…


and of course…

The collections are all equally fun and fabulous, with the spirit of all queens alike, and the inclusion of drag in everyday makeup was a major industry shift in the right direction. Winning!
The Misses
I hate to call this next collaboration a fail, so instead, I'll refer to it as ~a pretty mess~. I am just as Housewives-obsessed as the next, and when I heard that Miss Erika Jayne was doing a collaboration with Too Faced, I was thrilled. But. Too Faced has a bit of a rocky reputation in the beauty community. Most of the controversy revolves around CEO Jerrod Blandino, who had a "Rich Lives Matter" birthday cake at his most recent birthday, just to give you give you an idea of the type of person we're dealing with. On top of that, the brand itself has had its fair share of drama with influencers alike, including Jeffree Star and Nikkie Tutorials after Nikkie's Too Faced collaboration grossed $9+ million in sales, but only paid her out $50,000. BUT Erika Jayne is a queen so we had to support her endeavors. The collection featured an array of makeup, with names that only Mrs. Girardi could get away with (including DSL Lips and Pat the Puss highlighter) making this collaboration a fun fail. 

The feedback was mixed off the bat, but in the long run, the makeup ended up at TJ Maxx stores, steeply discounted (at less than half its original price), within a few months. Nonetheless, we respect this icon for making *XXPEN$IVE* moves.

Now that we've celebrated the Kardashian's successful makeup endeavors, it's only fair that we highlight the fails as well, because even the world's youngest billionaire makes mistakes.  

It turns out, the devil worked harder for this one. Kylie Cosmetics is typically known to make decent quality makeup, and we all know Kris Jenner rules the world, but people ripped this collection to shreds. YouTubers including Jaclyn Hill and Nicol Concilio explained to fans that the quality was simply not up to par, and viewers agreed. 

The packaging, cute. The products, patchy.
View this post on Instagram
Kim teamed up with model Winnie Harlow for a special moment in her collection, but it fell short. For starters, the campaign photos of Kim and Winnie are a bit, um, questionable given the fact that Kim and Winnie were edited to be almost the same skin tone, which we know they are not. And, unsurprisingly, people had something to say about it.

This is what we call a Photoshop Fail, and the internet was not thrilled. In terms of the collection itself, fans were "bored", calling the collection unoriginal and safe.
As we wrap up 2019 influencer collaborations, I can't wait to see what 2020 brings. Let me know who YOU want to see team up with a major brand and drop your predictions below.  
Images: Stefanie Keenan/Getty Images; GIPHY (2); Trendmood1, winnieharlow /Instagram; Jeffree Star Cosmetics; Kylie Cosmetics; Anastasia Beverly Hills; NYX Professional Makeup; QVC; Too Faced; Jaclyn Hill, Tati, Nicol Concilio, NikkieTutorials/Youtube
Betches may receive a portion of revenue if you click a link and purchase a product or service. The links are independently placed and do not influence editorial content.
Beauty Stocking Stuffers For Under $15 You're Going To Want For Yourself
Is it *really* the most wonderful time of the year ? Um, I'm going to have to give that a hard pass. Look, I'm all about the fakeness, cheeriness, glitter fests, and spiked peppermint mochas as much as you are. However, everyone seems to forget how fucking stressful the holidays are. As if constantly boiling pasta and delaying grocery shopping as long as possible wasn't a big enough sign that I'm literally always broke af. Now, I have to buy shit for other people instead of myself just before I'm bum-rushed into overpriced NYE plans. The most wonderful time of the year, my ass. Even thinking about holiday shopping gives me an anxiety attack, so I'm starting with small gifts for the real MVB's in my life, aka some stocking stuffers. From palettes to exfoliators to new nail polishes, here are six beauty gifts under $15 that you literally can't go wrong with.
This a life-changing hair treatment in the cutest festive bottle. The multi-purpose formula conditions your hair from end to end, while taming and de-frizzing split ends. Just when you thought it couldn't get any better, it cuts drying time a ton and is oil-free, so it won't make your hair limp and greasy at all. It's the perfect gift for, like, anyone who has hair, honestly.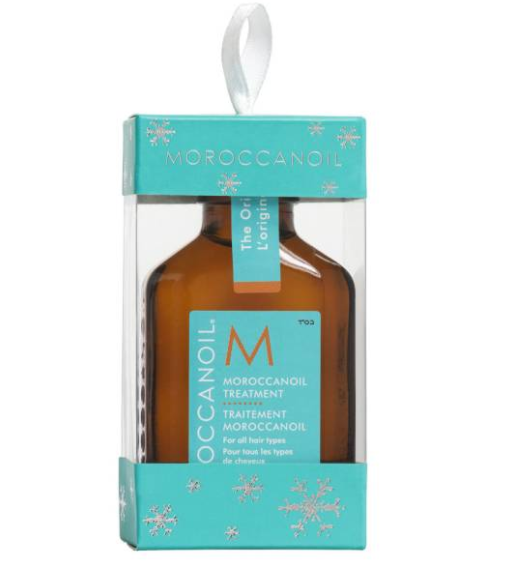 This holiday-exclusive set comes with four perfect minis in gorg seasonal colors. With bright red, glistening silver, vampy purple, and chic black, OPI def delivers smooth application that lasts longer than the shit you probs pick up at Walgreens.

For your friend who is happily obsessed with keeping her face #flawless, these exfoliating sugar cubes will be her new fave. The six sweet-smelling cubes gently get rid of dead skin cells and help keep the skin feeling v soft, smooth, and moisturized.

When you get two full-sized Urban Decay products for under $20, you buy fucking six of them. These are limited edition, so you should def buy this ASAP. The set includes a full-size eyeliner that has fab blend-ability and a full-size mascara that keeps lashes long and healthy. Both come in black, which only makes this too good to be true.

It's an amazing gift for me, you, and everyone else who has an unhealthy obsession with lipsticks—especially when it comes to finding the perfect, true red. The 2-in-1 kit includes a mini-size hydrating in Legendary and travel-size Insta-Matte Lipstick Transformer. If you're wondering WTF a transformer is, it's seriously the best thing. The lipstick transformer turns any velvet lipstick immediately into a matte that does not—I repeat, does not—dry out your lips. You can apply as many times as you'd like to reach the desired texture your chapped lips deserve this winter.

It doesn't matter how many face palettes people have, they will literally never say no to another. And if they do, IDK, they're probs homeschooled and will not appreciate you being such a good friend. This super convenient all-in-one face palette comes with two intensely-pigmented blushes, a champagne highlighter, and universal bronzer. The warm shades give you a healthy, natural-looking glow you can take with you on the go, whether you're at the club or meeting up with your cuffing fling.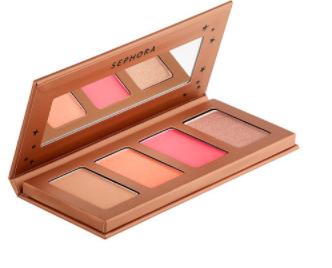 Images: Jazmin Quaynor / Unsplash ; Sephora ( 6 )
This Week's Sephora Weekly Wow Has Tarte, Smashbox, & More For 50% Off
It's another week, which means another Sephora Weekly Wow. Praise be. We're only a week away from Halloweekend, so I mean, what better time to stock up on new contour, highlight, and color correcting palettes in order to pull off the best Riverdale, Big Little Lies, and Wonder Woman looks possible? This week's beauty goodies are 50% off (ugh, there is a god) and to top it off, it includes obsessions such as Tarte, SMASHBOX, COVER FX, and Clinique. RIP to every penny we've salvaged from our last direct deposit. All for good reason, obviously. As usual, this wondrous sale lasts only a week, or until the shit sells out. Given these amazing picks, the latter is more likely, so shop now, or don't say I never did you any favors.
This universal palette features six powder and cream shades, each with a custom undertone for natural-looking results. You can wear them alone or layer some up for chiseled cheekbones. The v healthy formula is packed with a shit ton of nutrients and some sort of Amazonian clay. Not that I know what that is, but it sounds legit, so I'm already sold. The glowing look is sure to last all night, even through sweaty bars the worst of times, without running or making you look streaky.

Four different face palettes in one, that's literally all there is to it. That should make you want to add it to your cart without reading the rest of this paragraph. Each palette offers a wide range of warm and cool shades designed for your lips, cheeks, eyes, and face, so you can create over 76 of your very own personalized looks. Mix and match with shimmer, blush tones, vampy lipstick shades, and so much more without having to buy a dozen different palettes. Each of the four palettes pop out of the cute little packaging, so you can apply on-the-go, and spice up your makeup routine every once in awhile.

Offered in two different shades, light and dark, this customized highlighting palette makes all of our strobing dreams come true. The four different highlighter shades feature two cream-based and powder-based formulas, so you can create a glowing look based on your #currentmood. The cream helps create a natural-looking radiance, while the powder finishes off your look with just a touch of sparkle, without making it look like you doused your face with glitter. Bless. Plus, you can totes use this on your body (aka for bomb cleavage, duh) for the same effect.

Finally, makeup that will erase any evidence of my lack of sleep and "occasional" alcohol binges held every Wednesday night, because sometimes getting through the week is tough, you feel? The palette comes with 15 creamy concealer shades that target specific areas in need of serious TLC. The color correcting magic helps eliminate dark circles, redness, and dullness. This miracle worker works on light, medium, and deep skin tones, so you'll def find the one that complements you.


As the weather gets increasingly colder by the hour, our skin is slowly crying out for help. Whether it's your lips, cheeks, or literally your entire face (story of my life), you'll need intense hydration and moisturizing to get through fall and winters to come. The set is a three-step regimen that comes with non-drying facial soap, an exfoliating lotion, and multipurpose moisturizing lotion. Guys, this is also less than $20, so I'm not saying you're an idiot if you pass this up, but let's just say you'd be making a big mistake. HUGE.

It's The Last Day Of Too Faced's Huge Sale, So Here's What To Buy Right Now
I woke up thinking today was an ordinary Monday where I'd wake up a few minutes too late, hate everyone around me go to work, and start immediately thinking about when I'd consume alcohol next. You know, a typical Monday. When suddenly during my morning commute, the sun broke through the clouds, rays gleaming on me, and I heard the voice of angels as I found what would actually make this the best Monday ever—no, not a fucking solar eclipse, a major sale. But not just any sale, a Too Faced "Just Because" Sale. Aren't they just life-saving gems?! However, today is the last day, so basically maxing out your credit card treating yourself to more makeup is meant to be. The makeup brand has some of our faves for up to 65 percent off so like, honestly, the most expensive thing is a $25 palette. Aren't you sooo glad I told you this? I knew it'd be the best start of a week ever. To get your cart started, here's what you should buy like, right now.
Two things I love more than anything else in life: makeup and food. So when you combine the two for a limited edition palette that's 50 percent off, you have my heart. This palette consists of nine drool-worthy creamy shades of matte and shimmery warm neutral shadows. To make it even better, it's infused with scents of cocoa, peanut butter, and honey so you can def work up an appetite for your lunch break. Mix and match the shades for a look that's ready for this upcoming fall.

These creamy butter balms are made with black currant seed oil and white lotus flower extract that condition and hydrate your lips to leave them looking ultra plump, without going full Kylie. The sweet-smelling balms come in clear and an array of subtle irresistible pinks.

This palette features 15 silky lightweight eye shadow shades in matte, pearl, and shimmer finishes. Their blendability is insanely good so you'll no have problem experimenting with greens, yellows, and pinks for a look that's out of your comfort zone of nudes. Don't worry though, there are clearly enough neutral and dark options for a smokey eye to wear to the club. Plus, the palette comes with a full-size black eye liner so you can create a look that says "don't fuck with me or I'll fucking cut you." Too much?

Get you an eyeliner that can do both: wing and excel the mastery of a smokey eye without looking like you punched yourself in the face. This is the kind of stuff the world needs more of. Choose a color or obvs just get them all. Within seconds of application, the liner will stay water-, smudge-, and crease-proof for literally 24 hours. That means it will stay put in a sweaty bar and it will even last through a good drunk cry with your girls in the bathroom.

If there was a runner up to Better Than Sex, it would def be pizza this mascara. The one-of-a-kind bristles lengthen each and every lash for ultimate definition with zero clumps. The creamy formula allows you to glide it on with ease for allllll those coats you layer on. This is like, the falsies look you've always wanted but without the fake eyelashes it looks like you glued on for a Halloween costume.