These Things Make It Easier To Pack, Because I'm Never NOT Gonna Wait Till The Last Minute
Betches may receive a portion of revenue if you click a link and purchase a product or service. The links are independently placed and do not influence editorial content.
It's that time of year again when long weekends are spent in the sun and summer Fridays become part of the corporate vocab. That's right, it's the unofficial start of summer. For so long, Memorial Day Weekend often signaled the end of school and the start of summer break. Now, it just means I'm going to be living out of a suitcase for a few months. And while I'd like to think I've matured since the all-inclusive, binge-drinking, MDW bikini days, my packing habits certainly haven't.
What can I say? I'm a procrastinator. I tell myself that I work well under pressure, but really, I'm just too lazy to be bothered until 30 minutes before I have to leave for a flight, train, or car ride. Because I'm a last-minute packer, I always end up bringing 15 bathing suits, 10 pairs of shoes, 100 pairs of underwear, and enough anxiety to run a small town into the ground—and that's just a 5-day trip. Thankfully, I've found a few tricks through the years that have helped transform my suitcase from a dumpster fire to feeling like I (sort of) have my shit together.
These Packing Cubes That Will Keep Your Shit Organized

Once you try packing cubes, you'll literally never go back. It's a game changer if you're the kind of person who tends to overpack. (It's me, I'm her.) It helps organize the different types of clothing you're bringing, while the compression lets you pack twice as much shit in one carry-on. That's a win-win.
BAGAIL Compression Packing Cubes, $29.99, Amazon
A Toiletry Bag For Your TikTok-Influenced 10-Step Skincare Routine

The only time I'm actually proud of the way I store my beauty products is when I'm traveling. When I'm home, I pretty much just throw everything under the sink in such a disorganized way that I'll be swearing, "My sister must have stolen it!" when I can't find my favorite lipgloss. This solves that issue and makes it easy to ensure I have every step of the 10-step skincare routine I learned on TikTok with me at all times.
BAGSMART Toiletry Bag with Hanging Hook, $29.99, Amazon
Travel Containers So You Don't Risk Losing Your Full-Size


Speaking of my 10-step skincare routine, there's literally no way in hell I'll be risking an explosion of my new vitamin C serum on the plane. Plus, if I put all my full-sized skincare products in one carry-on, that's all I'd be packing. This set offers so many different container options, from sprayers to jars. The possibilities are endless.
Morfone 16 Pack Travel Bottles Set, $22.58, Amazon
A Cord Organizer, So You're Not a Hot Mess On the Plane

This might feel a little high-maintenance, but I've never been more thankful for this organizer than when I'm sitting in a coach seat made to fit a toddler, rifling through my bag and looking for a phone charger. You'll thank me later, I promise.
FYY Electronic Organizer, $12.99, Amazon
Travel Jewelry Box Upgrade From a Ziploc Bag

For as long as I can remember, I've always packed my jewelry in a ziplock bag. And every time, while trying to untangle a bangle from a necklace, I would swear that I'd never do it again. I've finally come to my senses and purchased this jewelry case. It'll keep your jewelry more organized than Khloé Kardashian's pantry.
Travel Jewelry Case, $50, Shop.Betches.com
A Laundry Bag To Keep Your Clean Shit From Smelling

No one talks about the struggle of packing your shit up at the end of the trip. I would venture to say it's one of the most depressing times of life. Let's not forget the struggle of keeping clean and dirty clothing separate. Kind of like the packing cubes, this helps organize your dirty clothes and keep them away from your clean ones, so they don't infect your entire suitcase with the smell of BO.
JHX Dirty Clothes Bag, $14.99, Amazon
First Class Crew, And I'm Not Referencing The Pilot

I'm not stepping foot into an airport unless I have a sweatshirt packed. It's a staple you should always ensure has room in the carry-on. Not only does it provide warmth on the AC-ridden plan, but it serves a dual purpose when you roll it into a ball and use it as an in-flight pillow. Alternatively, throw it on as an airport outfit featuring the personality of first-class travel, without sacrificing the humor and budget of economy. You're welcome.
Shop it: First Class Crew, $50, Shop Betches
We Asked, You Answered: Here Are Your All-Time Fave Travel Essentials
Betches may receive a portion of revenue if you click a link and purchase a product or service. The links are independently placed and do not influence editorial content.
As summer approaches, many people are starting to plan their travels. Whether it's a beach vacation or a backpacking adventure, there are a few travel essentials that everyone needs. These items can make your trip more organized, convenient, and comfortable. In this article, we will cover the top nine travel essentials that everyone should pack for their summer vacation, and we sourced these all from you!
Packing Cubes
First on the list is packing cubes. These nifty little cubes help you organize your luggage and keep your clothes wrinkle-free. You can separate your tops, bottoms, and accessories into different cubes, making it easy to find what you need. Plus, when it's time to pack up and move on to your next destination, you can just grab the cubes you need and go.

Shop It: Bagail Packing Cubes 8-Piece, $24.99, Amazon
Luggage Set
Next up is a luggage set. A good quality luggage set is a must-have for any traveler. It should include a carry-on bag, a checked bag, and possibly a smaller bag for day trips. Look for a set with sturdy wheels, a durable exterior, and plenty of pockets and compartments.

Shop It: Coollife Expandable Luggage 3-Piece Set, $169.99, Amazon
Weekender Bag
A weekender bag is also essential for short trips or weekend getaways. It's smaller and easier to carry than a full-size suitcase, but still has enough room for a few outfits, toiletries, and other essentials. Choose one with multiple compartments and a comfortable shoulder strap.

Shop It: Etronik Weekender Bag, $39.99, Amazon
Tech Organizer
A tech organizer is a great way to keep your electronic devices and accessories organized and protected. You can store your phone, tablet, charger, headphones, and other tech gear in one place, and easily access them when you need them. Look for one with padded compartments and plenty of pockets.

Shop It: Bagsmart Electronic Organizer, $18.99, Amazon
Toiletry Bag
A toiletry bag is another must-have for any traveler. It keeps your toiletries organized and prevents any spills or leaks from getting all over your clothes. Look for a waterproof bag with multiple compartments, and make sure it's large enough to hold all your essentials.

Shop It: Nishel Toiletry Bag, $22.99, Amazon
Luggage Tag
A luggage tag is a simple but important item to have on your luggage. It makes it easy to identify your bags at the airport, and can help prevent them from getting lost. Choose one with a clear plastic window and a durable strap.

Shop It: Travellambo 4-Piece Luggage Tag Set, $9.99, Amazon
Liquid Containers
Liquid containers are essential if you're traveling with liquids or gels. You can fill them with shampoo, conditioner, lotion, or other products, and they comply with TSA regulations. Look for ones with leak-proof caps and a clear plastic bag to keep them organized.

Shop It: Morfone 16-Piece Travel Liquid Container Set, $15.99, Amazon
Portable Charger
A portable charger is a lifesaver when you're on the go. It allows you to charge your phone or other devices on the fly, so you don't have to worry about running out of battery. Look for one with a high capacity and multiple ports.

Shop It: iWalk Portable Charger, $34.99, Amazon
Travel Steamer
Last but not least is a travel steamer. It's the perfect way to quickly and easily remove wrinkles from your clothes, without having to use an iron or find a dry cleaner. Look for one that's compact and lightweight, and has a long cord.

Shop It: Beautural Travel Steamer, $26.97, Amazon
In conclusion, these nine travel essentials are a must-have for any traveler. They will help you stay organized, comfortable, and prepared, no matter where your travels take you. So, pack your bags, grab these essentials, and enjoy your summer vacation!
Travel Essentials So Good They Actually Deserve A Spot In Your Carry-On
As someone who enjoys traveling and shopping (and shopping while traveling), I've ended up with more gadgets than I'd like to admit—many of which have claimed they'd make my life easier. Is that true for some of them? Sure. Others have proven to be a complete waste of money and precious space in my luggage. (Which is the ultimate sin TBH.) Luckily, my screen time is embarrassingly high and my For You Page knows me so well it can pretty much predict my every thought, so I've found some of the best travel items that would actually earn a spot in my carry-on. And because I know you're busy enough tracking flights to sift through the BS, I put together a list of essentials you should immediately add to cart. 
Betches may receive a portion of revenue if you click a link and purchase a product or service. The links are independently placed and do not influence editorial content.
Beis Backpack That Could Literally Fit A Weeks Worth Of Clothes

I've never been influenced faster than the day I saw someone "pack with me" in this backpack. I hit the "add to cart" button pretty much immediately. It might sound dramatic, but this bag is truly magical. Listen, I know we all hate when people brag about packing everything in their carry-on, but when I can pack 10 days worth of stuff in my Beis backpack, you better believe I am screaming it from the rooftops.
Shop it: The Backpack, $78.00, Beistravel.com
Bluetooth Adaptor for Two So You Don't Have To Share AirPods (Ew.)

In-flight screen time is truly sacred. I don't want to waste it watching something I don't care about—I want to guilt my fiancé into watching a RomCom with me that I may or may not fall asleep in the middle of. This dual bluetooth adaptor allows us to watch together and ensures he doesn't start the movie a half second before I do, preventing him from spoiling all the good parts. 
Shop it: MEE audio Bluetooth Wireless Audio Transmitter Adapter, $49.99, Amazon
Budget Airline Bag Your Wallet Would Be Proud Of

Bringing a personal item on a budget airline is truly a gamble—you never know if today's the day they decide it's too big. For my sanity, I got this $10 bag that's specifically made to avoid this risk. I don't travel budget airlines often, but I figure if I'm risking it all to save a few bucks, I'll at least make it as stress free as possible.
Shop It: Foldable Travel Duffel Bag, $14.99, Amazon
Portable Squatty Potty Because I Know You Dread Leaving Home Without It

Okay, if you've crossed the bridge into being a Squatty Potty user, you know there's no turning back. There's nothing delicate about my digestive system when traveling and finding out they make a portable version that folds up and fits in your bag was life changing. No more worrying about how you'll survive a week without it.
Shop it: Squatty Potty Porta Traveler, $29.99, Amazon
Suitcase Drink Holder To House All Three Essential Travel Beverages

No matter how many times I go to the airport, I always enter into a state of absolute chaos. My hands are constantly full of everything I own, and I always manage to misplace my phone even though I swear I just had it. Add an overpriced coffee and a freshly-filled water bottle (post-TSA, duh) to the mix and I'd be screwed. Now I just add it all to this drink holder hanging from my luggage, because that's the only way I can physically manage all of it.
Shop it: WALNEW Luggage Travel Cup Holders, $14.99, Amazon
Feature Image Credit: Vlada Karpovich on Pexels
What I Wish I Knew Before Packing For Study Abroad
Whoever came up with the idea of studying abroad was a f*cking genius. Seriously, there are endless benefits to a semester in a foreign country. You get to take dope Insta pics, put a minimal amount of effort into classes, travel around with your friends, and like, grow as a person and experience a new culture or whatever, I guess…and then talk about it to anyone in a five-mile radius for the next decade.
The hardest thing about studying abroad is packing for it. Naturally, I asked every person I know that has ever gone abroad for a packing list. They all told me to pack light, and since I really didn't like that advice, I decided it didn't apply to me.
I've always been prone to overpacking, but this time I went tooootally overboard. I thought I was cheating the system with Pinterest packing hacks, space bags, and carry-ons. I was literally so confident in my packing that I didn't even weigh my bags before going to the airport. As I'm sure you can guess, I tragically overestimated my skills and let me just tell you, if you're ever thinking of blindly packing for a long trip without weighing your bags first…DON'T.
When I rolled up to JFK to check into my flight, I was informed that one of my bags was thirty pounds overweight. I'm not even being dramatic. Literally. Thirty. F*cking. Pounds. 
Soooo, if you don't want to have to pay an additional $200 just to get your bags on the plane, I suggest you follow my advice. 
1. Use Packing Cubes
Packing cubes are perfect for keeping track of what you pack and staying organized. Beyond that, when you get to your temporary home, you'll quickly realize that you will have about as much space for storage as you did to pack. Packing cubes are perfect for keeping your sh*t organized, providing free storage, and even better for maximizing the small amount of space you'll have for weekend trips. 
2. Space Bags DO NOT Work
First of all, space bags are kind of a scam. I mean, they're great for storing all of the sorority shirts you'll never wear, but they're rarely useful for packing. If you have no idea what I'm talking about, space bags are vacuum-sealed bags meant to decrease the amount of space your clothes take up. By using space bags, I visually tricked myself into thinking I was packing less than I was, causing my suitcase to weigh more than a fifth-grader. 
3. Check The Size Of Your Carry-On
The scariest thing about October is being haunted by study abroad kids at Octoberfest who post on insta with the caption "Prost" or "omg I still don't like beer." Like I get it Becky wear your dirndl and chug a stein and talk about how study abroad changed your life

— zuzu (@khan_zuzu) October 7, 2019
If you're smart, you'll bring a rolling carry-on with you as extra packing space (and as your weekend trip bag). Sadly, the same black carry-on that your dad has been using every business trip for the last twenty years probably won't cut it. If you don't want to pay an additional fee, wait for checked baggage, and run the risk of a crappy budget airline losing your bag, it's worth investing in a new one ahead of time. I recommend looking for ones with the word "continental" in the bag title/description. 
4.

Buy A Converter…Or Three 

Because I'm like, super good at planning ahead, I figured that I'd be able to buy a converter once I got abroad. Obviously (this seems to be a reoccurring theme) my logic was flawed. It's not like British people are buying converters that make it possible to plug in things from the US, so I wasn't able to just go to a corner store and get a US to UK converter. Amazon has great ones that allow you to plug in multiple things at a time and work with several different outlet types. Highly recommend. 

Pro Tip: If you have a Mac, buy Apple-made converters for your charger. I have the worst luck, and my computer reacted really poorly to the change in voltage, causing the battery to break and forcing me to find an Apple store and go weeks without a functioning laptop.
5. Bring More Than One Portable Charger 
When you spend all day obsessively checking to see who's watched your ~super cultured~ Insta story of really ~authentic~ Italian gelato, your phone battery dies fast. It'll die even quicker when you're taking the Euro Rail to Amsterdam. Being in a foreign country with no phone is a straight-up bad idea, especially when you don't speak the language. Although it can be a "learning experience" to be disconnected for the day, you don't want to find yourself in a bad situation where you're unable to contact someone. Plan ahead, please.    
6. Plan Your Budget Ahead Of Time
me: ya of course i'll pay a $8 delivery fee

also me: 35¢ for potato? no no no no no no no no

— jonny sun (@jonnysun) January 8, 2017
Everyone's financial situation is different, and if your parents are funding your abroad experience, you're one lucky betch. However, many people will find themselves struggling to stay to a strict budget when they study abroad. Personally, I had a really hard time managing my money when I first got abroad. What can I say—covers for clubs are super expensive! 
Definitely have an explicit conversation with your parents (or whoever may be contributing to your experience) about who is paying for what.
7. Jackets Will Be Your Best Friend
One word: layering. As if we weren't already in a climate crisis, the biggest issue I've had abroad is that it's cold outside, hot in your classroom, and straight-up hellish on public transportation. Now, this obviously mainly applies for those of us studying in famously cold or rainy places, like the UK, or those going abroad during the autumn and winter months. I'm a big fan of the thick jacket, cute sweater, and tank combos for those mid-autumn days where you'll experience four seasons in 45 minutes. 
8. You Don't Need 
Stilettos
Heels are impractical, uncomfortable, and a total waste of space. This was the one piece of advice I followed, mostly because my mom took my heels out of my bag before I left, but it still counts. Instead, you should pack lots of cute sneakers, a few pairs of booties that you can walk around in, and one pair of heeled booties for going out. The one exception I've heard to this rule is if you're studying in Paris. Some of the clubs there are bougie as f*ck strict with dress code, so you will need to dress to impress.
Pro tip: Bring cheap flip flops as shower shoes and/or to wear around the apartment, for all you know wherever you end up living could be more disgusting than your freshman dorm's communal bathroom.
9. Pack Lots Of Sweaters And Tops
You can wear the same pair of jeans (or leggings) a million times without anyone noticing (and before they get that "it's time to wash me" sag in them), but the same doesn't go for tops. Students in Europe somehow haven't gotten on the wearing-leggings-to-class bandwagon, so plan on dressing chic to class. Worst case scenario, you'll probably be doing a lot of shopping, so you can always stock up once you've arrived.
10. It *Is* Possible to Have Too Many Black Crop Tops 
When you're packing, you'll probably come across the impossible dilemma: limited space and unlimited crop tops. Trust me, I get it. I also know the majority of your nights abroad will be spent going out. However, black crop tops are reusable! Hopefully, your friends will be cool and like to share, so you'll have even more options. Don't overpack clothes you'd wear to a frat, they'll make you look trashy in the eyes of chic Europeans. Above all else, leave your frat shoes behind.
11. Leave Your Hot Tools At Home
Listen, more than anyone, I understand the deep relationship a girl has to her heat-styling tools. I never go anywhere without at least my flatiron. But, trust me on this one—do not pack any expensive hot tools. Due to the weird-ass voltage conversion, my blowdryer literally melted on day one, ending the longest relationship I've ever had. Instead of bringing your favorite products (and risking ruining them), buy cheap ones there. 
12.

Deal With Prescriptions Ahead Of Time 

It can be really hard to get the prescription meds you need for three months at a time. One of my friends ended up having a screaming match with her insurance company, and it took mine like, a few weeks to figure out how to get me three months worth of my prescription at once. Make sure you leave plenty of time for anything that could potentially go wrong with this process.

Pro tip: Getting stuff like Dayquil and Sudafed is little different in Europe. Bring the basics just in case you can't get meds when you inevitably come down with a cold. 
13. Bring Your Own Tampons
Every. Single. Time. I have tried to buy tampons, they've ended up not having applicators. I know it's better for the environment, but this is an important lesson. You should definitely bring your own supply unless you want to end up standing in a public bathroom, staring at an applicator-less tampon like it's from Mars.
14.

Laundry Bags Aren't Just for Dorm Rooms 

Unless you're gross and want to keep your clothes on the floor of whatever dorm/apartment you're living in, bring one of those inexpensive cloth laundry bags with you. It's also not a given that your living space will come with a washer, and it's pretty unlikely that you'll have a dryer. Bringing a laundry bag both helps you keep track of your dirty clothes and will be a lifesaver if you need to transport them to a laundromat. Do your research and plan accordingly.  

I've only been abroad for six weeks, so it's not like I'm a total pro, but I learned the hard way that any advice is worth considering. It's worth saying, though, that every city is different. I'm spending the semester in London living my best Caroline Calloway life, and I have friends in Paris, Rome, and Madrid. Like, all of us needed to bring different things, but the basics are pretty much the same. Yeah, packing sucks, but the rest of abroad is pretty lit. Once you get past the fact that you have to actually look cute most days and start exploring your new city, it's guaranteed that abroad will be the transformative experience that everyone says it is.

Images: Ross Sneddon / Unsplash; sarafcarter, lexniko / Instagram; jonnysun / Twitter

What To Pack For Vacation When You Procrastinated Until The Last Minute

If there's anything betches hate, it's planning ahead. Most of the time, this means we lead the kind of carefree, Instagrammable lifestyle that lands us in whacky-yet-fun situations at 4am on a Saturday night. Every once in a while, though, it has its drawbacks—the kind where you were supposed to leave for the airport 15 minutes ago, the Uber is 30 seconds away, and you still have no idea what to pack for your trip, you beautiful human disaster. Two days later, you're unpacking at a hostel in Bora Bora and realize you left your toothbrush at home, along with your sunglasses, underwear, and most importantly, your new bikini. What's the point of vacay if you're going to come back with last season's tan line?

I hate to say it, but traveling does require a teensy amount of foresight (ugh). Otherwise, you'll end up spending your partying budget on shit you should have brought with you, and that, my friends, is a tragedy. Here's what to toss in a bag next time you're scrambling to pack before a flight.
1. New Clothes
Social media was basically made for bragging about traveling, so pack at least one new outfit—or at least one that's new to Instagram. There's nothing more embarrassing than repeating an outfit you've worn in the last six months for the whole world to see/ridicule.

A good rule of thumb with your other outfits, BTW, is to bring at least one pair of jeans, shorts, and a bathing suit, then a couple different shirts. Don't forget a dress that can double between day and evening, on the off chance that you meet some handsome young oil magnate on the plane who offers to take you to dinner that night. Weirder things have happened.
2. Two Pairs Of Shoes
You might think shoes are worth all the space they take up in your bag, but you would be wrong. Narrow your shoes down to two pairs: fancy shoes for when you go out and a pair of comfy flats for when you're staggering through the airport with a suitcase heavy enough to have its own gravitational pull.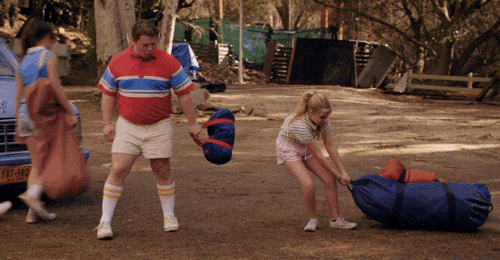 3. Skincare And Makeup
Considering how much makeup the average betch owns, bringing along your entire kit might require its own suitcase. The absolute essentials are deodorant, face wash (in a tiny container), tinted moisturizer, eyeliner, a neutral eyeshadow palette, mascara, and lip balm. Emphasis on the lip balm—airplanes turn your skin into a peeling, desiccated disaster if you're not careful.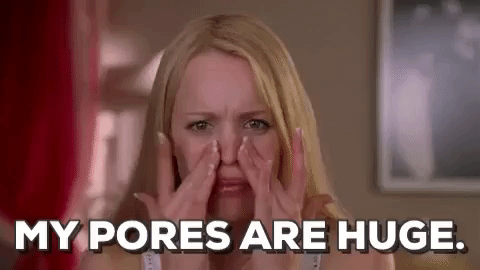 4. Too Much Underwear
Intentionally going commando is one thing, but if you forget to pack enough underwear, your chances of flashing everyone as you're leaving the club skyrocket. When a Hollywood starlet does this, it's risqué, but for those of us who aren't C-list actresses, it's just sloppy. Usually, I'll just pack a pair of underwear for every day I'll be gone, then throw in two more—one that's sexy, just in case, and one that's comfy and graying, also just in case. The Red Tide doesn't give a fuck about convenient timing.

5. Cheap Toothbrush
Only pack your regular toothbrush under the direst circumstances—you know you're just going to lose it if you bring it along. Instead, buy one of those flimsy $1 toothbrushes from CVS and keep it in your bag all the time, so you don't have the chance to forget to pack it. How many toothbrushes have you left strewn in hotel rooms across the globe by now?

6. Contacts/Glasses
Don't you want to be able to check out the guys who buy you drinks? Remember your fucking glasses.

7. Empty Flask
You never know when it'll come in handy. Actually, I do know—it's when you remember how much you spent on your plane ticket and have to sneak alcohol into a bar to save money.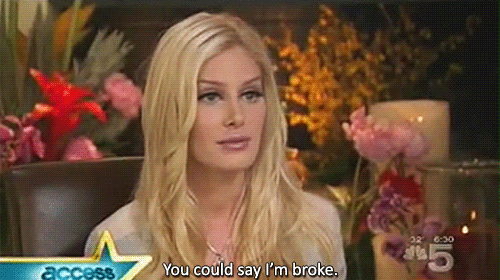 8. Phone Charger
Obviously, you're going to be documenting your every move while you're traveling, and no phone is equipped to make it through more than a few hours of constant Snapchatting. Bring your phone charger. If you have more than one, pick the longer cord so you can sit as far away as possible from the crowd of smelly, cranky travelers clustered around the airport outlet.
Note: If, god forbid, you own a selfie stick, deposit it in the trash can on your way out the door. I'm not mad, I'm just disappointed.