5 Must-Have Leather Jackets Under $100
Most of us aren't rolling in cash, but if you are, congrats. Also, not totally sure why you're reading an article about leather jackets under $100 but hey, appreciate the read. For the rest of us, there's tons of articles out there about the 500 things we need for fall (#realtalk probs half of those are written by me, lol). But, in all reality, if there's one thing you actually DO need for fall, it's a leather jacket. Faux leather of course, don't go calling PETA on me, please. A faux leather jacket makes every outfit instantly cooler, plus it offers that perfect extra layer of warmth for all your fall festivities (i.e. pumpkin picking, hayrides, blacking out on ciders). Obvi I recognize not all of us have the funds to go blow bills on designer leather jackets, sooo I've found several options for you that look just as stylish but are a lot less pricey. Here are five styles of leather jackets under $100.
1. Traditional
For those less fashion savvy, you'll want to get yourself a traditional, classic black leather jacket. Like I said before, it will pair well with all your outfits and make you look supes chic and stylish. Keep the look classic with some dark denim or ripped boyfriend jeans. Or, make it weird and go leather-on-leather by pairing it with some aggressive leather pants. Really, the choice is yours.


BLANKNYC Faux Leather Jacket ($98)
2. Moto/Biker
The key to wearing a biker style leather jacket is to not look like a hardo Harley Davidson fanatic. You want to look chic and stylish, not like a Riverdale Southside Serpent. (Although, it does seem to be the cool thing to be in Riverdale these days.) Anyway, pick one with some quilting, hardware, or extra buckles for an edgier twist on a traditional leather jacket.


Topshop Leather Look Biker Jacket ($95)


Zara Leather Look Biker Jacket ($69.90)
3. Cropped
A cropped leather jacket looks super cute with a mini dress or fall floral maxi. It adds season appropriateness to your mini dress and an element of edginess to your otherwise super girly floral maxi. Basically, it's a great option to add variety to your fall looks and more wearability to your current wardrobe.


UO Faux Leather Cropped Moto Jacket ($99)
4. Work Appropriate
Yes, you can wear a leather jacket to work without Karen in HR thinking you do some weird BDSM sh*t as your side hustle. Pick a structured leather jacket like this one, which works great for spicing up your drab 9-5 ensemble. You can also even wear it on the weekends with a bodysuit and ripped jeans for a casual downtown-cool look. Get you a leather jacket that can do both!


Emory Park Tailored Jacket in Faux Leather ($72)
5. Statement
A statement leather jacket, like this red one from Zara, radiates confidence and makes for a great first date jacket. It's like, not only am I going to look edgy and cool in a leather jacket, but I'mma do you one better and look hot af in a red one. It basically "makes" an otherwise boring outfit, and is sooo much less basic than a standard black one.


Zara Faux Leather Zippered Jacket ($69.90)
So if you're trying to get into the leather jacket game, I just gave you five relatively affordable options to do so. And look, I know I tell you like, everything is a fall essential, but a leather jacket actually is, so get yourself one of these aforementioned five amazing styles ASAP.
Images: tyler nix / Unsplash; Zara (2); Urban Outfitters; Topshop; Nordstrom; Asos
Betches may receive a portion of revenue if you click a link and purchase a product or service. The links are independently placed and do not influence editorial content.

7 Must-Have Faux Fur Coats That Will Make You Feel Like A Kardashian
If you vicariously live through Hollywood's most hated adored celebs like I do, you've probs seen a recent trend pop up: the faux fur coat. Faux because we actually really like animals (way more than people) and who the hell even wears real fur anymore? I mean, it's 2017—killing animals for clothing is so 1920s. Putting the extra-ness factor of these aside, fur coats are boujee af, v warm, and like, def vintage. So cute. Not only can you obvs wear them out to the club and demand the bouncer let you in because do they know who you are?! But you can also casually wear them to the store or like, while you're hungover on the couch because no one will question it. Suddenly, you've become your own Kardashian meme. To get you psyched for winter, here are 7 chic faux fur coats you're going to want to buy rn

If you want to take it slow with the bold look, opt for a short nude style. The tan color isn't overbearing and still goes with literally everything in your closet. This style features an open front, long sleeves, and satin lining on the interior so you stay warm all season long.

Pink fur is a girly take on the trend that's still absolutely posh. With an oversize collar and extra wide sleeves, you'll look bad and boujee wherever you take this. Its length falls by your waist, but Topshop is such a saint, so they have sizes that work for those that are tall or petite as well.

Kourtney's new collab with Pretty Little Thing is straight fire and full of 70s glam that take you from streetwear to elite nightclubs. Of course it comes in bold shades like neon yellow, hot pink, our beloved black, and this sensual burgundy. The deep wine is dark enough to go with contrasting colors and perf for throwing over a scandy outfit in hopes that you can skip the bar lines. Plus, the warm shade easily transitions your look from fall to winter-ready.

If there's one trend we all swore off as soon as we entered the 21st century, it was def cheetah. I hate to be the bearer of bad news, but this shit is back and it's starting with the fur coat. Maybe I'm biased because I literally just bought a faux fur cheetah coat yesterday, but despite the kinda tacky pattern, it's STILL fun, neutral, and fancy enough to avoid eye contact with peasants people. This style is a bit longer than your average coat so it's obvs extra chic and definitely going to keep you warm (and fabulous) in a tundra.

Going for black is just as obvious as the color of the sky (which, incidentally, is also black starting at 4pm). For a subtle approach, stick with what you know best in a casual everyday style. This one is a bit on the thinner side so you won't be as obnoxious (as the rest of us), but you can pair it with jeans, leggings, or dress it up with heels.

Light gray is winter's unofficial color so, this "dusty purple" (or, light gray as this definitely is…) is totes gorge and looks fab with most things. The shade still says you're a high-class woman who may or may not black after one shot but, should still be getting nothing less than VIP service.

I had to include a multi-colored option because if you can't choose one, you might as well have it all. If you're going for various colors, find a neutral chevron pattern like this luscious brown. It's v long, def warm, and looks scarily like real fur if you're trying to convince people you spent your school's tuition on it.
The 5 Jackets And Cardigans You Need To Get Through Fall
Fall is the shit because I can wear leggings 24/7 and get away with wearing just a big-ass sweater because like, fashion. Even though there's a 30% chance my breasts can tell weather experts say it's going to be a v warm fall, temps are already cooling down. Maybe I'm being ~a little bit dramatic~ but I can no longer take on the night without a jacket. It's getting brick and although I'm sick of wearing the same old denim jacket, I'm not quite ready to sweat profusely in wear leather jackets, either. Layering up doesn't have to be a major buzzkill or make you look like a prude, though. You can still look hot and stay warm, because risking your health for your outfit is totally valid not okay. If you look hard enough, or just take my fucking advice, you can find the most perf lightweight jackets that take you from work to your 5:01pm blackout. Or, you can simply elevate a Sunday walk of shame outfit and die on the couch lounge in the comfiest hangover clothes. Either way, we can only go up from here, so start prepping for chilly fall nights you can def still look good af for.
A duster jacket is the boss-ass bitch of all jackets. They kinda remind me of a cape, but like, a sexy cape. It's business-y, warm, and v comfy for striding in the streets. Yes, comfy and warm *can* be in the same sentence as business-y. Tell your HR rep to suck it. You can totally dress this up with a really good heel or keep it casual with a sexy boot. Although this one comes in black (bless), you'll have one in every color by the time October rolls around.

I might be biased because I have one, but I'm also considerate enough to share my goodies with you. Let me just say, this is the comfiest shit ever. It's a denim jacket and a hoodie in one. Any time I feel like channeling my inner Damian Leigh, I just pull my hood up and throw on my biggest shades and stifle the urge to yell, "She doesn't even go here!" It's also trendy enough to wear with a dress and your go-to little black boot. You can totes get away with wearing this when you drag your boyfriend to go apple picking, or when you go on your sorority's Instagram shoot field trip to a pumpkin patch.

This is the inconspicuous celeb style we all aspire to have. Olive green is always huge for fall, so let anyone tell you it's fugly. This is actually a cold weather jacket so you can justify the price by telling yourself you'll wear it more than just the awkward one week span between summer and fall. The jacket is v lightweight but it blocks out the chill and is like, water resistant??? Fucking grool. Easily throw it over a mini skirt or slutty tight dress for a night out.

This is basically a black leather jacket but like, in gray (fucking obviously) which makes it sooo much better. It's not yet basic so you might as well grab it and be the trendsetter. This one is soft, breathable, and obviously goes with literally anything—from your overly worn leggings to a casual T-shirt and mini skirt.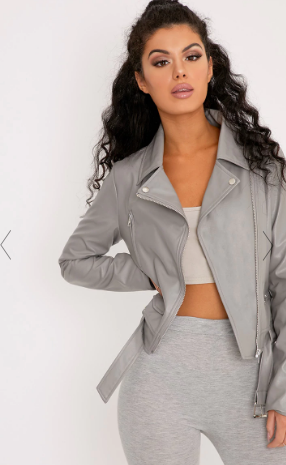 This may look like your grandma's sweater, but that's the whole principle of fall and stocking up on cardigans that end up looking the same. The fringe detailing is modern, laid-back, and says, "I'm not trying hard at all, but this cardigan is over $100." It's honestly not the warmest, but if you sweat even in a blizzard under any coat (uh, same), this is good enough to just throw over for dinner or when hopping a bar strip. Since it's neutral, contrast with something dark (aka probs most things in your closet) or layer up with a light-colored scarf.