A Guide To Cleaning Your Closet So It's Not Filled With Useless Sh*t
With a lot of us being stuck at home for the foreseeable future, what better time to get ahead on spring cleaning? Or, since spring is basically canceled this year… cleaning. When it comes to cleaning out your closet, mental discipline is key. Start by preparing yourself to say goodbye to a lot of crap. You might think you don't have a ton of useless stuff, but trust me, you do.
Cleansing is a process that you should take one season at a time, and it's best to focus on the task at hand—so begin by storing your fall/winter wardrobe away because it's almost shorts season. (Although whether or not we will be able to spend extended time outside in our shorts is another question, but let's be hopeful here.) When storing large fall/winter items, one tip I recommend is using large, clear and flat sweater boxes that can be slid under your bed and out of the way. They are great for bulky sweaters and larger winter items.

Rubbermaid Cleverstore Clear 16 QT Pack of 6 Stackable Plastic Storage Containers with Durable Latching Clear Lids
When assessing your warm weather wardrobe, categorize each item of clothing into toss, donate, or keep piles. Allow yourself one SMALL drawer for the clothes that you just refuse to let go of, even though you know you're not ever going to wear them, or you're delusional enough to think you just might. (And when I say small, I mean SMALL, so choose wisely my friends.)
Toss
Tossing clothing is easier said than done, but acceptance is key to a successful closet. If an item is stained, has holes, or is hanging on by a literal thread, toss it. Get rid of it, sayonara. There's no point in having a damaged piece of clothing taking up precious real estate in your closet.  Also toss tube tops, tiny sunglasses, and wedge sneakers. You'll thank me later.
Donate
Choosing what to donate takes a more diplomatic approach. Now that you've gotten rid of your pit stained T-shirts, I recommend asking yourself these questions and then ACTUALLY being honest with your answer.  
1. Have I worn this in the last three months? If yes, keep. If no, Donate.
2. Does it fit me comfortably? If yes, keep. If no, Donate.  
Donate all "goal weight" and "fat clothes". You are PERFECT as you are, at the size you are right now.  Share the love and let someone else have that dress that used to fit in college, and rock the dress that fits your fabulous self now.  
Note: If you have a piece that you absolutely love but doesn't fit, a good tailor is key, but also expensive. You want it to be worth the repair price, so only alter pieces that have true staying power. 
3. Can I create at least three outfits to wear this item with? If yes, keep. If no, Donate.  
My favorite quote when considering what to keep versus give away is: "Have nothing in your house that you do not know to be useful or believe to be beautiful." It might be helpful for you to keep that in mind as you go through everything.
Keep
You should love and utilize every piece in your wardrobe. The easiest way to organize your "keep" pile is to separate between what to keep in a drawer and what to hang. Denim, T-shirts, and sweaters should be folded and put in drawers. Sweaters lose shape on the hanger, and can pull, so they are safer folded; store in order of knit weight and color (darks on bottom, lights on top).  
Fold your denim into thirds, separate by style and store by wash, dark wash at the bottom to light wash on top.  

Hang the remainder of your wardrobe and organize it by category (dresses, jackets, tops, bottoms, etc), color (light to dark), and material (keep like fabrics together within each category). Use felt hangers—they save space and are easier on your garments. Once that's organized, arrange each category by sleeve length, going from short to long, left to right, with the hanger facing towards you like a question mark. This makes it easier to "read" your wardrobe. 
The end goal is to have a functional, cohesive and thoughtful wardrobe so you can worry about spring fever (too soon?) and not your closet.
Joey Clark is a native of Tucson AZ.  In April of 2017, Clark focused all of her energy on opening her own boutique in Philadelphia, as the culmination of a decade in the industry. Through Kin Boutique, Clark has created a retail experience focused on inclusivity and community. Her strategy is to invest in everyday, staple items and fill in with lower priced trends. She believes in loving every piece in your wardrobe regardless of the size of your waist or your wallet. For more information visit www.shop-kin.com or @shopkinboutique on Instagram.
Images: Sarah Brown / Unsplash; Elena Mitusova / Shutterstock.com
Betches may receive a portion of revenue if you click a link and purchase a product or service. The links are independently placed and do not influence editorial content.
Organizational Products You Need To Channel Your Inner Marie Kondo
Like the rest of the world, I am really, really obsessed with Marie Kondo right now. Like, I need her to follow me around and give me life advice all the time. She could tell me which of my dates are trash and don't bring me joy. She's like Xanax in person form with her little calming voice. There is nothing that woman can't handle, and she'll make it pretty and decluttered in the process. If you want to live as peacefully as Marie, you def can't be throwing all your sh*t around all the time because living in clutter stresses everyone out. I bought a TON of organizational products after moving to smaller apartment last year and even more after watching her show, but here's a list of my favorite have-to-have organizational products if you want to live the Marie Kondo way. It's like I'm Oprah, here are my FAVORITE THINGS:

This rack is the best. Not only is it super cheap, but I was also able to build it in about 7 minutes. I'm no Rob Parks-Valletta, but if you ask Scheana that's pretty impressive. I used to have a way bigger closet and I kept my shoes in clear plastic boxes (which is totally the way to go if you have the space) but in my new tiny af walk-in, this saves soooo much space. I have it against the wall where there isn't hanging space and it fits exactly 30 shoes—booties and heels included. They also have a hanging version for the back of your closet door (I have both for max storage) . Pro tip: Put your heavy shoes on the bottom, which I originally didn't do and eventually my tower started to sag. The tower is also attractive enough that it can be on display in your room without being totally heinous.

I started meal prepping because I never have time to cook, which caused me to eat out all the time, which caused me to gain weight. I've been using old takeout containers for ages to portion out my meals, but they're ugly, they crack, they take up a lot of space in my cabinets, and they come in so many different shapes and sizes and I can never find the f*cking matching lids. I finally decided to buy nice glass containers, and it changed my life. They are easier to clean, look nicer, have locking lids so they don't spill, and are oven/dishwasher/microwave/freezer safe. I have this set of 5 instead of 30 cheap broken ones, and I feel like so much more of an adult.

This is for that "paper" section that makes people cry on Tidying Up With Marie Kondo. Why? Why are you saving old receipts from 2009 anyway? Once you go through all of your paper, photos, etc., save what you absolutely must keep in this adorable organizer. It also folds up in case you don't have an office and don't want it as wall art.

You have no idea how ashamed I am of myself. There is nothing, nothing that excited me more than the day I first used my Joseph Joseph Kitchen Drawer Organizers. This is because I have the World's Tiniest Kitchen™ and I have no drawer space. These trays are so genius. I was able to use both the cutlery one and knife one in one standard kitchen drawer with room to spare. Cutlery used to take a whole drawer by itself and then I had all my kitchen knives haphazardly thrown about in it and risked violent death every time I needed one. Okay, at least a light stabbing. NOT ANYMORE. I have these right next to each other and then in the additional space leftover, I have odd kitchen items like wine openers, chopsticks, pho spoons, rubber wine corks, etc. This is how I know I'm old, cutlery organization brings me SO MUCH joy.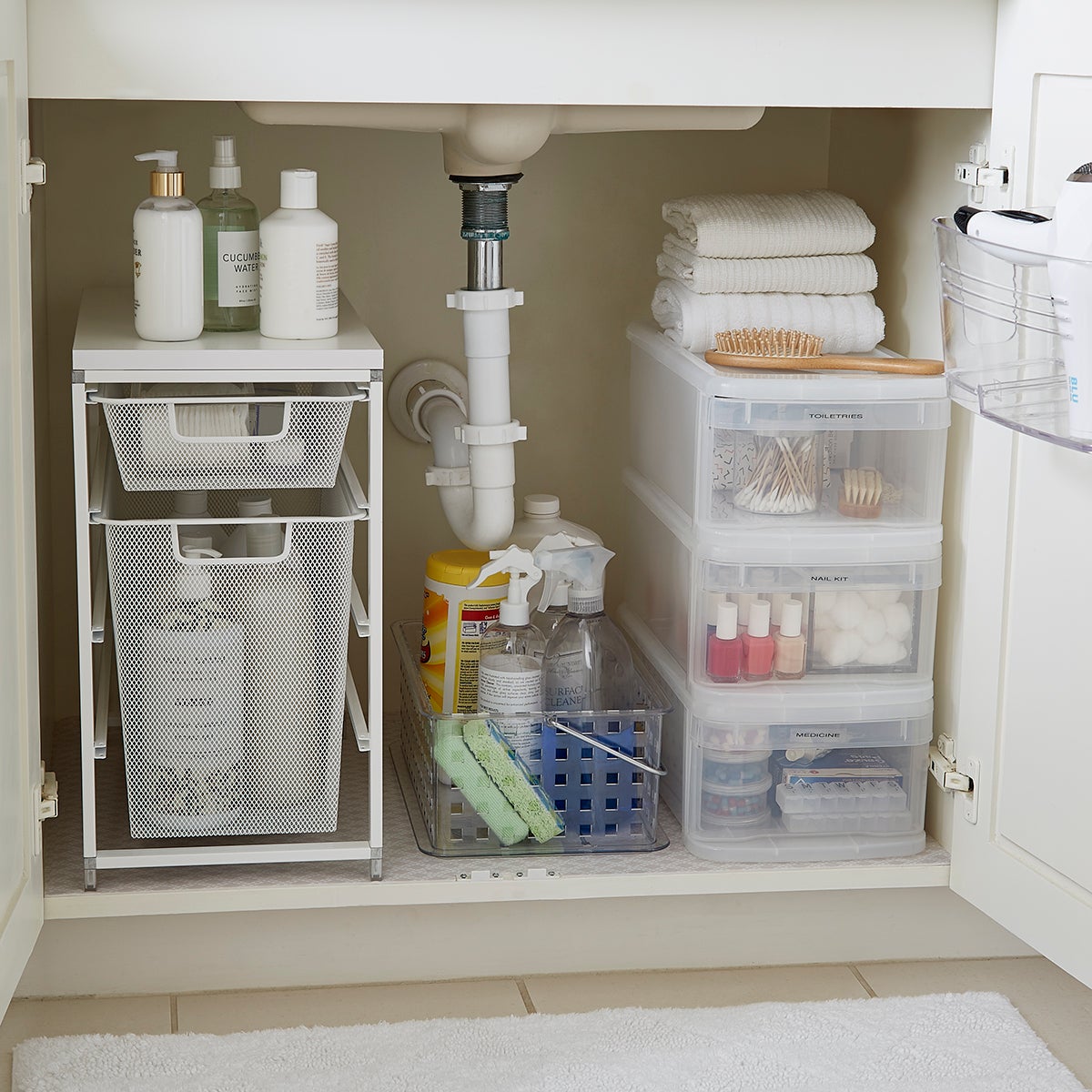 I saw this on Instagram and my mind exploded. Let me ask you, is it weird to be sexually attracted to a bathroom storage set? I mean. Just look at the picture. My bathroom under sink area was full of baskets that were stacked on each other and I had to move each one to get things out of them. This is so much better. However, definitely measure your under sink before you just buy all the stuff. I learned the hard way that my sink pipe is not so neat and narrow as the picture and instead juts out sideways to take up a ton of unnecessary space. I was only able to fit two stacking drawers instead of three, and there was no room for the little caddy in the middle. But I just kept those items and put them under my kitchen sink. I still regret nothing and I can find things so much easier now.

This is one of those weird organizational products that I never knew how much I needed. Since I like to procrastinate doing laundry for as long as possible, I go through a lot of clothes and all my hangers end up all over the place. Usually on the floor of my very tiny closet. Which then I accidentally step on them as I'm trying to get to my clothes. And then they break. And then I cry, because they're those slim-fit velvet hangers, which btw, save so much space and are a total must-have if you somehow missed the boat when they started being trendy 10 years ago. But I saw this hanger stacker recently and was like, "actually that could fit in my tiny closet next to my shoe rack" (see above). So I decided to give it a try and it is so convenient. I just neatly toss all my hangers on it as I use my clothes. It's also way nicer when you need to hang things back up, since they're all in one place, you don't have to go hunting for them. We've had no hanger casualties or closet clutter since!
Images: Amazon (5); The Container Store; Netflix
Betches may receive a portion of revenue if you click a link and purchase a product or service. The links are independently placed and do not influence editorial content.
5 Steps To Organize Your Room And Declutter Your Life
I have to tell you guys something. I am kind of a hoarder. Like, not in a gross A&E kind of way, but just in that I buy too many things and keep them forever "just in case". My bathroom is a super organized graveyard of products in every scent imaginable, and yet I keep buying the same two things I actually use and don't touch anything else. It doesn't help that I'm the reigning queen of bargain shopping, as I can get a lot of stuff for a great price. Meaning I have a lot of stuff I don't need. I'm moving soon, so I am currently on a decluttering spree to completely clean out my entire life and move into my smaller and somehow more expensive apartment (ugh) without every cocktail dress I wore to sorority formals in college. If you need to declutter your life rn too, here are my tips.
1. Follow The One Year Rule
The One Year Rule is simple. If you haven't worn it or used it in a year, it needs to go. The exception is if it's like a cocktail attire or a costume—something you need on hand, but don't use on the reg. A good way to test this out is to put all your hangers in your closet backwards. When you wear and replace an item, you put it in facing forwards. In a year, you donate anything that still has a backwards hanger. I do this, and I still cry when I get rid of the "back hanger" items. On that note, get rid of anything damaged, anything with bad memories, or anything that no longer fits. Look, I want to be optimistic too. I currently have all of my size 0 dresses from my sorority days, ready and waiting or me to give up carbs and alcohol so I can fit in them again. But let's be real, I don't want to do that. And really, those dresses are too slutty for my adult aesthetic. I don't care to be pulling it up to cover my breasts or down to cover my vag all night long. Your clothes need to fit. Get rid of it all, or take it to a place like Plato's Closet that buys gently used clothing, and get some cash to buy stuff that you look amazing in.

2. Toss Everything Expired Or That You Don't Like
You (and okay, fine, I) need to go through all of your (my) old makeup and bath products. If you haven't used it in a year, it needs to go. If it's eyeliner and mascara, it expires after 3-6 months. Most products have a tiny container printed on the back with a number in it—that is the expiration date. And let's be real—if you've had the same lotion for three years and haven't used it yet, you probably just don't like it very much. Toss it and move on. While you're at it, clean out makeup applicators, brushes, and sponges you don't use, and wash the brushes you're keeping. Also? If you have some products that are full/barely used, companies like Sephora and Bath & Body Works will return or exchange them, even if they're super old. So if you have a few candles that you've kept but hate the smell of, go exchange them for things you actually like. If you have a ton of unopened products that you can't return, donate them to a women's shelter.
3. Go Through Your Desk And Shred Your Documents
I really love taking old papers, receipts, bills, and tossing them in a drawer. Now I never open my desk drawers because they're soooo full of random paper. Guess what, guys? Am I ever going to be like, "oh good thing I saved this gynecologist bill that I paid online three months ago?" F*ck, no. Get a couple of chic boxes or folders to keep important paperwork and another for photos (does anyone still have printed photos?) and keepsakes, and toss everything else out. Also, you can get a shredder for documents with important info on them, and also, shredding is weirdly satisfying. But clean all that out, including all the old receipts and papers in your purse. You're never going to look at them anyway and any receipt can be traced from your credit card online.

4. Switch Your Wardrobe By Season
If you want to keep up a minimalist aesthetic and be able to find things quickly in your closet, I highly recommend switching your wardrobe for the season. Do you need to be digging through huge winter coats in July to get to your cute summer tops? Um, no. Double your closet space by dividing your clothing into two categories: Spring/Summer and Fall/Winter. Keep whatever section is out of season in under-the-bed storage containers, or get a chic trunk for the foot of your bed. I live in LA, where we don't even have seasons, but I still do this because I'm not going to wear maxi dresses in fall/winter anyway, nor will I wear my oversize knit sweaters in July. It saves so much space in my closet. I even put special event clothing—like cocktail dresses, etc.—in a container under my bed too, since I don't need to look through it every day.
5. Clean Out (Or Sell) Your Technology
To fully declutter your life, you also should clean out your old technology. If you're hoarding old iPhones or dated laptops, companies like Amazon and BestBuy will actually buy this stuff back from you. It takes up space and you're never going to be like, "hm, forget my awesome brand-new headphones, I really miss the gigantic ones that don't work well from the 90's I've been saving in a box for 15 years for some reason" (wtf is wrong with me, guys?). When you've gotten this old stuff out of your physical space, you should also clean out your current technology. Copy old photos from your phone to your computer so you'll stop getting that super annoying "out of space" message. Backup your important files to an external drive or an online backup service, like Crashplan, that does it automatically daily. As a digital artist and writer, it's saved my life a few times. Delete anything super old or unnecessary, like old homework files, programs you don't use, apps you're no longer into, music you're sick of listening to, etc. While you're at it, clean out your phone contacts, especially ones like "John Painting Class" or "Tom ". Obvi you didn't like them enough to learn their last names, so they've gotta go.

Images: Arnel Hasanovic / Unsplash; Giphy (3)
We Feel Personally Victimized By Gwyneth Paltrow's Pantry
If you needed another reason to feel personally victimized by Gwyneth Paltrow, look no further than this photo of her kitchen pantry she just organized with the help of a company called The Home Edit:
Aside from being very pretty and every person's adderall-induced dream, this is about as sad as it gets for a snack station. The inventory includes: two bags of Popchips, some almonds, a bunch of sauces, black beans and more black beans. That was literally my exact diet on spring break in Mexico and I can say from firsthand experience that it's simply not sustainable, even with 75 margaritas included. Speaking of which, you can clearly tell no one in this household is allowed to drink or get within 15 yards of the area because otherwise this entire thing would be destroyed in under ten seconds. All in all, this is not pantry goals, but it is everything we expected from a celeb who is known for permanently detoxing and named her children Apple and Moses.