Photoshop Fail Of The Week: Many, Many Limbs
There are so many different kinds of Photoshop abuse. We show you a lot of celebrities' toxic relationship with Facetune, photoshoots gone wrong, and occasionally missing/messed up body parts. But the one I'm gonna show you today you'll probably remember because it was so hilariously bad. I mean, it wasn't just a run-of-the-mill nose amputation that we usually see. This photo retoucher failed spectacularly. Which also makes me angry because this is a huge magazine, and how did you possibly get this job if you're so lazy you can't even do this correctly? How much did they pay you for this, sir? However, this image is an example of what magazines do all the time, they just usually remember to fix it first so you can't tell. I'm speaking, of course, about the time Vanity Fair decided Reese Witherspoon and Oprah didn't pose well enough for the probably 1000 photos they shot. So they fixed it. And made it a lot worse.
Here is the cover:

Come on children! What's wrong with this picture? Whoever edited these photos seems to use the same ~*dangerous*~ editing method over and over: do whatever first and clean up later. And if you don't pay attention to detail, it's risky. Because:


So, I consider myself an expert on Reese's work, mostly because I've seen Legally Blonde probably 50 times. And guys, I have to tell you, I always thought she had two legs? Vanity Fair then attempted to defend themselves, saying that what we're seeing is actually just the lining of Reese's dress.
While we would have loved the exclusive on @RWitherspoon's three legs, unfortunately it's just the lining of her dress. https://t.co/HJjvbc037S

— VANITY FAIR (@VanityFair) January 25, 2018
However, you can clearly see the top of Reese's thigh, and the straight leg match perfectly. The dress lining even has what looks like a knee and a calf? It doesn't look anything like dress lining!

Like no sorry, you done f*cked up. But here's where it gets really good. Although VF tried to play off that the cover was not a mistake, they obviously used the same retoucher for all the other photos. Why you ask? Because this candid gem was later in the issue: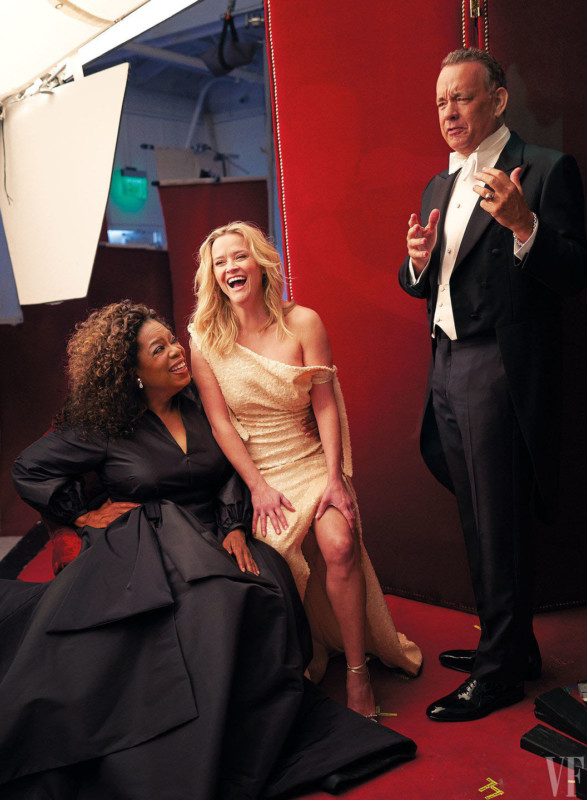 Again I ask you, what's wrong with this picture?

So you're telling me that while this retoucher did not give Reese three legs (although the inseam has its own knee, so sure Jan), he definitely gave Oprah three f*cking hands. It seems like his editing technique just sucks. Vanity Fair at least copped to this one:
As for @Oprah, how can we expect her to juggle it all with just two hands?
¯_(ツ)_/¯_/¯ (We are correcting this error​ online​.) https://t.co/QNd74YtSTz

— VANITY FAIR (@VanityFair) January 25, 2018
The retoucher obviously just really enjoys giving everyone extra body parts. But in actuality, this happens very frequently in photo editing, it's just normally cleaned up so you can't tell. I mean, that's like, what a professional does. And YES OFFENSE, Retoucher, because you probably made an insane amount of money for this catastrophic cover.  So basically, here's what happens. A photographer takes a ton of photos all in different poses. Especially with a big group, it's hard to get everyone to look their best. So then they splice up each person for their most flattering pose between all of the images. I don't even mind that they do this to some extent—like, if Reese is blinking in Oprah's best shot, for example, swap Reese's best face shot with the blinking one, and now it's the best picture of both of them. That doesn't even bother me, because it's still her real face.
But what happened here is the retoucher seems to have this strange work flow where he piles on every option of arm, leg, etc, on different layers, and then chooses what one looks best. However, he forgot more than once to recheck his work, which is how he ended up making Reese a tri-ped and Oprah into an octopus.  Check *clap* your *clap* work *clap*.
Also? What is Nicole Kidman leaning on? Does this not look super weird to you?

This practice, while super common, is also one of the many ways retouchers and magazines try to f*ck with us about what reality looks like. They rearrange everyone's anatomy to make it look like perfect proportions, perfect angles, and perfect pose. The second photo, with Oprah's three hands, looks like it's supposed to be candid, and yet was edited so much so that they couldn't even casually sit together without being dissected. It's a room full of some of the most beautiful, strong, influential people in the world—why can't they just take a photo with perfect lighting, perfect makeup, perfect staging, perfect outfits, and leave it as is? It still needs to be ripped apart limb by limb to be acceptable to us?
Are triple limbs now the unattainable beauty standard? What do you think of this practice? Why do magazines in particular edit already-beautiful people so hard? Who was this retoucher and how did they get this job? Did you know magazines edited their subjects so severely? LMK!
And guys, pleaseeeee send me your Photoshop Fails. See you next week!
Images: Vanity Fair; vanityfair (2) / Twitter
The Best Dressed At The 2018 Golden Globes & The People Who Didn't Wear Black
Typically, the Golden Globes is the award ceremony known as the one where everyone gets totally tanked. It's kind of infamously known as the sloppiest televised night in Hollywood. This year, while I'm sure people still got super drunk (I'm looking at you, Franco Brothers), the blackout was of a different kind. As anyone with internet access (or at the very least, cable) probably knows, celebrities wore black to the event in support of the Time's Up initiative, which helps fight sexual harassment against in the workplace. Although it wasn't officially strictly enforced, this was basically the most important dress code since the Plastics decided to wear pink on Wednesdays. Because the whole point is to bring women together, anyone who didn't wear black wasn't like, ridiculously shamed or anything, but they were still noted. So this year we're doing things a little differently with our best and worst dressed list. We'll highlight the people who looked especially amazing (since everyone looks good in black), and point out those who, for whatever reason, chose not to.
THE BEST
1. Saoirse Ronan
Saoirse Ronan is totally on top of the fucking world right now. Everyone's obsessed with her, she just won Best Actress for her performance in Lady Bird, and we all can finally almost pronounce her name without having to Google it. Plus, she had someone FaceTime her mom to watch her acceptance speech. Her edgy Atelier Versace gown is to die for, and I think we all wish we could look half as good with such minimal makeup.

2. Kerry Washington
If anyone in this world is capable of making a sequin high-low dress look incredible, it's Olivia Pope. I mean, Kerry Washington. Obviously, she's powerful enough to do anything (she's literally pulling off purple eyeliner here). I don't see why she can't save the real-life America. Maybe if/when Oprah runs for President, Kerry can be her VP.

3. Angelina Jolie
Angelina Jolie also wore Atelier Versace. This custom gown is totally the personification of the "me when I answer the door of my mansion pretending to be shocked when I learn my 78-year-old husband just died" meme. I'm so into it, mostly because I often forget that Mr. & Mrs. Smith is a movie and not real life, and she's not actually going to assassinate Brad Pitt. (Probably.)

4. Millie Bobby Brown
Millie Bobby Brown is barely old enough to be left unattended in a tanning salon lobby, but I'm still going to include her in every best dressed list because she always serves a perfect look. Honesty, it's unfair that the girl will never have an awkward phase, and I will be bringing it up with my therapist during my next session. Millie's backless Calvin Klein dress is super sophisticated in the cutest way possible and probably makes you want to hide your bat mitzvah photos for the rest of eternity.

5. Oprah Winfrey
I mean, fucking duh, it's Oprah. Obviously the woman we all wish was our mom, best friend, boss, and president slayed. I actually don't know if Oprah has ever looked better. I'm pretty sure everyone's still crying from her speech, so there's that, too.

6. Alison Brie
Dress/pants hybrids are usually as risky as drinking tequila while taking antibiotics, but Alison Brie's outfit absolutely nailed it. It also had pockets, so it's the ultimate "thanks it has pockets" gown.

7. Zoe Kravitz
At first glance, Zoe Kravitz's Golden Globes look is really simple with splashes of color in her jewelry and makeup. Obviously, Zoe has her shit together enough to strategically choose even her earrings and ring. Emerald stones are meant to symbolize hope and growth, and were worn by a few actresses as a further statement. This totally makes me feel like a POS for generally having "I can find two of them while on my way out the door" as the primary criteria for choosing earrings.

EVERYONE WHO MISSED THE 'WEAR BLACK' MEMO
1. Blanca Blanco
Blanca explained her fashion choice to Fox News, saying, "I love red," which is kind of like when Kelly Kapoor wore white to Phyllis' wedding because it was "an emergency," and the emergency was she looks really good in white. Blanca clarified, "Wearing red does not mean I am against the movement. I applaud and stand by the courageous actresses that continue to break the cycle of abuse through their actions and fashion style choices. It is one of many factors leading women to a safer place because of their status. I am excited about the #TimesUp movement; true change is long overdue."

2. Frances McDormand
We're willing to give Frances McDormand the benefit of the doubt because she was so amazing in Three Billboards Outside Ebbing, Missouri, a movie that I bet nobody my age saw, except for me. It's clear from Frances' acceptance speech that she wasn't intentionally making a statement against the #TimesUp movement with her dress choice, but rather, she grabbed this navy dress in the dark while rushing out the door. Let he who has never gotten dressed with the lights off cast the first stone.

3. Barbara Meier
I'll save you the trouble of Googling and let you know that Barbara Meier is a German model who won Germany's Next Topmodel in 2006. It's unclear why she was there in the first place—maybe to keep Kendall Jenner company?—and she basically went in the total opposite direction of everyone else, sporting a multicolored floral dress. Awkward. Barbara defended her decision to not wear black, basically saying that women should be able to wear whatever they want, which nobody is arguing with. She said in a translated Instagram post, "We were fighting for a long time for the freedom to wear what it is ok, to dress up a little more sexy. If we now restrict this, because some men can not control themselves, this is a huge step back in my opinion," seemingly missing the point that nobody cares that she dressed sexy, just that she didn't wear black. Oh well. Can't win 'em all.

4. Meher Tatna
As the President of the Hollywood Foreign Press Association, you would think Meher Tatna would have gotten the memo that on the Sunday of the Golden Globes, we wear black. In her defense, though, a source told The Wrap that Tatna "wore the dress that she chose with her mother," adding, "As part of her Indian culture, it's customary to wear a festive color during a celebration." So like, okay, we're not going to argue with her culture. Sources also say that she's a big supporter of Time's Up, so we'll let it slide. her shoes are black, at least?

Here Is Oprah Winfrey's Full Golden Globes Speech
Last night at the Golden Globes, Oprah Winfrey won the Cecil B. DeMille award for outstanding contributions to the world of entertainment, and subsequently our hearts. Oprah was the first black woman to win the prestigious award, and she gave a speech that will go down in history. She talked about sexism, racism, the #MeToo movement, and more. Everybody's talking about this speech today, and if you didn't watch it, you're seriously behind. Below is the full transcript of Oprah's Golden Globes speech, courtesy of ABC, in case you're at work and can't watch a whole video.
In 1964, I was a little girl sitting on the linoleum floor of my mother's house in Milwaukee watching Anne Bancroft present the Oscar for best actor at the 36th Academy Awards. She opened the envelope and said five words that literally made history—"The winner is Sidney Poitier."
Up to the stage came the most elegant man I had ever seen. I remember his tie was white, of course his skin was black—I'd never seen a black man being celebrated like that. I've tried many, many, many times to explain what a moment like that means to a little girl, a kid watching from the cheap seats as my mom came through the door bone-tired from cleaning other people's houses.
But all I can do is quote and say that the explanation in Sidney's performance in "Lilies of the Field," 'Amen, amen. Amen, amen.' In 1982 Sidney received the Cecil B. DeMille Award right here at the Golden Globes, and it is not lost on me that at this moment, there are some little girls watching as I become the first black woman to be given this same award.
It is an honor—it is an honor and it is a privilege to share the evening with all of them and also with the incredible men and women who have inspired me, who challenged me, who sustained me and made my journey to this stage possible. Dennis Swanson, who took a chance on me for "A.M. Chicago," Quincy Jones, who saw me on the show and said to Steven Spielberg, "Yes, she's Sophia in 'The Color Purple;'" Gayle, who's been the definition of what a friend is; and Stedman who's been my rock—just a few to name.
I want to thank the Hollywood Foreign Press Association because we know that the press is under siege these days. But we also know it's the insatiable dedication to uncovering the absolute truth that keeps us from turning a blind eye to corruption and to injustice. To—to tyrants and victims, and secrets and lies. I want to say that I value the press more than ever before as we try to navigate these complicated times, which brings me to this. What I know for sure is that speaking your truth is the most powerful tool we all have. And I'm especially proud and inspired by all the women who have felt strong enough and empowered enough to speak up and share their personal stories. Each of us in this room are celebrated because of the stories that we tell, and this year we became the story.
But it's not just a story affecting the entertainment industry. It's one that transcends any culture, geography, race, religion, politics, or workplace. So I want tonight to express gratitude to all the women who have endured years of abuse and assault because they, like my mother, had children to feed and bills to pay and dreams to pursue.
They're the women whose names we'll never know. They are domestic workers and farm workers. They are working in factories and they work in restaurants and they're in academia, engineering, medicine, and science. They're part of the world of tech and politics and business. They're our athletes in the Olympics and they're our soldiers in the military.
And there's someone else, Recy Taylor, a name I know and I think you should know, too. In 1944, Recy Taylor was a young wife and mother. She was just walking home from a church service she'd attended in Abbeville, Alabama, when she was abducted by six armed white men, raped, and left blindfolded by the side of the road, coming home from church. They threatened to kill her if she ever told anyone, but her story was reported to the NAACP where a young worker by the name of Rosa Parks became the lead investigator on her case, and together they sought justice. But justice wasn't an option in the era of Jim Crow. The men who tried to destroy her were never prosecuted. Recy Taylor died 10 days ago, just shy of her 98th birthday. She lived, as we all have lived, too many years in a culture broken by brutally powerful men. For too long, women have not been heard or believed if they dared to speak the truth to the power of those men. But their time is up. Their time is up. Their time is up.
And I just hope—I just hope that Recy Taylor died knowing that her truth, like the truth of so many other women who were tormented in those years, and even now tormented, goes marching on. It was somewhere in Rosa Parks' heart almost 11 years later, when she made the decision to stay seated on that bus in Montgomery, and it's here with every woman who chooses to say, "Me too." And every man—every man who chooses to listen.
In my career, what I've always tried my best to do, whether on television or through film, is to say something about how men and women really behave. To say how we experience shame, how we love and how we rage, how we fail, how we retreat, persevere, and how we overcome. I've interviewed and portrayed people who've withstood some of the ugliest things life can throw at you, but the one quality all of them seem to share is an ability to maintain hope for a brighter morning, even during our darkest nights.
So I want all the girls watching here, now, to know that a new day is on the horizon! And when that new day finally dawns, it will be because of a lot of magnificent women, many of whom are right here in this room tonight, and some pretty phenomenal men, fighting hard to make sure that they become the leaders who take us to the time when nobody ever has to say "Me too" again. Thank you.