Nail Polishes That Last As Long As A Manicure And Don't Chip
We're in full-on holiday mode, which means that instead of spending my hard-earned money on getting shitfaced at happy hour things I actually like to do, I'm spending it on the people I love. Those fucking bitches. And it's hard to always choose the right gift for people. I mean, sometimes it's not as easy as buying deodorant for Smelly Melly Melissa in accounting, ya know? Sometimes you have to put a little bit more thought into it. Like, what do I get the friend in my life who's been with me through all of my blackouts thick and thin? The friend who texts me "drinks later? ;)" at 10am on a Tuesday and who I can always count on to start shit with that bitch who just gave me side-eye? I would try and get her some good sense but, like, where's the fun in that? Nah. I'll stick with something she actually needs, like nail polish that doesn't chip, no matter how shitty she gets at bars. So here are five nail polishes that make the perfect gift for every ratchet bitch you know (including yourself).
While this brand might seem more random than the girl you exchanged numbers with in line for the bathroom last weekend, it's actually pretty top-notch as far as polishes go. When applied with the weekly top coat, nails can last for a solid 10 days or until it's socially acceptable to start peeling off your nails out of boredom.

Remember when everyone lost their shit because Essie was coming out with a gel manicure that you could do at home while binge watching shitty reality TV and drinking your weight in Chardonnay? Well, OPI Infinite Shine is even better. It looks, feels, and acts like a gel mani, but you don't have to go through that annoying AF process of taking it off, because it can easily be removed with regular old nail polish remover. BLESS UP, people.

Speaking of Essie, if you don't mind torturing yourself the upkeep of a gel manicure, then by all means, invest in Essie's Gel Couture Nail Polish. It's been one of the leading brands in nail polish and for good fucking reason. They have lots of color options, plus their whole thing is you can stay at home and do your own manicure instead of having to put on pants deal with trying to impress people at the nail salon.

If you want to say fuck all the bullshit and buy a product that does the work of three in one, then you should def invest in the latest nail polish from CoverGirl. Not only does this brand have a shitton of color options, but they also combine base coat, nail color, and topcoat into ONE PRODUCT. It's like there is a God and She's been watching me waste my paycheck at happy hour and knows how much I love an easy way out saving my dollars where I can.

Get this for the friend who is constantly lecturing you on her journey to veganism and her new "healthy" lifestyle but then gorges on Big Macs when she's blackout. Deborah Lippmann is formaldehyde-, toluene-, and dibutyl-free so it's, like, good for you and shit. Plus it's supposed to be chip-free and last a little over a week.

Beauty Stocking Stuffers For Under $15 You're Going To Want For Yourself
Is it *really* the most wonderful time of the year ? Um, I'm going to have to give that a hard pass. Look, I'm all about the fakeness, cheeriness, glitter fests, and spiked peppermint mochas as much as you are. However, everyone seems to forget how fucking stressful the holidays are. As if constantly boiling pasta and delaying grocery shopping as long as possible wasn't a big enough sign that I'm literally always broke af. Now, I have to buy shit for other people instead of myself just before I'm bum-rushed into overpriced NYE plans. The most wonderful time of the year, my ass. Even thinking about holiday shopping gives me an anxiety attack, so I'm starting with small gifts for the real MVB's in my life, aka some stocking stuffers. From palettes to exfoliators to new nail polishes, here are six beauty gifts under $15 that you literally can't go wrong with.
This a life-changing hair treatment in the cutest festive bottle. The multi-purpose formula conditions your hair from end to end, while taming and de-frizzing split ends. Just when you thought it couldn't get any better, it cuts drying time a ton and is oil-free, so it won't make your hair limp and greasy at all. It's the perfect gift for, like, anyone who has hair, honestly.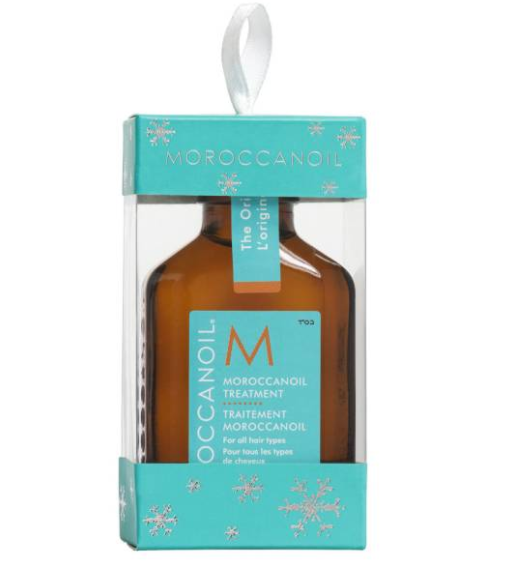 This holiday-exclusive set comes with four perfect minis in gorg seasonal colors. With bright red, glistening silver, vampy purple, and chic black, OPI def delivers smooth application that lasts longer than the shit you probs pick up at Walgreens.

For your friend who is happily obsessed with keeping her face #flawless, these exfoliating sugar cubes will be her new fave. The six sweet-smelling cubes gently get rid of dead skin cells and help keep the skin feeling v soft, smooth, and moisturized.

When you get two full-sized Urban Decay products for under $20, you buy fucking six of them. These are limited edition, so you should def buy this ASAP. The set includes a full-size eyeliner that has fab blend-ability and a full-size mascara that keeps lashes long and healthy. Both come in black, which only makes this too good to be true.

It's an amazing gift for me, you, and everyone else who has an unhealthy obsession with lipsticks—especially when it comes to finding the perfect, true red. The 2-in-1 kit includes a mini-size hydrating in Legendary and travel-size Insta-Matte Lipstick Transformer. If you're wondering WTF a transformer is, it's seriously the best thing. The lipstick transformer turns any velvet lipstick immediately into a matte that does not—I repeat, does not—dry out your lips. You can apply as many times as you'd like to reach the desired texture your chapped lips deserve this winter.

It doesn't matter how many face palettes people have, they will literally never say no to another. And if they do, IDK, they're probs homeschooled and will not appreciate you being such a good friend. This super convenient all-in-one face palette comes with two intensely-pigmented blushes, a champagne highlighter, and universal bronzer. The warm shades give you a healthy, natural-looking glow you can take with you on the go, whether you're at the club or meeting up with your cuffing fling.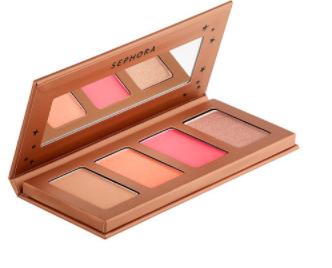 Images: Jazmin Quaynor / Unsplash ; Sephora ( 6 )