3 Little-Known Ways To Get Designer Clothes For Cheap
Ever since I can remember, I've had an affinity for the finer things in life. And, ever since I can remember, I've never been able to afford them. It doesn't help that no one else in my family has ever shared my intense passion for "errrythangg designer". Even so, from a young age, I've been obsessed with finding designer clothes for cheap, at prices my measly babysitting gigs could support. I legit would come home from school and spend hours trolling Ebay for authentic Juicy Couture purses. (If only my young, naive self knew that my coveted Juicy Couture would be available at fucking Kohl's a few years later, smh.) Anyway, I would visit TJ Maxx and Marshalls MULTIPLE times a week, and spend hours sifting through the racks in hopes of finding a designer piece at an unthinkable price. I would even go so far to hunt through the racks of Goodwill, where I once found a 100% cashmere Ralph Lauren sweater for $10. And I still have that sweater today.
I was addicted, and this far-from-mild obsession made me into the financially conservative label whore I am today. (Talk about an oxymoron.) There's just something soooo inexplicably satisfying about owning something of value, quality, and reputation, and knowing that you got it for a fraction of the price. It gave me, and still gives me, a sense of pride and accomplishment in something that most of the world would view as simply superficial and materialistic. It's an obsession I've never grown out of, and in today's world of advanced technology and instant gratification, I've never had to. In fact, it's easier than ever. Here's how I now shop for all my designer pieces from the comfort of my couch. Go ahead, name your first born after me. You'll still owe me. 

1. TJ Maxx Runway
I'm all about women supporting women, so instead of being selfish as I normally would choose to be, I'm going to share with you one of my best kept fashion secrets: TJ Maxx's Runway section. If you've been to a TJ Maxx in a wealthier area (aka one without a Dollar General in a 20-mile radius), you've probs seen the Runway section somewhere in the store. There's some great finds in there, but the real treasure is the Runway section online. How did I afford brand new Céline sunglasses or a YSL bag on a retail store manager's salary? That's how. They have tons of amazing designer finds—everything from bags to shoes to jackets to makeup, and they add new stuff every day. It's a label-obsessed poor girl's heaven! The only downside is that you cannot search the site for specific designer names, which is part of how TJ Maxx is able to sell these pieces for significantly less. Part of their agreements with the brands is that they're not allowed to advertise the designer names that they carry. Fine by me. I'll take my bag for a grand less in exchange for a little extra scrolling. That's fair.
2. The RealReal
The RealReal is the best place online to get designer clothes for cheap. Of course, they have accessories and whatnot too, but the real advantage to this site over TJ Maxx Runway is the ABUNDANCE of designer clothes. This is due to the fact that The RealReal is a designer resale site. Now, before you go sticking your nose in the air over the word "consignment," know that there is a HUGE selection of designer clothes that are brand new, with tags and all. Basically, it's a collection of all the stuff that spoiled bitches have just had sitting in their closets for months and months, but never wore. I personally give zero fucks if the item I want has been worn before, as long as it is in good condition. I've even ended up buying Alexander Wang pieces that were new, with tags, for under $40. The other aspect I love about this site is their thorough and trustworthy authentification process. Look, I'm a Virgo (aka I'm anal) and I like to know that what I'm spending my hard earned money on is the real deal. The site is also always doing sales, markdowns, and promos, so whether you're looking for a brand new or gently used designer item, you're going to get an amazing deal.

3. Designer Consignment Shops' Instagrams
In today's world, where everyone and their grandma is on social media, you can bet designer consignment shops have their own social media pages. These days, most of them even have an accompanying online site so that you're able to shop the pieces from their store, even if you can't actually get to the store. They also use their social media accounts to give their customers exclusive updates about the latest pieces to come in, even before these pieces have the chance to hit the sales floor. And, if you follow your local designer consignment shops, you usually have the option to call the shop and put an item from their Instagram on hold. Or, if they don't do holds, tell your coworkers you're having "woman problems" and speed over there ASAP to purchase it. Trust me, getting that Fendi bag for $200 is worth the reprimand from your supervisor.
Even if you're #poorAF, or your live-in boyfriend just won't let you spend $2,000 on a bag (IDGI???) you now have some secret loopholes to still get the designer pieces you're craving. I will warn you though, if I go on the TJ Maxx site today and there's no good designer shit left I may have to fight you. Until then, happy shopping, my fellow bougie bitch.
Images: @mehhag / Unsplash; Giphy (3)
Shop Our New Chic AF Get Lit Candle Collection!
Nothing says "I'm super chill and totally have my life together" quite like an apartment full of candles. Like not crappy candles though, so don't try Sears. Instead, check out the new chic yet funny af candles from Shop Betches!! Not only do these candles smell fucking amazing, but they say hilarious stuff that'll make people think you're like, sooo funny and charming just for owning them. We're calling it the Get Lit collection so you already know what it's about to be.
Maybe you need to cover up the smell of your roomie's cat so no one mistakes you for the crazy cat lady? Perhaps you forgot to get your bestie a bday gift? Or maybe you need to spice up things in the bedroom since you haven't added a new fuckboy to the roster lately? Whatever your reason, you'll want these in your home, your fuckboy's home, your parents' home, your friend's home…You get the point. If you weren't already obsessed, they come in NEW chic AF packaging, making them the perfect gift for every ocassion. Just maybe choose wisely which one you buy for which ocassion. Or be super hipstery ironic about it IDGAF. 
So here's a list of them in no particular order:
When a boy comes, you should always have something baked. We know you can't even manage Tollhouse pull-apart cookies, so fFake it 'til you make it. This candle smells like chocolate chip cookies so you won't even have to worry about setting a small fire in your oven.

Don't be mad at us if you get 16 of these candles sent to your house from various fuckboys trying to send a message. It's Champagne scented so you can pretend to be classy…just like you pretend you don't give head on the first date.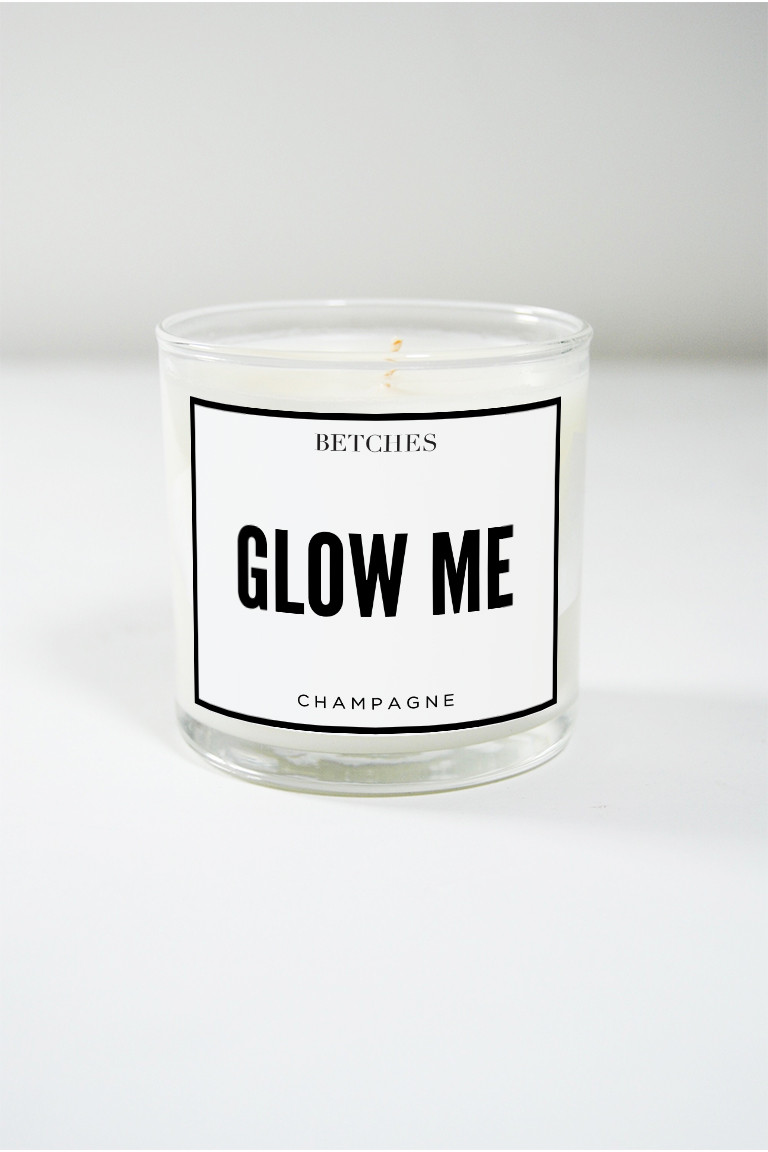 For your friend who won't give up her assertions that the 2000s was the golden age of hip-hop, this candle smells like cucumbers, everyone's favorite smelling dick-shaped health food.

And because we're like, such good people we brought back our best-selling OG line of candles! Here's the lineup in case you forgot:
You loved it, you bought it, and now we brought it back. This candle smells like grapefruit for the healthy yoga goddess within you. I mean honestly I'll probs just light this one and pretend I do yoga and eat salads as I watch Netflix on the couch. Whatever. Still zen AF. 

This one smells like wine and roses which makes it super classy. You can pretend to be mature and light it at your next wine and cheese party. Who am I kidding? You can just light it at the pregame instead. That's kinda what it's for.

This one smells like vanilla which, TBH, is such a neutral smell it'll please everyone. Plus the label is censored so people will know you're chill enough to drop an F bomb or two, but also you know how to keep things vanilla appropriate.

So what are you waiting for?? Shop the Get Lit collection now!!