The Best One Piece Swimsuits For Girls With Big Boobs
Shopping for swimwear is pretty much the most miserable activity for everyone in the world besides maybe like, Chrissy Teigen, but it's especially shitty for betches with big boobs. The one piece trend is basically fashion's middle finger with a tacky acrylic nail to anyone with more than a C cup. Without exaggerating (which is like, physically painful for me because I effing love exaggerating), I've probably tried on more than 100 one pieces and have only found a couple that actually really fit properly. I'd literally rather go on bad Tinder dates for a week straight then every try on another ill-fitting one piece. Because I'm like, so nice (lol) and want to share my findings with the rest of the big titty committee, here are the absolute best big boob suits I've found.

Finding this one piece was practically a spiritual awakening for me. It has everything I've ever wanted in a swimsuit; an open back, a little side boob window, a cheeky bottom and high-cut legs. Normally, I can't wear anything with an open back that shows off side boob, but this little masterpiece has adjustable straps to prevent gravity from shitting all over my entire life.

Halter tops are totally perfect for big boobs, as long as they're easily adjustable. This one has removable padding, which is something you should always look for in swimwear if you're "busty." (Seriously, can we come up with a new word to replace busty? It's like, so gross.) Anyway, a lot of extra padding can make you look bulkier than you are, and considering your boobs are probably already bigger than the padding, you'll end up with mystery bulges all over your chest if it's a bad fit. Removing the padding is totally a game changer if you haven't tried it yet.

You know when you find a swimsuit on Instagram but you're terrified to buy it because literally everything looks so much better on IG? Well, I was feeling adventurous AF and ordered this anyway. I'm so glad I did, because the lace up front magically shows off and holds up boobs at the same exact time. The best thing about this is the lace up is super adjustable, so you don't have to worry about what size to order considering the fact that you're typically an XS bottom and an XL top; just order whatever size you'd typically get in bottoms.

Normally, I'd tell anyone bigger than a B cup to avoid ruffled swimwear harder than I'd advise avoiding a dude who uses the pretty filter on Snapchat, but I was so surprised when I tried this one on. The ruffle is on the shoulders, so it doesn't create an optical illusion that adds 100 pounds to your figure like most ruffled tops would. The fabric of this one piece is basically Spanx. So amazing.

Realistically, we'd all wear literal trash bags if they said Calvin Klein across the front. Thanks, Bieber. Anyway, this super simple design is super flattering, too. Like I said, adjustable straps are lifesavers. Plus, the material is lined and really comfortable. I surprisingly have zero complaints about something for once!

The bottom line: When shopping for one pieces as a betch with big boobs, adjustable shit is key. One pieces are tricky because unlike two pieces where you can mix-and-match sizing, there's no way you can describe your body as small, medium or large when you have ~curves~. Whether that's straps or a lace-up front, look for designs that have some kind of movable feature that you can easily tailor to your own shape.
8 High Leg Swimsuits That Will Make You Look Like An Instagram Model, In A Good Way
The high cut leg look is definitely the most popular swimwear trend this summer, which is probably due to the fact that everyone's obsessed with looking "slim thick" aka what Kylie Jenner's post-surgery puberty body type is. Since you probably can't afford butt implants, this style suit is the next best thing. If you have any confusion about what a "high cut leg" swimsuit is, just refer back to literally any thirst trap you've ever seen posted on Instagram with a peach emoji in the caption, and I'll bet that the chick is wearing one of these. It's inspired by the suits that the cast of Baywatch rocked. (Obviously, the cast with Pamela Anderson and not the new one with Zac Efron that you probably haven't seen.)
Swimwear with a high cut leg is basically a subtle brag. It's always super flattering, but it's not an aggressive push-up bikini top with underwire. I do, have one complaint about this style. I have absolutely no idea what it's actually called. Every store and designer has a tendency to give it a different name, or just not label it at all. Since they're as difficult to find as a seemingly normal bro on Bumble, here's a roundup of some of the best high cut suits on the internet.
This one piece is a throwback to Body Glove's classic suit from the 80's. Kris Jenner wore it then and Kylie Jenner wears it now, and you know that there's no one you can trust more than a member of the Kardashian dynasty when it comes to a swimwear recommendation.

It's kind of impossible to find a one piece with an open back that shows off side boob but doesn't totally expose the whole front of your chest, but I just did the legwork for you. Plus, I'm pretty sure that it's the exact same color as the pink polish on the nails emoji, so there are definitely lots of Instagram caption options for this one. You're like, so welcome.

These high waisted bottoms are flattering on everyone, and this metallic burgundy color looks perfect on literally every skin tone, so this bikini is a safer bet than assuming that Bella Thorne is googling herself right now.

This sweet little gingham one piece slightly resembles the tablecloth your grandmother yelled at you for spilling ketchup on at her fourth of July barbecue when you were a kid, so maybe your family won't care about the thirst trap you posted with your entire butt showing if you're wearing this.

This high leg set is the swimwear equivalent of ordering a pomegranate mimosa instead of a regular one at brunch. Like, you're kind of switching things up, but you're still being pretty basic. (And that's okay! Being basic is fun af if you do it well enough.) The eyelet detail in this suit is enough to make it look like you're not wearing the same exact thing as every other girl at the beach without straying too far from this specific swimsuit design that Kourtney Kardashian keeps wearing.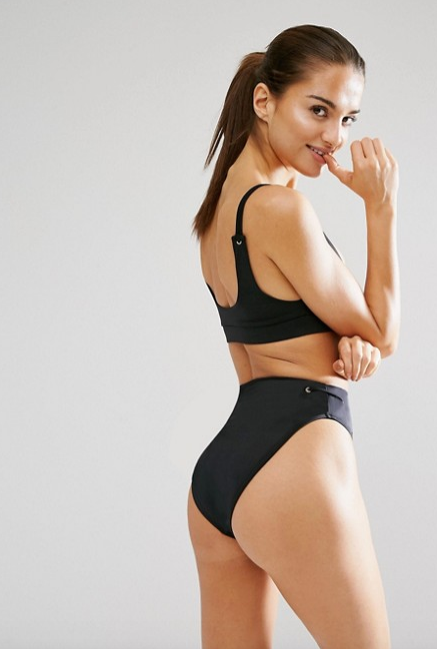 Tie side swimsuits are the number one game changer for girls who love to eat. I swear to you. Just loosen up the ties on the sides after you've got a good bloat going from ripping through your snack cooler at the beach. Nobody will ever know.

This one piece is reversible, so it's basically like having two. One side is silver metallic and the other is apricot. I feel like wearing the silver metallic one on the inside will probably make you sweat, but it's your life, so like, go for it.

Let everyone know why you left the comfort of your air conditioner came to the beach in our adorbs and sexy one piece. It comes in the only two colors that have ever mattered: white and black. Featuring a high leg and a low back, this swimsuit is perfect for taking shadily thirsty Instagram pics in. Or wear it under some high waisted shorts to the bar and watch the free drinks rain down on you.

What Guys Really Think Of One Piece Bathing Suits
Hi everyone! I'm a straight guy who's probably a lot like the guy you're texting/hooking up with. The Betches have asked me to break down things openly and honestly so you don't have to have that guy lie to your face. I've broken down The Bachelorette contestants. And dating apps so grab that phone, go take a poop (don't worry, I won't tell) and enjoy The Betches' next question of the male mind…
What do guys think of one piece bathing suits? We feel like there are a lot of varieties to choose from/elaborate on (especially the basic Sunny Co Clothing one). Thoughts?
We love the one piece because it's a TBT for our penis. You look like a 1920s pinup. It's like getting in a time machine and being able to talk to a girl after we get home from defeating the Japanese. And during times like these, where there's less opportunities to feel "manly," the chance to maybe have sex with a Marilyn Monroe lookalike while draped in the American flag doesn't sound half bad.
But it honestly goes a little deeper than that. The two piece was great for its time. Before the internet seeing a girl in a two piece was a big deal. You could get the idea of her naked without having to ask her dad for her hand in marriage. Hell, we used to have something called "The Spank Bank" where we would store all of our memories of girls in two piece bathing suits and then we'd go masturbate with our eyes closed. Today, it's a different ball game. There's naked women all over the internet. There's Instagram models in every size, shape, and color. So seeing you almost naked and then imagining it later isn't really necessary. The one piece actually accentuates the body in a way the two piece can't. There could be a lower cut top or a higher waisted bottom that could literally make you look like the hourglass that every penis is naturally fond of because of that whole buzzkill called childbirth. But ya, the one piece is having its time and it's because, again, all guys are disgusting animals. So let's break down the types:
1. The Basic Sunny Co Clothing One

So, this is the one piece that went viral over Instagram and annoyed everyone and made you lose followers and almost ruined your life because you're used to getting over 50 likes and now it's hovering around 40 and you can't complain to your dad because he'd wonder why he paid for college. Ya… it's that one piece.
As for what guys think? Well the front is fine but I've never had a guy nudge me over this cut of suit. That's really the guy test—would my buddy nudge me because I'd have to see? And for this one, the only way I'd get nudged is if a girl was sitting by the pool with her back facing me like the viral picture. The low cut on the back is intriguing but really only from THAT specific angle. Whoever started that viral campaign is like a Jedi-level boner whisperer.
So it's nice but really no movement for guys either way unless you sit in one spot at the pool in a specific pose the whole day. Not exactly a stretch for a gender that rips hair from their genitals, but still.

Ok, we love these suits. I actually just looked at a girl on Instagram wearing this exact suit and sent the link to three friends (you think I'm exaggerating but I'm not). The reasons? Side boob and time. What do I mean? Well, these suits look like they're supposed to cover everything up. They look like they wrap around your whole body and then you take a left and BOOM, a part of the body we never knew would get us hard. I'm sure that's the cut of the suit and it's meant to be that way but we don't know that. It's almost like you went to the store and said, "I'll get the skimpier one so Jared can see what I'm working with." Or that your boobs grew a size just for this specific day at the beach. The writing on the front gives us an extra half second to look. Since it says something we have the extra layer of defense as to why we are staring, "Oh it says 'throwing shade' LOL" is what I'll say if I ever feel like I've given myself away.

We like these suits. We like them for specific events. For the side boob one piece above, that has plausible deniability. If you wore it around our parents, mom would be like, "Oooh she's stylish" and dad would be like, "Oh it says 'throwing shade' LOL." The suits with all the tassels and straps  and the ties up the middle of the boob like this one offers none of that. These are straight-up sex in a suit. So we love them for a Vegas pool party, on vacation at a resort with friends, spring break, and doing meth under the boardwalk. It's a very specific suit that never says, "Have me over to your next family BBQ."

We aren't a fan of these ones. It's trying to be both the one piece and the two piece at the same time. Choose a road, ladies. It looks like you put on a two piece and realized you didn't lose the winter weight, so you jumped on the sewing machine and added an extra piece of cloth running down your stomach. It also has to fit just right. If you get wet and that extra piece of cloth is just flopping around it kind of looks like a tent that's missing a tentpole. So, ya, pick a lane. Choose the one piece lane. Guys will think you'll look like the (Hiroshima sized) bomb.
The Sexiest One Pieces That Will Still Hide Your Winter Weight
I never thought I'd see the day where one piece swimsuits would be considered must-haves. TBT to when they were only for moms, the body conscious, and those who went to swim team practice in the projection room above the auditorium. Plunging, strappy one pieces are taking over and to your advantage, they hide the three pounds you gained over winter hibernation. You no longer have to worry about whether the pink bikini bottom goes with the random blue bikini top you found in your closet. You won't have to pay twice as much for a set, because you're getting the only piece you'll need. Best of all, one pieces will hide all your bloat when you day drink on the beach.
Because I'm so nice, I've found styles for you that are 1,000 times better than a "free" boring lifeguard swimsuit. If you're one of those people who tried to get that stupid one piece from Sunny Co Clothing, I can guarantee you didn't miss out.
Here are some one piece wonders you needed to buy like, yesterday:

I don't usually go for stripes, but when they're in black and white, they flatter any body type. The vertical stripes elongate your figure making you look skinny, tall, and confident (YAY), so we'll forgive the obvious Beetlejuice vibes. The strappy detail on the back is to die for, especially if you're like me and like to see your tanning progress. That's usually the only time I feel like I accomplished something in my life. The cheeky fit will keep you and all that junk in the trunk cool and stylish all summer long.

Stay sexual with this plunging v-neck one piece. The bathing suit comes with padded cups if you feel like your girls need more support. This pale pink is one of the hottest colors of the summer so your tan (or burn) is bound to ~glow~ after a day of laying out.

There's no better color than a bright, crisp white in the summer. It's perfect for giving your skin a radiant glow when it's under the sun. The lace-up design pushes your boobs together so perfectly, you won't even have to push them together when you take a beach selfie. The finishing tassels add flair and say, "yes I'm fun, I can pretend to know how to play volleyball with those hot guys." Throw some jeans or denim shorts over this for an easy transition to brunch.

Be bold and go for an off the shoulder style. This suit comes with flattering high waisted bottoms and waist cutouts that show off your abs (or lack of). There's a little bit of street attitude with the accented gold zippers so basically, you're like, really cool. Maybe a hot guy will mistake you for a hot lifeguard and pretend to drown so you can perform CPR. This is clearly my wishful thinking.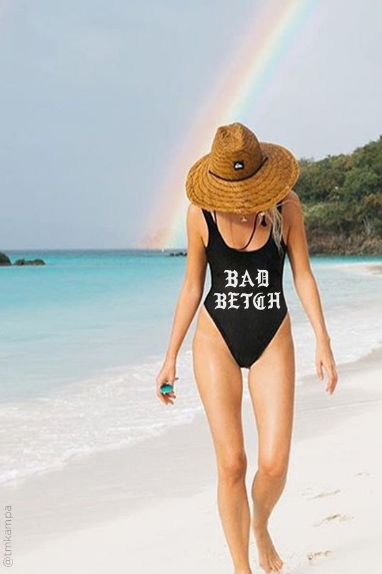 You are one bad and boujee betch, so why not remind everyone with this sexy swimsuit? Wear a graphic one piece with a fun saying because you just can't do that with a bikini. The suit comes in whatever color your little heart desires, but I know they're all irrelevant if black is an option. Feel free to get super creative and customize the suit with a saying of your choice. This one is better, though.

Floral prints and tropical chic patterns are always a good idea. This modern one piece comes in two different free-spirited prints and an intricate strappy design on the back. This is essential if you want to stand out (we do, always) and travel somewhere exotic this summer.