This Under $35 Swimsuit Will Have You Looking Snatched All Summer
Betches may receive a portion of revenue if you click a link and purchase a product or service. The links are independently placed and do not influence editorial content.
Everyone needs a trusty one-piece swimsuit that makes them feel good while they soak up the sun, and this
affordable one-piece from Cupshe
has all the summery details that you need. Featuring an eye-catching color-block design, this one-piece suit is a standout option that is sure to have you looking and feeling your best at the beach. The added underwire padding will provide you with extra support and shape while ensuring maximum comfort in and out of the water.
Made from an ultra-durable polyester/spandex blend, the stretch fabric offers ample freedom of movement for playing, lounging and swimming. The chic criss-cross detail on the back is actually adjustable straps so you can stay as secure as possible. And since it fully covers you past your chest, you won't have to worry about unsightly tan lines on your midriff.
Cupshe is known for making size-inclusive swimwear that fits different body types so everyone can all feel good on vacay. Video hauls featuring a variety of different Cupshe suits quickly go viral on TikTok, especially when modeled on different bodies.
This one-piece is available in sizes extra extra-small to extra-large, with Cupshe's stretchy and roomier fabrics at your disposal. And, as an added bonus, this swimsuit has removable padding for those who aren't fans of foam cups, and opaque fabric so you don't have to worry about any unwanted sheerness.
At the end of the day, the most important part of rocking a swimsuit is that you feel confident. Slip into this flattering one-piece from Cupshe and feel instantly snatched as you prep to take your first summer selfie. It's not fussy, offers optimal coverage, and you can easily pair it with a floppy hat and beach tote for a chic look that is perfect for days spent in the sun. It's also versatile enough to wear as a bodysuit underneath some denim cut-offs once you're wrapped up tanning and ready for brunch. Mimosas, anyone?

Shop It: Cupshe One-Piece Colorblock V-Neck Swimsuit, $32.99, Amazon
8 Cute One Piece Bathing Suit Styles You Haven't Seen Everywhere
Whoever declared one pieces back in style should be awarded the Nobel Peace prize. This anonymous angel deserves to be recognized for helping women all across our great nation feel confident in a swimsuit again. Pretty much every girl I know is insecure about her stomach area (which totally makes sense since women hold weight in their lower mid-sections, and also that society imposes impossible beauty standards on us). What kind of cruel world is this? Luckily, for the time being, we've been liberated from society's unrealistic expectation because one piece bathing suits are vvv trendy right now. Here are the cutest one pieces in this summer's freshest silhouettes.
1. High-Cut Bottoms
LOVING this trend right now. Like, who doesn't? Without fail, high-cut bottoms make even the stumpiest legs appear longer and more lean. Not only that, they give your swimsuit just the right touch of sex appeal. Pick an otherwise simple swimsuit that features a high-cut bottom and you'll be the epitome of subtly hot. It'll look as if you couldn't possibly have any idea that all the lifeguards are actually checking you out.

Norma Kamali Marissa one piece


2. One Shoulder Strap
This style will make you look classy af and is def the chicest option right now. But, be warned, your high-fashion bathing suit does come at the expense of some awkward tan lines. So if you're okay with that, then this style is totally the way to go. A one-shoulder style is super glam and makes you look like a Hamptons regular. See you in Montauk, loser!


Kendall + Kylie x Revolve Cutout one piece

3. Belted/Tie-Waist
As if one pieces alone weren't saving the world, the belted or tie-waist detail will eliminate ANY tummy insecurity you may still have. The belt or tie feature will perfectly hide your burrito baby while simultaneously enhancing the appearance of a smaller waist. As the great Charlie Sheen once said, "#winning."

Solid & Striped The Victoria one piece


4. Sexy Straps & Cutouts
Reserved for those more daring types, a huuuuge trend right now for summer swim is borderline inappropriate cutouts and straps. Sidenote: I probs wouldn't wear these styles to the beach with your bf's fam…but idk, maybe that's just me.

Lovers + Friends Jetty one piece

5. Zipper Front
This trend is the perf combo of sexy and sporty. Somehow the zipper manages to give the swimsuit both an athletic vibe as well as a flirty vibe simultaneously. Look, I don't get how it works either, but you know, there's just some things in life that we can't explain. Like, how the hell Pete Davidson and Ariana are already fucking engaged. So like, let's move on and just know that the zipper one piece is always a good choice.

Solid & Striped The Anne Marie One Piece

Lovers + Friends Zippy one piece

6. Ruffled/Frilled Bottom
If you're going for a sweet and innocent look, this is the bathing suit for you. Like, this is the probs the one you should  be wearing to the beach with your boyfriend's fam. The ruffled bottoms give the suit a feminine and playful look without looking like you bought it in the little girl's section. The frilled bottom is very Bachelor-alum-turned-Insta-influencer, Amanda Stanton type vibes. (Although she probs did buy hers in the little girl's section so she could match with her now Insta-famous daughters.)



7. Knotted
Knotted suits are a great option if you're trying to show more skin without looking like you're trying to do so. The knotted look is very on trend, so you'll look like a girl with great style who "just so happens" to be showing off her gym progress. Fair warning, this is another style that's going to give you some tough tan lines.



Lisa Marie Fernandez Triple Poppy one piece
8. Smocked
The smocked look is a trend for both clothing and swimwear this summer. The smocked look is very summer-esque and trendy in the most non-aggressive way. So like, opposite of your blackout self demanding pizza on your way home from the bar, ya know?

Tory Burch Costa one piece swimsuit

Nicholas Rainbow Stripe one piece

Like I said, one pieces are very trendy and cool right now, so don't assume you're going to be the only one on the beach wearing one. If you want to separate yourself as the elite, stylish girl that you are, then be sure to choose one in one of the aforementioned stylish silhouettes. Let's not be basic—you're better than that.
Images: @zonde/unsplash; Revolve (22); Shopbop (2)
Betches may receive a portion of revenue if you click a link in this article and buy a product or service. The links are independently placed and do not influence editorial content.

What Guys Think About Bathing Suits
Ever since some nerd made it illegal to swim naked because he couldn't get a tan, people have been forced to suit up before hitting the beach. So until some brave soul takes it to the Supreme Court and fights the good fight, we're stuck with swimsuits. Fortunately, visionaries have been locked in a lab for decades researching the best ways to show some skin without breaking the law. Unfortunately, some of these creations are so hideous that they should be locked in a sunless basement along with their swag-less creators. But some of them are God's gift to mankind. So I'm here to tell you what guys think about bathing suits. If you disagree, it just proves that men don't know anything about fashion.
The Stomach Cut-Out
Let's all stop and take a moment appreciate how impressively awful this is. It looks like someone got blackout drunk and tried to make a one-piece out of their grandma's favorite couch but ran out of material. As if the awkward stomach cut-out wasn't bad enough, it also ties in the front. WHY? The only thing the front tie does is make it look like you have shoelaces hanging between your boobs. Unforgivable. But worst of all, this disaster is guaranteed to leave you with the least sexy tan lines of all time. Nobody wants to walk around naked looking like a modern art mess. Miss me with this.

Victoria's Secret keyhole front-tie one piece
The Bandeau
First of all, you can't go wrong with the classic bikini bottom. It's the mimosa of bathing suits: if you don't like it, you're an asshole and should kindly leave brunch. The top is also good, especially if you go with a brighter color, because it fulfills every guy's childhood fantasy of having a shot with The Little Mermaid. Just me, then?

Victoria's Secret ruched front bandeau
High Waisted
The top is great. We don't need to talk about the top. The bottom, though? Let's talk about the bottom. The bottom looks like it tried to reach the top, got half way and said "fuck it, it's nap time." Yeah, I know high-waisted bottoms have been a trend for a while, and I've been sitting on that joke for years. It's not so much the high waist in particular, it's the fact that the bottoms are just high waisted enough to cover half the belly button—why? A belly button is like a bank heist, you gotta be all in or all out.

Victoria's Secret embroidered strappy high-waist bikini
This Kind That Looks Like A Bra
Every guy likes seeing a girl in a bra. It's the second best thing besides seeing a girl out of a bra, and this style plays it up perfectly. It's classy, it's fun, and by blurring the line between bra and bathing suit, it makes the guy think he's seeing more than he actually is. Which is always a win, because who wants to do more than you have to?

 Victoria's Secret strappy side scoop push-up
Triangle Bikini
A timeless classic. Sexy. Simple. Stylish. And unlike the latest iPhone, it's not desperately trying to add features no one asked for or gives a damn about. No frills, hoops, bangles, dangles, or zippers in sight. Save that shit for a handbag. Every strap has a place and a purpose. 10/10. The best use of shapes I've seen since kindergarten.

The Funny/Ironic One-Piece
Ah, the ironic one-piece. It's cute if you're wearing it for a reason, like a sorority formal, a bachelorette party, or a court-mandated hearing, but if you're casually wearing this at a rooftop pool, it screams "Please follow me on IG before I wash down another Xanax with Smirnoff!" Would Baywatch still be iconic if Pamela Anderson jogged down the beach with "PERF" stamped on her chest? Maybe… I'm honestly surprised they didn't do that in the remake, but hey, there's always hope for the sequel. Point is, if you're gonna rock a one-piece, stick with a solid color or a print, otherwise you're just wearing the female equivalent of a "sun's out, guns out" bro tank. Jaeger bombs, anyone?

Private Party Champagne Campaign swimsuit
Images: Victoria's Secret (4); J. Crew; Private Party
10 Cheap Swimsuits That Look Expensive
Is there anything to do on a snow day aside from eating carbs and online shopping? The answer is no. Like all responsible adults, we spent our work-from-home snow day productively searching the internet for cheap swimsuits that are super trendy and look super expensive but really aren't. Like, anyone can spend last week's salary on the same neon Triangl bikini Instagram models have been wearing since 2014, but we've moved onto better things. The swimsuits coming out for this summer season are all about cool prints and cutouts, so we compiled a list of our favs. Here are 10 cheap swimsuits you need to own by the time the snow melts.

Does anything say luxury better than snake print? The one-piece is classy already, and the little cutout is a cute perk. Plus, it's only $45. I'm into it.

Kind of a boho take on a classic bikini. The tie detail *might* give you more of an illusion of cleavage. This suit comes in a few different styles and colors so you can mix and match, and you'll look good in all of them.

Pastels are huge right now, and this baby blue one-piece is amazing. Perfect cut for any size and the color will make anyone look tan. Also, since it kind of looks exactly like every bodysuit girls on Instagram are wearing, you can totally throw shorts over this and wear it to the bar and no one will notice.

The high-waisted bikini is tricky to pull off, but this one's a winner. Plus, the color block and ribbed texture make it look super expensive, even though it's one of the cheaper bathing suits.

This one's super pretty and feminine, but it's also navy, which literally looks good on everyone. That's just like, the rules of feminism. The ruffle details will also enhance your curves, so really, everybody wins.

If you don't follow at least five Instagram bloggers who either wear or use marble print in every post, are you okay??

Thank god Victoria's Secret lied to us about stopping their swimwear line, because they make the best cheap bathing suits. This suit comes in every color and I honestly want more than one. And obviously it's 2018 so we need some sexy lace-up detail on our one-pieces. Whatever, it looks amazing.

Another color block suit, and the army green is SO chic. Did I mention top and bottoms are like $30 each? Cheap swimsuits are my reason for living.

Florals try to make their comeback every couple years, but they actually work really well with this sick keyhole neckline thing. It will give you depressing tan lines, but it will be well worth it.

The cut on this one is so different, and honestly I'm pretty sure Rihanna owns this. She probably paid a lot more for it, though.
Betches may receive a portion of revenue if you click a link in this article and buy a product or service. The links are independently placed and do not influence editorial content.
The Hottest Swimsuits For Your Body This Summer
With the exception of the latest Nor'easter that fucked up my entire existence, the slight increase in temperatures has me already searching for the hottest swimsuits to rock this summer. It's always better to start looking for the next swimsuit trends sooner than later because well, the basics get to them and before you know it, every style you love is sold out of your size. Obviously, This summer's hottest swimsuits are full of ruffles, pastel hues, one-pieces to hide your winter weight, and high-leg bottoms. Maybe you're prepping for spring break, summer 2018, or you just feel like spending money (because same). Regardless, here are summer 2018's hottest swimsuits for your body type.
If You Have A Small Booty…
You'll def want a high-waisted bottom to even out your curves. Not only do they always make you look five pounds thinner, but they keep your hips in so your butt looks phenom, so round, and like, out there.

Out From Under Chloe Scallop High-Waisted Bikini Bottom
If You're In The Itty Bitty Titty Committee…
You'll want a bikini top with frilly shit and a lot of ruffles. The illusion of a busy chest area will make people totally think you're probably a cup size or two bigger than your normal, which is always a good thing.

Billabong Let's Wander Ruffle Bikini 
If You're Long And Lean…
Consider hopping on the next monokini train. Belted swimsuits will be very much a thing this summer, so whether yours actually has one or just the illusion of one, it fucking works. Ribbed fabric and a plunging neckline will bring attention to your center and create the hourglass summer bod you've been wanting…without actually stepping foot into a gym.

If You Have An Hourglass Shape…
So, you agree? You think you're really pretty? Then all you'll want is a modern bikini that brings out a perfect summer glow with a fun, warm shade. MUST BE NICE. The lighter and warmer in color, the more tan (and therefore hotter) you look. You're welcome.

So Fine Bikini In Sage Metallic
If You're V Busty…
All you need is some extra support for the twins. Opt for an edgy, colorful one-piece that kind of looks like a bikini, but isn't. Stick to styles with extra or thick straps that are totes adjustable for your preference.

ASOS Tie Front Cut Out Swimsuit
Images: Christopher Campbell / Unsplash; Urban Outfitters (1); PacSun (1); Revolve (1); Showpo (1); Asos (1)
8 High Leg Swimsuits That Will Make You Look Like An Instagram Model, In A Good Way
The high cut leg look is definitely the most popular swimwear trend this summer, which is probably due to the fact that everyone's obsessed with looking "slim thick" aka what Kylie Jenner's post-surgery puberty body type is. Since you probably can't afford butt implants, this style suit is the next best thing. If you have any confusion about what a "high cut leg" swimsuit is, just refer back to literally any thirst trap you've ever seen posted on Instagram with a peach emoji in the caption, and I'll bet that the chick is wearing one of these. It's inspired by the suits that the cast of Baywatch rocked. (Obviously, the cast with Pamela Anderson and not the new one with Zac Efron that you probably haven't seen.)
Swimwear with a high cut leg is basically a subtle brag. It's always super flattering, but it's not an aggressive push-up bikini top with underwire. I do, have one complaint about this style. I have absolutely no idea what it's actually called. Every store and designer has a tendency to give it a different name, or just not label it at all. Since they're as difficult to find as a seemingly normal bro on Bumble, here's a roundup of some of the best high cut suits on the internet.
This one piece is a throwback to Body Glove's classic suit from the 80's. Kris Jenner wore it then and Kylie Jenner wears it now, and you know that there's no one you can trust more than a member of the Kardashian dynasty when it comes to a swimwear recommendation.

It's kind of impossible to find a one piece with an open back that shows off side boob but doesn't totally expose the whole front of your chest, but I just did the legwork for you. Plus, I'm pretty sure that it's the exact same color as the pink polish on the nails emoji, so there are definitely lots of Instagram caption options for this one. You're like, so welcome.

These high waisted bottoms are flattering on everyone, and this metallic burgundy color looks perfect on literally every skin tone, so this bikini is a safer bet than assuming that Bella Thorne is googling herself right now.

This sweet little gingham one piece slightly resembles the tablecloth your grandmother yelled at you for spilling ketchup on at her fourth of July barbecue when you were a kid, so maybe your family won't care about the thirst trap you posted with your entire butt showing if you're wearing this.

This high leg set is the swimwear equivalent of ordering a pomegranate mimosa instead of a regular one at brunch. Like, you're kind of switching things up, but you're still being pretty basic. (And that's okay! Being basic is fun af if you do it well enough.) The eyelet detail in this suit is enough to make it look like you're not wearing the same exact thing as every other girl at the beach without straying too far from this specific swimsuit design that Kourtney Kardashian keeps wearing.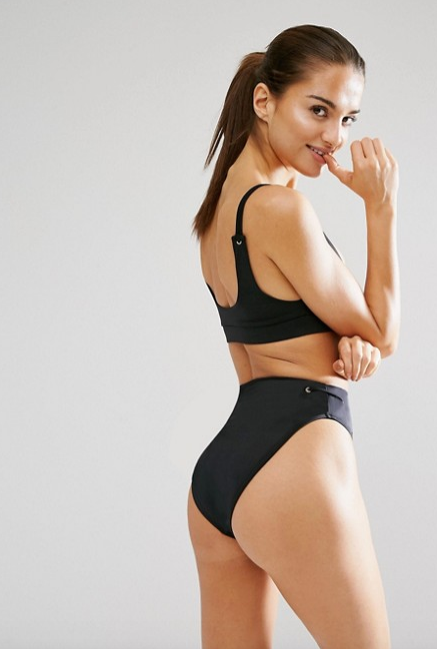 Tie side swimsuits are the number one game changer for girls who love to eat. I swear to you. Just loosen up the ties on the sides after you've got a good bloat going from ripping through your snack cooler at the beach. Nobody will ever know.

This one piece is reversible, so it's basically like having two. One side is silver metallic and the other is apricot. I feel like wearing the silver metallic one on the inside will probably make you sweat, but it's your life, so like, go for it.

Let everyone know why you left the comfort of your air conditioner came to the beach in our adorbs and sexy one piece. It comes in the only two colors that have ever mattered: white and black. Featuring a high leg and a low back, this swimsuit is perfect for taking shadily thirsty Instagram pics in. Or wear it under some high waisted shorts to the bar and watch the free drinks rain down on you.

What Guys Really Think Of One Piece Bathing Suits
Hi everyone! I'm a straight guy who's probably a lot like the guy you're texting/hooking up with. The Betches have asked me to break down things openly and honestly so you don't have to have that guy lie to your face. I've broken down The Bachelorette contestants. And dating apps so grab that phone, go take a poop (don't worry, I won't tell) and enjoy The Betches' next question of the male mind…
What do guys think of one piece bathing suits? We feel like there are a lot of varieties to choose from/elaborate on (especially the basic Sunny Co Clothing one). Thoughts?
We love the one piece because it's a TBT for our penis. You look like a 1920s pinup. It's like getting in a time machine and being able to talk to a girl after we get home from defeating the Japanese. And during times like these, where there's less opportunities to feel "manly," the chance to maybe have sex with a Marilyn Monroe lookalike while draped in the American flag doesn't sound half bad.
But it honestly goes a little deeper than that. The two piece was great for its time. Before the internet seeing a girl in a two piece was a big deal. You could get the idea of her naked without having to ask her dad for her hand in marriage. Hell, we used to have something called "The Spank Bank" where we would store all of our memories of girls in two piece bathing suits and then we'd go masturbate with our eyes closed. Today, it's a different ball game. There's naked women all over the internet. There's Instagram models in every size, shape, and color. So seeing you almost naked and then imagining it later isn't really necessary. The one piece actually accentuates the body in a way the two piece can't. There could be a lower cut top or a higher waisted bottom that could literally make you look like the hourglass that every penis is naturally fond of because of that whole buzzkill called childbirth. But ya, the one piece is having its time and it's because, again, all guys are disgusting animals. So let's break down the types:
1. The Basic Sunny Co Clothing One

So, this is the one piece that went viral over Instagram and annoyed everyone and made you lose followers and almost ruined your life because you're used to getting over 50 likes and now it's hovering around 40 and you can't complain to your dad because he'd wonder why he paid for college. Ya… it's that one piece.
As for what guys think? Well the front is fine but I've never had a guy nudge me over this cut of suit. That's really the guy test—would my buddy nudge me because I'd have to see? And for this one, the only way I'd get nudged is if a girl was sitting by the pool with her back facing me like the viral picture. The low cut on the back is intriguing but really only from THAT specific angle. Whoever started that viral campaign is like a Jedi-level boner whisperer.
So it's nice but really no movement for guys either way unless you sit in one spot at the pool in a specific pose the whole day. Not exactly a stretch for a gender that rips hair from their genitals, but still.

Ok, we love these suits. I actually just looked at a girl on Instagram wearing this exact suit and sent the link to three friends (you think I'm exaggerating but I'm not). The reasons? Side boob and time. What do I mean? Well, these suits look like they're supposed to cover everything up. They look like they wrap around your whole body and then you take a left and BOOM, a part of the body we never knew would get us hard. I'm sure that's the cut of the suit and it's meant to be that way but we don't know that. It's almost like you went to the store and said, "I'll get the skimpier one so Jared can see what I'm working with." Or that your boobs grew a size just for this specific day at the beach. The writing on the front gives us an extra half second to look. Since it says something we have the extra layer of defense as to why we are staring, "Oh it says 'throwing shade' LOL" is what I'll say if I ever feel like I've given myself away.

We like these suits. We like them for specific events. For the side boob one piece above, that has plausible deniability. If you wore it around our parents, mom would be like, "Oooh she's stylish" and dad would be like, "Oh it says 'throwing shade' LOL." The suits with all the tassels and straps  and the ties up the middle of the boob like this one offers none of that. These are straight-up sex in a suit. So we love them for a Vegas pool party, on vacation at a resort with friends, spring break, and doing meth under the boardwalk. It's a very specific suit that never says, "Have me over to your next family BBQ."

We aren't a fan of these ones. It's trying to be both the one piece and the two piece at the same time. Choose a road, ladies. It looks like you put on a two piece and realized you didn't lose the winter weight, so you jumped on the sewing machine and added an extra piece of cloth running down your stomach. It also has to fit just right. If you get wet and that extra piece of cloth is just flopping around it kind of looks like a tent that's missing a tentpole. So, ya, pick a lane. Choose the one piece lane. Guys will think you'll look like the (Hiroshima sized) bomb.