Did Trump Say The N-Word or Nah? An Investigation
America! Land of the free. Home of the "did our president say the n-word???" ICYMI Omarosa has been dropping some fire mixtapes of conversations she secretly recorded while working in the White House, some of them with President Pee Tape himself. Damn, Trump does not have a good relaysh with tapes. In the latest tape Trump aides can be heard discussing another alleged tape in which Trump is recorded saying the n-word. You know what they say, if you don't have anything nice to say, then don't say anything at all, and then you won't be secretly recorded while spewing racial slurs.
Anyway, Trump is obv denying that this n-word tape exists, and claiming he has never used that word in his life. As someone who has watched an unhealthy amount of Law & Order, I have taken it upon myself to do some investigating and find the truth. It's important to note that I am not actually a detective, and this is not a real investigation. But also I have literally never been wrong in my life, so…
On the One Hand: Trump is Racist
This is the man who has referred to Haiti and African nations as "sh*thole countries," refused to condemn white supremacy, called Mexican immigrants "rapists," and created the Muslim ban.  All signs point to this guy saying the n-word at Thanksgiving dinner.

On the Other Hand: Omarosa Is Trying to Sell Her Book
Look, I don't want to say Omarosa is a messy b*tch who lives for drama, because that feels adjacent to Trump trying to discredit her by labeling her as "wacky," but also, she is an ex-reality TV star who has made a living off of starting drama. She's not "dramatic" because she's a woman, she's dramatic because she's a trained professional. All of these tapes were expertly released as a teaser to her new book, Unhinged.  She heightened the stakes at every turn, dropping more and more scandalous tapes. Honestly, j'adore a well structured scandal. This could be a strategy for her to rake in sales for the book. But, lest we forget, she could be doing this and the n-word tape could still be real. Why not both?

In Both My Hands: There Is Literally A Tape
As previously mentioned, there is a tape in which Trump aides can be heard talking about how Trump said the n-word. In this tape obtained by CBS News, Omarosa and two other White House staffers – Katrina Pierson and Lynne Patton – discuss how to handle the potential release of a recording of Trump saying that heinous word during an internal phone call in 2016. The actual tape of the phone call would be the main evidence here, but this one is pretty damn damning as well.

But…Trump Says He Didn't Do It
Hahahahahahahahahahahahahahahahahaha jk, we all know that doesn't mean sh*t.

Sarah Sanders "Can't Guarantee" He Didn't Do It
At a press conference, Press Secretary Sarah Huckabee Sanders said she "can't guarantee" there isn't a tape. If you're a white person in a place where your closest associates "can't guarantee" there isn't a video of you saying the n-word, you're in a bad spot.
In Conclusion: He Done It
I spent the past 10 mins all night looking over the evidence, and have come to the conclusion that Trump probs said the n-word. And there's a tape of it somewhere. The fact this is even up for debate is…sad. We should not have a president that anyone could even fathom using racial slurs.

At the end of the day, this is two former reality TV stars partaking in a drama-battle and this is our government now. Amaze that the state of America is "say what you will about the USA, it's great television!"
Anyway, here's actual footage of what I predict the comments section of this article will be:

Heads up, you need to keep up with the news. It's not cute anymore. That's why we've created a 5x weekly newsletter called The 'Sup that will explain all the news of the week in a hilarious af way. Because if we weren't laughing, we'd be crying. Sign up for The 'Sup now!
Omarosa Is Spilling The Tea On Mike Pence Now Too
Ah yes, our favorite reality-television-star-turned-White-House-aide-turned-fired-White-House-aide-turned-reality-television-star. That's right, it's our girl, Omarosa!
As we know, Omarosa has been spilling the damn tea on Celebrity Big Brother. Lucky for us, the tea just keeps on spilling. She recently discussed DACA with her fellow cast members and explained how the Trump administration plans to get more and more aggressive. She noted that Trump is a "numbers guy" and he "wants to outdo his predecessors." You say "numbers guy", I say "deteriorating old yam in a toupee."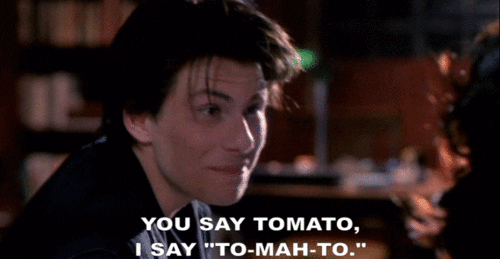 After setting the scene, Omarosa dropped a bomb by telling everyone "We'd be begging for days of Trump back if Pence became president, that's all I'm saying." Okurr. She went as far as saying that Pence thinks Jesus tells him things, and implied that he was a bit off his rocker. Not breaking news to me, but sure. She also said, "So everybody that's wishing for impeachment, might want to reconsider their life." Sorry Omarosa, but I'm not sure we need to be taking life advice from you. We will take this piping hot goss on Pence though.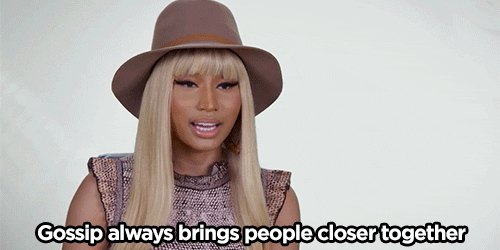 In short, Omarosa can concur that Mike Pence is a weirdo who thinks calling his wife "Mother" is okay, but homosexuals loving each other is not. Great. Adam Rippon for President.
Heads up, you need to keep up with the news. It's not cute anymore. That's why we've created a 5x weekly newsletter called The 'Sup that will explain all the news of the week in a hilarious af way. Because if we weren't laughing, we'd be crying. Sign up for The 'Sup now!
Images: Giphy (2)
Omarosa Is Already Spilling Tea About Trump On Celebrity Big Brother
It's been less than two months since The second most famous Apprentice-star-turned-White-House-official Omarosa Manigault left her job in the Trump administration, and she's now safely back on reality television where she belongs. She's currently living in the Celebrity Big Brother house, and she already spilled the tea on Trump's tweets.
Omarosa wasted no time before milking her recent political experience for reality show gold, and her conversation with Ross Mathews is one of the best things we've seen in a long time. Ross and Omarosa are sitting on the most uncomfortable-looking couch we've ever seen, and Omarosa is wrapped in a blanket as if someone pulled the fire alarm in her building while she was taking a shower, except she has clothes on.
Omarosa has these lines ready to go. This is 2018. pic.twitter.com/sGwZxIK89B

— deray (@deray) February 8, 2018
Ross asks her why the fuck she decided to get involved in the Trump administration in the first place (same), and Omarosa says through tears that she felt like she was answering a call of duty to serve her country. Like all of us at home, Ross obviously isn't buying it, but he sits and listens like any self-respecting gay who knows there's gossip to collect. Omarosa claims that she was "haunted by tweets every single day," which accurately describes literally all of us for the past year.

Ross asks if she tried to intervene, and she says that her efforts to get through to the Donald resulted in her being pushed further away. "Ivanka's there, Jared's there," she says, apparently listing the other people who have been completely useless in their year in the White House. When Ross asks who does have the power to get through to Trump, Omarosa responds with some next-level bullshit: "I don't know…I'm not there…It's not my circus, not my monkeys…" Bitch, what?
Ross, who apparently came prepared with a list of questions that we all want answers to, then asks Omarosa if we should be worried. We know the answer is yes, but hearing Omarosa basically growl "it's BAAAAD" strikes a fear in our hearts that we've never felt before. Like, she must know even more than we do, and she clearly isn't comforted by any of this extra info.

Ross asks her to say it's going to be okay just for shits, but Omarosa won't fucking say it. It's just not going to be okay. No, I'm not sweating right now, that's just some random water on my forehead. Everything is fine, I'm fine, we're all fine, it's all good. Fuck.

Celebrity Big Brother is just getting started, and this shit is on five nights a week, so prepare for many more dramatic Omarosa/Trump moments if she sticks around for a while before getting evicted. Omarosa is currently in her seventeenth minute of fame, and she needs to prolong that shit as much as possible. Ross, meanwhile, will be in the corner hyperventilating into a paper bag.
Heads up, you need to keep up with the news. It's not cute anymore. That's why we've created a 5x weekly newsletter called The 'Sup that will explain all the news of the week in a hilarious af way. Because if we weren't laughing, we'd be crying. Sign up for The 'Sup now!
At Least One Reality TV Star Is Leaving The White House
Today is full of good news and it's honestly a little unsettling to be receiving push notifications that don't fill us with overwhelming dread. Omarosa Manigault has announced that she will be getting TF out of the White House, and will be doing so on the anniversary of Trump's inauguration no less. Pretty appropriate way to celebrate the worst day in history if you ask me.
For those of you who don't know, Omarosa is a former Apprentice star and the highest profile African-American aide to get a spot in Trump's White House. She served as director of communications for the Office of Public Liaison, whatever the fuck that means. You probably remember her from being extra AF when she had her 39-person bridal party to the White House for a photoshoot.

The White House commented, "Omarosa Manigault Newman resigned yesterday to pursue other opportunities. We wish her the best in future endeavors and are grateful for her service." I assume by other opportunities they mean not slowly dying inside by working for the literal devil.
Omarosa's bailing follows a slew of other resignations, including former chief of staff Reince Priebus, former chief strategist Steve Bannon, and former press secretary Sean Spicer. Dare I say I see a trend starting? So fetch.
It looks like no one wants to sit with Donald Trump, and we are here for it. I mean, they're probably definitely all getting lowkey fired, but if this is the narrative the White House wants to go with, we'll roll with it.

Heads up, you need to keep up with the news. It's not cute anymore. That's why we've created a 5x weekly newsletter called The 'Sup that will explain all the news of the week in a hilarious af way. Because if we weren't laughing, we'd be crying. Sign up for The 'Sup now!