7 Unexpected Reasons Your Skin Is Oily
So we've crossed the threshold of acne, aren't quite to the magical land of wrinkles, and are smack dab in the middle of oil world. I mean, don't get me wrong, I still get tons of pimples in my 20s, but my major skin issue rn is how f*cking oily my face is. It sucks, and if you're anything like me, you probably go through between three and 18 oil blotting sheets per day, and makeup slides off your face no matter the season. It's a terrible time in a betch's life, and it must be stopped. First, we must understand our enemies. Then we can defeat them. Here are some of the weird reasons your skin is oily and like you got smacked in the face with bacon. (Just me, then??) Read on to find out a few unexpected reasons your skin is oily and what, if anything, you can do about it.
1. Hormones
SURPRISE, SURPRISE! It's our baby-making hormones here to f*ck your life up once again. Basically, being on the pill, being off the pill, being pregnant, having your period, almost having your period, and everything in between can wreak havoc on your skin. Your sebaceous glands go into overdrive when our hormones are out of whack, which is one of the reasons your skin is oily as the most recent BP oil spill. Yay. Combat it with like, I guess not being female? Moving on.
2. Dairy
If you haven't put together the fact that your cheese habit is causing you to break out, then maybe you don't deserve clear skin. By the same token, according to Bustle, "levels of testosterone and progesterone—and nearly 60 other hormones—rise in the body when you consume dairy, causing too much oil to build up beneath the surface of your skin." In other words, maybe it's time to cut back on those late night milkshakes or glasses of whole milk you've been chugging while trying to fall asleep. Which, by the way, can also lead to troubled skin if your sleeplessness is being caused by stress. Guys, this is SO FUN.

3. Not Enough Moisture
Seems totally weird, but it's truer than my love for overpriced skin products. You need to use a moisturizer regardless of your skin type, period. Basically, if you don't your skin will freak TF out, be all like, "omg I'm not good enough" and then go f*cking nuts on oil production to make up for the moisture it isn't getting. If you do have super oily skin, don't get a thick cream to make up for all this stuff, though. Get a light, oil-free moisturizer with ingredients like glycerin that helps water stay in your skin, keeping oil at bay.

4. The Weather
Finally, I can blame the weather for my skin problems! Praise be. Of course, you're likely to see a bit more shine when the humidity index is over 100 percent in the summer. But the drying effects of winter can also cause your skin to dry out and, in turn, produce MORE oil to compensate. Combat that sh*t with a good moisturizer created especially for oily skin. Or just live in a bubble and never go outside—up to you.
5. Your Sheets
Please, please, please wash your bed sheets once per week or suffer the consequences. Not washing your sheets is like not washing clothes that you've spent 8-10 hours in every day and is so unbelievably disgusting considering the drooling, tossing, turning, boning, and all the other interesting habits that happen under the covers. Do you want your skin to lay in a puddle of drool? That's probably really good for it, right? Wrong. Make sure you're sleeping on breathable fabrics like cotton or, if you're fancy, grab a silk pillowcase that'll go easier on your skin and help chill out the oil over-production.
6. You Love To Drink
Yikes. BLAME IT ON THE AH-AH-AH-AH-AH-ALCOHOL. But seriously, Arleen Lamba for Bustle says, "when you consume alcohol your heat index rises, which means you actually do get warmer and sweat more." In other words, maybe curb the drinking for a week or three and see if your oil problem clears up a bit. Chug water, sleep, and eat green things to become a pillar of health and non-shiny skin. Your body is a temple, fam.

7. Stress
Oh, what a shocking addition to this list! Yes, it turns out that stress is a huge reason your skin is oily. Cool. According to Schlessinger for Reader's Digest, "'When we become stressed, the level of the body's stress hormone (cortisol) rises … this, in turn, causes an increase in oil production, which can lead to oily skin, acne and other related skin problems.'" SWEET. So I guess the moral of the story is to not get stressed out, cause if you get stressed out you'll get greasy and pimply and then, in turn, get more stressed out and the cycle will continue literally until you die, I assume.
Images: Chris Knight, Unsplash; Giphy (3)
The Right Type Of Facial You Need For Your Skin Type
I am 24 years old, and up until recently, I thought I knew how to wash my face. Like, I thought the face wash I was using was AMAZING. And it was, it really was. I was obsessed. But after a lovely facial at Massage Envy, I found out from my esthetician that the face wash I was using is not right for my skin type, and it was actually making my skin really irritated. I didn't even notice. You may think you're using the right face wash, but you could be wrong. *Gretchen Wieners voice* I always knew my skin was sensitive but had no idea face wash could possibly be harmful to me. Especially because it's not like I felt it stinging or ripping my face off. So she told me exactly which type of face wash I needed. I got it, and it DOES feel so much gentler on my skin. My mind was blown, and I decided I needed to ask about the correct face washes for each skin type on behalf of y'all. You're welcome.
Do not waste any more time using a product that is making your skin worse. I asked a few simple questions for each skin type: What type of face wash you should be using, which face products you should be avoiding, other easy steps you can take to make your skin better, what you're doing that's making your skin worse, and which facial is best for your skin type. And to make sure I got an expert opinion, I consulted Diana Morrison, the lead esthetician of Massage Envy. She's the HBIC who told us 3 easy things we can do for healthier skin.
Skin Type: Well-Balanced Or 'Normal' Skin
What type of face wash should I use: Look for a middle of the road cleanser that doesn't contain harsh exfoliants or too many moisturizing ingredients. A person with normal skin should look for a gentle foamy cleanser. This will allow them to cleanse their skin and remove impurities without stripping the skin of its natural moisture. To take the skin to the next level, I recommend a hydrating toner. This will add additional nourishment and vitamins to keep the skin as healthy as possible.
What types of face products should I avoid: For normal skin, the key is to be gentle. Avoid using aggressive scrubs that will over exfoliate the skin and leave it irritated and dry. The goal is to maintain balance.
Is there anything easy I could be doing that could make my skin better?:  The ABC method is essential for people with normal skin. The A, is a vitamin A, like a retinol for use at night. This can help promote cellular rejuvenation while we sleep and keep skin youthful. The B is a broad-spectrum sunscreen. Everyone should be wearing an SPF 30 every day. Even if you are not spending a lot of time outside, it is important to protect your skin. Try to look for a sunscreen that has extra benefits like hydration, or a moisturizer that has SPF. C is for Vitamin C, which is essential for healthy skin. I recommend using a Vitamin C day serum. Vitamin C is essential for the production of collagen, which is the building block of our skin.

Anything I might be doing that could be making my skin worse?: The most important thing is to find balance in your skincare. Have fun with your regimen, but don't over do it. At home, face masks can be beneficial, but over exfoliating will leave the skin dry and flakey. It's also important to not pick at breakouts and spread bacteria. You should also avoid tanning. There are many disadvantages to tanning but what most people don't know is that the UVA and UVB rays activate enzymes that eat away at the collagen in the skin. Collagen is the building block of the skin and essential for maintaining a youthful, plump, healthy complexion.
What type of facial is best for me: Someone with normal skin should look for a vitamin-rich facial to rejuvenate, nourish, and refresh skin. At Massage Envy, our Healthy Skin Facials incorporate Murad's Multi-Vitamin Infusion Oil to give skin a dose of vitamins A-F.
Skin Type: Dry
What type of face wash should I use: Someone with dry skin should stick to a creamy cleanser. It is important to gently cleanse the skin without stripping away oils. Infusing hydration with a cleanser will also help keep the skin nourished. Micellar water can be used as an alternative cleanser for dry skin.
What types of face products should I avoid: It is best to avoid mattifying products that are meant to dry out the skin. Salicylic acid has a lot of benefits but is simply too harsh for someone with dry skin. Stay away from anything that will accentuate dryness. Even when using makeup, heavy powders will dull out the skin. For the best results, use products that add luminosity and give a healthy glow.

Is there anything easy I could be doing that could make my skin better?: Facial oils can be a lifesaver for people with dry skin. Using the right amount in the morning will allow the oil to absorb into the skin, giving a plumping and luminous glow. It is also important to moisturize often and drink a lot of water. Healthy skin can start from the inside out.
Anything I might be doing that could be making my skin worse?: Over-exfoliating is dry skin's worst nightmare. A lot of people with dry and flaky skin try to over exfoliate it to get rid of dead skin cells. But in reality, they should be moisturizing and hydrating internally and externally.
What type of facial is best for me: A healthy skin facial works best for people with dry skin. Enzyme facials yield amazing results. The enzymes act like pacman and gently digest the old, dead surface cells on the skin. This allows moisturizers to absorb better and help with an overall healthy glow.
Skin Type: Oily
What type of face wash should I use: Foam cleansers work best for people with oily skin to remove oil, makeup, and sunscreen. Look for foam cleansers with lactic acid and salicylic acid. They remove impurities and tend to be a bit more drying, which helps control oil production while leaving the skin feeling clean.
What types of face products should I avoid: When it comes to oily skin, it is all about finding a balance in oil production. Anything too occlusive will not let your skin breathe and can lead to clogged pores and acne.

Is there anything easy I could be doing that could make my skin better?: For oily skin, I recommend a corrective serum. Topical products with AHAs like glycolic acid or lactic acid work throughout the day to help dissolve buildup and impurities in the skin. Salicylic acid also has many benefits. It helps balance the skin while acting as an anti-bacterial to effectively kill breakouts.
Anything I might be doing that could be making my skin worse?: The worst thing for oily, acne prone skin is to pick at breakouts. Most of the time, our bodies detoxify the breakout internally and can clear it up on its own. However, if you do decide to manually extract a breakout, make sure the skin is soft. It is important to be as safe and clean as possible when extracting breakouts. A misconception about oily skin is that you do not need a moisturizer. However, people with oily skin need the balance of a squeaky-clean feel and moisture. I recommend a lightweight, water-based moisturizer that will leave the skin looking balanced and healthy.
What type of facial is best for me: Massage Envy's Microderm Infusion treatment is effective for people with oily skin who do not have active breakouts.
Skin Type: Combination Skin
What type of face wash should I use: For combination skin, it is important to treat the dry and oily parts of the skin differently. I recommend a double cleanse. First, use a light, foamy cleanser that is not too drying. Then, use a corrective cleanser with a benzoyl peroxide or salicylic acid to treat oily and congested areas. The cleansers are most effective when paired with a corrective toner.
What types of face products should I avoid: With combination skin, it is important to find a balance. I do not recommend using anything that is too drying or too moisturizing.

Is there anything easy I could be doing that could make my skin better?: I recommend using a corrective serum. Anything with glycolic acid AHA works well with combination skin. I would pair this with a light moisturizer that is water-based and nourishing.
Anything I might be doing that could be making my skin worse?: Using any product that treats one extreme or another can have negative results on the skin.
What type of facial is best for me: A chemical exfoliation helps yield the best results for combination skin. Massage Envy offers Healthy Skin Facials that are personalized for the client's skincare needs. Microderm Infusions also work to give a gentle exfoliation and clear the surface of dead skin cells.
About Diana Morrison (Lead Esthetician of Massage Envy):
Diana Morrison is the Lead Esthetician of Massage Envy. She has been a dual licensed massage therapist and esthetician for over 10 years. Diana has practiced in multiple modalities, including both spa and clinical treatments, such as highly experiential facial and body wrap treatments, advanced skin care such as microdermabrasion with a chemical peel, dermaplaning, high frequency.
Essential Travel Beauty Tips So You Don't Look Gross After Flying
Travel is without a doubt one of the greatest parts of summer. First of all, there's the crack-like (I assume) rush of turning on an "out of office" email reply. Chase that with a daily routine of margaritas for breakfast, followed by triple-digit likes on a "look at my ass this beautiful view" 'gram, and I'm decidedly living my best life. Unfortunately, even the highest of vacation highs tend to come crashing down within 24 hours of returning home. Not only did your "out of office" reply deter exactly zero people from emailing you multiple times, but you now have to deal with the ravaging effects of whatever public transit hell you were subjected to on your return home. (I'm primarily discussing air travel here, but let's not pretend that buses/trains don't leave you feeling pretty icky as well.) Here are some travel beauty tips for avoiding and even reversing the damaging effects of air travel.
Start With A Clean Face
If you're one of those people who can't leave the house without a full face of makeup, I have bad news. No one believes you woke up like that, and you should absolutely never fly in makeup. If you absolutely have to roll up to the airport made-up, at least take it off ASAP once you're in the air. Makeup wipes like these Philosophy facial cleansing cloths are a must, given the state of airport bathrooms and the fact that your bougie-ass cleanser definitely won't make it through TSA. Alternately, you can go with a (travel size) no-rinse micellar water—just please God use cotton pads, not airplane toilet paper. Ew.

Purity Made Simple One-Step Facial Cleansing Cloths
Embrace In-Flight Skincare
Ok, so now your face is clean. Sadly, your work is just beginning. One of the biggest damaging factors on airplanes is that they dry you out like crazy. This means you're looking at red patches, flaky skin, and the overall pallor of a three-day-old corpse (just me?). Luckily, there are ways to avoid this—though they do involve giving exactly zero fucks what the people in your row think. For starters, it seems like every celeb on earth applies a hydrating mask while flying. Luckily, there are "invisible masks" like the Origins Drink Up Intensive,  or Kiehl's Ultra Facial Overnight Hydrating Masque, both of which you can leave on for hours to absorb maximum moisture, without getting dirty looks from flight attendants. For those a little less shameless, the Summer Fridays Jet Lag Mask goes on like a regular mask (that you'll have to rinse off with a warm towel, somehow), but it provides hydration and anti-inflammation without any harmful ingredients or artificial fragrances (it's also vegan). If you're brave enough for a sheet mask, Chrissy Teigen and J Lo swear by the SK-II Facial Treatment Mask.

Kiehl's Ultra Facial Overnight Hydrating Masque
Once you've removed the mask, it's recommended you follow up with your preferred serum/moisturizer/eye cream. (Or if you're prone to puffy under-eyes (hi), consider some cooling pads like these skyn ICELAND firming eye gels.  Emma Stone swears by argan oil for long flights, but your heaviest daily moisturizer should work fine.

As a final, extra-luxe step, invest in a face mist. Celeb stylists love rose-water infused options (try Khloé Kardashian's preferred Jurlique version), but regular old Evian is fine too. If you're reallyyyy trying to get extra about this, the Caudalie Beauty Elixir is another celeb fave. (It's a toning spray, but don't ask me what toner does). Or,  you can follow up your SK-II celeb-approved face mask with their Facial Treatment Essence. (Seriously, do not ask me what essence does.)
Stock A Full Mom-Purse
You know that one friend whose purse is always fully stocked with Kleenex, lip balm, gum, etc? Yeah, you'll want to emulate that to an extent. In addition to all the face wipes and hydrating essentials mentioned above, you should never board a flight without hydrating lip balm, hand lotion, and more water than you usually drink in a week. This final point is especially key, because in addition to making your outsides dry AF, your insides are also dying from dryness when you're on a flight. So drink, drink, DRINK. Even though it's annoying to get up every half hour and use the bathroom, you'll thank me when you don't arrive bloated and constipated (ew), not to mention the fact that the simple act of getting up and moving frequently is proven to help beat in-air bloat, and can help prevent blood clots. Woo!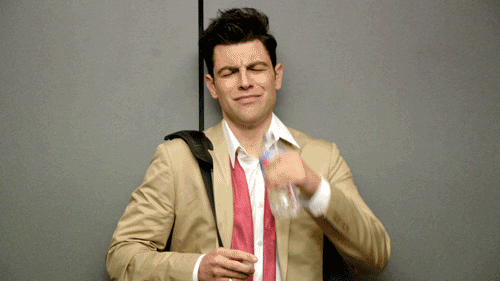 Be Careful What You Eat & Drink
Oh, and speaking of drinking—I have another bubble to burst here. As you know from waking up at 3am with desert mouth after a night of drinking, alcohol dries you out—which means drinking on flights is a big no-no (same is true for caffeine). Yes, air travel is definitely one of those memories I'd prefer be a little hazy, but the pounding headache and exaggerated dehydrating effects all around are not worth the 25-30 minute buzz. Save the drinking for your final destination.
When it comes to eating, you're better off the less you ingest while actually on the flight. Sugar-free foods and gum escalate an already gassy situation (sorry—I don't make the rules), and chewing gum makes you literally swallow air, which, you guessed it, escalates both the gas and the bloat. The same goes for high-sodium foods and any carbonated drinks. So yeah, even your beloved La Croix is a no go. Some experts suggest to avoid eating anything on a flight, since flying may cause your digestive system to slow down, and the restarting process will be all the more unpleasant if there's new food to digest rolling around in there. Whether or not that's 100% scientifically proven, many people who avoid eating on planes say they feel more rested and hydrated after, so it's worth a shot. Were you really that hyped about airplane food anyway?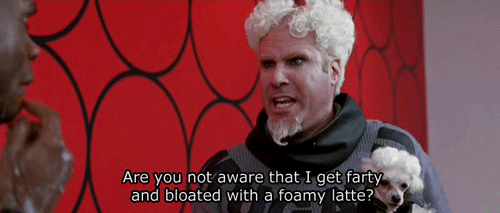 That's all from me (though TBH, it's plenty). I purchased maybe six more products over the course of writing this article, as I'm currently in the throes of post-flight bloat and ogre skin myself. Learn from my mistakes and help slightly soften the blow of going back to work by not having to deal with a pimple the size of a third eyeball taking over your forehead. Really takes away from the glamour of an overseas vacay.
Images: Giphy (2); Sephora (2)
Betches may receive a portion of revenue if you click a link in this article and buy a product or service. The links are independently placed and do not influence editorial content.
5 Household Items You Can Use As Makeup Remover When You're Broke And Out Of Wipes
I'm gonna go out on a whim and say that makeup remover should be free like the tampons I have to buy once a goddamn month. It's not my fault that a Game of Thrones episode occurs in my uterus 12 times a fucking year. Just like it's not my fault that I wasn't naturally born to be like, a YouTube beauty guru and get my winged eyeliner right on the first try. Doing your makeup is one thing, but doing it right is quite another. Not only are you forced to spend hundreds buying top-notch shit, but you also have to buy stuff to take that shit off. Will I ever have enough makeup remover on hand to account for all the times I fuck up my contour? With the way my life is going (being that it's August and I'm still poor and haven't left the U.S.), I'm thinking no. But, with Google saving the day once again, I've learned that you can use shit in your kitchen as makeup remover. Reason #1234 why I love food. From oil to milk (just stay with me on this), here's what'll get that waterproof lipstick off when you're too lazy to go to the Duane Reade down the block Neutrogena fails you.
1. Vegetable Oil
This might sound weird since we usually want to stay as far away as possible from an oily face, but surprisingly, this works like you wouldn't believe. If you combine one tablespoon each of olive oil, canola oil, and castor oil, you have a concoction that will take off even the most stubborn mascara. Veggie oils like these are actually really good for your skin because their ~healthy~ nutrients help moisturize and strengthen even the most sensitive skin types.

2. Petroleum Jelly aka like, Vaseline
Raise your hand if you have ever been called a slut stuck wearing some dark emo lipstick for days because you just couldn't get it off for the life of you. Mhm, girl. Same because fuck you, Kylie. When every lotion in Ulta and 10 face wipes won't do the trick, just rub a little bit of vaseline on your lips and voilà. Chapped lips and emo persona be gone.

3. Avocado
Name something avocado can't do. Go ahead, I'll wait. They're good to eat, good for your hair, good for your skin… I'm just saying, not all superheroes wear capes. You don't even have to smear this across your face to get your makeup off, so cut it in half (or, put a slice to the side you were planning on eating anyway) and swipe a Q-tip on it. The oil from this fruit—*still coming to grips with avocado being a fruit*—will take your makeup off easier than you've ever seen and help your face at the same time.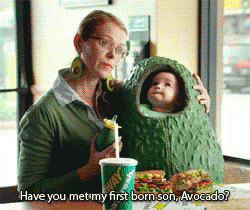 4. Whole Milk
This is one you probably least expected to use on your face. Oddly enough, the proteins in whole milk help hydrate and retain natural oils so you don't dry the fuck out. Dab some on a cotton ball and use where needed to remove makeup and feel fresh AF. And then maybe go take a shower so your face doesn't smell like dairy that's been left out. Just sayin'.

5. Honey And Baking Soda
This is a facial mask/cleanser/remover all in one. Add equal parts of raw honey (not the shit you get in a bear bottle) and baking soda into a bowl. Nothing crazy, like, half a teaspoon works. Make it into a paste and gently scrub. This works as a natural cleanser, moisturizer, and dark spot eraser for all the tough spots. I don't blame you for making this your new facial mask, honey boo boo child.