Super Cute Office Holiday Party Dresses That Won't Get You Called Into HR
Office holiday parties are literally one of the worst parts of adulthood. You're expected to look like you're having a decent time without getting too drunk and ruining your own life. Sure, it was funny on The Office when Meredith got fucking hammered and stripped down for Michael in his office. But like, that was TV and you'll get fired for that (see: the current sexual harassment reckoning), if you don't die from embarrassment first. Anyway, I can't do anything about how you're going to act, but if you want to at least dress appropriately but still look kinda hot, here's what to buy from Shopbop.

This dress is almost exactly what I'd envision any romantic comedy lead to wear to her holiday office party. It's cute and has a little keyhole, but it's not like, too much. Plus it's pretty versatile, so it doesn't have to be the dress that sits in your wardrobe forever because you wore it to a boring office party.

Velvet is super in this season, so you really can't go wrong with a velvet LBD. This has cutouts and cool sleeves, but is totally appropriate. Now if you get drunk and say something rude, you only have yourself to blame.

Sure, this has a high neck and long sleeves, but the sheer overlay with velvet floral details will save you from looking like you're wearing a literal potato sack.

This slip dress is a modest length, but it has slits to spice it up. Plus, it's got a v-neck that's high enough for cleavage without running the risk of a nip slip.

Leather can be super risky, but this is an office party-appropriate silhouette. There are also knit panels on the side to make it less intense, because nobody wants to look like they're into BDSM around their coworkers. Especially in this political climate. Speaking of climate, those panels will prob help you sweat less, too. You're welcs.
The 8 Millennial Pink Pieces You Need To Buy For Summer
If you pay any attention to fashion (or just to the internet), you've probably heard of a new shade of pink floating around. What is this "millennial pink" you may ask, and how are we still coming up with new shades when there are 67 million Crayola colors? Well, I don't fucking know how to explain it, tbh. Millennial pink is a variety of blush pink shades, apparently—because we live in a country where no one likes to agree on anything. Not even a goddamn color. It's probably the shade of your fave nail polish color or most used Kylie lip kit. You probably know it best as the color of Amy Poehler's Regina George's mom Juicy Couture tracksuit, though.
See:

Now that you went "ohhhh" and understand exactly what I'm talking about, you'd agree that there probably hasn't been anything you haven't seen in this color yet. From modern home décor to your new crossbody bag, this is your go-to color for anything, ever. It goes with the depressing beloved black, white, and gray in your closet since it shows everyone you might be ~*feminine*~, slutty flirty, and cute. Orange is the new black? More like pink is the new black this summer. To contribute to your obsession, here are clothing and accessory pieces you just need to buy in the iconic millennial pink.


Um, what's not to love about this dress? With flowy off-the-shoulder sleeves and a scandalous lace-up front, this perfect summer dress will literally get you so many likes compliments. Your friends will probs be begging to borrow it for your next night on the town or weekly brunch date.

I mean, anyone who is anyone obviously has this shoe in black already. In a gorg rose quartz (like, how boujee does that sound), you'll have shoes for all your summer weddings to comfortably dance all night long in. Even if you go solo (which is 90% of the time), you might find someone who appreciates your shoe game at the very least.

I think the real question for this is, when don't you need a new crossbody? Because if you're like me, you definitely always leave it anywhere your drunk mind sees fit. For your 100th bag, opt for one in this season's hottest color. This bag's sturdy leather won't rip so easily when you try to stuff in your biggest flask. But since this one is too expensive cute, you can't throw up in it during your morning commute from a night of too many vodka sodas.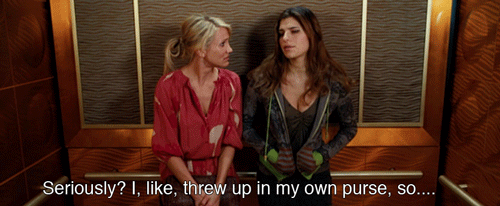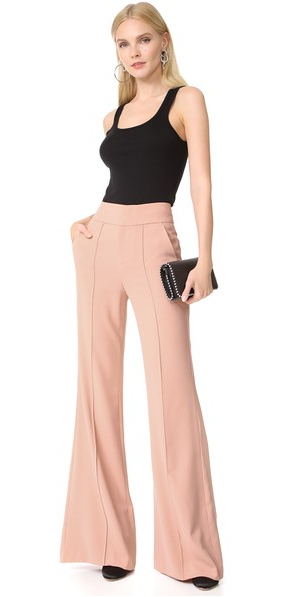 IDK about you, but, my business casual wardrobe is pretty limited in the sense that it's all black. When I hear business casual, I think black = boss lady. Also, who the fuck actually likes working (unless you're Steph Shep aka assistant to the regional manager Kim K)? So, why wouldn't you wear the color that fits your current always mood? Instead, switch things up and get these suited pants for a (fake) cheerful office look. Pair with an ivory blouse or blazer for high-key summer vibes.


I know, like, you have so many pairs of rose gold sunglasses already. These pink mirrored lenses are just must-haves because they have the bitchiest cat-eye frames I've ever seen.

If you haven't jumped on the one piece train yet, better late than never. Especially since summer has already officially begun. Bare it all in this pale pink, risqué one piece that shows off all the right places, leaving little to nothing to the imagination—an essential factor before buying anything, duh.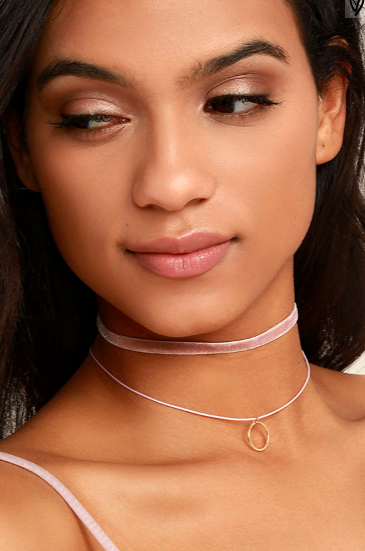 I said no more black velvet chokers for the summer, but I'll allow a pink version. Layer your look with a delicate gold pendant because you're like, such a minimalist.

In addition to your blue denim jacket, buy one in this chic color for an effortlessly casual and sassy touch. Pair with trendy pants or over a bodycon dress when you're trying to fool all the guys into thinking that you are like, totally chill and not at all psychotic. LOL
5 Ways To Wear A Crop Top To Work Without Offending HR
As a secret hoe (I'm not that secret about it) I'm constantly pushing the limits of my employer's sanity by seeing how much I can get away with in terms of the office dress code. Tbh they never should have called it business casual in the first place. Once you throw the word "casual" around that's just asking me not to take it seriously. Like when a fuckboy tries to tell me he's only into "casual dating" or when my mother tries to talk to me about my "casual drinking problem." Please. And because my look is incredibly fashion forward a mix between lazy and slutty, I'm always trying to circumvent the dress code. For example, in the winter that includes me trying to get away with literally not wearing pants. I'll show up to the office in leggings and an over-sized sweater/shirt/$5 Forever21 T-shirt that I'm trying to pass off as Yeezy and booties and just dare anyone to say shit about my outfit. And by dare I mean hide in my office and hope the girl I pissed off by eating her yogurt the other day doesn't write a passive-aggressive email to HR. IT WAS ONE TIME, SUSAN.
But in the summer I sure as hell will be toeing that line between business and casual in a cute af crop top. Crop tops have been around for a while now and apparently the trend is sticking. Blessings. But unlike in college where you could literally wear a bra to the bar and call it couture—just me?—now, crop tops have become more chic and fashion forward. To which I would just like to say, are you listening to this, mother?? And because I support v important causes like making hoe fashion (thank you, Tyra), here are 5 crop tops for every office style that you should buy ASAP because you can absolutely probably get away with wearing this shit to your 9am department meeting.
Office Professional
You have, like, a normal 9-5 job that definitely enforces the "business casual" dress code no matter how many times you tell HR that you're feeling personally victimized by this. In order to carry on with your hoe ways, you'll def want to stick to a looser silhouette. Think longer, loose pants with a flowy, boxy top. The pants will elongate your legs while the crop top will keep you from looking like a bag lady an Olsen Twin. The key here is to make sure that your shirt is long enough so that nosey bitch Susan won't report you for "inappropriate behavior."

Boho Casual
You're the type of person who doesn't call wearing a crop top to work "pushing the boundaries," but rather, "expressing yourself." Odds are you work in advertising or some other creative field that encourages you to dress however the fuck you want. You get a bit more leeway than the rest of us, so go for a matching shirt/skirt combo in a funky print. It's kind of like a trap a fashion optical illusion because while it kind of looks like you're wearing a crop top it also kind of looks like you could just be wearing a dress.

Preppy & Girly
If this is your look then I'm assuming you do, in fact, work in a professional office setting but also you want to look cute. So I'm guessing your style icon is probs more Audrey Hepburn at a premiere than Bella Thorne getting felt up by Scott Disick on a yacht in Cannes. Just a guess. I suggest, pairing an over-sized skirt with a boxy, crop top for a chic yet office appropriate look. If you want to pretend like you have a personality mix it up a bit, try a bold color or print for the skirt.

​
Sporty Chic
I'm not going to make any sort of assumptions about what your job title is (shocking, I know). You could work at a gym or have some sort of fitness Instagram account or you could just be me work in a normal office setting where you show up looking like you don't give a fuck. Either way, your secret weapon is going to be an over-sized bomber or jean jacket. If you're trying to keep with your normal lazy af aesthetic, then throw one of those jackets over a black jean/crop top combo. It's a classic, easy, and only slightly slutty look—three words I also def use to describe myself in my Bumble bio. If you're trying to class it up because the new hire has a man-bun and you're feeling like for once Mercury is not in retrograde and actively fucking with your dating life, then consider pairing the jacket over a knit crop top and matching pencil skirt. You'll still look v edgy but also like you didn't just find your outfit at the bottom of your laundry pile.

​
Wannabe Instagram Influencer
You're def an assistant to an Anna Wintour wannabe who probs throws shoe samples at you when you forget to order her lunch with dressing on the side. Think Nina Garcia two seconds before she emotionally obliterates an amateur designer for not "editing" enough. The rules of business appropriate work attire do not apply to you because if you showed up in a basic blouse and a pencil skirt your boss would take one look at you and say this:

Do not be the Anne Hathaway of this scenario. DO NOT. You work in fashion (I assume) so take some chances for god's sake (assuming your boss is cool with that. I realize I'm assuming a lot this article). That being said, don't be afraid to try out a tighter, shorter crop top as long as you pair it with something high-waisted.