The Best Halloween Episodes From Your Favorite TV Shows
Halloween is almost here, and I say this with all the enthusiasm of someone who will be spending the holiday double fisting Kit-Kats and red wine. Look, I know technically Halloween falls on a Thursday this year, so it is socially acceptable to black out like you would on any other thirsty Thursday, but by god I just can't do it. In fact, the only celebrating I intend to do is with my dog as we sit on the couch and re-watch our favorite Halloween episodes to ever air on TV whilst dressed in costume as Dobby the house elf and his prized sock (I'll let you figure out who is who in that scenario). So, for those of you who are looking to go all out on the couch this year, here are the best TV shows to watch to get you in the Halloween spirit (without really being in the Halloween spirit). 
Friends: "The One With The Halloween Party" (Season 8, Episode 6)

Tbh I was never a huge fan of Friends. I know, I know. Let's tie me to the stake now because apparently that is an unforgivable sin. Sighs. That said, I do love a good Halloween episode, even if it's a Friends episode. Monica and Chandler decide to host a Halloween party where Ross tragically shows up dressed as a spud…nik. No one gets his costume and he is appropriately shamed throughout. If anything, you should watch the episode for costume inspo (it's seriously gold) and also for the hilarity of Joey showing up dressed like Chandler. 
Parks & Rec: "Greg Pikitis" (Season 2, Episode 7)

Parks & Rec had quite a few Halloween episodes, but my favorite has always been the first one, which aired during the second season. Leslie Knope stands off against her sworn enemy, Greg Pikitis, a junior high delinquent who pranks the Parks Department every Halloween. This is also the episode where we meet Burt Macklin, FBI agent, for the first time, when Leslie asks Andy to interrogate Greg over his whereabouts and "maybe waterboard" him. To this day I wish you knew how much I regret not naming my dog "Pikitis" so that whenever she secretly sabotages me by chewing a hole in the crotch of my favorite leggings I could venomously whisper "Pikitis" under my breath. Also, Ann throws a Halloween party and it's trash because Ann is trash. Watching Ann miserably fail at being fun is in itself worth a re-watch. 
One Tree Hill: "An Attempt To Tip The Scales" (Season 3, Episode 4)

Were you even truly living in the early '00s if you weren't tuning in every week to watch the utter madness that was One Tree Hill? The show was about two half brothers who share the same scumbag dad and a love of basketball, but one of them is rich and one of them is a bastard. This is like, the least dramatic plot line of the entire show, and to illustrate this point, let me recommend to you the Halloween episode of season three. Haley comes back from her world (??) music tour and tries to reconnect with her husband, Nathan. She is a sophomore in high school. Lucas, also a sophomore in high school, tries to be exclusive with his f*ck buddy Brooke (baby Sophia Bush), and he believes his worthiness and willingness to commit must be proven via a killer Halloween costume. He chooses Tommy Lee. I think that says enough about how their relationship inevitably turns out.
Peyton, not being dramatic at all, decides to dress as an angel of death, and her father only gives a half-hearted shrug in protest to this alarming outfit choice. The episode culminates at a Halloween party at underage nightclub TRIC, where Fall Out Boy casually performs. Watching this episode live on air, my only question was, where I can I replicate the angel of death outfit to properly alarm my mother? Watching the episode as an adult has me asking quite a few more questions, like why is there so much leather during this underage party? Is it too late to call a hotline about Peyton's obvious issues with depression? And what blackmail did The CW have on Fall Out Boy to get them to continually perform on this godforsaken show? THESE ARE THE THINGS THAT KEEP ME UP AT NIGHT. 
Buffy The Vampire Slayer: "Halloween" (Season 2, Episode 6)

For those of you who are like, Buffy The Vampire Slayer? What's that? SHAME ON YOU, YOUTHS. To educate you poor, misguided children, Buffy is iconic and, as far as I'm concerned, should be mandatory viewing in all schools, sort of like how that Romeo & Juliet movie from the 1960s was. The show follows Buffy, high school cool girl and avid scrunchie wearer, who eviscerates people with snarky one-liners by day and slays vampires by night. If anyone has a problem with that plot description, they can take it up with me and the pointy end of my stake, mmkay?
Any one episode will have enough monsters and vampires to feel like a Halloween special, but the Halloween episode from season two is truly something else. In an effort to seduce the vampire she has a crush on, Buffy dresses up like a girl from his youth: an early 1800s noblewoman. I took a similar tactic to impress the guy in Kappa Sig I dated by dressing up like a cheerleader one Halloween, complete with underwear that said "haze me" on the butt. To each their own I guess, Buffy! Things go amiss for Buffy and her friends when the owner of the Halloween store enchants everyone's costume so that you transform into the thing or person you've dressed up as. Mayhem ensues. The episode is complete with treacherous wigs and even more treacherous English accents, and is an absolute must-watch. 
The Office: "Costume Contest" (Season 7, Episode 6)

Like Parks & Rec, The Office has a LOT of Halloween episodes to choose from, but I think we can all agree that the one from season seven was the best. Pam raises the stakes of the annual costume contest by awarding the winner a Scranton book of coupons that could amount to $15,00o in savings. This leads the employees of Dunder Mifflin to think that the book is literally worth $15K and so everyone goes all out for the costume contest. Angela shows up in a naughty nurse outfit (lol I can't wait to hear how she rationalizes that one to Jesus), Jim actually wears a costume, and Gabe is doing the most as Lady Gaga.
Stranger Things: "Trick or Treat, Freak" (Season 2, Episode 2)

Guys, is there literally anything in this world that's cuter than watching 13-year-old nerds coordinate their group Halloween outfits?! I don't f*cking think so. Stranger Things is fun to rewatch because it feels appropriately spooky and nostalgic, which is what Halloween is all about. Plus, at one point during the episode Nancy gets drunk at a costume party and yells at Steve. I'm sorry, but if drunkenly sobbing in a bathroom after fighting with your boyfriend isn't a Halloween mood THEN I DON'T KNOW WHAT IS. 
Gossip Girl: "The Witches of Bushwick" (Season 4, Eipside 9)
First of all, I forgot this episode of Gossip Girl even existed, let alone that it's aptly titled "The Witches of Bushwick." As a person who used to call Bushwick her penance for past sins home, I can honestly say that there are, in fact, witches in this area of Brooklyn. Not to name names but there was a very suspicious incident at a vegan cafe wherein I mistakenly asked for creamer in my coffee and later became mysteriously ill. I'm just saying, it's suspicious is all. The episode takes place at Chuck's Saints and Sinners masquerade party at the Empire Hotel and it is PEAK Gossip Girl in terms of fashion and fighting. It's a very Serena-heavy episode in the sense that Jenny and friends try to overthrow her while Nate and Dan both try and woo her. Also, Chuck and Blair are there and are perfect. 
New Girl: "Keaton" (Season 3, Episode 6)

New Girl has always been the gift that keeps on giving for me, especially since I've always self-identified as having the spirit of a crotchety, 90-year-old man, in the same way that Nick Miller does. This is one of my all-time favorite episodes because we find out that Nick has been sending Schmidt fake messages from actor Michael Keaton FOR YEARS. Schmidt for some reason believes with his whole heart that the actor who plays Batman has been sending him supportive letters and emails for his entire life when in fact it's been his mom and then roommate Nick writing the sage advice. I almost peed myself watching this episode—it's that good.  
These are the best Halloween episodes to re-watch in preparation for (or during) Halloween. If you don't spend the next 3-6 hours watching this powerhouse lineup of television, I'll be personally offended. Smell ya later!
Images: Giphy (5); Tenor (1); weheartit (1)
The Spookiest TV Shows & Movies Coming To Netflix In October
It's Halloween betches, and it's time to get spooky AF. Netflix is adding to the festivities with the scariest TV shows and movies—'tis the season for sleeping with the lights on and double locking all your doors. There's no better way to get in the spirit of Halloween than living in darkness with only your laptop screen as a light source. This is also the perfect excuse to ditch any and all Halloween related celebrations. More time for you to spend doing what you do best­—sitting. Which BTW, can get pretty f*cking frightening. Just look into my dead, lifeless eyes wasting my life away because yes, it's hour 30 and I am still here, Netflix.
'Chilling Adventures of Sabrina' – October 26
From the f*cked minds that brought you Riverdale comes another childhood ruining series. Sh*t gets dark and twisty when our girl Sabrina hits her 16th birthday. Unlike the stars of My Super Sweet Sixteen, Sab doesn't get a party with a horse-drawn carriage entrance. Instead, she gets to choose between becoming a demon with her whole witch family or like, being a normal human. Sounds like one hell of a birthday to me!

'The Haunting of Hill House' – October 12
Haunted houses are nothing new for Halloween, but this one certainly takes the cake. Based on a 1959 novel by Shirley Jackson, this show takes us through the lives of the Crain family. Hugh and Liv Crain are parents to five kids living in Hill House, a home haunted by ghost-like creatures. The storyline bounces between the current lives of the family, struggling with the trauma from their past, and the stories of the creatures that haunted them. Good luck with this one, I got nightmares from the trailer alone.
'Creeped Out' – October 4
Netflix has this horror series rated as kid-friendly. IDK about you, but the ghost episode of Zoey 101 (The Curse of PCA, in case you're wondering) was scary for me as a child (or maybe still now), so WTF is coming out of this that's less terrifying? The series is an anthology, all narrated by a mysterious masked figure called "The Curious". While every episode is different, there are some subtle links that bring the entire series together—and apparently, they're creepy AF.
'The Curious Creations of Christine McConnell' – October 12
Netflix's latest addition to their plethora of food series is like if Martha Stewart went goth (which I would low-key love to see). Christine McConnell is taking her Insta fame out of the 'Gram and onto the laptop screen with her own baking show. Known for her creepy cakes and f*cking terrifying photos, the author of Deceptive Desserts shows us all what she does best: making treats that look too scary to eat. That's one way to trick yourself into a diet.
'Haunted' – October 19
Have you ever seen a ghost? And before you try me, no, bugging out when you're high and seeing your dead dog doesn't count. This series is about everyday humans experiencing paranormal or supernatural events that still haunt them. Brought to you by the executive producers of The Purge franchise and Lore, this series is sure to make you overanalyze every movement of the wind and flicker of the lights.
'The Shining' – October 1
Creepy twins, sketchy hotels, and metaphors—oh my! 'The Shining' is a classic sh*t-your-pants horror film, but IDK what's scarier about this movie: the ax murderer or the film students who analyze every breath Jack Nicholson takes. You decide. If you haven't seen this movie, it's based on Stephen King's 1977 novel of the same title and is probably one of the creepiest films in existence. Would recommend watching this with friends, and then, probably having them guard your bathroom door while you shower.

'Malevolent' – October 5
A brother-sister duo decides an excellent business plan is to scam people who are grieving by pretending they know how to talk to the dead. This movie is like what would happen if the Long Island Medium turned out to be a fake. Sh*t gets weird when they go for a reading at an orphanage (red flag one) where a murder took place (red flag two). Basically, the ghosts were like "you want to talk with us B*TCH? Well, now you get to. For eternity." But I'm sure it's a lot scarier than that.
'Apostle' – October 12
An ex-priest returns to his long-lost daddy's house to find out that his sister has been kidnapped by a religious cult *gasp*. Turns out, this cult likes to sacrifice people and drill into heads—so some really fun party games here—so obvs ex-priest has to go try and save his sister. The cult is on a remote island, so this movie is for sure full of that type of horror where you scream and no one can hear you. Apparently, this movie is really gory featuring some sh*t swimming, arm cutting, and human meat grinding. Perhaps watch this one on an empty stomach.
'Truth or Dare' – October 3
This isn't your average slumber party. A legit psychopath kidnaps four teens while they're chilling in Mexico to make them play a dark-ass version of truth or dare. Every time a truth or dare presents itself, everyone's faces get super warped and they start to look like a freaky Snapchat filter. There's also a big risk in not doing said tasks—you could die. So the stakes are high, people. The tasks range from breaking someone's hand to coming out to the grand finale: killing people. This whole thing seems like a lose-lose situation.


Do you love scary sh*t like crime, cults, conspiracy theories? We're launching Not Another True Crime podcast on October 1! Follow us on Instagram at @natcpod for details.
Images: Giphy (3); Unsplash/Victoria Heath
Here Are The Best Movies And Shows Coming To Netflix In October & What's Leaving
Few things affect our social calendars quite like Netflix these days. Each month, new shows and movies come and go, and we're morally obligated to keep up with them, since we paid so much for our subscriptions still have access to our ex-boyfriend's former roommate's login info. We can't just not take advantage of all this amazing content another reason to cancel plans, so we've mapped out everything that's arriving (and leaving) next month, so you can schedule Netflix and chill the fuck out, accordingly.
First, what's leaving on October 1st, aka what you need to aggressively binge watch RN:
1. '30 Rock' Seasons 1 – 7
One of the greatest shows of all time. For those who haven't seen it, it's like Unbreakable Kimmy Schmidt, except funny.

2. 'Friday Night Lights' Seasons 1-5
Clear eyes, full five seasons in one day, can't lose.
3. 'Love Actually'
Obviously the best (Christmas) movie ever. This better be back before December, WTF?

4. 'One Tree Hill' Seasons 1-9
An angsty teen classic, mostly useful for deciding whether you're more into Nathan or Lucas on any particular day, depending on your mood.
5. 'Titanic'
In case you want to reserve three hours to weep sometime within the next week.

And now what's arriving in October, aka what you have to look forward to next month:
1. 'Blood Diamond'
Featuring Leo DiCaprio, this is a quality action flick that's fast-paced and based on events that happened IRL. It's about conflict diamonds in Sierra Leone (see also: "Diamonds From Sierra Leone" by Kanye West), so it's not exactly a comedy, but well worth a watch if you're down for something intense.

2. 'I Love You, Man'
Aside from the fact that Paul Rudd, in this movie and in perpetuity, is America's spirit animal, I Love You, Man is simply an all-around good time and perfect for any Netflix occasion. The duo of Rudd and Jason Segel is beautifully awkward and v enjoyable to watch, making this a crowd favorite among betches and bros alike.
3. 'Miss Congeniality' (1 & 2)
Sandra Bullock kicks ass in this movie as an FBI agent going undercover in a beauty pageant. It's kind of a staple of being a betch, so you def need to watch it if you haven't already. Like, if it weren't for Miss Rhode Island, how would we know that April 25th is the perfect date, because "it's not too hot, not too cold, all you need is a light jacket"?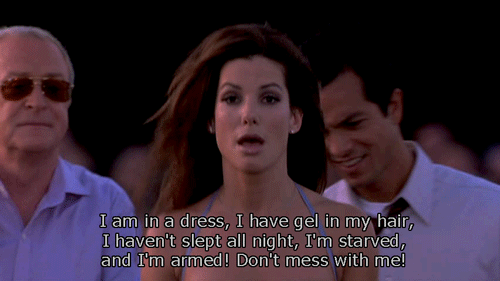 4. 'Made of Honor'
TBCH I've never seen this, but as a C-list rom-com featuring Patrick Dempsey, it feels like a movie I will soon be watching while extremely hungover on a rainy Sunday.
5. 'Stranger Things' Season 2
This is most definitely the highlight, in my professional opinion. It debuts on October 27, just in time for you to buy some discount Halloween candy (after you've already worn your slutty costume, obvi) and crush the entire season in one weekend. The '80s inspired thriller is gripping, funny, and heartwarming at the same time, and it's all anyone's going to be talking about at work. We are so ready to go back to the Upside Down and to witness more Winona Ryder going full cray.