Michelle Obama Opens Up About Struggling With 'Low-Grade Depression'
As we all know, Michelle Obama literally could do no wrong – she is strong as hell, brilliant, and basically America's mom. On top of all of that (and in spite of it), she's relatable as f*ck. From her giving Trump side-eye at his inauguration to starting a podcast in quarantine, America's favorite first lady is truly one of us.
In the latest episode of The Michelle Obama Podcast, Obama opened up about something that many of us are feeling (at least I am) these days. During a conversation with journalist Michele Norris, Obama talks about how she has found herself "dealing with some form of low-grade depression" over the last few months. "Not just because of the quarantine, but because of the racial strife, and just seeing this administration, watching the hypocrisy of it, day in and day out, is dispiriting." 
Michelle specifically cited the heightened racial tensions as a factor of her depression, "I have to say, that waking up to the news, waking up to how this administration has or has not responded, waking up to, yet another, story of a Black man or a Black person somehow being dehumanized, or hurt or killed, or, falsely accused of something, it is exhausting. And it, it has led to a weight that I haven't felt in my life, in, in a while." 
In describing her symptoms, the first lady talked about having difficulty sleeping or waking up in the middle of the night. She said, "you know, I've gone through those emotional highs and lows that I think everybody feels, where you just don't feel yourself." She said, "there's been, uh, a week or so where I had to surrender to that, and not be so hard on myself. And say, you know what, you're just not feeling that treadmill right now." 
All of this is not only normal but increasingly widespread. A recent CDC pulse survey reported that one out of three Americans is experiencing some level of depression or anxiety, up from one out of ten last year. Feeling dread and concern about the state of America and our government is not a new thing either. Last year Michelle Goldberg wrote an op-ed for the New York Times about democracy grief. In it, she discussed how watching the institutions that we trust to protect us fail to do so can impact psychological health. 
In difficult times, I like to ask myself: WWMOD (obviously that stands for what would Michelle Obama do). Because she always comes through, Michelle gave us some insight into how she deals with her low-grade depression during the quarantine.
"For Barack and I, we've lived outside of the norm of regular life for quite some time," Michelle said, "what we've learned early on in the White House is that in order to stay sane and to feel like the human you once were is that you have to have a schedule and a routine." 
In addition to establishing a routine, the Obama family has been working on puzzles together and having card game tournaments. They're also spending some time outside and trying to eat dinner together as a family. Stars: they're just like us. 
While I highly recommend listening to the whole podcast episode yourself, finding a sense of positivity boils down to self-awareness and focusing on what brings you to a good place. As Michelle said, "make sure that you all are listening to your spirits and to your bodies through this period. And when you need a moment to recharge, take it and do not feel guilty about needing to take that break." 
The Best Shows & Movies Coming To Netflix In May 2020
You know what they say: April Showers bring May… Netflix marathons? Look, I know you would rather not be watching one million hours of TV. May is supposed to be the beginning of darty season (or maybe you've graduated to drinking on rooftop bars). The sun is starting to shine, everyone can smell the beginning of summer, and things are generally looking up. This May… well, there's no need to restate the obvious, but all I'll say is that it does not appear we will be heading to a rooftop bar anytime soon. 
At least we don't have to worry about how pale we've all gotten. If only the glow of a computer screen could tan my face. Not that I'd have anyone to show it to, but I'd like to feel at least somewhat confident about my appearance in my Zoom square during meetings, which I do stare at 100% of the time. Anyway, here are the best shows and movies coming to Netflix in May.
'Becoming'

This week, Higher Ground Productions, The Obama's production company, announced their plans to air the documentary Becoming, which follows Michelle Obama on tour promoting her memoir of the same title. The documentary is set to premiere on Netflix on May 6th. I will take any and all Obama family content I can get, so I cannot wait to see the stories Michelle encountered and shares in this movie.
'Back to the Future' & 'Back to the Future Part II'

Has the Back to the Future franchise aged well? My guess is no, but I haven't seen the classic 80s movies in forever. Luckily, the first and second movies about the antics of Marty McFly and Doc Brown time-traveling are coming to Netflix this month, so we can decide once and for all. Hilarious that 2015 was considered to be so far into the future, and now I look back on those days wistfully.
'What a Girl Wants'

What A Girl Wants is Amanda Bynes at her peak. Fresh off the success of The Amanda Show (can they put that on Netflix?), Bynes goes to England to find her dad, who is none other than Colin Firth. A British politician, he takes her into his family, but she has to learn to fit in and not cost him the election. But at what cost, if she can't be her quirky, destructive self?
'Jerry Seinfeld: 23 Hours To Kill'

Seinfeld fans will be happy to know that Jerry Seinfeld is coming out with a brand new stand-up special, taped at the Beacon Theater in New York, premiering on May 5th. I watched the trailer and all 90 seconds of it are Jerry trying to convince the audience that something can suck and be great at the same time. "Never feel bad that your life sucks. The greatest lesson you can learn in life is 'sucks' and 'great' are pretty close," he tells us. Okay, clearly he knew this quarantine was coming? Something smells fishy, but maybe he will have some advice for us all.  
'Workin' Moms: Season 4′

Netflix is releasing the next eight episodes of Workin' Moms on May 6th, which gives you just shy of a week to catch up. The comedy follows the lives of four moms who met in Mommy & Me classes, and who have to return to the workforce after giving birth. In season 4, the kids are growing up, and the moms are too. They still have to figure out how to keep their lives, families, and careers are together without going insane.
'Dead to Me: Season 2'

The end of season 1 of Dead To Me was pretty crazy. (Spoilers ahead.) Judy confessed to Jen that she ran over Ted (Jen's husband), but then it was like… maybe not? And then Jen shot Steve, Judy's ex-fiancé, because she thought he was the one that killed Ted? Steve kind of sucked, so when the season ended it was kind of like… okay, I guess everything's evened out now. Season 2 says not so fast, missy, we've got a lot of questions to answer. Does Jen forgive Judy? Is Steve really dead? Who is actually responsible for killing Ted?
'The Eddy'
The director of La La Land, Damien Chazelle, is releasing his new eight-episode drama, The Eddy, on Netflix May 8th. "The Eddy" is the name of the struggling Paris jazz club owned by musician Elliot. The show follows him as he tries to save his club and his family when both begin to unravel. I expect lots of Paris scenes (who doesn't like those?), and lots of great music, so this show will definitely be one to look out for.
'House at the End of the Street'
The 2012 psychological thriller House at the End of the Street starring Jennifer Lawrence will soon be available on Netflix. In case you're looking to feel something again, horror movies are probably your best bet. When 17-year-old Elissa moves to a new town with her mom, she learns the house at the end of the street was the site of a gruesome murder in which a girl killed her parents and then disappeared. Elissa begins to date Ryan, the girl's brother, who still lives in the house and holds many secrets and grudges. I'm sorry, but that is a major red flag and her first mistake. 
'Grey's Anatomy: Season 16'

The most recent season of Grey's Anatomy will still be on Netflix. With production cut short due to the virus, the season features 21 episodes instead of the planned 25. If you need something comforting (comforting, as in, a show you've been watching for literally ever), then you'll be glad to see the newest season coming out May 9th, with all of your favorite characters—well, the ones who are still alive.
'Unbreakable Kimmy Schmidt: Kimmy Vs. the Reverend'

I have seriously been missing Kimmy Schmidt in my life, and I am so excited about this special. The whole eclectic bunch from the show appear in this special, and in Kimmy Vs. the Reverend, Kimmy embarks on her biggest adventure yet. The more exciting part? It's interactive; the viewer gets to choose what Kimmy does with her life. That's good, because sometimes she needs a little direction. Remember Bandersnatch? I imagine it will the same sort of setup, except it's not part of the Black Mirror franchise so you won't be weirdly distraught by the ending. 
'Riverdale: Season 4'

I seriously cannot believe this show is still being made. So much respect for Riverdale, the best show written by predictive text on an iPhone. I faded out during season 2 when they made up a drug ring and decided to call said drug "jingle jangle." But that's not even close to the worst they've done on this show. I might need something to laugh at and hate-watch soon, though, so maybe Riverdale will make its way back to my screen after all.
'Soul Surfer'
This is a classic. Soul Surfer is based on a true story of the life of Bethany Hamilton, whose left arm was bitten off in a shark attack. She eventually recovers and learns to surf with one arm. Still, she is frustrated that she can't be where she once was, and slowly realizes that her dreams of pro-surfing competitions and sponsorships probably aren't going to happen. When Bethany goes on a service trip to Thailand after the 2004 tsunami, she realizes that she can still use her skills to teach kids not to fear water. Let me tell you, you are never not in the mood for this movie. It's inspiring and a feel-good for sure. 
'Just Go With It'

Just Go With It is your typical Adam Sandler comedy, and is a fun watch when you're not really in the mood for anything else. Sandler's character is a womanizer, and his go-to move for getting women is telling them he's going through a divorce. When one of them demands to meet his "ex-wife", he enlists the help of Jennifer Aniston and also, to keep it going, pretends her kids are his kids. The kids convince Sandler to take everyone to Hawaii, where he and Jennifer Aniston actually do fall in love at the end of the day.
'Uncut Gems'

Speaking of Adam Sandler, he stars in Uncut Gems, but this crime thriller is the opposite of his typical roles. I'm glad this movie is coming out on Netflix because I thought about seeing it in theaters last year, but ultimately decided it wasn't worth the money, and then promptly forgot about it. Luckily for me, the wait is over. Uncut Gems is about a jeweler who needs to repay his debts quickly. Through dangerous and high-risk pawning and betting, he finds ways to get increasingly more money, and hopefully, it will be enough. 
There's a lot arriving to Netflix in May, so hopefully, something catches your eye. As always, they're kicking many shows and movies to the curb as well. Here are some of the shows and movies that are leaving Netflix in May 2020: Scandal: Season 1-7, It Takes Two, Yours, Mine and Ours, Austin Powers in Goldmember, Austin Powers: International Man of Mystery, Austin Powers: The Spy Who Shagged Me, Dear John, Final Destination, The Final Destination, Final Destination 2, Final Destination 3, Ghosts of Girlfriends Past, My Girl, The First Wives Club, Royal Pains: Season 1-8, Limitless, The Place Beyond the Pines, Love, Rosie, She's Out of My League, What's Eating Gilbert Grape. 
Images: sebastiaan stam / Unsplash; Giphy (10)
Oops, Trump Once Said Obama Would Start a War With Iran to Get Re-Elected
Welp, it only took one week for #WorldWarThree to start trending on Twitter in the year 2020. Great.
In case you haven't heard — and if you haven't, I highly suggest signing up for our daily newsletter or reading like, one article — Trump ordered a drone strike at Baghdad International Airport that killed Iranian Major General Qasem Soleimani. This is a BFD. Like, huge. Many  are calling it an assassination. So, as you can imagine, Iran is not happy with us.
Tbh, Iran has been unhappy with the US for quite some time, and our history with the country is complicated and to be frank, f*cked up, but I'll let you do a deep dive on Wikipedia during your lunch hour for that one. All I'll say is that war with Iran has sort of been bubbling up for a while, but has been kept somewhat at bay. Presidents George W. Bush and Barack Obama both had options to target Soleimani, but opted not to given the possibility of, you know, global warfare.
This is the most direct act of confrontation with Iran that the US has undertaken since Trump withdrew from the Iran nuclear deal, which that country now vows to no longer observe. Furthermore, Trump didn't inform leading members of Congress about the attack until after he had done it. So, he p much just decided to start a war all on his own and went through with it without talking it over. Dope.
People have some opinions on the matter, if you can believe, but one opinion that has come to light is that of a slightly younger Donald J. Trump himself. Back in 2011, when Obama was seeking re-election, Trump theorized that he would start a war with Iran in order to win. He even tweeted about it, because of course he did.
There's always a tweet. https://t.co/rWPkHXYYUW

— Ilhan Omar (@IlhanMN) January 3, 2020
A video has also resurfaced in which Trump says he thinks Obama will start a war with Iran to get re-elected, which Trump calls "pathetic."
Have you ever noticed how people who make up bullsh*t about other people are often just accusing them of doing something they themselves would actually do? In other words, it looks like Trump's mind is the one that came up with the idea of starting a war with Iran to get re-elected, not Obama's, and now that Trump is seeking re-election, he's putting that f*cked up idea to work. Nothing like starting a literal war in order to protect your ego.
So, how is this all going for Trump as of now? Not well, betch! After the news broke online, people immediately started criticizing Trump's seemingly spontaneous decision. Of course, some people stand with him, and he himself defended his decision at first as a way to stop a war, not start one.
If Trump wants to destroy Iran he should just become their president.

— Irishrygirl (@irishrygirl) January 6, 2020
Anyway, I wonder if there will ever be a time where Trump's weird obsession with Obama won't lead to him doing dumb sh*t, like running for president, gutting healthcare, and starting a war with Iran? Probs not!
Want to keep up with the news without crying into your sad desk salad? Subscribe to the Betches Sup newsletter for a lunchtime briefing to make you laugh, instead of cry, about the news.
Images: Twitter (2)
All The Tea Michelle Obama Spills In Her New Memoir
Get the book club ready because Michelle Obama's new book is coming out, and she's spilling all the tea. "Becoming Michelle Obama" covers Michelle's life from childhood to White House. It details her struggles with pregnancy, her thoughts on the 2016 Presidential Election, and even some personal quarrels Trump (he once addressed her lack of smiling during a meeting—the audacity). This book is already Oprah's obsession, so obviously it's ours too. Michelle even treated us to a few spoilers before the book launches on Tuesday. Just another reason to love her.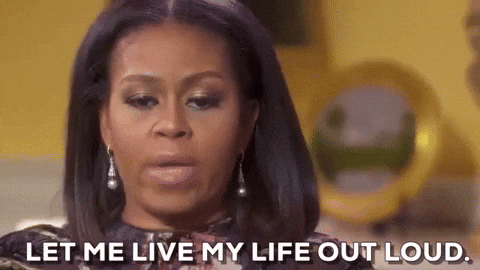 1. Why She'll "Never Forgive" Trump
You better know Michelle isn't holding back. She openly criticizes Trump for making a false claim that Barack was not a U.S. citizen. The birther rumor originated as a way to disqualify Obama from being a presidential candidate (and it didn't work soooo…), but the thing that really disturbed Michelle was Trump's disregard for her family's safety. She says the birther conspiracy was designed specifically to rile up "wingnuts and kooks" (go off, queen!) and that it put her family in danger. Considering the Obamas low-key received a bomb in the mail like, two weeks ago, this seems like an accurate assessment.
2. Why She Didn't Smile At The Inauguration
Michelle even admits that she legit won't even smile in Trump's presence, saying she "stopped even trying to smile" at Trump's inauguration. She says, "Someone from Barack's administration might have said that the optics were bad, that what the public saw didn't reflect the president's reality or ideals, but in this case maybe it did." I aspire to be this level of petty. Got to love seeing her stick by her man and not take any sh*t from America's number one bully. Looking les mis at VIP events may not be the best look for everyone, but not everyone is Michelle Obama. Besides, if we were that close to Trump we'd have one hell of an RBF t00.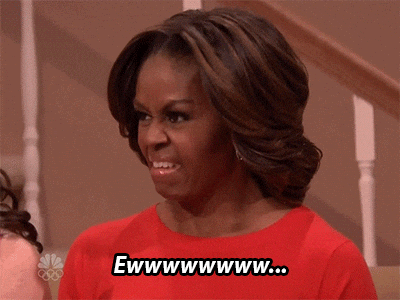 3. Her Fertility Journey
While Michelle has plenty of White House related tales, this book covers more than just her life as First Lady. This is the first time Michelle has opened up about her fertility struggles. As per usual, badass Michelle took it this on "like a mission" and went through IVF to have their two daughters. Obvs we know she's driven AF and can legit do anything, but hearing even a queen such as herself has had trouble with fertility is not only relatable but super reassuring for tons of women who have struggled or are currently struggling with fertility (like her BFF Beyoncé).
4. Her Childhood In Chicago
Michelle also details other personal experiences throughout the book. She talks about how her childhood influenced who she is today (so basically how to raise a badass 101). As well as sharing her struggle of being a woman of color and minority at an Ivy League school.
5. She's Not Running For President
Unfortunately, the book doesn't mention anything about a Michelle 2020 campaign (we can dream though). However, she does talk about her shock that women didn't turn out for Hilary in 2016. She wrote, "I will always wonder about what led so many, women in particular, to reject an exceptionally qualified female candidate and instead choose a misogynist as their president." Okay, same.

Hopefully, this recent election's flood of female candidates restored Michelle's faith in humanity. Michelle has been and will continue to be an important figure in shaping our nation's politics (probably only from the outside, ugh) for years to come. Finally, the world gets to learn how Michelle became the strong, intelligent, and vivacious woman that basically everyone loves. This book is sure to take the world by storm, so pre-order your copy while you still can.
Images: Giphy (3)
Heads up, you need to keep up with the news. It's not cute anymore. That's why we've created a 5x weekly newsletter called The 'Sup that will explain all the news of the week in a hilarious af way. Because if we weren't laughing, we'd be crying. Sign up for The 'Sup now!
Our Favorite Celebrity Tributes For The 10 Year Anniversary Of Obama's Election
It's hard to remember, but there was a time when American politics was not a pit of complete despair. There was a time when it seemed like things were moving in the right direction. When the newly elected President of the United States had a background in politics and not reality television. A time when important international policy decisions weren't announce via Game of Thrones meme on Twitter. A time when America's motto was "Yes We Can" and not "Omfg Look What We Did." I'm talking, of course, about the 2008 election of Barack Obama, which was a casual 10 years ago as of yesterday. Yeah. Let that sink in.
Obviously, our favorite celebs joined in to celebrate/cry over this momentous occasion. Here were our fav reactions:
Ava DuVernay
To be hopeless is to disregard history. Stay hope-filled. #10YearsAgoToday pic.twitter.com/71Bp2EiVvJ

— Ava DuVernay (@ava) November 5, 2018
Pete Souza
Kal Pen
10 years ago today, while volunteering for @BarackObama, Republican students at the University of Florida threw rocks at us to intimidate us from taking young voters to the polls. We didn't stop.
We voted. Obama won. That was 10 years ago today.
Vote on Tuesday. Win it back. ????????

— Kal Penn (@kalpenn) November 4, 2018
Common
On this day 10 years ago, we elected Barack Obama as the President of the United States! pic.twitter.com/OwFMvdY6qO

— COMMON (@common) November 4, 2018
And, of course…
Barack Obama
Want to feel this way after an election again? Might we suggest voting in tomorrow's midterm elections?
Find out all the info you need to vote in the midterms here.
Heads up, you need to keep up with the news. It's not cute anymore. That's why we've created a 5x weekly newsletter called The 'Sup that will explain all the news of the week in a hilarious af way. Because if we weren't laughing, we'd be crying. Sign up for The 'Sup now!
Obama Just Clapped Back At Trump In The Most Savage Way Possible
Incredible news: the reboot of Barack Obama is here and it's much better than the reboot of Full House. In case I have made you too excited about the state of politics (which is illegal in 2018) with this opening sentence by making you think that Barack Obama is president again, let me clarify. Obama is not president (sad), but he is out on the campaign trail encouraging people to vote and talking sh*t about Trump (amaze). The former president spoke to a crowd in Wisconsin about the lies and corruption coming from the GOP and Trump Administration rn, saying, "In Washington, they have racked up enough indictments to field a football team." Okay, Obama…slay!!!
Obama had another message for the crowd that we here at the Betches Sup fully stan, and it is that Trump is a liar. Obama dropped some truth bombs about how Trump and the GOP are straight up lying about their promises for healthcare, as well as using fear-mongering tactics in order to get votes in this election. Damn Obama, tell us how you really feel.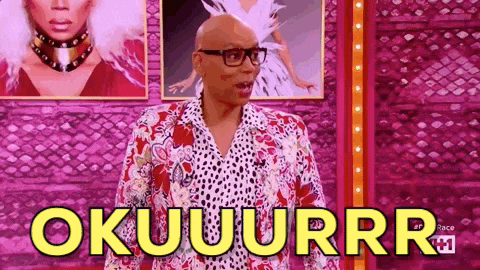 Unlike the current president who is like the Cookie Monster if the Cookie Monster's thing was racism & McDonald's fillet-o-fish sandwiches, Obama also used his rally to inspire the idea of Democrats and Republicans both working to be better for a greater tomorrow.  He said, "There's something at stake in this election that goes beyond party, what is at stake is a politics that is decent and honest and lawful, and tries to do right by people, and that's worthy of this country we love. Because it shouldn't be Democratic or Republican to say we don't just make stuff up. It shouldn't be Democratic or Republican to say you don't punish political opponents or threaten the freedom of the press just because you don't like what they say or write about you."
Obama: "The president said he'd pass a middle-class tax cut before the next election. Congress isn't even in session. He just makes it up … That is not spin … That's lying." (via CBS) pic.twitter.com/6Q57AZSxVG

— Kyle Griffin (@kylegriffin1) October 26, 2018
Hearing Obama speak eloquently at a rally after having to endure so many of Trump's speeches at his racist pep-rallies is so refreshing. It's honestly makes me feel kind of…what's that word…I haven't used it in so long and thought it was gone forever because it means something positive…hopeful! It makes me feel hopeful. Casual reminder that midterm election is NEXT TUESDAY, November 6th, and we must get out there and vote and make Barack "Zaddy" Obama proud. As he said, "This one, it really is that important, the stakes really are that high, the consequences of anybody sitting out are high. America is at a crossroads right now." And if I'm doing the math correctly, crossroads is the name of a film starring Britney Spears, Britney Spears is everything, everything that goes around comes around, and that essentially means the Democrats will take back the House. Yup, that math checks out. See you at the polls!

Heads up, you need to keep up with the news. It's not cute anymore. That's why we've created a 5x weekly newsletter called The 'Sup that will explain all the news of the week in a hilarious af way. Because if we weren't laughing, we'd be crying. Sign up for The 'Sup now!
Updated: Here Are All The Democrats Who've Received "Suspicious Packages" So Far
All hail the Secret Service. On Wednesday, they intercepted explosive devices sent to Barack Obama and Hillary Clinton. In case that news wasn't sh*tty enough, both CNN's New York office and the office of Florida Congresswoman Debbie Wasserman Schultz also received suspicious packages, and had to evacuate. This act of domestic terrorism was aimed at many of President Donald Trump's favorite targets.
A law enforcement official told the New York Times that Wednesday's explosive devices bore similarities to the pipe bomb found in Democratic donor George Soros's mailbox on Monday. Thankfully, none of these devices have physically harmed anyone.
So hmm, what do all of these targeted people and companies have in common? Could it be that the president of the United States habitually demonizes them, stoking the flames of hatred towards them because it serves his agenda and helps him consolidate his power? Just a thought. Meanwhile, the Secret Service confirmed that reports of a bomb being sent to the White House were incorrect, because of course.
CLARIFICATION: At this time the Secret Service has intercepted TWO suspicious packages – one in NY and one in D.C. Reports of a third intercepted package addressed to the WH are incorrect. We refer media to our statement: https://t.co/lJdTn04KmI

— U.S. Secret Service (@SecretService) October 24, 2018
Law enforcement agencies are currently investigating the attacks, and hopefully will bring whatever f*cked up person did this to justice. In the meantime, White House spokeswoman Sarah Sanders said, in a statement, "These terrorizing acts are despicable, and anyone responsible will be held accountable to the fullest extent of the law."
Cool words, Sarah. But the real way to show condemn these explosive devices is to stop smearing the people who received them. And maybe, while they're at it, all those in the White House professing outrage could take away Trump's access to Twitter?
UPDATE 10/24/18: A string of prominent Democrats have continued to receive suspicious packages today, including New York Governor Andrew Cuomo, Rep. Maxine Waters, and former Attorney General Eric Holder. Sen. Kamala Harris' San Diego offices were also evacuated, but that turned out to be a false alarm.
Many of the nation's top Republicans have come out to publicly condemn what appears to be an attempted domistic terrorist attack. Maybe this will make Washington see past their differences and come together as human beings? (Probs not but still…)
We condemn the attempted attacks against fmr Pres Obama, the Clintons, @CNN & others. These cowardly actions are despicable & have no place in this Country. Grateful for swift response of @SecretService, @FBI & local law enforcement. Those responsible will be brought to justice.

— Vice President Mike Pence (@VP) October 24, 2018
Following explosive devices sent to CNN's Columbus Circle offices, Hillary Clinton's home and Barack Obama's office, @senatemajldr issued a statement condemning the attempted acts of domestic terrorism. pic.twitter.com/whtTIzxmSG

— Annie Andersen (@Annie_Andersen) October 24, 2018
I agree wholeheartedly! https://t.co/ndzu0A30vU

— Donald J. Trump (@realDonaldTrump) October 24, 2018
Those behind such reprehensible acts must be brought to justice. We cannot tolerate any attempt to terrorize public figures. I am grateful to the @SecretService, Capitol Police, and all law enforcement who guard against these threats. https://t.co/HUQQxynU9h

— Paul Ryan (@SpeakerRyan) October 24, 2018
UPDATE 10/25/18: There are new reports of suspicious packages sent to former VP Joe Biden in Delaware and Robert De Niro (random) in New York. This brings the total number of suspicious packages to 10, which is frankly 10 too many suspicious packages.
The President first addressed the packages at a White House event yesterday. You can watch his full remarks here:
Then he addressed them again at a rally last night in Wisconsin, where he blamed the the media for stoking fears and division:
No mention of the fact that he literally praised someone for body slamming a reporter like, a week ago tho…
Update 10/25/18 10:30am: Additional suspicious packages were found sent to Senator Cory Booker and to former Director of National Intelligence James Clapper, bringing the total suspicious package count to 12. Now the FBI is reportedly focusing on a mail distribution center in Opa-Locka Florida in connection to the packages. It is believed that several of the packages went through that processing center soooo yeah that seems like a pretty good clue.
Update 10/25/18: 11:20am: Federal authorities have arrested a man in connection to the suspicious packages. That's literally all we know. You can follow live developments on this story on CNN here.
Heads up, you need to keep up with the news. It's not cute anymore. That's why we've created a 5x weekly newsletter called The 'Sup that will explain all the news of the week in a hilarious af way. Because if we weren't laughing, we'd be crying. Sign up for The 'Sup now!
The Official Michelle Obama Arm Workout
In case you were unaware, today is a very special day in our nation's history. January 17th marks the birth of our most fashionable, intelligent, badass, strong, beautiful queen First Lady, Michelle LaVaughn Robinson Obama. Mrs. O turns 54 today, which is absurd considering she looked like a MF SNACK at the beach just last weekend.
So to celebrate the day the gods built such a magnificent creature, here's a very real, sensible, and well-researched arm workout inspired by the very biceps that single-handedly lifted generations of women up to strive for their full potential, go out and change the world, and feel confident buying strapless dresses again.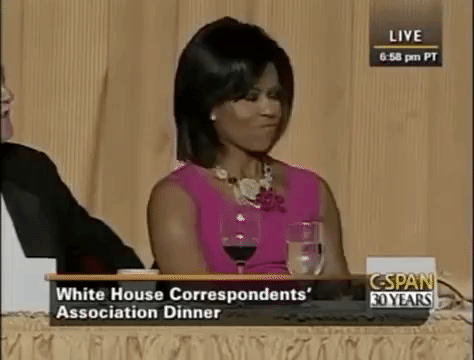 The "When They Go Low, We Go High"
This first move gets its name from the most inspirational sentence you've ever heard in your GD life, and everyone's eternal mantra when it comes to dealing with me petty people.

How to do it: Start with your arms low, and flick your wrists as you bring your arms above your head. Make sure to include as much sass as possible in your coordinated hip bump. Throw in a Backstreet Boys finger point for good measure.
Reps: Repeat until you feel the burning fire of feminist strength coursing through your veins.
The "Veggie Garden"
This one time, I saw Michelle growing her own vegetables, so I started growing my own vegetables. Grool.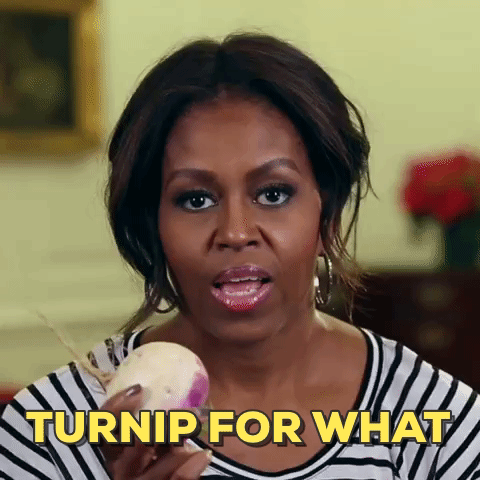 How to do it: Use a yanking motion and pull some carrots out of the ground to add to the kale salad you're lying about enjoying because it's January and you're still pretending you'll stick to that "healthy eating" resolution. Imagine you're kneeling in the dirt with M.O., exchanging gossip and compliments on each other's chic sun hats.
Reps: Stop when you remember there are worms and bugs in dirt and immediately hit the showers.
The "Bye Felicia"
Tell 'em boy, bye.

How to do it: Toss a wave at anyone who tries to imply you weren't the best First Lady America's ever seen. Make sure to include a healthy dose of shade into each finger wiggle to strengthen the hand muscles.
Reps: Repeat every time Melania walks by.
The "I'm Friends With Beyoncé"
Remember when Michelle recreated Bey's "Formation" look for her birthday last year? Brilliant. Incredible. Amaze. Show-stopping. Spectacular. Never-the-same. Totally unique. Completely not ever been done before. I-CON-IC.

How to do it: Have you been living under a dumb rock? Everyone knows how to do the "Single Ladies" dance.
Reps: Repeat until he puts a ring on it.
The "Get It, Girl"
If one thing is true about the Obama family, it's that they have the best taste in music.

How to do it: Go back in time and attend one of the Obama-era White House concerts which featured lineups that put Coachella to shame – I mean, Kendrick Lamar, John Legend, Janelle Monae, and Chance the Rapper have all performed there, just to name a few. Purse your lips, do a little steering wheel move to keep the shoulders loose, and get your groove on.
Reps: Put your thing down, flip it, and reverse it. Repeat 8x to represent the eight glorious years we spent with FLOTUS.
The "Role Model"
Adopt me. Or if you can't do that, at least teach me how to be like you when I grow up.

How to do it: Literally and figuratively lift up every little girl who says she wants to be just like you when she's older. Use caution: Millennials may be stronger than they appear.
Reps: Never stop. Your inspiration means the world to us.
The "Perfect Marriage"
When you look up #CoupleGoals in the dictionary, you get a picture of Barack and Michelle.

How to do it: Use all of your remaining arm strength to hug Barack as tight as you can. Marvel at the fact that you get to call him your husband. Make everyone else jealous.
Reps: Do not let go until you convince him that he should look for a loophole in the Constitution that lets him serve indefinite terms. Reclaim the White House. Save us all. Don't forget to bring Biden.
HBD Michelle. You rock, don't ever change.
Heads up, you need to keep up with the news. It's not cute anymore. That's why we've created a 5x weekly newsletter called The 'Sup that will explain all the news of the week in a hilarious af way. Because if we weren't laughing, we'd be crying. Sign up for The 'Sup now!