The Most Festive NYC Bars To Drink At This Holiday Season
I've lived in this city for so long that truly nothing phases me anymore, and that's a personal achievement of which I'm very proud. However, there is one exception to my inability to experience awe, and that is when Gingerbread Lane comes to town, when Bloomingdale's is decked in twinkly lights and, of course, when drinking spiked eggnog and hot chocolate is not only acceptable, but encouraged. I'm talking about the most wonderful time of the year, people! The motherf*ckin' holidays! Am I getting too excited? Whatever. One more thing this New Yorker loves about the holidays in this godforsaken city is the festive decor that takes over my favorite watering holes, hotels, and restaurants. If you, too, have no shame in your game and want to sip spiked eggnog under mistletoe, but don't know where to go, I got you. These are the most festive holiday spots that you don't already know about.

This is the type of place I usually avoid because lots of people and staying out past 10pm aren't really my vibe, but I think I may just move in here between the months of December and March for the holiday themed pop-up. The Lobby Bar will be transforming into what the Dream is calling The Winter Rose Garden and what I call What Dreams Are Made Of. This particular pop-up is exciting because it's the downtown hotel's first foray into holiday festivities, and rest assured, they're pulling out all the damn stops. I'm talking oversized rose walls (made with 15,000 red roses), red furniture, and more candles than Anthropologie. And obviously, they have a special menu of holiday-inspired cocktails. The Primrose Cider is my personal fave because it's made with classics like sparkling rosé, Barking Irons Applejack, cinnamon syrup, lemon juice, and a rose ice cube. I mean, yum?

This is the only place in Midtown I'll go without complaining about all the finance bros Juuling everywhere I look. For this holiday pop-up, which they're calling Midwinter Nights' Dream, they are seriously going all out, and I'm not mad about it. As much as I love holiday-themed alcohol, the actual reason I love this time of year is because of the genuinely cheerful atmosphere, and this place understands that. Obviously, they're doing the red and gold ribbons, the hanging lights, and the gorgeous garland, but most importantly, they're having a tunnel of light, because if you go to a holiday pop-up and didn't post an Instagram of it, did you even go? As for the holiday menu, def opt for a Peppermint Mojito, which is a normal mojito, but served in an ornament! Is that festive af or what?

If you don't remember from my last article where Magic Hour got a mention re: where to drink enormous drinks, let me just say that I love this place. For the holidays this year, it will turn into what I can only imagine is Nicki Minaj's wet dream. It's called Pink Holiday Playground and will boast ceilings covered in hot pink twinkly lights, oversized disco balls, and human-sized festive bears. Oh, and there's also a carousel, because why not? Not that it's a competition, but Magic Hour is playing to win and they got my vote. Also, my general policy at bars is to not eat the food, but I'll make an exception for the Pink Dough Pie, which is not only meant for 12 people, but it's also a delish boozy apple cider doughnut-pie hybrid (sold) filled with Honeycrisp apples and drizzled with a maple bourbon glaze, topped with pink sprinkles and pink chocolate balls. My love language is officially sweet pizza that will get me drunk. How do people even come up with this stuff? 

Though technically neither a bar nor a restaurant, Club Wyndham earned its spot on this list because it is committed to spreading holiday cheer, like, for real. Don't believe me? Check out the aggressively Instagrammable holiday suite inspired by, you guessed it, Buddy the f*ckin' Elf. By the way, that movie was released in 2003, so if you don't already feel old af, how about now? Just from looking at the photos of this suite, I can say with confidence that there were no cotton-headed ninny-muggins on this hotel's design team, and that I am blown away. Because you are absolutely playing yourself if you think you aren't already dead-set on booking this suite, I'll let you know what's included, starting with the full kitchen that's stocked with the ingredients to recreate Buddy's famous spaghetti and syrup dish. Honestly, I don't really know if that's a selling point, but I do love a hotel suite with a full kitchen. My personal favorite element of this suite, though, is the enormous living room that's fully decked out in holiday garb (including an oversized Christmas tree). If that's not festive, tell me what is. I'll wait.

I am a Manhattan snob and generally don't acknowledge the other boroughs, but Sunday in Brooklyn is the one exception. Running through the end of December, this beautiful restaurant that makes a case for minimalist design is doing SNOWday in Brooklyn. Yes, their holiday pop-up has arrived and I'm already on the L. I'll get to the menu in a minute, but first I want to talk about the vibe of the place during this magical time. Some of these pop-ups go a little overboard (do a bar crawl one weekend and lmk which ones you think those are), but Sunday in Brooklyn is classy af. It's how I imagine Aidan and Carrie would decorate his Suffern house for the holidays if they had stayed together. The place generally has kind of a rustic feel, but with the garlands hanging from the wooden beams on the ceiling and the wreaths in every window, it's hard to stay away. I ordered the Scroogin' For A Bruisin' because I love a good Grease reference, but also because it's delicious with scotch, baijiu, China-China Amer, pineapple, cinnamon, sesame oil, and brown rice. Those last two ingredients threw me too, but they're only there to give the drink a little bit of texture, not to give it a salad dressing flavor. 

Before this past Sunday, the only time I've ever been to The NoMad Bar was on a horrible date that ended with him telling me how much he misses his ex girlfriend. Awesome. Anyway, after hearing about this place's new Holiday Spectacular cocktail popup, I decided to start positively associating it with two things I love: Christmas and alcohol. Honestly, they didn't have to do much beyond the bar's typical decor because it's already pretty festive in a very chic way. Dark leather tufted booths, glossy wooden tables, the kind of lighting that only seems to exist in Woody Allen movies…etc. The one thing they're doing differently for their Holiday Spectacular is the charming cocktail menu that's separated by Naughty and Nice cocktails. Lol. I had one from each column and let my reaction determine which I am and, to everyone's surprise, I'm nice! The Winter Wonderland, which is a milky punch—that tastes like pumpkin pie in cocktail form—is served in a snow globe. I can't resist a snow globe. This is also a fun bar to hit up because the NoMad Hotel is a cool place to walk around afterwards, especially when you're a little tipsy.
Images: Winter Rose photo by Edward Menashy; Midwinter Nights' Dream photo Courtesy of Michael Kleinberg; Magic Hour photo by Sarah Kelley; Club Wyndham photo courtesy of Club Wyndham; Sunday in Brooklyn photo by Eric Medsker; The NoMad Bar photo courtesy of The NoMad Bar
The NYC Restaurants You Have To Take Your Friends From Out Of Town
So your friends are in town for the weekend and their knowledge of New York is more limited than the Birthday Edition Kylie Lip Kit. I mean, you can't blame these poor non-New Yorker souls. For whatever terrible reason, they decided not to follow the rest of the post-grad world to New York after college and now they're just SO confused by the city. (It's on a grid system, you simple bitch!) You want to give your guests the best New York experience while taking them to places that are trendy but also amazing—and for the record, that doesn't include the goddamn cookie DŌ line. Here's where you need to go out to eat.
1. Emily West Village
Emily recently opened its West Village location after swarms of hipsters went crazy for its sister restaurant, Emmy Squared. While Emmy quickly became the pizza mecca of Brooklyn (debatably second place after Roberta's, but no one has the time for that line), Emily totally kills the pizza game too. The reason we love this location is because it's SO much more than good pizza. The vibes are fun for a night out, and they also serve burgers and side dishes that will make you forget how many man buns are present at the table next to you. It's basically very good food in a very cool atmosphere. You can't not love it.
2. Cafeteria
Cafeteria is probably our favorite Chelsea spot, and we like that it's close enough to Meatpacking so that you can get drinks before or after dinner without having to get on the subway (ew) or get in a cab. Cafeteria has those NY late-night diner vibes with a chic twist, and the tables outside are amazing for judging people watching. They also have a downstairs area that seats more people per table, which is helpful if you're with a big group. FYI, the truffle fries are crack. Don't say we didn't warn you.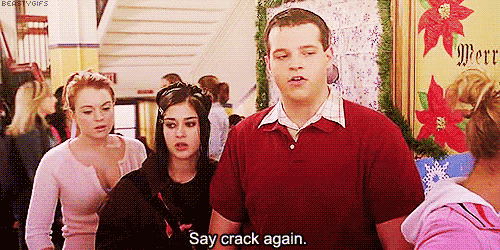 3. La Esquina Brasserie
If your visitors love Mexican food but the thought of a Saturday night at Dos Caminos makes you cringe (good girl), take them to La Esquina in Nolita. The location itself is a ton of fun, and the food and cocktails are amazing. The vibe is a bit more Latin American than your typical tacos and margaritas place, so if you're into trying unique combos, you'll love this place. Even if you're not, just go. Like, does anyone have anything bad to say about tequila and guac? Seriously, let me know because I'll unfriend.
4. Lure Fishbar
Lure Fishbar is one of those places that has been around for over a decade, but it's always a good time. It's also managed to remain a New York staple without being cliché or overdone, like Levain Bakery or Serafina's. Lure is obviously a more expensive dinner, so make sure you're with the right crowd that wants to drop over $40 on slow baked Halibut. Or just wait until your parents visit and want to take you out for dinner. Seriously though, if you're looking for good seafood and a fun bar scene, Lure is a great place to go. You basically feel like you're dining on a yacht when you're really like, 20 feet from Brandy Melville's Soho location. It's magical.

5. Atla
Atla opened pretty recently, and we're pretty sure the line to get inside is filled with people who don't have day jobs or are just scouting the area in the hopes that Gigi Hadid will come out of her across-the-street apartment building. I mean, every table has a pair of sunglasses on it, and we're starting to think it's just an accessory to have in the background of the goat cheese toast Instagram. Either way, Atla serves casual, Mexican-American style food made by the chef who owns Cosme, aka where the Obamas eat on vacation. It's super cute and it's worth checking out.
6. by CHLOE.
If you have visitors who are vegan or vegetarian, you'll need an option that will make you forget the fact that you're eating $16 sponges tofu on a Thursday night. By CHLOE. kills the veggie game without killing any animals in the process. The burgers are too good to actually be healthy, and the kale caesar salad will literally change your life. Try to go during off-peak hours to avoid a line of Postmates guys and NYU students wearing chokers. They have a few locations around the city now, but the Flatiron location prob has the most seating if you're with a few people and don't want to squeeze at the community table with randoms. I'd rather stay home.

7. Minnie's on Clinton
Minnie's is one of those Lower East Side restaurants that's too cool to have an actual defined cuisine, but that's why we love it. Whether you're with people who are into extreme comfort food or just want some light sides, Minnie's has all of that, and they do it really well. The brick wall atmosphere is super intimate and cute, and you definitely don't have to worry about being underdressed. It's basically low-key dining done right.
8. SushiSamba
Out of towners love to complain that New York sushi isn't as good as *fill in the random-state blank." While we're not sure where this kind of hate is coming from, we're down to challenge it. SushiSamba serves amazing sushi and it's unlike any other place your guests have ever been (unless they've been to the Miami location.) SushiSamba's food is actually a Japanese-Brazilian-Peruvian fusion, so the rolls are unique and really cool. If you've never considered fresh mozzarella on your crispy rice roll, it's time to rethink your sushi palette. Not judging though. You're not from here.