6 Moves To Tone Your Legs And Butt For Shorts Season
After a god-awful winter and no spring season whatsoever, summer has arrived, and it literally has no chill. We totally skipped over denim jacket weather and basically went straight to face-directly-in-the-AC-vent weather, so it's time to dress accordingly. If you're putting on your shorts for the first time in a year and notice your legs could use some much-needed toning and tightening, don't panic. Do these six leg exercises, and once you're done, repeat the whole circuit another three times to really tone and strengthen your legs. And also, like, try not to cry when you sit down tomorrow. Consider yourself warned.  
1. Curtsey Lunges
Regular squats and lunges can get boring and repetitive, so trying out different leg exercises and variations help target your muscles in a different way. Curtsey lunges are great because they hit various muscle groups in your quads and glutes, and they also challenge your body's overall balance and stability. They're v underrated. The idea here is to lunge backwards like you would regularly, but instead of bringing your knee directly behind you, bring it in a diagonal direction, crossing behind your other leg. Like a curtsey, get it?? Bend your knees and lower your hips until your thigh is parallel to the floor. Then, return to standing position and do the same on the other leg. Complete 10 reps per leg, and if you feel like it's too easy, hold a weight in each hand to add resistance.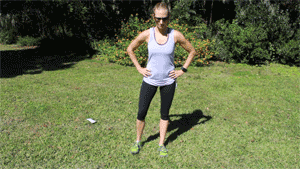 2. Swiss Ball Hamstring Curls
This exercise is based on using a swiss ball, but if your gym doesn't have one, this can also work using TRX bands or the rowing machine. Begin on the floor by lying on your back with your feet up on top of the ball. You want your ankles to be on top of the ball when your legs are fully extended. Raise your hips off the ground, keeping your weight in your shoulders and your feet. Then, flex your knees, pulling the ball inward toward your body while squeezing the backs of your legs. Once the ball is "curled" inward, straighten out your legs again, rolling it outwards. Aim for 15 reps.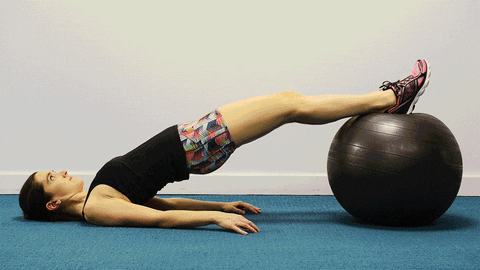 3. Single Leg Glute Bridges
Glute bridges are a classic butt exercise, but by focusing on one leg at a time, you also hit your hamstrings, which are the muscles that make up the backs of your legs. You're basically getting the best of both worlds because you're working your thighs and butt in one simple move. Lucky you. Lying on a mat, keep your hands at your sides and your knees bent out in front of you. Then, extend one leg as you lift your butt off the ground, squeezing your glutes and lifting your hips toward the ceiling. Think about pushing down with your left heel as you lift. Do 10 reps on one leg and then switch to the other.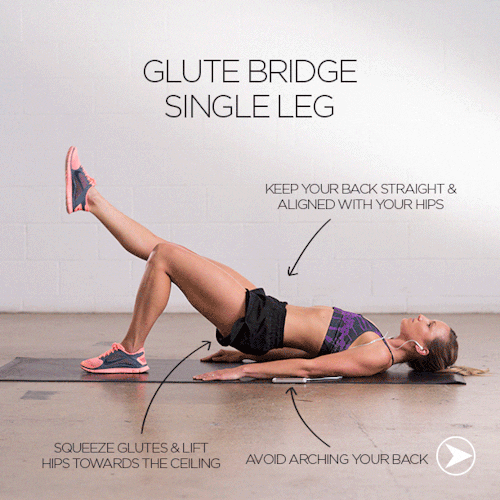 4. Jumping Sumo Squats
We tend to do a lot of squats and jump squats in our leg workouts, but the sumo squat is a different variation that a lot of people ignore. The idea here is to do a jump squat, but your stance is more like that of a ballerina, with your toes turned outward and your legs further apart than they'd usually be. This way, when you squat down, the resistance shifts from your quads to your glutes, and it becomes more of a butt-focused movement. You're also getting your heart rate up and burning calories because like, you're jumping. Duh. Try doing 15-20 jumps without stopping.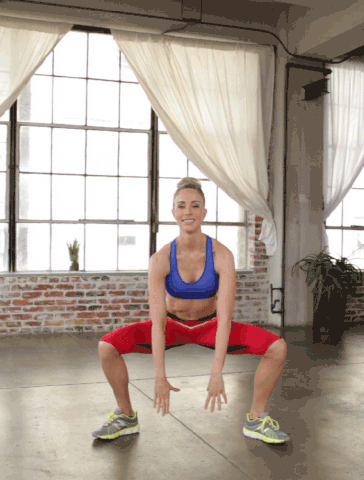 5. Elevated Reverse Lunges
Reverse lunges are a staple leg movement, and by elevating your front leg, you're adding pressure to that leg's quad muscle, and you REALLY feel the burn on these. The idea here is to find some sort of box or elevated step that you can put your front foot on, and then lunge backwards, bringing the back leg even further down than you would on a regular surface. This way, your quads get more resistance—kinda like when you turn up the torq on a spin bike. Remember to keep your chest up and head straight the whole time to avoid leaning forward. If these are too hard, lose the elevation and just do lunges on the ground. And if they're easy, hold a weight, like the badass chick in this gif.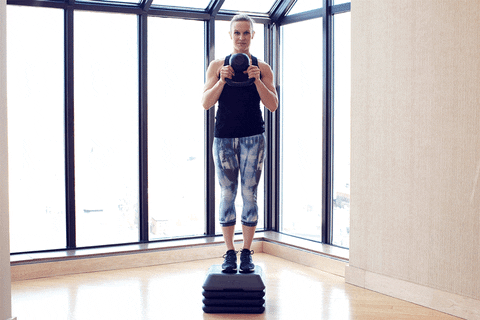 6. Wall Sit
Wall sits look relatively easy, but you might notice after a few seconds that your thighs are on fire and you want to die. This is normal. This move is also great because your body is basically in a squatting position, but your back is protected, so you can really engage all of the muscles in your legs to keep you stable. With your back flat against a wall, set your feet about shoulder-width apart, about two feet out from the wall. Slide your back down the wall, bending your knees as low as you can get. Hold the position for one minute, and remember to contract your abs while you're holding it. Your legs will probably start shaking, but that just means it's working. Just think about how good your legs will look in your new romper.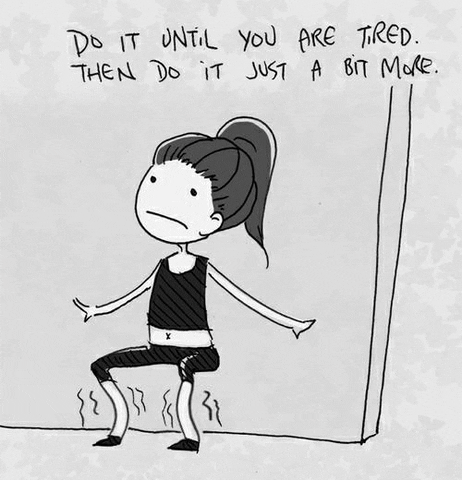 Images: Shutterstock; Giphy (6)
6 Pilates Exercises That Will Tone Your Butt And Abs
I love spending $34 on a workout class as much as the next financially careless millennial, but honestly, you can get just as good of a workout by yourself in the gym or at home if you want to. Pilates classes are amazing because you have the help of a certified instructor, but if you know some of the basic moves, you can do them on your own without a room full of toned women in matching Outdoor Voices leggings. These six Pilates exercises are simple enough to do on your own, and you don't need any fancy equipment to get a good workout. Add these moves into your regular workout routine to switch it up, or do all six together as a total Pilates circuit. Here are the moves for the Pilates bod you've always wanted.
1. Plank Rocks
Plank rocks are exactly what they sound like, but for some reason, they're so much harder than holding a regular plank. The idea here is to start in a high plank position with your shoulders stacked over your wrists and your core engaged. Then, using the tiniest motion from your toes to your shoulders, rock your body back and forth, feeling the burn in your abs the whole time. This is a small, controlled movement, so your body should only be moving a couple inches toward your hands, and then a couple inches back toward your heels. Think about drawing your belly button in toward your spine and keeping your butt low the whole time. Don't cheat yourself.

2. Glute Bridges
This is one of those Pilates exercises that you probably didn't even know was from Pilates. The glute bride is a simple move, but if you're doing it right, you'll feel the burn in your butt and hamstrings pretty quickly. Start lying on your back with your legs hip-width apart, your knees bent, and your feet flat on the floor. You can keep your hands on the floor next to you, or raise them toward the sky to make it harder. Then, keeping your feet on the ground, lift your pelvis off the floor and squeeze your butt at the top, holding for a second before lowering down to the ground. If you're advanced, you can also do this with one leg off the floor to really target each part of your butt separately.

3. The Hundred
This looks like a standard boat pose, but it's actually so much harder because the idea is to pulse your hands, literally, a hundred times. Hence the name. This move is a Pilates staple because it works your abs and tests your stability and endurance at the same time. The Hundred refers to the 100 beats you hold the pose for, but if you're a beginner, start with 50 and we won't tell on you. Start in a boat pose with your tail bone and lower back on the floor and your legs and upper body elevated. Then, keep your arms out toward your sides and pulse up and down, feeling it in your core. FYI: be careful with your head placement on this one. You want to keep your chin slightly tucked, as if you're holding a tennis ball on your chest. Don't start looking up and taking the pressure off of your core.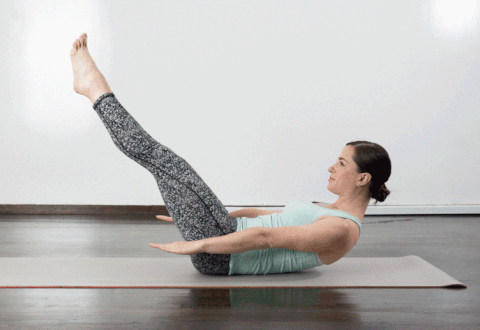 4. Kneeling Leg Lifts
This exercise is literally the reason Pilates instructors have the perkiest butts ever. Well, maybe also genetics and years of experience, but you get the point. It works. Kneeling leg lifts are one of the only lower body moves that are just as effective without any weights, so the key is to think about activating your glutes and squeezing on each rep instead of just kicking around by using momentum. Keeping your weight on your forearms and knees, lift one leg straight up behind you in a 90-degree angle so your heel is facing towards the ceiling. Squeeze your butt cheek at the top each time, and then switch to the other leg after 10 reps. You can also hold for a few seconds at the end or add a pulse.

5. Kneeling Side Leg Twists
The kneeling side leg twist sounds complicated, but you're basically working three muscle groups in one movement: abs, arms, and legs. AKA, it's a winner. Kneel on the right leg with your left leg extended out to the side, and keep your right arm supporting you with your palm on the floor under your right shoulder. Lift your leg and your left arm up to the sky, and then, as you lower your leg back to the mat, thread your left arm under your waist to twist toward the floor. You want to make sure that when you twist your torso, you're essentially crunching your oblique with the help of your arm. After 30 seconds to a minute, switch to the other side.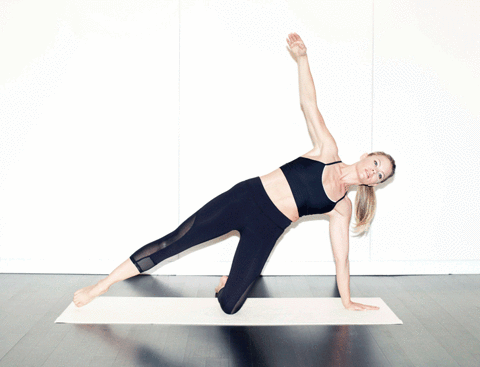 6. The Teaser
IDK why this is called the teaser, but Pilates teachers love it, and it's because it literally annihilates your core. Doesn't sound like a tease to me. Start by lying on the ground with your knees bent and your feet on the floor. Then, reach out your arms and lift your legs off the floor in a 90-degree angle. Lift your upper body off of the floor using your abs, and then straighten out your legs at the top. Think about lifting your head and shoulders up in one movement, trying to create a V-shape with your torso and legs. Then, roll back onto your back and bend your knees again. Aim for 15 reps.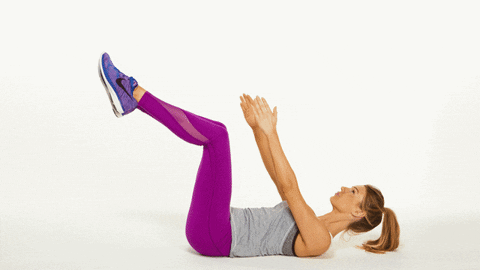 Images: Form, Unsplash (1), Giphy (5), Pinterest (1)
How Workout Classes Trick You Into Thinking You're Burning More Calories
In a bizarre turn of events, we're living in a time when Donald Trump is our president $34 workout classes are normal. Boutique fitness is taking over the workout world, and whether you're a cult follower or just someone who needs a 45-minute sweat before the workday, you've probably been drawn in by a class or two. With so many studios in the market, getting you to book a spot in class is getting competitive, and studios love exaggerating the effects of their workout classes to get you through the door. Here are some ways these workout classes might be tricking you into thinking you're burning more calories than you actually are.
1. The "Fat Burning Zone" Obsession
A lot of fitness studios use new technologies to track your heart rate and count how many calories you burn in each class, and honestly, these numbers aren't always indicative of a good workout, and just because your heart rate isn't in a certain zone, doesn't mean you're not burning calories.. If you're working hard in any class, you'll know when you're getting a sick workout, and you don't need to be told that you're in a specific "fat burning zone" to accomplish that. Trainers have literally come forward and admitted that although you could be burning a few extra calories while your body is in a specific fat-burning zone, it's a waste of mental energy to worry about it, and it doesn't make that big of a difference when it comes to burning fat. If you're particularly into the heart rate monitoring, go for it, but if it's not your thing, it really doesn't matter.


2. The AC Issue
The air conditioning of a studio depends on specific factors, like the building it's in and what the weather is outside, but if you feel a little warm as you're walking into the class, it's probably on purpose. A lot of spin studios and other bootcamp-style classes make the rooms hotter than normal to make sure you start sweating as soon as the class starts, and you end up drenched by the end of the workout. This doesn't mean you're not getting a good workout, but sometimes if you're dripping in sweat, you're tricked into thinking you burned more calories than you actually did. (Unless you signed up for a hot yoga class—obviously.)
3. The Class Right Before You
This goes hand in hand with the AC issue, but honestly it deserves some recognition because it's SO true. Ever notice that you're already kinda hot and sweaty if you walk into a fitness studio right after the previous class just ended? That's because the room is literally warmed up. And it also probably smells disgusting, but let's discuss that another time. While some studios leave 20-30 minutes in between classes for the staff to clean up and air out the room, a lot of busy studios have back-to-back classes without letting the room breathe in between. You end up sweating more and thinking you're burning more calories, but you're not getting a better workout just because you're drenched in sweat. Odds are, you're just doing the same shit in an already sweaty room. Sorry.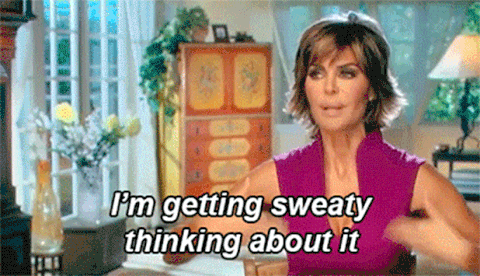 4. The Burnout Effect
In strength training, there is a legit and effective concept called "burnout sets," where you perform a certain exercise repetitively to exhaust the specific muscle. However, group workout classes have taken this idea and used it to make you think you're burning more calories than you might actually be burning. If you've ever spent like, 10 minutes in a barre class doing pulsing squats or felt the burn in your shoulders from the 2-pound weights in spin class, the fire in your muscles is from these burnout-style moves. However, this burning is not always indicative of how effective the workout actually is. You're fatiguing the muscle, but that can be done just as effectively with less reps and heavier weight, so you're just spending more time focusing on the burn. You're literally exhausting your muscles, but that doesn't always mean you're accomplishing more than you would with a regular-timed exercise set.
5. The "Full Body" Trend
This is another fad that workout classes use to draw you in and convince you you're getting some ultimate, total-body sculpting sweaty workout. The "full body" buzzword sounds like you'd be burning a ton of calories, but sometimes targeted workouts that don't work out your entire body can burn just as many calories. It's a marketing strategy, and it's working on you. Full body workouts are great for you, but don't think that if you're just doing an upper-body strength workout that you're not getting as effective of a workout. In fact, sometimes studios just add in moves that target extra body parts to make sure you're super sore the day after, which, once again, isn't always proof that it was a good workout.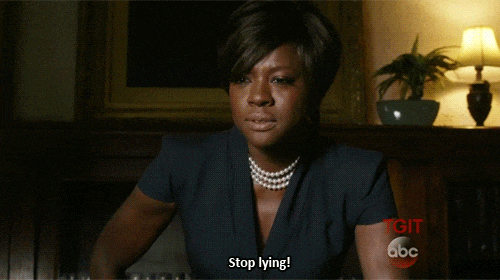 6. The Extra 15-Minute Class
After every Upper East Side mom tried the regular 45-minute classes and still had an extra 15 minutes before the 12pm rush hour at Whole Foods, studios decided to make their classes longer, adding in another 15 minutes to get an even better workout. While these longer classes obviously burn more calories because logically you're working out for a longer amount of time, don't think that these extra few minutes are necessary. HIIT style classes in particular are meant to push you to your limits in a short amount of time, so if you know you're sticking around longer, you might end up pacing yourself (aka not trying as hard the whole time) and burning the same amount of calories that you would have in the shorter class where you'd go all-out from the beginning. Class timing isn't everything, so if you don't want to do burpees to a Meghan Trainor song for another 15 minutes, don't feel guilty about it. We certainly don't.
Images: Martin Barak / Unsplash (1); Giphy (6)
I Did A Class At Mile High Run Club To See If I'd Hate Running Less
I'm down to try any type of workout, but I've never gotten into running. I mean, you'd probably think otherwise if you saw my collection of Nikes, but they're strictly for show. I'll say yes to Pilates, spin, weightlifting, yoga, you name it—but when it comes to going on a simple run around the block, it's a no from me. So, when I heard about Mile High Run Club, where you run on a treadmill next to 20+ other chicks in matching Fitbits, I was like, this probably won't be my thing, but let's give it a try anyway. Here's how it went.
The Class
Mile High offers different types of classes depending on what type of run you're looking for, so I had to decide which one would suit me best. There's a "High 45" where you're running for 45 minutes straight, a "Dirty 30" where you're doing the same thing for 30 minutes, a "Distance" class that sounds like I'd rather die, and finally, a "Dash 28," where you spend 28 minutes running and then about 10 minutes doing some kettlebell work. 28 minutes is, like, one episode of The Office, so that seemed like the obvious option for me. I booked a treadmill at the back of the room, closed my computer, and said a quick prayer.

The Studio
I went to Mile High's Noho location on a Sunday morning, and I immediately noted how cute the studio was. It kind of looks like SoulCycle, but with more purple lighting and less candles. Oh, and lots of treadmills. I think they use the same ones at Barry's Bootcamp, so right away I had a feeling of PTSD as soon as I stepped onto the thing. The instructor, Sam or Scott or something, seemed decently nice and explained how the class would go down. As you'd expect in any $34 boutique fitness class, everyone was wearing the same pair of Lulu's, including me. Oops.
My Experience
Once the class started, I was pretty surprised with myself. Like, not to brag, but I was totally keeping up with the speeds and I even adjusted my treadmill's incline a few numbers higher than the instructor told us. (Honestly, that part was an accident, but whatever.) By the end of our third sprint, I was like, "Wow, that class went by so fast." Then I looked up at the clock and it had only been 12 minutes. Fuck.
The rest of the run went downhill from there, but obviously only metaphorically because the instructor wouldn't give it a rest with these goddamn inclines. It probably wouldn't be hard for you if you run regularly, but I haven't stepped on a treadmill in like, six months, and plus I really had to pee from the giant cold brew I chugged before the class. Rookie mistake.
The one thing about running on a treadmill is that you need to be somewhat distracted the whole time to forget you're running on a treadmill. I have to say, the instructor did a good job with that part. Even though I was nauseous and exhausted the entire time, his playlist was solid and he talked us through the running, giving us cues on form and little bursts of inspiration to keep going. I mean, it wasn't like preachy "give to this workout what you want to give to the universe" bullshit, but it was enough to keep going without falling over.
So, after what seemed like a full day, we were allowed to power off our treadmills and were told to grab a kettlebell for the strength portion of the class. I took one of the heavier kettlebells compared to what other people were taking, but I just wanted to feel good about myself after the shit show that was the running part of Mile High Run Club. I was happy I took the heavy weight, because this part of the class ended up being pretty damn easy. I mean, it was 10 minutes. That's usually how long it takes me to put my hair in a ponytail before the workout. We did some renegade rows, squats, and a couple ab exercises, and then the class was over.

The Takeaway
The bottom line with Mile High is if you're into running, you'll like it. The instructors seem super knowledgeable, and the class is structured really well. I appreciated the pretty locker room and the music choices, so points for that. With that being said, if you already hate running, it might not suddenly make you do a 180. So while I might not be signing up for a marathon anytime soon, there's a good chance you'll love Mile High. You might even make a friend in the locker room that you can run your next half marathon with. Enjoy each other. Call me when you're finished running and want brunch.
Images: Justyn Warner, Unsplash; Giphy (4)
I Tried Tone House, The "Hardest Workout In NYC," And Barely Survived
In a recent article about my experience at a Shock Therapy workout class, I referenced another traumatic fitness experience I willingly put myself through, and some people were curious to hear more. Well, actually only my boss, but whatever. If you clicked on this article, I'm guessing you want to hear about my suffering as well. Tone House had been on my list for a while, and when I finally tried it, I barely made it out alive, so excuse me if this recount of the experience is slightly distressing to talk about. Here's how it went down.

First of all, Tone House is marketed as an "extreme, athletic-based" group fitness class that is supposed to "unleash your inner athlete." Business Insider called it "the hardest workout in New York City." Unfortunately for me, I was picked last in kickball throughout middle school, and that's about the extent of my athletic past. I also think I played tennis on a date once. You get the point. Nonetheless, although I'm not an athlete,  I work out regularly and consider myself in pretty good shape, so I wasn't that worried. I live in New York City and I've tried everything from Barry's to CrossFit to boxing to legit barbell training, so I figured an athletic-style fitness class couldn't be too hard.

So…. I was wrong. As soon as I got to the studio, which basically looks like a dark torture chamber decked out with black grass turf, red lighting, and jacked trainers, I knew I had made a mistake. Within seconds of class starting, shit got real. We started out in a huddle—I shit you not, a *team huddle*—where we made a bunch of aggressive noises, chanted something about "leaving it all on the turf," and angrily high-fived each other. Then, the warm-up began and the hell ensued.
We literally ran around the room at full speed, galloping over hurdles and doing fast burpees in between cones. I thought about slowing down at one point, but considering there are people inches away from you, it wasn't an option. Plus, the instructors are clapping in your face and yelling HUSTLE so you kinda have no other choice. Between the scary red lighting and the 50 burpees within the first five minutes of class, the whole warm-up was a blur. 

Then, we got into the start of the real class, which thankfully included *taking turns* in our torture, so I actually had a minute to check my phone catch my breath in between rounds and try to forget about how nauseous I was. The workout included heavy sled pushes, bear crawls, gallops, more bear crawls, box jumps, more gallops, and this horrible sequence where we had to put our feet on gliders and do push-ups around the entire room while knee-tucking our way around the turf. For the record, I finally understand why bear crawls have that name. These regulars look like actual animals aggressively hunting their prey. I was both impressed and literally frightened. 

At the end of the class, (which was only an hour but felt like a whole day), everyone got back in that goddamn huddle and chanted some shit about teamwork and hustling. I felt like I was cast in a dark Nike commercial by accident. By the time everyone high-fived me like we were on a summer camp color war team together, my hands were literally bleeding from the turf and I couldn't fake a smile if my life depended on it. I must admit, looking back, it was slightly entertaining to see grown men clapping it out in an intimate sweaty circle. But then again, maybe that's just a sports thing. 

But wait, the story doesn't end there. The worst part of the whole thing is that as I walked out, promising myself I'd never go back, some hot blonde instructor in the locker room (who also happens to be Amy Schumer's personal trainer) told me it gets easier the second time. I decided to believe her and I showed up for my second class a couple weeks later. I guess my inner athlete still didn't feel like showing up that time around because it turns out it wasn't easier AT ALL. In fact, I actually feel like I'm gonna vom by just remembering those post-class feelings. Do they call those endorphins?
Images: Justyn Warner / Unsplash; Giphy (5)