A Complete List Of NYC Restaurants With Amazing Outdoor Seating
Thanks to the spontaneous but confusing betch known as Global Warming, the weather in NYC hasn't totally switched over to fall yet, and our fave leather jackets are still patiently waiting in the closet. Most days, the weather is still in the 70s, and that constitutes outdoor seating weather in our book. I mean, if we can't use the Bryant Park skating rink as a profile pic backdrop yet, we might as well make the most of this weird, barely-sweater-weather time of the year. If you're looking to get your last dose of outdoor dining and bomb Instagram lighting, here are the trendiest places to eat outdoors in New York right now:
1. Aurora
It takes a lot for us to make the trek to Brooklyn these days, but if you're sick of your regular Manhattan spots, Aurora is worth the trip. It's in Williamsburg, so you can expect to see a ton of man buns and recyclable totes, but don't let that distract you from the restaurant's amazing food and chill vibe. The outdoor patio is filled with walls of green ivy, and the food itself is almost too pretty to eat. The menu is basically filled with trendy Italian food, so don't expect avocado toast. Bring friends and share the pasta. Nothing like complex carbs and a good backdrop.

2. Narcissa
Narcissa is one of those places that is perfect for people with a real appetite, or for models that just need a side of Brussels sprouts post-show. And we're not just saying that because Karlie Kloss has been spotted here multiple times. Narcissa is trendy and delish, but make sure you sit outside, because the seating is half the experience. People complain that you're "paying for the atmosphere," but IDK when that became such a bad thing. The restaurant is kinda hidden inside The Standard East Village, but once you find it, make a reservation and sit outside.
3. Cookshop
We usually don't venture to 10th avenue unless it's 2am and we have a table at Marquee, but Cookshop is one of the better restaurants in Chelsea right now, and the outdoor seating area is everything. Cookshop is perfect for big groups and boozy brunch, so you can enjoy your fourth Bloody Mary while sitting under the restaurant's photogenic green awnings. They also offer specialty baked goods everyday, so you'll basically HAVE to order the croissant of the day, or you're majorly missing out. That would just be a shame.

4. The Pavilion
The Pavilion is one of those restaurants that makes you briefly forget how tragic Union Square really is. It's set in the middle of the park, and it's only open in the summer months, so now is basically the last time to get a reservation until next May. The Pavilion's orange table umbrellas are hard to miss, so if you want to sit outside in Union Square, this is the place to do it. The ambiance is super cute, and it'll make you disregard the fact that people are doing outdoor public Zumba like, 10 feet away.
5. Untitled at The Whitney
Whether you're actually down for modern art or just want the trendy geotag of Untitled, you've gotta sit outdoors at The Whitney at some point in your brunch career. The restaurant itself is amazing, and it's basically the go-to outdoor seating in the Meatpacking District if you want to avoid the basic bitches at Catch on a Sunday. Plus, your Instagram of that Milk & Cookies dessert is literally the artsiest thing in the museum to date. You're so cultured.

6. Santina
Santina is one of those places where you literally forget you're in NYC, because it's so damn pretty. First of all, it's owned by the same team as Carbone, so the food is OBV amazing, and the actual restaurant is this chic, glassed-in space right under the High Line. Plus, they have outdoor seating with pretty lights and umbrellas that are more colorful than your entire wardrobe. Go before it's too cold to appreciate it.
The Best NYC Restaurants To Visit When You're Not Paying
As much as we'd love to act like we can eat at trendy restaurants year-round, sometimes we need our parents' help to support our expensive taste (and obsession with finding Amy Schumer at Carbone). I mean, I spent last month's paycheck on alcohol and Uber, so how do you expect me to eat celeb-status food three nights a week? If your parents are in town, it's your right to milk their visit as hard as you can. This includes putting your debit card in a drawer for the week, finally getting around to getting those Stuart Weitzman boots, and taking them out to the best (and most expensive) restaurants. This also applies to dates where you can tell he's rich. Here's where to go:
1. Babbo
Babbo is Mario Batali's Italian restaurant located in the West Village, so you're basically eating designer ravioli, which makes every calorie completely worth it. I mean, you're not saying no to carbs when the bread bowl is worth more than your rent. Babbo's setting is also adorable, so you basically feel like you're getting drunk off Italian wine in a little yellow house. The menu is amazing, so if you can't decide between the caprese salad and the black spaghetti, just get both. You're not paying, so it doesn't really matter.

2. Sushi Yasuda
There are a ton of exclusive sushi restaurants in the city, but if you're dining with your parents, Sushi Yasuda should be your go-to. First of all, it's not as loud and trendy as Morimoto or Gari, but who wants to be in a loud room with David Guetta blasting in the background when you're out with your parents? Sushi Yasuda is quieter and the lights are actually on, so you can see the single piece of sushi that was imported straight from Japan. The menu is all Omakase and they serve traditional sushi, so don't expect to order a spicy tuna crispy rice roll as a starter. Act like you're above all that shit and you'll fit right in.
3. GATO
Bobby Flay might be the most pretentious guy on the Food Network, but he's honestly kinda hot, so we're down to eat at his restaurant. GATO serves Mediterranean food in a super sleek atmosphere, so you kinda feel like you're in Europe. But then you realize everyone at the table next to you is Snapchatting their meals, so you realize you're back in the great USA. If you're a vegetarian, you might be better off staying home, but if you're down to try cool Mediterranean food, get the lamb pizza and the seared yellowtail. You'll (maybe) start to understand why there's a show about challenging this guy's cooking skills. His food is dope.

4. L'artusi
If you're really down for Italian food but never indulge because you're trying to lose three pounds, you'll love the dishes at L'artusi. It's basically a fancy Italian restaurant with tiny portions, so you can try one piece of every pasta on the menu and not feel guilty. L'artusi is a West Village classic, and it hasn't even become touristy or trendy over the years because only legit New Yorkers know about it. (Until now. Shit.) You'll eat housemade ricotta desserts, order a $600 bottle of wine, and love every second of it. Thanks, mom and dad!
5. Gramercy Tavern
Gramercy Tavern serves American food based on seasonal ingredients, so the menu changes depending on when you're going, which is clutch because you can convince your parents to keep going back. The menu is built on fixed priced options, and tips are included, so you're basically just buying a ticket to a restaurant. Because all their cheese is straight from local farms, they're SUPER into it, so it's probably not the time to stick to your dairy-free diet. I mean, the waiters can literally talk for 20 minutes about their specialized cheeses from specific pastures in the countryside, so you'd be letting them down by not eating it.

6. Boucherie
In case the name didn't give it away, Boucherie is one of the most posh, high-class French bistros in the city. They serve traditional French dishes, so expect steak, butter, and a lot of random words on the menu you can't pronounce. The atmosphere itself is also super French, so try not to speak too loudly or do anything that you would do at like, Joe's Pizza. Basically, get your parents to leave their 2008 Nikon camera at the hotel for the night. Or just get rid of it completely. It's embarrassing.
7. The Palm
The Palm is one of those places where the Filet Mignon doesn't have a price listed on the menu, but you order it anyway because you're at The Palm. Celebs like Kim Kardashian, Jonathan Cheban, and Rita Ora have been spotted here, so you better make a reservation at least two weeks in advance. If you really have money to spend, you can even become a club member, which allows you to try feature cocktails that change every month at the restaurant. The Palm is one of the most exclusive dining experiences in the city, and if your parents are in town for a special occasion, it's worth going just to say you've been.

The NYC Restaurants You Have To Take Your Friends From Out Of Town
So your friends are in town for the weekend and their knowledge of New York is more limited than the Birthday Edition Kylie Lip Kit. I mean, you can't blame these poor non-New Yorker souls. For whatever terrible reason, they decided not to follow the rest of the post-grad world to New York after college and now they're just SO confused by the city. (It's on a grid system, you simple bitch!) You want to give your guests the best New York experience while taking them to places that are trendy but also amazing—and for the record, that doesn't include the goddamn cookie DŌ line. Here's where you need to go out to eat.
1. Emily West Village
Emily recently opened its West Village location after swarms of hipsters went crazy for its sister restaurant, Emmy Squared. While Emmy quickly became the pizza mecca of Brooklyn (debatably second place after Roberta's, but no one has the time for that line), Emily totally kills the pizza game too. The reason we love this location is because it's SO much more than good pizza. The vibes are fun for a night out, and they also serve burgers and side dishes that will make you forget how many man buns are present at the table next to you. It's basically very good food in a very cool atmosphere. You can't not love it.
2. Cafeteria
Cafeteria is probably our favorite Chelsea spot, and we like that it's close enough to Meatpacking so that you can get drinks before or after dinner without having to get on the subway (ew) or get in a cab. Cafeteria has those NY late-night diner vibes with a chic twist, and the tables outside are amazing for judging people watching. They also have a downstairs area that seats more people per table, which is helpful if you're with a big group. FYI, the truffle fries are crack. Don't say we didn't warn you.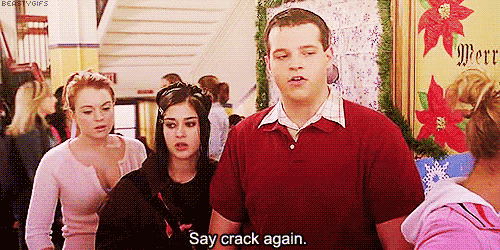 3. La Esquina Brasserie
If your visitors love Mexican food but the thought of a Saturday night at Dos Caminos makes you cringe (good girl), take them to La Esquina in Nolita. The location itself is a ton of fun, and the food and cocktails are amazing. The vibe is a bit more Latin American than your typical tacos and margaritas place, so if you're into trying unique combos, you'll love this place. Even if you're not, just go. Like, does anyone have anything bad to say about tequila and guac? Seriously, let me know because I'll unfriend.
4. Lure Fishbar
Lure Fishbar is one of those places that has been around for over a decade, but it's always a good time. It's also managed to remain a New York staple without being cliché or overdone, like Levain Bakery or Serafina's. Lure is obviously a more expensive dinner, so make sure you're with the right crowd that wants to drop over $40 on slow baked Halibut. Or just wait until your parents visit and want to take you out for dinner. Seriously though, if you're looking for good seafood and a fun bar scene, Lure is a great place to go. You basically feel like you're dining on a yacht when you're really like, 20 feet from Brandy Melville's Soho location. It's magical.

5. Atla
Atla opened pretty recently, and we're pretty sure the line to get inside is filled with people who don't have day jobs or are just scouting the area in the hopes that Gigi Hadid will come out of her across-the-street apartment building. I mean, every table has a pair of sunglasses on it, and we're starting to think it's just an accessory to have in the background of the goat cheese toast Instagram. Either way, Atla serves casual, Mexican-American style food made by the chef who owns Cosme, aka where the Obamas eat on vacation. It's super cute and it's worth checking out.
6. by CHLOE.
If you have visitors who are vegan or vegetarian, you'll need an option that will make you forget the fact that you're eating $16 sponges tofu on a Thursday night. By CHLOE. kills the veggie game without killing any animals in the process. The burgers are too good to actually be healthy, and the kale caesar salad will literally change your life. Try to go during off-peak hours to avoid a line of Postmates guys and NYU students wearing chokers. They have a few locations around the city now, but the Flatiron location prob has the most seating if you're with a few people and don't want to squeeze at the community table with randoms. I'd rather stay home.

7. Minnie's on Clinton
Minnie's is one of those Lower East Side restaurants that's too cool to have an actual defined cuisine, but that's why we love it. Whether you're with people who are into extreme comfort food or just want some light sides, Minnie's has all of that, and they do it really well. The brick wall atmosphere is super intimate and cute, and you definitely don't have to worry about being underdressed. It's basically low-key dining done right.
8. SushiSamba
Out of towners love to complain that New York sushi isn't as good as *fill in the random-state blank." While we're not sure where this kind of hate is coming from, we're down to challenge it. SushiSamba serves amazing sushi and it's unlike any other place your guests have ever been (unless they've been to the Miami location.) SushiSamba's food is actually a Japanese-Brazilian-Peruvian fusion, so the rolls are unique and really cool. If you've never considered fresh mozzarella on your crispy rice roll, it's time to rethink your sushi palette. Not judging though. You're not from here.

8 Overrated NYC Spots You Should Avoid At All Costs This Summer
Whether it's your first summer in New York City or you've been here for like, five years but have never even made it to Brooklyn, everyone wants to check out the most hyped up spots in the city. TBH, most of them aren't worth the train fare. Like, if you've ever waited in a two hour line for a cronut at 7am, you know how much of a letdown it was, even after you got 200 likes on your Instagram. Luckily for you, we know the city pretty well and can tell you where not to waste your time this summer. Here are the most overrated spots in the city:
1. Cookie DŌ
The thought of eating a cup of raw cookie dough sounds unbelievable, but there's a reason you're not supposed to, and it's not because of the Salmonella warnings on the package. It's because it's fucking gross, and so is this place. If you really want to wait in a three hour line with a bunch of NYU kids and food bloggers, be my guest, but I guarantee this cookie dough isn't worth it and you'll get over it after one bite. Waste of time and waste of calories. Do yourself a favor and keep walking.

2. Soho House
As betches, we've had the Soho House membership on our bucket lists since Sex and The City, but honestly, it's overhyped and overcrowded. Having a pool in NYC in the summer is obviously a sick perk, and we have nothing against exclusive memberships, but this one's just overdone. Like, the geotag isn't impressive if you're squished in the pool next to 30 gay guys who are hotter than you doing the exact same photoshoot. Find somewhere else to tan.

3. Smorgasburg
The concept of Smorgasburg would actually be cute if it wasn't totally abused by every white girl in an 80 mile radius from the tristate area. At its best, Smorgasburg is an outdoor food festival on the water. At its worse, it's an overly crowded, nauseating, claustrophobic, terrible excuse to take the L train anywhere except Chelsea. Like, if I wanted to Instagram a photo of me eating fried food, I would frame my Snap Story from last Saturday night. Do something better with your Sunday.

4. Trader Joe's
Sorry to offend anyone who swears by their beloved Trader's cookie butter or those random cookies near checkout that you didn't even want, but Trader Joe's is not worth the crowd or the line (anytime of the year but especially during the summer). Unless you have like, three Xanax on hand and an entire afternoon to kill, I'd skip the Trader's shopping trip. I know it's cheap and everything, but is it really worth it? Someone once said that time is money, and I never really thought that quote would come in handy but this seems like an appropriate time for it. Save your time. Stay away.

5. Poke Bowl Places
Okay, I'm not sure when the poke bowl became its own cuisine or why people started mixing Japanese and Hawaiian foods in the first place—like, isn't it a little too soon?—but these places have taken over the city, and they're just so overrated. First of all, I'm not a health code inspector or anything, but there's no way that raw fish being scooped out of a metal bucket is at all fresh. I mean, the whole bowl idea is kind of cute (I guess), but we'd still rather be ditching the line and getting real sushi instead.

6. Central Park
I know Central Park is a New York landmark and it's beautiful and blah blah blah, but it also low-key sucks. Like, all these randoms are congregating on the grass in their bikinis with no body of water around, and the only view for like five miles is some little league baseball game. Plus, the only food around is a random hot pretzel cart, so you have to literally pack a picnic bag like you're spending the day at the beach or something. It's a hassle and it's not worth it. Oh, and don't even get me started on public restrooms. I'd rather stay indoors all day.

7. Soho/Broadway Shopping Area
Soho has gotten a lot of hype from movies and TV shows, but any New Yorker knows it's not that great for shopping and it's filled with tourists who don't fucking move. Like, Nolita brunch area is super cute and we'll be hitting up Butcher's Daughter regularly, but the Broadway shopping situation sucks. Here's a better plan: order your clothes online, skip the Topshop dressing room line, and spend your summer elsewhere. Solved!

8. Times Square
Just avoid. At all costs. There are literally grown men in Elmo suits and annoying tourists posing with Minions on the red steps—need I say more? Plus, you actually can't even walk around because everyone is so damn slow. Have we said enough?