So, You Ate Too Much—Here's How To Reframe Your Thinking
We've all been there: doing super well with our workout routine, eating super clean and healthy, and then the holidays roll around, and you feel like you ate so much mac n cheese, you could literally die. You had the best of intentions. You told yourself you were going to fill up on salad and green beans and turkey. (Okay, so maybe you were a bit unrealistic). That didn't happen, because food is delicious. If you're like a lot of people, you might be feeling a whole lot of emotions, and probably not a lot of them are positive. I don't need to tell you that beating yourself up over not being perfect is counterproductive… but I'll tell you anyway. Don't worry, I'm here to help.
When all is said and done (and eaten), you probably came to one of two different conclusions, right? One, you say f*ck it, you already messed up, might as well give up. Two, you own up to your sh*t, recover, and get back on track. If you picked one, then we need to switch your whole mindset. How are you ever going to reach your goals (in fitness and life in general) if, for every one mistake you make, you give up and make another four or five? One bad meal or one bad day doesn't have to set you back for a week or more. So take a deep breath, stop beating yourself up, and take a look at my best tips to helping you get back on track.
Instead Of Beating Yourself Up… Forgive Yourself
I already touched on this a little, but first and foremost, realize that you're human and no one on Earth has ever stuck to a diet or lifestyle change perfectly. Diets are not designed for perfect execution, but that's a whole different topic of discussion that I could talk about forever. Bottom line, if you went harder at Thanksgiving than you had initially intended, forgive your mistake and dust yourself off. It's just a speed bump, you didn't crash and burn. You'll be okay.
Instead Of Feeling Regret… Find Appreciation
Instead of focusing on all the negative feelings, focus on the upside. Did you have a great time with your friends and family? Did you enjoy the food? Did you avoid getting into an argument with Uncle Paul by making sure your mouth was full with mashed potatoes at all times? Regret nothing. The more you focus on the negative, the more you'll stress yourself out, which will raise your cortisol levels and cause you to further demonize food. If you follow my school of thought, then you know we don't demonize food—doing so will just make you want more of the "bad" foods you have deemed off-limits, and in the long run, sabotage your own goals and happiness.
Instead Of Doing A Cleanse… Hydrate And Eat Fiber
Okay, so instead of just not eating the next day to counteract the damage, drink a lot of water and make it a point to eat something green and crunchy like a salad (crunchy because of the lettuce, not croutons, sorry) for either lunch or dinner. The water and fiber will help move things along, literally and figuratively. Salad, soups, feel free to add whatever lean protein you want. Avoid processed foods and try to limit your sodium intake, because it will just make you more bloated. But, for the love of God, eat! Don't try to crash diet or deprive yourself of food or go on a juice cleanse—that's setting yourself up for more struggle, disappointment, and bad feelings in the long run.
Instead Of Working Out As Punishment… Do It As Motivation
If you feel so motivated, try to get a workout in. To be clear, this is not a punishment for your mistakes. Don't approach it like that, but approach it like, now that your gas tank is full, you have the resource to go the extra mile. You may find that you are able to lift heavier, run faster and go for more reps and sets. Use the extra fuel as a resource for achieving new fitness goals, but make sure not to over-exercise to the point of injury.
Remember: As long as you don't give up, you'll be okay. Keep the vibe and self-talk positive, because literally, EVERYONE on Earth goes through this. What matters is if you choose to bounce back from these setbacks. The difference between progression and regression not just in fitness, but in life, is realizing you're bigger than your mistakes.
Images: Element 5 Digital / Unsplash; @dietstartstomorrow, thefuckitdiet /Instagram
4 Ways To Get Over A Weight Loss Plateau
A weight loss plateau is beyond frustrating, and the worst part is it's not even really about what you're doing right or wrong. A plateau is the result of our bodies' evolution and a survival mechanism that has helped our species thrive. (Caroline Dooner talks a lot about how our bodies' survival mechanisms are meant to thwart weight loss efforts in her F*ck Your Diet series.) A weight loss plateau is the outcome of our bodies needing less energy to function, and our metabolism slowing, when we lose weight. Our biology isn't that happy with our weight loss. It triggers a signal that we're about to go through some trying times. It thinks we're about to run out of food. So when we lose weight, our bodies start to tell us to hang onto the nutrients in the things we eat, and slows down our metabolism.
Here's the science behind a weight loss plateau (get ready for some math):
Metabolism (Total Daily Energy Expenditure) = Basal Metabolic Rate (the bare minimum number of calories you need to survive at complete rest) + Exercise (calories burned during exercise)  + Non-Exercise Expenditure (calories burned through other activities other than exercise) + Thermal Effect Of Food (energy used to digest the food we eat)
So, generally speaking, if your intake is greater than your metabolism, it will lead to weight gain, and if your intake is less than your metabolism, it will lead to weight loss.

Simple enough, right? We've heard of different variations of this same equation before (we've all heard "calories in vs. calories out" at one point or another), but our bodies are so clever that once we lose weight, the calories used at rest will also decrease. Therefore, if every other aspect of your energy expenditure stays the same (exercise, non-exercise expenditure, and thermal effect) then your overall metabolism will be lower. So what gives? Am I telling you that now you have to spend another 30 extra minutes in the gym to compensate? No, not unless you feel like it. Here are four other ways to get over a weight loss plateau.
Sneak In More Non-Exercise Physical Activity
A lot of people have the mindset that you need to be in a gym to get in physical activity, which kind of limits their ability to see the opportunities we have to be active in daily life. Take the stairs instead of the escalator or the elevator when you can, walk or bike instead of driving, and stand instead of sitting. Go for a walk with your dog, or go for a hike with a friend instead of going to get drinks (or hike to get the drinks). You can even just stretch while watching TV. Little things add up. A study was published that claims fidgeting and working to maintain correct posture burns up to 800 more calories than sitting still. So just get moving in some way.
Don't Work Out Longer, Work Out Smarter
You can still limit your workouts to an hour and increase the efficiency if you maximize your time. Working smarter in the gym means less rest, more resistance, and more sets/reps. Just make sure you're not doing the same workout at the same intensity as the day you started months ago, because your body needs you to step your game up. Another way I like to add intensity to my workouts is to add more combined movements, so instead of just doing squats, I'll add in a shoulder press at the standing part of the movement. More muscles worked means more calories burned in the same amount of time.
Don't Neglect The Weights
By now, you should know that weights don't make you bulky. If you have more muscle cells, you'll be burning more energy at rest than if you had more fat cells in your body. This will help you to maintain that same metabolic rate pre-weight loss.
If you've found your weight loss plateaued and your exercise routine consists of mostly cardio, it's time to incorporate weights in a more significant way. Cardio is fantastic, and those who are starting on their fitness journey can find great results with it. However, because cardio does very little in terms of muscle building, cardio-focused individuals will hit a plateau early on because they lose the weight and then their metabolism slows. My recommendation is to cut the cardio portion of your workout routine in half and use the other half of the time to complete a few resistance training circuits. So if you're used to doing an hour of cardio, do 30 minutes and use the other 30 to do three to four sets of five to six resistance training moves.
Choose Protein
So, here's a wild concept: your body actually burns calories when digesting. The dietary-induced thermal effect—sorry, more science—is the energy needed after we eat a certain food to digest and absorb the nutrients in our body. So if you're trying to get over a weight loss plateau, it might be time to eat a little smarter. And by that I mean, eat more foods that take more energy to burn. This is called the food's thermogenic rate. Fat, for example, uses 0 to 100 calories to digest for every 100 calories consumed (or, it has a thermogenic rate of 11-18% for non-obese individuals). Protein, on the other hand, has the greatest thermal effect of about 20-30%. This means your body uses the most energy to digest protein which means more calories burned! According to the same study, protein also helps you stay full the longest. By making protein the spotlight of your meals, you can increase your metabolism rate.
A weight loss plateau is something that is probably going to happen to you at some point. The good news is that we can mitigate the effects of it by controlling other aspects of our energy expenditure. A plateau could also mean that it's time to take a step back and appreciate your journey so far, because you didn't get to this plateau without having first put in the work! It is also a sign that you're ready to step your workouts to the next level if you've been stuck in a pattern or routine for a while. So while plateaus can feel discouraging, it's a sign that you're physically ready to advance to the next level. Your body is ready to take the stairs instead of elevators, to do faster sprints and that extra set of bicep curls. Instead of being down, pat yourself on the back and go do those sprints!
5 Tips To Make Working Out In The Morning Easier
Morning workouts are rougher mentally than anything. Half the struggle is about getting yourself out of the bed and into the gym. Once you've done that, the rest is easy. Well, easier. There's no way of making this process enjoyable—I myself have been there done that and hit the snooze button one too many times. Unfortunately, if you're looking to make yourself into a morning gym rat, you kinda just have to suck it up and do it. That being said, there are some tricks to make that a little easier if you don't naturally wake up with the energy to run three miles. Here are some tips to make it easier to get out of bed and hit the gym.
Let The Lights In
Sleep with the curtains open, and this way you'll let in natural light either to gently wake you up or the sunlight will greet you when you get back from your workout. Either way, blackout curtains are not our friends right now. Save those for a weekend when you're recovering from a nasty hangover and want to stay in all day.
Set An Enjoyable Alarm
Nothing raises my blood pressure more than iPhone default alarms. They sound like sirens. Even the other day, I came across someone who has set that sound AS THEIR RINGTONE. A serial killer, I'm sure. Once I heard it, my heart started racing. I have mild PTSD, I think. So, will that infernal sound get you up? Yes, because it will JOLT you out of bed, but that doesn't set a good tone for the wake-up. Set an alarm that is a little more gentle on the ears, so you can wake up peacefully and in a good mood.
Set Your Gym Clothes Out Ahead Of Time
The less you have to think about at 6am, or whenever you get up, the better. So set out your clothes ahead of time, and this way you can just get up and go. It also helps if you have cute workout clothes to look forward to putting on, if any of you need another reason to go shopping. If you take pre-workout, get that ready too so you're not fumbling around in the kitchen while your roommates are still asleep.
Plan Your Workout Routine The Night Before
When I first wake up, I don't have the brain power yet to plan an effective workout routine, so I end up improvising. Efficient program planning requires time and strategy, and it's something I don't really want to mess with in the morning. If you're not working with a trainer, plan your routine the night before. You're already waking up at 6am for this sh*t, so let's at least make it effective.
Warm Up
When you first wake up, your body is cool from little movement and lowered body temperature while you're in sleep mode. Warm up for 5 to 10 minutes to avoid injuries and also help your mind and body transition into a workout mindset.

I am not a morning person. I've learned to accept that about myself, so waking up early to work out is not my favorite thing to do in the world. It will always be a pain in my ass to roll out of bed. It's sad, but the harsh truth is sometimes you just have to deal with it, the same way you deal with that asshole boss every day or put up with your mother-in-law every Thanksgiving. It gets easier the more you do it, so just know that you're really developing a healthy habit, and honestly, you're going to feel so much better for it. That extra hour of half-sleep (let's face it, you're not getting quality sleep after the alarm goes off) won't do as much for you as a workout will. And if you really can't get up no matter how hard you try, as long as you're getting in a workout at some point during the day, I can't be mad at it.
Images: Kendal James / Unsplash; girlsonclasspass, Betches / Instagram; Giphy
How To Eat To Beat Bloat, According To A Nutritionist
When the first days of summer made their long-awaited appearance, you probably had the best of intentions when it came to your diet: lots of fruits, veggies, lean protein, and low-calorie alcohols. But if three months of exactly the opposite (hello, burgers, fries, and beer) have left you a little, well, bloated, who can blame you?! You were just living your best life. 
Still, it can be discouraging, and actually physically painful, to feel like your belly is always poking out and doubling in size after you eat certain meals. It probably makes you swear off all your favorite foods, at least temporarily, before a 2am craving hits and you start the cycle all over again. The good news, though, is that you probably don't have to eat less to get rid of bloat. You may just have to make different food and drink choices, and not all of them are boring!
To make sure you get the absolute best anti-bloating advice—and are able to zip up your favorite pair of high-waisted jeans now that fall is upon us—we chatted with Monica Auslander Moreno, RD, and nutrition consultant for RSP Nutrition. Here's what she had to say about beating bloat . 
First, Make Sure You Don't Have Any Major GI Issues
If you're a victim of cruel and painful gas and bloating nearly every time you eat, the solution could be a matter of eating differently—but you could also have an underlying medical issue that needs addressing. "Visit a GI doctor to rule out a medical cause, like IBS, SIBO, or lactose intolerance that could potentially require medication or further workup, and firm up a diagnosis so you know how to leverage your food intake," suggests Moreno. 
If you do test positive for one of these conditions, your doctor may prescribe you medication and suggest you try certain diets to see how they make you feel. Dr. Moreno adds, "If you're diagnosed with irritable bowel syndrome (IBS), for example, there's a pretty concrete protocol we employ to help clients identify their own bloat triggers (it's called the FODMAP diet) but it must be done under a dietitian's supervision, because it's incredibly meticulous and nuanced."
Keep A Food Symptom Diary
If a doctor confirms you don't have any GI issues (or your bloating isn't actually severe enough to visit one), start keeping a food symptom diary to figure out which foods are causing the bloat in the first place. "Common bloat triggers include caffeine, alcohol, carbonated drinks, artificial sweeteners, chewing gum, vegetables like brussels sprouts, cauliflower, broccoli, legumes (beans), corn and popcorn, spicy foods, high salt foods, sugary foods, fried foods, leeks, onions, garlic, deli meats, jerusalem artichokes, and apples," Moreno says. 
While that (very long) list is a great place to start when it comes to identifying bloating culprits, everyone's different. Just because your friend gets massive bloat after her daily jerusalem artichoke (as an important sidenote, we're pretty sure jerusalem artichokes aren't the problem for most people), doesn't mean you will. The most important thing is that you pay close attention to what your triggers look like.
Before you freak out about having to give up caffeine and alcohol forever, it's worth paying attention to times of day when you get more bloated—and how much of certain foods you have to eat before you get bloated—because it's not always the actual food that's the problem. "Everyone's bloat triggers can be different, and some people notice they're more likely to bloat if they even eat a certain food at a different time of day, or that they have a certain threshold with bloaty foods," Moreno says. "Maybe you're fine with half a cup of beans, for example, but not a whole cup."
Load Up On Water
Now, let's get to the good part: exactly what to eat and drink to beat bloat in the first place. When it comes to beverage choices, ditch the beer and diet soda and load up on water and herbal teas instead—specifically mint and ginger teas. 
And as we say goodbye to summer, take advantage of the final days of melon season to get rid of the little pooch. "Go for snacks high in water content and low in bloat potential, like cantaloupe, papaya, and honeydew," suggests Moreno. Another helpful anti-bloat agent? Yogurt. Or if you and dairy don't exactly get along, a lactose-free yogurt. "Try a lactose-free kefir, which is yogurt-like drink packed with probiotics," says Moreno.  
Bloating, while unappealing and uncomfortable, happens to the best of us. So if this is you lately, don't beat yourself up! Beating bloat could be as simple as eliminating a few foods and adding new ones in. You'll be zipping up those high-waisted jeans again in no time. 
Images: Mike Mayer / Unsplash
3 Eating Habits That Are Slowing Your Metabolism
If you're the victim child of a Jewish mother, you're more than familiar with the rhetorical question, "Do you want to mess up your metabolism forever?" I skipped breakfast once when I was 16 and I'm still hearing about it. Little does my mom know, metabolisms are actually really complicated and cannot be "messed up forever" by skipping one single meal. Much like your boyfriend who insists that cargo pants are very much in fashion, your metabolism has to be trained to do what you want. For the sole purpose of proving my mom wrong expanding my knowledge about the human body, we linked up with Samantha Cassetty, RD, Director of Nutrition at The Healthy Mommy, to talk about the metabolism and what habits could be slowing yours down.
Before we dive into some hard science, I will explain what the metabolism is in layman's terms. According to WebMD, the place I go to confirm I'm dying from my run-of-the-mill cold, "Metabolism refers to the process of converting food into the energy that allows your body to function. People who have a fast metabolism use up calories more quickly than those with slower metabolisms." Yes, we all want a fast metabolism, but how the hell do we get one of those? Read on for ways your eating habits may be slowing your metabolism down, from an expert.
1. Picking The Wrong Breakfast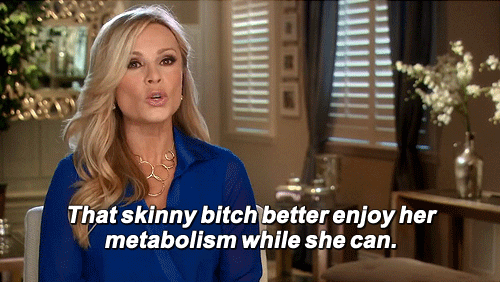 You are what you eat! Kidding…but, like, not really. Cassetty says, "One of the main issues I see is reaching for a carb-rich, protein-poor breakfast option. Common breakfast foods, like cereal, oatmeal, bagels, muffins, and even avocado toast don't supply enough protein to repair muscle tissue that's naturally broken down at night." Your metabolism does its best work at night, which is why you usually wake up needing to spend a few extra minutes in the bathroom in the mornings. Just me? Cool! But it's also why you need a solid breakfast. Cassetty continues, "In order to activate the repair process, you need a meal that provides adequate protein. If you skimp on this, over time, you'll lose muscle tissue, which translates to a slowing metabolism." So, okay, I guess we really do have to listen to what we've been told since middle school and eat breakfast because it is the most important meal of the day.
2. Eating Too Many Processed Foods

Your metabolism breaks down your food, but the speed at which it operates depends, in part, on what you eat. "Eating too many hyper-processed foods instead of whole foods will ultimately cause metabolic issues. Your body can more efficiently grab the energy (read: calories) from heavily processed foods, so if your diet is more heavily processed than whole, you might notice weight gain over time," Cassetty says. These foods also don't really fill you up, so you're probably eating more of them. Cassetty also says, "When you eat whole foods, your body gets a slight metabolic edge by breaking the food down to grab the energy and nutrients it needs. In other words, you're shortchanging your metabolism by making its job too easy." I guess that's why they call it Whole Foods? Everything makes sense now! For real, though, it should be obvious that foods with ingredients you can pronounce are better for you and your internal systems than say, Flamin' Hot Cheetos, which are made with something called thiamin mononitratea, but you can never take knowledge for granted.
3. Eating Too Lightly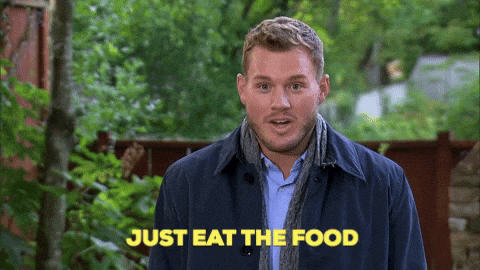 I feel like this is a "you already know the answer" situation. Cassetty explains, "Eating too lightly can slow down your metabolism because your body senses the food shortage and wants to hang on to its stores. Your body works better when it has the energy and nutrients it needs to thrive, and you'll feel better and more energetic when you nourish it properly." That's not that surprising since we've all been told about "starvation mode" probably around the same time we discovered skipping breakfast. Just don't do it! 
I'm loving that the theme of this seems to be "eat food". You don't have to tell me twice. And, in fact, you can eat certain foods to help boost your metabolism. "I usually recommend including two of the three food groups at snack times, choosing a fiber-rich fruit or veggie (the carb group) along with a healthy fat or protein," Cassetty says. It'll be hard to give up my honey mustard and onion-flavored pretzels, but it's for the greater good, I guess. Think of your metabolism as a car, but not like a Volvo or a Jeep. You're a f*cking Maserati, and you wouldn't put Kool-Aid in a Maserati, right? No, you'd put premium f*cking gas.
At the end of the day, everyone's body is different, but regardless of that difference, limiting processed foods and not skipping meals is the move. You'll feel better, look better and, most importantly, be able to talk about how healthy you are to people who really couldn't give a sh*t. And that's the best reward of all, isn't it?
Images: Giphy (3); Tarutoa / Unsplash
The Keto Diet Might Be Bad For Your Heart, A New Study Finds
In a recent turn of events, science has found diets that favor the "cavemen" way of eating might not be the best health bet. What a shame, considering the Paleo and its stricter high-fat cousin, the Ketogenic diet, have both quickly risen the ranks to become two of today's trendiest diets.

A study published in July 2019 in the European Journal of Nutrition looked at the gut microbiome (the bacteria) of 90 subjects. Half of the subjects were on the Paleo diet, and the other half were the control group. The study followed these subjects for over a year, focusing on looking at the impacts of decreased resistant starch consumption on serum trimethylamine-N-oxide (TMAO, for short). TMAO is a by-product from our digestive system's breakdown of fatty foods, and elevated levels of TMAO have been associated with a higher risk for heart disease. The study also looked at the diet's impact on the abundance of gut bacteria.
The participants of the study were separated into control and experimental groups. The control group was required to make no changes to their diet for the year and practice a well-rounded diet that included dairy, grains, and legumes (the latter are restricted on the Paleo diet).  The experimental group was required to follow the Paleo diet, and consume no more than 1 serving a day of grains and dairy products. Because that's a pretty f*cking strict rule to stick to for a year, they ended up dividing participants into two groups, those who stuck to the rule (the die-hards) were under the Strict Paleo group (SP) and those who broke the rules were under the Pseudo Paleo group (PP). OOP! They pretty much called a whole group of them fake, and I am here for it.
So, anyway.
The study found that the TMAO levels in the Strict Paleo group were much higher, due to significantly higher levels of red meat consumption. Gut flora (microbiota) levels were also disrupted, with an abundance of the bacterium Hungatella. This bacterium is a producer of TMAO, so that makes sense… more TMAO producer, more TMAO. Two other bacteria, Roseburia and Bifidobacteria, were found to be significantly less abundant in the Paleo groups. These two strains are found to be abundant in subjects that consume starches. The authors of the study suggest that the lower overall fiber consumption levels in subjects that were in the Paleo groups and the lack of starches (that are necessary to help microbiota thrive) in the long-term may have negative implications on gut and heart health.
SIDENOTE: Now of course, just because the subjects in this study had low levels of fiber does not mean your BFF that is on the Paleo diet is also low in fiber because she/he/you could be getting your leafy greens in (a wise tactic on or off Paleo). But because this wasn't the case here, they don't have data on your guys' gut environment, sorry.

So then I, of course, did further research. Roseburia and Bifidobacteria are key bacteria that impact overall health of the host (us). In obese individuals, the levels of Bifidobacteria are reduced and disrupted levels of gut bacteria could be a factor in obesity. But I think the key takeaway from this article is less about demonizing the Paleo diet (so anyone on Paleo and Keto, don't come at me in the comments) and more about realizing that so many factors of our health, beyond the number on the scale or the pant size, are influenced by nutrition. By restricting your diet too much, or by completely ignoring a food group, you are also impacting certain biological systems and environments in our body.
My message here is this: Our body is an insane system that works together. The fact that a bacteria that lives in our digestive system to digest fat and protein can create a gaseous byproduct that can cause heart disease is just one of the many complicated engineering systems of our bodies. Like, how are you going to live in me and try to kill me? But it's a way of suggesting your body needs balance. So the fact that fad diet creators and followers have attempted time and again to reduce our entire system to sets of rules should warrant careful observation and monitoring of how your body and mind feels and functions on these diets. Be careful about cutting food groups out completely, be careful about any diets that push their own products on you, and do not only what makes you healthy but also happy.
Images: Giphy (2)
3 Habits That Could Be Keeping You From Hitting Your Fitness Goals
Not to sound like a Baby Boomer or anything, but we totally live in a time of instant gratification. Whether it's a shirt you bought off Amazon, finding the love of your life, or seeing the results from a new diet and exercise routine, we all feel like we have to get the things we want immediately. But, just like you can't rush USPS (no matter how many angry phone calls you make), you can't rush your body. No matter what your fitness goals are, you're probably not going to see changes immediately. I know how frustrating it can be to not see changes right away when you've been putting in the work, hitting the gym, and eating right. But don't give up! Before you throw in the towel, let's investigate what could be hindering your progress.
1. You've Only Been Consistent For 2 Weeks
Changes don't happen overnight or even in two weeks, unfortunately. Give yourself a six to eight week timeline to realistically start seeing or feeling results. Like anything else in life, it takes time, and you need to work at it first to see change. Two weeks of consistency is still a milestone, though, and you should for sure reward yourself for that, but continue to stick to your routine. Give your body some time to adjust.
2. You're Not Sore Anymore
Really ask yourself if you're still going as hard in the gym as you did on day one, or if you're kind of just going through the motions now. To see results, and keep them coming, you have to constantly challenge your body. To change and progress your workouts, the key is to keep your body working as hard as it did when you were starting out. Progressions can include adding more weight, more reps, or more sets. They can also include advancing the movements, such as doing a full push-up instead of doing modified ones on your knees. This is where you're going to have to dig deep and find that motivation or try out a few sessions with a trainer.
3. Your Diet Isn't As Clean As You Think It Is
Okay, let's think about it. Let's say it's oatmeal for breakfast, a salad for lunch, and grilled chicken and veggies for dinner. Sounds great, but you might be overlooking a few things. Is there a ton of sugar on your oatmeal? Did the salad have croutons, cheese, and ranch dressing on it? Were there free mini muffins in the office, so you grabbed a few, or snacked on a few handfuls of chips throughout the day? It's nothing to be ashamed of, but it is something to be mindful of. Little things really do count, and most times we forget about small stuff like condiments, drinks, and bites we have throughout the day. If you're not seeing the results you want to see, look at things most of us consider negligible.
Most times people will stick to their diet and workouts for not even two weeks before they give up due to lack of results. Stick with it for a little longer! You don't quit your job two weeks in because you're not making six figures, right? I hope not. Keep pushing yourself in the gym and keep being mindful of what you're eating. You got this.
Images: @dietstartstomorrow/Instagram; Luis Quintero / Unsplash
What To Eat Before & After Your Workout To Maximize Benefits
Fueling your body before and after a workout is a key component in maximizing the effects of said workout. After all, who wants to work hard and see subpar results? Nobody. That's like, the whole opposite of the entire point. You already bought your cute workout clothes and dragged your ass to the gym, and (hopefully) actually like, tried to put in ~werk~ and didn't just half-ass it. But what you do at the gym isn't the only thing that factors into your weight loss or other fitness goals—what you eat before and after your workout can kind of make or break your efforts as well. What should you eat before your workout? Should you eat at all? And after your workout, what should you eat so your muscles can recover, but you don't undo all the progress you just made? These are the types of questions I get from my clients a lot. I'm going to help you break down what to eat before and after your workout so you can get the most benefits and not completely sabotage your efforts.
Pre-Workout Nutrition
Okay, so I generally fall into two camps here for pre-workout nutrition. If it is early in the morning, like a 5am-6am workout, I understand not eating pre-workout. What's more, if the workout consists of a morning jog or mainly endurance cardio (the treadmill, elliptical, Stair Master, etc.) it is totally fine to not eat before.
HOWEVER. If you're about to go lift weights or do HIIT training, a completely empty stomach could potentially make you dizzy and interfere with your ability to do as much as you want to in the gym (and also be dangerous). The reason for this is when you're running on completely empty, the body has already depleted its glycogen store (which is used for quick energy—it's a reason athletes carb-load prior to a game). This is where I am an advocate of waking up earlier (yeah, I know, I know) so you can actually try to eat something before.
Now, if you're an afternoon/evening gym rat, then I'm sincerely hoping you're not working out still fasted from the night before. A mix of protein and carbohydrates will give you the proper nutrition you need to work out. Stay away from anything with a lot of fat content, because fat takes longer to digest than carbohydrates and protein, so it'll kinda just sit there for a while and cause cramps while you work out. A good example of a pre-workout snack is a bowl of berries, a piece of toast, and two eggs. That's a pretty optimal meal anyway, but it's not too big to mess with you during the workout if you have to go right to the gym after eating.
What I find works best for me is having a proper meal about two hours before I workout. I'm a PM-er, so I workout later in the day after lunch. My lunch could be anything from lentil pasta arrabbiata and chicken breast to ground turkey salad. I give myself time to digest after, then I find I'm able to really go hard in the gym.
Also, it's pretty common sense, but fuel more for a more strenuous workout. So you're definitely going to want to eat more before a leg workout (larger muscle groups = more sweaty, more tiring—I have an article coming on this later) than for an arms/abs workout (smaller muscle groups).
Post-Workout Nutrition
The reason post-workout nutrition, to me, is more important than pre-workout nutrition is because the body requires replenishment after being depleted of energy. Now, amino acids (or protein) play a super key role here because you want the proteins to help your muscle fibers heal and kickstart your recovery process.
You don't really NEED to rush to get in your protein and carbs within 30 minutes after your workout, like many fitness gurus will tell you (this is what they call the "anabolic window"). You're definitely going to want to eat after, but honestly…I live in LA, that drive home from the gym could already take up the whole 30 minutes, honey. Trust me when I say those 30 minutes are not the end-all and be-all. You just want to make sure you're getting enough protein throughout the day; rushing to get it in right after a work out won't make much of a difference.
The best kind of post-workout nutrition should really be a full meal if you have the time for it. Anything with a complete protein source (chicken breast, fish, etc.) and complex carbohydrates (brown rice, pasta, beans are all good options) will help your body recover from the workout. If you're kind of in a time crunch, then a protein shake will do. Depending on how filling your shake is, you might need proper fuel as well.
Images: @dietstartstomorrow (2)/Instagram