Is Justin Timberlake A Cheater Or Just An Idiot?
Nineties babies, I hope you haven't thrown out your Trapper Keeper bedazzled with "Mrs. Timberlake" just yet, because you might still have a shot! That's right, your middle school crush Justin Timberlake was just caught getting touchy with a woman who was decidedly not Jessica Biel. The Sun exclusively reported on Saturday that Timberlake was out in New Orleans drinking heavily and holding hands with his costar Alisha Wainwright. They're in town filming a football movie named Palmer, for which Timberlake will not win an Oscar. Call it a hunch. They have photos and video of the incident, which I did watch despite the fact that there was an ad every nine seconds. I do this for you. Based on the content of this evidence, I suspect someone is about to be in a lotttt of trouble back at home.

Let's talk about what happens in this video. JT appears to be pretty drunk, and oddly he's more attractive to me than he's been in years. One has nothing to do with the other, I'm sure. He and Alisha are out drinking on a balcony together, and at one point Alisha sits next to JT, and he grabs her hand and puts it on his leg and SHE CARESSES IT. Now, I don't know how you all interact with your married coworkers, but I usually just ask them to send me pictures of their home renovations, no caressing involved. There are also photos of him holding hands with Alisha under the table. And that's not all! In the video he is grabbing hands and getting playful with another woman as well. All in all, not a good look for JT, but also not definitive proof he's a cheater. I mean, it definitely proves he's a douchebag, but I think we already knew that. 
Another problem JT is going to have to deal with? He's not wearing his wedding ring in this video. Now, this, along with his behavior, could be an indication that he and the most annoying Camden sibling (fight me) actually have broken up, he's a single man, and they just haven't announced it yet. Celebrities usually keep that sh*t on lock until they drop the news strategically on Friday night or right before a long weekend. We see you. And neither of the Timberlakes have posted about each other on Instagram since Halloween, which is not necessarily a long time, but like, Starbucks has already rolled out their Christmas drinks, so maybe it is?
On the other hand (not literally, the ring was on neither hand), maybe JT wasn't wearing his ring because he just wanted to be like a regular married man looking to score and slid it right into his pocket before hitting on someone way too hot for him. Or, if you are not like me and prefer to give people the benefit of the doubt, maybe you think he just left it at home because he knew he'd be out drinking and didn't want to lose it. That's sweet. 
People immediately followed up this report with one of their own, with a source claiming that it was "completely innocent," and that Justin and Alisha are filming a movie together and "they're cool." And this source's name was Shmustin Dimberlake. Timberlake himself is yet to make a statement about what happened, but he was caught having the decency to look mildly embarrassed the next day. 
Regardless of whether he is a cheater or not, this is a pretty embarrassing situation for JT. He's visibly drunk out in public, acting way too flirty with women who are not his wife, and let himself be photographed and videoed without anyone knowing! He's super rich and super famous, he should know better than this—or should have at least surrounded himself with people who know better than this. It's sloppy. I doubt he and Jessica are separated, but I do hope that she rips him a new one when he returns home. Maybe if we're lucky she'll ban him from being in that movie and none of us will be subjected to his terrible acting ever again. A girl can dream!
It'll be disappointing if the cheating rumors turn out to be true, but Justin would be far from the first famous person to be caught in bed with someone who's not their spouse. Just for old time's sake, let's reminisce about some of the messiest celeb cheating scandals. There are honestly way too many to choose from, but I've done the tough work of narrowing it down.
Tristan Thompson & Khloé Kardashian
Perhaps the most notorious cheater of the last couple years is none other than Tristan Thompson. Who could forget when he was spotted with another woman while Khloé Kardashian was in Cleveland, literally about to give birth to his baby? For whatever reason, Khloé stayed with him, until almost a year later, when the Jordyn Woods news hit the fan. He and Jordyn may not have slept together, but their inappropriate behavior was finally enough for Khloé to ditch his ass. Thank f*cking god.
Ben Affleck & Jennifer Garner
Even four years later, I'm still not quite over the way things went down with Ben Affleck and Jennifer Garner. They seemed like a normal, happy couple, which is why it was so disheartening that Ben cheated on Jen with their nanny, Christine Ouzounian. Ben's team tried to deny the rumors, but you know some shady sh*t is going down when the nanny gets fired one day after you announce your divorce. Jen is now dating a super normal guy, and Ben can kick rocks.
Tiger Woods & Elin Nordegren
It's been 10 years since the great Tiger Woods Cheating Scandal of 2009, but it's no less crazy a decade later. After an initial tabloid report about Tiger having an affair, an avalanche of mistresses began coming forward, with nearly a dozen women accusing Tiger of sleeping with them. If you're going to cheat, you should probably try to keep the number of mistresses to like, one hand at least. Tiger's wife Elin divorced him the next year, and this year she gave birth to a son with former NFL player Jordan Cameron. Good for her.
LeAnn Rimes & Eddie Cibrian
This cheating scandal was M E S S Y, and there are so many layers here to unpack. LeAnn and Eddie were both married to other people in 2008, when they started hooking up while shooting a Lifetime movie together. Honestly, how all great relationships begin. They eventually went public and left their spouses to be together. They're still together, so maybe this was for the best? Also, you might remember that Eddie Cibrian's ex-wife is a woman by the name of Brandi Glanville, who would go on to be an iconic Real Housewife, and also one of the root causes of the drama that gave us Vanderpump Rules (because Scheana also slept with Eddie). This cheating scandal is so deep, and its ripple effects have greatly benefited my life, even years later.
What's the craziest celeb cheating scandal you can remember? And do you believe that Justin Timberlake cheated on Jessica Biel? Let me know in the comments, because I need conspiracy theories about this.
Images: giphy, justintimberlakebelge,jessicabiel/Instagram
10 Iconic 90s Music Video Outfits That Inspired Your Slutty Middle School Wardrobe
Before style trends were dependent on the Kardashians, CW teen dramas, or even our Cheeto president there was the 1990s. Ah, the 90s. A simpler time, a time when Britney Spears was still a "virgin" and boys in matching denim ensembles were considered sex symbols. What a time to be alive.
It could be nostalgia kicking in or it could be this $8 bottle of red wine that's mostly empty, but either way I'm about to revisit some of my favorite shit shows fashion choices and beauty looks from the best 1990s music videos.
1. "JUST A GIRL" — GWEN STEFANI (1995)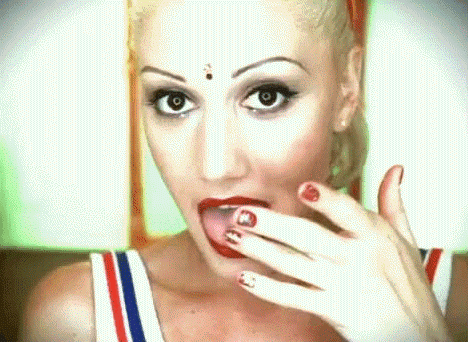 Oh, Gwen. Where do I even begin with you? Perhaps with the semi-culturally offensive red jewelry in the middle of your forehead? The fugly giant hair barrettes? Or the men's track pants you're wearing? Please also keep in mind that this person has a very successful FASHION LINE today, which I can only imagine Twitter is responsible for. Gwen's style is something I'll understand about as much as I understand clear plastic boots, which is to say I don't fucking get it. Let's also not let this moment pass without discussing how Gwen's eyebrows are thinner than my will to live. They are actually making me so uncomfortable. I need an adult.
2. "MMMBOP" — HANSON (1997)

Seeing prepubescent boys with better hair than me makes me want to heavily drink. Seriously, shouldn't you be getting head lice from kids on the playground, not giving a grown woman hair envy?
3. "I WANT YOU BACK" — N*SYNC (1997)

I mean seriously wtf were we thinking? To be fair, this music video actually features some of the less offensive fashion choices from their time in the spotlight. Shocking, I know.

Also #neverforget JT's ramen noodle hair. I love that since Justin went solo and didn't become a has-been like the rest of the band, he thinks he's better than everyone. Like, you might be married and successful and actually pretty funny anytime you appear on SNL, but you still wore a JEAN SUIT to the American Music Awards. Know yourself.
4. "(HIT ME )…BABY ONE MORE TIME" — BRITNEY SPEARS (1999)

An iconic Britney moment that forever made me want to dress like a baby prostitute. Thanks for giving us years of slutty Halloween costumes. You the real MVP, Brit.
5. "SAY MY NAME" — DESTINY'S CHILD (1999)

You know I had to add in the Queen here. And I guess I have to mention her backup singers band mates too. Aside from the fact that the lyrics in this song are fire and I use them in daily in my life, Beyoncé also looks like a fucking goddess in this music video. Groundbreaking, I know. I'll even forgive her for those gold hoops because we all know hoops are Regina's thing. An important note, though: If your skin burns in the sun, you should absolutely, under no circumstances, attempt her hairstyle at home.
6. "GOOD VIBRATIONS" — MARKY MARK AND THE FUNKY BUNCH (1991)

Fuck, this boy is ripped talented. The original fuckboy, his signature look was not wearing a shirt, touching himself, and giving white people hope of becoming a rapper. 10/10 would hit that.
7. "DIRRTY" — CHRISTINA AGUILERA (2002)

While not *technically* a 90s song, I'm still including it because Kylie Jenner made this video relevant again. Those dirty AF blue hair extensions, the assless chaps, THE BODY JEWELRY—she made slutty chic. Not all heroes wear capes, people. She was also single-handedly responsible for every dress code violation phone call my mother received about me from grades 8-12. *starts a slow clap*
8. "ALWAYS BE MY BABY" — MARIAH CAREY (1995)

Aka the reason I thought butterfly hair clips were a statement piece. She spends this entire music video swinging over a lake in a classic jean-on-jean ensemble, looking as angelic as her voice sounds.
9. "WANNABE" — THE SPICE GIRLS (1996)

The original Plastics, these girls are responsible for stereotypes in cliques and my hideous metallic mini dress in middle school. Also for giving my boyfriend an excuse to "get with my friends."
10. "AARON'S PARTY (COME GET IT)" — AARON CARTER (2000)

Again, not exactly a 90s song but I couldn't not include this one. First of all, Aaron Carter is, what, 9 in this music video? Maybe? And he's throwing fucking ragers while his parents are out to dinner? I applaud you, son. Also the fact that a third grader is rapping on a bicycle in a fur coat while middle school girls grind up on him. I'd be lying if I said I didn't want to be one of those middle school hoes. And you'd be lying too.
Anddd now I have "Aaron's Party" stuck in my head. Brb I'm just going to do something productive bang my head against a wall until I stop singing rap lyrics written by and for a 12-year-old.