Read Chapter 1 Of 'Chosen Ones', The New Novel By 'Divergent' Author Veronica Roth
I know the world is feeling a little apocalyptic right now, and we all have our coping mechanisms for that. Maybe you read a fun, uplifting romance novel to make you believe in the power of love. Maybe you turn to murder thrillers to bring you comfort (weird flex, but ok). Or maybe you just lean into the dystopian feels and curl up with a nice post-apocalyptic fantasy novel. If that last one is your vibe, you're going to want to get a copy of Veronica Roth's adult debut, Chosen Ones, out April 7.
Nine years ago (pause to cry about how old we are), Veronica Roth published Divergent, the first book in the young adult trilogy that became a #1 New York Times bestseller and was turned into the blockbuster hit movie starring Shailene Woodley. Chosen Ones is her adult debut, that catches up with a group of young adults, 10 years after they saved the world from total destruction. As they try to adjust into normal life, one of the Chosen Ones turns up dead, and they realize maybe the universe still needs saving after all. Chosen Ones comes out April 7, but you can read the first chapter below.
Chapter One
The Drain looked the same every time, with all the people screaming as they ran away from the giant dark cloud of chaos but never running fast enough. Getting swept up, their skin pulling away from bone while they were still alive to feel it, blood bursting from them like swatted mosquitoes, oh God.
Sloane was up and panting. Quiet, she told herself. Her toes curled under; the ground was cold here, in the Dark One's house, and he had taken her boots. She had to find something heavy or something sharp — both was too much to ask for, obviously; she had never been that lucky.
She yanked open drawers, finding spoons, forks, spatulas. A handful of rubber bands. Chip clips. Why had he taken her boots? What did a mass murderer have to fear from a girl's Doc Martens?
Hello, Sloane, he whispered in her ear, and she choked on a sob. Yanked open another drawer and found a line of handles, the blades buried in a plastic knife block. She was just pulling out the butcher knife when she heard something creak behind her, the pressure of a footstep.
Sloane spun around, her feet tacky on the linoleum, and swiped with the knife.
"Holy shit!" Matt caught her by the wrist, and for a moment they just stared at each other over their arms, over the knife.
Sloane gasped as reality trickled back in. She was not in the Dark One's house, not in the past, not anywhere but in the apartment she shared with Matthew Weekes.
"Oh God." Sloane's hand went lax on the handle, and the knife clattered to the floor, bouncing between their feet. Matt put his hands on her shoulders, his grip warm.
"You there?" he said.
He had asked her that before, dozens of times. Their handler, Bert, had called her a lone wolf, and he rarely made her join the others in training or on missions. Let her do her thing, he had told Matt once it became clear that Matt was their leader. You'll get better results that way. And Matt had, checking in with her only when he had to.
You there? Over the phone, in a whisper, in the dead of night, or right to her face when she spaced out on something. Sloane had been annoyed by the question at first. Of course I'm here, where the fuck else would I be? But now it meant he understood something about her that they'd never acknowledged: she couldn't always say yes.
 "Yeah," she said.
"Okay. Stay here, all right? I'll get your medicine."
Sloane braced herself on the marble counter. The knife lay at her feet, but she didn't dare touch it again. She just waited, and breathed, and stared at the swirl of gray that reminded her of an old man in profile.
Matt came back with a little yellow pill in one hand and the water glass from her bedside table in the other. She took them both with shaking hands and swallowed the pill eagerly. Bring on the coasting calm of the benzodiazepine. She and Ines had drunkenly composed an ode to the pills once, hailing them for their pretty colors and their quick effects and the way they did what nothing else could.
She set the water glass down and slid to the floor. She could feel the cold through her pajama pants— the ones that had cats with laser eyes all over them — but it was grounding this time. Matt sat down next to the refrigerator in his boxers.
"Listen," she started.
"You don't have to say it."
"Sure, I just almost stabbed you, but no apologies necessary."
His eyes were soft. Worried. "I just want you to be okay."
What had that awful article called him? "Quite possibly the kindest person alive"? She hadn't disagreed with Rick Lane, Creepmaster 2000, on that point at least. Matt had eyebrows that squeezed together in the middle in a look of perpetual sympathy and the heart to match. He reached for the butcher knife that lay on the floor near her ankle. It was big, almost as long as his forearm.
Her eyes burned. She closed them. "I'm really sorry."
"I know you don't want to talk to me about it," Matt said. "But what about someone else?"
"Like who?"
"Dr. Novak, maybe? She works with the VA, remember? We did that talk together at the juvenile detention center."
"I'm not a soldier," Sloane said.
"Yeah, but she knows about PTSD."
She had never needed an official diagnosis — PTSD was definitely what she had. But it was strange to hear Matt say it so comfortably, like it was the flu.
"All right." She shrugged. "I'll call her in the morning."
"Anyone would need therapy, you know," he said. "After what we've all been through. I mean, Ines went."
"Ines went, and she's still booby-trapping her apartment like she's living out a Home Alone fantasy," Sloane said.
"Okay, so she's a bad example." The floodlight on the back stairs glowed through the windows, all orange-yellow against Matt's dark skin.
"You've never needed it," Sloane said.
He raised an eyebrow at her. "Where do you think I kept disappearing to the year after the Dark One died?"
"You told us you were going to doctor's appointments."
"What kind of doctor needs to see someone weekly for months?"
"I don't  know! I figured something was wrong with . . ."  Sloane gestured vaguely to her crotch. "You know. The boys or something."
"Let me get this straight." He was grinning. "You  thought I  had some kind of embarrassing medical condition that necessitated at least six months of regular doctor visits . . . and you never asked me about it?"
She suppressed a smile of her own. "You almost sound disappointed in me."
"No, no. I'm just impressed."
He had been thirteen and lanky when she met him, a body of sharp edges with no sense of where it began or ended, but he had always had that smile.
She had fallen in love with him half a dozen times before she knew she had — when he was screaming orders over the deafening wind of a Drain, keeping them all alive; when he stayed awake with her on long night drives through the country even after everyone else had fallen asleep; when he called his grandmother and his voice went soft. He never left anyone behind.
She curled her toes into the tile. "I've been before, you know. To therapy," she said. "I went for a few months when we were sixteen."
"You did?" He frowned a little. "You never told me that."
There were a lot of things she hadn't told him, hadn't told anyone. "I didn't want to worry anybody," she said. "And I still don't, so . . . just don't mention this to the others, okay? I don't want to see it in fucking Esquire with the headline 'Rick Lane Told You So.'"
"Of course." Matt took her hand and twisted their fingers together. "We should go to bed. We have to get up in four hours for the monument dedication."
Sloane nodded, but they still sat on the kitchen floor until the medicine kicked in and she stopped shaking. Then Matt put the knife away, helped her up, and they both went back to bed.
 AGENCY FOR THE RESEARCH AND INVESTIGATION OF THE SUPRANORMAL
October 4, 2019
Ms. Sloane Andrews
Reference: H-20XX-74545
Dear Ms. Andrews:
On 13 September 2019, the office of the Information and Privacy Coordinator received your 12 September 2019 Freedom of Information Act (FOIA) request for information or records on Project Ringer.
Many of the requested records remain classified. However, due to your years of service to the United States government, we have granted you access to all but those requiring the highest level of security clearance. We searched our database of previously released records and located the enclosed documents, totaling 120 pages, which we believe to be responsive to your request. There is no charge for these documents.
Sincerely,
Mara Sanchez
Information and Privacy Coordinator
Excerpted from Chosen Ones by Veronica Roth. Copyright © 2020 by Veronica Roth. Published and reprinted by permission of Houghton Mifflin Harcourt. All rights reserved.
Betches may receive a portion of revenue if you click a link and purchase a product or service. The links are independently placed and do not influence editorial content.
The Betches Summer 2019 Reading List
It's that time of year again! The sun is out, the temperatures are rising, and all you want to do is go to the park in your bikini and read a good book. Or, maybe that's just me. In any case, I've been powering through advance copies all season to get you the Betches Summer Reading List 2019. Whether you're into romance, mystery, fun character sketches, etc., you'll likely find something you will enjoy on this list. Now, as a warning, here is how I am classifying my summer reading list: books that come out during the spring and summer. So don't be salty if some of these picks aren't available yet. That's why God invented preorder.

This book is so cute and fun and I'm obsessed with it. It's about Alex Claremont-Diaz, the heartthrob son of the first female President of the United States (if only), and Prince Henry, the Prince of England. The two start out as rivals and are forced to fake a friendship, until that fake friendship turns into a real friendship… and then more. Told through narrative, texts, emails, and even a podcast, this book is inventive and fun, and super heartwarming. I finished it today and low-key teared up on the subway.

Yes, I wrote about this one before, and yes, I'll likely do it again. This book was that good. Literally think Gone Girl, except better. I promise you. My Lovely Wife is about a typical suburban married couple with children… who hunts and murders women for fun. I swear to you, you won't see the twist coming. And if you do, kindly drop your location in the comments, so I can alert the police.

I loved The People We Hate At The Wedding, so I was not surprised that I loved Grant Ginder's next book, Honestly, We Meant Well. Here's the gist: a family takes a trip to Greece. But in that family, you have Dean, a famed writer and now-professor who just cheated on Sue Ellen, his wife. Oh, and they have a son, Will, who just broke up with his boyfriend, only to have him move on immediately and steal his job. There's not a lot of action (until the climax), but there's plenty of character development to keep you hooked. This fun family portrait is a perfect summer read.

Fiona and Liv are two best friends who became inseparable after Fiona experienced a family tragedy. Senior year of college, their lives are headed in different directions, and their differences are only highlighted by the sudden arrival of famed writer and controversial figure, Oliver Ash. It's not what you think—at least, not entirely. This novel, through different perspectives, explores loss, grief, sex, friendship, power dynamics, and much more.

If you're into horoscopes, and romantic comedies that are told through vignettes that ultimately come together in the end, you'll love Star Crossed, which has both of those elements. The novel focuses on a few characters, namely, Justine (a Sagittarius and a serious skeptic), who starts working at a newspaper. One of her projects? Laying out the horoscopes. All is proceeding normally until Justine takes the horoscopes into her own hands… and ends up changing other people's lives, not just her own.

If you're only going to read one thriller this summer, make it this one. It takes place in a nice neighborhood of Bristol, England, where everyone is hiding something—and everyone is watching each other. When someone in the community ends up murdered, all these secrets start scratching at the surface, threatening to come to life. Told via first-person narrative and transcripts of police interviews, this is a page-turner you won't be able to put down. And with so many twists, it's guaranteed that at least one will surprise you.

This book is literally going to be huge, and Reese Witherspoon loved it so much she made it a book club pick. Told like a biography (that's not a real biography), the book follows Daisy Jones, a girl coming of age in LA in the late sixties, and her life is all sex, drugs, and rock 'n' roll. When she joins forces with The Six, they become one of the biggest bands of the seventies. Remember—this is all fictional, but it reads like an oral history. It's an extremely inventive format and a captivating story that you and all your friends will love.

It's 1987, and Eve Rosen, aspiring writer and lowly assistant at a publishing house, is desperate to prove her mettle in the arts and literary scene. So when famed New Yorker writer Henry Grey extends an invite to a party at his summer home in Cape Cod, Eve jumps at the opportunity. Henry takes a liking to her and hires her as his personal assistant, giving her even access to the world she previously only dreamed about. She also scores an invite to the famed "Book Party," an end-of-summer celebration where everyone dresses in elaborate literary costumes. However, the deeper she gets into this world, the more she discovers that all that glitters is not gold and nothing is really as it seems.  

Another fun suspense-filled novel, this one follows Juliette, who was just dumped by Nate. She'll do anything to win him back… literally. She's convinced she and Nate are meant to be and has devised a truly crazy plan to win him back. So crazy, it just might work? You'll have to find out. Juliette is certifiably insane, for sure, but you'll find yourself siding with her more and more as the plot progresses.

If you read and loved last year's The Kiss Quotient, then you need to run out and order Helen Hoang's next novel, The Bride Test, right now. Just like The Kiss Quotient featured a protagonist on the Autism spectrum, this one does as well—so you're not just reading a fun novel, you're also reading a novel that's giving visibility to groups that aren't often written about. So. Onto The Bride Test. Khai Diep doesn't really experience emotions—or at least, he doesn't think he does. He doesn't think he's capable of love, but his family knows better. So his mom travels to Vietnam to find him the perfect bride.

I knew I forgot something I'd read and liked on my reading list, so I updated the post to include this fun read about Nina Hill, a nerdy girl living in LA, whose life is turned upside down when she finds out her estranged father died and left her a whole dysfunctional family who wants to meet her. And, given that Nina is a huge introvert, she would rather not—yes, I know what you're thinking. Even if it means passing up that sweet, sweet inheritance money. If you relate to staying in and JOMO (joy of missing out), you'll relate to Nina. This book was a fun, cute beach read that you'll breeze through pretty quickly, but it's still got a lot of heart.
Images: Link Hoang / Unsplash; Amazon (10)
Betches may receive a portion of revenue if you click a link and purchase a product or service. The links are independently placed and do not influence editorial content.
The Best Books To Read While You Tan: The Betches Summer 2017 Reading List
Summertime is officially upon us (it's June 21st, I'll forgive you if you just had to Google it), so that means you officially have no excuse not to pick up a fucking book for once. We've rounded up some great books that, even if you're taking an Adderall vacation, you'll actually be able to get through this summer. Yes, they're that good. Whether you're on the subway (we feel sorry for you), at the beach, or standing in front of your open freezer, we've got the best summer reads for every betch in your life.
For The Betch Who's Dead Inside: 'Standard Deviation' By Katherine Heiny
Simply put, this book is about a married couple and the ins and outs of their lives. I know, it sounds like a snore, but hear me out. The characters are so vivid you'll feel like you know them—and honestly, it's about a family in the Upper East side so like, you probably do know a family a lot like them. But this book is betchy because everyone's divorced. Everyone's cheating on each other and everyone's divorced. If you need reaffirmation that love does not exist and marriage is a sham of an institution (aka #TeamDeadInside), read Standard Deviation. And then delete your Bumble profile.

If you love scandals and mystery but like, murder scares you, then you'll love The Misfortune of Marion Palm. It's about a young Brooklyn mom (I'm sure you know the type) who embezzles $180K from her kid's fancy private school and then runs away to Sheepshead Bay. Someone who commits a felony in Brooklyn and then runs away to a different part of Brooklyn and evades police… sounds like the ever-incompetent Rosewood PD had something to do with this, making this book equally perfect for the Pretty Little Liars fan.

For The Betch Who Thinks She's Olivia Benson: 'The Perfect Stranger' By Megan Miranda
Another mystery, this one's good for your friend who keeps re-reading Luckiest Girl Alive. Like, girl, you already know the twist. What's the point? Anyway, in this suspenseful read, a millennial who doesn't know wtf she's doing with her life (same girl) is forced to live in exile rural PA to figure out her shit and help her friend who got in too deep with a fuckboy. But things get weirder than the contestants on this season of The Bachelorette when her BFF ghosts her….perhaps literally.

For The Betch Who Can't Stop Keeping Up With The Kardashians: 'Rich People Problems' By Kevin Kwan
It's Keeping Up with The Kardashians meets The Real Housewives, except set in Singapore. Everyone should read this because 1) the first book in the series is going to be a movie soon so you'll look cultured AF if you've read it before the movie trailer comes out 2) it's scandalous, vindictive, and hilarious (also adjectives I use to describe myself on Bumble just btw) and 3) it'll finally convince people that Asian dudes are hot (important).

For The Betch Who Loves Murder: 'I'll Eat When I'm Dead' By Barbara Bourland
When Hillary, a betch who works at a magazine, dies alone in a locked, windowless conference room (y aren't there windows tho?), people initially think she died as the result of an eating disorder. But Hill's best friend knows she wasn't like that, and two months later a note in Hill's handwriting ends up at the NYPD. The case is reopened and the best friend and colleague have to put up with party girls, Type A narcissists and half-dead socialites (sounds like my squad tbh) to solve the case. If UnReal, The Devil Wears Prada, and Sex & The City had a vindictive, hilarious, betchy baby it would be this novel.

The book is not, I presume, simply the word "everyone" written over and over. Rather, it's about a super dysfunctional family whose daughter is marrying some bougie-ass British guy in London. The mom is a pothead, the single daughter is facing a quarter-life crisis (hi), the gay son has a shitty boyfriend, the bride is a hot mess… no, I promise I didn't just look through your family tree and come up with that. It's really what the book is about. Oh, and lots of wine is involved.

For The Betch Who Watches Too Many Rom Coms: 'The Hating Game' By Sally Thorne
Yah this came out in summer 2016 but I'm including it because it's just that good. This book honestly starts out just like every rom com: Boy meets girl. Boy and girl hate each other with the fiery passion of a thousand suns. Boy and girl constantly throw shade at each other at the publishing company at which they work. This one has Pam and Jim vibes written allll over it, but like less annoying and more sexy. It's light and fun and you'll probs finish it before your sunburn tan sets in.

For The Betch Who's Having A Quarter-Life Crisis: 'Chemistry' By Weike Wang
If you're in grad school or just hate your life in general, you'll relate to this breezy read by Weike Wang about a millennial-aged female who's dealing with a PhD-induced nervous breakdown and grappling with uncertainty about whether or not she should marry her nice guy boyfriend. I mean, that's what was happening when I started this book earlier today, and I'm already v into it, so.

For The Betch Whose Family Deserves Their Own Reality Show: 'Spoonbenders' By Daryl Gregory
This is a novel about a lovable family of psychics, and no I'm not high. This novel has everything: psychics. The mob. The CIA. It's kind of like Arrested Development meets The Incredibles since every member of the family has their own special psychic powers and they're all batshit. Since I already fulfilled my quota of dysfunctional familes on TV aka I binge watched all of Schitt's Creek on Netflix, and because bringing my laptop to the pool is highly inadvisable, I'm going to be reading this shit ASAP.

Let's say you have a friend who dates fuckboy after fuckboy and thinks getting a "WYD tonight?" text before 11pm is romantic. You've tried everything short of a sit-down intervention with this girl because you just can't listen to her cry over the same asshole YET AGAIN. Save yourself the awkwardness of a confrontation and just give her our dating advice book. We cover every stage of a relationship, from your first Bumble meet up (and how not to sound like a psycho in your profile), to the first date, to becoming FB Official and beyond. We'll give you our signature advice every step of the way, in the way only the Betches can do it: snarky and real AF. I Had A Nice Time is newly available on paperback so bringing it to the beach is less of a schlep.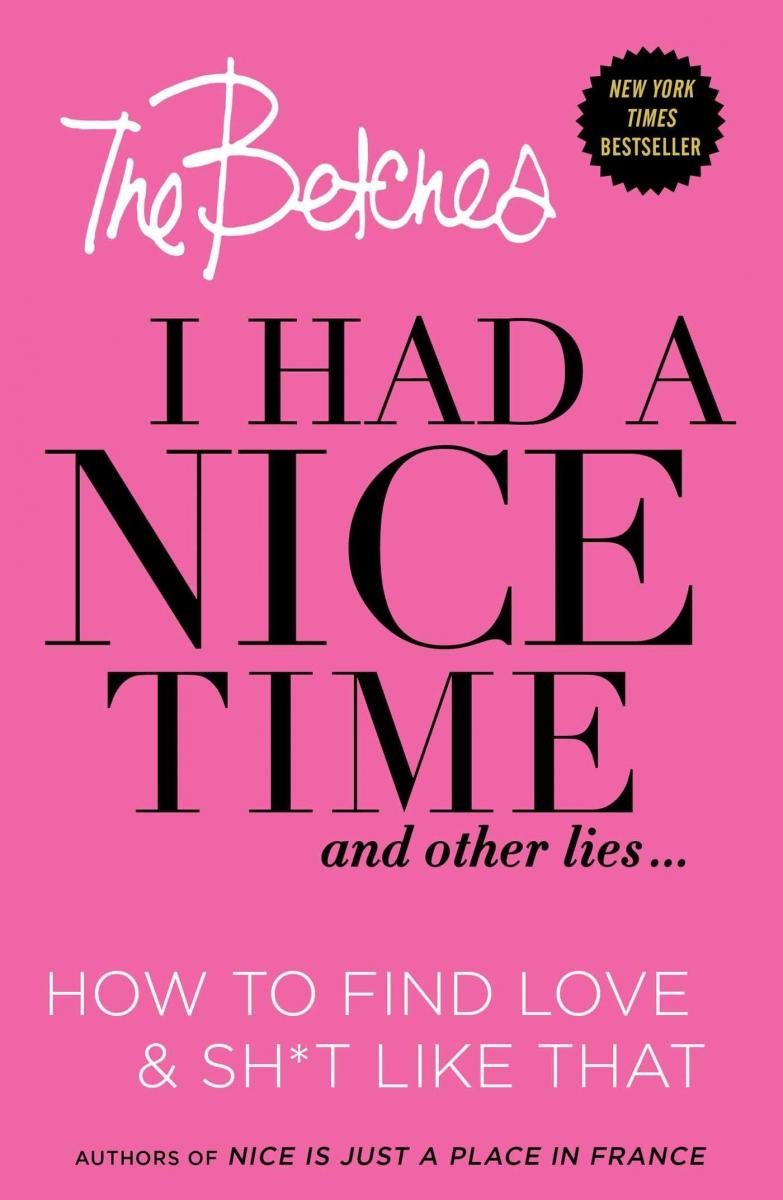 This Show Makes My Vagina Hurt: 'The Handmaid's Tale' Recap Episodes 1-3
So, between making predictions for the next Bachelorette season, and indulging in some Southern Charm, we've decided to engage in some more intellectual viewership with our newest obsession: The Handmaid's Tale. For those of you who have been living under a rock and missed the thousands of promotional photos of Elisabeth Moss in a white bonnet, The Handmaid's Tale is Hulu's latest (and best) attempt at becoming Netflix. Based off Margaret Atwood's bestseller by the same name, The Handmaid's Tale tells the story of a woman named Offred living in a dystopian future where an oppressive theocracy forces all fertile women into sexual servitude. Damn. I could have been an English major.
Basically, if you've ever looked around and the Trump Administration and thought, "honestly, let's turn this up a notch!" then The Handmaid's Tale is for you.
So, given that we're all feminists now, it's only appropriate that we add a Handmaid's Tale to our regular rotation of recaps, right alongside The Bachelor and Are You The One. Seems appropriate.
So let's dive in, because we are like, four episodes late.
Episode 1: Offred
Welcome to the cheerful world of Gilead, where "bitches be crazy" has been made law. You know shit is bad because all the colors are muted and grainy like Kim Kardashian's post-robbery Instagram aesthetic.
We open on Elisabeth Moss and her hipster husband comforting their literally gorgeous child. Things are not going great. We learn via flashback the U.S. has gone to shit and women are being rounded up and made to wear weird red outfits and say religious-sounding shit like, "Blessed be the fruit," and "May the Lord open." We're not sure exactly why this happened, but I imagine it's because Democrats failed to take back the House in 2018.
The flashback also shows Elisabeth Moss' husband being killed, and her gorgeous child being taken away by police. It's like, very upsetting.

Cut to the future where shit is all fucked up. We learn Elisabeth Moss' name is Offred (because her master/owner guy's name is Fred so she's Of Fred, get it?) and she's not allowed to hang out with anyone except Alexis Bledel (Ofglen), who Offred finds annoying. Same.

Offred: Blessed be the fruit.
Inner Offred: Get this bitch out of my face.
Offred and Ofglen are basically only allowed to go to the grocery store and back, so for that reason, handmaids be shoppin'. Other than that, Offred spends all day in the house with her owner Mr. Waterford (whose name is Fred, I guess) and his wife, Serna Joy, who gets to wear green and doesn't have a hat. Interesting.
There's also a hot(ish) driver/gardener guy who may or may not be a spy and may or may not have a thing for Offred.

Hot(ish) Driver/Gardener Guy: Hey Offred.
Offred: I can't fucking talk to you dumbass I'm a handmaid.
Offred and Ofglen go for a little walk along the river, and Ofglen reveals that she's not annoying and is, in fact, a cool lesbian.
Flashback to a place called "The Red Center" where a horrible Ms. Trunchbull lookin' lady named Aunt Lydia (sound like a brand of douche, TBH) is letting the handmaids know what's good about their new situation.
Aunt Lydia: And, in conclusion, you will all now be gifted to a man where you will have to lay in between his wife's legs and have sex with him until you get pregnant. It's all pretty straightforward.
Handmaids: Say what now?
Offred sees her old weed smoking buddy, Poussey Moira, at The Red Center, but Moira gives her a look like "don't fucking say anything" so Offred doesn't say hi.

The chick sitting next to Offred at the RC clearly has no clue what's up. She's out here acting like the government wasn't just taken over by an oppressive patriarchal religious something-or-other, mouthing off and giving attitude like this is first period gym. Her name is Janine, and things are going to get very difficult for her.
Janine: Fuck off, Aunt Lydia.
Aunt Lydia: *Tases her and pops her eye out*
Audience:WOOOOORRRRRLLLLDDDD STAAAARRRRRRRRR
So now we finally get to what we've all been dreading all along: the sex stuff, henceforth referred to as "the ceremony." Offred takes a bath and goes to meet up with the SJ, who does not like Offred, because of the whole thing where she has to watch Offred fuck her husband once a month. Mr. Waterford shows up and reads a bunch of weird Bible verses about some chick named Rachel who let her husband fuck her handmaid, which appears to be the religious basis for why this is happening.
Then we see The Ceremony take place and it's very disturbing. The whole thing ends with Serena Joy yelling at Offred and Offred leaving like, "lol remember when I had a job and a husband and an Uber account?"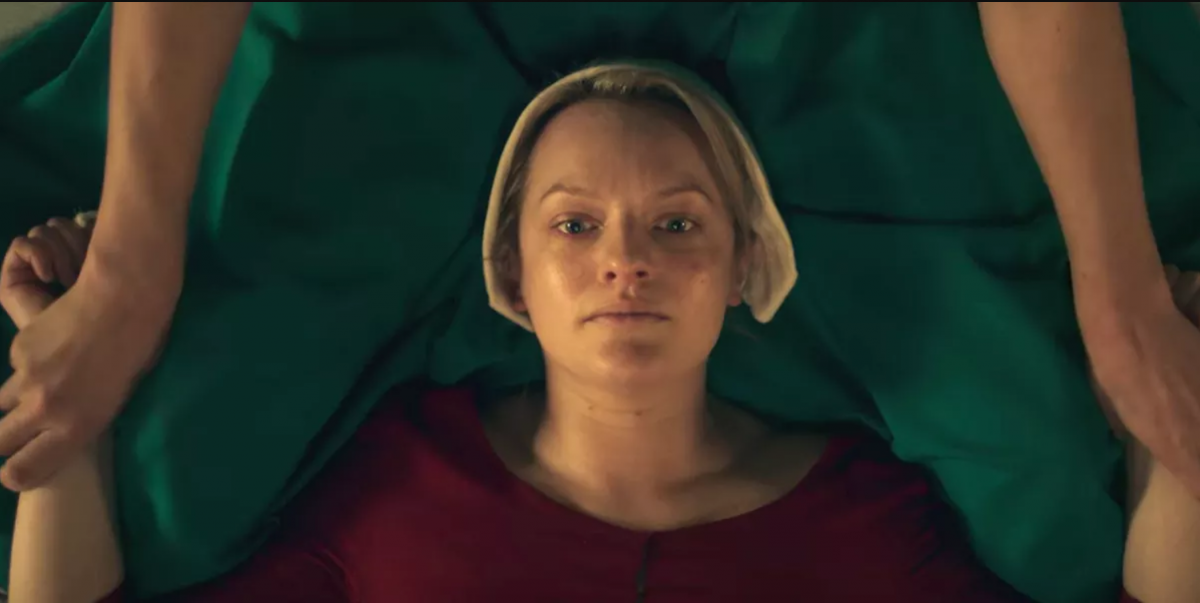 Cut back to Moira giving Offred some very, very good advice: If you ever want to see your little girl again, you need to keep your shit together.
This is like, Offred's mantra now.
Now we get to the craziest part of the entire episode (surprisingly not The Ceremony), which is when all the handmaids are forced to gather in a field for "The Savaging," which is basically what you do to a friend's ex in your group text but real and someone dies. Basically we learn when someone commits a crime, the handmaids all get to jump him. It's a lot.
Offred: Hmmm…I wonder if Moira is here.
Crazy Ass Eyeless Pregnant Janine: Oh Moira is dead.
Offred: Wow okay nobody fucking asked you Janine.

We find out from crazy-ass one-eyeball preggo Janine that Moira was caught escaping and was sent "to the colonies" which is apparently a place that is so disgusting and full of toxic waste that anyone who gets sent there dies within like, a week and all their skin falls of. So basically, modern day Florida.
After straight-up killing a dude, Offred and Ofglen walk home like, "lol that was crazy I can't believe we did that!" The two of them are slowly becoming BFFs, which, in Gilead, is the most dangerous thing two women can be.
Offred: Alright, well, this is me. Seeya later, may the Lord whatever, etc etc…
Ofglen: THERE'S A SPY IN YOUR HOUSE!!!!!!
Offred : My real name is June and I'm about to kirk.
Episode 2: Birth Day
This whole episode centers around Crazy-Ass One Eyeball Janine, who is about to give birth. Like everything in Gilead, the birthing process is both disturbing and extra.
We open up on The Ceremony again, because Hulu knows that we're all freaks who slow down to see car wrecks and that this is what we want to see. Nobody involved looks like they are having a remotely pleasurable time, even Mr. Waterford, who obviously has the upper hand in this whole situation. Homebody doesn't even take off his shoes.
Offred Interior Monologue: Hurry the fuck up.
Audience: Been there, sister.
Once the Ceremony is done, Offred is free to hang out with her new bestie Alexis Bledel, aka Offred. They take a nice stroll past a pile of dead bodies and make sure there are no Eyes (what they call spies—very original) before diving into a deep shit talking session.

Ofglen: Btw did you hear that they blew up St. Peter's cathedral?
Offred: Wait, how tf do you know that? And how do you know there's a spy in my house? What's your fucking deal?
Ofglen: Omg there's a resistance, did you not hear? So embarrassing. I'll send you the invite.
Offred heads back into the house to chill, when Nick, the hot(ish) gardener/driver dude is like, "don't hang out with Ofglen" and leaves. It's unclear if he knows something or is just being a jealous little bitch.
Nick: Btw, Mr. Waterford wants to see you alone.
Offred: Cool.
Inner Offred: I'm fucking dead.
Now it is time for Crazy-Ass One Eyeball Janine to give birth. Much like The Ceremony that brought us to the birthing, everything is all fucked up and involves 2-15 too many people. On floor one, all the wives are laying around in their blue dresses eating macarons and pretending to give birth. On floor two, Crazy-Ass One Eyeball Janine is actually pushing out a kid.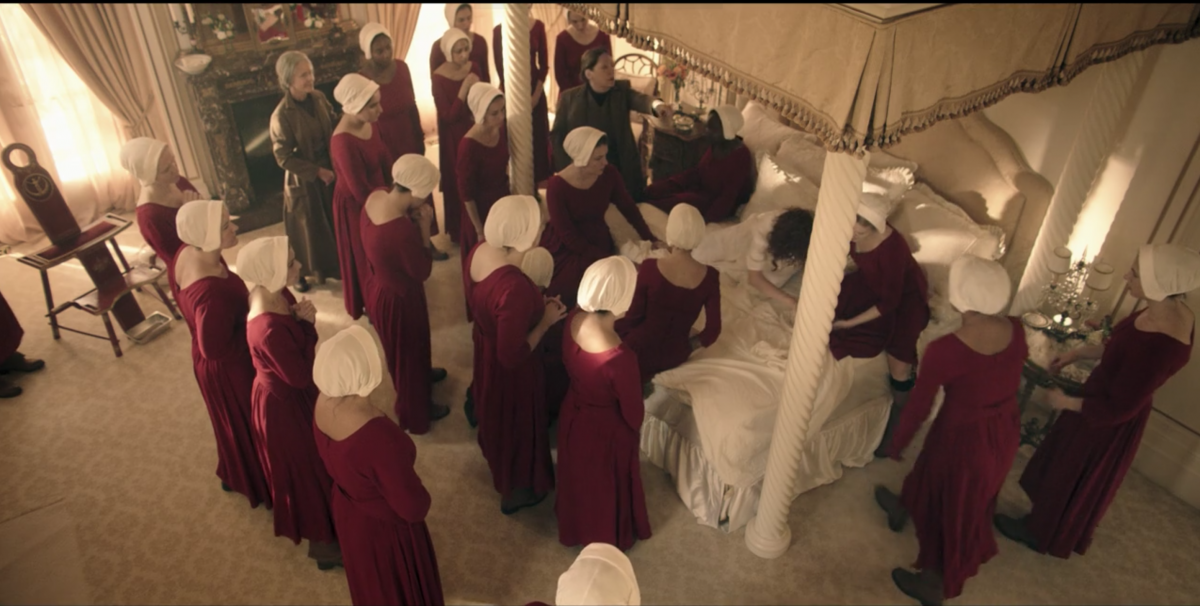 Wife One: Hey Offred, want a cookie?
Offred: Sure.
Inner Offred: There are like, ten thousand things that I want more than this fucking cookie right now.
Janine gets into the final stretch of giving birth and, like everything in The Handmaid's Tale, shit goes from bad to worse. Wife 1, who has been playing pretend pregnant all day, shows up and wraps her legs around Janine so that they look like a two-headed birth monster. The baby is born and they immediately take it and give it to the wife, and everybody pretends like they don't know which vagina this baby actually came from.

Crazy-Ass One Eyeball Janine: Cool. It's cool. You can have my baby.
Inner Crazy-Ass One Eyeball Janine: I'm gonna bite you next episode for this.
The episode ends with Offred showing up at Mr. Waterford's office,
Offred: Are you going to kill me?
Mr. Waterford: Sort of. We're going to play scrabble.

Like any good bestie, Offred is very excited to tell Ofglen/Alexis Bledel about her weird AF scrabble date. But—DUN DUN DUN—it's not Ofglen/Alexis Bledel at the gate! It's Ofglen/Some Random Bitch!!!!
Offred: Excuse me, but who the fuck are you?
Ofglen/Some Random Bitch: I'm Ofglen.
Offred/Everyone Watching: Fuck.
Episode 3: Late
We start this question with one question on everybody's mind: Where the fuck is Alexis Bledel? Stolen away, apparently, by The Eyes, and send to a place with very aggressive lighting.

Offred is so preoccupied with Ofglen's disappearance that she doesn't realize she hasn't gotten her period yet, which is like, a huge fucking deal.
The first hint we get that something is up is when Rita the cook (cooks are reffered to as 'Marthas' btw), who is usually a huge bitch to Offred, is being all fake-nice to her and shit like this is sorority rush. In fact, everyone is being super fake to Offred now because they think she's pregnant, even Serena Joy, who is usually the biggest bitch of all.
"Nice" in The Handmaid's Tale universe, btw, means that Offred gets to eat ice cream.
Rita: Hey Offred! Want some ice cream?
Offred: Hmm…I'd prefer my child back, actually, but thanks.
Meanwhile, New Ofglen is a total narc, and it reminds Offred of when she and Moira used to chill and go jogging together to a local coffee shop where the barista, who has clearly suffered one two many Tinder rejections in his day, calls them "sluts" for wearing shorts. Way harsh, Tai.
Offred Interior Monologue: When they slaughtered congress, we didn't wake up. When they blamed terrorists and suspended the Constitution, we didn't wake up either. They said it would be temporary. Nothing changes instantaneously. In a gradual, heating bath tub, you'd be dead before you knew it.
Audience: Trump Trump Trump Trump Trump Trump Trump Trump Trump Trump
We see another flashback to Offred trying to see if her direct deposit hit, and finding out that all of her money has been taken away and transferred to her husband. Also women can't have jobs anymore. Cool.
Cut to Serena Joy, who has literally no chill about the fact that Offred might be pregnant.

Serena Joy: Want to go visit Crazy-Ass One Eyeball Janine? Maybe her pregnancy juice will rub off on you!!!!!
Offred: That's literally not how this works but whatever I just want to get out of the house.
Crazy-Ass One Eyeball Janine is crazier than ever now that she's had a baby. We find out that she actually bit the wife for holding the baby wrong, which you'd think would lose her that second eyeball, but actually things are kind of great for Janine right now. I mean, as great as it gets for handmaids.
Offred: Janine you can't bite people wtf
Janine: Actually, I gave birth to a healthy baby and now I can do whatever the fuck I want. I can even have ice cream.
Offred: Again with the fucking ice cream.
Janine then reveals that on top of having one eye and being totally bat shit nuts, she's also a delusional dater who thinks her owner guy is in love with her and that he said they're gonna run away together. Turns out fuckboys are thriving in Gilead.
Shit hits the fan when Offred returns home and realizes that one of The Eyes is at her house and hot(ish) Nick brought her straight to them.
Hot(ish) Nick: Tell them everything.
Offred: Umm wow dude I thought we had a thing?
Surprise, surprise, Aunt Lydia is here along with some dude who works for The Eyes, and double surprise, they pull out a taser and tase Offred like, immediately.

Offred, who is on some kind of high because of all the ice cream she's been offered, tries to get mouthy with The Eye and tells him that she knew Ofglen was gay. "Gay" is a forbidden word, so Aunt Lydia commences beating the shit out of her.
Serena Joy: WTF are you doing she's pregnant!
Aunt Lydia: My bad.
Cut to Ofglen in a jail trying to give a guard a handjob in exchange for her freedom.
Ofglen: How about a nice handjob?
Guard: Nah
Ofglen: This is so embarrassing.
Ofglen appears before an all-male Senate Task Force On Health Care court who sentence her to "redemption" for being gay. While Ofglen, who has two good ovaries, is allowed to survive, the Martha (cook) that she was in a relationship with is not so lucky. They sentence her to death and straight up hang her right in front of Ofglen.
But that's not the worst shit that's going to happen to good ol' Offie-G. More on that later.
Flashback to a protest that looks a fuck ton like the Women's March minus all the pink hats. It didn't work. They should have made the hats.
Cut to Offred getting her period and realizing that the free ice cream train has come to an end. She tells Serena Joy, who promptly loses it and locks Offred in a room.

But we don't really have time to be upset about that because next we check in with Ofglen, where shit is approximately ten thousand times worse. How "worse" is it? Well…
Are you ready?
Are you sitting down?
Do you have like, an ice pack nearby for your vag?
Ready?
Okay.
Here we go.
The bastards cut Ofglen's clit off.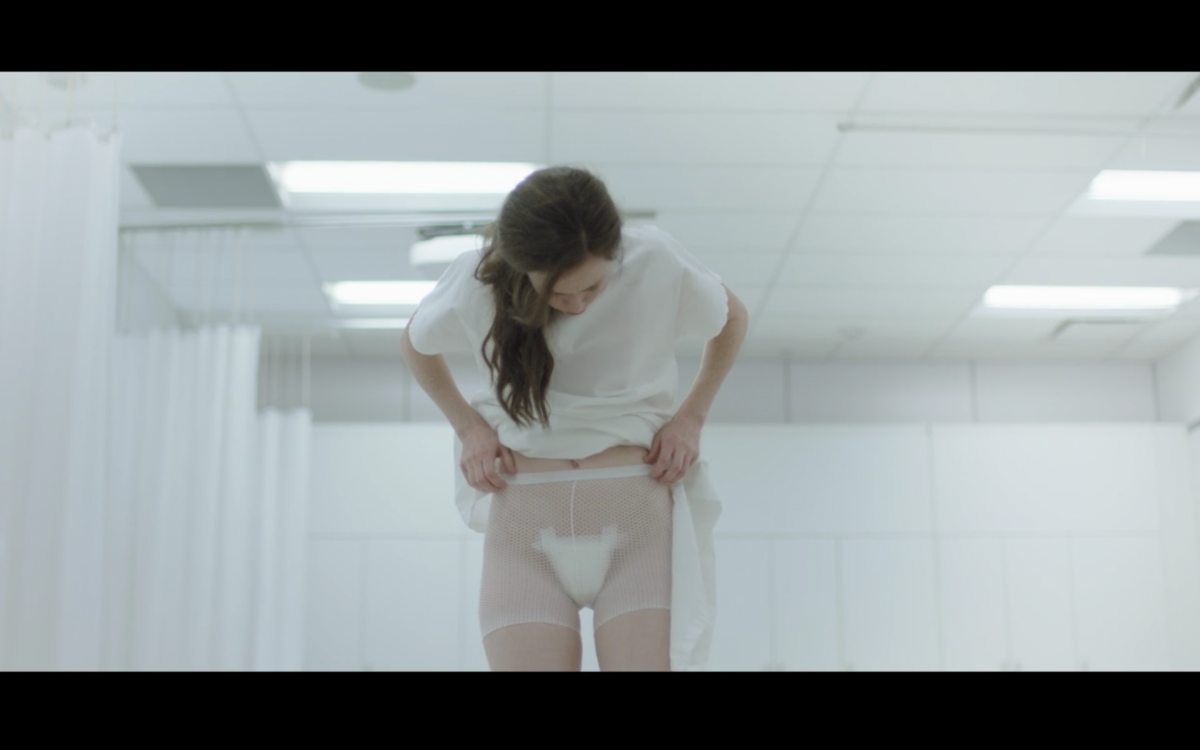 That's right. The punishment for being gay is that they knock you out and destroy your platinum vagine.
You know, I'm starting to think this Gilead place is pretty fucked up.