Last-Minute Deals To Shop From Nordstrom's Anniversary Sale
Betches may receive a portion of revenue if you click a link and purchase a product or service. The links are independently placed and do not influence editorial content.
Just like summer, Nordstrom's Anniversary Sale is quickly coming to a close (on July 31, to be exact). Luckily, we've rounded up some of the best fashion finds so whether you're preparing to go back to school, have a last-minute vacation lined up, or are still in your WFH era, you'll be sure to do it in style.

Anna Cuff Sleeve Cotton T-Shirt
AllSaints
Investing in a classic white tee that won't fall apart after one wash is never a bad idea, so make sure to restock your closet with this cotton tee from AllSaints.

Cropped cardigans have been a personal fashion favorite for years now, so it's no surprise I love this one from PacSun. With pearly buttons and a curly lettuce hem, it's got a feminine edge that can be dressed up or down. You can easily transition this piece into your fall wardrobe, too, making it well worth the price.

Franklin Distressed High Waist Wide Leg Jeans
BLANKNYC
Speaking of transition pieces, black jeans are the anchor to a perfect day-to-night look. Just swap your sneakers for heels and your graphic tee for a corset top, et voilà!

Berina Whisper Minidress
French Connection
If you thought puffed sleeves were just a cottage core trend waiting to fall out of favor, you may want to reconsider. This form-fitting minidress from French Connection is the perfect blend of classic and trendy that you'll want to keep on hand all year long.

The Way Home Shorts
Free People FP Movement
These lightweight running shorts by Free People are totally giving Lululemon vibes at less than half the price. *adds to cart immediately*

Sportswear Collection Essentials Oversize Hoodie
Nike
Available in black, white, baby pink, and neon green, this oversized hoodie by Nike is a campus life staple that you'll be grateful to have during those Sunday recovery brunches, late-night study sessions, and sprints up the stairs to your 8 a.m.

Betty Plaid Miniskirt
WAYF
Step aside Y2K girlies, the 90s are still very much on-trend as seen through this plaid miniskirt by WAYF that Cher and Dionne definitely would have approved of.

Elie Block Heel Bootie
Steve Madden
"Modern edge and retro-chic style" combine to create the essential bootie I've been dreaming of. Thanks Steve Madden!

Initial Pendant Necklace
Bracha
How could we forget about accessories? Add a touch of personalization to any outfit with this initial pendant necklace from Bracha. 

Be Happy/Stay Positive Set of 3 Stretch Bracelets
Little Words Project
A daily dose of positivity is hard to come by these days, so let Little Words Project's Be Happy/Stay Positive bracelet set encourage you to adopt a "glass half-full" mentality (as long as the glass is filled with wine ofc).
Images: Pansfun Images /Stocksy.com
Summer Styles You Need To Snatch Up From The Nordstrom Half-Yearly Sale
Anyone who's anyone knows that this weekend is the weekend that unofficially kick-starts the summer. Memorial Day weekend is basically a preview of what's to come in the upcoming months after we spend too many hours under the sun drinking La Croix cocktails. I cannot fucking WAIT. By this point in the year, the weather has (hopefully) warmed up so that we can dig out our favorite shorts, new bathing suits, and flattering dresses to the many drunken pool parties, boat parties, and barbecues we'll obviously be attending. The perks of this upcoming weekend don't stop there, though. I'm talking about a 4-day weekend, which means no Monday morning at work (praise fucking be), much-needed getaways, and of course, the insanely good shopping deals your email inbox will be overwhelmed with. The biggest (and clearly, the best) would be the Nordstrom Half-Yearly Sale that starts today and goes through June 3rd. Trendy af styles will be 40% off, so now's the time to get those sandals, tops, and skirts you've been eyeing on Instagram influencers.
This isn't like, a regular crop top. It's a cool crop top with a v extra wrapped tie you can easily take from the beach to the bar. Both subtle stripes and nautical vibes are in rn, so definitely be sure to pack this with you next time your plans involve a yacht.

Skirts are everything at the moment, so if you haven't amped up your game since your Laguna Beach days, you should probs consider grabbing a couple of styles during the Nordstrom Half-Yearly sale. This simple black wrapped skirt can easily be worn in the office and to happy hour without any judgment or passive-aggressive emails.

You'll look both in theme and appropriately patriotic for Memorial Day and Fourth of July with this white and red off the shoulder dress. You go, Glen Coco. It'll go perfectly with the new tan you're bound to get this weekend and looks fab when paired with block heel sandals (see #6) that also happen to make your legs look miles long.

It wasn't until this spring that I developed an entirely new appreciation for maxi dresses. But only the styles that are decorated with boho chic prints and make me look tall, lean, and classy. This chiffon style is obviously a reminder of why we love millennial pink, and it will def get you a ton of likes every time you post a Boomerang in it.

The limit does not exist for how many jumpsuits you can own in the summer. Especially a black one (or two) that show your die-hard dedication for an all black wardrobe, regardless of the season (and make you look slimmer).

And of course, with a new summer wardrobe and attitude, you need cute new shoes. Fucking duh. Wraparound styles always get you so many compliments, and as we've established, a low block heel AND platform gives you extra height without a ton of pain. It's just a bonus that it comes in a neutral shade because then you know you'll be wearing them out to plenty of nights of bar hopping.

Photos: Nordstrom (6)
Betches may receive a portion of revenue if you click a link in this article and buy a product or service. The links are independently placed and do not influence editorial content.
Nordstrom Is Having A Crazy Labor Day Sale & Here's What You Need To Buy
National holidays are like, fucking awesome for obvious reasons. Not only because you can "occasionally" dress like a total slut, but because they free us from our dreary office and provide an excuse to excessively drink even if it's because a fucking groundhog emerged from hibernation—but when I hibernate all winter, I'm anti-social and depressing… K. This Labor Day weekend, it's expected that we'll drink an ungodly amount of alcohol, indulge in our mom's pasta salad (and then hate ourselves) and shop last-minute summer finds because this is corporate America and holiday sales are massive. Out of the hundreds with Labor Day sales, the only store worthy besides Shop Betches is of course, Nordstrom's Labor Day Summer Sale because it discounts our fave brands up to 40% off, both in store and online. Not only is this a fab opportunity for swimsuits and shorts you've been eyeing, but it'll also have leggings and fall-ready dresses to prep you for next season. It starts today (you're welcome) and runs through September 10th so, before your three-day binge-drinking sesh weekend begins, take advantage of these must-haves or forever hold your peace.
From here on out until summer 2018, our exposure to vitamin D will be slim to none, as will the summer tan we worked so hard on. Pale pink may not be a big fall trend, but you have plenty of good reasons to buy this summer style ahead of time. You probs have a fall wedding coming up anyway that you def didn't buy a dress for yet. Well, here you go. It's semi-slutty short, form-fitting, and v accentuating, so before you gain three pounds during hibernation, you may as well show off the summer bod you got now with this minidress.

These are basically your life-savers for every occasion where leggings, denim, and sweats aren't a question. Weird, I was thinking work, too. Speaking of jobs, the reason why we're even celebrating this weekend since I had to Google the meaning to check is because we put up with ridiculous dress codes and fugly cubicles to begin with. So, cheers to that and get yourself a pair of bangin' black jeans that feel as comfy as leggings that you can totes get away with wearing to the office. Since they're black, slightly cropped, and high waisted, you'll look tall and and skinny AF.

It is slowly becoming sweater weather. Start your obsession with this slightly oversized sweater. It's kinda hipster-ish in the sense that it only bares one shoulder, which sounds odd, but if worn correctly, you'll look cute and comfy like an Insta thot influencer who captions a picture of herself wearing knee-high socks and coffee in bed with something like, "You fell in love with my flowers and my roots, so when autumn came you didn't know what to do." Oh, this sounds like you? Perfect. You and this slouchy cotton-blend sweater are meant to be.

I'll be the first to admit that I have an unhealthy obsession with over the knee boots. They are the sexiest and most versatile shoes EVER. And like, they make your legs look fucking fire, so IDK what's not to like. On that note, all three colors of these Marc Fisher leg-lengthening and booty-plumping boot heels are 40% off so obviously you need to get a pair like, now. Or better yet, get one in every shade.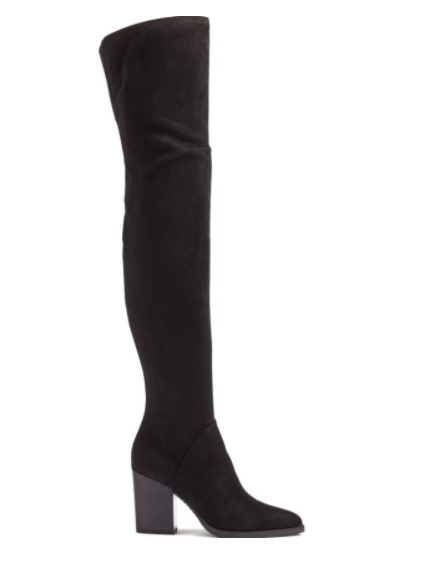 Tbh, you can never have too many leggings and anyone who's anyone already fucking knows that. But be real—half of the leggings in your closet have a hole in the crotch, the other half make your ass saggy and flat, so it's time for an upgrade. These have the basic betch fave of mesh panels to prevent us from having thigh sweat (a major necessity) and feature a figure-sculpting high waistband to keep up with the illusion that you actually go to cycling class and miraculously lost weight this summer.

Suede and leather skirts are v important during cooler seasons because they're trendy, modern, and elevate an average look with new bold pieces. This reddish-brown leather skirt is a twist on the old-fashioned "pencil skirt-businesswoman" look for an upgrade that's professional, edgy, and elegant all in one. It's honestly soft, easy to wear, and falls right above the knee, making it perfect for any boot you decide to pair it with and for getting out of trouble if your HR rep tries to start shit.