Last-Minute Deals To Shop From Nordstrom's Anniversary Sale
Betches may receive a portion of revenue if you click a link and purchase a product or service. The links are independently placed and do not influence editorial content.
Just like summer, Nordstrom's Anniversary Sale is quickly coming to a close (on July 31, to be exact). Luckily, we've rounded up some of the best fashion finds so whether you're preparing to go back to school, have a last-minute vacation lined up, or are still in your WFH era, you'll be sure to do it in style.

Anna Cuff Sleeve Cotton T-Shirt
AllSaints
Investing in a classic white tee that won't fall apart after one wash is never a bad idea, so make sure to restock your closet with this cotton tee from AllSaints.

Cropped cardigans have been a personal fashion favorite for years now, so it's no surprise I love this one from PacSun. With pearly buttons and a curly lettuce hem, it's got a feminine edge that can be dressed up or down. You can easily transition this piece into your fall wardrobe, too, making it well worth the price.

Franklin Distressed High Waist Wide Leg Jeans
BLANKNYC
Speaking of transition pieces, black jeans are the anchor to a perfect day-to-night look. Just swap your sneakers for heels and your graphic tee for a corset top, et voilà!

Berina Whisper Minidress
French Connection
If you thought puffed sleeves were just a cottage core trend waiting to fall out of favor, you may want to reconsider. This form-fitting minidress from French Connection is the perfect blend of classic and trendy that you'll want to keep on hand all year long.

The Way Home Shorts
Free People FP Movement
These lightweight running shorts by Free People are totally giving Lululemon vibes at less than half the price. *adds to cart immediately*

Sportswear Collection Essentials Oversize Hoodie
Nike
Available in black, white, baby pink, and neon green, this oversized hoodie by Nike is a campus life staple that you'll be grateful to have during those Sunday recovery brunches, late-night study sessions, and sprints up the stairs to your 8 a.m.

Betty Plaid Miniskirt
WAYF
Step aside Y2K girlies, the 90s are still very much on-trend as seen through this plaid miniskirt by WAYF that Cher and Dionne definitely would have approved of.

Elie Block Heel Bootie
Steve Madden
"Modern edge and retro-chic style" combine to create the essential bootie I've been dreaming of. Thanks Steve Madden!

Initial Pendant Necklace
Bracha
How could we forget about accessories? Add a touch of personalization to any outfit with this initial pendant necklace from Bracha. 

Be Happy/Stay Positive Set of 3 Stretch Bracelets
Little Words Project
A daily dose of positivity is hard to come by these days, so let Little Words Project's Be Happy/Stay Positive bracelet set encourage you to adopt a "glass half-full" mentality (as long as the glass is filled with wine ofc).
Images: Pansfun Images /Stocksy.com
10 Deals From The Nordstrom Anniversary Sale You Don't Want To Miss Out On
I'll start by saying that I'm highly aware that times are tough, but I also know that the one thing that always helps get me through these hard times (other than wine) is some good old fashioned retail therapy. And fortunately for us, the Nordstrom Anniversary sale has arrived just in time for you to make yourself feel better by hitting "check out". And not only is this the sale of all sales to buy yourself some new fall pieces at exclusive prices, but it's also the prime time to take advantage of rare sales on new beauty, accessories, and home pieces with prices that you just won't find anywhere else. It ends on Sunday, so don't sleep on this sale.
1. Socialite Crewneck T-Shirt

Socialite Crewneck T-Shirt, $25 $15.90
This tee is easily going to be a closet staple as we transition from summer to fall. The neutral snake print makes it trendier than your classic white tee, while the print is still subtle enough it can be paired with multiple different looks. Wear this tee now with a pair of distressed denim shorts and sneakers or, in a couple months from now, layered under a jacket or a cardigan.
2. Avec Les Filles Moto Detail Coat

Avec Les Filles Moto Detail Wool Blend Twill Coat, $335 $199.90
Once you're out of college, it's crucial that you have a nice fall coat that isn't just some dirty jacket you stole from a frat a few years ago. You need a high-quality piece that makes you look polished and as if you have your sh*t together, even if you actually don't. The coat above is knocked down more than $100 off its regular price, which is an amazing deal.
3. 7 For All Mankind Dojo Wide Leg Jeans

7 For All Mankind Dojo Wide Leg Jeans, $168 $99.90
As fall approaches, it's time to start considering your denim situation. This pair from 7 For All Mankind is the ideal pair to purchase right now during the anniversary sale because they can seamlessly transition from summer to fall. The light wash color keeps the jeans summer-appropriate, while the trendy wide leg silhouette makes them stylish for fall.
4. Leith Cozy Long Cardigan

Leith Cozy Long Cardigan, $69 $39.90
This cardigan comes in several different colors and is currently almost half off. I personally love a cardigan all year round. You can wear it now on a summer night paired with denim shorts, and then into the fall layered over all your basics. This cardigan is the perfect weight and length to casually layer over tanks, tees, or even over a fitted turtleneck as we move into the colder months.
5. Vince Low Top Sneaker

Vince Low Top Sneaker, $250 $149.90
Everyone needs a good pair of sneakers to wear with jeans and leggings in the fall. This pair by Vince is a classic style that is sure to work with all of your fall outfits. Whether you're running errands or heading out on the town (with your mask, of course), these sneakers are perfect for the occasion.
6. UGG Wade Throw Blanket

UGG Wade Throw Blanket, $178 $118.90
If you're going to treat yourself to something from this anniversary sale, let it be this gorgeous and cozy blanket from UGG. There's nothing more comforting and luxurious than snuggling into a premium blanket at the end of a long work day, even if it is just a work-from-home type of work day. Regardless, you deserve it.
7. Voluspa Vermeil Set of 5 Mini Tin Candles

Voluspa Vermeil Set of 5 Mini Tin Candles, $50 $33.50
Since we're all spending so much time at home right now, it's important that we do everything we can to keep our environments zen. And I know that for me, even when my room is "was she hit by a tornado?"-level-messy, if I at the very least just light a candle then it gives me an instant sense of calm. Right now you can get this pack of beautiful and high-quality candles for just under $35.
8. Supergoop! Limited-Edition Set of 3 Body Mist

Supergoop! Full Size Play Antioxidant Body Mist Set of 3, $63 $42
Supergoop! has quickly become my go-to sunscreen over these past few months. Their products do the job of protecting our delicate skin while still respecting our need to want to look good. By that I mean, their products effortlessly fit into any beauty routine and don't make it look like you're wearing sunscreen even when you are. With this limited-edition value set of three, you can keep a bottle in multiple different places so that you can be confident you're always taking care of your skin.
9. Charlotte Tilbury Pillow Talk Lip Secrets Set

Charlotte Tilbury Pillow Talk Lip Secrets, $91 $68
Charlotte Tilbury's pillow talk shade has become a universal favorite among celebrity makeup artists as the perfect pinky-nude color. I personally own this shade in the lipstick and lip liner, and can attest to it being both stunning and flattering. Right now during the anniversary sale, you can even get the full trifecta of lip-enhancing pillow talk products for a major discount.
10. Too Faced Hangover Prime, Set, Refresh Set

Too Faced Hangover Prime, Set, Refresh Set, $66 $39
If you, like many of us, are drinking more in quarantine (no shame), chances are your skin is showing it. Too Face's two-piece set includes a hydrating primer and a setting spray to bring your skin back to life. Formulated with probiotic-based coconut water and skin revivers, it will instantly hydrate your skin while locking in makeup so you can face the day again.
These exclusive anniversary sale deals were already starting to sell out as I was trying to write this article. That being said, my advice to you is to follow the wise words of Ariana Grande and if you "see it, like it and want it"…then you should get it.
Betches may receive a portion of revenue if you click a link and purchase a product or service. The links are independently placed and do not influence editorial content.
Images: Roman Tiraspolsky / Shutterstock.com; Nordstrom (10)
The Nordstrom Anniversary Sale Has Fall Staples You'll Want To Stock Up On
If you're not already aware via every fashion blogger on your Instagram feed, the Nordstrom Anniversary sale is officially here. And, per usual, this sale does not disappoint. The whole idea of the sale is to encourage you, me, and the rest of consumerism America to purchase all your new fall pieces now before you actually really need them. And, in order to convince us to do so, they offer great discounts on said pieces. This isn't like a normal sale, where they discount all the old sh*t—these are new pieces with limited-time prices. Of course, who's to say you'll still want these items when fall does finally roll around and there's a whole new set of covetable fall arrivals? But that's not the point. 
Given how good the deals are from the Nordstrom Anniversary sale, it seems like the financially responsible thing to do here is just go ahead and order these great fall pieces now, before the price shoots back up. But, fair warning, everything is going super fast… it was actually tough to even write this article considering how quickly all the sizes keep selling out. So, if you like something, don't hesitate. See it? Like it? Want it? You got it…if you order ASAP!

Now: $92.90
After Sale: $139
This oversize blazer, which is also available in plus sizes, is the perfect combo of cool and chic. You could totally wear it to the office with full confidence that you look super professional, then out to happy hour and still look stylish. Depending how strict your office dress code is, you could even just switch out your work blouse top underneath for a casual tank or tee. You could even wear this blazer out and about à la Hailey Baldwin Bieber with some cut-off jean shorts and chunky dad sneakers. Simply put, this blazer can pretty much be worn all year, so there's legit no reason not to buy it.

Now: $49.90
After Sale: $79
Slip midi skirts are a fall staple, and this floral one by Something Navy is a true fall wardrobe must-have. It also comes in that leopard print every single girl in New York City is wearing this summer. Whatever pattern you choose, you can easily pair this skirt with a cute graphic tee for early fall when it's still relatively warm out, then transition it for late-fall/winter with a chunky sweater. Not to mention, this too is a piece that works for both the office and the weekend because it's both stylish and HR-approved.

Now: $99.90
After Sale: $158
Okay, I already know what you're thinking—that's a deal for a flannel?! Hear me out, it totally is. That's because this isn't just a regular flannel, it's a Rails flannel. They're super soft, timeless, and just pretty much all around the sh*t. Plus, unlike your Forever21 flannel, this one will actually last you more than one season. I personally LOVE this navy one with the pink stripes, but they're all cute so I would highly recommend getting at least one. 

Now: $123.90
After Sale: $185
Everyone's fave Kardashian, Khloé, gave us 100 more reasons to call her our favorite with the creation of her denim-focused size-inclusive brand, Good American (check out the plus sizes here). And now, she gave us more reasons to like her with these incredible black high waist straight leg jeans that I NEED for fall. Everyone who has tried Good American denim raves about the fit, so if you haven't gotten on the bandwagon yet, now's the time to do so while you can get this pair for more than $60 off.

Now: $216.90
After Sale: $325
I obviously realize that not everyone is currently in the market for designer sunglasses but, if you are, the Nordstrom Anniversary sale is the time and place to treat yourself to a pair. They have all kinds of styles from top brands like Fendi, Dior, Tory Burch, Ray-Ban, etc. They even have less pricier styles from Rebecca Minkoff, Kate Spade, and Marc Jacobs. So, even if this gorgeous Givenchy style I've selected isn't exactly the style you personally want, there are a ton more options. 

Now: $52.90
After Sale: $80
Cropped jackets are the ideal transitional jacket from season to season. This oversize cropped one from Topshop can be just as easily worn now as it could be in a few months from now paired with a fitted turtleneck underneath. Okay, maybe not worn exactly now given we're in the middle of a heat wave, but then again, with everywhere blasting their AC as a result, you may want to have it with you just in case. Right now it's only $53, which is an unbeatable price for a jacket you can legit wear all year.

Now: $129.90
After Sale: $199.95
This is the perfect simple bootie that will pair with everything in your closet this fall. It actually comes in four different colors, all of which are chic and easy to pair. You obviously have to get the black pair to have as your basic staple bootie for fall and winter, but then you def need the red pair to elevate an otherwise basic outfit and make a statement. Of course, then you also have to have the dark gray pair for when you need something slightly softer than black. And then, you need the pale pink pair because they're honestly just beautiful. You basically need all four colors, so you might as well just go all in while they're on sale.
Like I said, if you haven't already checked out the Nordstrom Anniversary sale, then you need to head over to their site right now before your size is sold out. Honestly, that report that's due to your boss by end-of-day today can wait—this is important. Hopefully, they will understand. The prices go back up on August 5, so hurry hurry hurry!
Images: @dayinmydreams / Unsplash; Nordstrom (7)
Betches may receive a portion of revenue if you click a link and purchase a product or service. The links are independently placed and do not influence editorial content.
10 Nordstrom Anniversary Sale Items You Need To Put In Your Cart Right Now
It's the most wonderful time of the year – after Christmas, Hanukkah, my birthday, and any holiday in-between where I get gifts – the Nordstrom Anniversary Sale! Fuck any other semi-annual sale, the only one that matters is Nordstorm's. Duh. So, get your dad's card ready, loser, because we're going shopping. The insanely good sale discounts boujee fashion and beauty items, up to like, 70 percent off. Trust me, I know. I'm having an anxiety attack just thinking about it. Fashion designers include favorites like Good American and Stuart Weitzman, with makeup brand obsessions that of MAC Cosmetics and NARS. Some of you, lucky bitches, aka Nordstrom card members, have been shopping the exclusive preview since July 13. Well, now the rest of us get to take part in the fun of maxing out our cards up until August 6. Since there are literally too many things to look through, almost as overwhelming as walking into Forever21, I've picked out what's worthy to treat yo'self with for now and even for the upcoming PSL season. This is like, Christmas in July– Only better because you're buying shit for yourself and no one else.
The Best Clothing & Accessories
Zella Live In High Waist Leggings

I go through leggings like I go through bobby pins. IDK if that analogy actually makes sense in this scenario but, same concept. I'm always needing to buy more that don't cost a million dollars or make a hole in my crotch. These make my ass look like I actually do squats (LOL) and they're barely over $30. I don't think there is a question for this one.
BLANKNYC Life Changer Moto Jacket

Give me a chic leather jacket or give me death. I'm not wearing my big-ass winter coat or a grandma-looking cardigan out to the nightclub once temperatures drop below 50 degrees. A thick black (faux, because like, animals) leather jacket is a necessity for the cooler times of the year. So since you def lost yours in a frat basement, coat check, or wherever your drunk ego found fitting, don't be an idiot and miss out on the opportunity to get this badass jacket.

If you don't wear riding boots once September hits, do you even really do fall? I have an unhealthy obsession with riding boots of all shades so if I can get a black Tory Burch pair at almost 50 percent off, you best believe I ordered two. Just in case I fuck them up (I usually do). These are must-haves with our beloved over the knee socks and extra long sweaters.
Love By Design Grommet Sleeve Pullover

You can never own too many oversized sweaters to hide your hibernation weight as soon as summer is over. This cute AF pale pink, off-the-shoulder style comes in 3 shades with v modern lace up sleeve. Of course, black is also an option. Go up a size, and wear with high socks with over the knee boots.
Rebecca Minkoff Unlined Front Pocket Leather Tote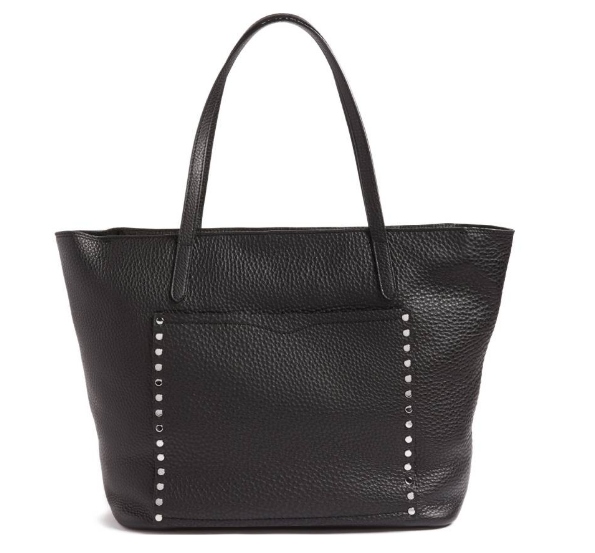 I'm always wanting needing a huge bag to hold all of my shit. I mean, I'm not going to ride the subway with a briefcase, it's not that serious. However, I need a big enough bag to hold my entire room laptop, phone, 50 pairs of sunglasses, and makeup but, still have it look like a fashionable purse. This studded bag comes in 3 of the best neutrals: black, brown, and white.
The Best Beauty Essentials
Clarisonic 'Mia – White' Sonic Skin Cleansing System

I can't even begin to tell you how many times I've eyed these life-changing things in Sephora because I have wanted one for like, ever. But, since I'm a broke bitch it's kind of expensive, I never bought one. Now, here's my god-given chance. For less than $100, this thing is a waterproof gadget that gives you perfect skin and keeps you looking barely over 21 so, obviously get one ASAP before they sell out.
Stila Stay All Day Liner And Lipstick Duo

You get two fab beauty essentials made by a makeup goddess for the price of one. Uh, yeah, I'm getting 12. You'll receive a black (waterproof!!) liquid eyeliner to make fierce wings with on the nights you're getting shitty, and a pink nude (because you don't have enough as it is) that provides full-coverage without needing like, lip injections.
MAC Look In A Box Advanced Brush Kit

If your brushes are looking ratchet, you either need to wash them (ya, that's something you have to actually do) or just buy some new ones. So, when the worshiped MAC has a set to make your contour look that much better for like, 70 percent off, you fucking take advantage of that shit. The kit comes with 6 different brushes and a limited-edition makeup bag. Add it to the cart like, now.
Charlotte Tilbury Filmstar Bronze And Blush Glow Set

Another contour palette? No, you def don't need it but, it's Charlotte Tilbury and it's on sale so, are you going to get it? Uh, fuck yeah. The set features a natural-looking bronzer, crushed pearls for a perfect summery blush, and a mini brush to apply it all. You'll seriously fall in love.
Impressions Vanity Co. Touch XL Dimmable LED Makeup Mirror With Removable 5x Mirror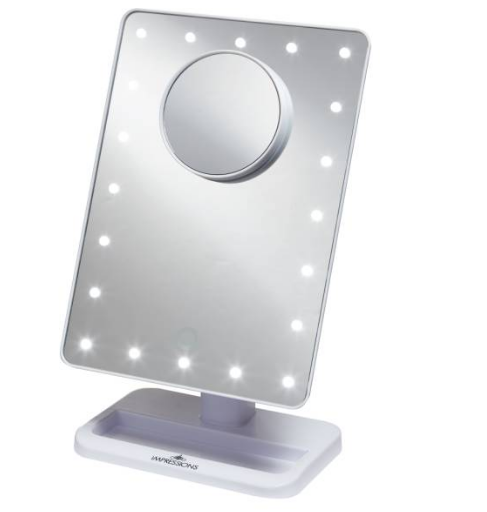 Ugh, okay, I don't even know where to begin with this amazing invention. This is as close as you'll get to owning a LuMee Phone Case or one of those selfie mirrors the Kardashian's use. The perfect addition to your vanity is controlled just by tapping a power sensor (how effing cool) and adjusting its brightness. It can do a complete 360 and comes with a removable zoom-in mirror that will probs highlight every flaw but, it comes in pretty clutch for a personal selfie station. It's already flying off the shelves (or, is it site??) so you better make sure to choose next-day shipping.
This could be you so, start payin':