The Top 5 Overdone Bachelorette Party Destinations
It is my personal opinion that there are enough bars in Manhattan that no one should ever have wait in line to get in. The same can be said about bachelorette weekend destinations. There are more than enough fun cities in the world to take cute Instagrams in matching high-waisted bathing suits, but that doesn't stop way too many of our fave brides-to-be from throwing their cowboy boots in a duffle and heading to Nashville for their bachelorette weekend. For those of you who would like to experience what being original feels like, but still want to have a truly fab weekend with your best friends, please, for f*ck's sake, avoid the following cities and give the world some fresh inspiration!
1. Nashville
Obv had to start with the most traveled-to destination. I don't have the precise figures on how many groups of young women travel to Honky Tonk Town for their bachelorette party, but if my Instagram is an accurate indicator of the truth, then every basic bitch in America is booking her bachelorette trip to Nashville. Don't get me wrong, Nashville is a seriously great city, and I was this close to spending four years there for college, but I chose a different yet similarly Southern school instead. Oops? Look, if you truly love this city and are dying to take your crew here, you do you, but you will have to accept that you will be sharing Broadway with about a million other bachelorette parties. Who knows, maybe you'll make a few new friends? However, you're more likely to be really annoyed that it won't really feel like your weekend. Also, give the Nashvillians a f*cking break from your drunken bullsh*t! One of my best friends lives there and said that going out is simply not an option anymore because every restaurant and bar has been taken over by bridal parties dying to run into Tim McGraw. Just let Jesus take the wheel and go to a different city below the Mason-Dixon if you want a Southern experience. Atlanta is prettier, cooler, and has a whole lot more to do (and we will have a bachelorette guide on it v soon)!
2. Las Vegas
Guys, stop going to Vegas. Just stop! You are better than the city in f*cking Nevada that's still trying to make magic shows a thing. In my opinion, Las Vegas is like a really extravagant cage. Seriously, think about it! Your entire weekend takes place in your hotel during the day and on one street (the Strip) at night. If you venture like, one mile out of these confines, you're in what looks like the set of Mad Max: Fury Road. People who love Vegas are f*cking extra, which I truly appreciate and respect, but you don't need to waste your efforts on the place where Ross and Rachel got married. Look, I get it. You want Vegas because you want to wear makeup and heels at the pool without being #judged. You want to get a ton of money by having to do nothing more than deciding between red and black. You want to see if Magic Mike is a myth. We stan betches like you because you have no shame in your game! Vegas is not on your level, though. Instead, save your money and go to St. Tropez or Mexico City, two places that appreciate your level of extra.
3. Miami
Miami is like if Vegas was in Florida. Tbh, I love Miami, but not for a bachelorette party, because it's where the rich kids in college went for spring break and then just went back for their bachelorette weekend, which is just tacky. Give yourself and your girls a place they can get excited about without having to worry about running into their grandparents on the beach. Yes, there's always South Beach, but you will be one of many a bachelorette group taking group photos on the sand. You can do better, ladies. Again, Miami is so overdone because it's a cool city, but there are so many other cool cities where you can do almost everything you'd do in Miami. For instance, ever been to St. Augustine? It's gorgeous, full of charming bars, and obv has plenty of beaches so you can come home with a fresh af tan. What's not to love?
4. New Orleans
Did we just write a Betches' Bachelorette Guide to New Orleans? Yes. Is New Orleans overdone for bachelorette weekends? Yes! Look, the people wanted a NOLA guide, so we gave them a NOLA guide. See, we listen to you! However, as amazing as the Big Easy is, it's time to go somewhere else. I just want to reiterate for the fourth time that all of these cities are great, but they're almost so great that too many people are visiting them and making them sh*tty. For instance, apparently there was once a time when Rome was like a cute, charming quiet city in Italy that wasn't dripping in tourists taking photos on iPads. Don't let New Orleans become the next Rome, y'all. New Orleans is such a hot spot because of Bourbon Street and the Garden District (and, let's be real, Cafe Du Monde), but think of all of the cities with amaze streets that you'd use for the same purposes as Bourbon Street. If all you want to do is bar hop on an aesthetically pleasing, historical street, go to M Street in Georgetown! It's like the Northern New Orleans, but with preppier boys to flirt with and ruder bar tenders because Southern hospitality truly only exists in the South.
5. Charleston
Remember when everyone on the f*cking planet realized Iceland exists, so at the exact same time, everyone booked a trip to Iceland? Charleston is the Iceland of the U.S. because it suffered the same influx of people, but in the form of bachelorette parties. I totally understand why: it's like if Julia Engel was a city. Sadly, Charleston is too popular for its own good and we need to give it a rest so that it can become cool again. This tiny southern gem and its population of freelancers were not prepared for the swarm of  matching T-shirts and people asking "Hi, sorry, excuse me? Can you take our pic 80 different ways?" Charleston is so f*cking charming it hurts, but for this very reason, it's losing sight of who it is! There are other cities out there that have a pale pink house next to a mint green house with a palm tree in between! We just need to find them! Savannah is better in my opinion. You know why I think that? Because it's the only city in the South that the Union's army spared because it was too damn beautiful. You know what city got pummeled? Charleston!
Images: nashvilletn, cosmopolitan_lv, themiamiguide, visitneworleans, galmeetsglam / Instagram
The Betches' Bachelorette Guide To New Orleans
Planning sucks, and bachelorette parties are a ton of work. So we're taking all the guesswork out of planning a bachelorette party by breaking down top bachelorette destinations. Our guides will tell you where to stay, eat, party, how to get around, and give you a sample itinerary that you can follow. You're welcome.
If you've only been to New Orleans for Mardi Gras and would like to associate the South's soul with something other than plastic beads and flashing strangers on balconies, we're with you. Believe it or not, NOLA is actually a really fun place during other weekends of the year, too! It has all the things you'd generally want in a vacation spot, like good weather (if you don't mind 110% humidity), unreal food, and beyond charming vibes. The only thing is: If you want to have a relaxing weekend to bond and rejuvenate with your best friends for your bachelorette, New Orleans is not the place for you. Now, if you want an expertly stirred hand grenade that will properly f*ck you up by your third sip, we salute you.
In my opinion, New Orleans is the only city that actually looks how Pinterest makes it out to be and is as perfect as it seems. It's not aggressively Southern, either, which, after living in Atlanta for five and a half years, I'm grateful for. Whether you're there to realize your affinity for gigantic cocktails, or diabetes beignets like there's no tomorrow, or taking in the history (lol), you've def come to the right place. You in? We're in!
How To Get There
Fly. Sorry, but unless you want to spend your entire youth in a car for a totally overrated road trip, book a flight and do it early. Feel free to take a shot every time I say I used to live in Atlanta. So back when I lived in Atlanta, I thought it'd be fun for three of my friends and I to do the seven-hour drive from the A to New Orleans for a long weekend, and none of us speak to each other anymore. Fun times! The great thing about Louisiana is that all of the important sh*t like the airport, bars, restaurants, hotels…etc. is in New Orleans. So getting from the airport to wherever you're going only takes like, 30 minutes max.
Where To Stay
I may be mistaken, but every time I've been to New Orleans, the hotel options seem to be either trap houses or five-star resorts. No thx! Your best bet is to opt for an Airbnb so you can all be together in decent lodging without sacrificing your life savings or will to live. Technically, the Big Easy is f*cking huge, which can make deciding where to stay hard, but if you want to party, eat, and walk everywhere, pick a house in the French Quarter. It's also objectively one of the two prettiest hoods in New Orleans, which matters if you plan on taking any pics while you're there.
If you don't know where the French Quarter is, it's the neighborhood surrounding Cafe Du Monde. If you don't know what that is, you don't deserve to go to New Orleans. (Kidding, sort of.) Another amaze neighborhood to consider is the Garden District, which is as beautiful as it sounds. The houses are so f*cking charming with their pastel-painted exteriors, picket fences and immaculate front porches. In my opinion, French Quarter is more convenient if you want to hit a lot of locales in a short amount of time and minimize Uber expenses, but the Garden District is prettier if you want to enjoy the aesthetics of your stay for the weekend. Take your pick. You can't go wrong.
How To Get Around
If it's not raining, you honestly can walk literally everywhere. All of the bars are basically on top of each other, so there's no need to pool your money for a car service or anything fancy like that. Uber is also an option if you're too lazy to walk less ~ten minutes from your house to Bourbon Street. No judgment, though, we stan a betch who saves her energy so she can rage for longer. Getting around is pretty simple here. Praise be.
Where To Eat
Everything. The cuisine here is so good that food just won't taste the same when you go back to whatever sad town you're from. Ok, so because saying that every restaurant in NOLA is amazing prob isn't helpful for anyone planning a trip there, here are three to make sure you visit. First up is Paladar 511, which is basically on the Mississippi River, which, like, yas. It has enormously high ceilings and white-washed exposed brick walls for #vibes. More importantly, the food is a good introduction to what New Orleans is and we're about it. Get the chicken roulade if you want to experience true happiness.
Next up is an incredible brunch spot. Cafe Amelie is so f*cking stunning you may want to consider just having your wedding here. The place was named after Amelie Miltonberger, the first American Princess of Monaco's mom, who lived in an accompanying townhouse in the mid-1800s. There's a little slice of history for ya! So because a legit royal lived here, you can imagine the place is nice. If you want to get a traditional NOLA dish, get the cochon de lait. I am a pickier eater than a 13-year-old boy, and even I love this dish.

Lastly, Court of Two Sisters in the French Quarter is another must-eat. The website describes it a "More than a restaurant—it's a legend." We don't disagree. It's legit authentic cajun and creole food. There's also live jazz, which honestly sounds incredible considering I cannot eat in restaurants that play songs I want to dance to. It's just not okay. Literally everything on the menu is incredible, so you really can't go wrong, but the Chicken and Sausage Gumbo is what they're famous for and once you taste it, you'll understand why. F*ck, I'm hungry now.
Where To Party
Arguably the most important part of the trip is where and how you party. New Orleans understands this, which is why Bourbon Street exists. If you're staying in the French Quarter, Bourbon Street is literally a two-second walk. Maybe four if you're going at a leisurely pace. This street is packed with bars (and an incredible chicken finger joint called Willie's), but the best ones are Cat's Meow, Pat OBrien's, and The Swamp. TBH, they're all pretty similar, so if you end up at different ones, like Fat Catz, you didn't miss anything. One bar to def check out, though is Lafitte's Blacksmith Shop Bar, which is actually the oldest bar in America! Yay, more history! As its name implies, this place used to be a blacksmith shop, but it now serves moderately concentrated cocktails in cute cups! Don't forget to take a pic by the 300-year-old fireplace for the 'Gram.
At some point during the partying, take a time out to get a beignet at Cafe Du Monde. You'll sober up waiting in line, which is prob a plus if you want to remember the best dessert you'll ever have. 
If you're staying in the Garden District, def still go to Bourbon Street for a night, but also feel free to stay in your hood. The Avenue Pub, which is home to some legit good beer (even if you don't like beer), is right in the middle of the neighborhood, so be sure to stop buy and let these giant pours destroy you. Bouligny Tavern is also a goodie that is highly recommended for those who enjoy a fancy bite or two while they slowly black out. They have Vietnamese short ribs that are truly unreal. Magazine Street is packed with amazing shopping, restaurants, and going out spots, so you won't run out of things to do. 
You might be running low on time in your schedule by this point, but if you like live music, you absolutely must go out on Frenchman Street. It's a short walk or Uber, depending on where you're staying, and there's no better place in the US to hear good, inexpensive live music. Hit up The Maison, Blue Nile, and Vaso and you'll probably be out all night. Frenchman is a beloved spot for both tourists and locals, so you really can't go wrong.
Friday, Day 1:
Arrive at the pack, claim thy beds and decorate with penis or normal themed bach decor!

Chill for a little and hydrate the f*ck up.

Bar hop in the French Quarter: Carousel Bar, Little Tropical Isle and any other bars along the way.

Walk to Manolito and stop at more bars along the way. Maybe get some food here so you can keep drinking and not feel like you're slowly dying.

Head back to the house to chill for a little bit/shower/get ready for dinner at Paladar 511, which is a v short cab away from the French Quarter. 

Uber to Ghost Tour on Bourbon Street for a bar crawl of NOLA's "haunted" bars: Cat's Meow, Fat Catz, The Swamp and Pat O'Brien's. For the love of god, keep your wristbands on so security doesn't throw you out. Southerners may be hospitable, but they won't hesitate to literally push you out the door and lock it behind you.

Sweet sleep.
Saturday, Day 2:
Brunch at Cafe Amelie. Carbo-load and order a few mimosas to gear up for the day.

Pick a spot and spend the afternoon at some bars. Good options are Longway Tavern, Bakery Bar, Erin Rose, Bar Tonique and Molly's. Again, all of these bars are pretty similar, so don't feel compelled to go to literally all of them if you don't want to die of alcohol poisoning.

Take a break to go to Cafe Du Monde, the creator of the cherished beignet. Full disclosure, you will be waiting in line for a hot sec, but the fried dough doused in sugar will convince you it was all worth it. And also the line moves faster than you think.

Uber home and chill before dinner at Jack Rose. I could use my English major "show, don't tell" skills to describe how gorgeous this place is, but you can also just check out their Instagram to save my word count and your time. All I will say is that

this

is how jewel tones were meant to be used! The menu is a crossover between French, Italian and Spanish food, which sounds like the most important cuisines if you ask me. Not a soup person, but the crawfish bisque is the stuff of dreams, y'all.

Drinks at Jack Rose's rooftop bar neighbor, Hot Tin, before heading back to Bourbon for any bars you didn't hit the day before.

Goodnight moon
Sunday, Day 3:
Leisurely sober (or not) brunch at Court of Two Sisters before heading back to the house to pack and get ready for the airport

Until next time, New Orleans!
Images: Instagram; Cafe Amelie; Unsplash
The 7 Places To Travel After You Graduate, Before The Real World Kills Your Soul
In spite of showing up to class hungover after dollar beer nights almost every week, you still made it to graduation. Congratulations betch, you're about to leave the best time of your life and just be in… the rest of your life. Before you join the real world and have to make small talk with Annie from sales every Monday morning in the office kitchen, you need to enjoy your summer after graduation by some much needed traveling. So after you throw that cap up and attend approximately sixty graduation parties, go explore (aka get drunk in) these cities and celebrate never having to write another paper again.
1. Thailand
If only you could get free miles for every time you order pad thai, you could get a free trip to Thailand. Chances are this isn't a place you studied abroad in, so it's the perfect candidate for a post-grad trip. The Full Moon Party is an all-night party on an island that every visiting foreigner is going to be at. It's like the Coachella of Thailand, but with more neon and less cultural appropriation. Well, actually we can't promise the last part, because there will be Aussies there and they're unpredictable.
2. Road Trip Across The U.S.
This is perfect if you're already moving to a new city, because you're going to have to move your shit somewhere anyway. Road tripping across the U.S. is something you thought about since you saw Britney in Crossroads and honestly it's worth doing. Just make sure you get a good enough group together so you have someone to switch off driving with you. Plus the more rural you get the cheaper alcohol is. Bring a polaroid camera to get some IRL Instagram photos. Wait, are those just called photos? *stares off into space for 20 minutes* Also, you'll be surprised how fun thrifting is in small towns, and you'll be able to pick up some dope clothes and finally get rid of your Forever 21 shit from college.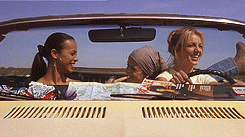 3. Berlin
Berlin is like the nice guy we friendzoned in freshman year and then got super hot when he started working out. Like, we imagine it's a chill city but now it's one of the best places to be as a young adult. Everyone speaks English so you can get by without doing much work, and people are friendly to Americans. People love getting naked in clubs, but not in the creepy way. Plus people judge you for having your phone out at bars, which means you can actually have a good time off-line and be present in the moment or whatever my mom is constantly yelling at me to do.
4. Australia
Before you have to think about the answer to the "what's next" question, get on a plane and get as far away from your anxiety about the future as you possibly can. Australia has hot people, beaches, and adorable koalas. Everyone in Australia is constantly traveling outside of Australia, so you might as well return the favor. Plus even if you don't land the jobs you want, getting bad news while learning to surf from an instructor named Monty isn't such a bad thing.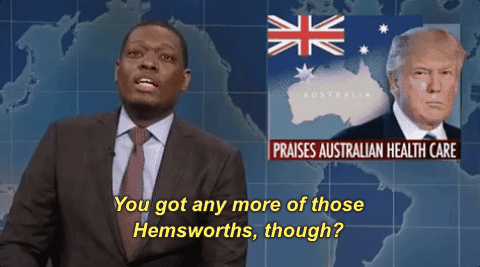 5. Iceland
If you don't want to spend money before you actually start working full-time, we got you. Iceland is between Europe and the U.S. and it's always cheap to fly there. You probably know it from every Instagram model's page ever, but you can swim in the Blue Lagoon and who knows, maybe you'll get a new Linkedin headshot out of it. Sure, you'll be dressed completely inappropriately but at least everyone will know you're adventurous. Iceland is a beautiful place and cheap to visit, which is perfect for your uncertainty about your future.
6. New Orleans
Take a graduation trip to New Orleans, trust us. If we had to describe New Orleans we'd say it's the back tattoo of the South, but like in a good way. NOLA knows how to party. It's a great place if you want to celebrate but still feel like an adult. Like, you've graduated from making out with randos in Mexico on Spring Break, and now you're meeting strangers while surrounded by a ton of culture and great music. Plus the next time you come back it will probably be for your bachelorette party and that's not going to be the same. Also Beyoncé filmed all of Lemonade there so you can hit up all the spots and pretend to be Bey even more than you normally do.

7. Amsterdam
Amsterdam is like the Vegas of Europe with less wedding chapels. Everything looks like it's taken straight out of a Snow White storybook, so when you get high on the (legal) brownies, you can actually feel like you're a princess from a fairytale. Unfortunately if you've got drug tests for your jobs you might want to skip the coffee shops here, but also you could just pass your drug test and then take a quick vacation before starting work. Plus you can bike everywhere here, which means you can work off whatever remaining Freshman 15 you still have on you.