I'm Never Going Back To The Way Concerts Were Pre-Covid
One day, instead of war stories, we'll tell our grandchildren that 2020 was a year in isolation where we became dependent on video chats, TikTok, and making homemade bread. With bars and restaurants closed during quarantine, our lives stood in purgatory with strict stay-at-home orders that even celebrities couldn't escape. Artists such as Lady Gaga, Taylor Swift and Billie Eilish sadly (and rightfully so) canceled or postponed their shows until further notice (without a new date to plan an outfit for). With social media recently flooded with videos of crowded clubs and sporting arenas at full capacity, it's looking like the end of the pandemic is in sight. This also means that my FOMO is making a swift return. 
I took my first flight in over a year to Florida (which could be a whole other article), where my hotel, the AC Hotel Orlando Downtown, had its grand opening during the pandemic. Their rooftop bar has been selling out $1,200 tables (not including drinks!) and the sight of girls sorority squatting to snap that perfect rooftop Insta means that nature is healing, my friends.
The first night of my trip I went to a COVID-safe Foreigner concert and NGL, it was certainly an ~unprecedented~ experience. For one, the sitting area looks a bit like pig pens. Yes, I'm talking pigs on the farm swarmed by flies on a hot summer day, packed like sardines within metal bars. If you got too drunk at the show you won't have to worry about losing your friends since you — like these piglets — are confined in a metal pen. I'm actually squealing, because I low-key loved being in this pigpen. 
This contactless experience was a stroke of genius that really addressed the pain points of a pre-COVID concert. This should be happening everywhere, IMO. Let me explain why we should embrace the pig pens at outdoor shows and festivals post-pandemic.
Pushing Your Way Through Sweaty Crowds Won't Be A Thing
While I do low-key miss the too-close-for-comfort crowds at a concert and scrubbing profusely in the shower when I get home, that soon will become a distant memory. When you purchase your tickets online, you get to select the location of your pod—which contains five seats and a small table. A lot of outdoor concerts and music festivals are usually standing room only, so it's a game-changer when you can pick your seat before the show, and not have to worry about showing up hours before to stake out a spot. 
Forget Waiting In Long Lines For A Vodka Soda
It's about f*cking time that venues got with the times. Instead of waiting in line while missing your favorite song, you can download an app to order food and drinks that will get delivered directly to your pod. This is organization at its finest; whoever had this idea this clearly understood the assignment. So go on, buy as many beers and vodka sodas as you want… we've got lost time to make up for, and you don't have to worry about juggling them back to your seat.
You Won't Lose Your Friends In A Drunken Crowd
In the pre-COVID era, going to a music festival was a true friend test. Why? Because when the crowds rush in, that's the moment when you find out who is going to stick with you and who is going to leave to push their way up to the front. Being sober (or not drunk enough), when everyone around you is sloppy and spilling drinks, is basically its own level of hell. With each pod numbered, you won't have to worry about losing your friends. Guests aren't restricted to staying in their pod, but a mask is required to go make new friends out in the wild. 
There Won't Be A Random Tall Guy Blocking Your View
There's no buzzkill greater than when you get situated in a crowd (or have your lawn chair set up at an outdoor concert) and then some tall dude plants himself right in front of you. Like WTF man?! Then you're left watching the jumbotrons, which is better than nothing—but if I wanted to watch a concert from a TV screen I would have stayed home.  With the pod seating elevated off the ground, even people walking by won't get in the way. It's great to pick where you sit beforehand, and you definitely should splurge for that amazing view.
This pod philosophy obviously works and should be here to stay—long after the pandemic subsides. The new 'make out with random strangers' will be inviting them over to your pod. Will the opening line be 'Pfizer or Moderna?' Yikes. Maybe not. One thing that will make a comeback? Blurry IG Story concert videos. This is the one and only time we'll give it a pass. 
Image: Ibai Acevedo / Stocksy.com
What Going To A Sex Club Is Actually Like
For the past, say, decade of my life, the idea of sex clubs has tantalized my brain. Whether it was watching parts of Eyes Wide Shut when my mom thought I was asleep, or devouring every piece of Fifty Shades like the basic betch I am, something about kinky sex has always fascinated me. And the most interesting kink of all was the sex club.
As someone who is jealous 98% of the time, it made zero sense for me to hit up one of these places. I can't handle confrontation, comparisons, or situations where my self-confidence will be tested in the slightest. Why did I go, then? The same reason anyone would: My husband and I were drunk, bored, and didn't feel like going out for sushi again. Well, not that kind of sushi, anyway (sorry, mom).
We had no idea what we were getting into, but f*ck it, we were going. So, as a not-so-adventurous woman who recently lost her sex club v-card, I'm here to walk you through the ins and outs of my first time, and how you and your expectations might just be shook. 
Expectation: It Will Be Painfully Awkward Walking In
From ordering the Uber (and most likely dropping the pin a block away so the driver doesn't know where we're actually going) to entering the club, the sheer thought of the nerves I'll feel entering is already making my palms clammy. What do I do with my purse? I probably can't wear Spanx, right? Will people be naked off the bat? Do we start making out on the dancefloor then go to a room or what? I have absolutely no idea how any of it works, and as someone who studies a restaurant menu for DAYS before actually going to said restaurant, the vast amount of unknowns is the scariest part of all. 
Reality: Awkward Is As Awkward Does
There are two ways to approach this situation: embarrassed awkward or excited awkward. Either way, it's going to be awkward, but you have the option to make it fun or weird. The Uber ride? Weird. Walking into the club and signing waivers and getting a tour of the nearly-empty facility? Very weird. Being set free post-tour to go to the bar and start flirting with strangers? Very, VERY weird. There's no denying it—this was way out of my comfort zone. The thing to remember is that it's strange for everyone the first time (at least, I'm assuming?). Instead of pretending it's not bizzare, embrace the bizarre. Ask questions. Laugh at the strangeness. The only thing that makes it more uncomfortable is pretending it's NBD watching real, live strangers hump in front of you for the first time. 
Expectation: I Will Either Be The Most Or The Least Attractive One There
When I picture my ideal sex club, it involves a lot of people who are between the ages of, say, 22-37 and of the same general attractiveness as I am. Unfortunately, I don't think that's what we'll be walking into. First of all, I live in FLORIDA. Second of all, hot, young people are probably too busy being hot and young to spend an ungodly amount of money to watch strangers have sex on a Saturday night. 
After reading reviews of not only the club we're going to, but every other club in America and a few in Europe, the results are: You have no idea what you're going to get into (or what's going to be getting into you, if you know what I mean.). We could walk in and it be all things nose hairs and liver spots, or it could be firm asses and strong abs. My thoughts? Me (a solid 6-8 depending on the day) and my husband (a 10 where it counts) will either be the stars of the freaking show or the stubby outcasts. 
Reality: We Had NOTHING To Worry About
As a couple of twentysomethings in a state where the average age of residents is 42, we could have walked in wearing bags over our heads and still been one of the hottest couples in the room. Like in almost any other situation, the sex club offered a wide variety of people of varying attractiveness. The only difference? As opposed to a normal bar or public event, everyone actually tried their best to look good. With a firm dress code, the population obviously put effort into their appearances. 
Sure, the majority of the guests were in their 30s-50s, but it wasn't *just* people who saw the invention of the f*cking telegraph there. By going on a big event night (the club's biggest Christmas party of the year), we figured there'd be at least a few other couples who weren't covering up grays yet, and luckily we were correct. While, yes, there were a few uncomfortably attractive people in the mix, all in all it was a collection of normal people who were trying their best to look good, which is better than I can say for almost any other situation I'd find myself in on a normal weekend. 
Expectation: It Will Be Expensive AF
if anyone sees me going to a bar with a cover in 2020, please slap me across the face and make me check my bank account

— Betches (@betchesluvthis) January 2, 2020
Now, obviously, as any closeted type-A could tell you, I know the prices of the club. I know how much it costs on any day for single females, couples, and single males (sucks to be you in this situation, gents). I know how much cover is, I know how much the drinks cost before 10pm, and I know how much they'll price gouge us once it hits 10:01. F*cking duh. What does this look like, amateur hour? But, there's still an element of the unknown. Will I feel so uncomfortable that I'll have to down multiple $15 shots before I can make eye contact with anyone or will I be able to make both sexually AND fiscally responsible decisions?! 
Reality: It Was Expensive AF
I knew the price of cover. I knew the price of the drinks. Hell, I even knew the price of how much the 30-minute Uber would cost to and from the venue. That still did not prepare me for looking at my credit card statement the next morning. My estimated cost for the evening? $175. The actual amount I spent over the course of the evening? Around $350. Between surge pricing, after-drinking munchies, and the fact that I become a shot-buying whore the second liquor hits my lips, the damage was as painful as my post-sex club hangover. 
Expectation: The "Play Areas" Will Be Disgusting
From what I understand about how these places work, there are spaces where the sex happens and there are spaces the sex doesn't happen. The hookup-free areas are basically like any other bar (loud music, crowded dance floor, sexual tension) and it's not until you head to the play areas that things really get ~scandalous~. My vision for these areas? A lot of pleather and plastic that will instantly make me wish I brought my own Lysol wipes. Will there be a dungeon with cheap chains and posters of bars on the wall? Sure. Will there be beds with mirrors above them? You betcha. Do I think I'll be turned on? Not in the slightest.
Reality: Disgusting? No. Weird? Yes
This particular place had two separate areas, the bar and the play areas. While the bar area was like any other bar I've ever been to, with pool tables and oldies-stocked jukeboxes, the play areas were unlike anything I've ever seen.
It took us a while (and by "a while" I mean a lot of drinks) to build the courage to switch over to the non-bar side, but once we did, we were astounded. Room after room of plush, king-sized beds greeted us, each with a different theme (a space room, a safari room, a fully red room), a mirror on the ceiling, and a window where other people could watch you get it on. Beyond the private rooms were the group rooms complete with, you guessed it, black, pleather couches. So. Many. Black pleather couches. Beyond that? Again, you guessed it: a dungeon with multiple cages, sex swings, chains, and a wall full of things like whips, gags, blindfolds, belts, and clamps. 
The one way it differed from what I expected was how clean it was. Everywhere you looked, hand sanitizer dispensers were mounted on walls, fresh towels were being laid out by polite-yet-detached workers, and the linens on the beds were being changed and the couches were being thoroughly wiped down. On one hand, I didn't feel like I was going to catch something by accidentally brushing up against an armchair. On the other hand, seeing someone in latex gloves scrub down a chaise lounge after four couples orgasmed all over it was slightly unappealing. Overall, was it hot? Sort of, and also sort of not. 
Expectation: I'll Be Turning People Down Nonstop
I could expect this to go either way, but in my head, I'm going to be optimistic. As soon as we walk in, a spotlight is going to land on me and the entire bar will let out a soft, slightly sexual gasp. She has arrived and oh, isn't she perfection? Couples will stampede over to me, tripping on their stripper heels and slipping across the lubed up floor to be the first to talk to me.
With pleasant, knowing smiles, my husband and I will graciously greet our new fans and politely tell them that *giggle* it's our first time. *Giggle* We're sex club virgins. We're just here to observe for now, but we'll see how the night goes. *Wink.*  From free drinks and shots to private tours of the facility and endless compliments, we'll be the most sought-after couple, not only that night, but to have ever entered the club.
Reality: "Nonstop" Was A Littleeee Optimistic
Did people hit on me? Yes *hair flip.* Was it nonstop? Not even a little bit. Turns out, the world did not stop turning the moment I crossed the threshold into the latex-scented caves. The thing is, the people at sex clubs are used to other people coming into sex clubs, especially the newbies. While multiple couples and single females came up to us, no one was especially pushy or weird. In fact, it was just like any other situation: Light small talk and downing drinks. The only difference is that after a few minutes people would ask if you wanted to f*ck them. The craziest part? A polite "no thanks" was all it took for them to smile and walk away. REVOLUTIONARY! While it felt a little uncomfortable turning people down at first, in this environment it feels totally safe to ask for sex and to casually say no. Again, REVOLUTIONARY. 
Expectation: The Jealousy Will Be Out Of Control
If this boy breaks my heart I'm skipping the subtweets and just shooting him

— 𝖆𝖑𝖒𝖔𝖓𝖉𝖒𝖎𝖑𝖐𝖍𝖚𝖓𝖓𝖎 (@almondmilkhunni) December 30, 2019
As stated before, I am, as the French say, "a jealous-ass bitch." Ever since my first boyfriend in second grade kissed my ex-best friend behind the slide, my trust issues have been out of control. So, the thought of walking around a venue where my husband would not only be looking at other women, but potentially be solicited by said women, seems like a special circle of hell specifically reserved for me. And bonus points? I get to pay for it!!!!
Reality: You Can Be As Cool Or As Jealous As You Want
In almost any situation, if another female so much as brushes against my man, I'll be right there to casually elbow the bitch away and put my tongue down his throat. I had a feeling this would be the same, except elevated. In reality, removing the weird boundary that we *couldn't* check out or flirt with other people actually lessened the jealousy. Sure, there was still some, like when the brunette wearing nothing but pasties was talking to my husband about finance for 10 minutes, but in reality, it just made things more exciting. With trust and communication, you got the thrill without the actual risk of cheating. 
Expectation: I'll Hook Up With Someone
Whether it's my husband or someone else, that's kind of the whole point of the place, right? Naturally, we have set up rules before entering this, as any couple who doesn't want to break up in the center of the dance floor needs to do. We know what is and isn't off-limits and we both have the right to say "let's leave" on a moment's notice and then we'll hightail it outta there. That said, even with all of the unsexy and very rigorous boundaries in place, the whole point of this (other than internet fame and bringing shame to my parents) is to get laid. If I'm shelling out that much money for overpriced drinks and bad dance music, you better believe I'm going to get weird. 
Reality: F*cking Duh.
All I want this year is to get laid more & cry less

— libra in the streets scorpio in the sheets (@garbage_babey) January 2, 2020
I was dressed like a slutty elf. I spent $350 on ONE NIGHT OUT. We started drinking at 5pm. Yes, I had sex. Yes, stuff happened with strangers. No, my husband and I didn't break up because of it. Yes, it was a f*cking blast. Yes, it made our relationship stronger. No, I don't think it's cheating. Yes, I would HIGHLY suggest going. No, you're not going to get any more scandalous details from me about what went down. Not yet, at least…
Expectation: Sex Clubs Will Become My New Thing
Considering my love of attention and my thirst for anything taboo, I have a feeling that once I step foot into my first sex club, I'll want to keep coming again and again and again. Yeah, yeah—pun fully intended. 
Reality: To Be Determined
While I'm not sure I'm going to purchase an annual pass to my neighborhood sex club, I'm also not writing the idea off. While I wasn't obsessed with the venue, the clientele, or those freaking black pleather couches (ugh), there's something to be said for branching out of your usual bedroom routine and trying something different. Whether that means a gang bang or just giggling with your partner in the corner, there's something (read: orgasms) for everyone who is willing to get out of their comfort zone.
Images: Alexander Popov / Unsplash; uuppod, betchesluvthis, almondmilkhunni, garbage_babey / Twitter
5 Places To Party In NYC When You're Not 21 Anymore
When I was a young and naive college student, every post-grad made me swear to live it up because everything goes downhill after you graduate. I assumed they meant that I should party a lot, so that's what I did from day one until the night before graduation. I mean, when I was in college, all I had to do was not die, and boom, I've had a successful night out. Fast-forward almost three years, and I've realized the washed-up frat boys young adults who warned me about life after college were right. Adulthood sucks, especially in a city like New York, where everything is too small and too expensive. And what terrible excuse for a human being decided that paychecks will be given on the same day rent is due? Show yourself! Anyway, as much as being an adult has ~changed me for the better~, I still like to have a good time on a Saturday night, so here are five places in NYC for you to enjoy your hard-earned night out when you're not 21 anymore. Blessed be the fruit.
1. Sweet & Vicious
Ok I know Sweet & Vicious like, can be kind of a college bar, but if you go before 3am, you can have a great time while avoiding the underage youths ripping shots and engaging in disgusting PDA. This place also has a great happy hour starting at 2pm daily that includes not one, not two, but seven flavors of margarita. If that's not a hard sell, you need to reevaluate what's important in life. It's also in a truly perfect location, so you can either enjoy a delicious, cheap, après-work glass of wine or ball out on vodka crans at 2am. You do you. I like this place because the DJ seems to only play music from like, weird years in music (remember 2008? If not, that was the year "Love in This Club" came out), but I'm not mad about it. Admittedly, Sweet & Vicious is never the plan, but if we are in the East Village, it's always where we end up. I like to think that happens for a reason, and that reason is I've never paid for a drink there. I don't think it's because I'm like, beer commercial hot, I think it's just because there is always a crew standing near me and my friends with an extra few hundred bucks to burn and we are clearly okay with free drinks. Again, not mad about it. One of the most alluring qualities of this place is that it's right in the heart of charming and sometimes gross Nolita, which means it's like three blocks from Prince Street Pizza, Little Cupcake Bakeshop, and my booty call's apartment.
2. Pulqueria
I went to Pulqueria for a birthday party and when the Uber dropped me off in front of a nondescript red door on a random, lightless side street in Chinatown, I swore my days of UberPOOL were over because the driver clearly dropped me off lightyears away from the restaurant to keep my co-rider on a more direct route. LMK if you'd sign a petition to end that policy immediately. Anyway, plot twist: the weird, slightly creepy red door was the entrance to Pulqueria. (If my Uber driver is reading this, sorry for the bad rating.) Ok so, the inside of this place is not to be believed, as it is the exact opposite of its slightly terrifying surroundings. Not going to describe the interiors (you're welcome), but this place is insanely chic and that is all I will say about the decor. Anyway, like I mentioned earlier, I was there for a birthday, so we had a Mexican feast of literally every item on the menu, several pitchers of margaritas, and the most incredible tres leches cake I'd ever tasted. Also, the only thing the birthday girl wanted on her special day was for everyone to get wasted and, because I'm such a good friend, I obliged. The margs were incredible and the tacos were…I honestly don't remember, but I didn't get food poisoning. So good thing everyone was sh*tfaced because after 10:30pm, half of the restaurant turns into a club complete with incredible music, dancing, a full-service bar, and beautiful people. I felt like I was in that Zoolander scene when Derek tells Hansel that he thinks he's too cool for school, but news flash, he isn't. If you don't know what I'm talking about, you're too young. Go to bed.
3. Soul
Ok I shamelessly love speakeasies. Judge me, I don't give a sh*t because I have no shame in my game. They are always small, dimly lit, and filled with attractive strangers. What's not to love? Plus, Soul is above a Five Guys in the West Village, which is a game changer if you ask me. If I can drink beautifully crafted cocktails on a velvet sectional all night and grab a burger on my way out—I think it's safe to say I've struck gold. Here's how I know Soul is a good time: I went there with my friend, her boyfriend, and another guy, who happened to be very attractive. It could have even been a double date, who knew at that point? However, he could not have been less interested in me and definitely made sure I knew that, and I still had a great time that night. We staked our claim in the back room, where they only played Kanye circa 2006 and didn't let anyone else in after we sat down. If that isn't good service, someone please tell me what is. Bottom line is Soul is fun and chic, so if you can hold your own in a swarm of Instagram models, whisper the password to the dude near the staircase and head on up.
4. Feast
Ok full disclosure, Feast is neither a bar nor a club. It's a really small, posh restaurant on Third Avenue where the cocktails are overpriced and so small that they may as well be served in a thimble. But there's something about this place that is just lovely, and that is the only way to describe it. Call me old-fashioned but if having a delicious drink with a side of truffle mac and cheese is wrong, I don't want to be right. Feast is where I go if I'm trying to impress a new boyfriend with my non-divebar taste (is anyone impressed? Text me back and LMK!) or if I'm done with dinner and am not ready to stop drinking/eating for the night. It's right near Union Square, so if you don't feel sophisticated enough to be here, there are a ton of sh*ttier options nearby to suit your plebeian needs. But back to Feast: the food is really good, the bartenders are all attractive and want to talk to you (but not in like an Uber driver kind of way), and the drinks are truly works of art. Did you know there are edible flowers out there? This place knows! If you want to have a late but chill and respectable evening, Feast is the game plan and I will meet you there.
5. Bathtub Gin
Honestly, the only reason I even went here was because it looked like a blast in Midnight in Paris and I wanted to party like Zelda Fitzgerald. To my surprise, it is actually really fun and there were no tourists in sight! There is always a line out the door and around the corner, so if you want to skip it, you better be wearing something that's the equivalent of slipping the bouncer a $100 bill. I was legit in jeans and lingerie and, yes, I hate me too. Like Feast, Bathtub Gin is a scene, but like, a completely different scene. It's a swanky bar whose specialty is gin cocktails. As an expert in all things alcohol, I can say that gin tastes like nail polish remover, but the cocktails have so much other, better tasting ingredients in them that you don't even taste it. The only not-so-amazing thing about this place is that it's like, so far on the West Side that if you get there and realize you're not cool enough to be there, you'll have to spend a bunch of time and money getting home. But that's a risk I'm willing to take.
Images: feastnyc, pulquerianyc / Instagram
The Coziest NYC Bars For Blacking Out Until Spring Comes
Everyone knows getting through the winter in NYC is all about how much alcohol you can consume while still making everyone believe you're a functioning adult. It's hard to find cool cozy bars around the city, and if you're still hitting up SideBar three Saturdays per month, it's time to expand your horizons. Luckily for you, we've compiled our favorite speakeasies, bars, and lounges around the city that will make your winter dramatically better. Here are the coziest bars in different neighborhoods that will become your new favs.
Fig. 19, Lower East Side
Fig. 19 already earns the title of the coolest speakeasy in the city, because you can only access the bar through a secret entrance at the back of an art gallery. We can't make this shit up. Once you get through the gallery and find the bouncer, the bar lives up to the hype. Think Great Gatsby vibes with dim lighting, tons of candles, and amazing cocktails.

The Library Bar At The NoMad Hotel, NoMad
The Library at the NoMad is truly a dope experience. I mean, the bar literally looks like a secret dark library with sexy lighting and a twirling old school staircase. The seating is a combination of cool couches and regular tables, so it's perfect for going out with friends or on a date. Needless to say, every library you'll see afterwards will be a huge letdown.

The Wren, Bowery
The Wren is one of those places that can totally pull off calling itself a "pub" but still be classy enough to pull in its downtown crowd. They always have good music and they have a solid dinner menu too, if you must insist on having fries with your cocktail. The actual place looks like a cute little white house from the outside, and the interior is super vintage and cozy. Plus, their cocktails are seasonal, so you won't get bored going back more than once.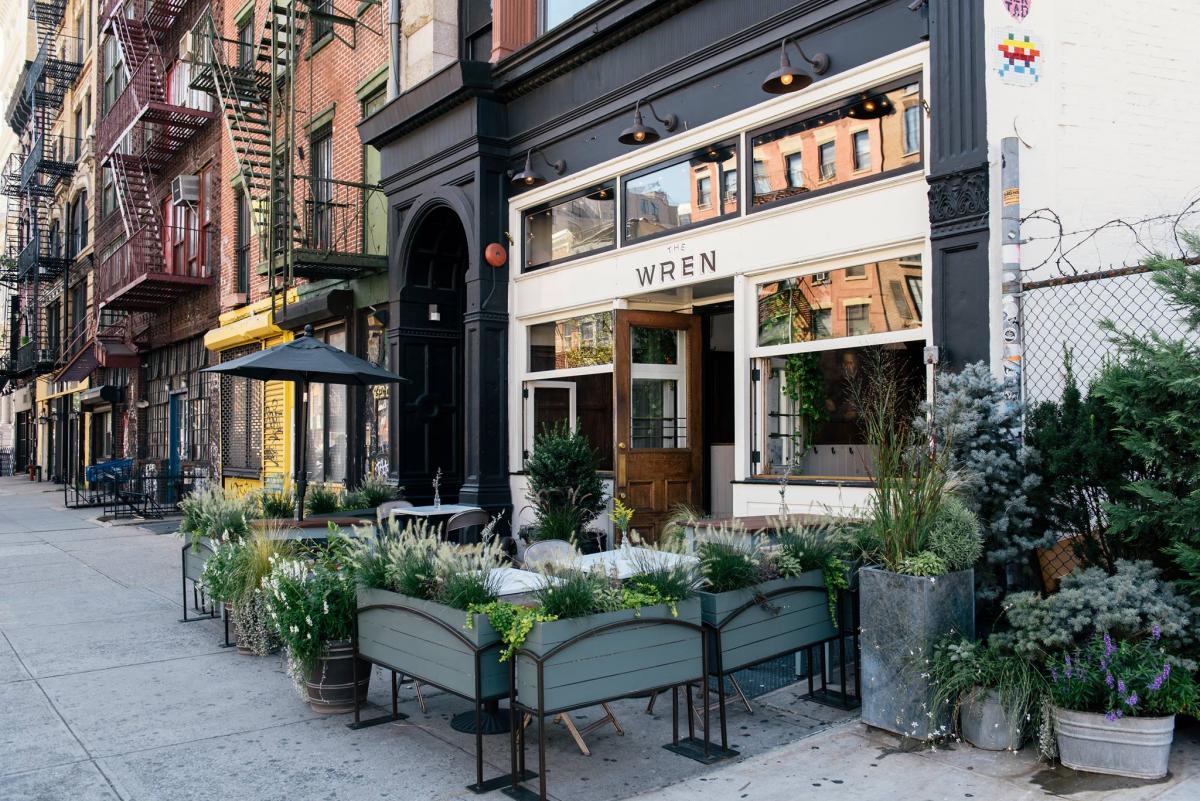 The Belfry, Union Square
This place is honestly smaller than my apartment, but any bar that serves all its drinks in mason jars and writes their menu on a Pinterest-esque chalkboard is worth a visit. The Belfry may not be as trendy as other bars in the area, but their drinks are low-key amazing and the vibe is so cute and retro. They're known for their local craft beers and pickleback shots, so you can bring any guy here and he'll love it too. They also play live music on the weekends, and it's usually decent.

Bar Centrale, Hell's Kitchen
Hell's Kitchen is a tragedy and we wouldn't recommend going out of your way for a bar on 46th street, but if you're in the area anyway and need a drink (for obvious reasons), Bar Centrale is the coziest bar ever. It's located in a vintage-looking brownstone so it's pretty hidden, and the inside of the bar is just as cute with its brown-brick walls and dark leather couches. Definitely a hidden gem.
Raines Law Room, Chelsea
This spot opened after Raines' original location at The William on 39th street, but obviously we'd rather get wasted in Chelsea than anywhere that close to Murray Hill. Raines Law Room has a small boutique vibe, and they totally kill the game with their old-timey candlesticks and fireplace. Keep in mind the space itself is small and v intimate, so if you're coming with a big group you probably won't get a seat. They take reservations from Sunday to Tuesday if you're looking for a buzz to get you through the week.

Manhattan Cricket Club, Upper West Side
This speakeasy is pretty much the only cool spot on the Upper West Side, so if you live in the area and have never been, we're sorry. You can find it by going upstairs in the restaurant Burke & Wills, and the whole lounge is totally cute and cricket-inspired. Think leather menus, marble counters, lots of gold accents, and really cool cocktails. It's also super dark inside, which makes it even more ideal for hiding out until the temp rises again in the spring.

Why Halloween Is The Single Most Overrated Day Of The Year
Ah, Halloween—innovative costumes, chilling haunted house-inspired decor, and that crisp, cool weather we look forward to all year. Haaaa, I fucking wish. Idk if it's the incessant articles about fall that I force my 59 followers friends to read or the pure rage I develop when my attempt at a slutty Poison Ivy costume somehow always ends up looking like Shrek, but what we think of Halloween actually only exists in places like Pinterest or borderline demonic Disney films. And yeah, it might sound like I've become a bitter bitch, but that's only because I'm actually a bitter bitch.
Anyway, I'm not here to throw all my problems on you—my therapist frowned upon that. There's a lot that goes into Halloween that never actually happens, and that's honestly way too much work for an attempt at record-breaking Instagram likes on a night you probably won't remember anyway. Thankfully, I'm here to let you down easy and tell you what to really expect come your boyfriend's sister's grand big's monster bash, and why I think Halloween is the most overrated holiday (sorry, Satan, but I'm going to hell anyway). But if you're one of those idiots who lives and breathes Halloween because you hate yourself so much that you have to be someone else to feel good, you can go shave your back now drown in your own bowl of Mini-Twix.
Actual convo we'll have if you disagree with me:

Fall Weather
EXPECTATION: You're already planning your pumpkin patch-inspired Instagram complete with that fall sweater from Nordstrom's annual sale (BACK IN FUCKING JULY) that you've been harboring for like, seven years now. Once September hits, you're about to rip the tags off your new leather boots, so you can eagerly mask your post-summer bloat in the cutest cozy fall attire, because you know what they say: boyfriends come and go, but leggings are forever.
REALITY: Don't even get me started. Actually, never mind—I've already been triggered. I despise our garbage president for many reasons, but mostly because he's apparently unaware of this thing called Global Warming that's causing me to freeze my ass off, and then sweat my dick off all in the short amount of time it takes me to get to the bar after work on a Friday. Nothing tastes as good as baggy clothes make us feel, but no amount of likes on a fall OOTD pic is worth the buckets of boob sweat generated by this incessant heat stroke.

Halloween Decorations
EXPECTATION: This will be the year you finally give in and line your mantle with those annoying sticky webs that literally cling to everything you own. You're so ready to go full Grandma Cromwell and deck the halls with boughs of horror—oh, and HELLO, stupidly over-priced adorbs accent pillows!
REALITY: You know when you take your headphones out of your bag after just putting them in 30 seconds ago and they're in just as big of a clusterfuck as your life is? After going through the entire bag of web, congrats—you've successfully covered about three square feet of wall space in what looks like a heap of unrolled cotton balls. Stick a skull head on your table, and leave the decorating to your parents from now on.

Pumpkin Carving
EXPECTATION: Getting my friends together to do dumb activities no one cares about, like carving pumpkins, as an excuse to get shitfaced on a Wednesday is the one LinkedIn skill I pride myself in being endorsed on. The excitement of chugging pumpkin beer and watching throwbacks like Mom's Got a Date With a Vampire while competing to see who can carve the best pumpkin without anyone asking "Wait, what is that?" is thrilling.
REALITY: Don't get me wrong: pumpkin carving is the best—besides the part where you actually have to carve the pumpkin. It's like painting a room: the movies make it look like it's as exhilarating as sending a hoe-ish text at 2am, but in reality, it's so much more than that. Three minutes into regretting trying to carve a Cheshire Cat, you'll make the slightest wrong cut, only to knock a whole row of teeth out and fuck up the entire thing. Not only will you be stuck cleaning pumpkin goo off the table, but your jack-o-lantern will probably look like it just went on a 3-month alcohol bender and woke up with a half-opened eye and four teeth missing. Whatever, that's why the devil invented alcohol.

Buying Candy
EXPECTATION: You hit up the Halloween aisle for the best and most frowned-upon candy and in the process, you even selflessly think to bag some up for your besties!
Side note: when tf did tiny bags of candy become so expensive? Tbh, my friends aren't that great.
REALITY: It apparently didn't occur to you that you either live on the 27th floor of a city complex or a tiny dorm room, and that the only children you'll probably see all day are the ones dressed in fugly '90s getup in the Dannon Yogurt commercial. You've gotta get rid of the candy somehow, so you decide to take one for the team and experiment with the Wonka Nerds and craft your own witches brew of flavored hangover vodka, but like, it could be worse… Also, you're welcome for that million-dollar idea.

Making Your Costume
EXPECTATION: The absolute best part of Halloween is crafting up the most original, not-too-slutty-but-pretty-fucking-slutty costume. For once, you got ahead of the game and began the planning process even before October came around. And to top it all off, you found the perfect YouTube makeup tutorial you're about to watch like, 12 times in order to get the perfect sexy zombie bride face. No really, this is about to be some next-level shit.
REALITY: Spoiler alert: It's October 30th. You've achieved nothing but an overloaded Amazon shopping cart filled with items that are 100% guaranteed to overdraft your checking account. Your party is tomorrow night, so you should probably just try Sears. Lol JK, I'm your friend, remember? You knew this would happen again, so you should really just order the best effing costume you've ever worn from our Betches store (yeah it's a plug, fucking prosecute me) to save yourself time, money, and a year's worth of embarrassment when you think about showing up in last year's bumble bee leotard.

The Halloween Party
EXPECTATION: The night has finally arrived. You and your friends are planning on getting inappropriately drunk before arriving to the party—for precautionary purposes, of course. You'll be sipping on whatever the fuck is in that witches brew concoction, while yelling "OMG that's so good!" to your friend's unoriginal Khaleesi/possibly-also-Elsa-from-Frozen getup. You managed to get that one Instagram you're about to fully dissect and edit when you're alone later on, so yeah, life is good.
REALITY: You show up only to lay eyes half the party wearing your typical run-of-the-mill fuckboy Halloween staple: A white tee with some sort of dumb fucking saying like "Error 404: Costume Not Found" sharpied on it. Nobody told you that a "horror" theme was actually because of your ears bleeding from hearing "Monster Mash" play on repeat 87 times. Oh, and that witches brew? I'd steer clear unless you're into the kind of thing that is chugging the leftover middle cup ingredients from King's Cup. But it's ok because if all else fails, there's always some Freeform marathon to binge while also bingeing Snickers and tequila.

Happy haunting, witches.
The 11 Garbage People You Meet At Every Halloween Party
Head Pro pretends to not like Halloween, but he's really just bad at coming up with costumes. Email him at [email protected], and follow him on Twitter and Insta at @betchesheadpro.
Halloween is Tuesday, which means that all of your Halloween party-going is happening this week and reaching a crescendo this weekend. Don't ask me why we treat Halloween like other holidays where you HAVE to have the party before the actual date, them's just the rules. Fuck you in advance for giving me side-eye for showing up to your November 4th party in my Boba Fett costume. Shit was expensive.
Anyway, what makes Halloween parties Halloween parties is that you show up in costume, otherwise you're just a weirdo for throwing a party on a questionably macabre holiday. The thing is, though, is that if you go to enough parties, you notice that with little variation, they all include the same cast of characters and costumes. Here's a non-exhaustive list of the people you'll meet, and how to deal with them.
1. The Couple Who Thinks They're Funny
Couple's costumes are without fail annoying af because the people wearing them almost always put too much work into them. Sometimes they try to be current, so this year you might see a lot of couples dressed as Wonder Woman and whichever one of the Chrises was her sidekick. But more often than not, they try to be "clever" and somehow miss the mark. Like, I've seen so many couples where the guy was a big black ball and the girl was an iron chain—sorry ladies, but you're both the ball and the chain. That's all on you.
How to deal with them: If you're single, don't. If you're with a date, have a picture at the ready of some really good costume the two of you did to make them feel worse about theirs.
2. The Guy Who Thinks He's Clever
Making a clever costume is a fool's errand. It literally only works when other people see it, think about it for one or two beats and then go "ohhhh I get it!" That shit is hard as hell to pull off, man. Otherwise, you end up with one of three scenarios: 1) No one gets the costume even after you explain it, 2) You have to explain it but it's still not funny, or 3) It needs no explanation but it's just dumb as fuck. One year, one of my bros stapled a bunch of pictures of his exes to a sheet and wore it over his head as "the ghost of girlfriends past." It was real fucking dumb, and kind of fucked up too, now that I think about it. Don't put that JuJu on people, dude.
How to deal with them: Regardless of which of the three ways they fuck it up, your response should always be "oh… ok." That's it. These people crave approval more than anything. Don't give in.

3. The Intentionally Too-Soon Guy
Without fail, someone will take a recent celebrity death and make a costume out of it. This year, you're gonna see a lot of fuckboy Hugh Hefners out there. Worse is the fact that that more often than not the costumes are shitty; wearing a dirty bathrobe and the sweatpants you woke up in do not make for a convincing smut tycoon.
How to deal with them: Whatever you do, don't get mad. These guys get off on being CRAZY and EDGY and DARING TO GO THERE. Their goal is to shock you, because if they shock you that means they can manipulate your emotions, and if they can manipulate your emotions they think that means they can fuck you with their socks still on. It's a vicious cycle.
4. The Slutty Whatever Girl
My hot take? Slutty costumes are used far more as pop culture joke fodder than they are actual costumes. But there will be one, maybe two of these girls at every party, made I guess a little more likely by the fact that this very website sells slutty mouse costumes or whatever. Either way, they'll stick out like ingrown hairs, because normal fucking adults can work up a costume that's still sexy without going full-blown "slutty sign language interpreter."
How to deal with them: Praise them for having the courage to wear those costumes and empower women. These girls strapped themselves in and hoisted their boobs up because they wanted to turn some heads and feel sexy, not lead the 4th wave of feminism.
5. Every Version Of Taylor Swift From The 'LWYMMD' Video
You just know a group's gonna fuckin' do this. The only question is, do they go with all the new Taylor outfits, or all of the "dead" Taylors? If the #squad's big enough, why not both? They'll metastasize across the dance floor whenever that (or any TSwift) song comes on, and you'll never have wished more for an asteroid to hit and end this fucked up experiment called humanity.
How to deal with them: No need, because you're either one of them or they'll be standing in a circle looking at their phones the whole time. You should, however, pay the DJ all of the money you have on you to not play any Taylor Swift songs. Sometimes petty justice is the only justice.

6. The Political Costumes
Unavoidable, but especially so because of the times we live in. Lots of guys will wear those creepy rubber Donald Trump masks, which is actually fine until they start in on their terrible impressions of him (sad!). Probably lots of Hillarys, too. That's also fine, I guess, until they try to get clever with it by also doing zombie makeup and saying they're "Hillary's electability" or some insufferable shit. You will suddenly find yourself on the other side of the gun control debate, if only so that you can quickly buy one to turn it on yourself.
How to deal with them: Bizarrely, I don't think these people actually want to talk politics, so you should talk a shitload of politics with them. Figure out where they stand, and then present yourself as an even more extreme version. Oh, they like Bernie and his platform? Well Bernie is just as much a Wall Street puppet as the next Democratic sellout, and you're gonna lead the revolution that returns the means of production not back to the proletariat, but to Mother Nature!
7. The People Not In Costume But Just Dressed Like Goths
These people have a twisted relationship with Halloween, because on the one hand, they're the weirdos who claim to be into the "dark arts" and lied about drinking a bat's blood back in middle school. On the other hand, they hate how a celebration of their Dark Lord has been co-opted by the mainstream, so for once their morose expressions are genuine. They'll be in the corner, casting spells on everyone.
How to deal with them: These people secretly wish they could be accepted by the popular crowd, so be as ditzy and fun-having as you can possibly be. Even if you got stuck being Zombie Taylor.

8. The Decade Costumes
I don't understand why this is a thing, but it is. Like, how are you supposed to represent an entire decade with an outfit, and why would you want to? Oh, you're supposed to be "the 80s?" Cool, which one of your leg warmers represents the sale of weapons to Iran to secretly fund right-wing Nicaraguan rebels?
How to deal with them: In reality it's virtually impossible to capture the essence of a decade, because 1980 looked nothing like 1990, 1990 looked nothing like 2000, etc. That's why, when they tell you what they are, say it looks more like an adjacent decade to you. "70s? Ok, it's just that this outfit looks a lot more late 60s to me." They'll hate it.
9. The Person Not In Costume Because They Hate Halloween
Look fucker, you have 364 other days of the year to show up to a party in your street clothes. If you don't like dressing up, either sit your ass at home or go to an Irish bar, where the costume theme is always "pretending Irish-American culture is legitimate and deserving of celebration." They think they're cool and above it all and will try to fuck you by approaching you in a corner and saying "man, this is so childish, right?" Gross.
How to deal with them: Do a drive-by and say "nice costume!" just before you're out of earshot. It won't give them time to launch into their "I'm a REAL adult" spiel.
10. The Socially Conscious Costumes
Why yes, I totally agree that The Handmaid's Tale is a perfect reflection of where we are as a society right now, and your Offred costume totally improves the ambience. Lotta those, I expect, but don't count out the people who try to be walking political cartoons. The guy dressed up as a solar system and also wearing a doctor's mask? Wow, a biting commentary on universal healthcare, friend. The dude in the MAGA hat with the "lock her up" sign? Now that's a man with his thumb on the pulse.
How to deal with them: Unlike the overtly political people, these folks EXTREMELY want to talk about politics. Keep the conversation light until you can escape.

11. The Person Not In Costume Because They Couldn't Think Of One
So, more often than not this is me.
How to deal with them: Be nice. I'm not exactly proud of myself.
Head Pro pretends to not like Halloween, but he's really just bad at coming up with costumes. Email him at [email protected], and follow him on Twitter and Insta at @betchesheadpro.
The Best Bars To Lock Down A Finance Bro Husband
Good morning, idiot hookers, and once again congratulations for making it to Thursday, which is basically Friday. It's officially (almost) the end of another long AF week and I've spent the last few days avoiding answering work emails in favor of Googling "how to marry rich." Classic. For those of you who aren't living in the city that never sleeps with the same person twice, New York can be like, v hard to meet people. Especially if you're aiming higher than a fuckboy on Bumble. NYC is supposed to be the land of possibilities and one of those possibilities should be landing your own wolf of Wall Street. You know, if your wolf looks less like Leo Dicaprio and more like Chuck Bass with a dad bod left over from college and a casual coke problem. A girl can dream.
Tbh finance bros aren't really my type. My standard for guys is lower—more like drunkest guy at happy hour. Obviously, my mother is v proud. But because I value my journalistic duty like to drink I still definitely hang out at bars where the finance bros gather to drink overpriced beer and whiskey. So here's a list of the best bars to lock down a finance bro husband so you never have to pretend to love your job again.
1. Dorrian's Red Hand
Location: Upper East Side
Type of Wealth: He probs has a trust fund
Contrary to what Gossip Girl led us to believe, the Upper East Side is not actually the be-all and end-all of the New York social scene. Sorry, B, but I'm gonna have to disagree with you on this. Because, yes, there are finance bros who Serena probs drunkenly slept with in the 10th grade that hang out there but those guys are probably also like, 40. Or they act 40. Either way, I did not sign up to get shitfaced and also talk about where I think the stock market is going this year. Jesus. Just tell me I'm pretty and buy me a drink. That's literally all it takes. (Again, my mother is so proud.) In case you need me to paint a clearer picture for you, you know that guy with the dad bod and casual coke problem that I mentioned before? That's the type that frequents Dorrian's Red Hand. The type that's posted up by the bar 3-4 days a week drinking over-priced whiskey sours and talking about his boarding school glory days. Hurry, girls, get him while he's still single!
2. The Jane Hotel
Location: West Village
Type of Wealth: He could be related to Chuck Bass
The West Village/Chelsea is going to be the best hunting ground for rich AF husband material. Something about the low-key models running around in athleisure gear taking their damn time in the Starbucks line at 9am just screams money. Idk why. And the Jane Hotel is a staple among the rich and the kind of boring. You know it's boujee AF because there's a fucking dress code to get in and champagne is like, $12 a glass. Keeping with the Gossip Girl analogies here, the Chuck Basses of the world def frequent The Jane. But like, season one Chuck Bass who wore an unreasonable amount of Ralph Lauren polo shirts and tried to low-key rape high school freshmen. Charming.
Random Bar Bro:

Me:

3. The Ainsworth
Location: Chelsea
Type of Wealth: He bought votes to win his frat's presidential election
First of all, the vibe of this place is just confusing. There's like, chandeliers and shit but also dudes in button downs aggressively drinking beer and watching Sports Center. I can honestly say I've only ever been to this bar once and it was on St. Patrick's Day when I was blackout celebrating the Irish spirit, which tbh are really the best circumstances for feeling out a crowd. For example, I watched a grown man in a nice suit wait in line for 15 minutes for the WOMEN'S BATHROOM. Which should speak to the intelligence of the bar's clientele and also how much that crowd likes to drink. That being said, he also looked like the kind of guy who would offer to pay for more than just a shot of Fireball or the shittiest beer on tap so, like, I was here for it. I imagine this is the kind of bar where that 19-year-old with a really great fake that you met at Houston Hall one time goes when he grows up hits 25 and has a crisis of conscience. Hope to see ya soon, buddy!
4. PJ Clarke's
Location: Chelsea
Type of Wealth: He casually owns a boat
I had to include another outdoor bar because I so enjoy day drinking for the Insta. Not only does this bar guarantee you a new riverside profile pic, but it also guarantees you a lot of time spent in the company of men who wear shit like this:

Sadly, I'd probably hit that with the right amount of alcohol in my system. *laughs uncomfortably* Similar to The Frying Pan, there's definitely a preppy Southern vibe here but unlike at The Frying Pan, these people aren't fronting to be rich assholes because actually are rich assholes. Definitely hit this place up on summer Fridays and be sure to wear your sluttiest pastels. This crowd will eat that shit up.
5. Brother Jimmy's
Location: Midtown East
Type of Wealth: He'll offer to split the rent with you in Jersey
Andddd we're back to this hell hole of an establishment. In a previous post I mentioned that this bar is a place where New Jersey commuting douchebags hang out and also maybe Trump supporters. Well, in a complete and totally expected turn of events, these Jersey commuting assholes and worshipers of a human Cheeto also work in finance. It's really a special place. If you go there, prepare to spend a fuck ton of money on a very shitty vodka soda and have forced conversation with some guy trying to sell you on coming back to his place… in HOBOKEN. Look, I have nothing against Hoboken. I once dated was in a Snapchat relationship with a guy who lived in Hoboken who was always saying stuff like "it's not that far" but I'm pretty sure New Jersey Transit is involved and I do not fuck with that. Okay, so I may have made that last part up. I could be the PATH? Truthfully, I have no idea how you get to Hoboken but I assume it's about as traumatic as the one time I did try to take New Jersey Transit and got lost by the TGI Friday's in Penn Station. Regardless, there's only so far I'm willing to take my hoe ass and I draw a hard line at the New York state border.

If all else fails you can just wander down Stone Street. It's the mecca for after-hours finance dudes looking to forget the fact that their 200K+ salary won't replace their personalities. You'll know you've found the place when you see a group of sad looking guys in suits drinking tiny cocktails that cost the same amount of money as my share of the cable bill.
The 10 LA Bars Where You're Guaranteed To Find A Husband
You can only have so many girls nights where Adriana's breakup is the center of attention before you start eyeing the bro selection and hoping one of them isn't a complete douche to distract you. Some nights you just want to trap a guy because all your friends already know how great you are and that's no fun. It's much more fun to watch a hot stranger discover how great you are. So for the nights when you just want to invest in your future but still want to get drunk, one of these bars is a perfect place to go husband shopping if you live in Los Angeles. Which is especially important because if you live in Los Angeles the chances of making it to a second destination are slim, so you must choose wisely when deciding where to go out for the night.
10. Lock & Key
This Ktown speakeasy is full of rich bros who are fighting to buy you a drink. This is a destination for groups and birthdays, which means the vibe is laid-back and rowdy at the same time. It's a social bar so if you're looking for a quiet date night you might want to skip this, though early in the night you can get away with chill cocktails by the bar. The patio has a DJ to keep the vibe feeling too house party, but it's still bright enough to see and not spill your drink and like, check out the merchandise. Great chance to make eye contact with your real life right swipes from across the patio, then when you make your way to the bar for another drink, you'll have to conveniently walk by him.
9. Roosevelt Hotel
Despite the fact that this is in Hollywood, which is the Times Square of Los Angeles, you'll actually find the Roosevelt Hotel has a good selection of normal chill dudes to strike up conversation with. Maybe it's because it's where industry adjacents go to drink and not be judged, but you'll mostly meet agents and managers and those types, aka well-dressed hot bros that should be gay based on their fashion sense and interest in your career, but are actually DTF—down to fiancé.

8. Bungalow
This is where all the west side ex-sorority betches and bros go to pretend they're not past needing to show an ID to a bouncer yet. The many rooms of this bar make it literally feel like you're shopping for a new beau, and also makes it easy to ditch a dud you half-start talking to once he mentions making America great again. It's also right on the beach, which is romantic or something, but you'll forget where you are once the bartender comps you enough Moscow mules. Attractiveness level is on point here, though chances of running into exes is also high.
7. Idle Hour
This valley bar is a good group spot with a fire pit in the back and a good selection of alcohol and beer garden snacks. It's far away enough from Studio City that you won't have to watch your boss on a first date, but also close enough for it to be convenient for those coming from Hollywood or the Valley. This is def a chilled out vibe, but because it's a popular spot for parties and gatherings, you'll find bros are in their element. Plus this way you can meet his friends and decide if be's cool based on what characters choose to spend their time around him.

6. Three of Clubs
This is a spot you want to come armed with your battalion of girlfriends, but on a good night it's rowdy and feels like a college party without the date rape. Sometimes it's a mixed bag as you'll get the old drunk men hitting on you, but the dance floor makes up for it. They play a healthy mix of 90s music, hip-hop, and Beyoncé so you can dance your way into some hot dude's heart.
5. Hermosillo
This Highland Park spot is half hipster, half trust fund, which means you'll be able to find your future husband AND your future side piece all in one place. HP is half gentrified which means there's still no sign of Urban Outfitters but there are a few fancy donut shops. It also means there are only so many selections of bars, so for convenience's sake most of the young virile residents will be at one of a few on a Friday night. And Hermosillo is one of those.

4. Dirty Laundry
Dirty Laundry is def a scene spot at this point, which means you may be spying on many first Tinder dates while scoping out your options. The good news is the bar is popular for a reason, and when it's not too crowded you'll never be short of an interesting encounter when you go out here.
3. Block Party
This Highland Park bar only opened in the last two years, but its proximity to a taco truck and crystals shop are an indication of its cool factor. The bright neon writing inside the bar is probably ironic in some way, and the bar has an immense selection of beers, which is like a magnet for bros who watch European soccer and know why cargo shorts are a pussy repellent. The bartenders are cute here too, which is always a plus. The back patio of this bar has party games like a giant Wii and shuffleboard, so the icebreakers are literally built into the bar.

2. The Friend
If you're into mustaches and tattooed bros with jobs, you'll like The Friend. This East Side joint is also set up like a house party, but like one from the 70s we think? There's usually a DJ spinning tunes and it's small enough that you'll be able to corner whoever you want for conversation or like, whatever comes after conversation.
1. Tenants of the Trees
This is right in the heart of Silverlake which means you can talk about the women's march while ordering a $15 cocktail and nobody will find fault with you. This is a good bar to go with friends that you don't mind losing before the end of the night. It's definitely got a hipster vibe to it, but in a more Williamsburg than Bushwick way.