To Stay In Or Go Out? Weekend Horoscopes January 3-5
Because I have no faith in committing to bettering myself for an entire year, New Year's resolutions aren't really my thing, but for those of you who vowed to improve your lives by like, going to the gym and ~traveling,~ you're probably excited for the first official weekend of 2020. This horoscope is for you guys. If you need some guidance on how to start the new decade, look no further. According to yearly-horoscope.com, "2020 will be a year when all the zodiac signs will be able to take advantage of a new beginning, both in their personal life and financially." Lol, could this be a little less specific? Can't wait for what's to come!
Aries

Aries likes to be number one at everything they do, so you guys are def fans of making New Year's resolutions, because doing so just gives you an opportunity to meet a goal. Overachievers like you may be annoying as hell to those around you, but you don't give a f*ck because you're here to win. This weekend, you'll spend your days making spreadsheets of your five-year plan and spend your nights telling people about them. You'll want to get your life on track this weekend so you know what to expect for the year ahead, but don't spend too much time on this because, if our government has taught us anything, it's that all plans fall apart rather quickly. Use this opportunity to be a little more adventurous, ya know? Explore a new neighborhood at the very least.
Taurus

From both the internet and my Taurus friends, I've learned that Tauruses "enjoy relaxing in serene, bucolic environments surrounded by soft sounds, soothing aromas, and succulent flavors." Wow, deep. Anyway, even though Tauruses are described like literal babies, they're nothing if not down for whatever, so take a seat and let your friends do the planning this weekend. Expensive dinner? Sure. Stay in with a bottle of Pinot? Sounds delicious. Go out until 5am? Fine, whatever. Take this time to mute your group chat until someone puts forth a time and place, then just meet everyone there. You do you, Taurus.
Gemini

Geminis are impulsive, nosy, and intelligent creatures who like to know everything about what everyone's doing. You check everyone's Instagram stories not because you love them, but rather, because you want to know where everyone is so you can make an educated decision on where you'll be posted up. Geminis can't be tied down, so maybe don't meet up with the guy who spent your whole first date telling you how much you'd love his parents. Stick with Mr. Right Now this weekend, because starting a new decade in a will-we-won't-we war just doesn't sound like your cup of tea.
Cancer

Anyone under this sign may claim to be psychic, because Cancers are famous for being able to pick up on various energies. OMG, it's like they have a fifth sense! I mean, picking up on energies is a fancy way of saying you can read a room, so congratulations on not completely lacking empathy. You've been going hard all damn year, so take this weekend to chill with friends. Nothing crazy or expensive. Maybe invite your friends over for a potluck dinner where all you have to provide is the table and your friends bring everything else. 
Leo

Leos are known for being theatrical, and they think of themselves as kings and queens. Honestly, I was born into the wrong sign, I think. Anyway, Leos are happy to be the loudest in the room and love to have all eyes on them. If you're a Leo, this weekend take your quieter, more subdued friends out on the town where you can drink and dance until you can't no more. This is your time to start the new year with a f*cking bang, so throw on a blue wig and go to an underground salsa club, or slip into your finest and end up at a 5-star hotel bar, the night is yours to own. 
Virgo

I am a Virgo and I proudly fit into the little box presented to me: Virgos have a deep-rooted presence in the material world. Yeah, sounds about right. Obviously, there are a lot of more down-to-earth qualities Virgos possess, but none that relate to this weekend specifically. Go shopping this weekend. You just got paid, so spend that hard-earned cheddar on that pair of boots you've wanted since last summer, then take them for a little walk around your favorite bar. If you're really feeling yourself then be bold and invite the guy you've been seeing for a little while. It's time for him to finally meet your friends already. 
Libra

It is my personal belief that all Libras change their names to something like Juliana and become yoga instructors, because Libras are obsessed with balance and harmony. Right on, I guess? So start the year on a good note and find your center. Whether that means hot yoga, vegan pizza, and an early night, or a romantic dinner date with your SO, do you. You won't be persuaded to join your friends for an all-night banger, so maybe just put your phone on do not disturb until the weekend is up. That seems like something Libras would do anyway. 
Scorpio

Scorpios are as passionate as they are emotional, so maybe do yourself a favor and take it easy this weekend. By going out, you're just setting yourself up to get in a fight with your boyfriend and regret the whole thing the next day. Instead of going out, keep it casual and invite everyone over for wine and cheese. I mean, everyone likes wine and cheese, right? What could go wrong?
Sagittarius

You guys don't do anything unless you'll learn something from it. You'd make my dad so proud! You're pretty much up for anything, so if the crew wants to go out, join them! When you drunkenly text your ex 87 times, you'll learn a valuable lesson that will keep you on an upward trajectory. You generally don't regret anything (like, anything) because you're always on an educational path that is leading you in the right direction. So if you want to crush the last of the bottle, do it!
Capricorn

Capricorn is represented by the sea goat, a mythological creature with the body of a goat and tail of a fish. Wow, swipe right! The significance of the sexy dual-creature situation is that Capricorns are good at navigating physical and emotional realms, which makes you an ideal friend in situations like "What should we do tonight?" You're the decision-maker and your friends are grateful for you. This weekend, see how you feel before setting the plan in motion. If you want to go out, do it. If you'd rather stay in, your peeps are down. The weekend is your oyster. 
Aquarius

You guys are assertive and independent, so if your friends are all tired from their NYE parties, but you want to go out, you'll do it. Grab a small group of your friends and head to your favorite bar to see where the night takes you. It may even take you to uncharted territory, but since you're such an explorer, you're okay with that. Maybe you'll even meet someone who strikes your fancy along the way. Sold!
Pisces

Generally, Pisces have a little trouble distinguishing between reality and fantasy, but you don't really care. Managing expectations is not something at which you're particularly skilled, but if fantasizing that the sh*tty college bar your friends dragged you to will end with your long-time boyfriend finally proposing, more power to you. You see the best in everything, so you tend to be happy to do whatever the crew wants to do. Just go with the flow and wear something cute, because you never know what's going to happen! 
Images: Giphy (12)
New Decade, Who Dis? Your 2020 Horoscopes
If 2019 was the year of everybody and their mother getting back into astrology, 2020 will be the year of blaming astrology for even more of our problems. And to get this out of the way now, Mercury will be in retrograde this year from February 17th-March 10th, June 19th-July 12th, and October 14th-November 3rd. Plan accordingly. Here's everything else you need to expect for your sign in this new astrological year in love, money, and health. Don't say we didn't warn you.
Aries

Better make sure that passport is up-to-date, because this is gonna be a huge travel year for you, Aries. You're going to have multiple opportunities to explore this big blue dot of ours (aka hook up with people from different continents), so if you haven't already set a 2020 Duolingo goal, get on it. This year is all about travel, study, and expanded horizons for you. Basically, it's your Eat, Pray, Love year, but with more alcohol.
Love: Despite the fact that all the travel will be making it easy to acquire hoes in different area codes, you're going to be way more focused on actual relationships than one-night stands. Update your dating app bios accordingly.
Money: This is the year you actually get serious about finances. You'll be downloading budgeting apps. You'll be opening investment accounts. You'll be calling your rich uncle and asking him what the f*ck a 401(k) is.
Health: Hate to break it to you, but this isn't the year for intense fitness goals. You're gonna be wayyy too focused on cool sh*t that's happening in your career to also be hitting the gym at 6am every day. Set modest, attainable goals to maintain your health and wellness, but don't expect to be a fitness influencer this time next year.
Taurus

"Auuuummmm" – you in 2020. This will be a year that brings peace, calm, and serenity to your batsh*t crazy life. So yes, you will actually use your meditation app subscription and yes, you should start a fund specifically for buying crystals. You're literally reading a horoscope right now, so you're already halfway there.
Love: Can't sugarcoat it, this could be a tough year for your love life, Taurus. But relationships that make it through will be the ones that were actually worth fighting for, like Allie and Noah in The Notebook.
Money: Can we say "financially stable"? Because that's what you'll be in 2020. Hard to believe you started the last decade with no credit card and $100 in savings, and now you're flying on high on points and accruing interest on your five-year CD. We simply love to see it.
Health: This year you'll be developing even better health and wellness practices, which will come in handy particularly when you're feeling stuck at work. Nothing like a good sweat sesh to help finally build the motivation you need to send a single email.
Gemini

Who even are you, Gemini? This is the year you find out. 2020 will be all about figure out what the f*ck you want out of life, whether it be a house and a family, or a yacht and a sugar daddy named Paolo. No judgment.
Love: Don't freak out, but this year your love life could actually be good, Gemini. Hard to believe I know, but in 2020 relationships of all kinds will just come more easily to you, particularly with people a little older than yourself. Can somebody say daddy?
Money: Still getting a monthly allowance from mom and dad? 2020 is the year that ends. This is a year of financial independence for Geminis. You can still stay on the family phone plan, tho.
Health: Keep an eye on those stress levels as you begin to advance in your career. Getting a project in before the deadline is cool and all, but you also have to remember to sleep and eat food. It's kind of a vital part of remaining alive.
Cancer

Cancers are already amazing friends, but this year you're going to be an ahhh-maaaaazing friend. As Cher Horowitz one said, "'tis a far far better thing doing stuff for other people." You'll be truly embodying that spirit in 2020 by being there for people when they need you. Just don't forget to be a friend to yourself too.
Love: Boundaries, Cancer. Boundaries. This is the year you learn them. Hopefully not the hard way. On the bright side, this will also be a year of fun, flirtation, and general sexiness for Cancers, so at least you'll have like, a million backup plans for when the boundary conversation goes sideways.
Money: You're going to be able to bank some serious cash this year, but only if you up the focus and discipline by like, 1000%. You'll be surprised how quickly cutting down on the Seamless in 2020 will lead to a three-week island vacay in 2021.
Health: This summer will bring a major glow-up, and the winter will bring you the motivation to actually get it done. Just don't be one of those people who stories their entire workout and updates on their #fitnessgoals every day. That's what a journal is for.
Leo

This year could pose a lot of challenges for your sign, Leo, but you'll come out of it stronger than ever. Like when Simba watched his dad die and had to live in the woods for a few years before becoming King of the Jungle. Juuuust like that.
Love: Keep an eye out for people who kill your vibe but still find ways to get into your life (and your bed) anyway. In 2020 we're not wasting any time on people we don't like outside the hours of 1-5am. And remember, if you're too embarrassed to tell your friends you're still hooking up with him, he's not the one.
Money: Proceed with caution, Leo! This year will bring a lot of financial opportunities, but you're going to be wary of the liars and the scammers you meet along the way. If it's too good to be true, it probably is. And remember friends, any company that mentions "multi-level marketing" is just a pyramid scheme. Skip it.
Health: Are you up to date on all your doctor's appointments? All of them? Really? This is the year you get serious about your health and wellness, including actually scheduling your six-month dental cleaning…every six months. And they said it couldn't be done.
Virgo

Yass Virgo! You go (Glenn) Virgo! This is a year of empowerment, self-discovery, and just generally kicking ass for you, Virgo. You'll be feeling momentum in all aspects of your life, but it'll be important to stay grounded. You don't want to be one of those people who gets verified on Insta and forgets all the little people.
Love: Your ideas about what you want in a relationship will change dramatically this year, so don't be surprised if you see your usual "type" change too. For example, you might find yourself interested in someone who is gainfully employed, rather than just someone who is tall.
Money: You could actually benefit from taking some financial risks this year, Virgo. Don't be afraid to invest in yourself or to go full boss bitch and start playing the stock market. Just don't go full Wolf of Wall Street on us, k?
Health: With all the money moves you'll be making this year, it's no wonder it'll be important to keep that stress and anxiety in check. Changes you make at the beginning of 2020 have the potential to grow into lifelong habits. So yeah, why not sign up for that 6am cycling class on Monday morning?
Libra

This will be a huge year for growing your relationships, Libra, whether they be romantic, personal, or professional. That'll mean making some tough decisions about friendships you may have outgrown, and some much easier decisions about people you need to cut out of your life (Jessica).
Love: This year will be more about working on your existing relationships than forging new ones, so single Libras should look to people they already know to form a love connection. That doesn't mean go buckwild and hit up all the exes on your Do Not Call list, but maybe that friend-of-a-friend you keep seeing at parties could grow into something more than just awkward eye contact.
Money: Stressors in other parts of your life are gonna make you want to splurge a little too much this year, so make sure you put some sh*t in place to hold yourself back. Remember: buying one bath bomb is self-care. Buying one hundred bath bombs is hoarder behavior.
Health: This is the year you get spiritual, Libra. Whatever that means to you. Maybe you'll start going to church again (your mom will be so proud). Maybe you'll invest in a good meditation app. Either way, you're going to be focused on the health and wellness of your soul. I hear crystals can help with that.
Scorpio

2020 is all about major growth for you, Scorpio, so don't be surprised if your life looks completely different one year from now. This will be a year of success in your professional life, so set those career goals and watch as you start meeting them. Who knows? There could be a Netflix series about your meteoric rise to stardom by 2021.
Love: Not to go all Emma Watson on you, but you might find yourself self-partnered this year. And that's okay! There's going to be so much going on in all the other aspects of your life you don't have time to date. And before you ask, yes. That is exactly what the star of a rom-com says before meeting the love of her life in the unlikeliest of places.
Money: This will be a harvest year for you Scorpio, but don't forget to save some of that extra cash for when you fall on hard times (aka anything that forces you to use the U.S. healthcare system). Set a savings plan for yourself ASAP, and then blow the rest of your money on whatever stupid sh*t your 2am Amazon scrolling provides.
Health: Your personal health and fitness will be on point this year, but you might be forced to step up to the plate and help with the health and wellness of someone else this year. I'm not saying become one of those people who tells your friends their brunch order is unhealthy (never be that person), but it can't hurt to check in and make sure your Nana is taking her blood pressure medication.
Sagittarius

You know that part in every Disney movie where the heroine sings a song about assuming her place in the world? That's you in 2020, Sagittarius. For The First Time in Forever you're figuring out when you want something to be Part of Your World, and when to just Let it Go. Just Around the Riverbend, you're going to be seeing How Far 'll Go and realize your goals are Almost There. When will your Reflection—okay you know what I'm going to stop now.
Love: This is the year to take chances on love. Swipe right with abandon! Give your number to the hot bartender! Go to a second location with a man you just met whose car smells like iodine! Okay, actually on second thought, that last one will get you murdered.
Money: Be careful with joint ventures this year, even with people you trust. It's not that your cousin is trying to scam you, but investing in their CBD detergent company might not be the best use of your resources in the year to come.
Health: Are we leaving the phrase "self-care" in 2019? Not a f*cking chance. You're going to be looking inward a lot this year and really focusing on bringing yourself inner peace and happiness. In short: you will be investing in a weighted blanket.
Capricorn

The anti-aging cream has been working, Capricorn, because this year is all about reconnecting with your inner child. Think back to when you were a kid. Is there anything you used to love to do that you could reincorporate back into your life? Think a sport, a hobby, an instrument, or even just re-reading Harry Potter.
Love: You're cruising for a summer fling this year, which does mean you might find yourself feeling pissed off and unappreciated through the winter. Don't worry. This phase will pass just in time for you to have someone to take surprise beach trips with.
Money: 2020 will be a year for building assets, not splurging on major life-changing purchases. The money you save now will be a nest egg for something super important down the line, so maybe hold off on the Botox for another year or so. Your forehead can handle it.
Health: Look, 2020 is not gonna be the year you become a fitness guru. It's just not. That's not to say you can't maintain healthy habits, but you can chuck any lofty goals you had about getting a six-pack by March out the window.
Aquarius

This year is going to test your ability to stay calm, Aquarius, so invest in an essential oil diffuser now. Yeah, you might find yourself wanting to tear your hair out at times, but the strength you build getting through the bullsh*t will make you a better person later on. Not that you'll be able to remember that when you're pissed off.
Love: This will be a year of letting go of relationships that don't serve you, which includes exes whose numbers you should have blocked like, 2 years ago. Use the extra space make room for all the new, non-f*ckboys that will be lining up to get a place on your contact list.
Money: You might feel slightly restless in your career this year, but you'll see your hard work pay off in major ways if you just stick with it a little longer. The confidence you build at the workplace will help draw new opportunities your way. Can somebody say promotion?
Health: You're going to be drawn to all things woo-woo this year, so maybe start setting aside a monthly budget for Reiki now. You may find yourself interested in alternative medicine and holistic practices, which is all fine and dandy, unless you start telling relatives not to vaccinate their kids.
Pisces

This is a big year for you, Pisces! Your creativity is flowing and you're ready to bust out of some of the toxic cycles and ruts that plagued you this past decade. Make sure to find a designated person who can help you work through some of the major changes you'll go through this year. Most people call this a "therapist."
Love: Before you can start any new relationships this year, you're going to have to go back and really learn the lessons of years past. What do you like in a partner? What do you want to avoid? What are you willing to forgive just because they have a six-pack? All important questions you'll have to answer before taking on a new relationship this year.
Money: Don't be surprised if your career takes you somewhere you never expected to go this year, so follow new ventures and opportunities to wherever they may lead you. Remember, even Amazon started out as just an online bookstore.
Health: Making improvements to your diet and exercise routine will actually come easily to you this year, so don't be afraid to set some ambitious health goals. That's not to say you have to run a 5k tomorrow, but stepping your gym schedule up from 2 to 3 days a week wouldn't be a bad idea.
Images: Matt Popovich / Unsplash; Giphy (12)
Lunar New Year, Lunar New You: Weekend Horoscopes February 8-10
Happy Lunar New Year, betch! It's officially the Year of the Pig and the stars say that this weekend is the perfect time to connect with your inner pig, aka get messy as hell. Take that last tequila shot! Send that risky text! Rob a f*cking bank!!!*
*Betches Media is not responsible for any banks robbed as a result of this post.
Read your weekend horoscopes to see what the cosmos have in store for you and your sign.
Aries
You're feeling new age-y as f*ck this weekend, Aries, so why not hit up your nearest vegan crystal reiki superstore and start cultivating some good energy? Why not call up your one friend who's like, super into tarot and schedule a reading? (We all have that friend.) Anything that can connect you with the beyond. Is all that stuff low-key bullsh*t? IDK, but you're the one who is literally reading a horoscope right now so who are you to judge?
Taurus
The Year of the Pig is kind of huge for you Taurus because you're an Earth sign, and YOTP's full name is Year of the Earth Pig. So wtf is an Earth Pig? This weekend it's your mission find out. What does being an Earth Pig mean to you? How will you connect to your inner Earth Pig this year? Does any of this make any sense? Time to work out all these thoughts on your vision board. (We all know you have a vision board.)
Gemini
The Lunar New Year should honestly be called the Gemini New Year because, just like the moon, you change every 30 days. Right now Mercury—aka your ruling planet—is chilling in your tenth house of career, meaning it is time to network the sh*t out of yourself. Luckily for you, this weekend will provide ample opportunities to advance your career over cocktails, which I think is the technical definition of leaning in.
Cancer
You hear that? That's the sound of your direct deposit hitting, Cancer. The stars are aligned for you to actually have some money for once, and the new moon is in your eighth house of seduction which can only mean one thing—it's time to go all in on Valentine's Day. If you're in a relationship, spend the weekend making reservations and planning the V-tines of your dreams. If you're single, do the same damn thing but without having to pretend you care what your significant other wants to do.
Leo
Why so shady Leo? Mercury is in your eighth house making you feel (and act) sneaky as f*ck. To prevent yourself from going overboard and becoming the subject of a Netflix documentary, try keeping your desire to creep confined to the internet. Online stalking is much better than like, actual stalking. Just be extra careful not to 'like' your ex's sister's boyfriend's post from three years ago. So embarrassing.
Virgo
What is this feeling? Is it…the desire to be social? The onset of the Year of the Pig has you feeling like connecting with other humans, Virgo, and you'd better take advantage of it. Plan a little get together at your place or hit up the group chat and tell everyone to meet at the bar. Hell, you could even lie and tell everyone it's your birthday if you have to. Whatever you need to do to capitalize on this sudden social feeling.
Libra
This weekend is for fun…damentally changing how you've lived your life up to this point. Sorry to be harsh, but it's true. Time to finally download one of those finance apps that shows you how you're spending (read: wasting) all your money, but don't worry. There's a silver lining. What's the point of downloading the app if you're not gonna show it what a typical weekend in your life is like? And by "typical" I mean "a complete train wreck."
Scorpio
Home is where the heart is, and home is where you are this weekend, Scorpio. Consider this permission to cancel all your plans (lucky you) and spend the entire weekend in binge-watching bliss. If you haven't seen Russian Doll on Netflix, then the only person you need this weekend is Natasha Lyonne. If you have seen Russian Doll, why not watch it again and look for clues? It's not "doing nothing all day" if you're actually solving a mystery.
Sagittarius
Mercury has you in the mood to spill tea…on yourself. It's time for you to unload all your personal secrets, most likely after a few glasses of wine. It's gonna happen. Just accept that. Now all you have to do is pick the best person for you to spill all your secrets to. Just be sure it's not someone you met on a dating app two days ago.
Capricorn
The Lunar New Year is giving you studying-on-Adderall levels of energy this weekend Capricorn, so why not get ambitious? If there's a bar/club/hot person you've been meaning to check out that's just a little too far away, this is the weekend to make the trek. Just be prepared to shell out money for the long Uber home.
Aquarius
Hey! Hey you! Aquarius! **snaps fingers ** Ugh, finally. You're freshman geometry class levels of distracted this weekend, so maybe put aside the major projects for another time. Nobody wants a half Marie Kondo-ed apartment going into Monday morning, and any Pinterest project you start is guaranteed to look like it was made by a one-handed two-year-old. Save the important sh*t for another day and dedicate this weekend to easy to accomplish tasks like having three glasses of wine by 4pm.
Pisces
This weekend you *are* gonna be that girl who has one drink and starts telling everyone about her life goals. Sorry, but that's just your Lunar New Year vibe. Maybe hit up one of your more career-oriented friends (you know, the one who is "in law school" or some sh*t) and set up drinks so you can both discuss your five-year plans at length. This will help you avoid subjecting anyone else to your hopes and dreams.
Images: Giphy (6)
4 Healthy Foods That Are Surprisingly High In Fat
Over the last few weeks, I've been tracking macros on MyFitnessPal. Initially, I was doing it to try and get back on Keto. (By "back on," I mean I did it for two weeks before a vacation once.) Unsurprisingly, I bailed on Keto (nothing is low-carb enough!!!). and I then decided my #newyearnewme would be about counting macros instead. I'm currently using this calculator, which I found via this highly reliable fitness Instagram. I'm not even being sarcastic—there's very good advice on there. My biggest challenge with macros so far has definitely been keeping my fat content in check. Within a week, I realized I knew way less about which foods are high fat than I thought. For example, I had a day of what I considered very healthy eating (salads! oats! grain bowls!), and then discovered my diet had been 60% fat. And this is why I have trust issues. So, I did some research into which of my "healthy" choices were causing that high fat content. I'm not talking about obvious fats—you should all know that baked goods are full of bad fats and avocados are full of good fats. These are the sources of fat you're not as likely to guess as, say, a fried chicken sandwich or a BLT with mayo.
Disclaimer: Everyone's dietary needs are different, and many diets may call for higher fat content. I am not advocating for a universal low-fat diet, so do not come for me. Rather, I am hoping this information may be illuminating to some of you (read: I don't want to be the only one who didn't already know all this).
I'll be honest, I've never really known a lot about the nutrition content of falafel. It felt like a kind of dietary gray zone. Not as healthy as a vegetable, but probably better than cheese. Right? Not really. While trying to design a low-fat grain bowl at Tender Greens, I was pretty shocked to see that the steak topping was lower in fat than the falafel option. While falafel can be a healthy dish (the ingredients themselves are nutrient-rich), I'd somehow forgotten that it's typically deep-fried. This adds, in scientific terms, a sh*t ton of fat to your meal. FWIW, the "baked falafel" option at Tender Greens was way healthier—but unless a menu specifies "baked," you should assume it's deep fried, and therefore higher in fat.
Tofu is a similar deal to falafel—it's all about how it's prepared. While tofu isn't deep-fried quite as often as falafel (though still more often than you'd think), it's really good at soaking up whatever it's cooked in. And given that tofu on its own has just about zero flavor (it's okay, we can all admit that), it's usually cooked in a bunch of oils, sauces, etc. So tofu on its own? Low-fat, healthy option. But the way it's usually prepared in restaurants can make it a higher-fat option than something like chicken.
Okay, this one errs more on the side of "foods we knew were high in fat." But take a minute and actually consider how many "healthy options" feature nuts as a key ingredient. Protein bars that pride themselves on not adding sugar? Full of nuts. Overnight oats? Probably filled with nut butter (or WTF are you doing). Even a lot of salads and bowls will add nuts as a topping, plus, almonds are constantly touted as the ideal mid-afternoon snack. We also all know the problem with nuts—they are impossible to portion for how calorie-dense and fat-dense they are. And anyone who says they're full after 6 almonds is a dirty liar.
So, while nuts are full of technically good fats, it's still super easy to go over on your fat content goals if all the healthy options you're choosing are nut-heavy. So if my breakfast included 2 tbsp of almond butter (18 grams of fat and it never feels like enough), maybe I don't also have have a nut-based Lara Bar at 4pm (9 grams of fat), and snack on nuts at 6pm (19 grams of fat). That brings my fat content from nuts alone (not even the fun fats, like sauces and cheese and sugar) to 46 grams, when my daily goal is 48. (Let it be known that my total fat content for that day wound up being 90+ grams. This sh*t is hard!!!)
I know! I said this list would be about non-obvious sources of fat. Yet here I am basically listing the liquid form of fat and saying "surprise! This is fat." Sue me, but also listen because this is probably the #1 thing that people forget to count in their diets. One tablespoon of olive oil has 14 grams of fat. One tablespoon of butter has 12 grams of fat. (The type of fat they offer is different. Here is a long article on different fats and how they affect you.) Even at home, I struggle to cook something edible using less than 2 tbsp of one of these. It can be super tempting to just log the one chicken breast you cooked in there, but unless you're using a cooking spray, you have to account for the fats it absorbed.
Well, that's the end of my tirade on fat, and now I never want to look at a nutrition label again! Remember, the worst thing you can do with your diet is eat in a way that makes you miserable, because you know that sh*t won't last. My fat content is still way too high most days, but I'm figuring out what a low-fat day I can live with looks like. At least it's not Keto!
Time To Find Your Motivation: Weekly Horoscopes For January 7-11
Welcome to 2019, Betches. Sure, we're technically seven days, in but everyone knows that first work week after NYE doesn't count. The resolutions you shattered 30 minutes into January 1st? Reset. The motivation to drag your *ss out of bed and make it to work? Recovered. Your tolerance for every and any kind of bullsh*t? Replenished.
The year is new, the House is blue, and the world is your oyster. Here are the first of your 2019 betchy weekly horoscopes.
Aries
2019 is going to be a year of big moves, Aries, and they're coming at you fast. Things are going to start getting exciting soon, and you need to be ready to jump into action. Lean into your naturally bold nature and let your gut guide you through this journey. People always say that the path that scares you the most is the one you should take, but that's not always the case. Make decisions that work for you, not for the shock factor of your friends and family.
Taurus
The restraint and frugality you clung to in 2018 is about to pay off, Taurus. This is the year that you let loose and start treating yourself for all that ceaseless hard work. Use this week to start planning our your next couple months and figuring out where you can spare some time for yourself. Be it an extravagant trip abroad, or a quiet weekend in seclusion, you've earned your chance to escape for a bit.

Gemini
2018 ended in a lot of uncertainty, Gemini, and it doesn't look like that will be clearing up any time soon. As much as you hate going about your day without a firm plan in place, try to lean into this lack of natural boundaries. Pushing you out of your comfort zone is the fastest route to growth, and you're definitely less than comfortable with the vague nature of your life at the moment. The important things will start to take shape soon enough, and until then you'll just have to trust that you know what you're doing.
Cancer
Your tendency to move to the beat of your own drum and generally ignore those around you has always been an endearing trait, Cancer. But at times, like right now, it can also prove dangerous. You can still be a free spirit while listening to the guidance of your friends, who are typically the ones standing off to the sidelines and making sure you don't carelessly float into any shitty situations. If they have misgivings about certain aspects of your life right now, trust them–their vision isn't obscured by your daily whims.

Leo
Guess what 2019 is, Leo? The year of making some godd*mn decisions. And better than that? The year of sticking to them. Let's be real for a sec–you spent most of 2018 (and your life, tbh) waffling back and forth, refusing to commit to anything. Well, no more. Start your year off on the right foot by making a decision this week. Any decision. It can be small. Just do something and stick with it, and let that momentum carry you into the rest of the year.
Virgo
After a lifetime year spent catering to the emotional needs of other people, it's time to start taking care of yourself, Virgo. Like, this week. Today. Cancel the plans you were dreading, RSVP no to the 17 baby showers or bridal-related invites sitting in your inbox, put on your softest, most forgiving pants, and spend this week focusing on you. You'll be amazed at how much time you have to do so now that you aren't providing good-natured, but ultimately detrimental emotion support to the entire tri-state area.

Libra
You've had a shockingly productive year so far Libra (it's only been a week but go with me here), and if you play your cards right, you could ride that momentum right into February. Honestly, whatever you're doing right now, stick with it. It's clearly working. Be careful not to shine to0 bright and burn out early. If 2018 was any indication, we have a long year ahead of us. You'll need that energy and brimming optimism for as long as it'll last.
Scorpio
2019 is looking bright, Scorpio. You've spent the last couple years working your *ss off and laying the groundwork for some big moves, and it's finally coming to fruition. While it may be tempting to sit back and enjoy the fruits of your labor, don't stop grinding. I'd make a joke about getting that bread here, but it's a new year, so now we're getting that carb-free substitute, because it's January and we all need to pretend like resolutions to eat better are still a thing. Whatever you're getting, may it be fulfilling.

Sagittarius
With the holidays and your birthday season behind us, it's time for a reset, Sagittarius. You've been non-stop celebrating/partying/organizing/nursing a hangover since the end of November, and it's finally time to Calm Down. Turn off your phone. Ignore Instagram. Forget that you ate Christmas cookies for six straight weeks. Take these next couple days to get your life back on track, whether that be emotionally, physically, or financially. If we're being honest, it's probably all of the above.
Capricorn
We're just about halfway through your season, Capricorn, which begs the question: have you accomplished everything you've set out to do? If not, this is the week to get going. This is the time of year when you'll feel most connected to yourself, so don't let the dreary weather or post-Holiday funk trick you into wasting it. Start that project you've been de-prioritizing. Reach out to those people that you miss (even though you would never admit it). Speak your piece, get your closure, make your mark. The world won't wait, and it's not in your nature to do so either.

Aquarius
The start of January hasn't been too kind to you, huh, Aquarius? Don't worry, better things are on the horizon, and of course by better things I mean the start of Aquarius season. That time of year when you're at your most powerful is just around the corner, at which point your 2019 will truly begin. Until then, take care of yourself. Use this week to lay low, recover your energy, and prepare for what's to come. Seeing as how the start of Aquarius season happens to coincide with the "Super Blood Wolf Moon," you may want to prepare your loved ones as well.
Pisces
Change is on the horizon, Pisces. Actually–horizon makes it sound like some event that will never come to fruition. More accurately, change is on your doorstep, and it's time you address it. You may think you've prepared yourself physically, but there's no telling what kind of emotional toll a major life adjustment will take. Be extra kind to yourself during this process, and recognize that even your meticulously organized plan may have some hiccups.

Images: Shutterstock; Giphy (6)
James Kennedy's Latest Twitter Meltdown Proves 2019 Is Doomed
New year, new me, am I right? Not if you're DJ James Kennedy (AKA the white Kanye West). In a turn of events that may shock you for someone with this nickname, James Kennedy kicked the new year off with a series of questionable tweets. If you've been watching Vanderpump Rules, you'll know that James has been getting heat from fellow cast members after body-shaming costar Katie Maloney. Oh, and rapping about Jax cheating on Brittany while she was working. And also kind of for cheating on his girlfriend two years ago? How many episodes are we in again? What year is it? Anyway, James had a bad week, which in the VPR universe means he was uninvited from a birthday party and lost his job. Here's the rundown of the first James Kennedy Twitter meltdown of 2019.
Let's start with a screenshotted January 2nd tweet uploaded by Brittany:
The disgust continues. @itsjameskennedy I pray YOU will find peace some day. pic.twitter.com/OywfbyoRgC

— Brittany Cartwright (@BNCartwright) January 2, 2019
In case you're too lazy to click on her tweet and read the quoted text, here's what he says. "And Jax?! He is just a sad man after his daddy died. Coming for me cause I'm the only man he don't like- brother make peace with your dead father please so you can be set free that's goes for Lala also. Btw he made fun of George when he left." As a side note, I cannot figure out who George is and it's driving me wild. Fan theories in the comments please.
In other good news, James was apparently still drunk mad when he read Brittany's tweet, because he responded with the following:
Wow…. just wow. pic.twitter.com/qOOKYquerR

— Jax (@mrjaxtaylor) January 3, 2019
Yes James. In case your drunkenness isn't evident from the content of what you're posting, please add random periods to drive the point home. Brilliant. Eventually, James—because he has publicists who require him to keep making money—deleted his tweets and tried two very different tactics to get out of this. First, the "I got hacked," with a side of blatant lying about how he is perceived by the public. (James Kennedy? Positive? I think not.)
@mrjaxtaylor I don't buy this pic.twitter.com/TV0YWuY6fR

— Lisa (@txldallas) January 2, 2019
Then, the sincere apology with a side of "but it wasn't my fault because I was provoked." Quick note to any celebs in need of PR guidance out there—you should do ONE or THE OTHER of these. Both is the worst look imaginable.
Hey I'm sorry for what I said about Jax and Lala and I apologize deeply to them and anyone I offended. I hope you guys also stop provoking me, thank you and I wish everyone a happy new year.

— James Kennedy (@itsjameskennedy) January 3, 2019
Jax and Brittany continued offering up swift rejections of this apology, with Jax doing the lord's work posting new screenshotted evidence from James' drunken Twitter spree as well.
There is a difference between someone who notices his wrongs and changes everything about his life for the better and someone who just doesn't care who he hurts no matter what and has no intention of admitting his wrongs or changing. We know what's real. Y'all see 30 mins

— Brittany Cartwright (@BNCartwright) January 3, 2019
Wow.. again with insulting women. After he just apologized. You are a joke my friend. You must seriously hate who are as a person. https://t.co/vDzOlC8Ba9

— Jax (@mrjaxtaylor) January 3, 2019
My favorite part of this whole drama is from an hour ago, in which Jax Taylor continues to rain hell down on James in whatever way he can. This time, it's by tearing down a tweet Raquel posted from the Vanderpump dog show. According to Jax, Raquel "attempted to bid" on a puppy, "looked for money from James," (who "has none so he bolted"), and then was ultimately rejected as a dog owner out of hand by Lisa—who "told the auctioneer "no way" and gave to the next bidder. Is any of this related to the rest of James' tweets? Nope! But you're out of your mind if you think I'm missing the opportunity to include some dog show drama.
You did not get out bid, we sat 10 feet from you when you attempted to bid on the puppy, you looked for money from James, he has none so he bolted and then Lisa saw it was you and told the auctioneer "no way" and gave to the next bidder. How can you lie when 300 people saw this. pic.twitter.com/tJvLFy5unN

— Jax (@mrjaxtaylor) January 3, 2019
And there you have it! Only three days into 2019, and if the James Kennedy Twitter meltdown is any indication, his resolutions are off to a great start. (I can only assume they were "drink less" and "win my friends back," both of which are going exceedingly poorly right now.) If Jax's resolutions, on the other hand, were "be more petty" and "continue to use Twitter as a catalog of personal vendettas," then I'd say he's doing great. I don't usually like to support anything Jax does (gtfo with Mamaw's Beer Cheese), but I'm really enjoying these twitter clap backs.
Images: Shutterstock; Twitter; Twitter; Twitter
4 Things To Stop Feeling Guilty About In 2019
2018 was a year of many revelations. (Yes, saying "revelations" instead of "realizing stuff" makes me the intellectual Kylie Jenner.) It was a rapid-fire year of watching our favorite celebs make engagements, break engagements, have babies, and get cheated on by f*ckboys. (What I like to call "the big four.") In between worrying that these celebs are growing up too fast and worrying I'm not growing up fast enough, I realized I was forgetting one important thing. (No, not refilling my anxiety medication. Good one though.) I realized I was spending so much time judging and measuring everyone else's process in life and feeling guilty about my own that I could barely remember what I actually wanted. All I knew was what I thought it should look like.
So, in the spirit of slowing down, letting go, and re-focusing on getting happy from the inside out, here are four things to stop giving yourself (and other people!) sh*t for in 2019.
Feeling Only Okay About Your Job
One of the more toxic elements of Instagram is that everyone on there (everyone successful anyway) seems to be a fully self-made entrepreneur who lives their best life every day, is grateful for every morning, and answers only to themselves. While that obviously sounds delightful, you have to keep in mind that you have no idea how those people got there, and how truthful they're even being about the joy they find in their careers. Similarly, the friends you compare yourself to and feel like sh*t about—whether they're pursuing creative goals or just pulling in a fat paycheck—all likely have their own unique doubts, fears, and misgivings about their jobs. That's the nature of work, and the nature of life in general.
So, am I saying you should stay at your sh*tty desk job forever, because everyone's probably unhappy about something? Try again, b*tch! If you hate your job, or even just don't love it, you can absolutely add "get a new job" to your 2019 resolutions, and go after that mother*cker. But please stop beating yourself up because you haven't yet landed the perfect gig, or even figured out what exactly that would look like. (Although if this describes you, you should definitely give When's Happy Hour a read.)
And here's a secret no one on Instagram will tell you. It's okay to not be totally obsessed with your job. It's okay to want a life that isn't only about the hustle/grind/whatever people are calling their 24/7 jobs these days. You do not have to wake up on Monday mornings eager to "get that bread" if you are happier working a moderately fulfilling 9-to-5 and spending the rest of your time with your loved ones. The world will not end, and you are not a bad person.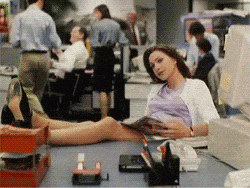 Feeling Only Okay About Your Body
This will all be thematically similar to the last section, so I'll keep it (kind of) brief. On Instagram, everyone either has a perfect body, is a "Before" rigorously working toward an "After," or is making a "bold" and "courageous" statement by weighing more than 98 pounds and being happy that way. Like with your job, if your body makes you actively unhappy then I absolutely encourage you to do something about it. But I also encourage you to think critically about that question. In a world without Instagram, would you be unhappy about your body? Does your body affect how you view yourself every second of every day, or only after you've scrolled through your feed? What makes you happier: a warm chocolate-chip cookie, or a DM request from a "promoter" with 200 followers after you post a selfie in a crop top?
Now, I'm also not saying that wanting to lose weight or achieve new fitness goals or whatever is always bad/shallow/for the 'Gram, but just because we all live our lives on the Internet doesn't mean we all have to look like swimsuit models. And being a work-in-progress—or just accepting that your body will never be the best, most accomplished, most celebrated thing about you is totally fine. Staring at your body every night and hating yourself about it? Not f*cking fine at all.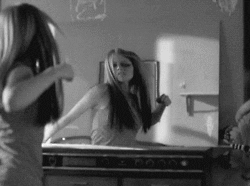 Not Having A Go-To "Squad"
This is really for my post-college and beyond readers. In college, you're surrounded exclusively by people of your own age and every article targeted at you is about the trials and tribulations of the group chat. Pre-gaming is basically a sacred ritual, and the bi-weekly group shot causes more drama than a season of Riverdale. Post-college, you find out a few things about those girl groups. Like that half of them have terrible personalities, drinking problems, or a b*tchy streak that used to be cute and aged poorly. Regardless, I often find myself feeling guilty when I see articles memes referencing a group chat that I no longer have. Or wondering when I became such a loser that my birthday dinner was under 20 people.
But here's the thing: I have never loved my friends more than I do at this stage in my life. Genuinely. The friends that I have are people who I know I can rely on, who I can talk to about anything, and who I personally consider to the coolest, smartest, and funniest people on this f*cking earth. Do I wish more of them lived in the same city, knew each other, and regularly attended Sex and the City style brunches with me? You bet I do! But I'm way over befriending a group of people I don't really have much to say to—just so I can stop feeling guilty and lame when I see pics of Kendall Jenner's girl squad.
This is the only squad that ever mattered anyway: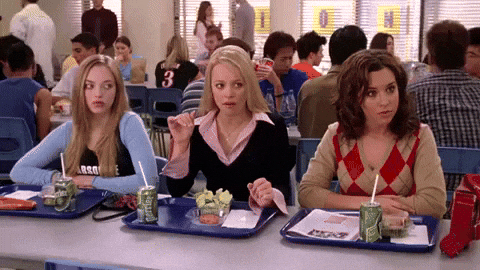 Taking A While To Orgasm
Okay I'll be real. This was the first category I thought of, and the one I was most eager to write. (It is also directed primarily at the ladies, to be clear.) It is about to be 2019, and I am thoroughly over people feeling guilty or ashamed of taking longer to orgasm. The planet is dying, our President is a moron, and society is so fragile that a change to Instagram's swiping feature literally almost killed us. It's the f*cking apocalypse, and women all over the world are still faking it or saying "I'm good" when they are not good because…Honestly, because of what? Sure, you're asking your partner to do more work. But that's not a problem when you're asking them to go in for the 300th pic of you in front of some wall art, so why is it a problem in the bedroom?
More likely, it's because men have systemically engrained the idea that women don't really need to orgasm in order for sex to be finished, so it feels bad or overly vulnerable to ask for it. But like so many things men have said over the years, this was a bad and wrong idea. Women of the world, repeat after me: sex takes as long as it takes you to finish. (Sound selfish? Too bad. Men and women alike have been saying it about men since the dawn of time.) You should never, ever feel guilty that it takes you a while—like putting pizza rolls in the oven vs. the microwave, the better product just takes more time. Let 2019 be the year of no longer accepting things just because men have been calling them true for centuries—the world will be a much better place for it.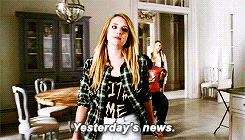 I hope you got some joy out of this article—it truly felt cleansing to write it. I want to reiterate that "not feeling guilty" does not equate to "not doing anything about it." You have the same goals and the same drive whether or not you make yourself feel like sh*t about where you are. This year, give yourself the gift of not feeling guilty about where you are in life. If hating on yourself burned calories, earned money, or gave us orgasms, we'd all have perfect lives. But it doesn't, and we don't, and guess what? It's f*cking fine. Happy new year!!!
Images: Giphy (4); Unsplash / Leighann Renee
What Your New Year's Eve Plans Say About You
Christmas is officially over. I know, it's very sad, but I promise you will continue to see Christmas lights on houses for weeks to come. But the next biggest celebration is New Year's Eve. Honestly, I find it rather underwhelming, but some people go all out, and that really tells you what kind of people we are. Here is a list of common New Year's Eve plans so you can see what it says about you.
1. Watching The Ball Drop In Person
You are a ballsy person and I salute you. You do what you want, no matter how many people tell you not to. Standing in the freezing cold for hours on end sounds like a nightmare to me but you do you. There will be tons of pushing and shoving, way worse than a busy night at your favorite bar. You'll be tired and cold, so bundle up. You are the kind of person who loves adventure but does not think about the consequences. So remember, if you complain about any of the above, remember you did this to yourself and I have no sympathy.
2. Getting Wasted At A Club
If your NYE plans involve a ton of alcohol and dancing in a crowded club, you are the one who rounds up your friends to go out, always. We love you and we hate you, but every time we go out with you, we have fun. You are outgoing, free-spirited, and know how to have a good time. You may not be the most grown-up person in your friend group but f*ck it, at least you aren't boring.

3. Staying Home…Alone
Either you had a super crazy year and just need a break or you're boring af. Staying home alone on New Year's Eve is kinda depressing. You probably won't stay up until midnight, eh? That doesn't sound like the worst thing in the world. Just don't let this be a precedent for your whole year. It's okay to be a homebody, but try and hang out with the people going to a club on New Year's Eve once and a while, it'll do you some good.
4. House Party
Going to a house party on New Year's Eve makes me think that you are super content with the people you have in your life. You don't feel the need to go out and meet someone new. You are chill and more go with the flow. But just because you aren't getting plastered at a club doesn't mean you can't ring in the new year wasted (with your head in the toilet, possibly). Respect.

5. Obsessing Over Your Midnight Kiss
No matter where you spend the New Year, you are going to introduce 2019 in the way you spent your entire 2018: obsessing over your latest crush. You will express your stress of who you will kiss on New Years to anyone who will listen. Will you try and go for your crush? Will you go for someone more "attainable" to make your crush jealous? Will you decide to be an independent woman and not kiss anyone? Remember, you are not defined by who you kiss, so let loose and try to have fun.
Images: Shutterstock; Giphy (2)