5 Signs A Real Housewife Needs To Retire
Just weeks ago, a grown woman was caught on film having a meltdown while on the job. She yelled at her boss, suggested that she was the reason for his success, and publicly shamed a coworker with same-sex proclivities, saying, "We don't do that" and "Turn it down!" In any other functional workplace, this behavior would get a person immediately fired, but in Real Housewives land it gets you ratings and a promotion. Of course, this isn't the first time Vicki Gunvalson has gone off the rails, but it is the first time it has felt like a palpable line had been crossed. After her entitled and delusional outbursts at The Real Housewives of Orange County season 14 reunion, it became clear that she had fallen prey to some classic Real Housewife pre-retirement symptoms, suffered by many fellow Housewives, past and present. Read on for the signs a Real Housewife should leave the party.
1. Not Fully Participating in Filming and Reunions

There are always going to be parts of our jobs that we don't like, for example, having to interact with other human beings partnering with coworkers on group projects. However, we're paid to fully execute our responsibilities, and a Housewife's duties are no different. This means showing up to all filming obligations, regardless of whether you feel like it or are getting along with your fellow castmates. Unfortunately, Lisa Vanderpump didn't seem to understand this concept throughout season 9 of The Real Housewives of Beverly Hills, when she just decided to stop filming midway through and chicken out on the reunion because she wasn't getting along with the other women. It's no wonder she was fired won't return for the upcoming season. NeNe Leakes is also currently suffering from a similar delusion on this season of The Real Housewives of Atlanta. She's barely been a presence and is leaving the heavy lifting to "friends of" like Marlo Hampton. It's like asking an intern to bear your entire workload. Aspirational, but not how it actually works. If the Bravo execs have any sense, they'll give Ms. Leakes her walking papers.
2. Forgetting The Show Is An Ensemble Effort

It's natural that in any season there are going to be fan favorites and breakout stars. But Housewives get into trouble when they start believing their own hype and convincing themselves that they are the stars of their shows and their fellow castmates are merely supporting players. Vicki demonstrated this over and over again on the season 14 reunion, constantly making references to "my show" and saying "Get her off my show!" in reference to Braunwyn. Teresa Giudice is also guilty of using similar language on multiple occasions. What both Vicki and Teresa fail to realize is that they are on a show that thrives—nay, depends—on the interactions between cast members. Unless you're Bethenny Frankel, you're not compelling enough to carry your own show. Suck it up and know your role before you find yourself out of a job.
3. Crossing Moral And/Or Legal Boundaries

As Housewife fans, we live for drama, but when that drama derives from behavior that is immoral or downright illegal, it becomes hard to stand by the Housewife in question. We can never forget Vicki's entanglement with real-life Dirty John Brooks Ayers, who spent the bulk of season 10 perpetrating a cancer scam, and although she was fully aware of this claimed to know nothing about it, she lost a lot of her luster with fans and the storyline was widely considered a low point for the series. Behavior that goes even further and ventures into criminal territory will get you fired, as Phaedra Parks learned after the revelation during the season 9 Atlanta reunion that Phaedra spread defamatory rumors claiming Kandi and Todd wanted to drug Porsha in order to take advantage of her. Attorney Phaedra should have known better than anyone that no one wants to deal with lawyers.
4. Being Inauthentic

We've all deduced by now that "reality" television is hardly real in the way, say, documentary footage or live news reporting is real. Plots need to be fleshed out, and at times that leads to storylines that can come off a bit contrived. However, when a Housewife herself is inauthentic, it's a deal-breaker, and a telltale sign that she has no business being on the show. Tamra Judge on Orange County is a perfect current example. A woman who was once a pot-stirring firecracker prone to taking her top off is now, over a decade later, a pot-stirring firecracker prone to taking her top off. Only now it's no longer novel and comes off as a desperate attempt to stay relevant on a show that is evolving without her. Another party guilty of inauthenticity of a different type is Dorit Kemsley on Beverly Hills. Forgetting about her put-on accent, Dorit's refusal to air any of her real-life controversies makes her one of the phoniest Housewives we've ever had. It's unclear what she brings to the show, other than a piggish husband and a penchant for over-the-top, label-displaying fashion she can't actually afford. Yawn.
5. Avoiding Drama

Just like part of the job is showing up to filming at the appointed times, another integral part of being a Housewife is getting into it with other Housewives. Yet, year after year, there are always several women who complain that they "don't want any drama" and refuse to go toe-to-toe with the others. In fact, aside from Puppygate, the entire cast of Beverly Hills built a whole season around this ethos, leaving us with one of the most boring seasons of the show we've ever seen (and that's saying something). Even Namaste Teresa is a shell of the table-flipping, prostitution-whore-calling woman she once was, staying out of the fray and letting other people like Danielle Staub do her bidding. One might say this is growth and one might be right, but we all know dignity and maturity have no place on reality television. If I wanted to watch respectful and thoughtful people politely interact with one another, I'd put on The Great British Bake Off. Pick a lane, people!
It will be interesting to see what Bravo does with its OGs, who are some of the worst offenders when it comes to this list. While there's something comforting about keeping around those who have been there from the beginning, getting rid of the women who aren't pulling their weight keeps the others on their toes, especially those who lack the self-awareness to course-correct like Lisa Rinna, who does her best despite her drama-eschewing castmates. What other signs are there that a Housewife needs to go and who do you think needs to get off our screens? Let me know in the comments!
Images: Paul Morigi/Getty Images; Giphy (4); Tenor (1)
Kim Zolciak-Biermann & NeNe Leakes' Latest Feud Is One For The Ages
NeNe Leakes is coming back to Real Housewives of Atlanta next month, and it looks like we can expect plenty of drama from the new season. Even thought the season premiere is still weeks away, NeNe and Kim Zolciak are already getting messy over social media, and Kim's daughter and younger clone, Brielle, is getting involved too.
Kim and NeNe have always had a…um…rocky relationship, and the drama picked right back up last week. The whole thing started because Brielle implied that there were cockroaches in NeNe's bathroom. There were also two videos of the alleged cockroaches, which we didn't actually watch because we live in constant fear of bugs taking over our lives.
NeNe wasn't so thrilled with the cockroach accusations, and decided to start calling Kim and Brielle racist for making up such a ridiculous story. Now, we're not like professional fact-checkers or anything, but the racist thing seems a little bit random. Like, maybe Kim and Brielle are racists for other reasons, but these accusations by themselves do not seem to amount to racism, unless we missed something here.

Also, can I just say that as someone who lived in Atlanta for many years, you could literally live inside a giant Mr. Clean Magic Eraser and STILL get cockroaches? Atlanta is a humid breeding ground for these bugs; they are everywhere; it's really not that serious.
Anyway. NeNe also said that Brielle should "go somewhere and let the air outta those fake lips, fake titties and fake ass because you will never be @kylejenner." We're literally crying this is so good. Also, NeNe mistakenly tagged Kyle Jenner instead of Kylie, because she obviously is too busy coming up with sick burns to check her spelling. Even so, I can't let go of the feeling that it's weird to be a full-grown woman with children attacking a 20-year-old on social media (says the girl who regularly hates on Bella Thorne for a living).
We're not done. NeNe then posted multiple other items calling Kim and Brielle racists, and they predictably didn't love that. Now it turns out that Kim has hired lawyers (how did she not already have lawyers) to help deal with the situation, which means things could really get ugly. Okay, we're kind of living for this. What a shit show. Good luck proving you're not a racist to the courts, Kim; that seems like a very abstract task. Plus, I'm pretty sure hiring a lawyer because someone called you racist is peak white people shit.
Unfortunately, Kim and Brielle might not be helping their legal case, because they've since gone on Twitter to claim that NeNe has a prescription pill addiction. The pair posted some very thinly veiled subtweets because this is like middle school or something, and NeNe responded by, you guessed it, calling them racist and white trash.

Don't worry, we're still a little confused too. Okay Andy Cohen, you got us, you win, we'll obviously be watching the new season.
8 Former Real Housewives Who Need To Come Back To Bravo ASAP
Last week, Andy Cohen and his band of minions other Bravo execs dropped the trailer for the new season of Real Housewives of Orange County, and, per usual, it looks fucking batshit and therefore amaze. Obvi. They also announced that there will be a new wife joining the crew this season and she will be the 100th "Real" Housewife of all time. Can we just take a minute and think about that? I mean, holy shit that seems like a lot. I can only think of like, 12 off the top of my head. JK. I know every last one of them, but still. It's a fuck ton. And while most of the women who have come and gone can just stay gone because they were boring AF, there are a few who should def come back for the sake of reality TV. Here's a list of our fave ex-Real Housewives who can def sit with us.
1. Heather Dubrow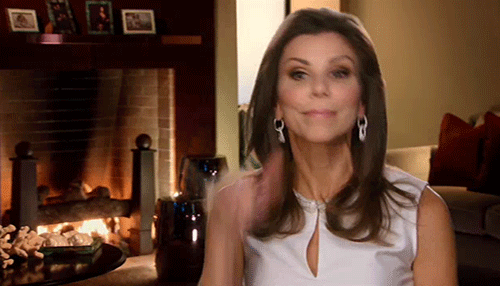 So technically, we haven't even felt the effects of queen Dubrow's departure from RHOC yet since the first season without her doesn't premiere until July. But I can already tell you it's going to fucking suck. I don't feel like I'm going out on a limb here when I say the women of Orange County are some of the trashiest of all the franchises. I mean, Tamara and Vicki? Gross. And Heather was the one shred of class the show had and now that's gone. We always kinda wondered WTF Heather was doing hanging out with these trash bags, and now I guess she's finally come to her senses. Maybe she and Terry will move to LA and she can join RHOBH—those betches seem more up her alley.
2. Nene Leakes

Nene is arguably one of the greatest housewives of all time. She's funny AF, all-around fab and can read anyone who crosses her for absolute filth. YASSS girl! She left the show because she was splitting her time between the ATL, LA, and NY because she's so awesome Hollywood and Broadway stole her away so she could have an actual career. Makes sense, I guess. Rumor has it she might be coming back to RHOA next season, so our wishes might actually come true.
3. Yolanda Foster

Tbh, Yolanda was kind of a snooze. I mean, how much of a grown woman frolicking in a lemon orchard can I even take? But we want her back because we want the inside scoop on her model kids Gigi, Bella, and Anwar. Fucking duh.
4. Dina Manzo

These days, RHONJ is all about Teresa and all her prison drama, but back in the day, Dina Manzo was the OG HBIC of NJ. That's a lot of letters. She's absolutely gorgeous and she doesn't put up with people's shit, both of which make her a true betch. Every season she's a part of, there's always at least one person thirsty to be her bestie (looking at you, Danielle) and given the mental state of the rest of the Jersey wives, it's pretty easy to see why.
5. Brandi Glanville

Love her or hate her, Brandi was incredible television. She was always drunkenly outing some huge secret or throwing wine in someone's face or something equally as dramatic and we all lived to see what crazy-ass thing she was going to next. All the wives of Beverly Hills are glad Brandi is gone, but even though RHOBH is still one of the best, it's way less eventful without her. I mean, a whole season about whether or not Yolanda was lying about having Lyme disease? Yawn. We also owe Brandi for giving us the greatest show of all time: Vanderpump Rules. Look, I get that it's my namesake's restaurant but it all started with the epic Brandi/Scheana confrontation. So thank you, Ms. Glanville.
6. Kim Zolciak

Sure, she has her own show on Bravo where we can see her, her big booty husband and their 27 children pretend to be just like us. But it's not the same as watching Kim get her wig pulled and called a trash box by Nene. Sorry, but those are the facts. Kim and Nene were the two stars of RHOA in the early years, regardless of whether they were the best of friends or literally wanted to kill each other. Both were entertaining AF. Like Nene, rumors have been swirling around that Kim might come back next season which would be the best housewife return since Bethenny in NY.
7. Heather Thomson

I can admit that Heather yelling "Holla!" every five seconds was pretty fucking annoying, but other than that, she was a badass betch. She was Puff Daddy's right hand girl at Sean John before starting her own company, Yummy Tummy, which is pretty much exactly like Spanx. She was also Carole's bestie on the show and they can def both sit with us. Heather wasn't super into the drama, but she did specialize in calling Luann out for fucking a married dude on vacay. And anyone who shits on Luann is cool with me.
8. Camille Grammer

After being the biggest housewife villain of all time in RHOBH's first season, Camille really mellowed out and became a little boring. But we'd take back season one Camille in a heartbeat. She was conceited AF, threw a v dramatic dinner party and made a cool $30 mill divorcing her fuckboy of a husband, Kelsey Grammer. You go, Glen Coco!