5 Spring Nail Color Trends To Try In 2023
A new season means new beauty trends (and fashion trends, jewelry trends, and all of the above). But, today's focus is all on the glam department, specifically nail colors that we're stocking up on for spring. Since crappy winter weather will all be gone soon, it only makes sense to add pops of color with bold hues like blue, green, and yellow to name a few. So I browsed the web to give you the best product picks for upgrading your nail game this spring. And yes, top contenders include some of your favorite brands like Essie and OPI. Here, five spring nail color trends to hop on ASAP.
Betches may receive a portion of revenue if you click a link and purchase a product or service. The links are independently placed and do not influence editorial content.
Cobalt Blue
Forget sky blue and turquoise. This spring it's all about the electrifying shade that is cobalt blue. This is a not-so-intimidating way to experiment with a little color if neutrals are usually more your speed. You'll be able to rock this on your nail beds while wearing anything from your spring wardrobe, but it's still edgy enough to make a statement.

Shop It: Essie 819 Butler, $9.80, Amazon
Neon Green
Not afraid to take a risk? Go for the green—neon green that is. While green polish can usually be a bit swampy/forest-y or on the emerald side, this year it's about the brightest hue possible. It's perfect for festival season or any spring break plans.

Shop It: Duri Nails NYC Apply Envy, $9.49, Amazon
Canary Yellow
This shade of yellow falls right down the middle between a muted polish and a neon polish. Canary yellow is the perfect shade to wear as we approach spring holidays without making too much noise. Whether your nails are long or short, they'll look amaze in canary yellow.

Shop It: OPI Don't Tell a Sol, $11.49, Amazon
Lip Gloss Pink
Lip gloss nails are one of the cooler nail trends I've been seeing lately, and that's because it's really so simple. Some of you have been doing it all along, especially if a soft pink or beige is your go-to nail polish shade. Embrace your inner basic bitch and swipe it on.

Shop It: Essie Ballet Slippers, $9.25, Amazon
Sterling Silver
Chrome nails aren't necessarily new, but they had a moment once Hailey Bieber's glazed donut nail look took over social media last year. That look is done with chrome powder, but you can go full throttle with a mirrored mani using silver nail polish. This one replicates the look of foil so rather than covering your nails in glitter, it's strictly metallic.

The Cutest Summer Nail Polish Colors For All Your Instagrams
If Mother Nature is feeling generous soon, we might actually get the summer we've been waiting for. With the warmer weather comes the good shit like festivals, day drinking, barbecues, and overall cuter outfits. Obviously, this explains why we live our literal best lives during the last few months of the year. The only thing to complete our summer '18 vibes as we listen to "Nice For What" on repeat is much-needed chic manicure. Fucking bless. Here are the biggest summer nail trends and colors you have to try ASAP.
1. Mint Green
Literally no one in the world paints their nails lime green unless they want to commit social suicide. A chicer alternative is a fun mint green like Essie Empower Mint. The turquoise shade will probs make you crave margaritas and froyo more than you already do.
2. White, Fucking Duh
The color of summer is always white. Why? Because it looks good on everyone like, all the time and it's only an added bonus that it makes you look tan, too.
3. Mauve
Millennial pink may or may not be considered slightly overrated, so a better and trendier alternative, for those of you who are still obsessed, would be one such as OPI Classic Nail Lacquer in Dulce de Leche.
4. Pastel Yellow
Speaking of this year's new color fad, yellow is a major trend rn. Pastel yellow nails will be an even bigger one this summer, and for once, they look pretty cute.
5. Sparkly Nudes
Your "U up?" texts just got a whole lot better with upgraded nudes. Instead of totally uncool neutrals, go for something extra af like silver, dark gold, iridescent white, or beloved rose gold next month. Inspo? Refer to the Insta-worthy Nails Inc. Unicorn Nail Polish duo.
6. Coral
Nothing says you just got back from a bougie vacation where you blacked out every day like a coral manicure. The bright color makes everyone's skin look hella bronze and makes a thirsty poolside candid look that much better—that means more likes for you, obvi.
Photos: Sharon McCutcheon / Unsplash; @essieyall, nailsenvoyage, theglitternail, nailsby_marg, dangel_beauty, missnailsforyou / Instagram
Betches may receive a portion of revenue if you click a link in this article and buy a product or service. The links are independently placed and do not influence editorial content.
Nail Polishes That Last As Long As A Manicure And Don't Chip
We're in full-on holiday mode, which means that instead of spending my hard-earned money on getting shitfaced at happy hour things I actually like to do, I'm spending it on the people I love. Those fucking bitches. And it's hard to always choose the right gift for people. I mean, sometimes it's not as easy as buying deodorant for Smelly Melly Melissa in accounting, ya know? Sometimes you have to put a little bit more thought into it. Like, what do I get the friend in my life who's been with me through all of my blackouts thick and thin? The friend who texts me "drinks later? ;)" at 10am on a Tuesday and who I can always count on to start shit with that bitch who just gave me side-eye? I would try and get her some good sense but, like, where's the fun in that? Nah. I'll stick with something she actually needs, like nail polish that doesn't chip, no matter how shitty she gets at bars. So here are five nail polishes that make the perfect gift for every ratchet bitch you know (including yourself).
While this brand might seem more random than the girl you exchanged numbers with in line for the bathroom last weekend, it's actually pretty top-notch as far as polishes go. When applied with the weekly top coat, nails can last for a solid 10 days or until it's socially acceptable to start peeling off your nails out of boredom.

Remember when everyone lost their shit because Essie was coming out with a gel manicure that you could do at home while binge watching shitty reality TV and drinking your weight in Chardonnay? Well, OPI Infinite Shine is even better. It looks, feels, and acts like a gel mani, but you don't have to go through that annoying AF process of taking it off, because it can easily be removed with regular old nail polish remover. BLESS UP, people.

Speaking of Essie, if you don't mind torturing yourself the upkeep of a gel manicure, then by all means, invest in Essie's Gel Couture Nail Polish. It's been one of the leading brands in nail polish and for good fucking reason. They have lots of color options, plus their whole thing is you can stay at home and do your own manicure instead of having to put on pants deal with trying to impress people at the nail salon.

If you want to say fuck all the bullshit and buy a product that does the work of three in one, then you should def invest in the latest nail polish from CoverGirl. Not only does this brand have a shitton of color options, but they also combine base coat, nail color, and topcoat into ONE PRODUCT. It's like there is a God and She's been watching me waste my paycheck at happy hour and knows how much I love an easy way out saving my dollars where I can.

Get this for the friend who is constantly lecturing you on her journey to veganism and her new "healthy" lifestyle but then gorges on Big Macs when she's blackout. Deborah Lippmann is formaldehyde-, toluene-, and dibutyl-free so it's, like, good for you and shit. Plus it's supposed to be chip-free and last a little over a week.

Beauty Stocking Stuffers For Under $15 You're Going To Want For Yourself
Is it *really* the most wonderful time of the year ? Um, I'm going to have to give that a hard pass. Look, I'm all about the fakeness, cheeriness, glitter fests, and spiked peppermint mochas as much as you are. However, everyone seems to forget how fucking stressful the holidays are. As if constantly boiling pasta and delaying grocery shopping as long as possible wasn't a big enough sign that I'm literally always broke af. Now, I have to buy shit for other people instead of myself just before I'm bum-rushed into overpriced NYE plans. The most wonderful time of the year, my ass. Even thinking about holiday shopping gives me an anxiety attack, so I'm starting with small gifts for the real MVB's in my life, aka some stocking stuffers. From palettes to exfoliators to new nail polishes, here are six beauty gifts under $15 that you literally can't go wrong with.
This a life-changing hair treatment in the cutest festive bottle. The multi-purpose formula conditions your hair from end to end, while taming and de-frizzing split ends. Just when you thought it couldn't get any better, it cuts drying time a ton and is oil-free, so it won't make your hair limp and greasy at all. It's the perfect gift for, like, anyone who has hair, honestly.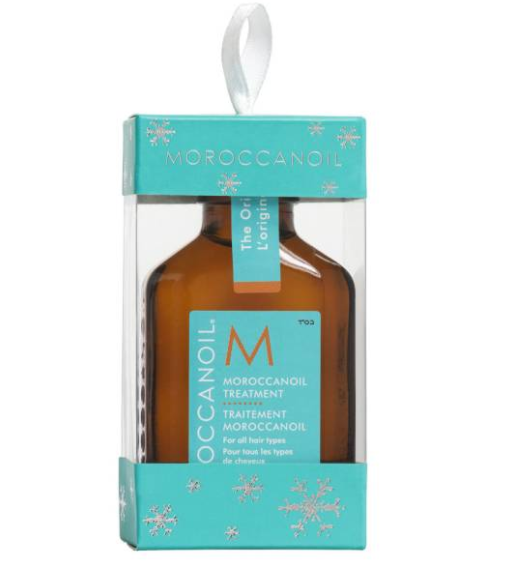 This holiday-exclusive set comes with four perfect minis in gorg seasonal colors. With bright red, glistening silver, vampy purple, and chic black, OPI def delivers smooth application that lasts longer than the shit you probs pick up at Walgreens.

For your friend who is happily obsessed with keeping her face #flawless, these exfoliating sugar cubes will be her new fave. The six sweet-smelling cubes gently get rid of dead skin cells and help keep the skin feeling v soft, smooth, and moisturized.

When you get two full-sized Urban Decay products for under $20, you buy fucking six of them. These are limited edition, so you should def buy this ASAP. The set includes a full-size eyeliner that has fab blend-ability and a full-size mascara that keeps lashes long and healthy. Both come in black, which only makes this too good to be true.

It's an amazing gift for me, you, and everyone else who has an unhealthy obsession with lipsticks—especially when it comes to finding the perfect, true red. The 2-in-1 kit includes a mini-size hydrating in Legendary and travel-size Insta-Matte Lipstick Transformer. If you're wondering WTF a transformer is, it's seriously the best thing. The lipstick transformer turns any velvet lipstick immediately into a matte that does not—I repeat, does not—dry out your lips. You can apply as many times as you'd like to reach the desired texture your chapped lips deserve this winter.

It doesn't matter how many face palettes people have, they will literally never say no to another. And if they do, IDK, they're probs homeschooled and will not appreciate you being such a good friend. This super convenient all-in-one face palette comes with two intensely-pigmented blushes, a champagne highlighter, and universal bronzer. The warm shades give you a healthy, natural-looking glow you can take with you on the go, whether you're at the club or meeting up with your cuffing fling.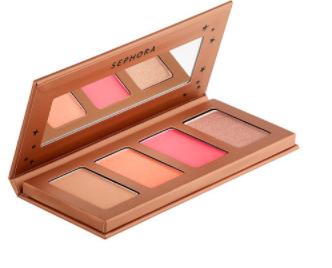 Images: Jazmin Quaynor / Unsplash ; Sephora ( 6 )
5 Holiday Nail Art Ideas That Will Have You Feeling Festive AF
It's actually December, and the tree at Rockefeller Center is lit af. It's basically Christmas already, guys. Unless you're a normal human grinch, Christmas is the one holiday where everyone acts extremely extra, and quite honestly, the festive cheer is encouraged. I may be the wrong person to talk to about this, because I literally have been listening to Mariah Carey's Merry Christmas album since October, and I may or may not have two Christmas trees in my apartment rn, but THAT'S BESIDES THE POINT. My point is, #HolidaySZN makes for the perfect excuse to deck yourself and everything around you in all the sparkles and lights you want. The new month comes bearing holiday parties, themed outfits, and NYE preparations, so to complete your snazzy dress, here are five designs for the holiday nail inspo you never knew you needed.
1. Toffee
Bright colors aren't my thing, either. Obviously the only color I ever want for anything is black. For a warmer neutral that isn't over the top and obnoxious, a warm toffee makes for a classy holiday shade. It can be your new fave nude, and if you feel your mani is still lacking some cheer, add gold flake accents.

2. Sparkly/Chrome Tips
'Tis the season for all glitter everything. Instead of making a complete mess, only get your tips dipped in Insta-worthy glitter for a twist on this trend. If you're looking for something that isn't a bitch to take off with nail polish remover, opt for chrome tips in your favorite metal and a simple neutral.

3. Two-Toned
Whether it's with red and green, black and white, or sweater-weather darks, keep your manicure game interesting by mixing a couple of colors together. Change things up a bit with different geometric shapes, matte accents, or contrasting color blocks.

4. Glittery Shit
Literally anything with a shit ton of sparkles is fair game. If you want to be festive AF and get a million likes with your next nailfie on Instagram, consider a design with glitter every-fucking-where. Deck each nail with a solid glitter shade, choose an ombre style, or ya know, you could always do just the tip.

5. Holiday Art That Isn't Basic
I'm always impressed with people who have the time to paint their own nails, or sit through a hella long nail appointment while they receive hand-painted nail art. I barely have time to breathe, let alone draw a fucking snowman with a toothpick on my ring finger. If you were blessed with artistic abilities or have a really patient manicurist, go for holiday-inspired nail art. Try plaid, chic snowflakes, or some kind of stylish wrapping paper look. Really, as long as you don't have an entire nativity scene painted across your nails.

The Best Nail Art Trends To Try This Winter When You're Bored AF
There's a lot to be said about the winter season. Sure, your skin falls off and you won't see sunshine again for at least six months, but at least you get to act like the lazy, self-indulgent asshole you were always meant to be. There's also the fact that you get to spend some much-needed quality time with family your favorite Netflix shows and no one can say dick about it, because it's too cold outside to actually do anything else. So blessed, so moved, so grateful. Can't believe this is my life. That said, November through March—or, in New York's case, November through June (kill us now)—can sometimes be…kind of…boring. There, I said it! Sometimes sitting on your ass, re-watching old episodes of Friends, and drinking your weight in Chardonnay isn't all it's cracked up to be. Sometimes you kind of want to brave the cold to drink your weight in Chardonnay in public. I know, it's like I'm taking crazy pills or something. But since we can't always have the things we want in life, sometimes we have to get creative with how we spend our time. And what better way to combat boredom than by trying nail art trends as seen on Instagram that you've been talking shit about for months now (but secretly love)? So here are the six winter nail art trends for you to try when there's literally nothing else to do. You're so welcome.
1. Metallic Accents
Metallic accents were huge this year and, in my opinion, they'll continue to be one of the few nail art trends that don't seem like a cry for help extra. The accents pair perfectly with dark winter nail polishes and will take your holiday look from basic to glamorous in less time than it takes you to get drunk and embarrass yourself at the Thanksgiving dinner table.

2. Spacey AF
Negative space nails are about to be every-fucking-where, I'm calling it now. These manicures are chic and modern AF, plus it's an excellent way to make it look like you regularly visit the salon, when in reality, the last time you got your nails touched up it was still warm enough to wear shorts. Gotta love millennials. Leave it to them to turn shitty, grown-out gels into a nail art trend. #BlessUp.

3. Foil Nails
Similar to the metallic accents trend, foil nails are one of the best ways to elevate your look this winter. We suggest pulling this one out around New Year's Eve, unless you actually want to look like you actually give a fuck at your company holiday party seem thirsty. These little strips of metallic foil, cut and placed mosaic-style on your nail beds, make for an artsy, yet chic look.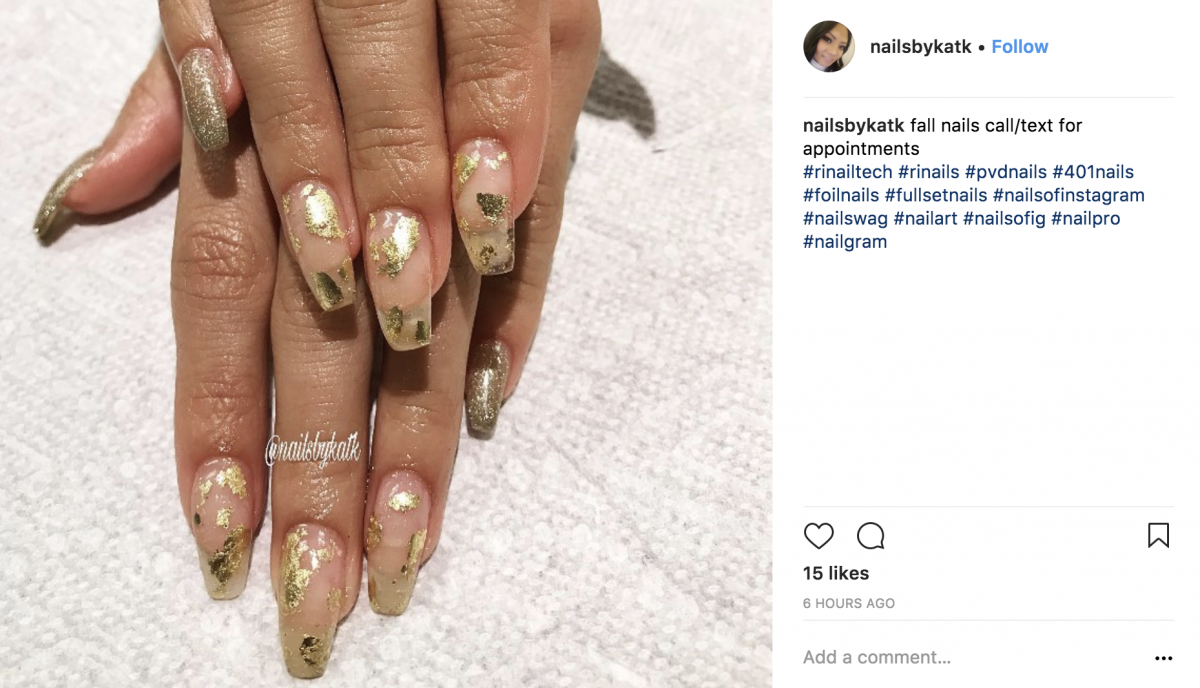 4. Phrase Nails
Finally a trend I can get behind: blatantly talking shit. I mean, I've been doing this on my own for years, but it's nice to know that the beauty community is finally standing by me in support. Phrase nails have been huge this year, and it's like people suddenly have a bunch of shit to say about the state of our world? Honestly, I have no idea why…

5. Minimalist
One of my favorite things to do is to pretend like I have my shit together, and nothing says "I don't spend 3-5 days a week sabotaging my life at happy hour" like minimalist nails. Add a thin graphic lines in a contrasting color for a simple yet dynamic look.

6. Statement Nails
When in doubt, go with a basic statement nail color, like bold red. There is a reason you see this color around the holidays more than your ex texts you, knowing you're home for the long weekend: because it's classy AF. If you're feeling more basic than bold, stick with a traditional holiday color and let the nails speak for themselves.

Images: Allef Vinicius / Unsplash; anniesjamminnails, sarasa.nails, nailsbykatk, sonyameesh, jessicasturch, natalii.es / Instagram
7 Dark Nail Polish Colors You'll Be Obsessed With This Winter
Hello darkness, my old friend. We meet again this evening at 4pm, which is a sure sign winter is most definitely coming. FML. Obviously, living my best life as a recluse sounds amazing, but I hate the cold in every sense of the word. I hate having to risk my fashion rep come December 1st to brace myself for hypothermia so winter doesn't fuck up my entire life. By life, I mean my hair, skin, and hands, so I don't look like a corpse, thank you very much. If you can't find me warming up in the nearest Starbucks with the biggest coffee, you will most def find me at the nearest nail salon making sure my frozen hands don't look ratchet af. Regardless of the temperature outside, having your nails painted at all times is a priority. Obviously. Here are the coolest (pun intended) nail polish colors to get right now, so your nails look on point all winter long.
A festive emerald green is a fab vibrant color that's subtle but sure to make a difference to any lame outfit. With winter bringing in several over-the-top and over-hyped holidays, the color is very fitting for celebrating the holiday cheer and drinking spiked eggnog.

Deep purple is essentially just an upgraded version of black that makes you feel like a total queen with its sexy, mysterious shade. The vampy, dark contrasting color looks great with everyone's skin tone, so rest assured that this will look amazing with the perf accompanying vampy lipstick, too.

Red is just about as timeless as "All I Want For Christmas Is You." We may be tired of them, but both are never getting old, nor are they going anywhere anytime soon. The true red is classy, elegant, and sure to bring cheer wherever you go, even if your chronic RBF says otherwise.

Dark navy is cool, I guess, but there are only so many times you can wear it on your nails. For a preppy twist on the dark blue, try a brighter teal that says you're fun, full of surprises, and into keeping people on their (mistle)toes.

It's the unofficial official color of winter. Gray is the neutral we can never really live without—after black, of course. The dark gray is always a bit comforting, versatile, and a safe go-to if you always have a mini panic attack when you're asked to pick a color.

I think I had you with the eye-catching glitter before you even glanced at this paragraph. For starters, I find the name of this color to be very fitting for my daily personality as of late. The holiday gold is the perfect disguise from showing the general public just how shattered your soul exactly is with its irresistible shine and mesmerizing sparkle. Bring it to this year's company holiday party and NYE shit show. New year, same me.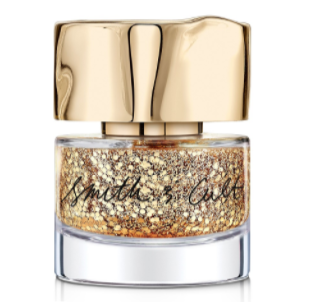 Obviously, I saved the best for last. The Alexa Chung and Nails Inc collaboration is just as amazing and chic as you'd expect from a praised fashion designer. Our favorite soulless color is featured in this collection with a sophisticated twist. The black we know and love comes with pearlescent tones and a satiny finish to make your nails look sleek, fierce, and incredibly betchy.

The Best Nail Polish Color To Show Off Your Engagment Ring
Wedding season is supposedly during the summer, but just when you thought that gag-worthy shit was over comes fall—another time that's considered wedding season. Before the wedding planning, there's a ton of crying over the new engagement ring you can't stop obnoxiously showing off to everyone who has the misfortune of coming within a three-foot radius of you. We get it. You have bling worth more than my life savings, and you finally found someone who still wants to be with you even after they've seen what you look like six tequila shots deep. Amazing. But, as you can tell from your Pinterest boards, showing off your engagement ring is just as important as like, the marriage license itself. You need the right caption (for the love of God and all that is holy, do not write, "He put a ring on it!!"), the right lighting, and of course, the perfect mani to go with it. Need help getting triple-digit likes? You've come to the right person, obvs. Here are the best nail polish colors you need to enhance that rock of yours, so all your followers die of jealousy.

If Your Ring Is Rose Gold, You Need…
Red
It's in the pink family, so without getting matchy-matchy, opt for the perfect crimson red to really bring out the pink accents of your rose gold ring, you basic bride-to-be, you. With just the right amount of shine, it'll even reflect off of the diamond, giving your nails a slight pink hue in your next Insta.

OPI Classic Nail Lacquer in Red My Fortune Cookie
Champagne
To state the obvious, rose gold is honestly just a pink-ish take on the classic gold shade. It still has a slightly dark gold tone, so if you really want to make that rock shine, go with a champagne color. This one is a golden-beige with a fab pearlescent undertone, so it'll really bring out the ~rose~ in rose gold and make your ring look so much shinier.

If Your Ring Is Gold, You Need…
Peach
Gold is def on the yellow-y side more often than not, so even if your setting isn't yellow gold, it still can range from a dark yellow shade to even a burnt orange. It's a warm band, so you'll want a warm color to enhance and contrast the gold, like a shimmery peach. It's a super faint orange and pink color, so it's def going to pick up on the gold shine and glistening bling.

Taupe/Nude
Luckily for you, gold is the most neutral metal ever. You can get really crazy with your nail polish color, but since the attention is on your most prized possession, you don't want anything overwhelming, obviously. A mellow taupe/nude looks fab with a gold ring, because it gives your hand a dark contrast, while making your ring look a million times brighter.

Deborah Lippmann Nail Polish in Fashion
If Your Ring Is Silver, You Need…
Baby Blue
Blue is apparently the most attractive color to the human eye, so there's like, 100 likes right there. With your cool-toned, silver band, pair it with a calming, pale baby blue for the maximum shine and attention.

White
White and silver go together like black and white. I usually stray from a white manicure, unless it's June-August, but for an engagement ring nail-fie, I'll make an exception. White is head-turning and bright on its own, but it gives your silver ring its own background to make a statement with.

Yves Saint Laurent Beauty La Laque Couture Nail Polish
If Your Ring Is Platinum/White Gold, You Need…
Metallic
If you can't tell the difference between this and a silver, it's fine. Me neither, but apparently it's a thing, and some of you have it. It looks like a shinier and "whiter" version of a silver, so your diamond is probs hella shiny, too. Cool down all of the bling with a contrasting metallic gray. The subtle shine will enhance your ring to make it look elegant and way bigger (!!). You didn't say it, but you were thinking it.

Smith & Cult Nail Lacquer in Bang the Dream
Deep Purple
As if you couldn't notice, I'm trying really hard to stay away from saying, "just choose black," because like, this isn't just your regular everyday manicure. You just found the man you're going to have sex with everyday for the rest of your life—you need to change at least one thing up. Since platinum and white gold bands are obviously lighter in color, going darker really works in your favor. For the next best thing after black, go with a sultry violet or deep purple. It's classy, formal, and convenient for transitioning into the next season.

Marc Jacobs Enamored Hi-Shine Glaze Nail Lacquer in Purple Glaze